Youtiao are traditional Chinese crullers / breadsticks / doughnuts / oil sticks. They have plenty of names! Basically, it's fried dough served either alone or with a cup of warm soy milk for dipping. It is believed that the famous Spanish Churros were inspired by this Chinese creation!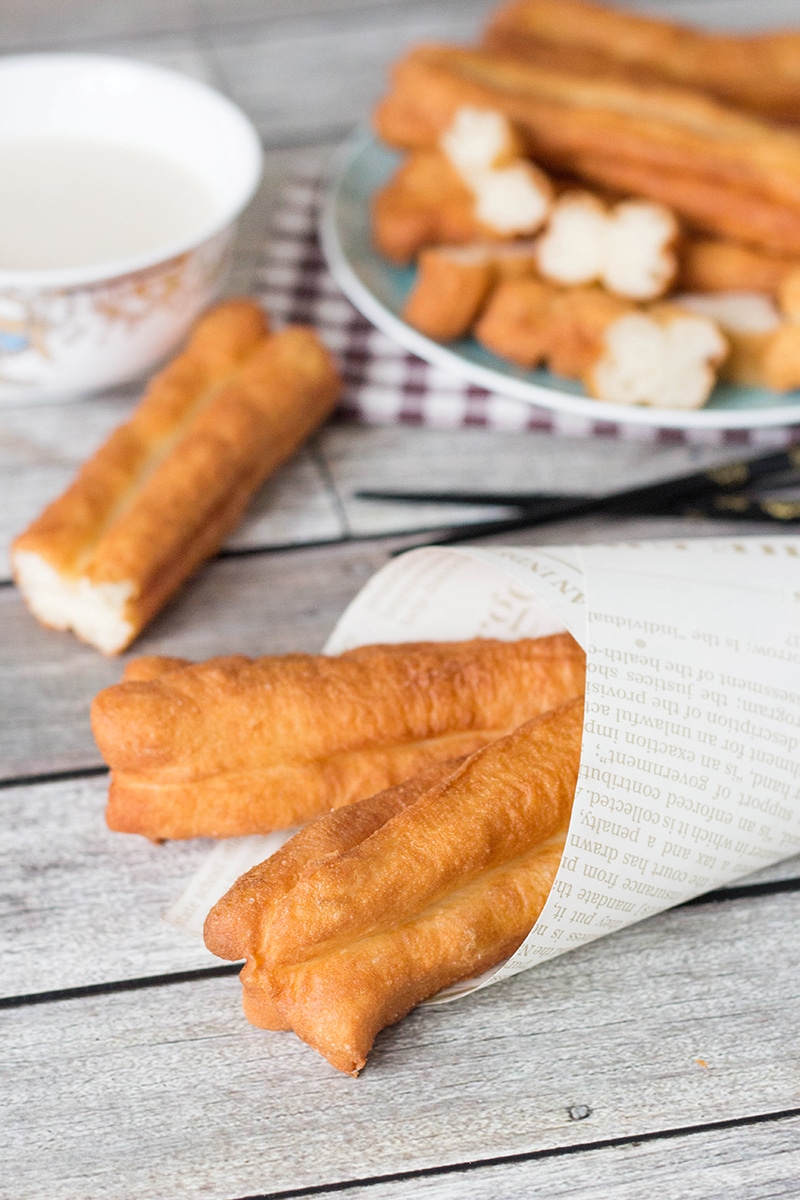 When I made the Spanish Churros Con Chocolate a month ago, I told you that, according to some sources, they were inspired by Chinese Crullers called Youtiao, and I promised to make them for the blog someday. Today I am fulfilling this promise and making these Chinese fried dough sticks! They can also be called Chinese donuts, Chinese breadsticks, Chinese oil sticks, and the list goes on and on. These crullers are a popular Chinese breakfast option.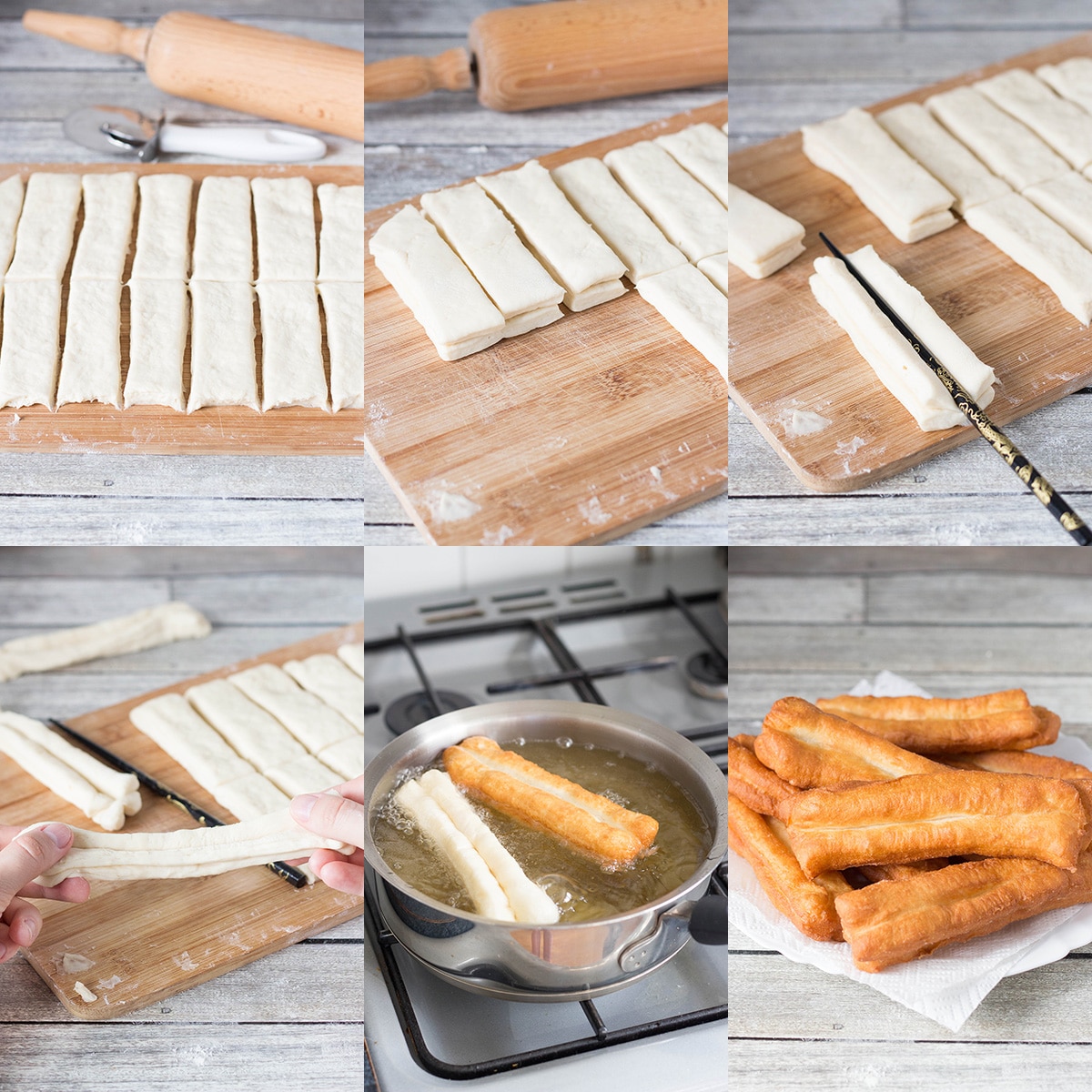 The main difference between the Spanish and Chinese versions of these fried sticks is the sweetness. Spanish Churros are supposed to be sweet. They are covered with a cinnamon and sugar mixture and dipped in a hot chocolate. Churros are considered to be a dessert. Chinese crullers though are not sweet at all. No sugar, no cinnamon, and by all means, no chocolate. There is actually some sugar added into the dough, but you won't feel it at all. There is one more difference: Youtiao are made by pulling the dough, while Churros are made using a star shaped nozzle.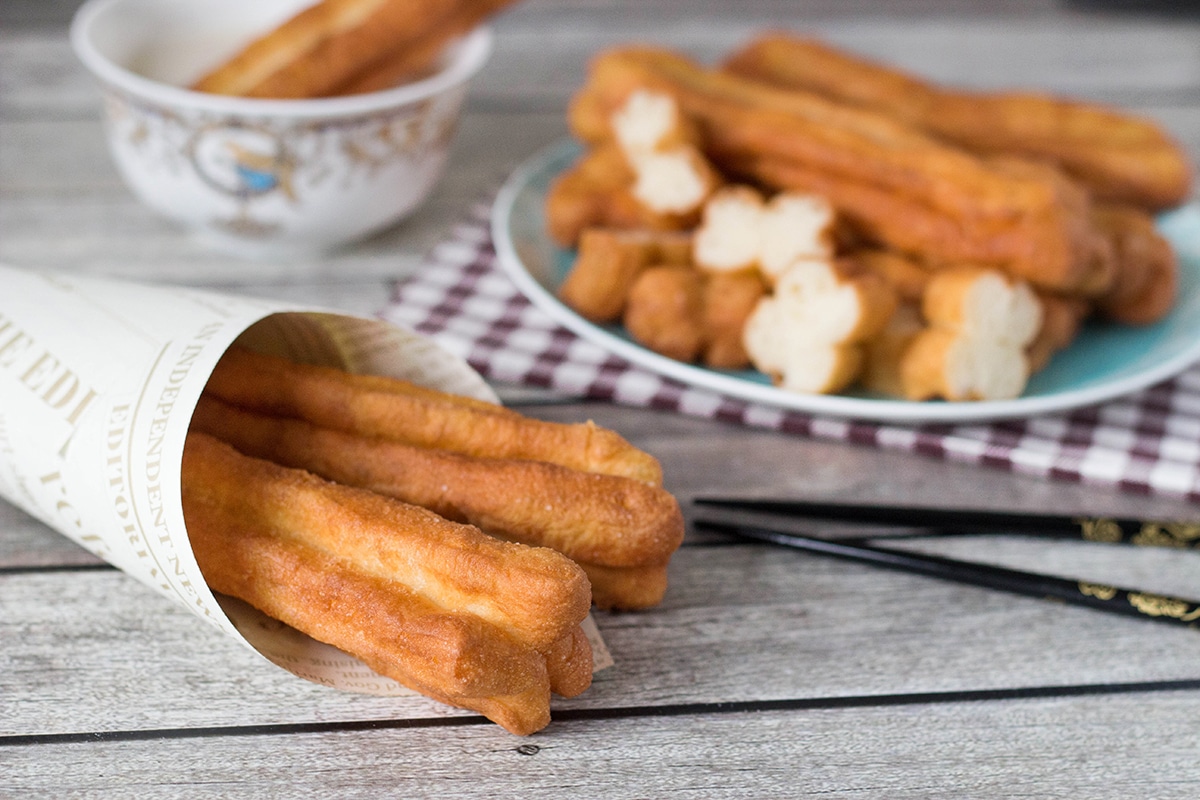 If you are in doubt about the taste of Youtiao, keeping in mind the lack of any sweeteners at all, don't be. They are actually really good! But there is a way to make them even better. To raise them to another level (in my humble opinion). I read that in some places in Asia Youtiao are dipped in warm soy milk. Yes. Warm. Soy milk. I tried it and it's a total winner. They say that soy milk in Asia differs from the one we use, but I loved every bit of these breadsticks dunked into the local soy milk I usually buy. SO GOOD!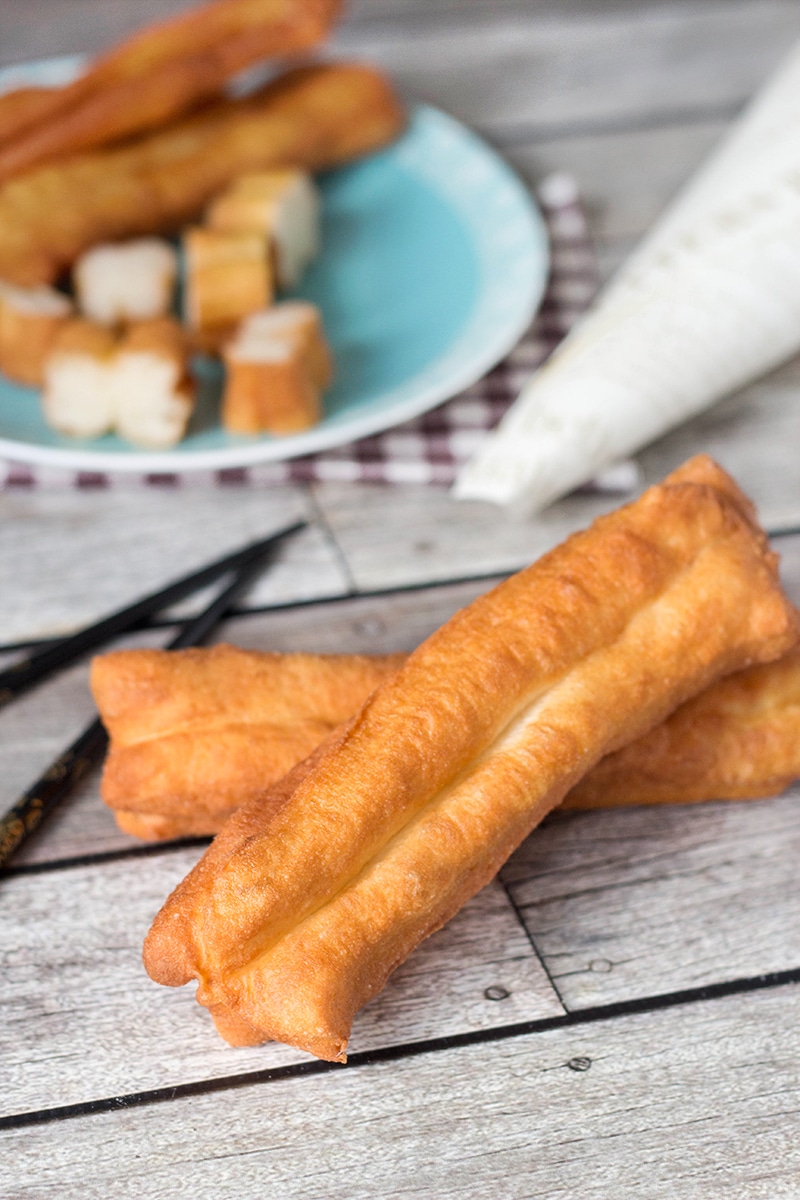 The majority of Youtiao recipes online use alum and ammonia, adding them to the dough. I guess it's a traditional Chinese method of making the crullers. However, there are recipes that avoid these substances and I adapted one of them, by Yummy Easy Cooking. I did that, because it's really complicated to find these ingredients in my country, and somehow I have a feeling that it won't be easy for my readers too.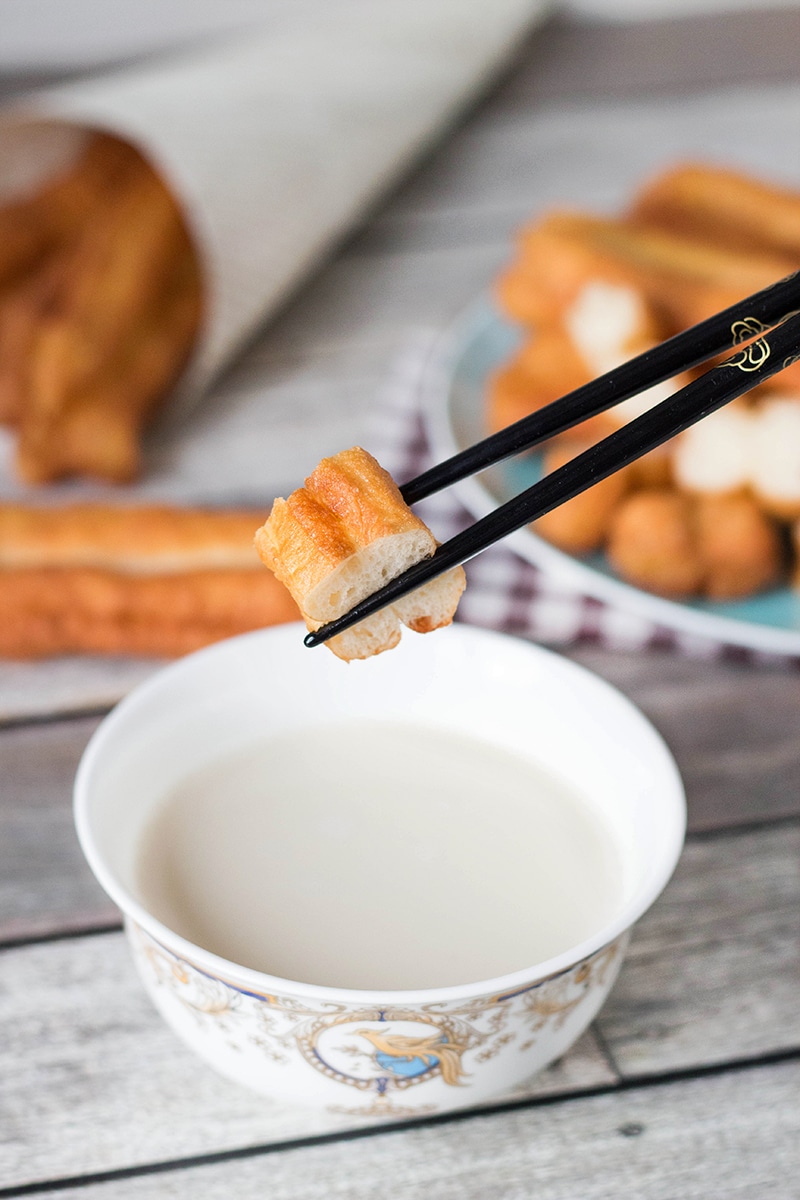 Anyway, my Youtiao turned out really great even without the alum and ammonia. Perfect snack! I loved soaking them in the warm soy milk until they absorb it. Divine. I can really understand why they are so popular for breakfast in China. I would love to wake up to such a treat every morning!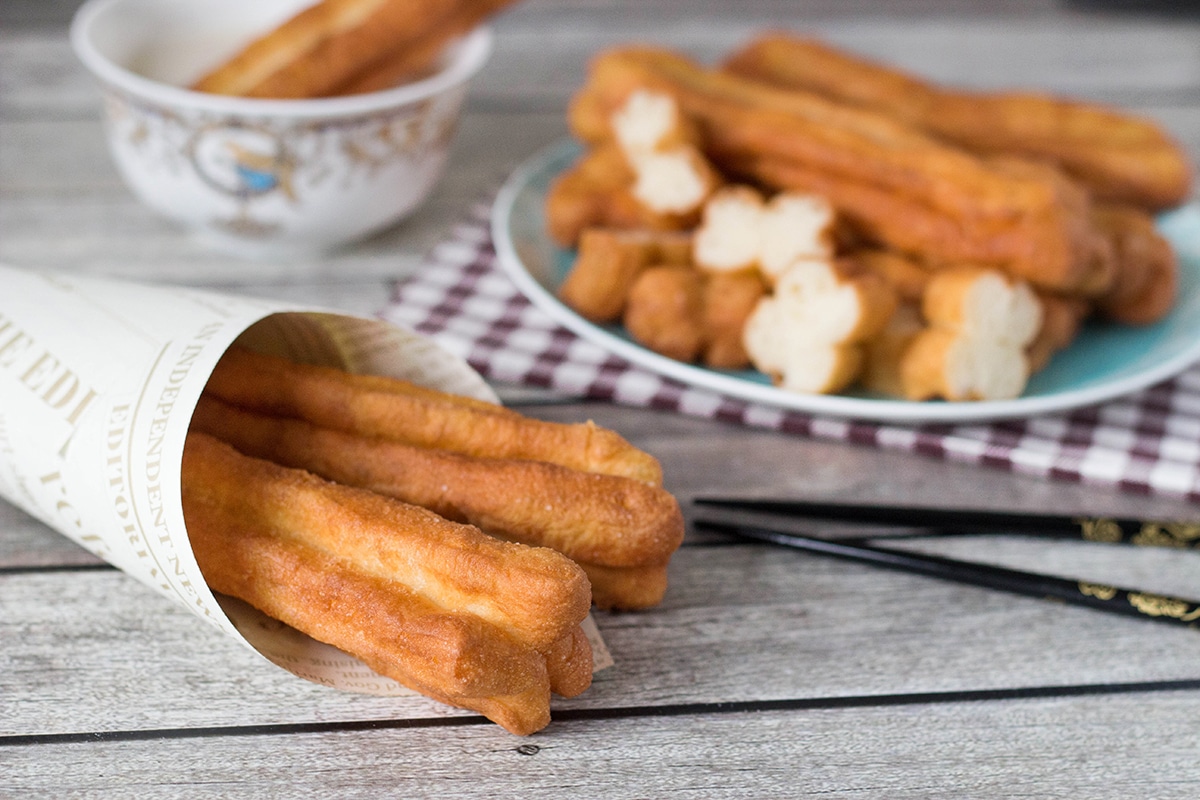 Youtiao - Traditional Chinese Crullers
These traditional Chinese fried dough sticks can be served either alone or with a cup of warm soy milk for dipping. So delicious!

Ingredients
2

cups

all-purpose flour

4

teaspoons

sugar

2

teaspoons

vegetable oil

1

teaspoon

instant dry yeast

1

cup

warm milk

vegetable oil

, for frying

warm soy milk

, for dipping (optional)
Instructions
Dissolve 1 teaspoon of sugar and yeast in the warm milk. Keep in warm place for about 20 minutes, until bubbles form on the surface.

In a large bowl, add the flour, remaining 3 teaspoons of sugar, and 1 teaspoon oil. Add the yeast mixture and mix well. Let rise in a warm place for 2-3 hours, until the dough doubles or triples in size.

Sprinkle some flour over the dough, kneading the dough inside a bowl few times. Then transfer the dough to a floured surface and knead well for about 25 times. Cover with a damp towel and let sit in a warm place for 1 hour, until the dough is puffy.

Knead well for about 25 times, adding a teaspoon of oil to the dough. Roll out the dough on a floured surface to about 1 inch thick. Cut into 1 inch wide strips. Stack them two by two, and press the center with a chopstick (lengthwise).

Take the strip, one at a time, hold the two ends and stretch to 8-9 inches long. Repeat with all the strips.

Heat the oil to 400°F (200°C) and fry the strips in batches (1 or 2 at a time). Flip the strips over continuously many times with chopstick when frying until they have puffed up and become golden brown. Repeat with the remaining strips.

When done, drain on paper towels. Serve alongside warm soy milk, or alone. Enjoy!
Nutrition