Hey there! When I started this blog, I set myself a mission to recreate as many traditional breakfasts from all around the world as possible. Many people skip the breakfast, but in my opinion it is the most important meal of the day. Your body and brain need some fuel to start moving for God's sake! That's why I find it insanely interesting to discover what people eat for breakfast in different countries across the globe. Let's go!
Welcome to the #7 installment of the "Breakfast around the world" post series, and this time we are heading East, to the world's most populous and one of the biggest countries - China. What is the first thing that comes to your mind when you hear the word China? What do you know about this powerful country? My associations are: The Great Wall, many people, the words "Made in China" written on almost every single thing you buy nowadays, strange food (insects, bugs, scorpions), to name a few. These are only the things that come to my mind immediately, in a split of a second. So, do Chinese breakfast consists of one cockroach, two spiders, and a little scorpion for dessert? Let's check it out!

The answer to the last question about all kinds of bugs, that Chinese people supposedly love, is NO. NO, they don't eat them for breakfast. They don't even eat them every day. Or even every week. All these bugs, scorpions and other strange stuff is more like a tourist thing or a delicacy Chinese eat on rare occasions. You can breathe easier now. The real Chinese food, the one they have every single day, is really delicious (I'm not saying that all those little creatures are not tasty, I've never had a chance to try them). Most probably one of the most delicious in the whole world.
Now that we made it clear that people in this Asian country don't start their day by munching on a worm or other insect, let's talk about how the traditional Chinese breakfast looks like. Even without bugs it differs significantly from the morning meal we are used to. No cereal, no toasts, no fried eggs or other staple things people in many other countries all around the globe have. Chinese breakfast is more like our dinner actually. How so? Well, their first meal of the day often includes dumplings, porridge or soup containing meat, meat filled buns and other not-so-light meals. Unusual, right? Not for Chinese. That's how they get the energy for the day!

Chinese breakfast varies from region to region. For example in Chinatowns all around the world, the special breakfast culture called Dim Sum is super popular. You might have heard this name already. The principal is very similar to Spanish tapas: all kinds of various dishes are prepared and served in small portions. It can be dumplings, buns, rice noodles or others. I won't talk about this kind of breakfast here, because it deserves a separate post. If you want to know more about it, I highly recommend this fantastic Lucky Peach post.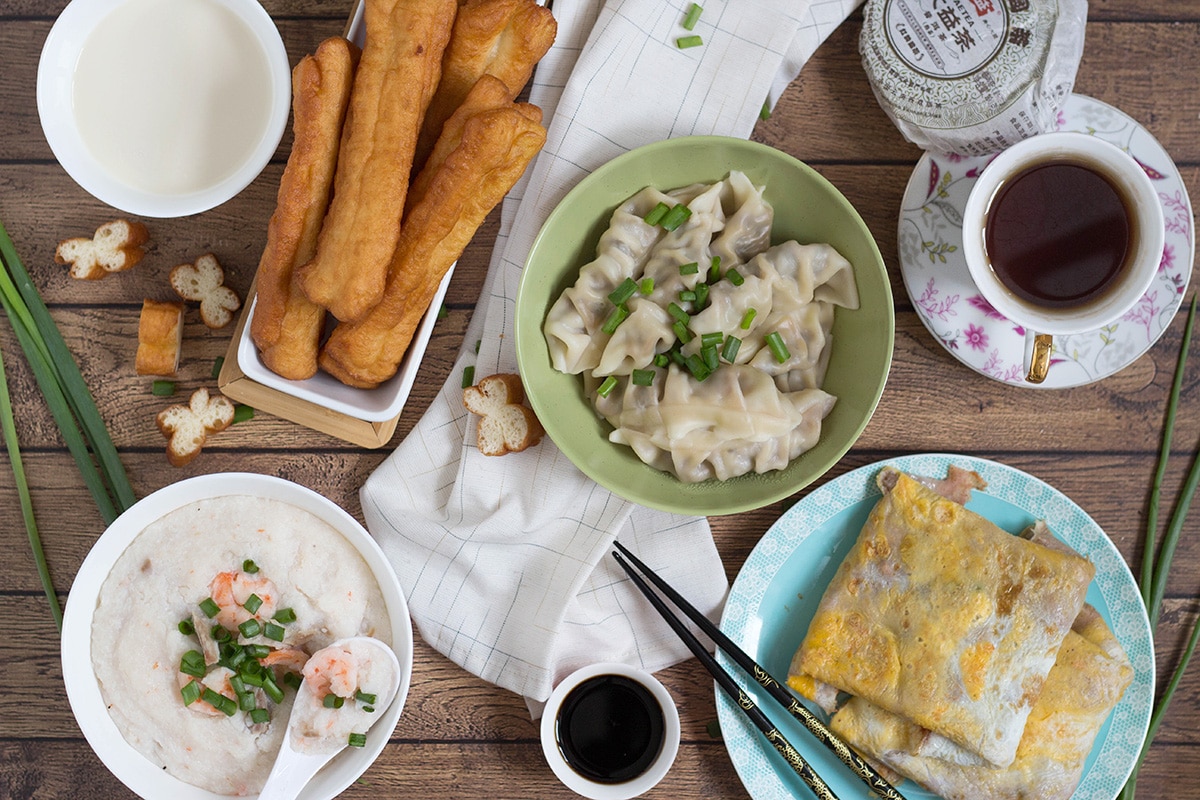 Now let's see what I've prepared for my Chinese breakfast table!
Dumplings
Yes, dumplings for breakfast. It's China baby. The most popular ones are called Jiaozi. Usually they are filled with ground meat, vegetables, mushrooms, shrimp. These delicious dumplings can be steamed, boiled or pan-fried. Plenty of options. The end result is soft, melt-in-your-mouth little guys, that you would eat with a huge pleasure. I guarantee you. Not for breakfast maybe, because it would still be unusual for many people out there.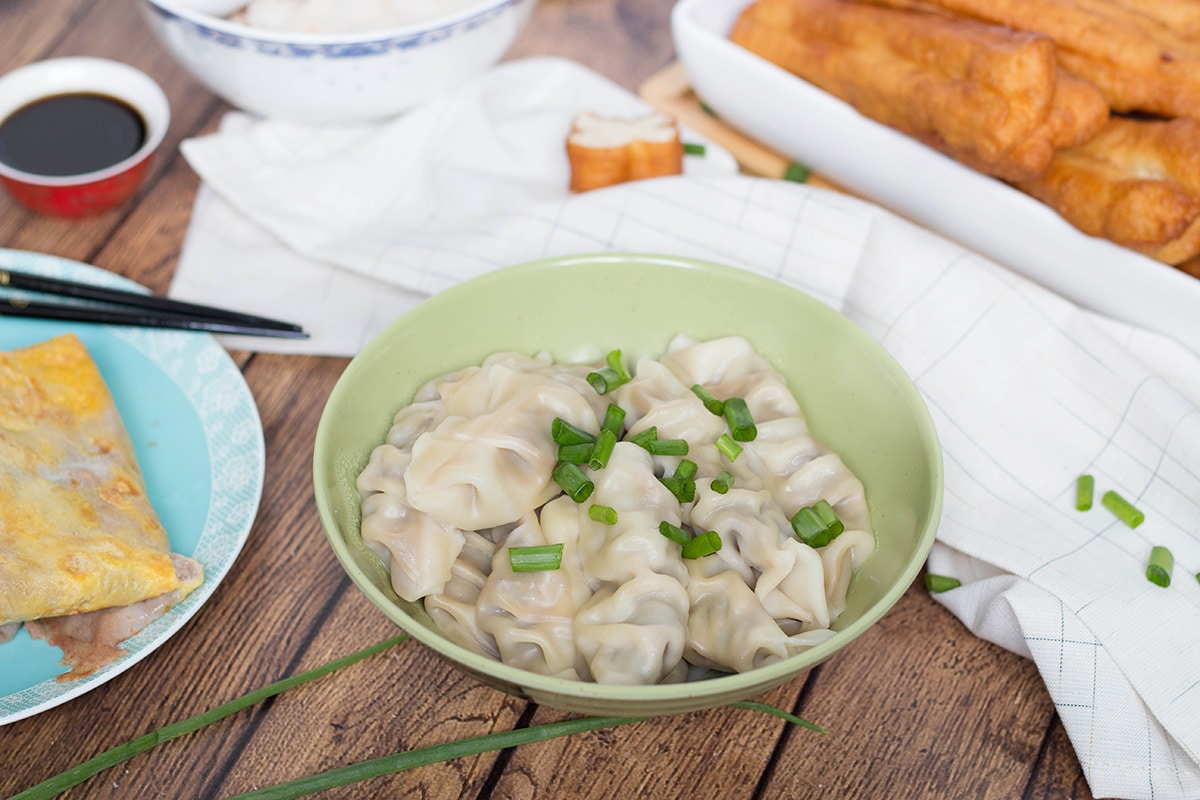 Talking about me, I would easily be able to eat dumplings for breakfast every day. Maybe that's my roots talking: 20 years ago, after the collapse of USSR, it wasn't so easy to get (or sometimes there wasn't enough money) various fancy products for breakfast, so sometimes we were eating leftovers from the day before. That's why I'm used to the heavy meal in the early morning.

Besides Jiaozi, there is another popular type of dumplings called Baozi; I wouldn't call them dumplings, because it's more like buns to me, but many people do call them like that so I am adding them here. These buns are filled once again with ground meat, veggies, anything you want actually, and steamed. I didn't make them for my Chinese breakfast table, but you can check out very similar steamed Filipino buns I made a month ago. They are almost exactly the same, because the Filipinos "borrowed" them from the Chinese. The taste is divine. This was the first time I tried steamed buns, and I can say only good things about them.

Porridge
I can almost hear you clapping hands in joy from the other side of the screen. This is it! The oat porridge everybody loves is popular in China too! Let's add some berries, honey, maple syrup and we are good to go! Hold your horses, my dear reader. Chinese porridge is nothing like that. First of all, it's made with rice. You have two choices: a simple one (only rice and water) and the one with different toppings (meat, seafood and so on). That's right, forget the berries or other sweet stuff, meat is the king here.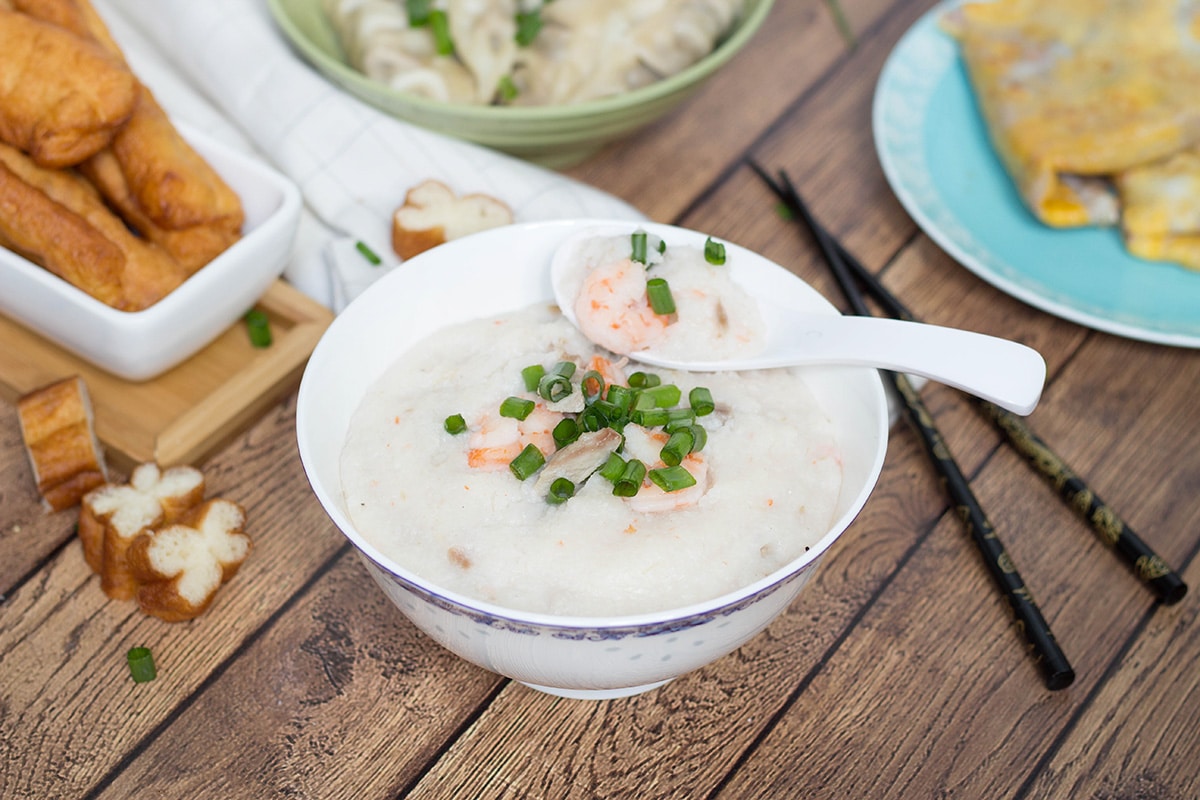 I made my porridge with pork and shrimp. By the way, it is called Congee or Jook. Basically, it's overcooked rice. You just cook it for about an hour or even more until rice grains break up. Once again, my roots help me a little bit here. My mom made me rice porridge quite frequently in my childhood. She didn't cook it for such a long time though, and (obviously) it was sweet and didn't contain any meat.
Fried dough sticks
Spaniards have Churros, Chinese have Youtiao. Asian dough sticks are pretty similar to their European colleagues, but they are very different at the same time. The main similarity is the cooking method. You make dough sticks from the simple dough and throw them in a hot sizzling oil. But that's where similarities end. Spanish version is supposed to be sweet: Churros are covered with sugar and cinnamon mixture and dipped in a hot chocolate. Chinese version is not sweet at all, and instead of chocolate some people love to dip their Youtiao in warm soy milk. You can still call it some kind of a dessert, I guess. Personally, I enjoyed the hell out of Youtiao. Especially, when dipped in a warm soy milk. Pure heaven!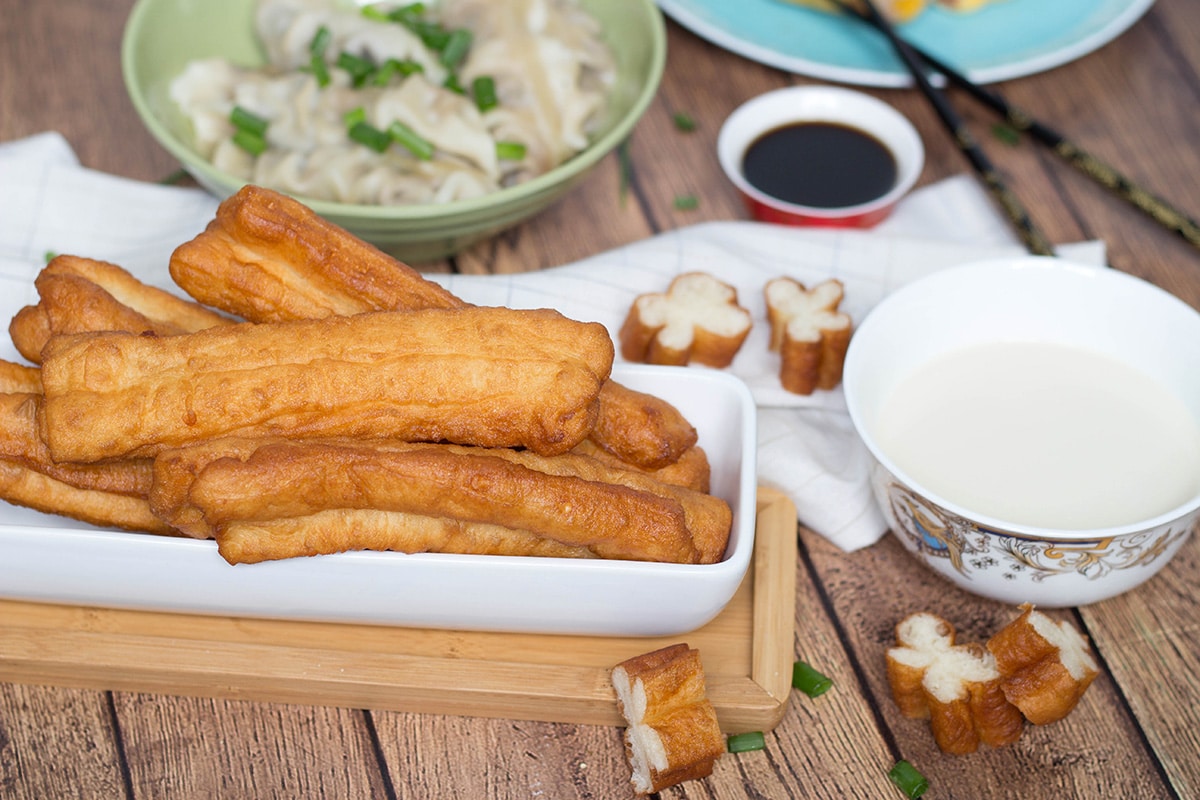 If you want to compare Youtiao to Churros, you can find my recipe for this Spanish delicacy here. Oh and keeping in mind that Churros are usually eaten for breakfast, you might want to check out my comprehensive guide on Spanish breakfast.
Crepes
The last (but not in any way least) item on my Chinese breakfast table is the famous savory Chinese crepe called Jian Bing. Basically, it's a very thin crepe filled with meat, scallions, a bunch of other ingredients, and a spicy sauce. The taste is A.M.A.Z.I.N.G. I also love how awesome they look, marbled with beaten egg on one side. It's a favorite Chinese breakfast on the run, as it's usually sold in the streets. However, it's perfectly possible to make them at home. I did that and I am hooked. So GOOD!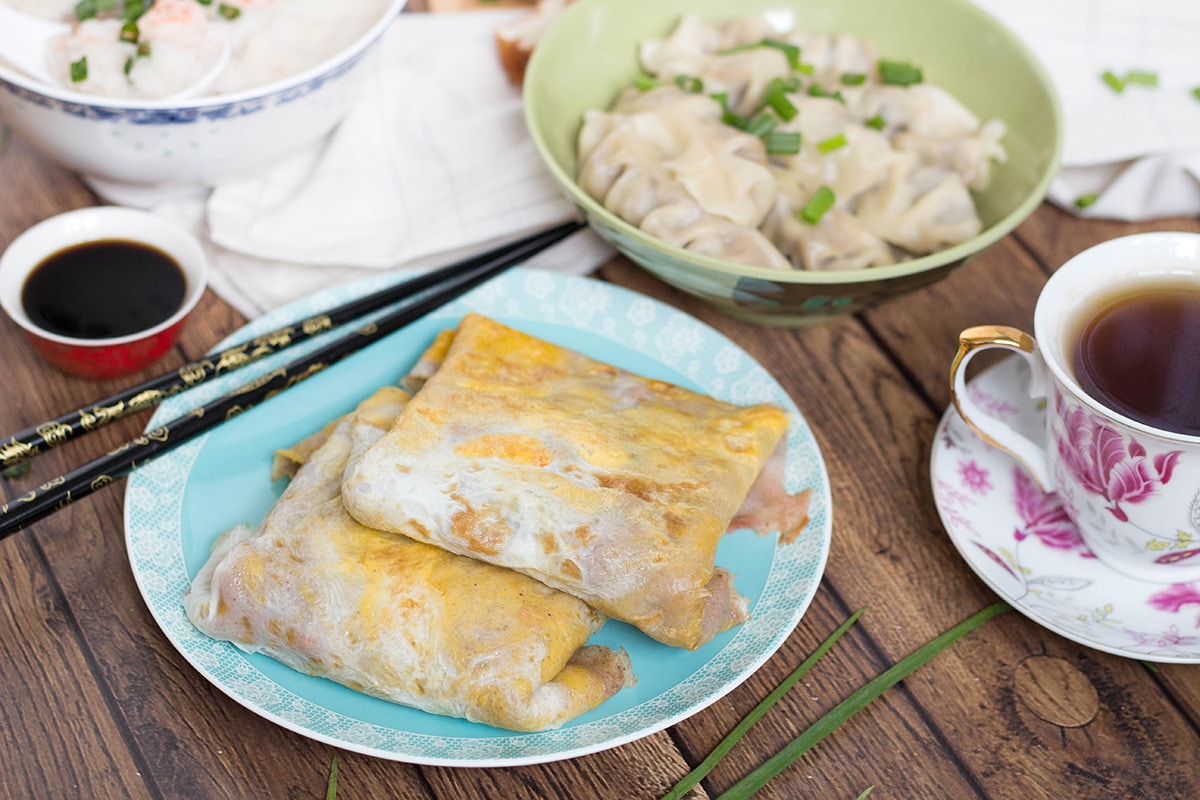 Tea
Everyone knows that China is a tea country (if you haven't, well you know it now), so it would be strange not to serve it on my breakfast table. Keeping in mind that I have some authentic Chinese tea at home, which I bought not so long time ago from one Chinese website. See that round tea brick in the first few pictures? That's how they pack their famous Pu-erh tea. I am going crazy over it. But that's another story.
And that's a wrap. I enjoyed this breakfast a lot actually. Maybe I would love to have some parts of it for lunch or dinner more than for breakfast, but hey, the most important thing is that it was tasty. It was really really GOOD. Of course I didn't explore all the breakfast dishes available in China, because this country is huge and every region has their own traditions, but I tried to pick the most popular ones. As always, please let me know in the comments section below if I said or did something wrong or if you want to add something. I love the input my readers provide. See you in other "Breakfast Around the World" installments!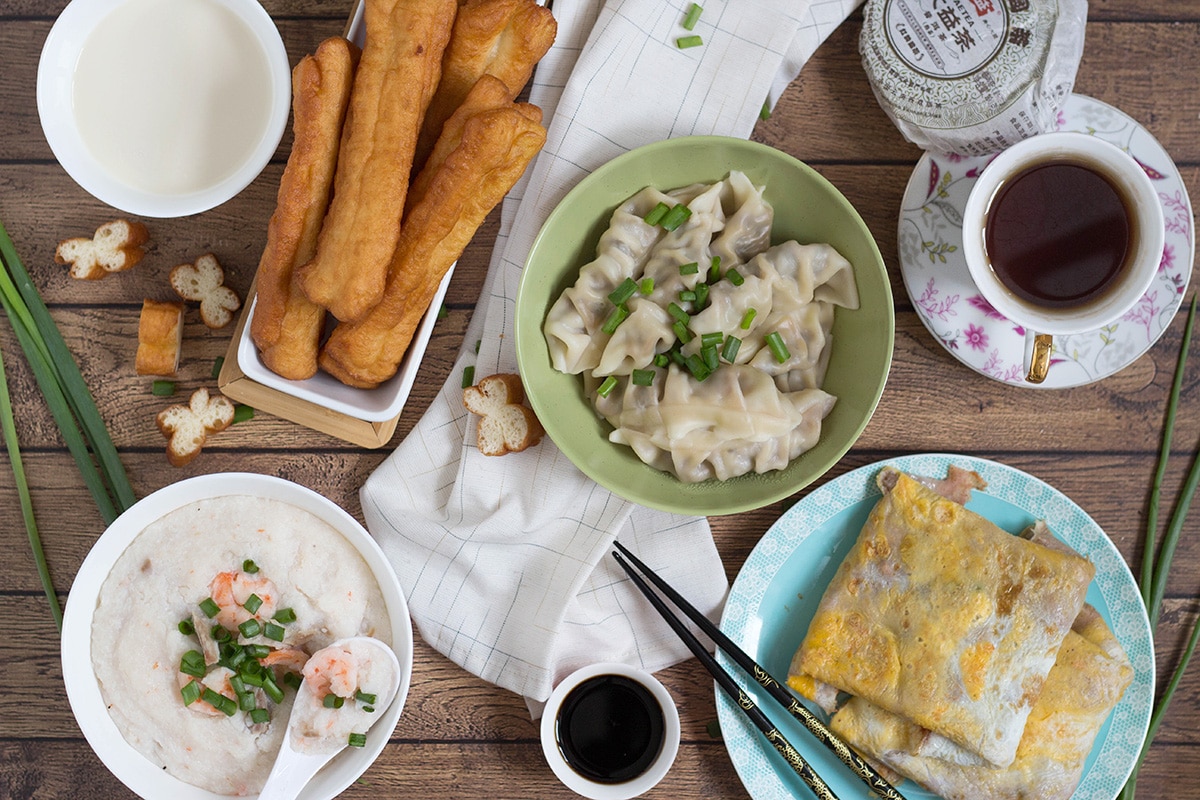 Chinese Breakfast – Breakfast Around the World #7
Chinese Breakfast is really filling and includes dumplings, rice porridge with pork and shrimp, crepes with meat filling, and more!

Ingredients
Jiaozi dumplings

Pork and shrimp rice porridge

(Jook or Congee)

Crepes with meat filling

(Jian Bing)

Fried dough sticks

(Youtiao)

Soy milk

Tea
Instructions
Serve all the ingredients and enjoy your authentic Chinese breakfast!