Chocolate Salami is not a sausage stuffed with chocolate. Sorry if you were looking for it! Instead, this Italian dessert features dark chocolate, cookies, nuts, and a bit of rum mixed together to create a sweet and crunchy perfection. Only 20 minutes of prep and no baking required!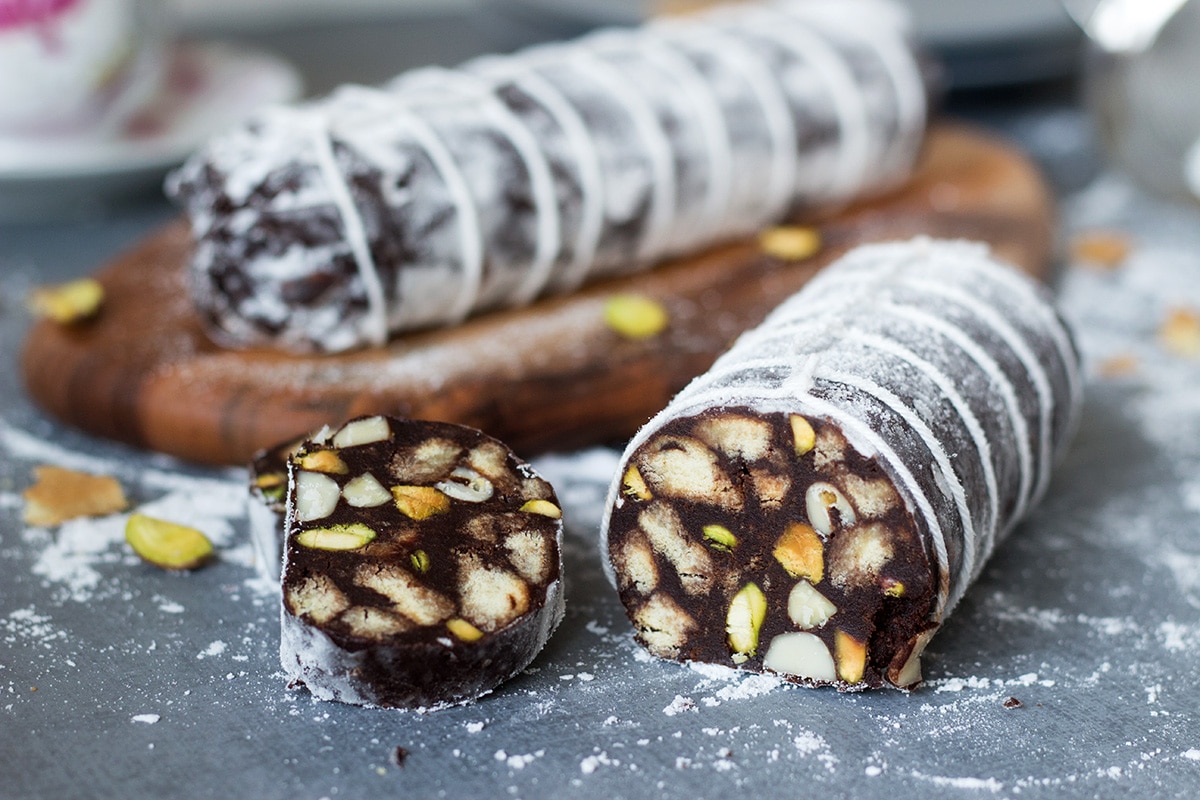 Chocolate salami? What the bloody hell is this? Sweet chocolate mixed with ground beef, pork or whatever and cured in a dark cellar? Ewww. Well, let's not be so categorical. I easily believe that such a sausage exists somewhere in the world and there are people who actually love it, so I don't want to hurt their feelings right now. After all, we are cooking the globe in search for new tastes here, right? But not this time. I can almost hear your sighs of relief through the screen, ha! So what this chocolate salami is after all?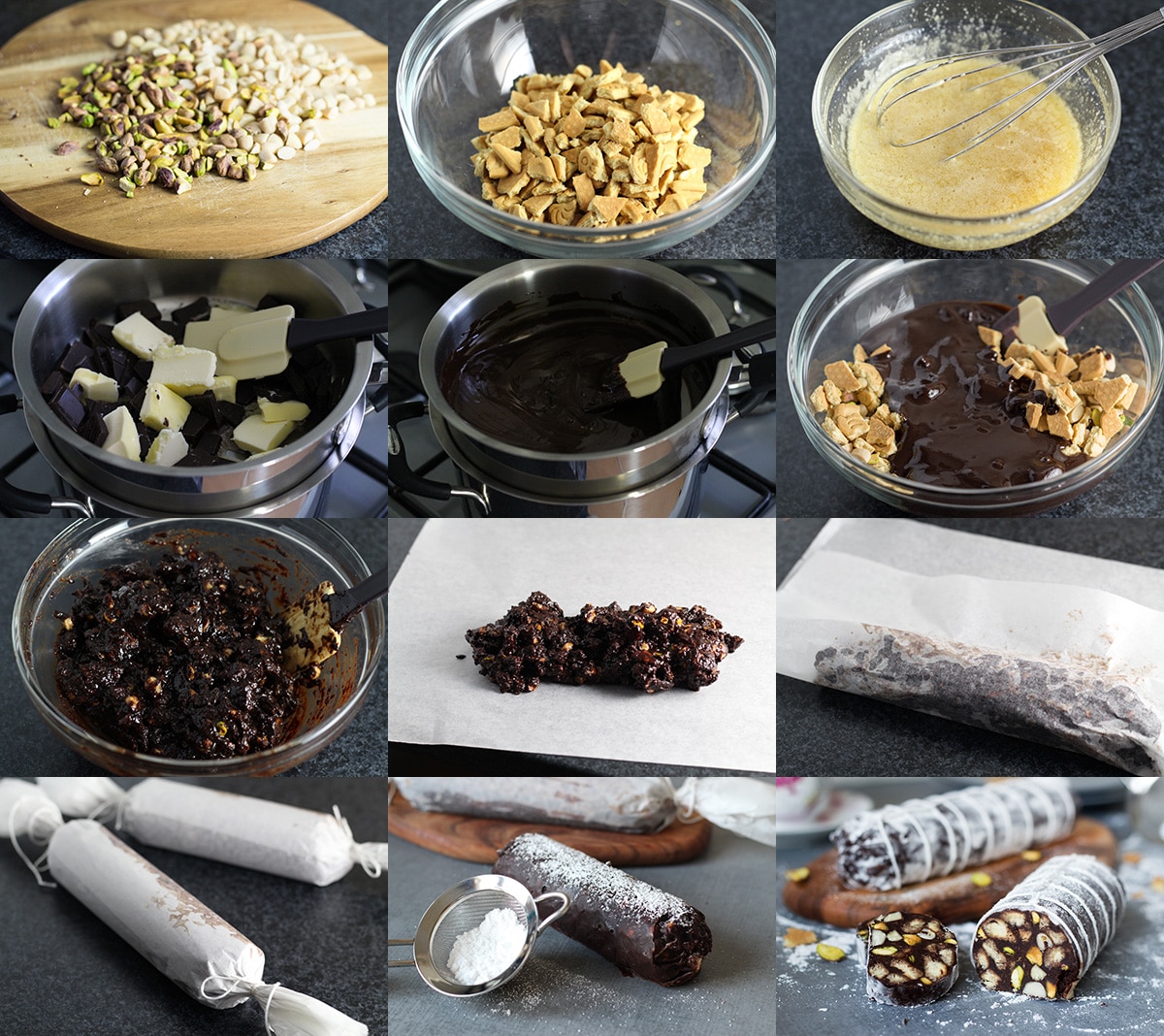 Chocolate salami (salame di cioccolato in Italian) is a dessert popular in Italy and Portugal. It is made from dark chocolate, plain cookies (tea biscuits, digestive cookies, Graham crackers), rum and sometimes nuts or dried fruits. Cookies replicate the fat of a sectioned salami, hence the name. The shape of the dessert looks exactly like a sausage too! It comes handy during parties, when you can trick your guests into thinking that's it's a real deal. Plus it's so easy to make!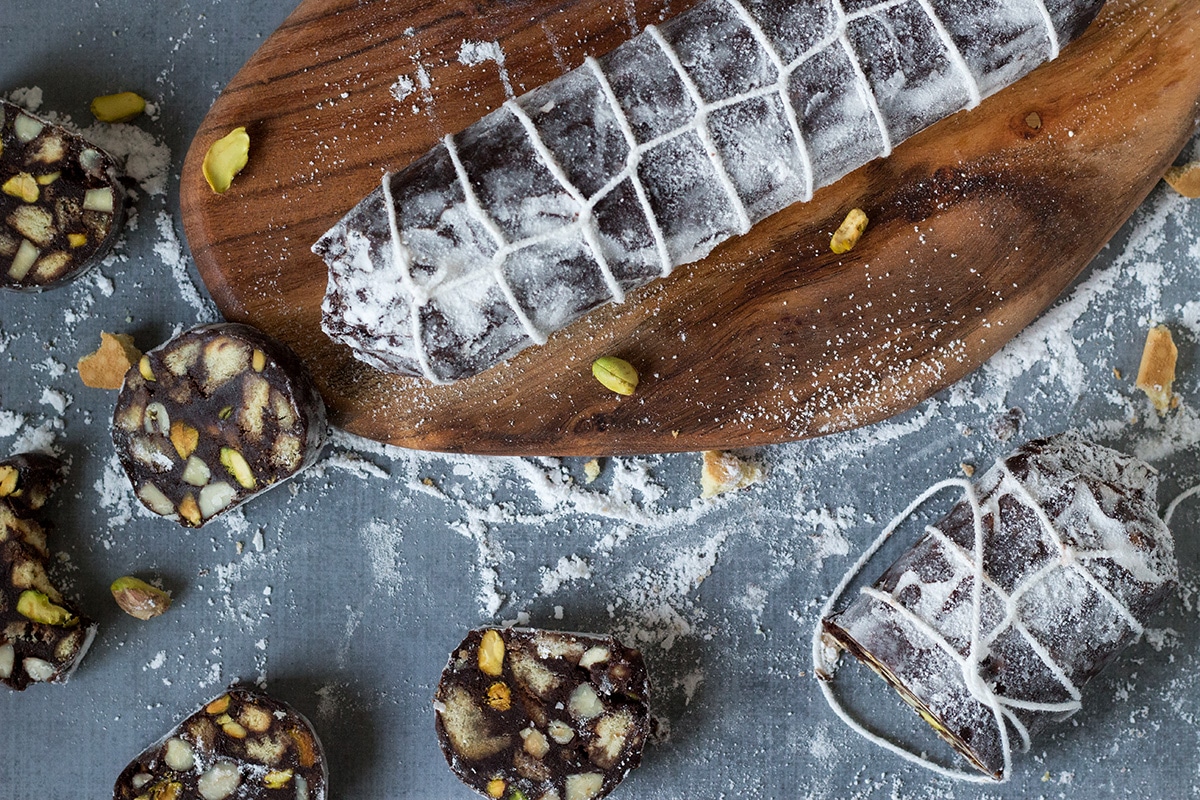 Wikipedia says that this dessert became popular across Europe and is absolutely right. Actually, I grew up with this chocolate log because my mom made it numerous times (just without the alcohol) and no, I am neither Italian nor Portuguese! I always thought that it was Russian and that it came to my country from there. Oops. It's amazing how the world works. You can eat something for your whole life without even knowing that the same dish exists on the other side of the world, just with the different name!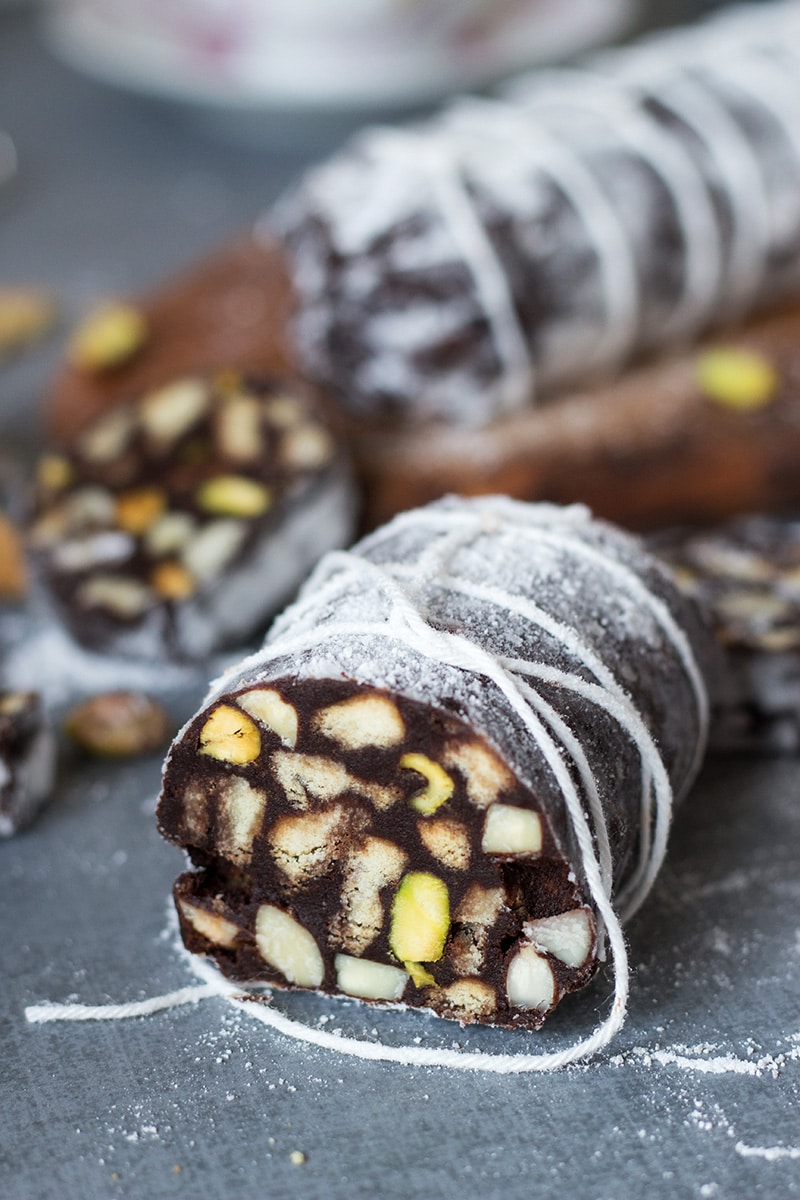 By the way, in my country this chocolate salami is called a "Slacker", perhaps because it is so effortless. You can't be too lazy to make a "slacker", right? It would be ridiculous! I guarantee you that everyone can make this delicious dessert. Kitchen is your worst nightmare and you don't even know how to boil and egg? Still doesn't matter because you will nail this one!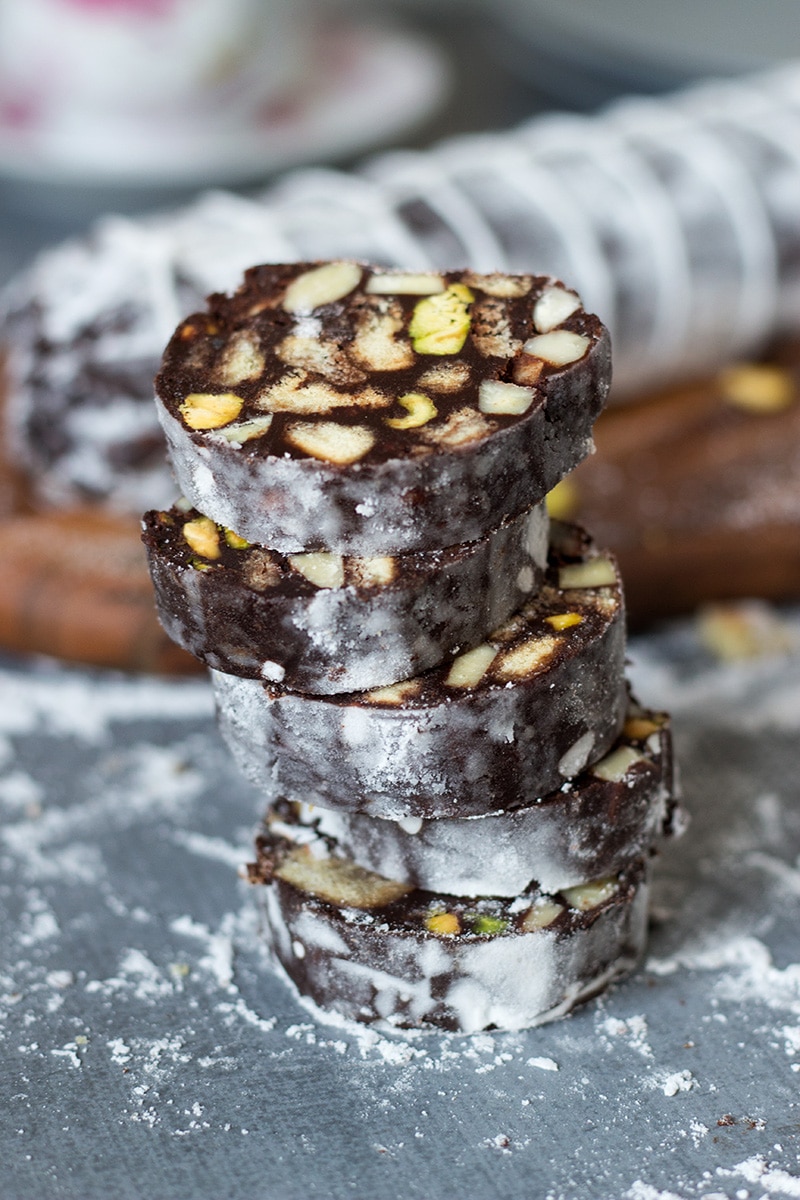 The combination of bittersweet dark chocolate, almonds, pistachios and a touch of rum creates an orgasm in your mouth. I would have it every day, if my wife would let me. It's so good.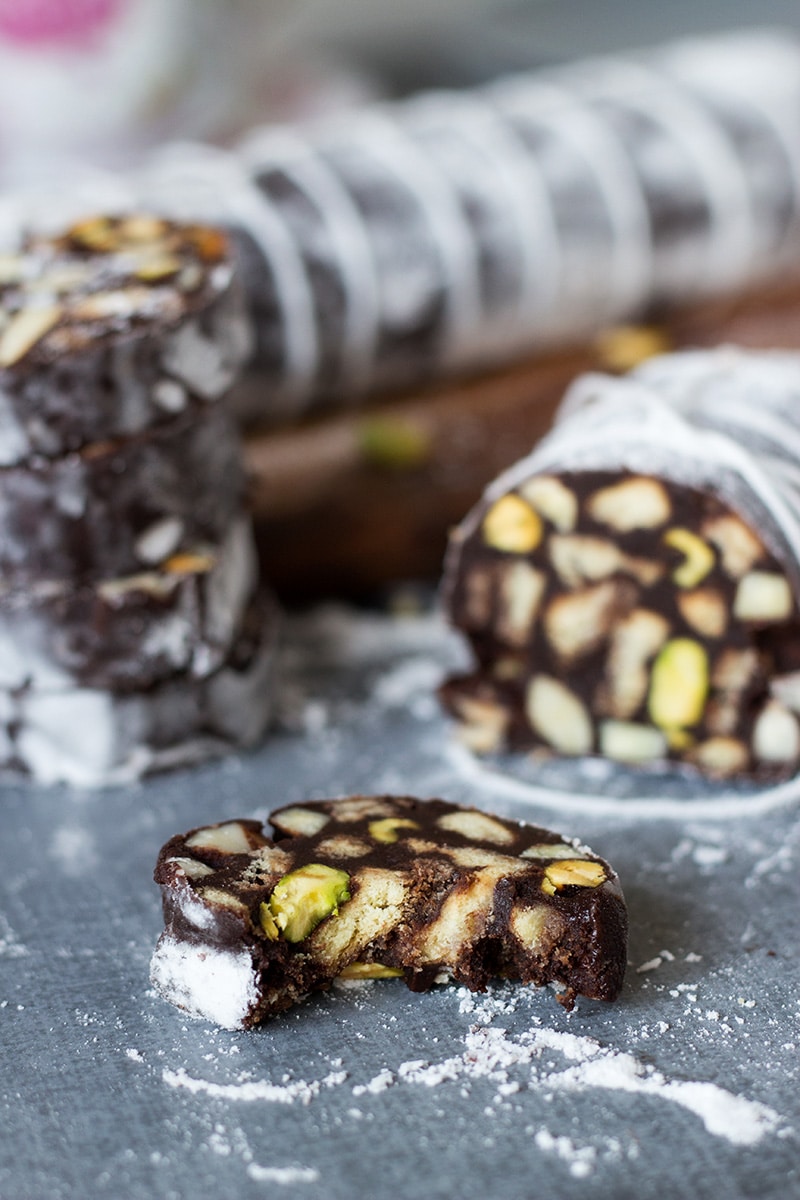 Chocolate salami can be served with after-dinner liqueurs, cup of coffee or tea. Is your mouth watering already? Just go and make it!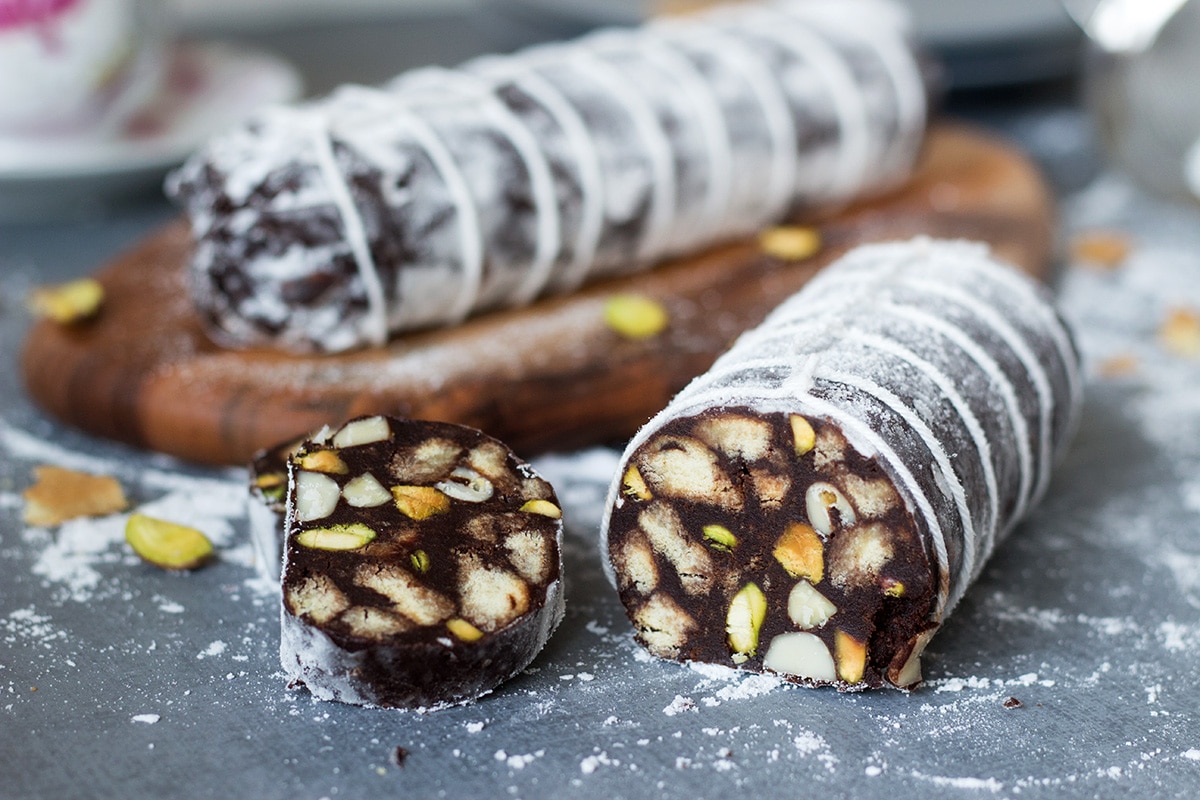 Italian Chocolate Salami - Salame di Cioccolato
Dark chocolate, broken cookies, mixed nuts, and rum combined together to create this sweet and crunchy Italian dessert. 20 minutes of prep and it's on your table!

Ingredients
7

oz (200g)

dark chocolate,

chopped

3

oz (85g)

unsalted butter

⅓

cup (70g)

white sugar

2

tablespoons

brown sugar

1

large egg plus 1 large egg yolk

6

oz (170g)

plain cookies (tea biscuits, Graham crackers, digestive cookies),

crushed

2

tablespoons

powdered sugar

½

teaspoon

vanilla extract

2

tablespoons (30ml)

dark rum

(can be omitted if made for children)

1

cup

mixed nuts

(I've used ½ cup unsalted pistachios +½ cup blanched almonds but you can substitute with any nuts you want), toasted and roughly chopped
Instructions
Mix chocolate and butter in a pot and melt it over another pot of boiling water.

In a bowl, mix vanilla extract, sugar, brown sugar, egg and yolk. Add to the chocolate mixture and mix well. Stirring frequently, continue to cook until sugar has dissolved and the mixture is smooth (about 4-5 minutes). It should be hot to touch. Remove from heat.

Add crushed cookies, rum and chopped nuts to the chocolate mixture and stir with spatula until well combined. Leave to cool and thicken slightly.

Divide the mixture evenly between two sheets of parchment paper. Roll it up to form two logs. Twist the ends tightly and leave in a fridge overnight.

Unwrap the logs and coat with powdered sugar. You can tie them like a real salami with string (there are plenty of instructions on Youtube) or just leave it unstrung. Cut into slices and serve. Enjoy!

Salame di Cioccolato can be stored well wrapped in a fridge for up to 1 week or for up to 1 month in a freezer.
Nutrition