This famous Hungarian cake, called Dobos Torte, is a real showstopper. Soft layers made with a combo of all-purpose and almond flour are slathered with buttery chocolate frosting, covered with almond slices on the side, and topped with the attractive caramel layer. Your guests will applaud you!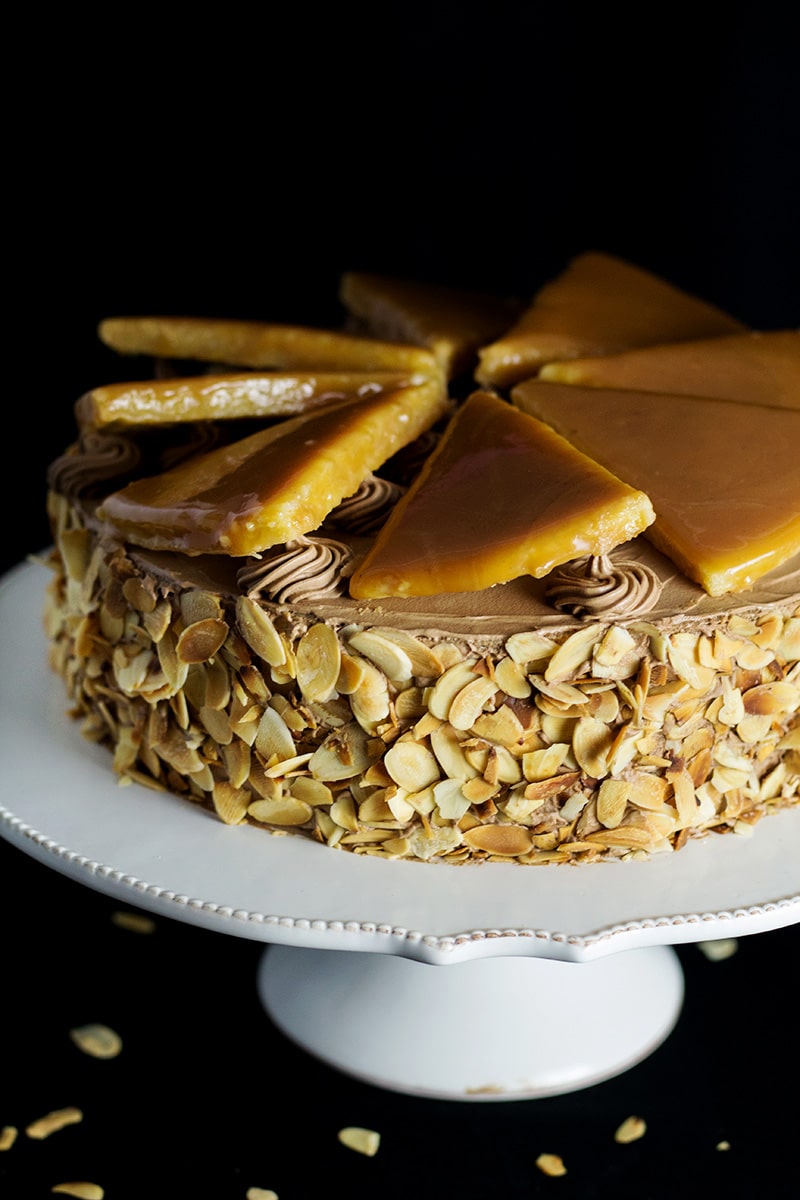 I just celebrated my 27th birthday a few days ago. Yeah yeah, I know you want to congratulate me, so thanks! Last year was undoubtedly the best one in my life because my beautiful wife bore me a son. Now I feel that I am truly happy - I have everything I need in this life. Well, more children would be great, but we will see how it goes. For now this little man alone keep his daddy and mommy quite busy, ha!

For my first birthday as a dad my wife and I decided to make a cake together. I left the choice of the cake to my wife, with one condition. It had to be the national cake of some country. We are cooking the globe here after all, right? After a busy night sifting through countless culinary books we own, she laid her eyes on a layered Hungarian sponge cake called Dobos Torte or Dobosh Torte.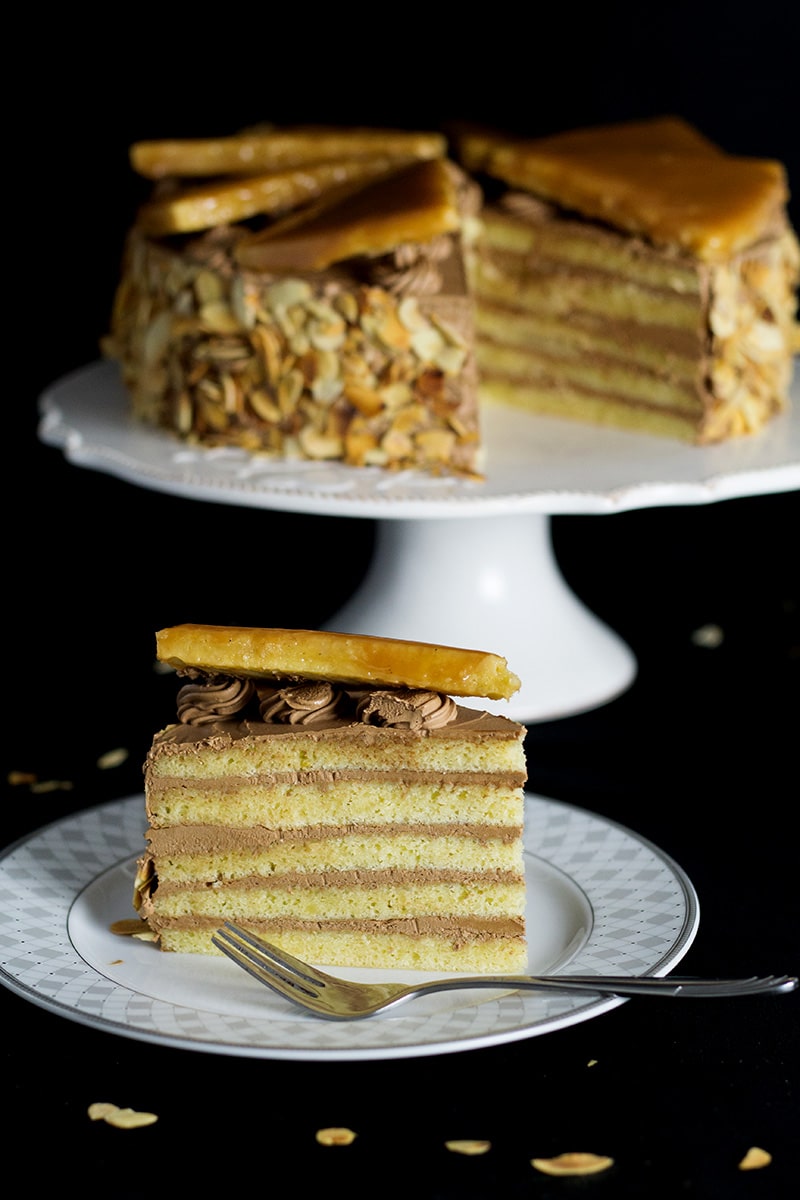 This cake got his name from the inventor himself - Hungarian confectioner Jozsef C. Dobos. It was first introduced in 1885 at the National General Exhibition of Budapest. The recipe, however, was disclosed only in 1906, when his author retired. Dobos Torte has gained its popularity back then because it differed from all other cakes of that time. The chocolate buttercream was not known of, cake frosting was mostly made of whipped cream. Plus people loved the look and the simplicity of the Hungarian Dobos Torte.
Thanks to mister Dobos, now we can enjoy this mouthwatering cake! I love everything about it. Soft, aromatic layers, generously slathered with rich buttery chocolate frosting, covered with almond slices on the side and as if it was not enough, topped with the fantastic looking caramel slices. No, seriously, you can't argue with the fact that it looks great. If you are not drooling over these photos right now... Who are you? What is wrong with you??
In fact, I loved these layers so much, I ate all the leftovers even before the Dobos Torte was assembled. Yup. And I enjoyed the chocolate buttercream so much, I licked the bowl where it was made so clean it barely needed washing. Yes, I am a sick bastard. It was my birthday so don't you dare to judge me, uh-uh.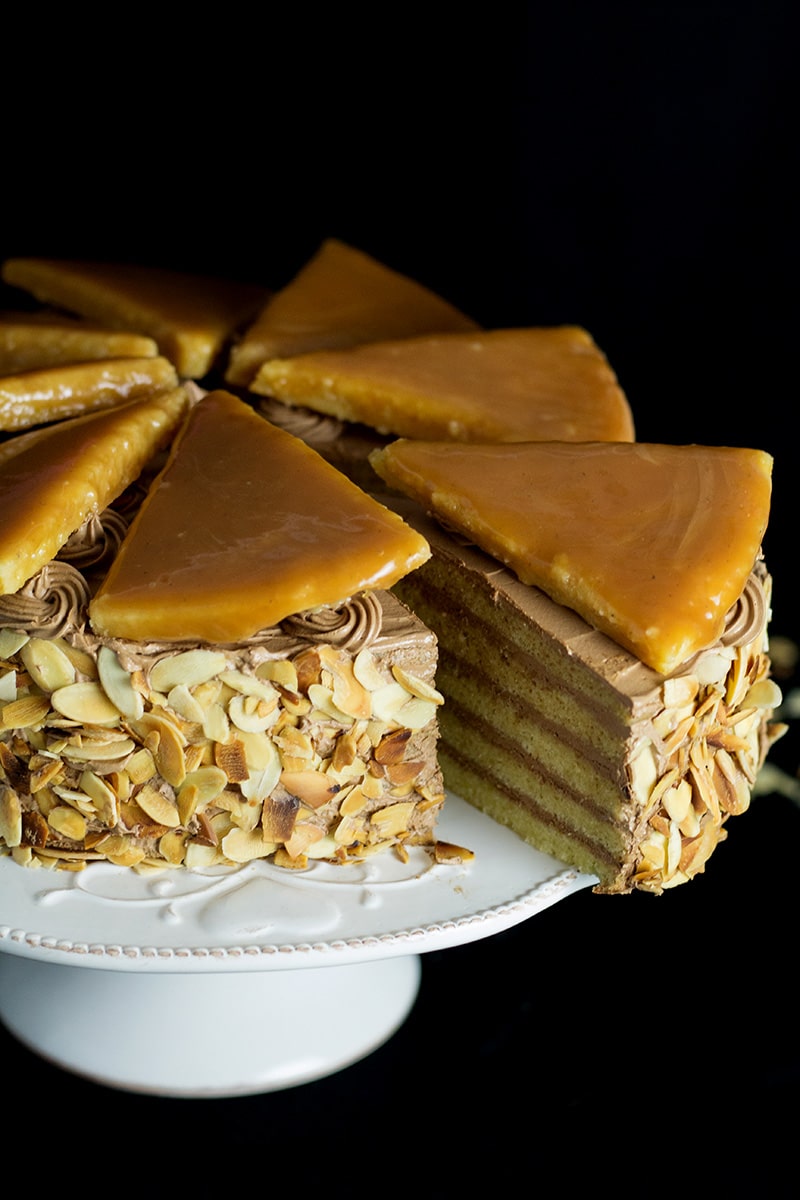 Chances are, you are trembling right now after seeing the length of the recipe. You want to shut your computer / phone / tablet down and try to forget what you've seen. No need to do that, seriously. It's actually one of the easiest birthday cakes out there, believe me. I am sure you will make it. Yes, you, my dear reader!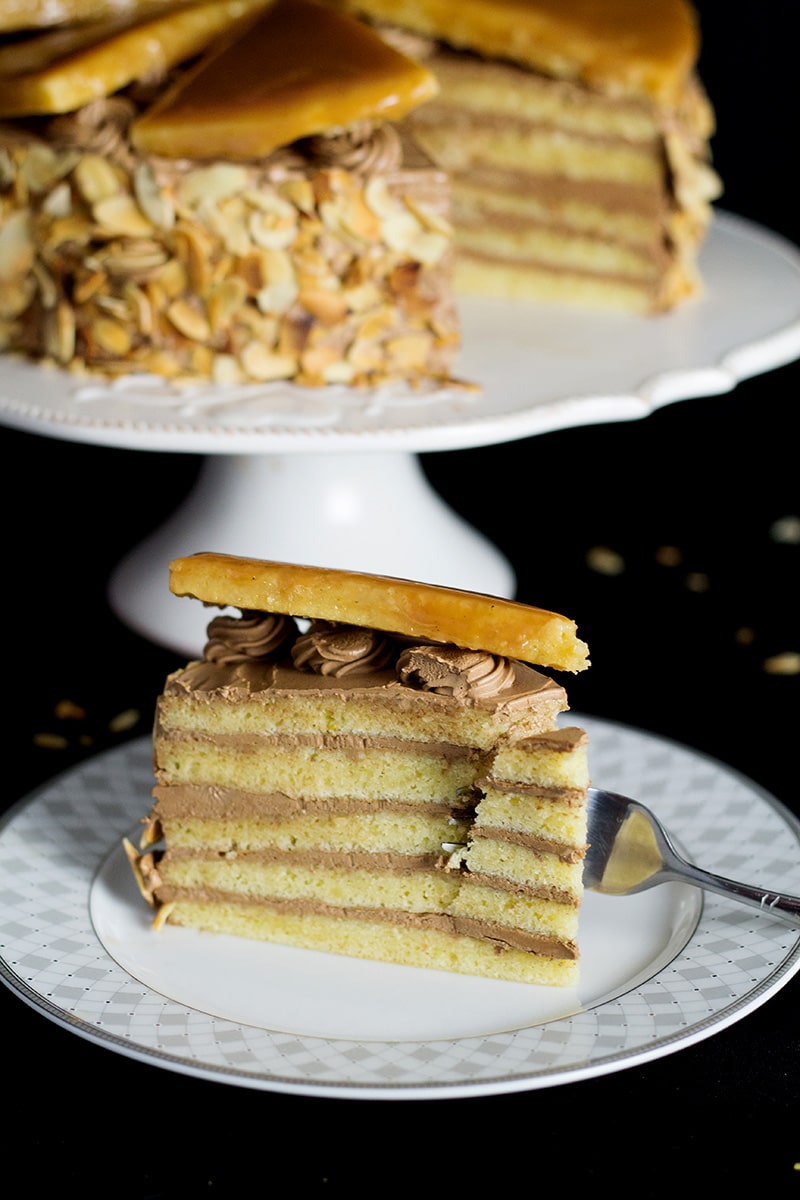 Let's conclude. Dobos Torte is easy to make, it looks fantastic and tastes even better. It is just as good days later. A perfect homemade birthday cake!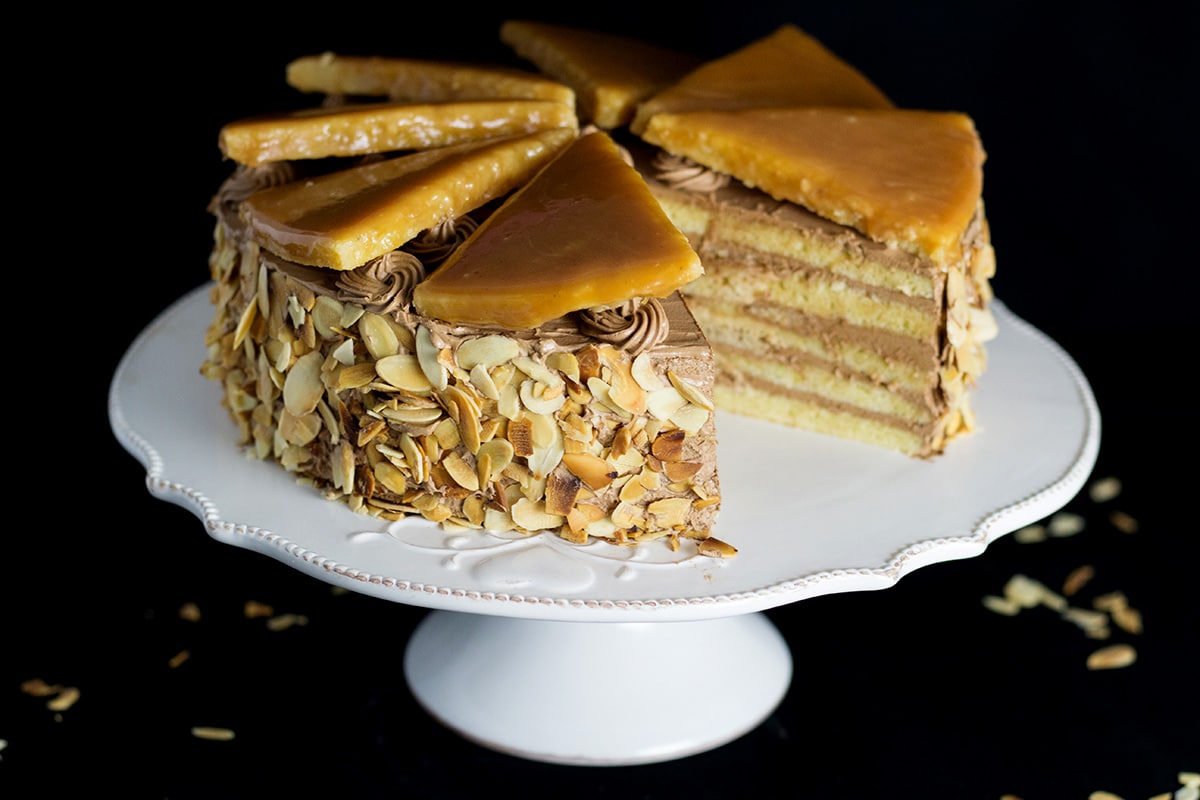 Dobos Torte
Soft layers slathered with chocolate buttercream, covered with almond slices on the side, and topped with neat looking caramel slices. This Dobos Torte is a showstopper!

Ingredients
For the cake layers:
1 ½

cups (340g)

unsalted butter,

room temperature

1 ½

cups (315g)

sugar

12

eggs,

separated

1

teaspoon

vanilla extract

½

teaspoon

salt

1

lemon,

zest only

2

cups (225g)

sifted all-purpose flour

1 ⅓

cups (140g)

almond flour
For the chocolate buttercream:
4

large egg whites

1

cup (210g)

sugar

3

sticks (340g)

unsalted butter,

room temperature, cut into cubes

8

oz (225g)

bittersweet chocolate,

melted, slightly cooled
For the caramel:
1

cup

white sugar

6

tablespoons (90g)

unsalted butter,

room temperature

⅓

cup

heavy cream
For the assembling:
1

cup (90g)

almond slices,

toasted
Instructions
The cake layers. Beat the butter with the half of the sugar until it turns white and fluffy.

Add in the egg yolks into the mixture, one by one, beating after each addition. Stir in the vanilla extract, salt, lemon zest. Set aside.

Beat egg whites until foamy. Gradually add the remaining sugar and beat until soft peaks form.

Fold the egg whites into the egg yolk mixture. Mix the sifted flour with the almond flour. Fold the flour mixture into the egg mixture.

Trace 6 9-inch circles on parchment. Spread the dough on each one of them. I've used about 1 cup of the dough on each circle.

Preheat the oven to 425 degrees F (220 C) and bake each circle for 8 minutes. Allow to cool down. Turn over and gently peel the parchment paper off. Use an 8-inch cake pan to form new flawless circles. We made the bigger circles first to make it easier to form beautiful circles later. One of these 6 circles will be used for the caramel top layer which we will cut in pieces, so you can make it slightly smaller than 8 inches (it will look better).

The chocolate buttercream. Mix egg whites and sugar in a heat-proof bowl placed over a saucepan of simmering water. Whisk continuously until sugar has dissolved and the mixture is warm to the touch (about 160 F or 71 C). Remove from the heat. Use a mixer to beat the mixture on high speed until stiff peaks form. Continue beating until the mixture is fluffy and cooled (about 6 minutes).

Add the butter gradually, beating well after the each addition, on medium-low speed. If the frosting is separated after you've added all the butter, keep beating it on medium-high speed until it comes together and is smooth (3-5 minutes more).

Beat in the chocolate and beat on low speed for about 2 minutes, to eliminate any air bubbles. Stir with rubber spatula, until smooth.

The caramel. Make sure you have all the ingredients ready because you have to act quickly. Heat the sugar in a medium saucepan over medium heat. Stir continuously with a rubber spatula. Sugar will form clumps and eventually melt as you continue to stir. Be careful not to burn.

Once the sugar is completely melted (into a thick brown liquid) immediately add all the butter. Stir until the butter is completely melted, for about 2-3 minutes. Remove the pan from heat and carefully drizzle in the heavy cream while stirring. Stir until caramel is smooth.

Butter a spatula and use it to spread the caramel over one of the cake layers which we will use on top. Butter a knife and cut layer into 8 equal pieces.

The assembling. Place the first cake layer on a plate and spread the chocolate buttercream on top. Repeat with all layers, finishing with the chocolate. I've used about ⅓ cup of buttercream on each layer. Use a pastry bag to draw with chocolate on the top layer. Place the caramel slices on top.

Frost the sides with the remaining chocolate buttercream. Use almond slices to decorate the sides of the cake.

Refrigerate overnight. Enjoy!
* This post contains affiliate links, thank you for the support in keeping Cooking The Globe up and running!