Highly nutritious and healthy, these Costa Rican Rice and Beans (Gallo Pinto) make a great side or a stand-alone dish. Pre-cooked rice and beans are refried with veggies and spices!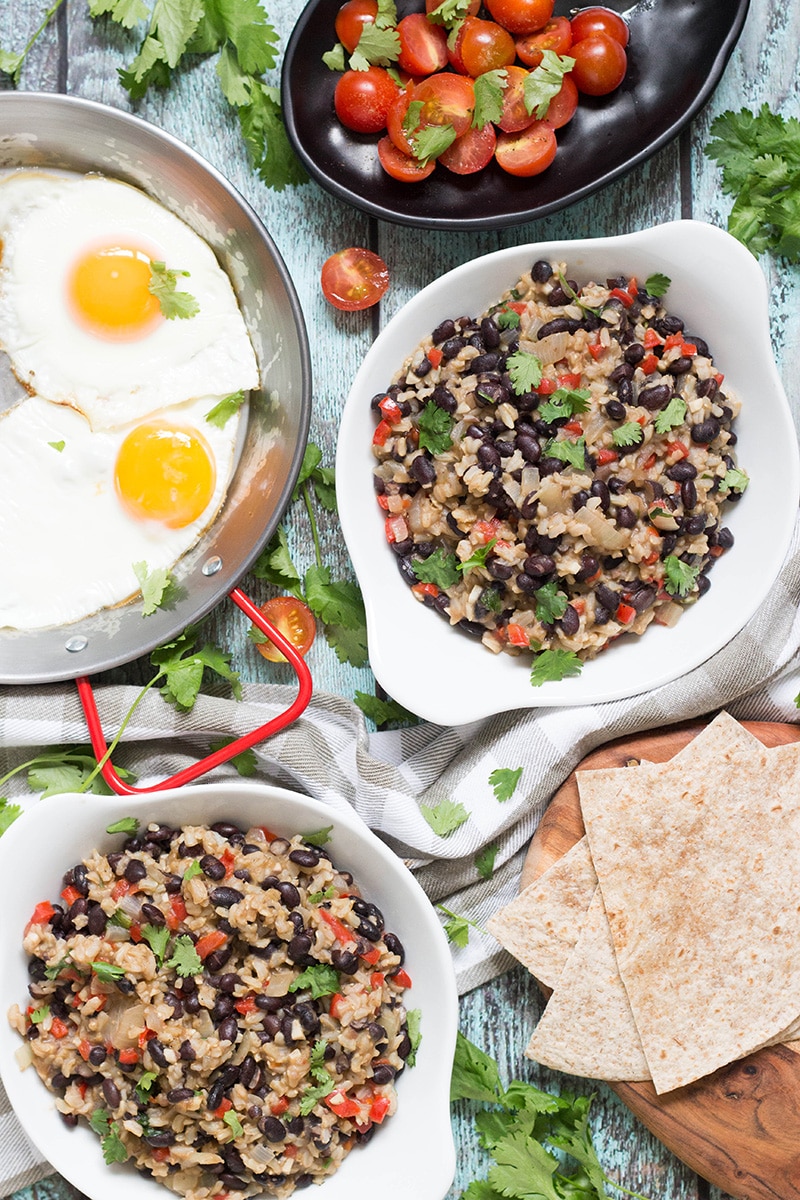 If you are following my blog closely, you must have noticed that there are few types of dishes that keep popping up again and again. The first one is pancakes (I can't live without them) and the second one is rice and beans. That's right. I am a huge fan of this side dish and I make it quite often to accompany meat dishes.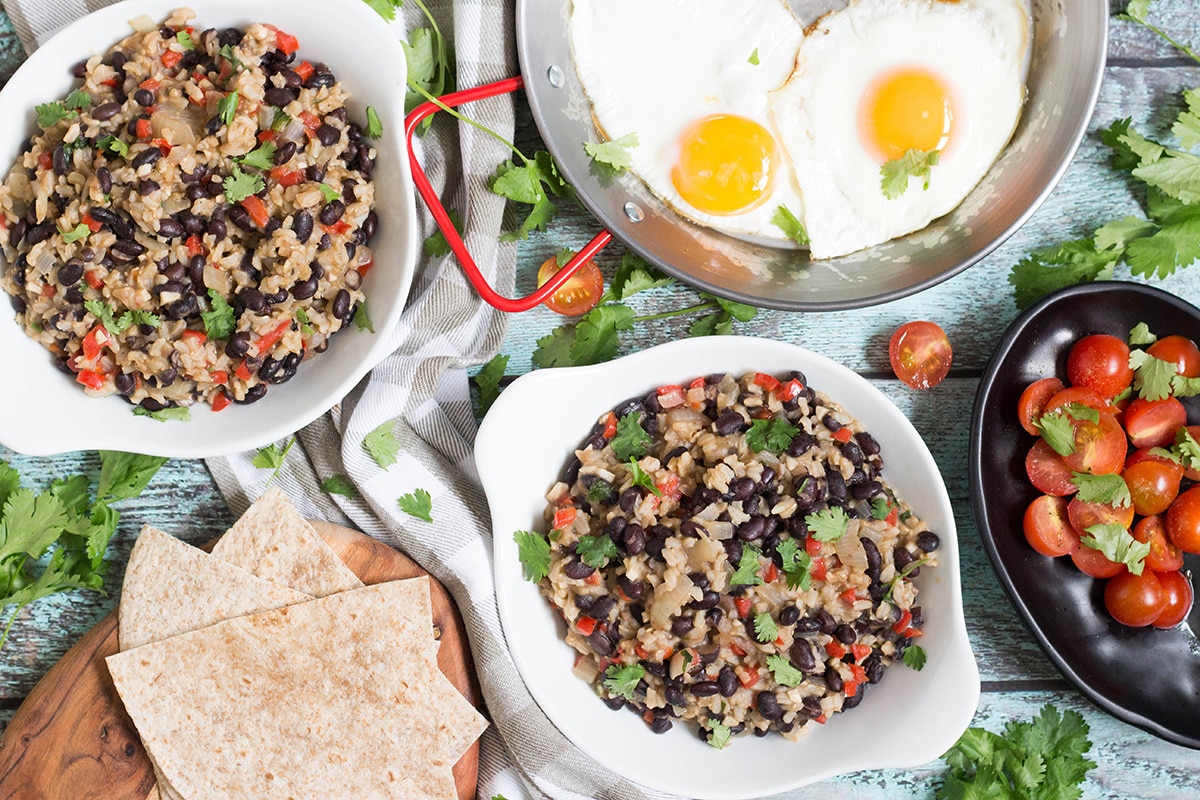 One of the main reasons why I love beans, particularly black ones, is the high content of protein and fiber they have. I am trying to get fit lately (hitting a gym, watching what I eat) so every single day I need to consume big amounts of protein for muscles to grow. Even if you are not into sports, black beans have tons of health benefits so it's always a nice idea to consume them.
For the blog, I have already made Jamaican Rice and Peas (it's actually beans, but they call them peas) and Cuban Black Beans and Rice. Carribean region always delivers when we are talking about the beans!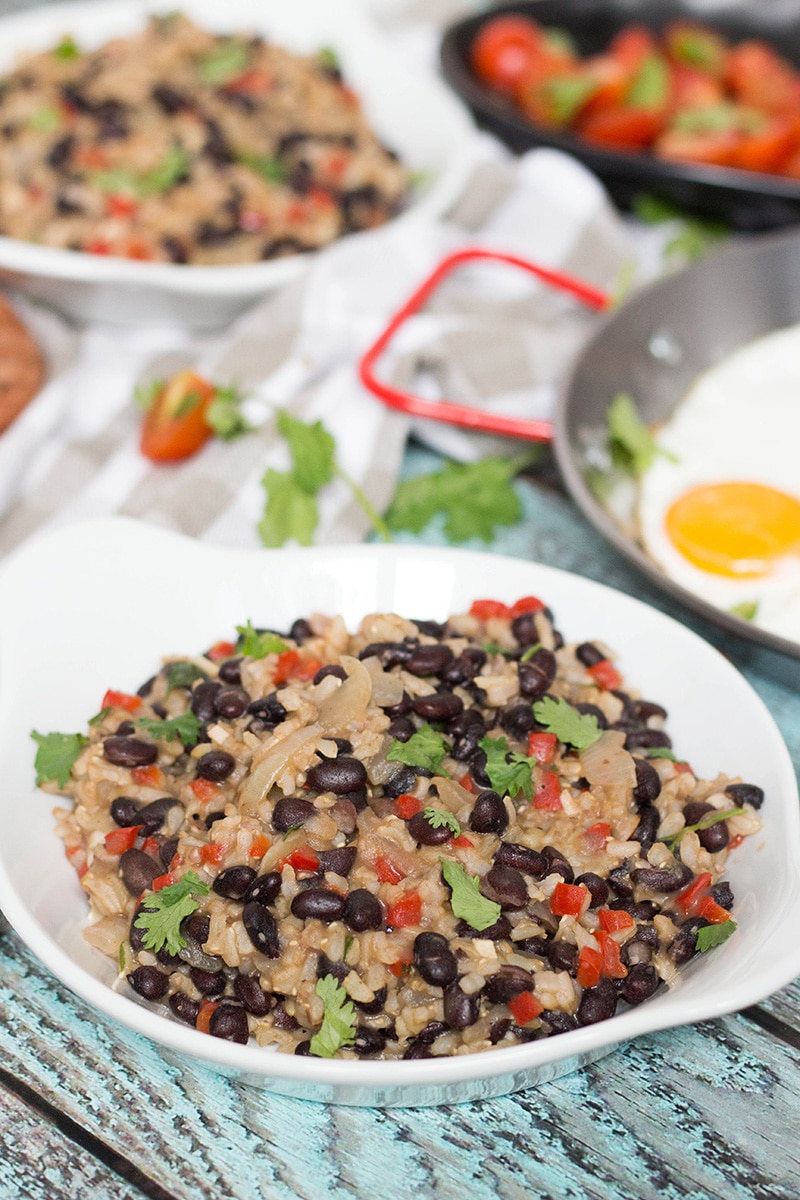 Today, though, I want to talk about the country which is not considered to be Caribbean but... It's not too far away. Costa Rica! These guys also have their own version of rice and beans, called Gallo Pinto. It's regarded as their national dish. Actually, their neighboring country Nicaragua also considers Gallo Pinto as their traditional food. There are even disputes between these two countries about where this flavorful dish originated.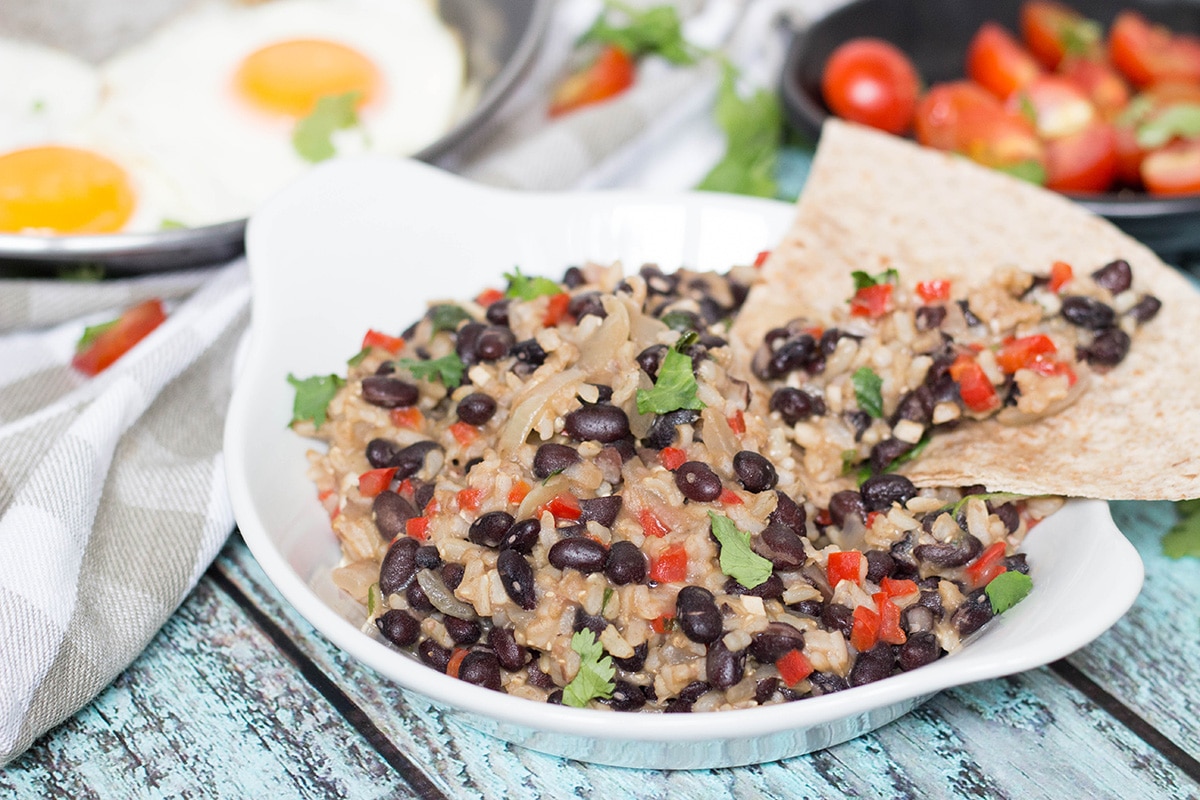 Now the fun part. Do you know what does Gallo Pinto mean in Spanish? Any guesses? You've disappointed me, guys. The answer was so obvious. Of course it means "spotted rooster", ha! It's believed that the dish got this name because of its colorful appearance: black or red beans mixed with rice, bell pepper, and cilantro.
So what's Gallo Pinto about? It's a mix of pre-cooked rice and beans, that are "refried" with various veggies and spices. Usually, these Costa Rican rice and beans are served with tortilla, scrambled or fried sunny side up eggs, fried plantains, cheese, avocados, or a mix of exotic fruit.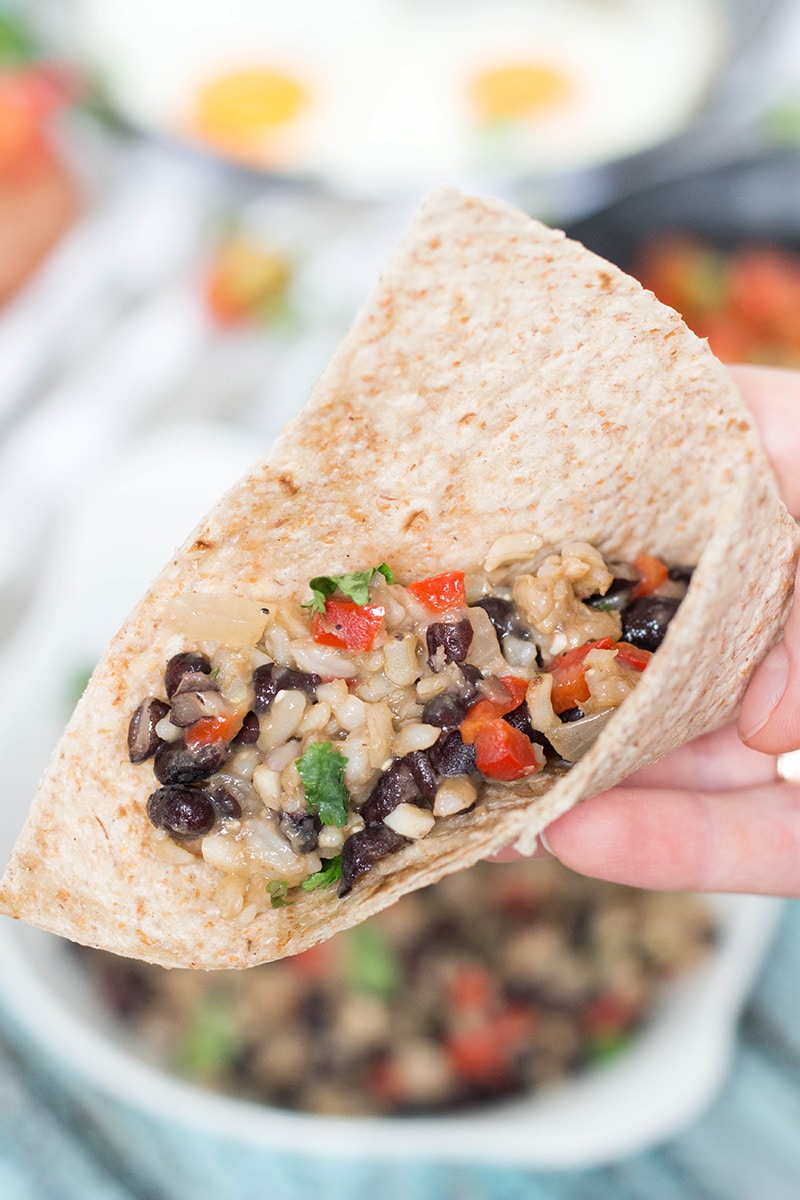 Gallo Pinto can be eaten any time of the day. It is perfect for breakfast and lunch, or as a side dish for dinner. I usually have it alongside meat dishes and it's so much better than simple rice or pasta. There is nothing more to say. I highly recommend you to try this fantastic meal!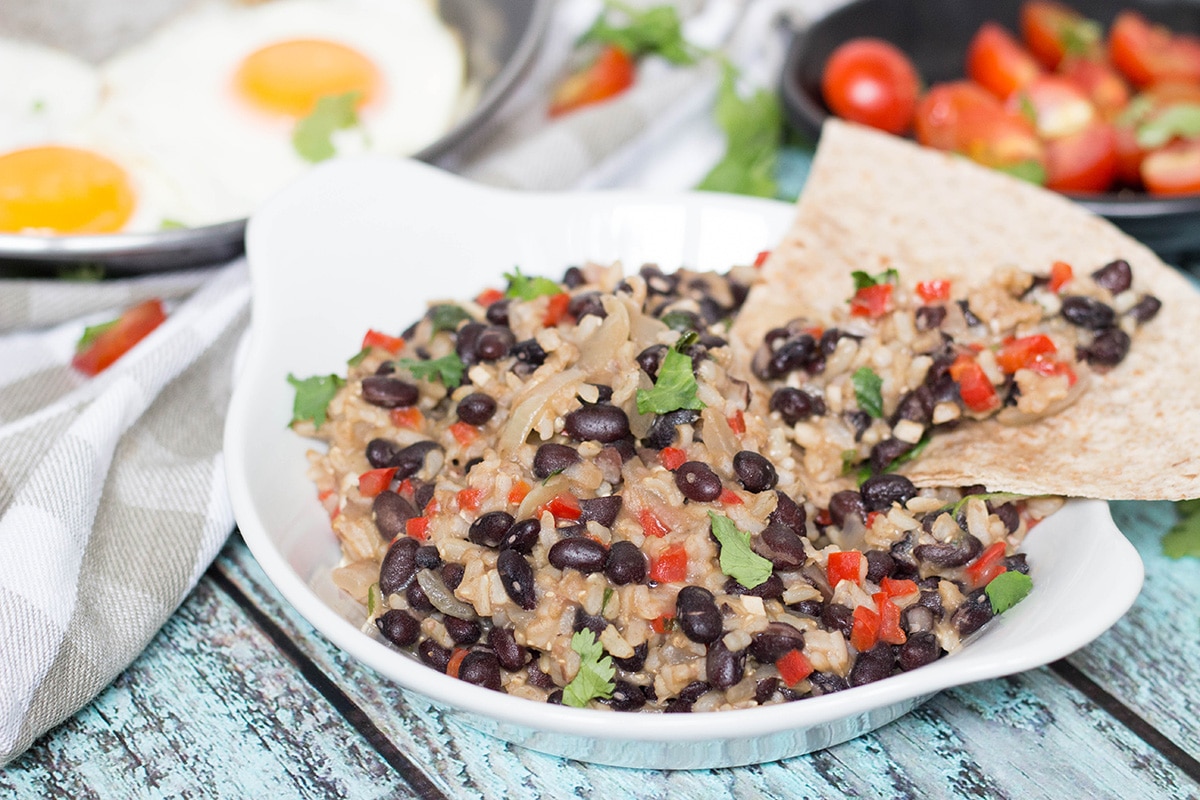 Gallo Pinto Recipe - (Costa Rican Rice and Beans)
This rice and beans dish comes from Costa Rica and it's highly nutritious. Perfect as a side or a stand-alone dish!

Ingredients
3

tablespoons

vegetable oil

3

cloves

garlic

, minced

1

small onion

, finely diced

1

red bell pepper

, seeded, finely diced

2

cups

cooked rice

(I used brown rice)

1

teaspoon

ground cumin

2

cups

cooked black or red beans

½

cup

bean cooking liquid or vegetable broth

1

tablespoon

Worcestershire sauce

½

teaspoon

salt

½

teaspoon

black pepper

½

cup

finely chopped cilantro
Instructions
Heat the oil in a large skillet. Add the garlic and cook until it starts to sizzle. Add the onion and bell pepper, and cook for 7-8 minutes, until the onion is soft and translucent.

Add the rice and cook for about 10 minutes, stirring frequently. Add the cumin, beans, bean-cooking liquid, Worcestershire sauce, salt, and pepper. Cook until all the liquid is absorbed, but the mixture is moist, for 10-15 minutes. Don't forget to stir. If the mixture is too dry, add a little bit more cooking liquid.

Stir in the cilantro and turn off the heat. Serve with tortilla, fried eggs, avocado, fried plantains, exotic fruit, or cheese. Enjoy!
Nutrition