Mexican Sweet Bread has more than 300 different varieties but Conchas is most probably the most popular one. Soft inside and crunchy outside, these shell shaped buns with a shell pattern on the top are perfect with a cup of hot chocolate or coffee!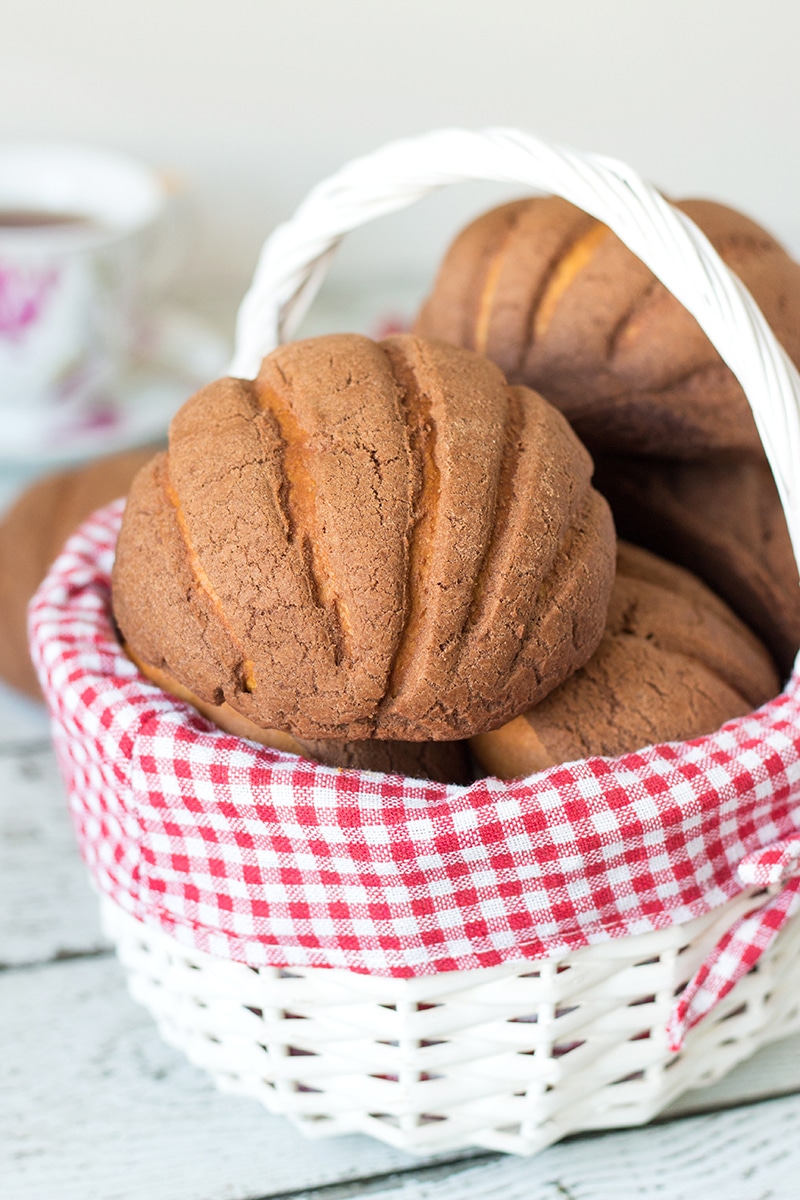 When I made the Mexican Rice Pudding few months ago, I talked that Mexican dessert world is seriously undervalued. Everyone talks about tacos, quesadillas and other popular stuff but no one pays attention to the sweet treats this sunny country has to offer. I won't make such a mistake.
This time I want to introduce you a Mexican Sweet Bread, Pan Dulce in Spanish. It's not just one type of bread, Pan Dulce has many different varieties. It's more like a group of baked goods. I won't talk about all of them here, because this topic deserves a separate post. It's too many of them (according to different sources, between 300 and 1000!). If you are interested though, there is a great article on Wikipedia about Pan Dulce. Every type has a name usually associated with its look: ears, flowers, horns, to name a few. I chose one variety (a very popular, or I should say the most popular, one) called Conchas. It means shells in Spanish, and this Mexican sweet bread is called like that for their shell-like shape and shell pattern on the top.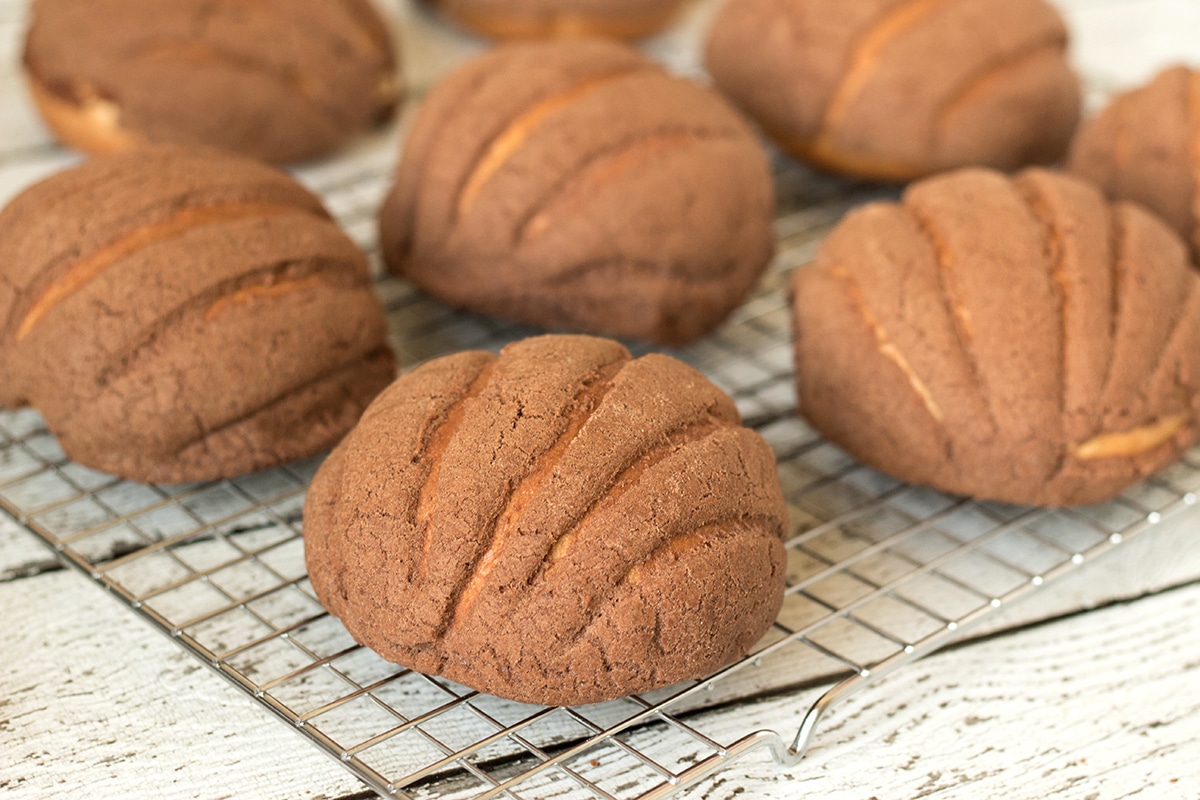 The appearance of the sweet breads in Mexico was heavily influenced by the French and Spaniards. They were the ones who introduced baked goods and various pastries to indigenous people and inspired them to create many different varieties of Pan Dulce. Thanks to them, Mexicans and people visiting this country can enjoy these sweet treats every day! These are not just words. Mexicans really munch their sweet bread every single day. Panaderías (bakeries) offer myriads of Mexican sweet bread varieties you can choose from. It became a breakfast or a late supper staple which is usually enjoyed with a cup of hot chocolate or coffee.
I can actually relate to this tradition, because sweet baked buns are highly popular in my country. There are loads of bakeries around my town and people buy them like crazy. I am one of them, ha! So, high five to Mexicans for their sweet bread!
Now few words about the Conchas, the buns you see on the pictures. They are soft inside, while their shell-like topping is perfectly crunchy. The book I adapted this recipe from, My Sweet Mexico, offers two versions of toppings: a simple sugary one and a "chocolate" topping with addition of few tablespoons of cocoa powder. I am a huge fan of chocolate. If a cookie or a bun doesn't have some chocolate inside or on top, it's not good enough to me. I will still eat it, but I won't be as happy as I would be with some chocolate inside. I guess the answer to the question which version of Conchas I chose to make is pretty obvious!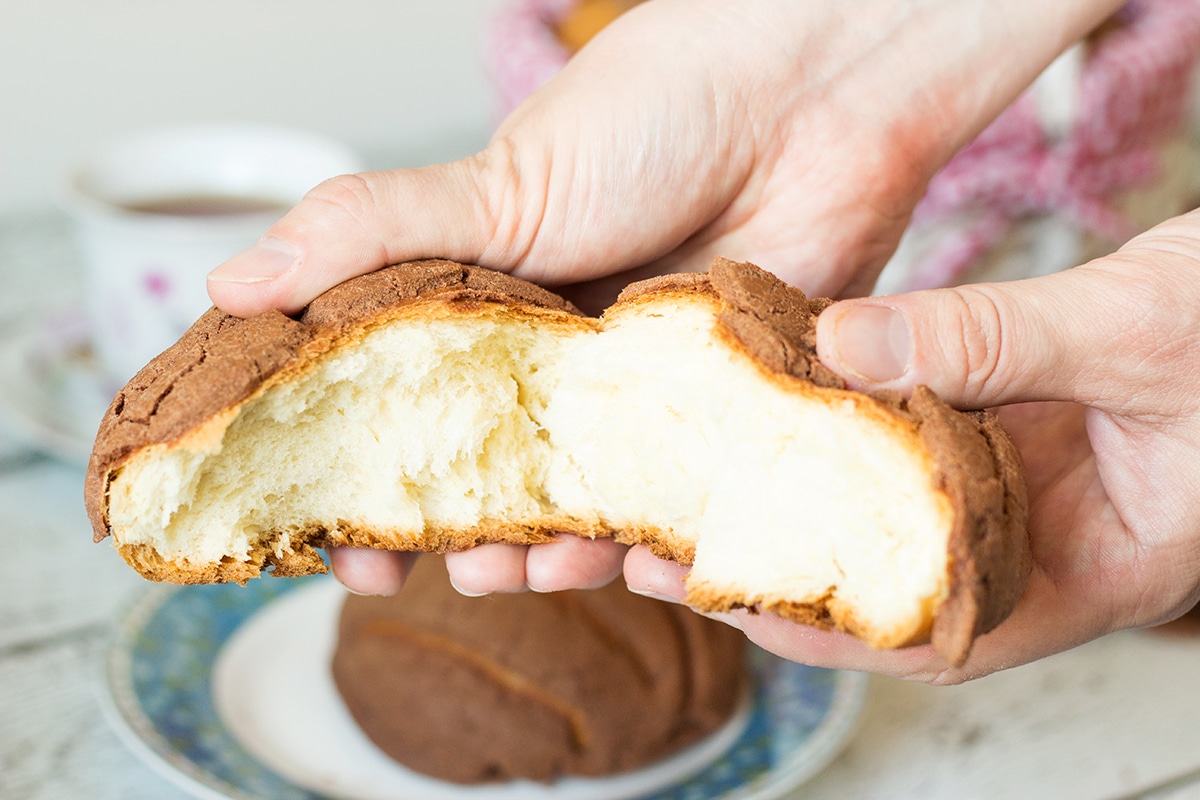 I really loved this Mexican sweet bread. First of all it looks amazing. I didn't think that I will be able to make these shell-shaped buns by myself, but I was wrong. They turned out even better than I was thinking they would. Awesome! I also loved the combination of the soft, not too sweet interior and the crunchy, chocolatey topping. Perfect with a cup of tea or coffee. Enough words, just go and make them already!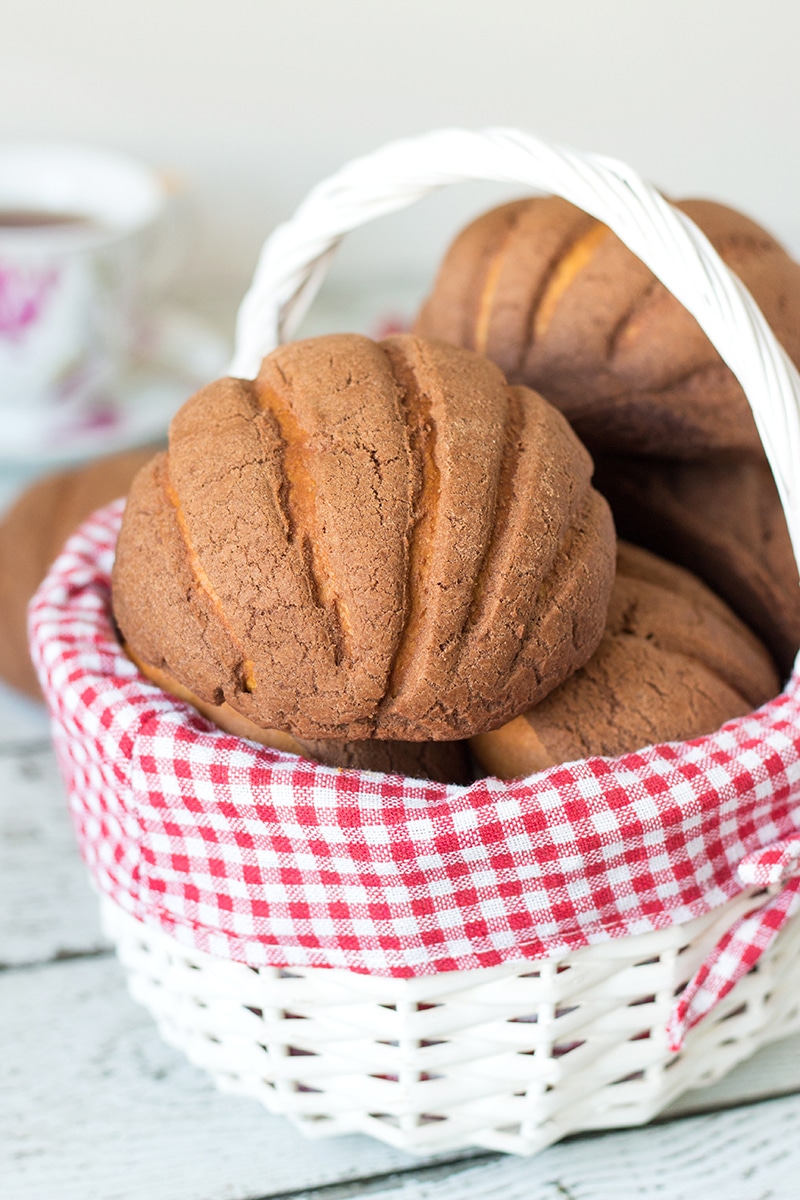 Mexican Sweet Bread - Conchas
There exist many Mexican Sweet Bread varieties but Conchas is the most popular one. These shell-shaped buns are soft inside and crunchy outside! They do require some effort but it's well worth it.

Ingredients
For the dough:
4 ½

teaspoons (2 packets or 14g)

active dry yeast

(instant dry yeast can also be used)

1 ¼

cups

whole milk

, at room temperature

6¾ to 7

cups

all-purpose flour

¾

cup

granulated sugar

2

teaspoons

salt

3

eggs

½

cup

unsalted butter

, at room temperature
For the topping:
2

cups

all-purpose flour

(for the chocolate topping, substitute 3 tbsp flour to 3tbsp cocoa powder)

½

teaspoon

baking powder

pinch of salt

2

cups

confectioner's sugar

½

cup

unsalted butter

, at room temperature

½

teaspoon

vanilla extract
Instructions
The dough. Dissolve the yeast in the milk. Combine 7 cups of the flour with the granulated sugar in a mixer. You can also do that by hand. Add the yeast and milk mixture and mix lightly. Add the salt.

Now start adding the eggs, one at a time, while mixing on low speed until the mixture starts to come together. Scrape the sides, increase the speed to medium, and continue mixing for about 10 minutes. You should get a smooth and elastic dough.

Start adding the butter, little by little, increase the speed to medium-high and mix for about 8 minutes, until the dough is smooth. If the dough is too sticky, add the remaining ¼ cups of flour.

Place the dough inside a lightly oiled bowl. Cover with a plastic wrap or damp towel and leave in a warm place to rise, for about an hour. It should double in size. Meanwhile, prepare the topping.

The topping. Combine the flour, baking powder, salt, confectioner's sugar, and cocoa powder (if using it) in a bowl. Cream the butter in another bowl and add the flour mixture to it. Mix well until combined. Add the vanilla extract and mix once again.

Making the buns. Divide the dough into 16 pieces and roll tightly by cupping your hands and pressing as you roll it over the table. Line a baking sheet with a parchment paper and place the dough balls on it. Leave about 1 inch space between them. Press every ball with the palm of your hand so it looks like a dome.

Roll a gumball-size amount of topping in your hands, flatten it using a rolling pin, and use a glass to cut the dough into perfect circles. The circle should be big enough to cover the dome of dough. Score with the tip of a knife or a pizza cutter to make parallel curved lines to resemble a seashell. Leave at room temperature, until the dough doubles in size, for about 40 minutes.

Preheat the oven to 350°F (175°C). Bake the buns for 30-40 minutes. Enjoy!
Nutrition
* This post contains affiliate links, thank you for the support in keeping Cooking The Globe up and running!