Let's celebrate summer with this amazingly delicious French Strawberry Tart. A crisp buttery tart shell filled with custard and topped with fresh, ripe, sweet strawberries. The presentation will leave your guests in awe!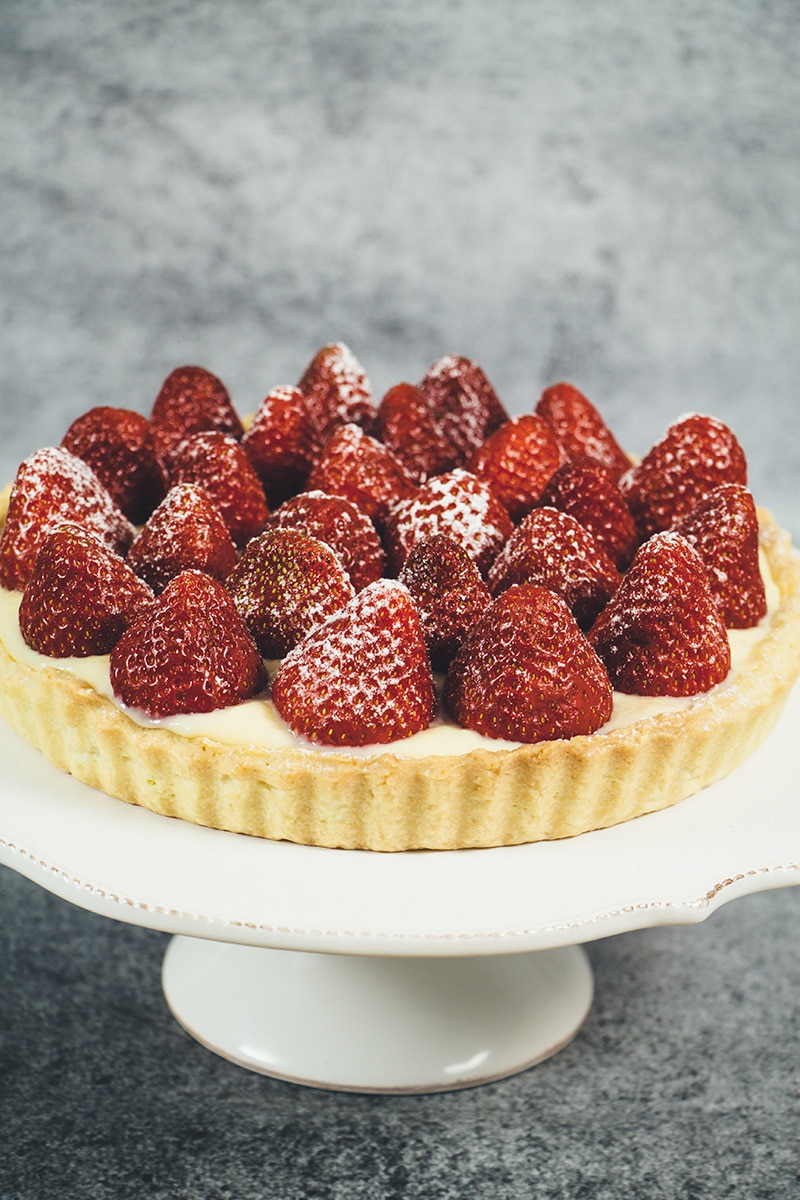 What says summer better than strawberries? These red, sweet, deeply flavored berries are in abundance in June in Lithuania but a month later they are gone. Mother nature is ruthless. I would love to have more time to enjoy them because it's never enough for me.
Famously paired with cream, swimming in a bowl full of milk, or simply eaten as they are, there are so many ways to enjoy strawberries I would need more fingers to count them all. Baked desserts are another great option. Cakes, pies, tarts topped or generously filled with juicy fresh red berries are a true delight on a sunny summer day.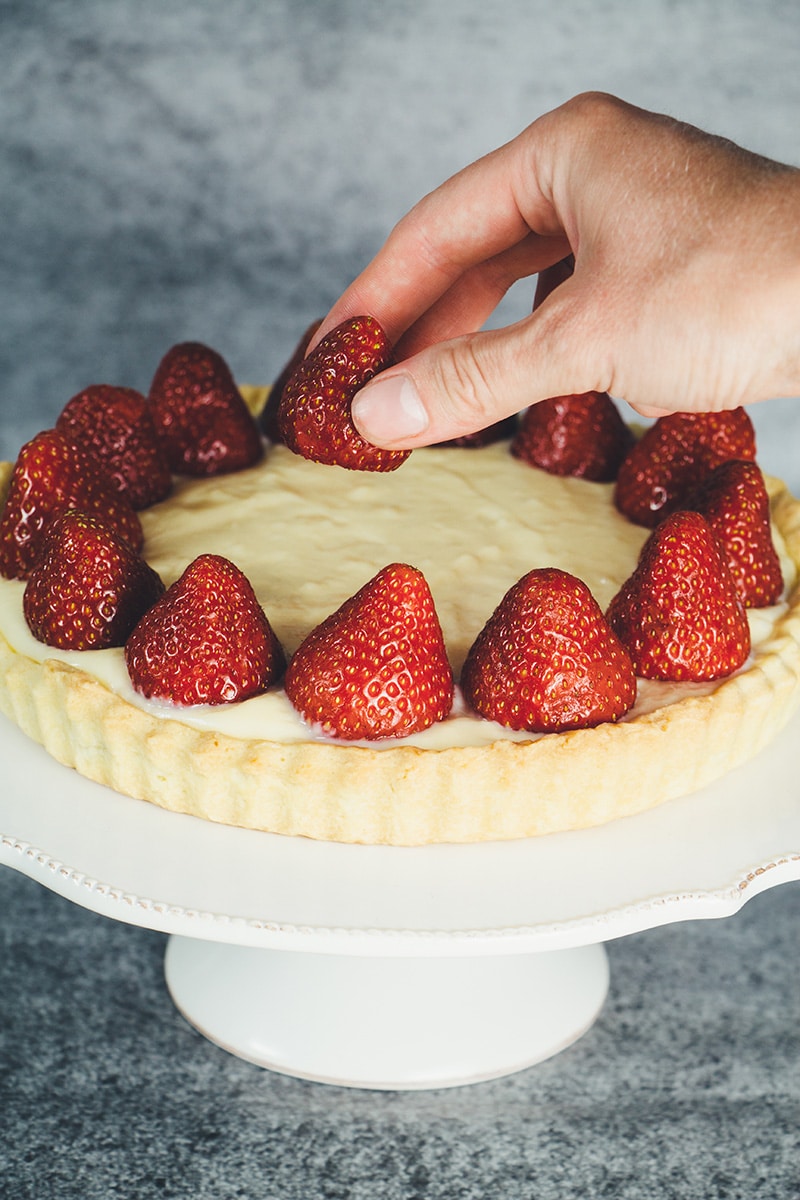 Unfortunately, I am usually too lazy in summer to make them. Plus, the prospect of spending time in a hot kitchen on a scorching summer day is not the most tempting one.
Thankfully, sometimes a desire to enjoy a slice of mind-blowingly delicious berry infused dessert takes over and forces to get my butt in the kitchen.
The result of this inner battle of mine is this beautiful French Strawberry Tart. I made it a few weeks ago but was too busy (read: too lazy) to post it on the blog. As far as I know, the strawberry season in other countries is longer so I hope you will get to try it this summer!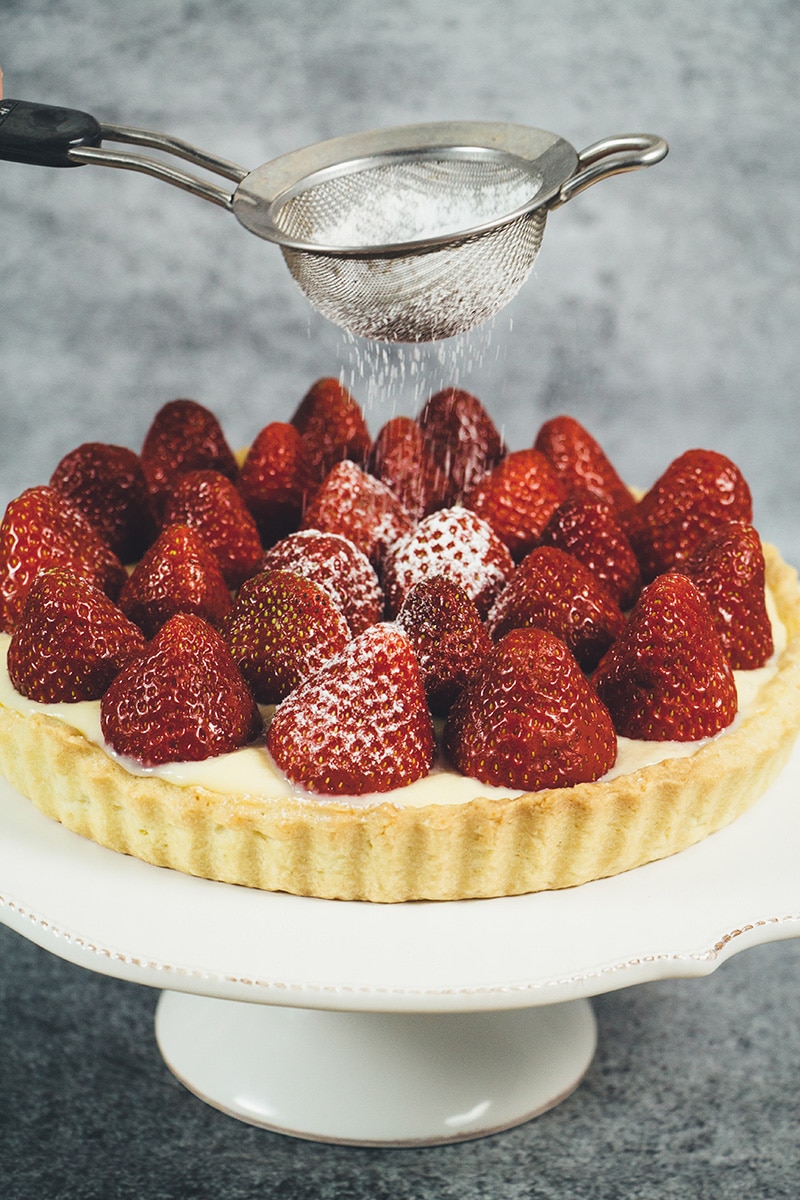 A perfect buttery tart shell filled with a simple yet full-of-flavor custard and topped with super fresh straight-from-the-garden strawberries. What else can you possibly need?
What about the origins of this tart, I will be frank with you. I have no clue why this tart is called French (even though it would be a really great fit for the French breakfast table). I just know that it is. Let me know in the comments section below if you have some information on this.
Anyway, French or not, this chilled tart packed with fresh berries makes a perfect summer dessert and is a great way to enjoy strawberries. Even though I really wanted to have this beauty all to myself, I had to share it not only with my wife but also with my relatives that paid us a surprise visit on the next day. Oh, well.
Should I even mention that I got so many compliments my cheeks burned? First on the presentation, then on the taste. That's how awesome this French strawberry tart is. And that's why I highly recommend you, guys, to try it!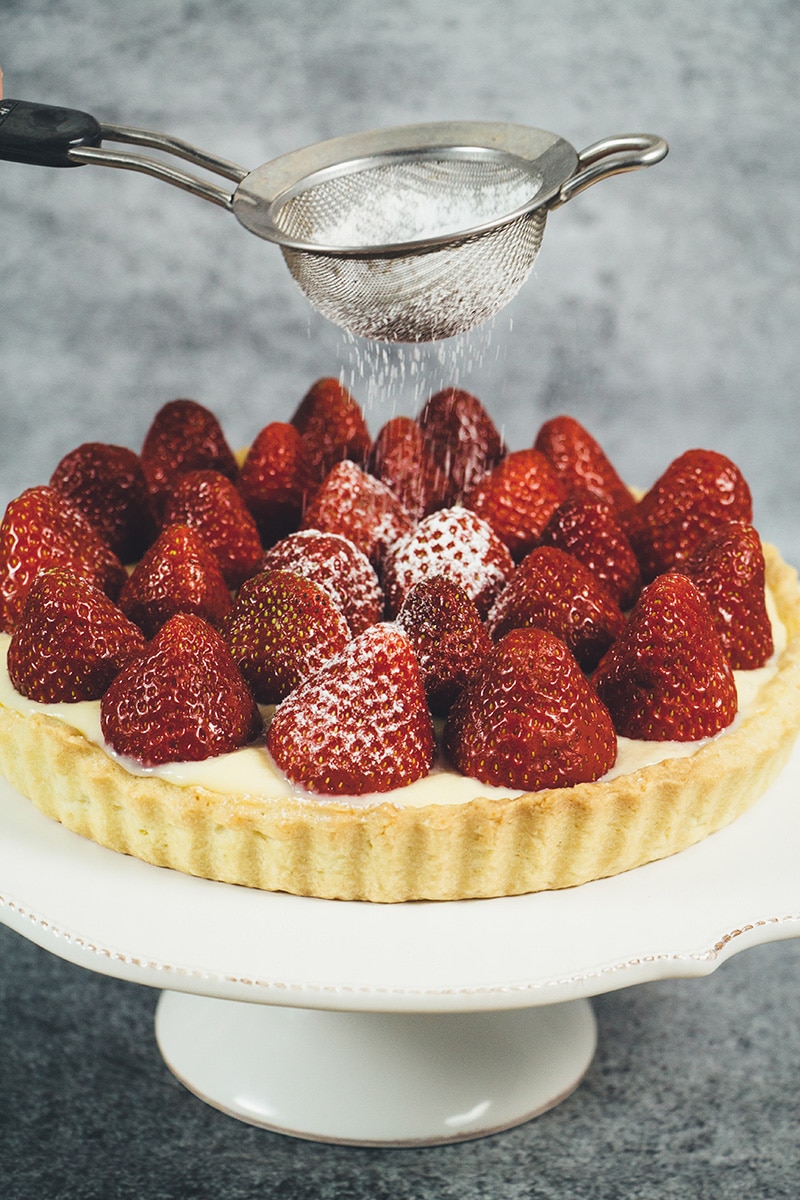 French Strawberry Tart
Get some fresh strawberries and make this astonishing French Strawberry Tart. Not only it tastes amazing but the presentation is mind-blowing too!
Ingredients
For the tart shell:
2

cups (250g)

all-purpose flour

3

tablespoons

sugar

½

teaspoon

salt

½

cup + 2 tablespoons (145g)

unsalted butter

, cut into chunks

3-6

tablespoons

ice water

1

egg yolk
For the custard:
5

egg yolks

½

cup

sugar

1

teaspoon

vanilla extract

2

cups

milk

6

tablespoons

all-purpose flour

1

teaspoon

melted butter
For the topping:
strawberries

confectioners' sugar

(optional)

fresh mint leaves

(optional)
Instructions
The tart shell.
In a food processor, place the flour, sugar, salt, and butter and process until you get a grainy mixture. Add the ice water and egg yolk and process again until the dough holds together. Transfer to a lightly floured surface and knead for a minute to make it smooth. Cover with a plastic wrap and refrigerate for 1 hour.

Preheat an oven to 425 F (220 C) and line a baking sheet with parchment paper. Take the dough out of the fridge and roll it out to ⅛-inch thickness. Line a tart pan ( I used 8-inch) with the dough trimming the excess.

Line the pastry with aluminum foil and fill with something heavy liked uncooked rice or beans to hold pastry down. Place on the prepared baking sheet and place in the oven. Reduce the oven temperature to 350 F (175 C) immediately and bake for 15-18 minutes. Remove the foil and any weights you used and bake for 10-12 minutes more. Let cool.
The custard.
Beat the egg yolks with ¼ cup sugar until pale. Stir in the vanilla extract and ½ cup milk. Sift in the flour and mix.

Boil the remaining 1 ½ cups milk and ¼ cup sugar in a medium saucepan over low heat. Remove from heat and gradually add this mixture into the yolk and flour mixture. Whisk. Return the entire mixture back to the saucepan and simmer for about 2 minutes until it has thickened, whisking briskly. Turn off the heat and transfer to a bowl to cool.

Brush the top of the custard with melted butter and cover with plastic wrap. Refrigerate until cool.

Remove the custard from the fridge and whisk a little bit to loosen it. Then spread it into the tart shell. Top with the strawberries arranged in circles. Sprinkle with the confectioners' sugar and garnish with the mint leaves if using. Store in the fridge. Enjoy!
Notes
For this recipe I used a 8-inch tart pan. There was some excess dough but the amount of the custard was perfect.
Adapted from A Passion for Baking by Marcy Goldman
Nutrition
Calories:
422
kcal
Carbohydrates:
53.3
g
Protein:
7.9
g
Fat:
20.1
g
Cholesterol:
155.1
mg
Sodium:
180.3
mg
Sugar:
23.3
g
Vitamin A:
1050
IU
Vitamin C:
46.2
mg
Nutrition Facts
French Strawberry Tart
Amount Per Serving
Calories 422
Calories from Fat 181
% Daily Value*
Fat 20.1g31%
Cholesterol 155.1mg52%
Sodium 180.3mg8%
Carbohydrates 53.3g18%
Protein 7.9g16%
Vitamin A 1050IU21%
Vitamin C 46.2mg56%
* Percent Daily Values are based on a 2000 calorie diet.
* This post contains affiliate links, thank you for the support in keeping Cooking The Globe up and running!