Full of fantastic Caribbean flavors, Fricase De Pollo is one of the best Cuban dishes. Chicken pieces are cooked in a tomato-red wine based sauce together with potatoes, olives, raisins, bell peppers, and more!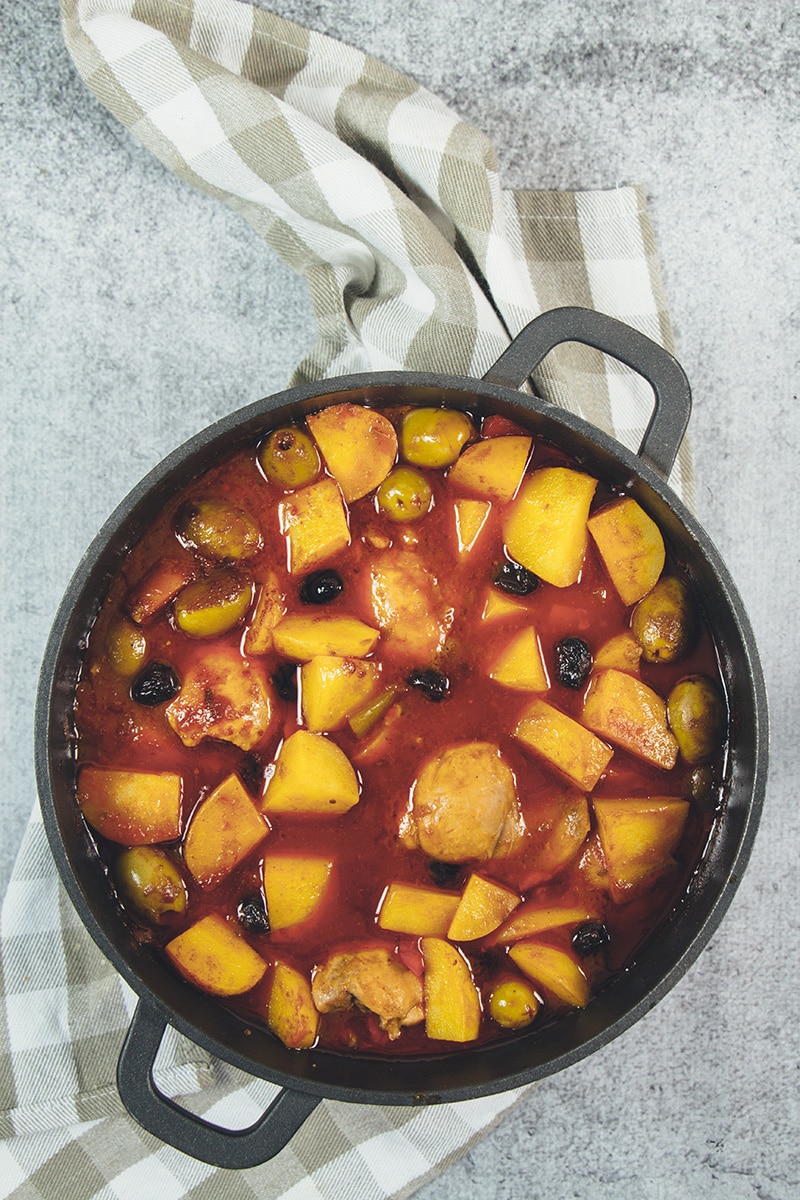 A year and a half ago, I kicked off this blog with a Cuban recipe. It was Ropa Vieja and it was astonishing. I still remember the fantastic smell my kitchen was filled with. Allspice, cloves, a flavorful tomato sauce, and tender braised beef. Cubans know their food, that's for sure!
That's why it's strange to me that I waited so long to cook another one from this beautiful island for the blog. It's better later than never, right? Today my apartment once again was (and still is) filled with Caribbean flavors thanks to Fricase De Pollo - the famous Cuban chicken stew!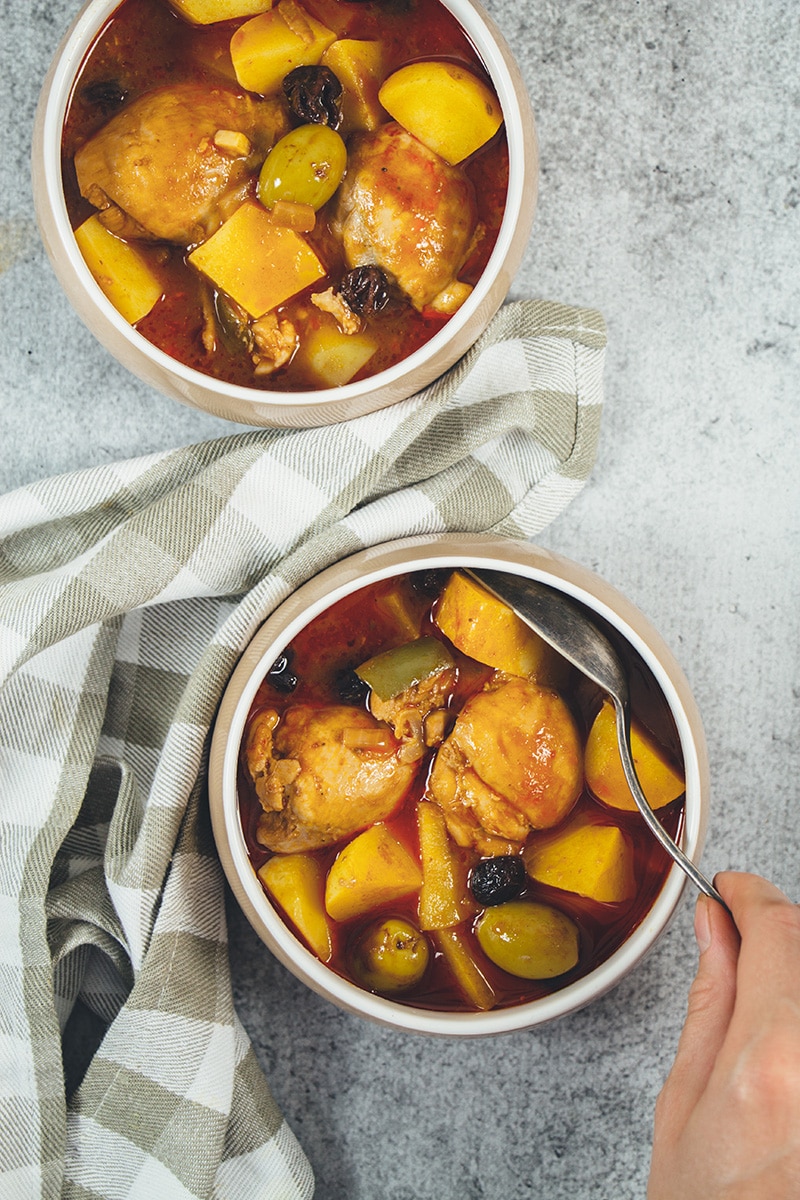 Some of you may know such a dish as Fricassee. Wikipedia says that it's a French stew usually cooked in a white sauce. While that's a perfectly correct definition, it's not exactly what I'm cooking today.
How so? Even though this dish came to Cuba from France, the Caribbean version has some changes. Somehow (unfortunately, I don't know the whole story) Cubans tweaked this stew to their liking and made it more common to the region. The sauce here is not white, it's red. High-five from me for this variation (a big red sauce fan here). There is nothing better than a red intense tomato-based sauce!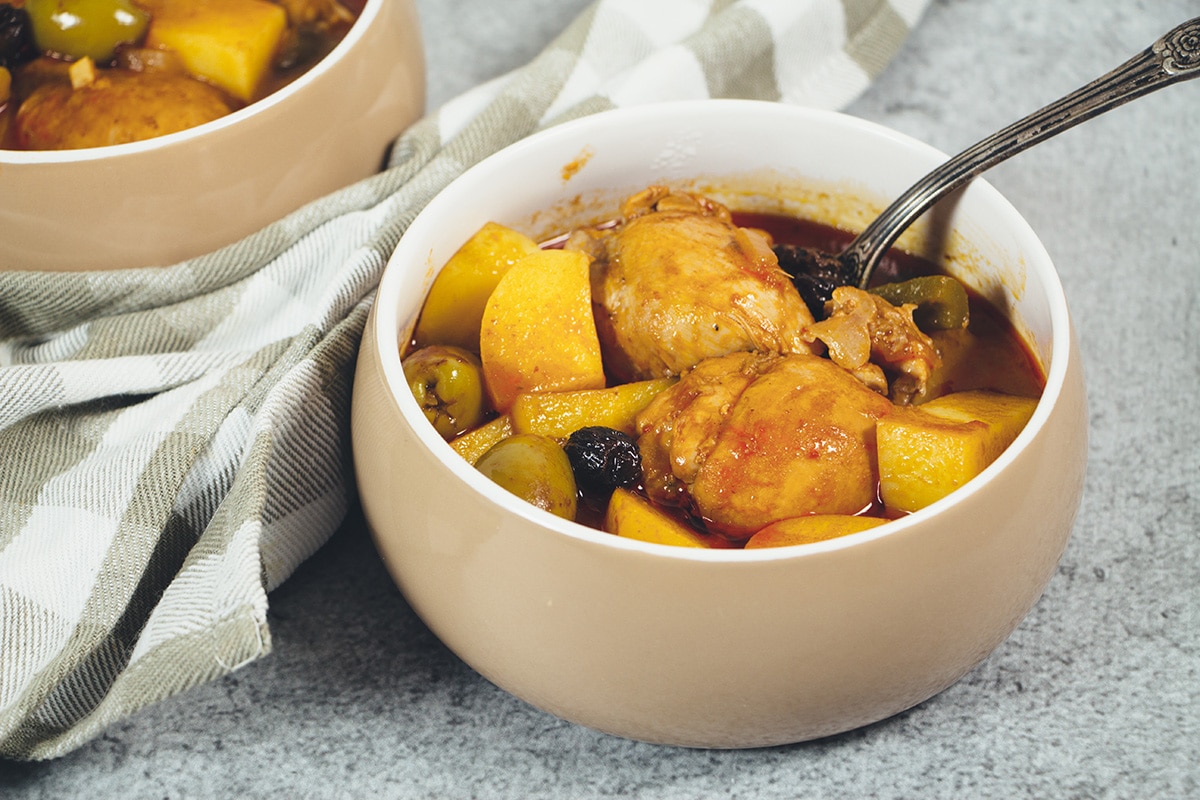 Fricase De Pollo reminds me of Puerto Rican Chicken Stew a little bit but at the same time, it's totally different.
First, we marinate the chicken in a sweet and sour blend of orange and lime juices and spices. Then, the meat is cooked in a fragrant tomato-wine sauce featuring bell peppers. Finally, we add potatoes, olives, and raisins and cook a lil' bit more. How simple was that? The dish does take some time to make but not too much active effort is needed. It's mainly marinating and cooking time.
The recipe was adapted from The Cuban Table book. I can't recommend it enough guys if you are interested in Cuban cuisine. Foolproof recipes, beautiful pictures, I really like it a lot.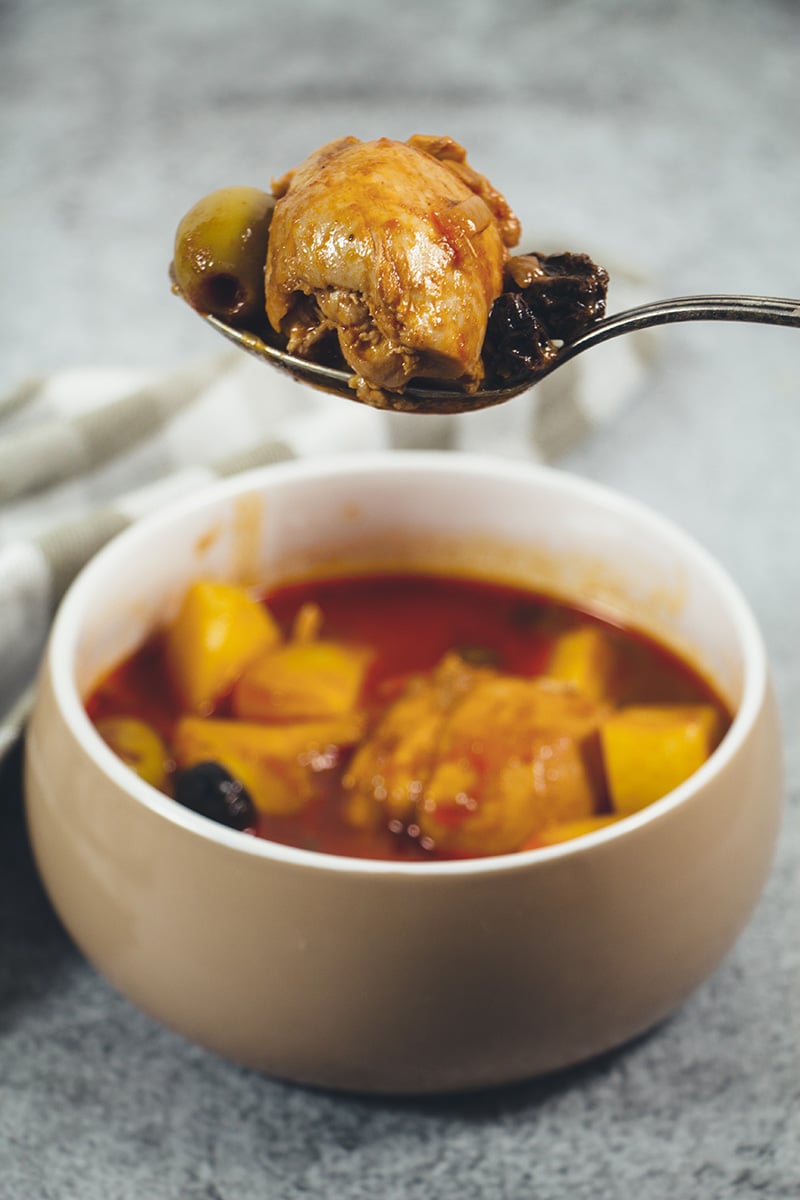 Fricase De Pollo is one of the most delicious meals I have had lately. So many flavors packed into this stew, it's unbelievable. I am sure I'll make it many more times to come.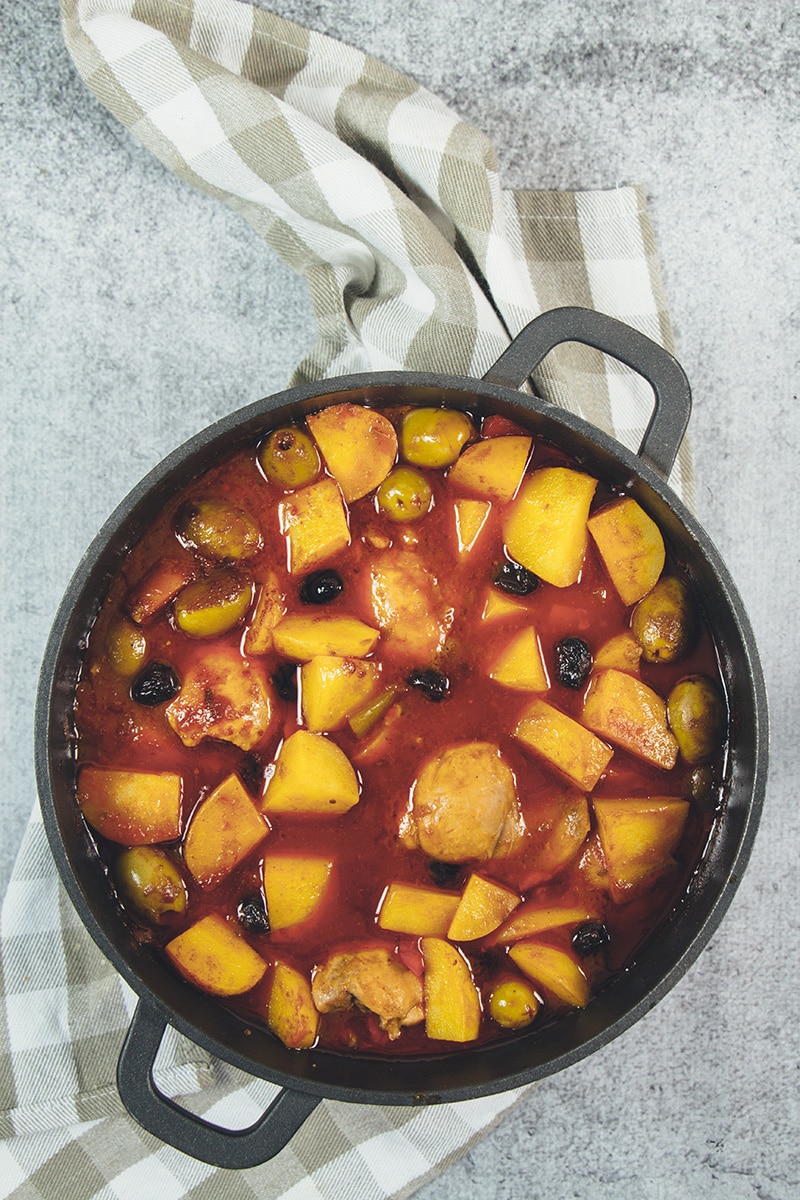 Fricase De Pollo - Cuban Chicken Stew
This Caribbean chicken stew is literally packed with dozens of different flavors. A perfect dinner the whole family will enjoy!
Ingredients
For the chicken marinade:
3

cloves

garlic

, crushed and minced

1

teaspoon

salt

1

teaspoon

dried oregano

½

teaspoon

ground cumin

½

teaspoon

ground black pepper

½

cup

orange juice

¾

cups

lime juice

2 ½

lb (1.1kg)

boneless skinless chicken thighs
For the stew:
2-3

tablespoons

Olive oil

1

yellow onion

, finely chopped

½

red bell pepper

, seeded, cored, and finely chopped

½

green bell pepper

, seeded, cored, and finely chopped

4

cloves

garlic

, diced

1

cup

dry white wine

1

cup

chicken stock

1

cup

tomato sauce

1

teaspoon

dried oregano

½

teaspoon

ground cumin

2

lb (900g)

baby potatoes

, scrubbed, quartered

¼

cup

pitted green olives

½

cup

raisins

¼

cup

balsamic vinegar

salt and pepper

, to taste
Instructions
In a large bowl, combine all the marinade ingredients and mix well. Add the chicken and toss to coat. Cover with plastic wrap and let marinate for a few hours or overnight.

Remove the chicken pieces from the marinade reserving it for later use. Heat the oil in a large pot and brown the chicken on both sides, 2-3 minutes per side. Transfer to a plate and set aside.

Add the onion, bell peppers, and garlic to the same pot. Stir constantly over medium heat until the onion is soft, for about 5 minutes. Add the wine, stock, tomato sauce, reserved marinade, oregano, and cumin. Return the chicken to the pot and cook, covered, for about 40 minutes, until cooked through.

Add the potatoes, olives, raisins, and balsamic vinegar. Cook for 15-20 minutes, until the potatoes are cooked through. Enjoy!
Nutrition
Calories:
518
kcal
Carbohydrates:
51.6
g
Protein:
43.2
g
Fat:
14.1
g
Cholesterol:
178.9
mg
Sodium:
913.5
mg
Sugar:
16.1
g
Vitamin A:
250
IU
Vitamin C:
104
mg
Nutrition Facts
Fricase De Pollo - Cuban Chicken Stew
Amount Per Serving
Calories 518
Calories from Fat 127
% Daily Value*
Fat 14.1g22%
Cholesterol 178.9mg60%
Sodium 913.5mg40%
Carbohydrates 51.6g17%
Protein 43.2g86%
Vitamin A 250IU5%
Vitamin C 104mg126%
* Percent Daily Values are based on a 2000 calorie diet.
* This post contains affiliate links, thank you for the support in keeping Cooking The Globe up and running!