Papaya is one of the most versatile fruit ever. It's great not only for smoothies, sweet salads, and desserts but also for savory soups, salads, curries, and more! I've collected 24 mind-blowing papaya recipes that will satisfy everyone!
This post is a part of my "Around the World in 50 Ingredients" project. Be sure to check out the page where you'll find all the products I'm trying in one place!
When I came to Tenerife (in case you missed my last posts, I am on a 3-month work/vacation here together with my family but going home soon) I expected it to be raining fresh, juicy, tropical fruit. The climate is warm all year round on this island so it was a natural thing to expect, right?
I pictured myself sitting in a terrace with a bowl of fresh mangoes, pineapples, or some fruit I have never tried or seen in my whole life.
After a few visits to farmer's markets and fruit shops, these illusions of mine were completely shattered. Mangoes are hard as rock and expensive as hell, pineapples are also expensive and far from perfect. It appears that there are seasons in Tenerife too after all. I was able to find some never-seen-before fruit but they were nothing special.
With the exception of one. Papaya! It's everywhere, it's super ripe, and it's cheap! We happened to come during the season so we got a chance to enjoy these yellow teardrop-shaped tropical fruit the fullest.
Tenerife is the only part of Spain where papayas are grown. Papaya and banana (there are tons of them here too) greenhouses are located close to tourist places so sometimes you can see them when riding a bus or driving a car. I really wanted to get inside and see how papaya and bananas are grown but, unfortunately, it didn't happen for many different reasons. Well, maybe someday!
The interesting thing about papaya is that you can actually eat it unripe. In fact, in some places, it's specifically sold green because it's quite popular in Asian cuisine. I actually bought it a few times to make this Thai Green Papaya Salad. Delicious!
In this post, though, you will only find recipes featuring a ripe fruit. It's more common + the flavor develops only when they are completely ripe.
My and my wife, we thought that papayas are only good for fruit salads, smoothies, we also love adding it to our breakfast oatmeal. Other bloggers, though, proved us wrong and I was able to collect 24 amazing papaya recipes ranging from smoothies, sweet to savory salads, puddings, cakes, soups, and even a curry. Check them out!
P.S. Even the seeds are put to use in one of the recipes!
1. Strawberry Papaya Salad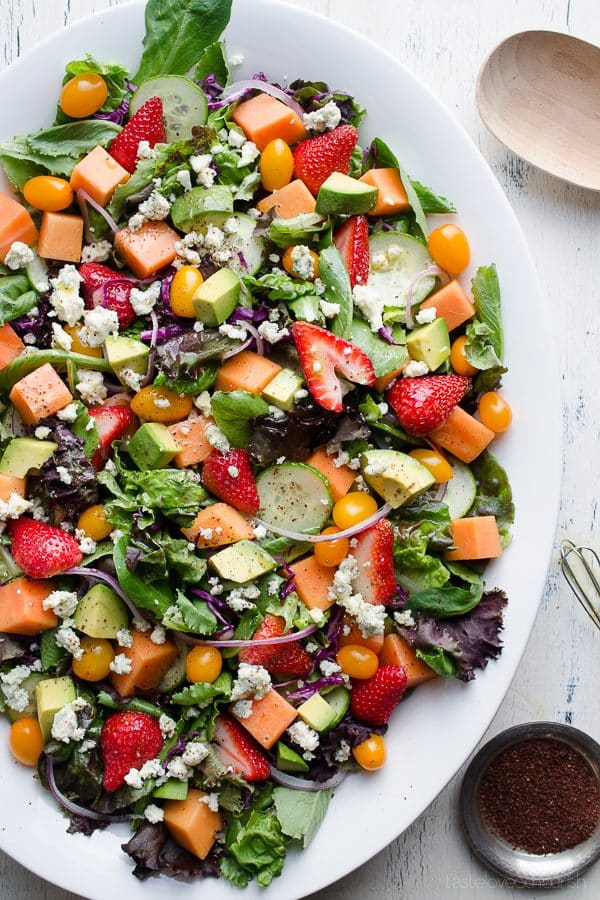 This Strawberry Papaya Salad is loaded with amazing flavors! The sweetness from the fruit is balanced with the tanginess of the dressing and blue cheese!
Recipe by: Taste Love And Nourish
2. Wild Salmon Papaya Chickpea Salad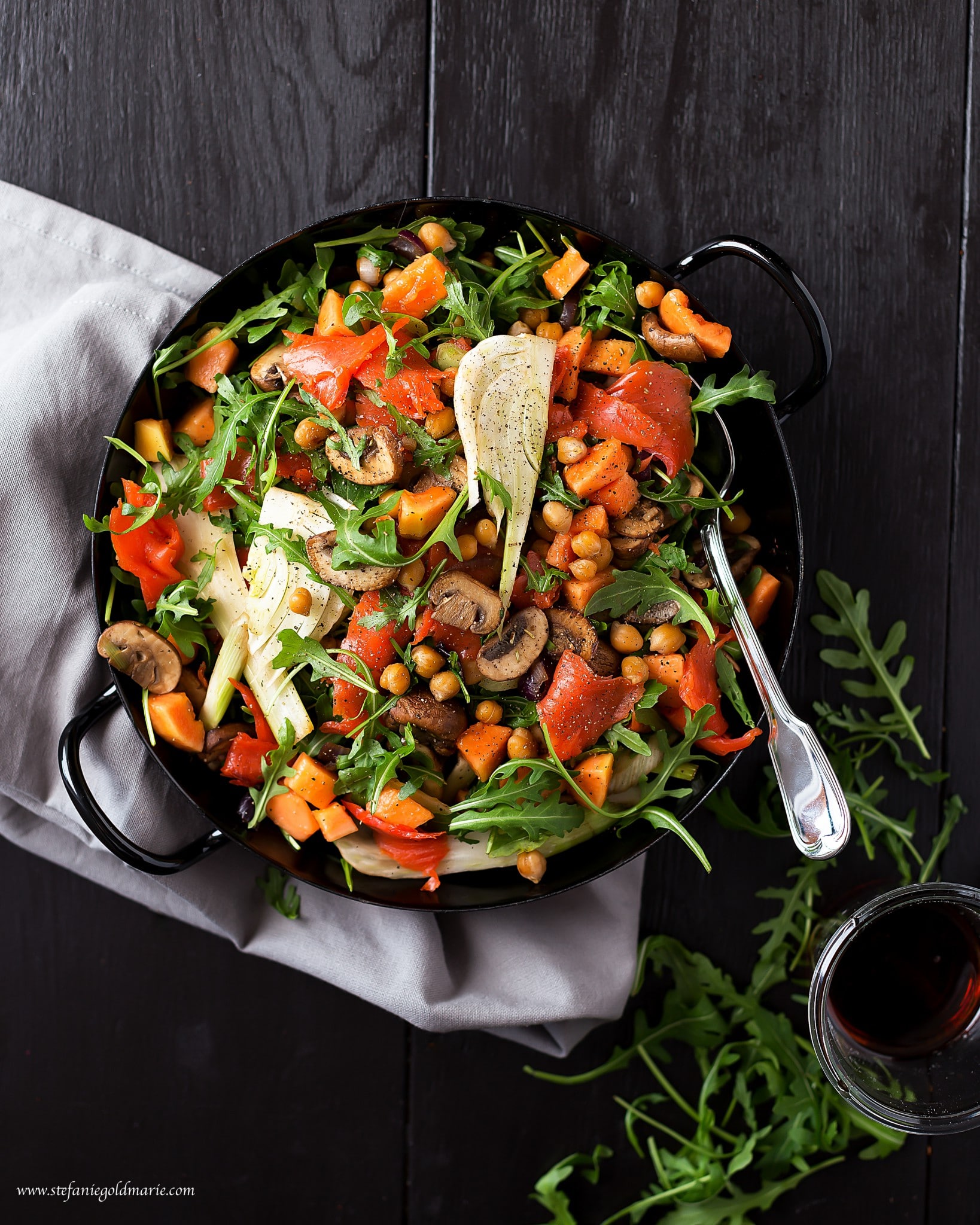 This Wild Salmon Papaya Chickpea Salad makes a perfect easy, delicious and nutritious Lunch/Dinner!
Recipe by: Stefanie Gold Marie
3. Papaya Pecan Streusel cake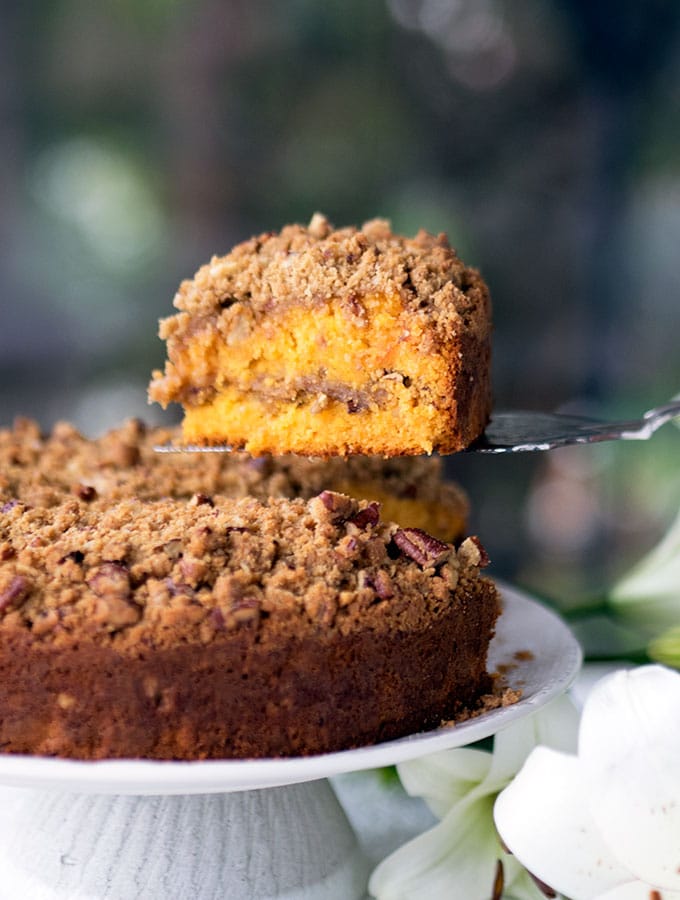 Papaya Pecan Streusel Cake Recipe, and moist, with a crunchy pecan streusel topping. Plus a gorgeous orange hue from Australian red papaya.
Recipe by: Belly Rumbles
4. Healthy Belly Smoothie Bowl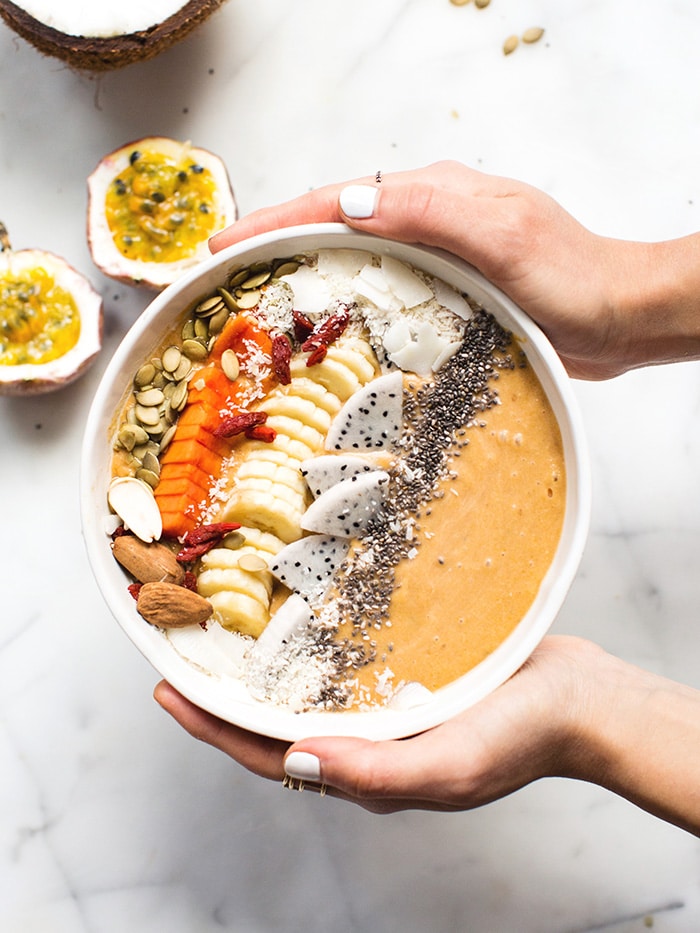 This smoothie is not only refreshing and delicious, but also great for digestion. The main ingredients include papaya for its special digestive enzymes, as well as turmeric and ginger, which are both healing superfoods that ease and aid in the digestive process!
Recipe by: The Healthy Hour
5. Papaya Avocado Salsa
A juicy papaya and creamy avocado are the basis for this mildly sweet, and citrusy salsa that packs a ton of fresh, zesty flavors and tropical aromas!
Recipe by: Viktoria's Table
6. Papaya Breakfast Boats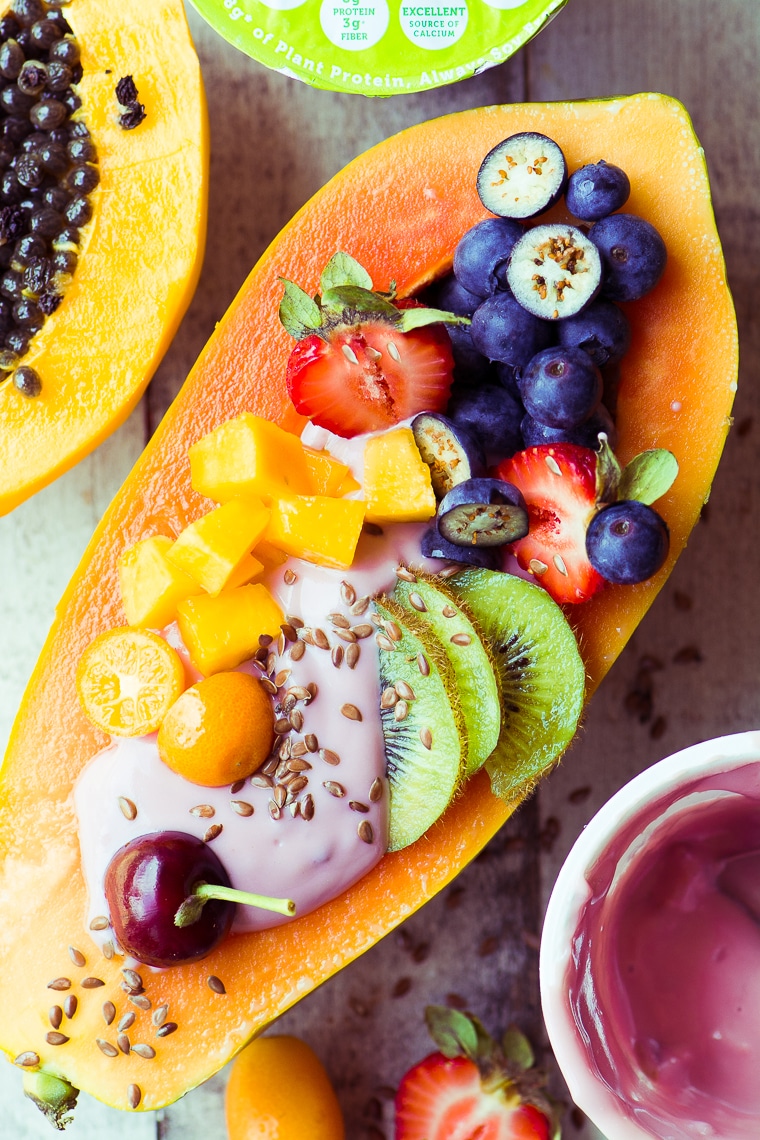 Breakfast just got a whole lot more interesting, with gorgeous tropical papaya filled to the brim with non-dairy yogurt and colorful fresh fruit!
Recipe by: The View From Great Island
7. Rainbow Spring Rolls With Papaya Noodles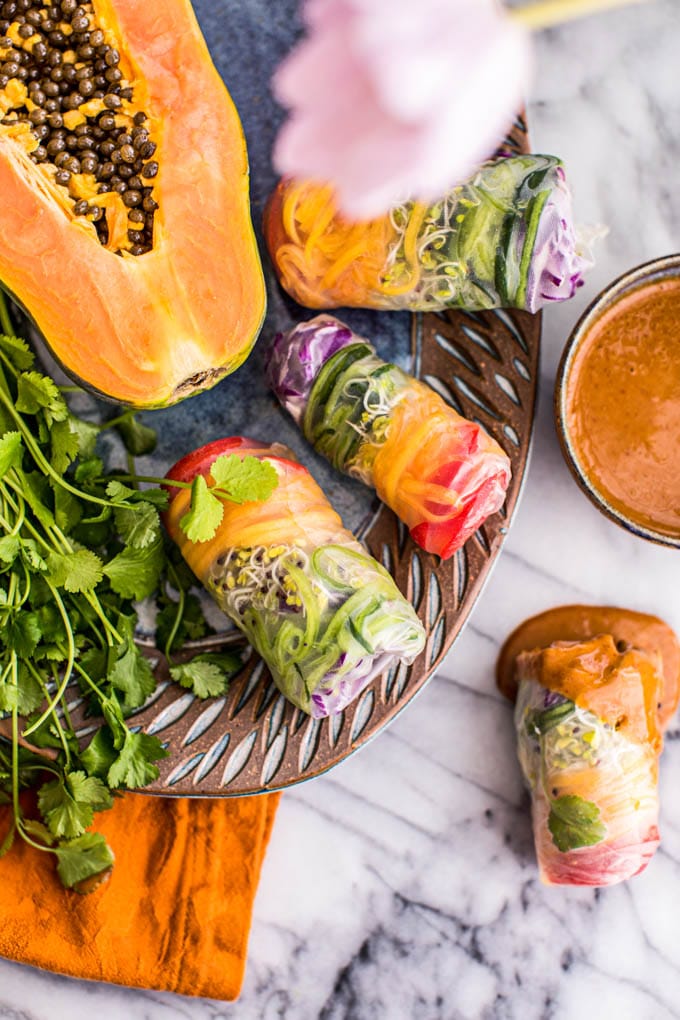 Take advantage of the season's fresh produce with this colorful Vietnamese Spring Rolls recipe—sweet, buttery papaya noodles take the place of traditional rice noodles for a nutrient boost, alongside a rainbow of other fresh veggies, like cucumber, cabbage, peppers, and herbs!
Recipe by: Root and Revel
8. Papaya Creme Brulee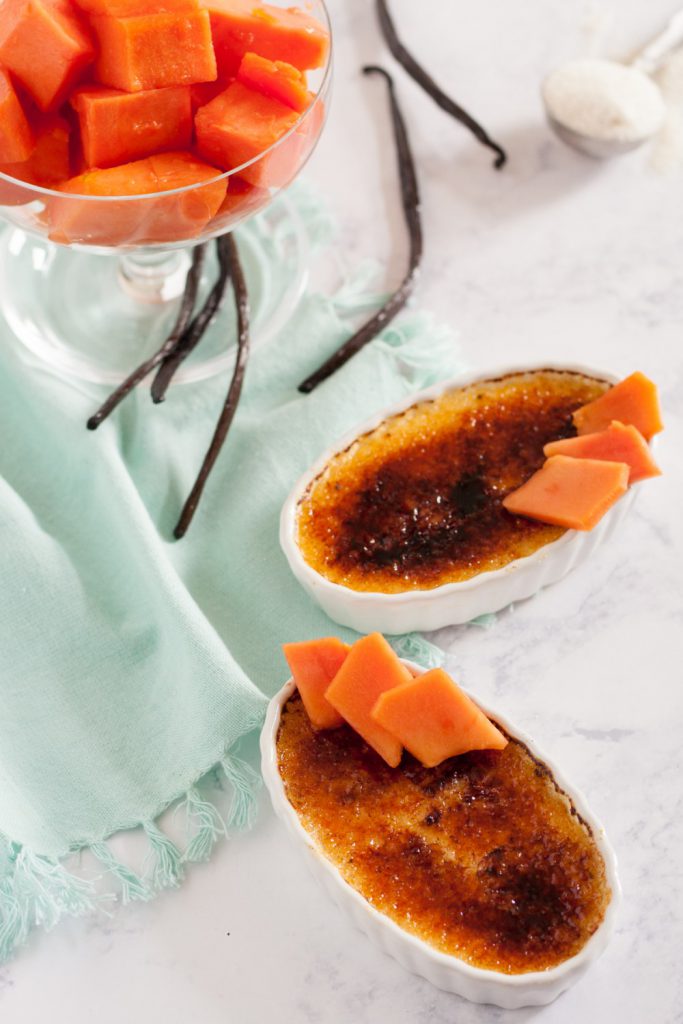 Turn up the heat on summer puddings by adding tropical flavors and a blowtorch when you make this papaya creme brulee!
Recipe by: Goodie Godmother
9. Papaya Tenderstem Broccoli Quinoa Bowl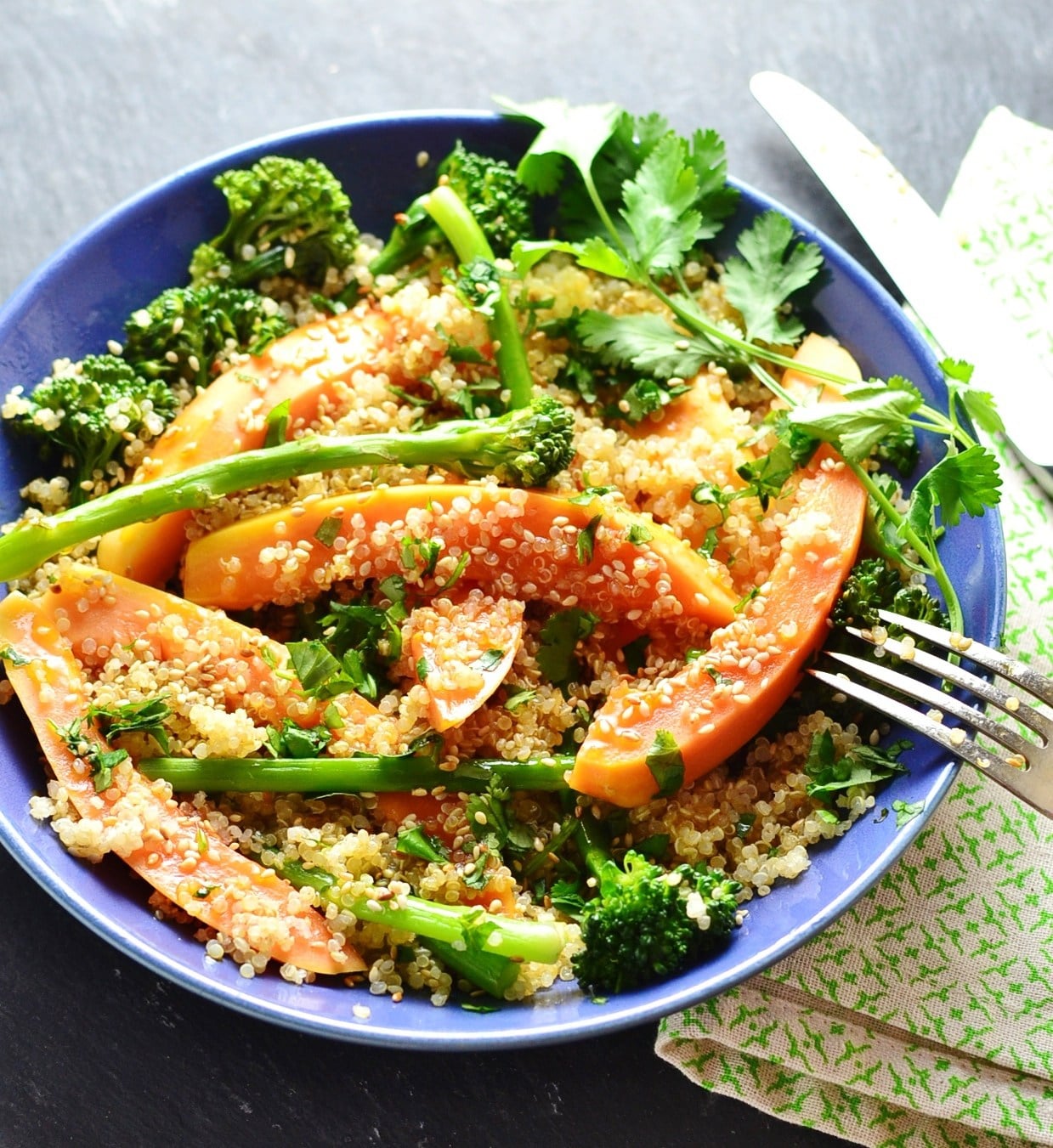 Enjoy this simple and nutritious Papaya Tenderstem Broccoli Quinoa Bowl for 2 as a quick and easy lunch any day of the week!
Recipe by: Everyday Healthy Recipes
10. Turmeric Papaya Smoothie
Turmeric Papaya Smoothie - an amazing combination of flavors makes this healthy drink super delicious. Healing drink low in calories!
Recipe by: Cooking LSL
11. Papaya Chia Pudding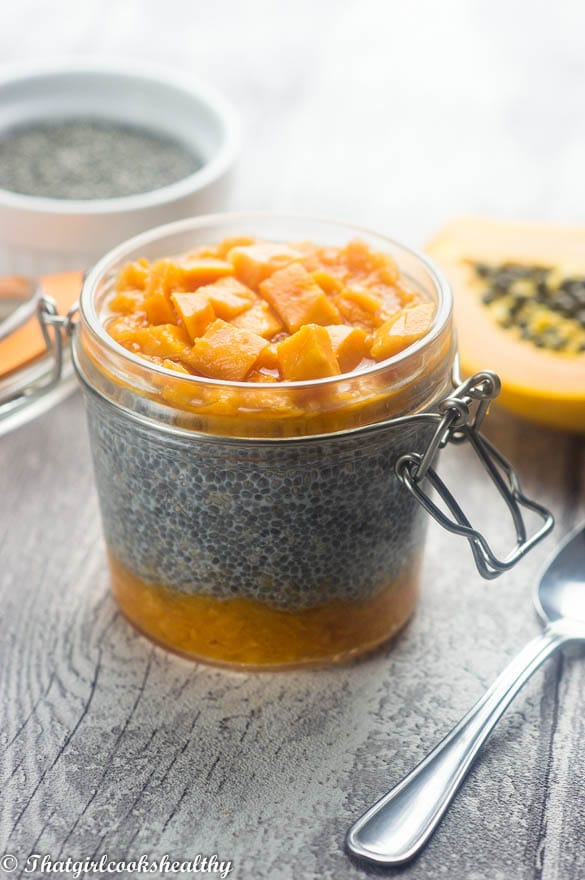 What do you do with a few papaya fruit that you laying around in the refrigerator? Go crazy for this vegan style papaya chia pudding!
Recipe by: That Girl Cooks Healthy
12. Papaya And Banana Coconut Sorbet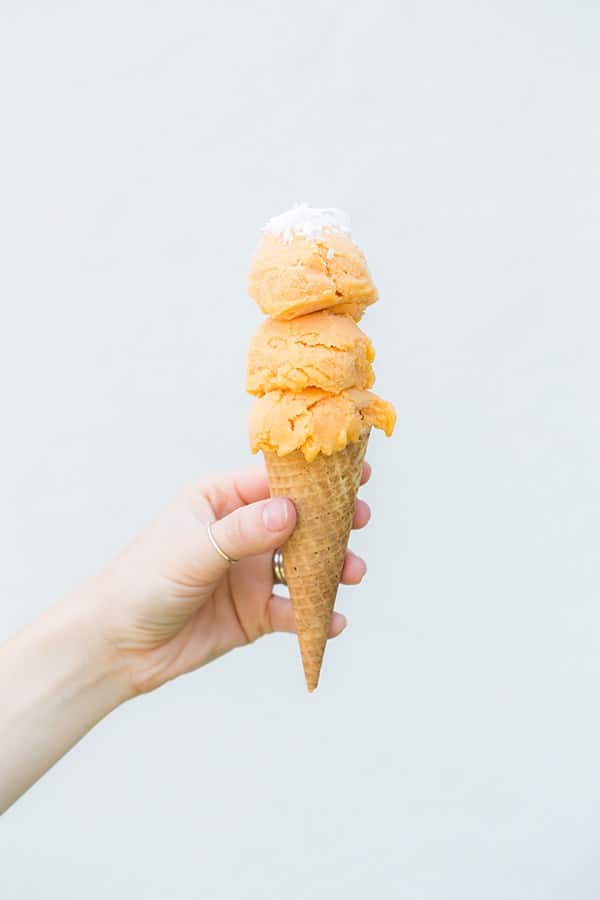 Summer is upon us and I can feel it! AND what better way to kick off this warmer weather with a delicious (and somewhat healthy!) papaya and banana coconut sorbet recipe?!
Recipe by: Sugar And Charm
13. Chicken With Papaya Soup (Tinolang Manok)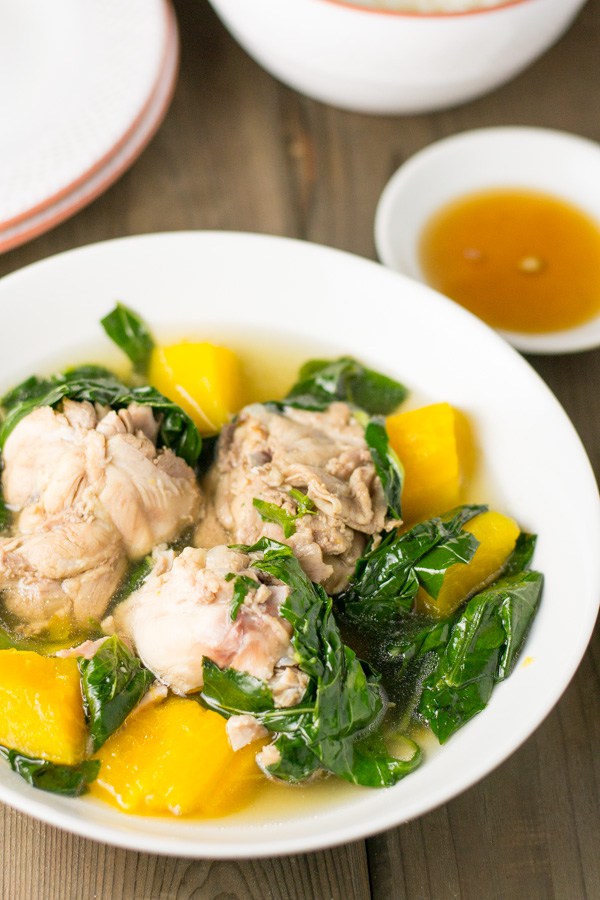 Tinolang Manok is a Filipino chicken soup dish consisting of chicken cooked in broth. Papaya and spinach leaves are then added afterwards.
Recipe by: Salu Salo Recipes
14. Paleo Blackened Snapper With Papaya-Pimento Relish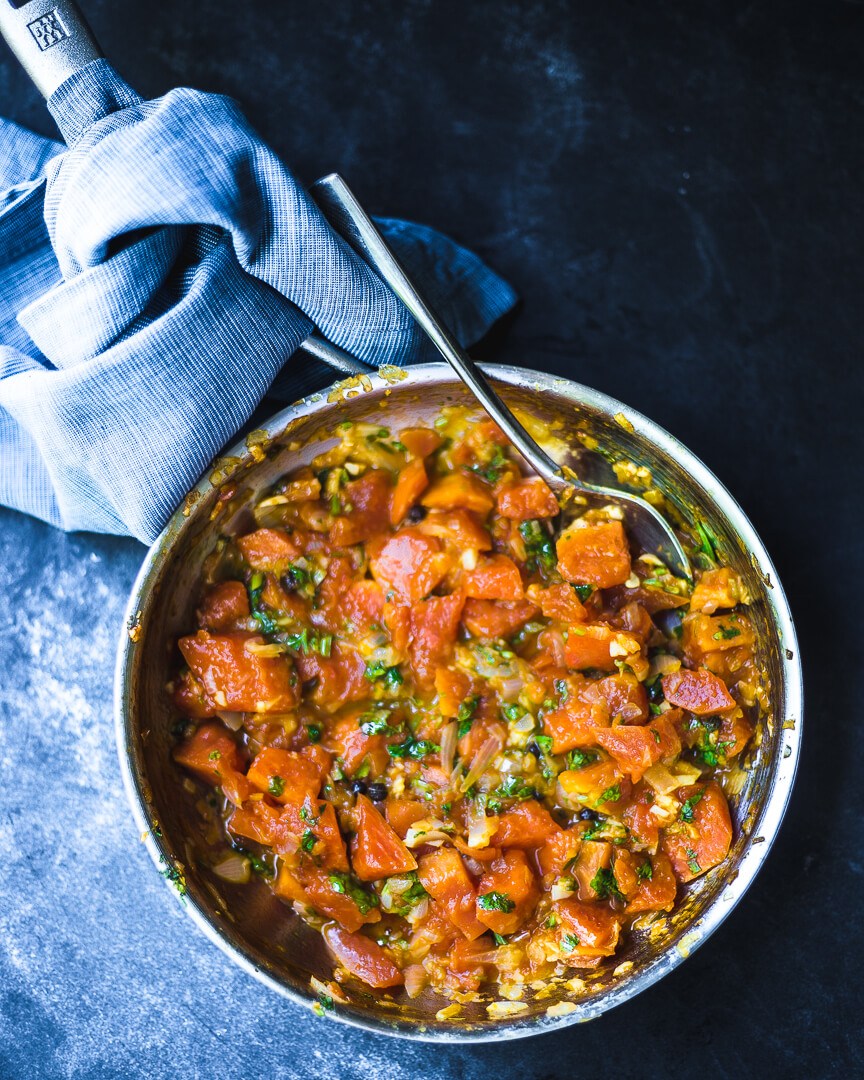 The recipe for this Paleo Blackened Snapper with Papaya-Pimento Relish is bursting with flavour and will have dinner on the table in under 30 minutes!
Recipe by: Primal Gourmet
15. Papaya Salsa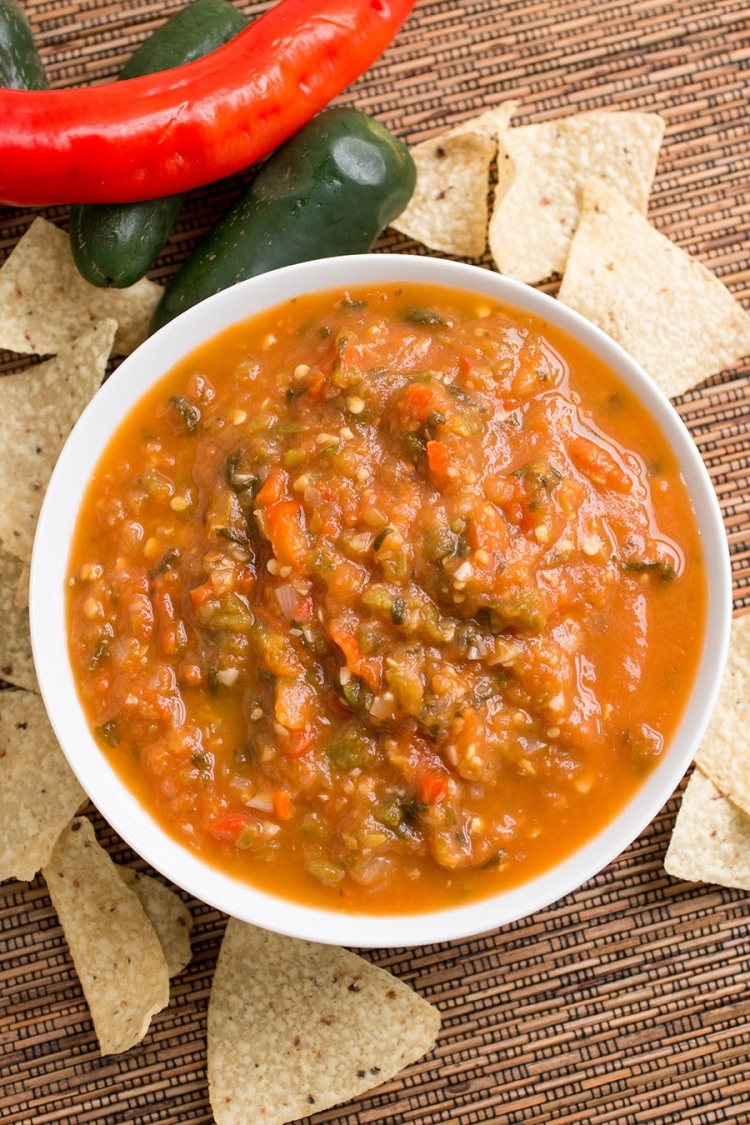 A recipe for sweet and spicy salsa made with fresh papaya, jalapeno, cayenne peppers and more!
Recipe by: Chili Pepper Madness
16. Papaya Milkshake (Batido de Lechoza)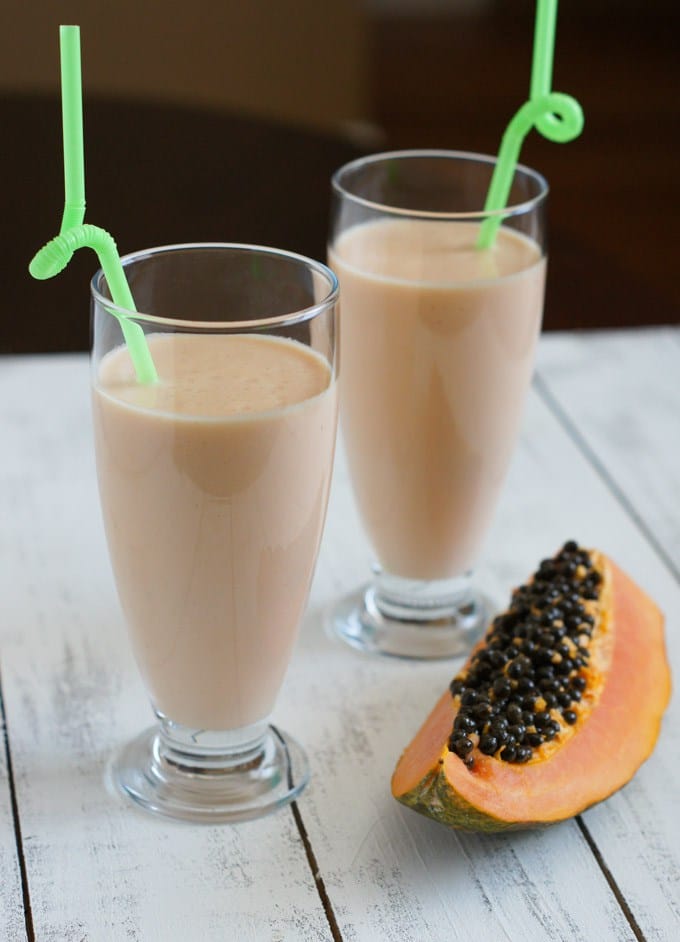 Fruity and refreshing, the perfect Spring time smoothie that everyone will love!
Recipe by: Smart Little Cookie
17. Papaya Boats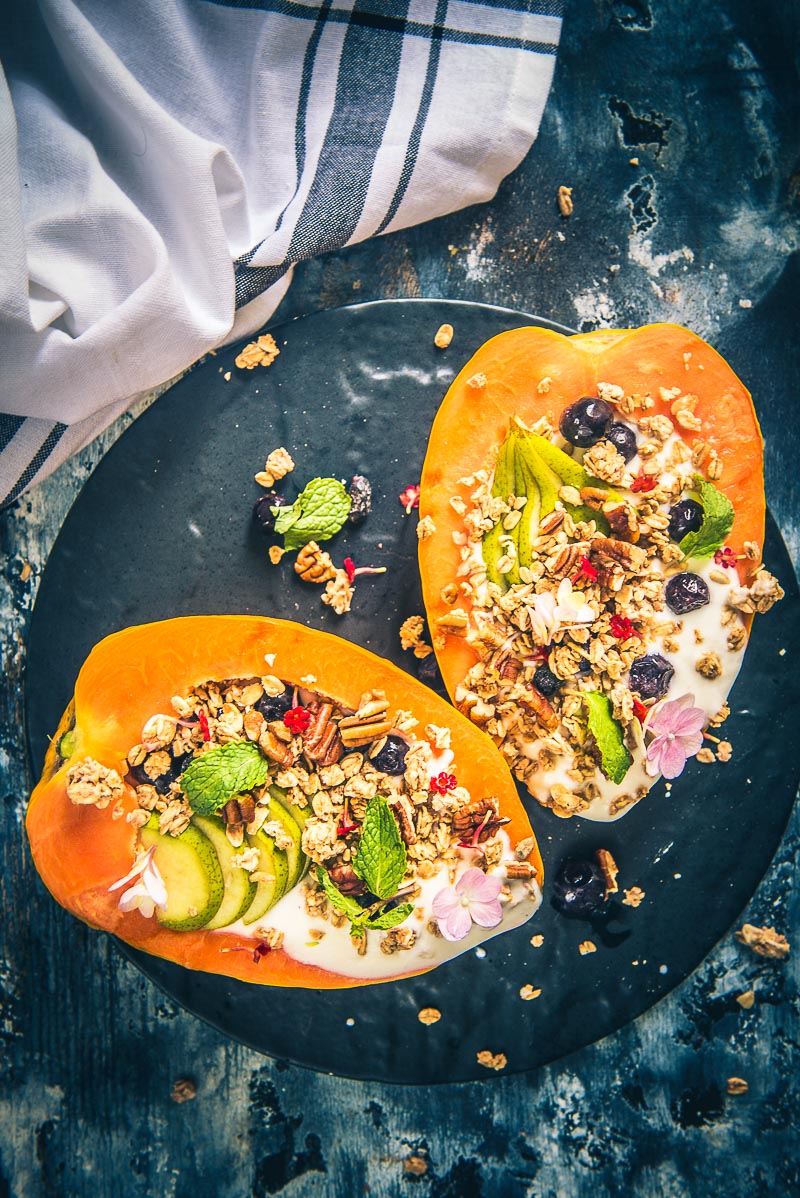 Papaya Boats is a healthy, delicious, No Carb option for breakfast or snacks which looks irresistible as well. Eat the toppings and then scoop the papaya for a filling breakfast!
Recipe by: Whisk Affair
18. Papaya Curry With Coconut Milk And Quinoa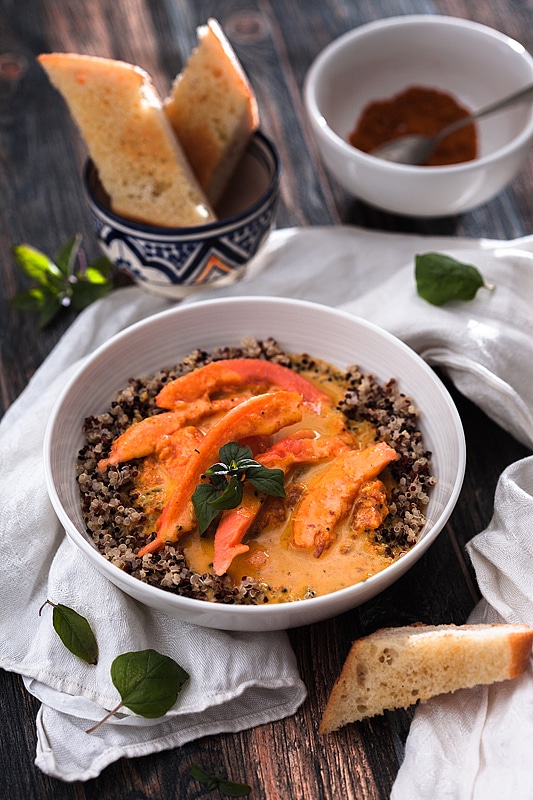 An uncomplicated, fruity papaya curry with coconut milk and quinoa!
Recipe by: Purple Avocado
19. Spiced Papaya Banana Oatmeal Smoothie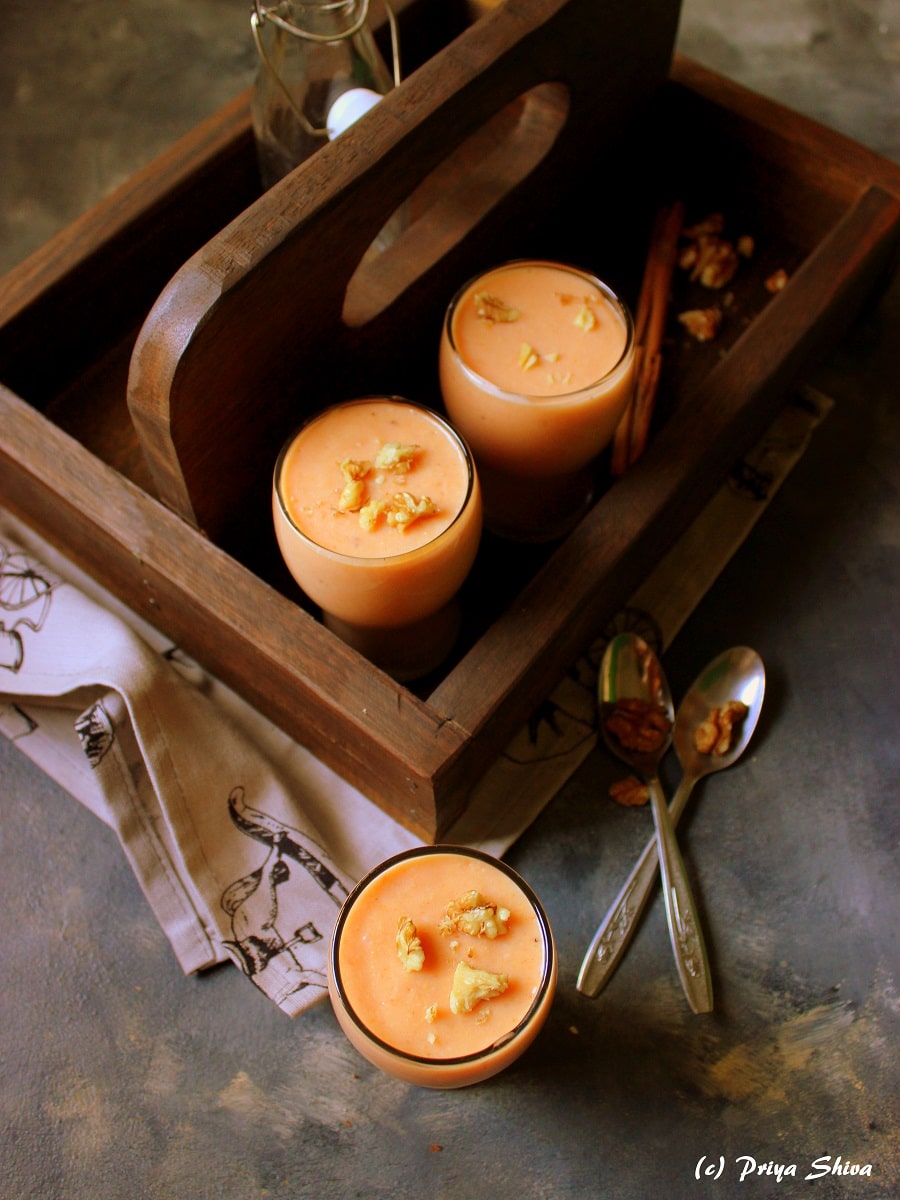 Spiced Papaya Banana Oatmeal Smoothie is a breakfast smoothie to start your day on a healthy note with the goodness of fresh fruits!
Recipe by: Priya Kitchenette
20. Papaya, Banana & Coconut Muffins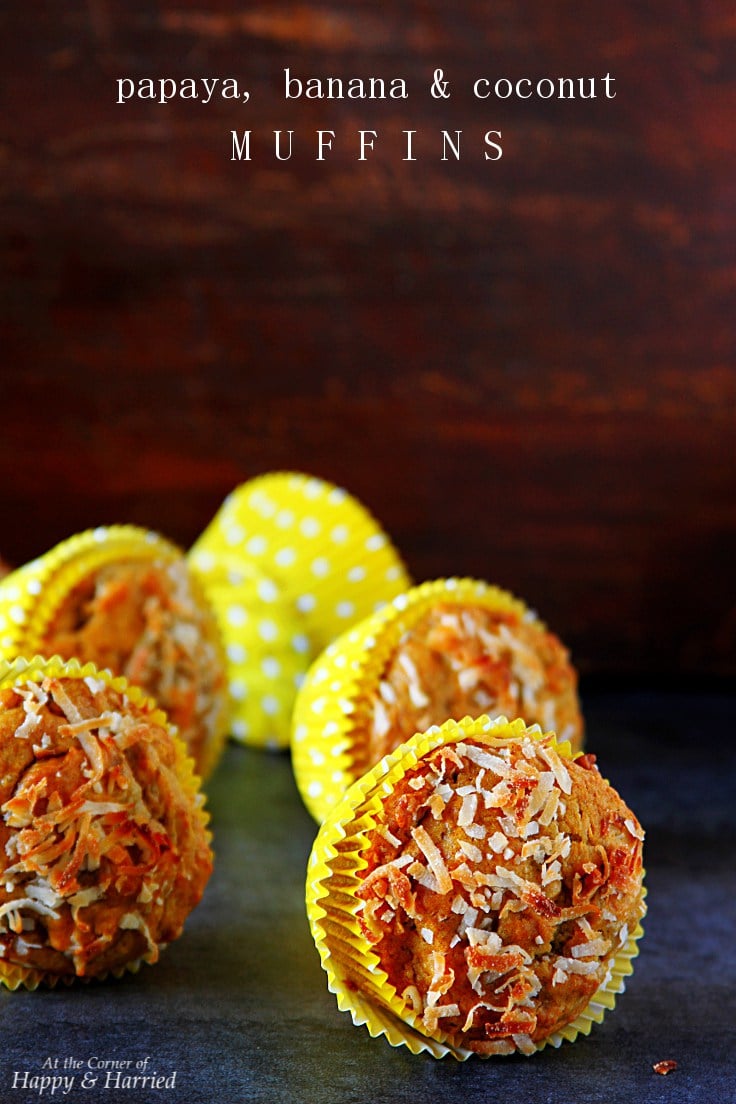 These fluffy and moist muffins are packed with flavor and goodness. Enjoy them as snack, breakfast or even a healthy dessert!
Recipe by: Happy And Harried
21. Ripe Papaya and Avocado Salad with Black Salt Dressing
Sweet ripe papaya, creamy avocado, juicy cherry tomatoes dressed in sweet and tangy black salt honey lemon dressing, served over a bed of peppery arugula or your favorite green!
Recipe by: Chef de Home
22. Papaya Lox With Lemon Cream Cheese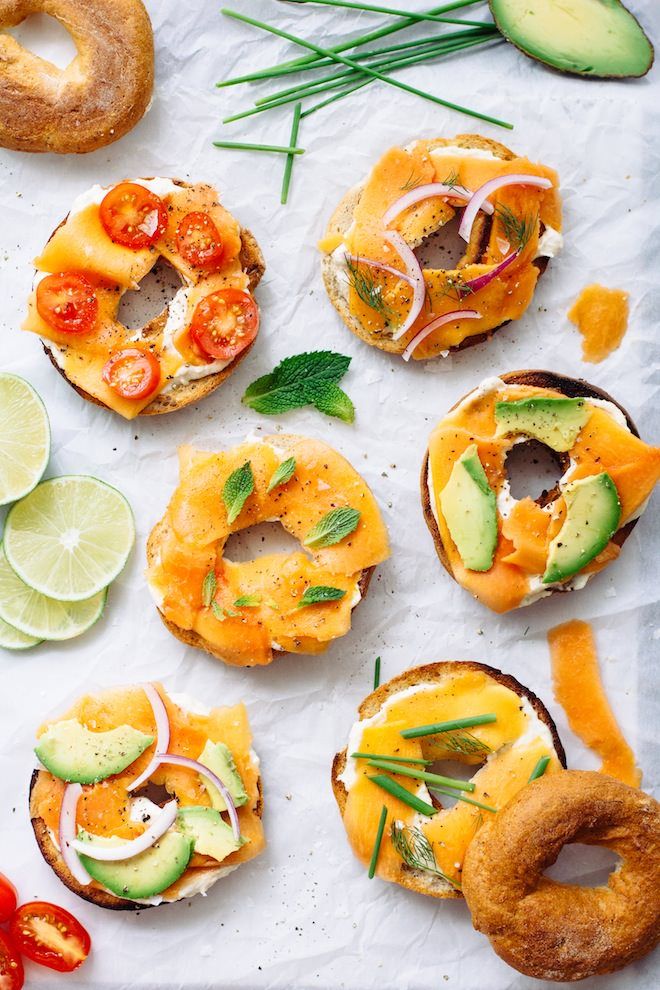 Papaya Lox with Lemon Cream Cheese is a dairy-free and vegan version of a classic lox bagel with cream cheese, made with gluten free bagels and fresh papaya!
Recipe by: Nutrition Stripped
23. Coconut Papaya Smoothie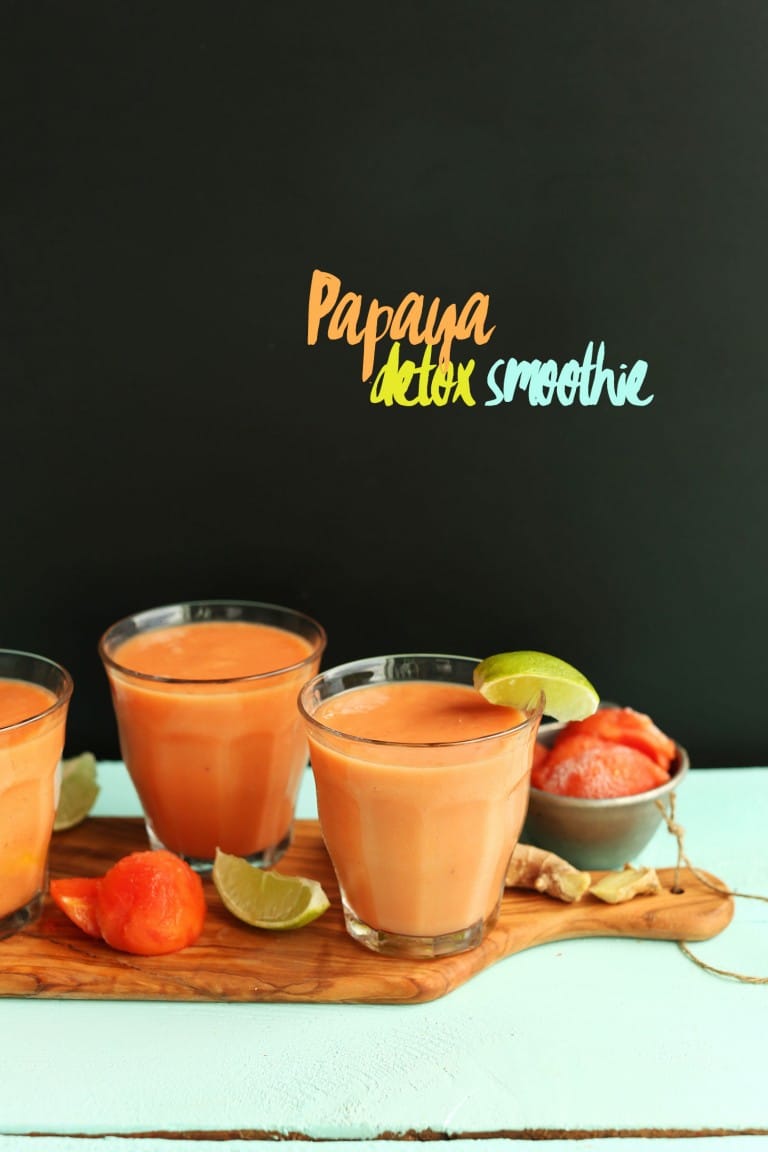 Creamy papaya smoothie infused with lime, ginger, carrot, and coconut milk! Just 6 ingredients in this nutrient-rich, naturally sweetened smoothie!
Recipe by: Minimalist Baker
24. Coconut Papaya Smoothie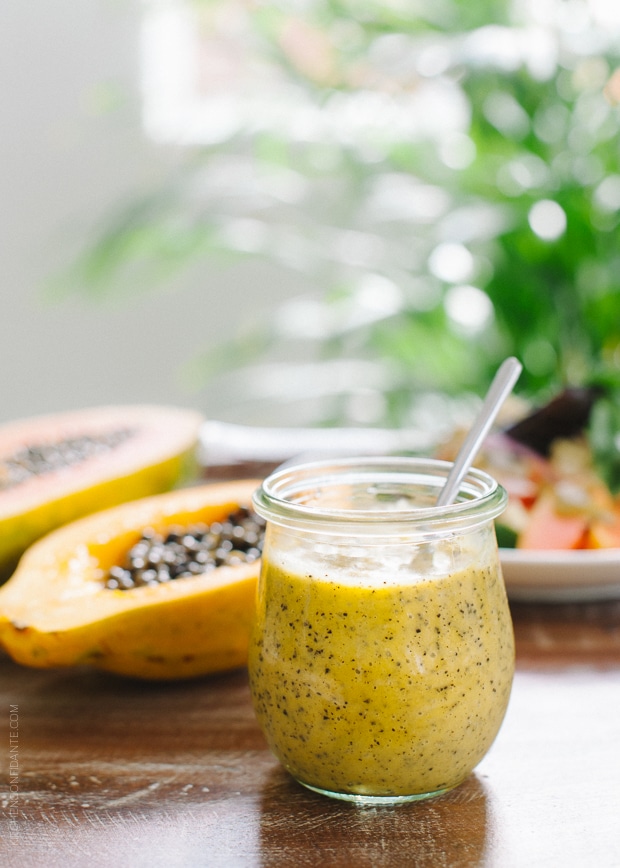 Don't throw away those seeds! Papaya seeds are good for you, and delicious drizzled over a salad in this Papaya Seed Vinaigrette Dressing!
Recipe by: Kitchen Confidante