Soup Joumou is a perfect dish to get acquainted with Haitian cuisine. Pumpkin based, packed with veggies, beef, and pasta, this soup holds a huge historical significance being a symbol of Haitian independence! It's traditionally eaten on January 1st and is usually called Haitian New Year's Soup.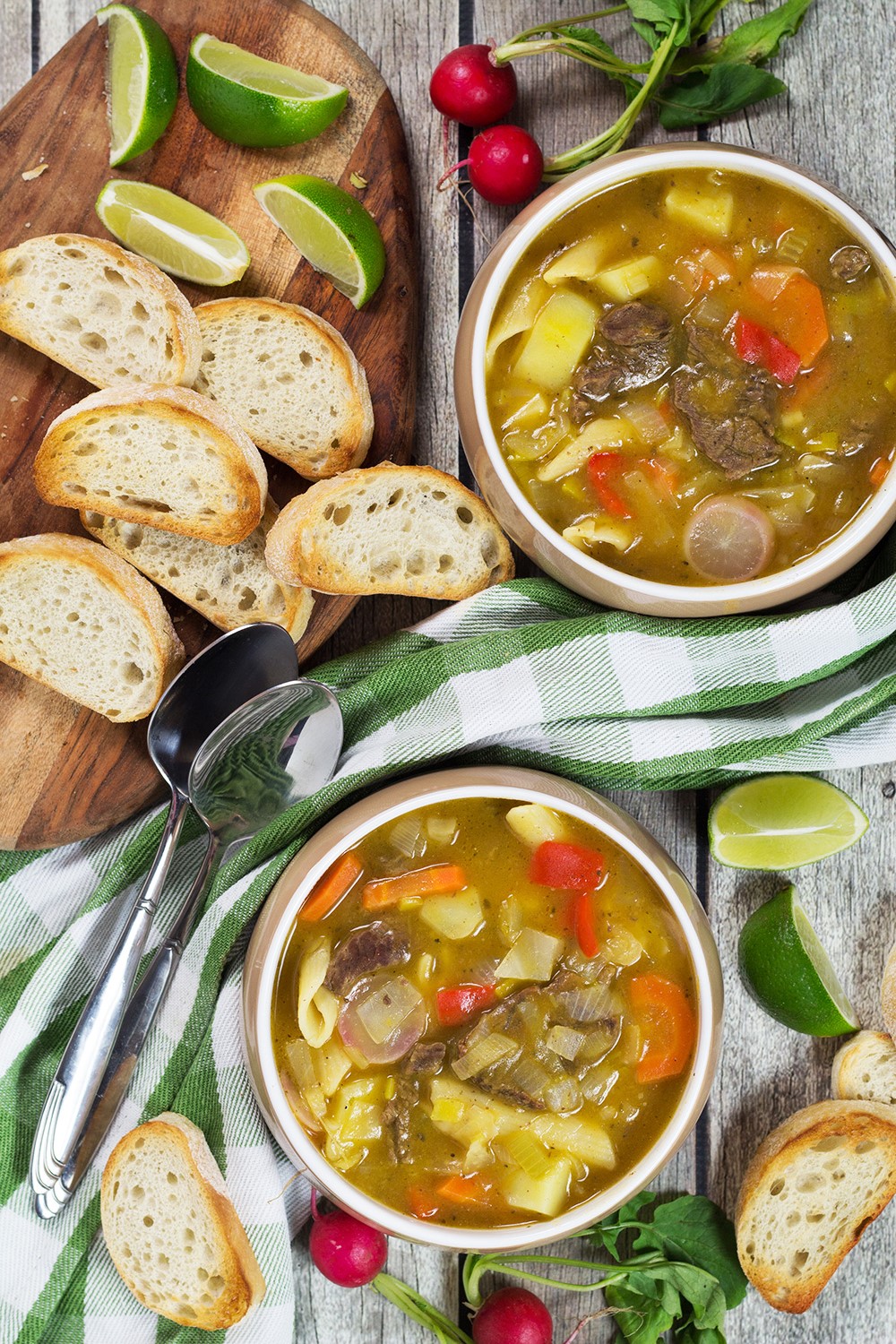 There are a few reasons why today's post is going to be my favorite one in a while. First, we are visiting a country I have never cooked from before - Haiti. This fact always excites me. Second, a dish we are making today holds a huge historical significance. Let's dive deeper into it!
Soup Joumou. A pumpkin-based soup packed with veggies also featuring beef and pasta. When I say PACKED I literally mean PACKED. Count with me: pumpkin, white onion, leeks, turnips, carrots, potatoes, chile, celery, cabbage, radishes, and red bell pepper. 11 veggies in this one. I am not even sure if I had so many veggies in my bowl ever!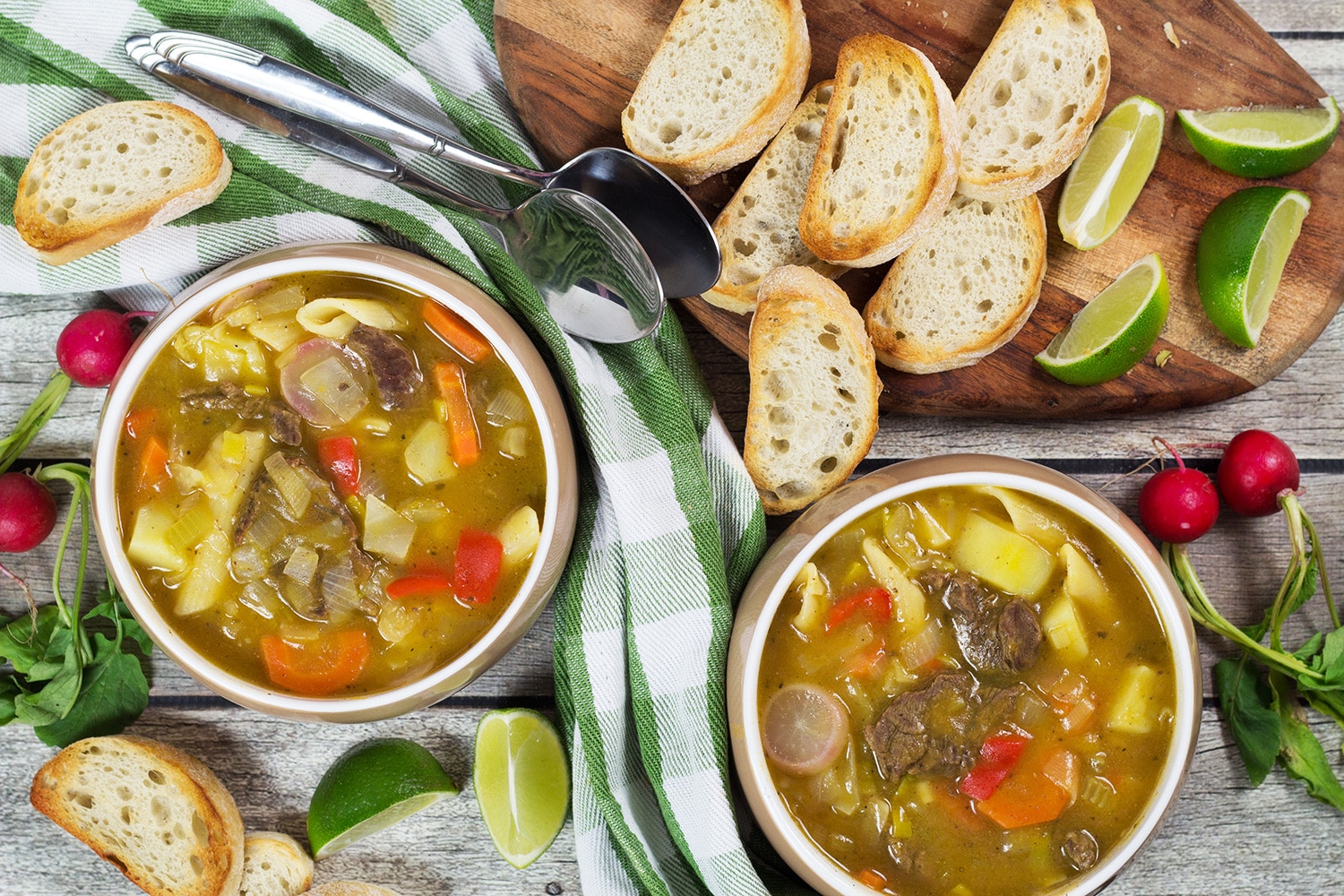 Let's talk history now. Haiti is a Caribbean country sharing the island with the Dominican Republic and surrounded by Cuba, Jamaica, and Puerto Rico. 7 years ago it was all eyes on Haiti when the horrible earthquake happened there taking away hundreds of thousands of lives. A truly horrible tragedy and I want to express my condolences to those who was in any way affected by the quake. Sadly, that's exactly how I got acquainted with this Caribbean island.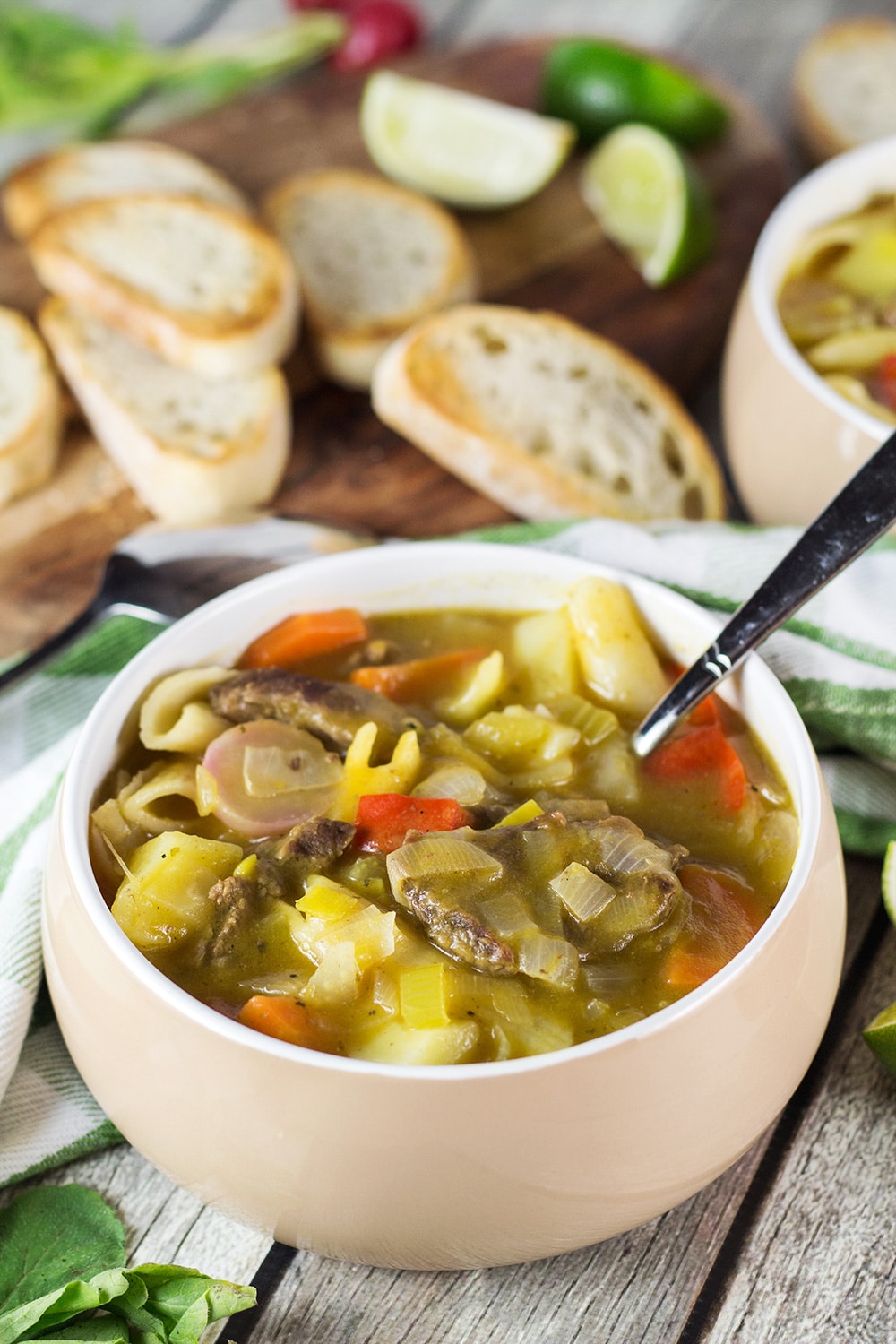 Haiti is also known for its unique way to independence from French colonizers in the beginning of 19th century. The freedom was achieved as a result of a successful slave-driven revolution that lasted for 12 (!) years. Now why it's unique? Well, believe it or not, Haiti is the only country which got independence after a successful slave revolution. It's, in fact, called the most successful slave rebellion in history! This revolution inspired other slave revolts in different countries. As a result, Haiti also became the first black-led country in the world.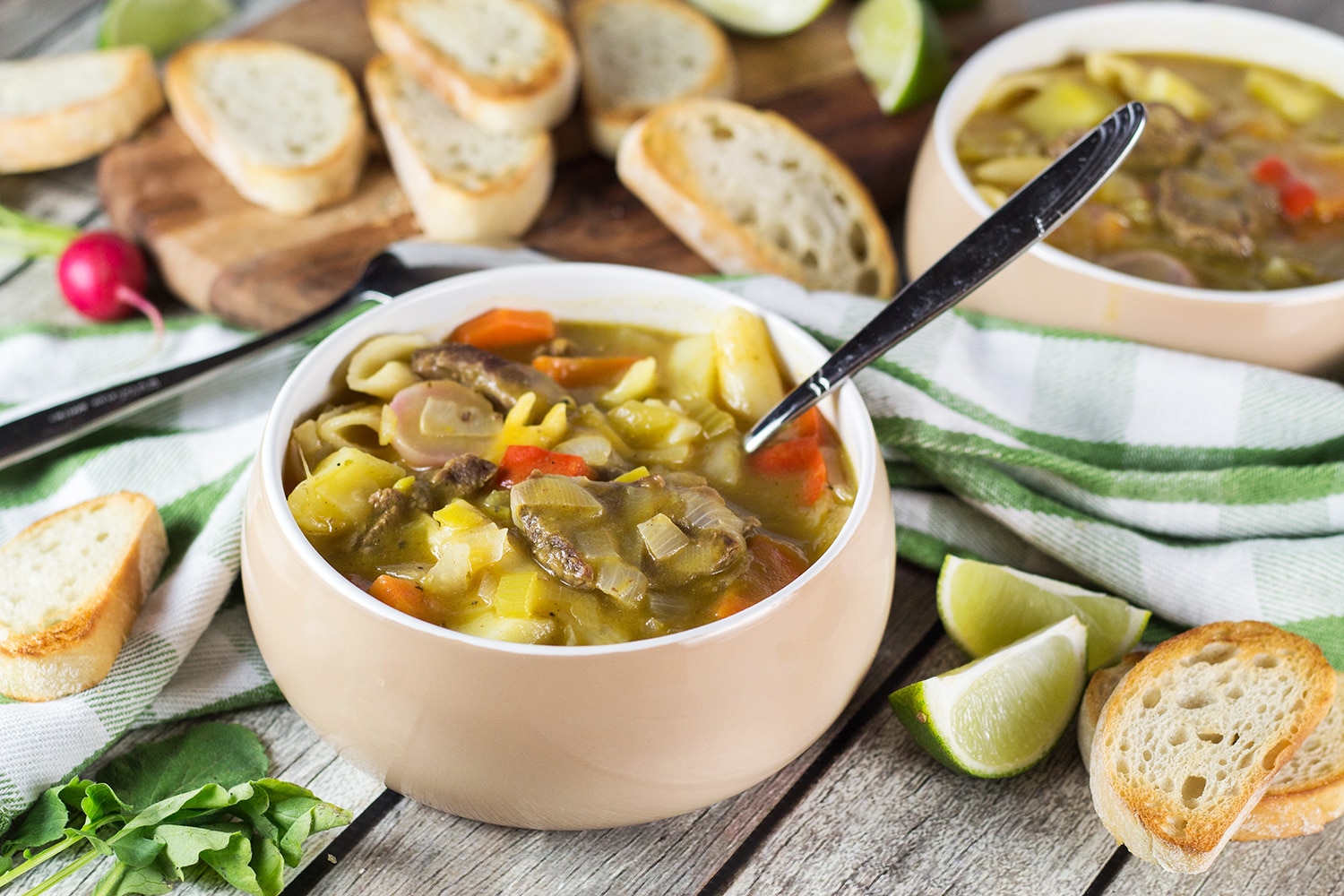 Now how the Soup Joumou we are making today is related to all these events? During the colonization period, only French masters were allowed to eat this soup; slaves were forbidden from that. That's why on January 1, 1804, when Haitians were celebrating their freedom (that's when the Declaration of Independence was signed), the ruler of Haiti Jean-Jacques Dessalines ordered everyone to enjoy Soup Joumou.
Since then it became a tradition and today, no matter where the Haitians are on January 1st, they celebrate the Independence with this delicious pumpkin soup. That's why it's also sometimes called the Haitian New Year's Soup. Officially independence is celebrated on January 2nd, though, also called the Ancestor's Day.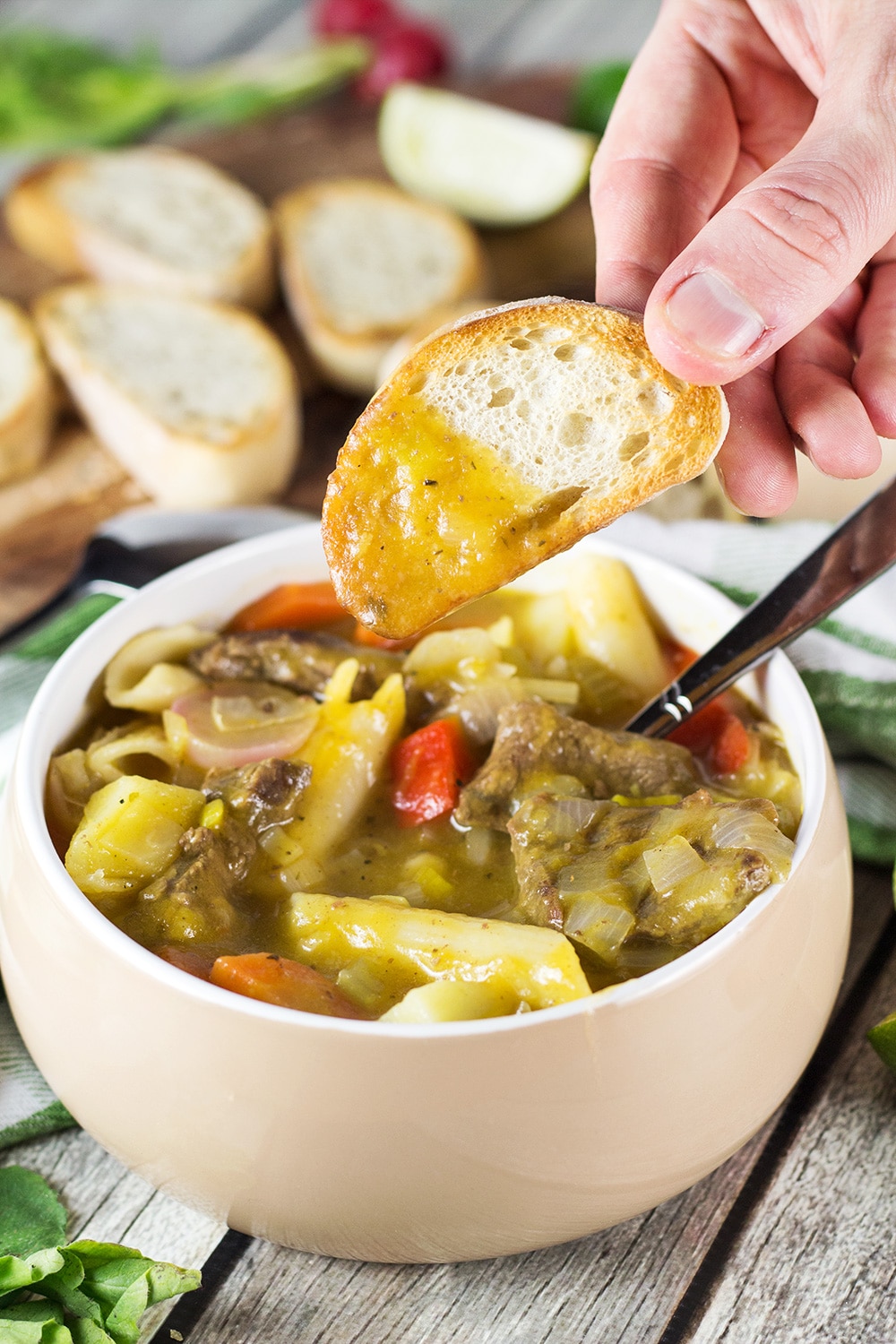 Wow, how is that for a story? Unbelievable. All these historical facts make Soup Joumou a truly special soup. Even without them, it's one of the most delicious soups I tried in my whole life. Seriously. The combination of flavors is amazing. I don't know whether this soup has to be thin or thick but I got a thick, almost stew-like consistency which I enjoyed a lot. No surprise here, keeping in mind how many veggies are in this one + beef and pasta. Comforting, filling, healthy, and really really good. Highly recommended!
Serve this Haitian pumpkin soup with some toasted bread on the side. It's also nice to squeeze some lime juice into the bowl just before serving. Enjoy!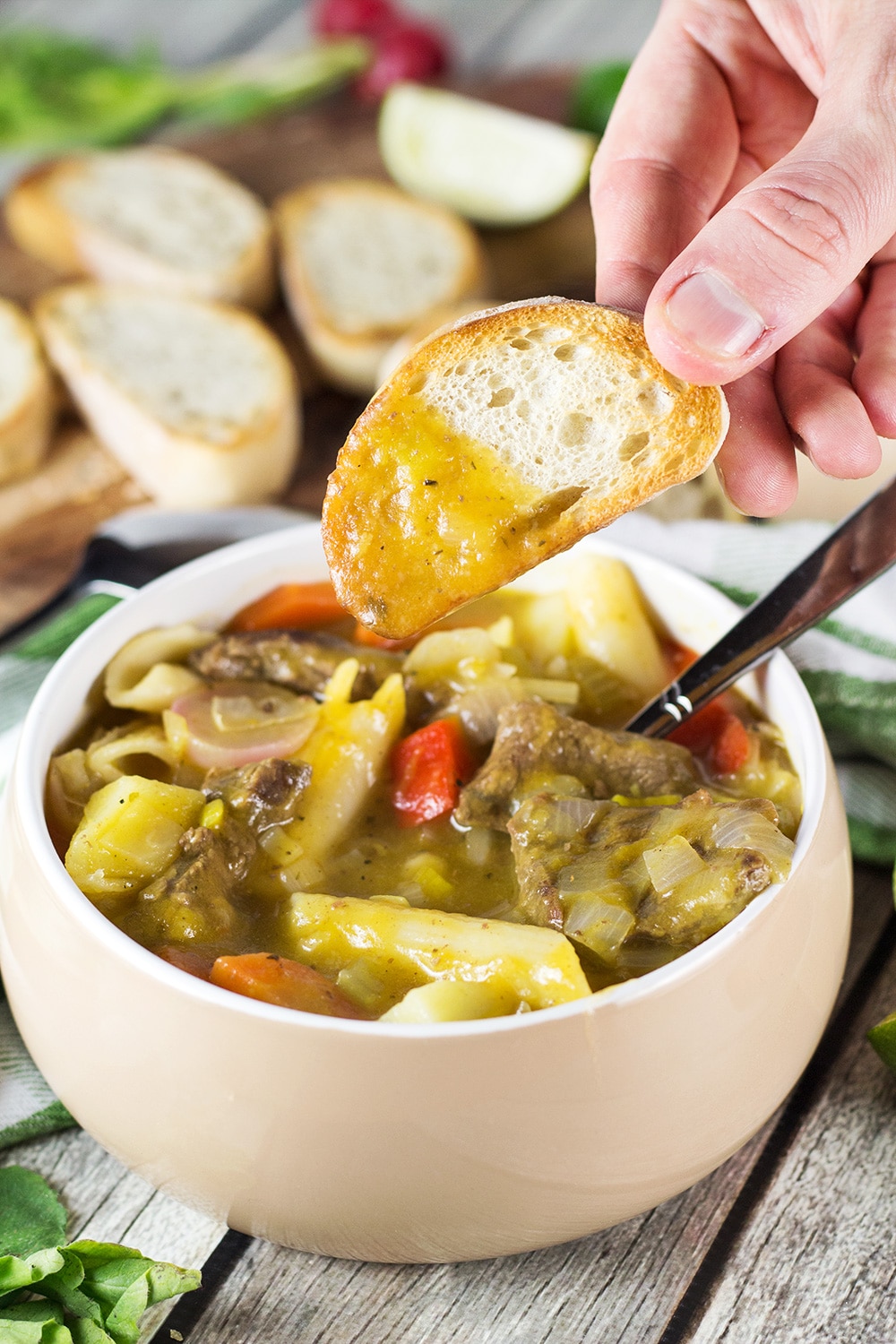 Soup Joumou - Haitian New Year's Soup
Soup Joumou is a Haitian pumpkin soup containing 11 different veggies! Also featuring beef and pasta, it's comforting, filling, and super delicious!

Ingredients
1 ½

lb (700g)

butternut squash

2

tablespoons

vegetable oil

1

cup

chopped white onion

1

medium

leek

(white and pale-green parts only), chopped

1

medium

turnip

, peeled, cut into bite-sized pieces

¼

lb

carrots

, peeled, chopped

½

lb

potatoes

, peeled, cut into bite-sized pieces

½

habanero chile

, seeded, minced

2

chicken bouillon cubes

3

celery ribs

, trimmed, chopped

1

cup

coarsely chopped cabbage

4-5

radishes

, peeled, chopped

½

red bell pepper

, chopped

½

tablespoon

vinegar

½

cup

pasta

(I used penne)

1

lb (450g)

stewing beef

, cubed and cooked

toasted bread

, for serving (optional)

1

lime

, for serving (optional)
Instructions
Cut the squash into big pieces and peel them. Put in a large pot of water and cook, covered, for about 25 minutes, or until tender. Transfer the pumpkin pieces to a blender together with 4 cups of the cooking liquid. Puree and set aside.


Empty the pot and heat 2 tablespoons oil. Add the onions and leek and cook for about 5 minutes. Now add the pumpkin puree, turnip, carrots, potatoes, chile, bouillon, celery, cabbage, radish, bell pepper, vinegar, and pasta. Season with salt and pepper, if needed.


Cook for about 15 minutes, until the veggies are tender. At the last 5 minutes, add the cooked beef. Serve with toasted bread on the side with some lime squeezed into every bowl. Enjoy!

Notes
Traditionally, a Calabaza squash ( a winter squash resembling a pumpkin) is used for this recipe but butternut squash works really great.
Traditionally, vermicelli is the pasta you should use for this recipe but I added penne because that's what I had on hand. I don't think that's a problem.
Adapted from "Fine Haitian Cuisine" by Mona Cassion Ménager
Nutrition
Calories:
443
kcal
Carbohydrates:
55
g
Protein:
31.2
g
Fat:
13
g
Cholesterol:
71.4
mg
Sodium:
180.3
mg
Sugar:
11.7
g
Vitamin A:
6650
IU
Vitamin C:
129.5
mg
Nutrition Facts
Soup Joumou - Haitian New Year's Soup
Amount Per Serving
Calories 443
Calories from Fat 117
% Daily Value*
Fat 13g20%
Cholesterol 71.4mg24%
Sodium 180.3mg8%
Carbohydrates 55g18%
Protein 31.2g62%
Vitamin A 6650IU133%
Vitamin C 129.5mg157%
* Percent Daily Values are based on a 2000 calorie diet.
* This post contains affiliate links, thank you for the support in keeping Cooking The Globe up and running!