Nobody would argue that Greeks know something about pies. Spanakopita, or a Greek Spinach Pie, is one of their most famous creations. Flaky and crispy phyllo dough layers and a creamy spinach & feta filling. Can it be any better?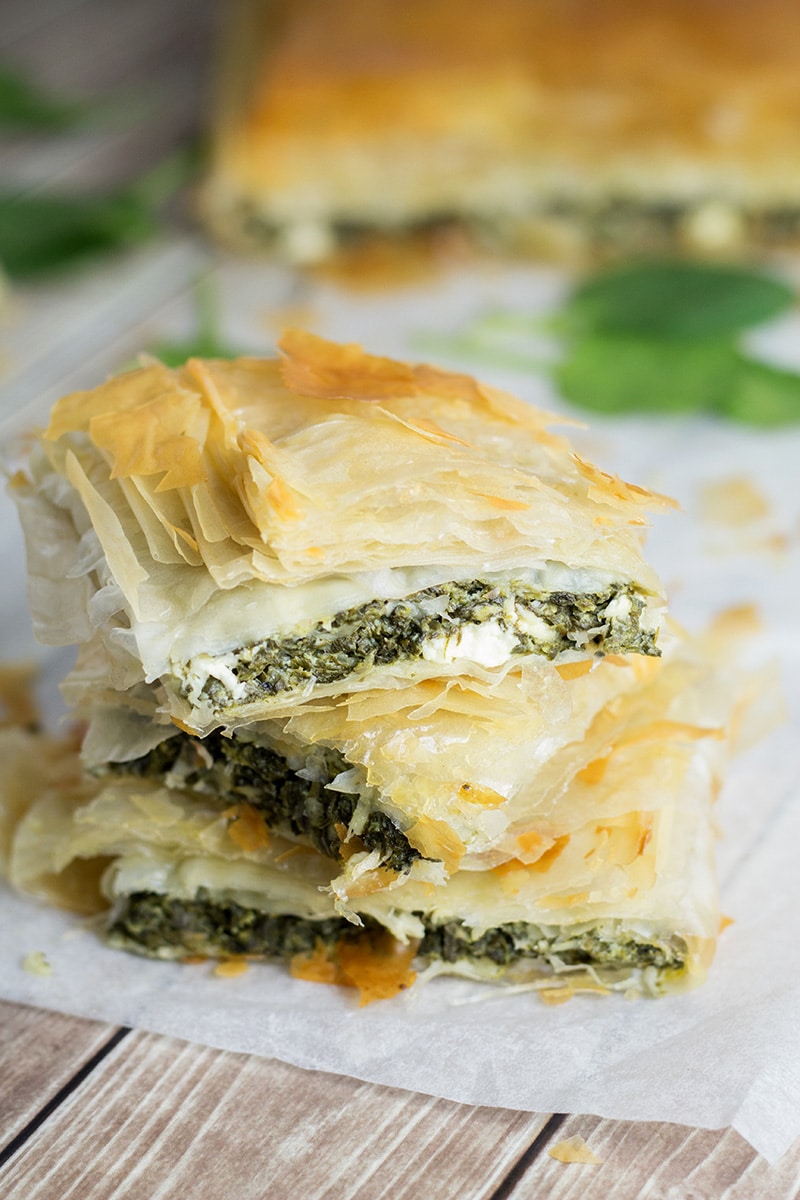 Lately I am in love with Greek cuisine. I think it didn't come as a surprise considering that it's my third Greek recipe this month! My love affair with the cuisine of this sunny beautiful country started with this bright lemon rice soup called Avgolemono and continued with these fantastic looking Kataifi nut & honey pastry rolls. Now it was time to try one of the famous Greek pies. They have literally hundreds of them and there is one thing all of them have in common - phyllo or filo dough.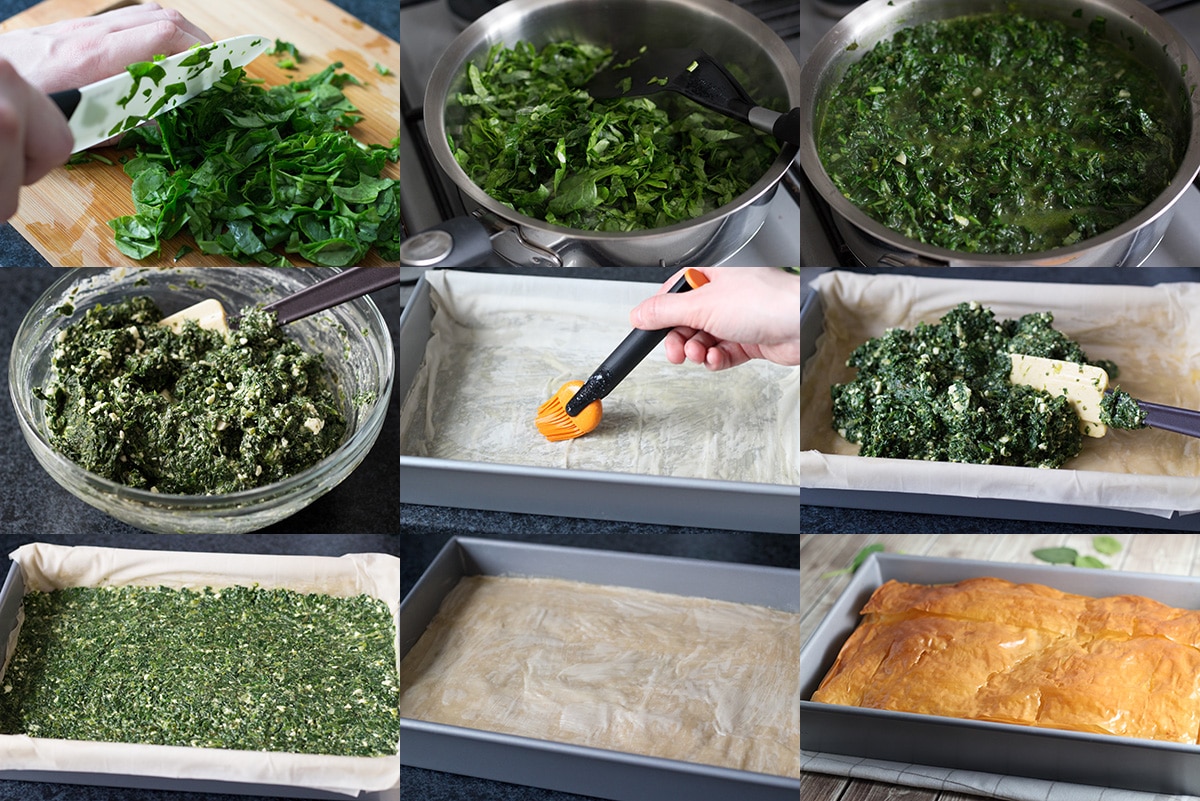 After combing through my countless recipe books I've finally chosen the one I would really love to make - savory Greek Spinach Pie called Spanakopita. I've found it in one of my favorite books - Mediterranean Cookbook. If you are into Mediterranean cuisine, I highly recommend this one. It's colorful, with great pictures and foolproof recipes. By the way, all Greek pie names end with "pita", which means "pie": Tiropita, Kreatopita, Galatopita and so forth. Spanakopita is not only filled with spinach but also feta cheese and other greens. Feta is one of my favorite cheeses because of the distinct taste. Cover my eyes with a black cloth, wake me up in the middle of the night and I will still recognize it among hundreds. Seriously!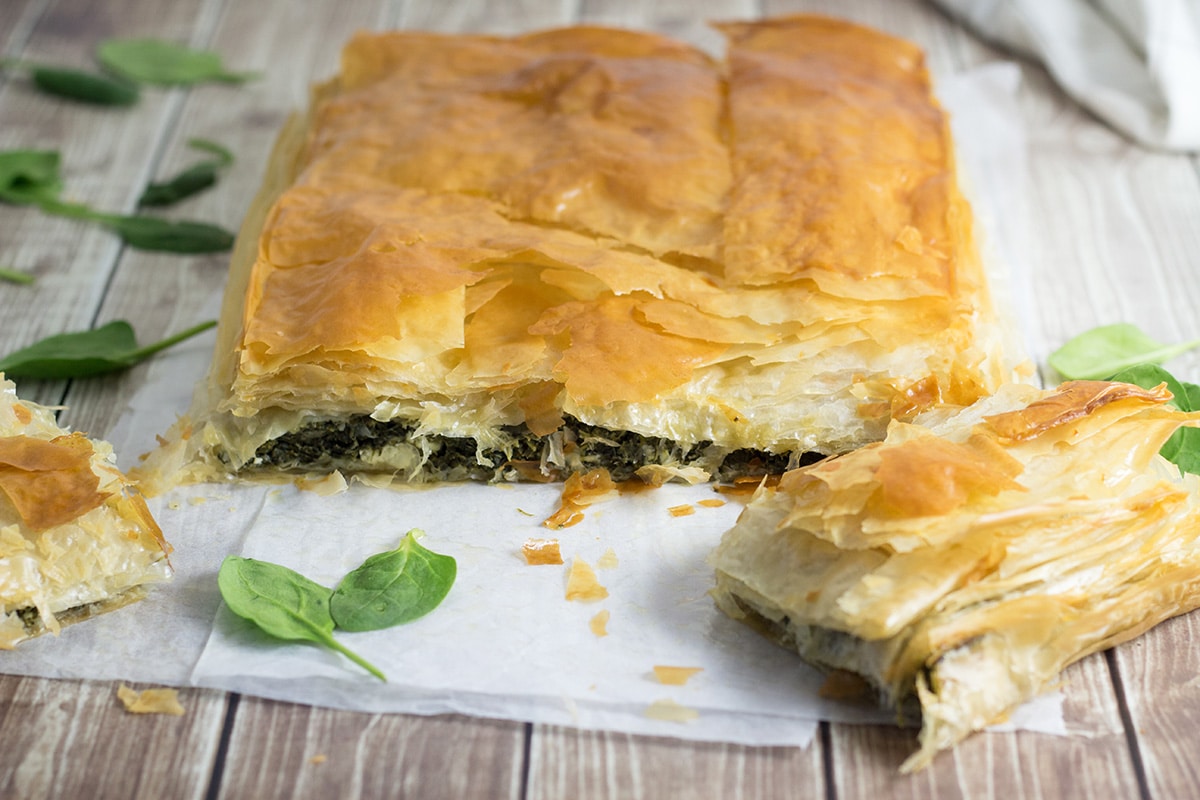 As I have already mentioned, this spinach pie, as well as other Greek pies, is made with phyllo dough. If you are not familiar with it, it's a thin unleavened dough popular in Middle Eastern and Balkan cuisines. It's quite popular, though, you have to be able to find it in your local supermarkets or specialized stores. Don't get intimidated by the exotic name, it's not difficult to work with. You just have to remember few things. First of all, thaw the frozen dough in the fridge overnight, bringing it to room temperature 30 minutes before using. Also, keep a damp towel over the dough when working with it to prevent it from drying out. That's it! Now you are ready to conquer this fancy dough!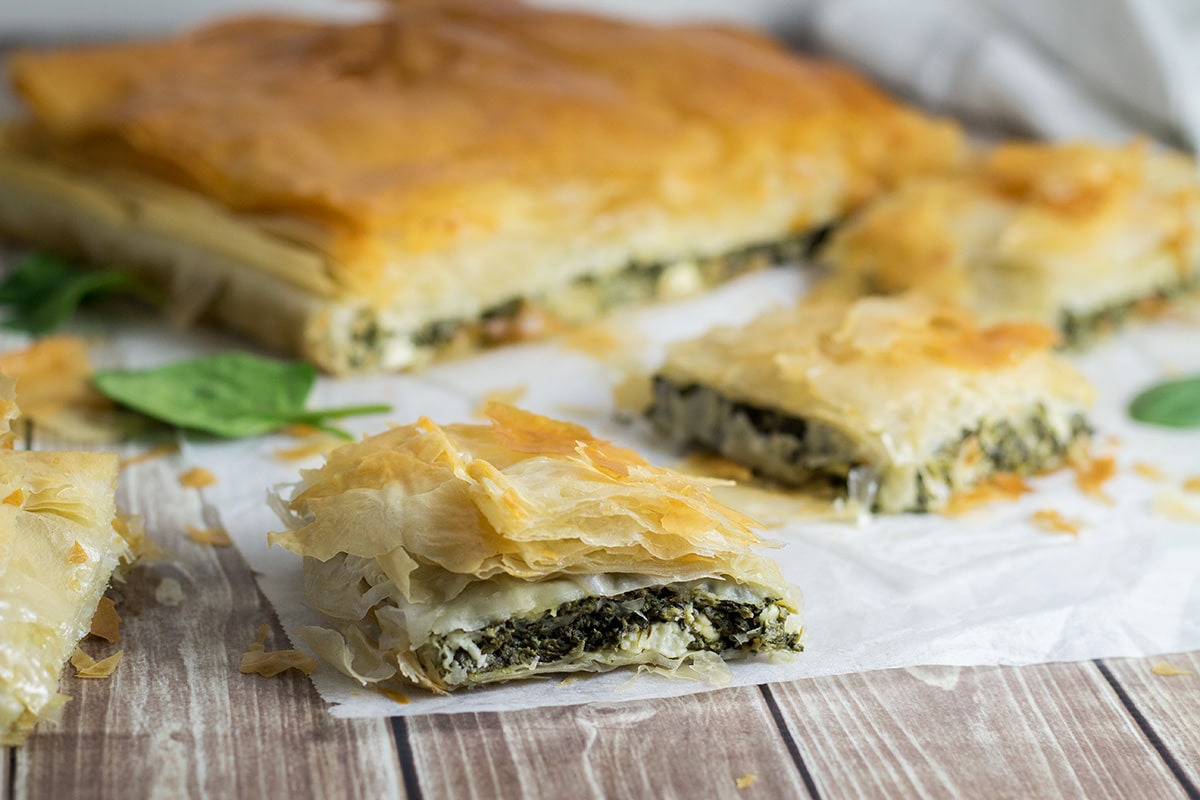 This delicious Greek Spinach Pie can be served as an appetizer or even a light lunch. It is surprisingly filling, keeping in mind the lack of meat (vegetarians, you will love this). The end result is the delightful pie with the flaky and crispy phyllo layers and a creamy spinach and feta filling. What's not to love about it? Greek cuisine once again gets an A-plus from me. Impressive!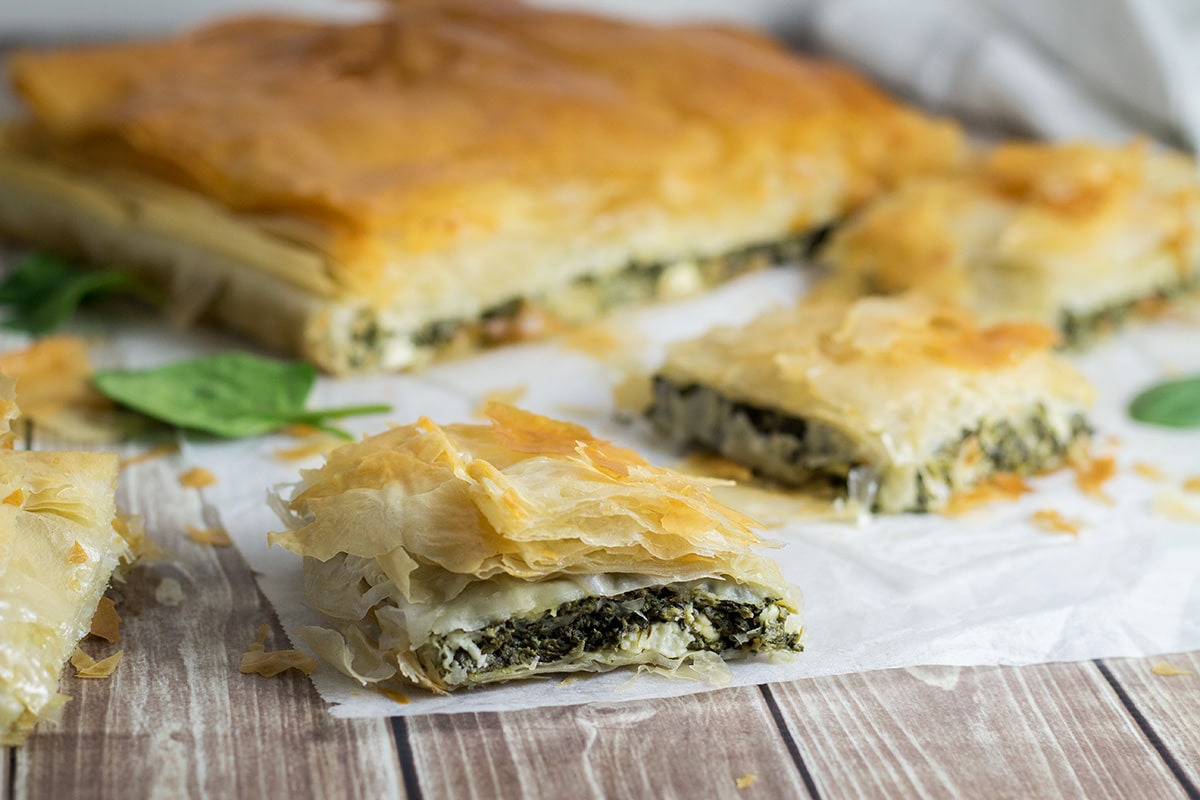 Greek Spinach Pie - Spanakopita
A delicious pie with the flaky and crispy phyllo layers and a creamy spinach and feta cheese filling, this traditional Greek Spinach Pie (Spanakopita) is perfect as an appetizer or a light meal!
Ingredients
For the filling:
2

lb (900g)

spinach

small bunch of dill

small bunch of flat-leaf parsley

5-6

scallions

2

cloves

garlic

2

tablespoons

Olive oil

4

eggs

8

oz (225g)

feta cheese

ground black pepper
For the pastry:
⅔

tablespoons (150g)

butter,

melted

1

package (1lb or 450g)

package phyllo dough,

thawed
Instructions
The filling. Shred the spinach, dill and parsley. Finely chop the garlic and scallions.

Heat the olive oil in a medium saucepan over medium heat. Add the scallions and garlic and cook, stirring continuously, until soft, for about 2-3 minutes. Add the spinach and herbs in batches and cook until wilted. Drain, remove from heat and let cool.

Crack the eggs into a bowl and beat well. Crumble in the feta cheese and season with black pepper. Mix in the spinach and herbs.

The pastry. Lightly butter a 9x13 inch (23x33cm) baking pan. Put the first sheet of phyllo dough inside and brush it with butter. Let the excess hang over the sides. Repeat until half of the dough is used up. Preheat the oven to 325°F (160°C).

Spread the spinach and feta filling evenly over the layers of phyllo. Continue layering the remaining sheets brushing each one of them with butter. When all the dough is used up, fold over the excess pastry from the side. Brush the top with the remaining butter.

Bake for about 1 hour or until golden brown. Enjoy!
Nutrition
* This post contains affiliate links, thank you for the support in keeping Cooking The Globe up and running!