Packed with nuts, raisins, and infused with cardamom, this sweet Indian Carrot Dessert (Gajar Ka Halwa) is made from a combination of milk, sugar, ghee, and carrots. It resembles pudding and has a unique texture and taste. SO GOOD!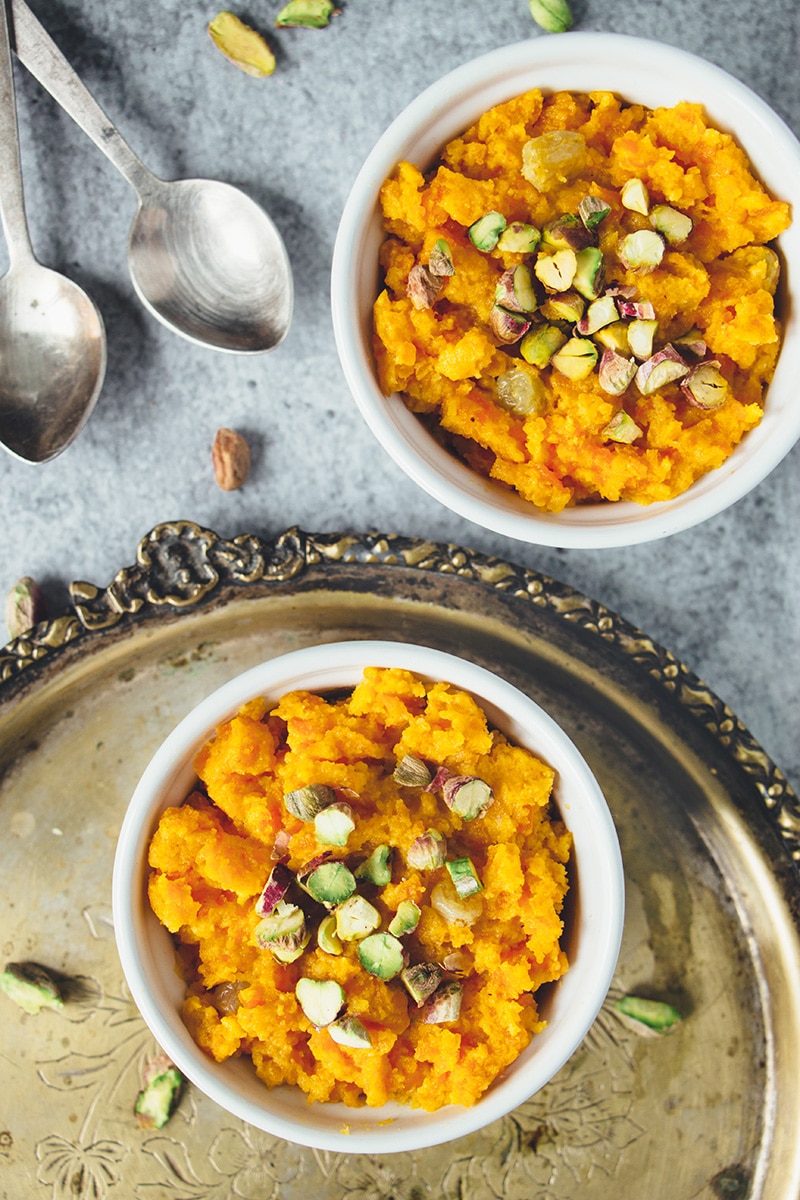 Long time no see, guys! I've been crazy busy lately so sorry for that. The recipe I want to show you today was totally worth the wait, though.
When someone mentions Indian cuisine my mind immediately thinks of spicy curries, chutneys, and a huge variety of vegetarian food. Never desserts or anything sweet.
I don't know if that's because savory food overshadows sweets or Indian people are not into that kind of stuff (I am certainly not an Indian food expert because of my love-hate relationship with spicy things). Either way, a few days ago, when reading a local magazine, I stumbled upon one of those never heard before Indian desserts and decided to give it a shot.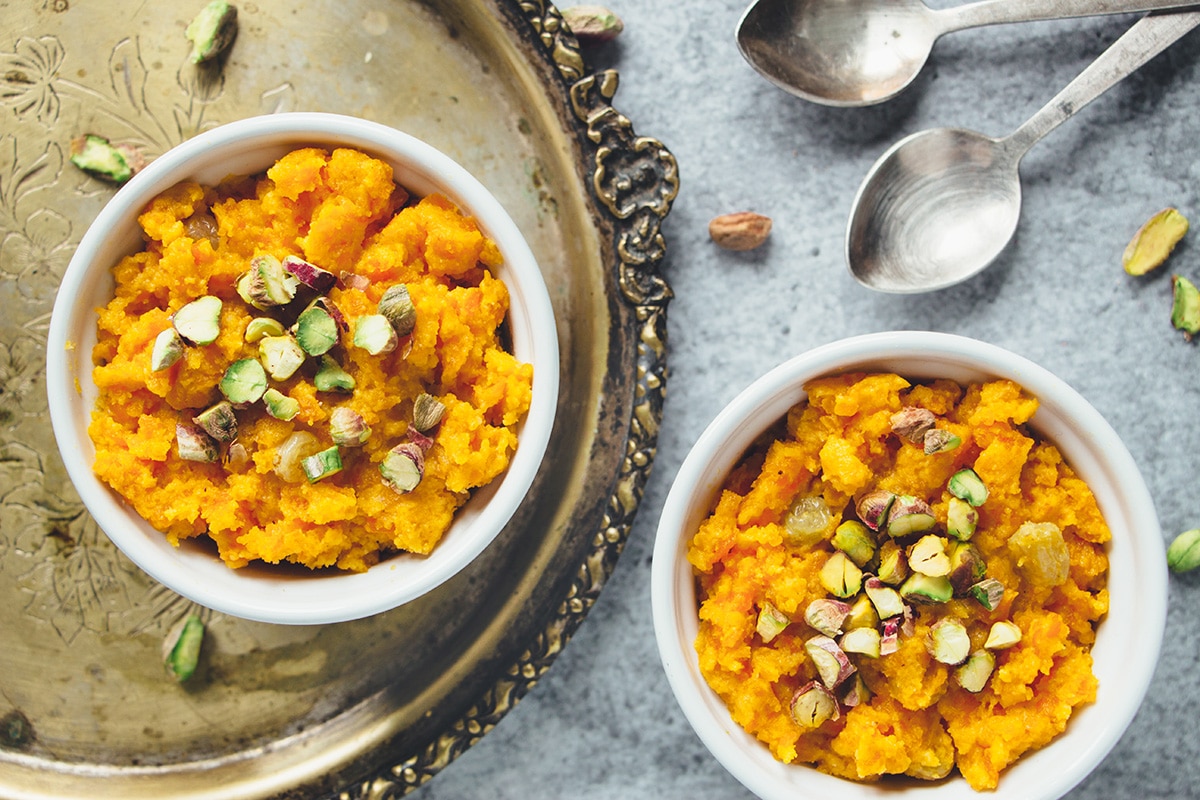 What drew me into trying it out was the fact that the foundation of this dessert is... Carrots. Veggies in sweet things is not something I'm used to, that's for sure.
This Indian carrot dessert is also known as carrot halwa or carrot pudding. The Indian name is Gajar Ka Halwa.
I will be frank with you. At first, I was super skeptical about this one. There was not too much hope that this dessert will make it into the blog. A few hours later I couldn't stop munching on this carrot goodness!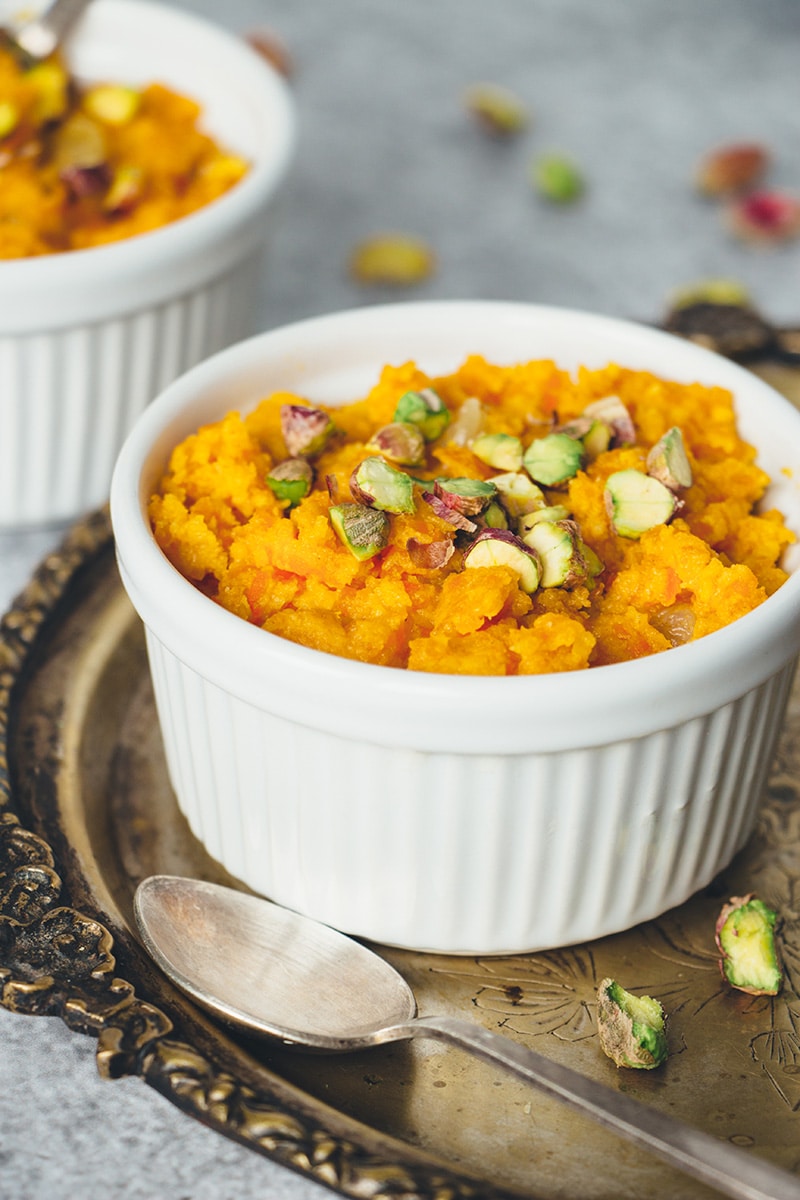 Ok, so what it's about? Gajar Ka Halwa is a blend of grated carrots, ghee, milk, and sugar with the addition of nuts, raisins, and cardamom. After a few hour simmer, you get a very dry substance resembling pudding or halwa.
If I would taste it with my eyes closed, I would never tell that it contains carrots. Such an interesting texture and taste. I have never tried anything like that before!
This sweet, rich, melt-in-your-mouth dessert can be served both warm and chilled. I liked the chilled version more but it's totally up to you.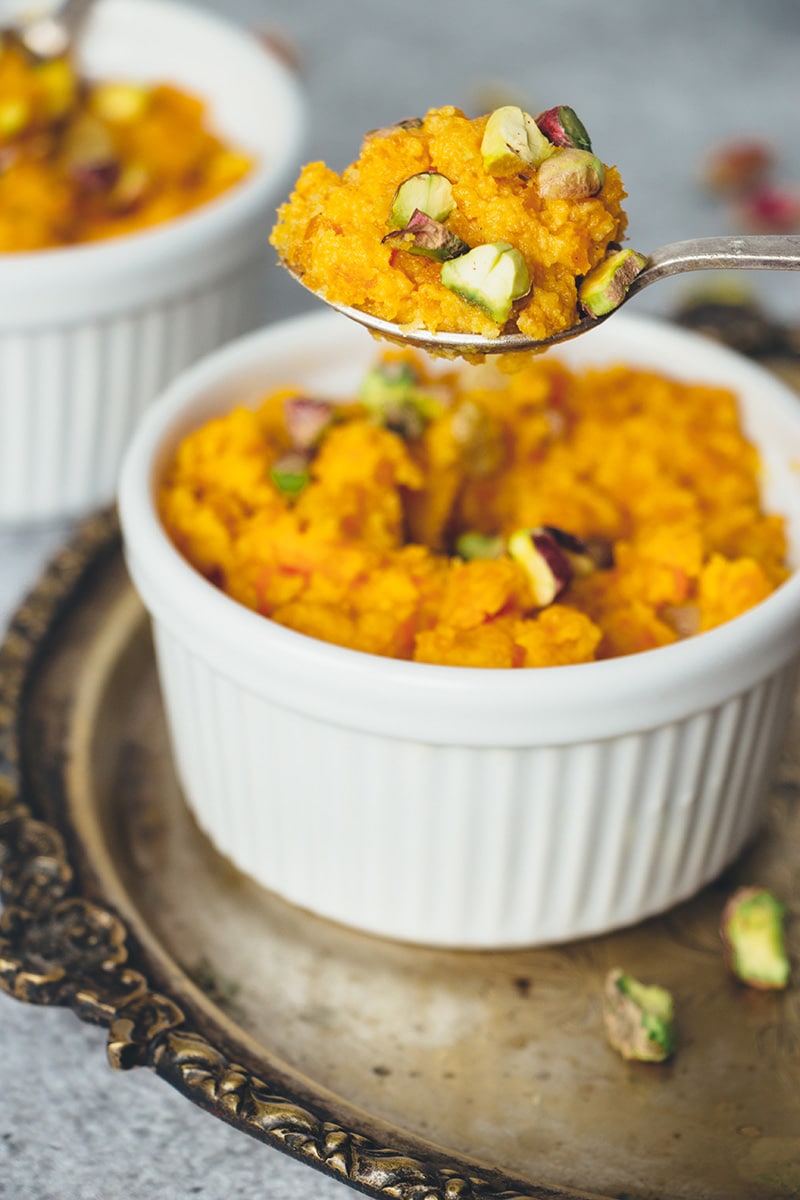 You gotta try Gajar Ka Halwa, guys. It's most probably the best new kind of dessert I tried in a few last years. My wife couldn't get her hands off it too. I imagine that kids should also love it. A true hit I'm certainly going to make again and again!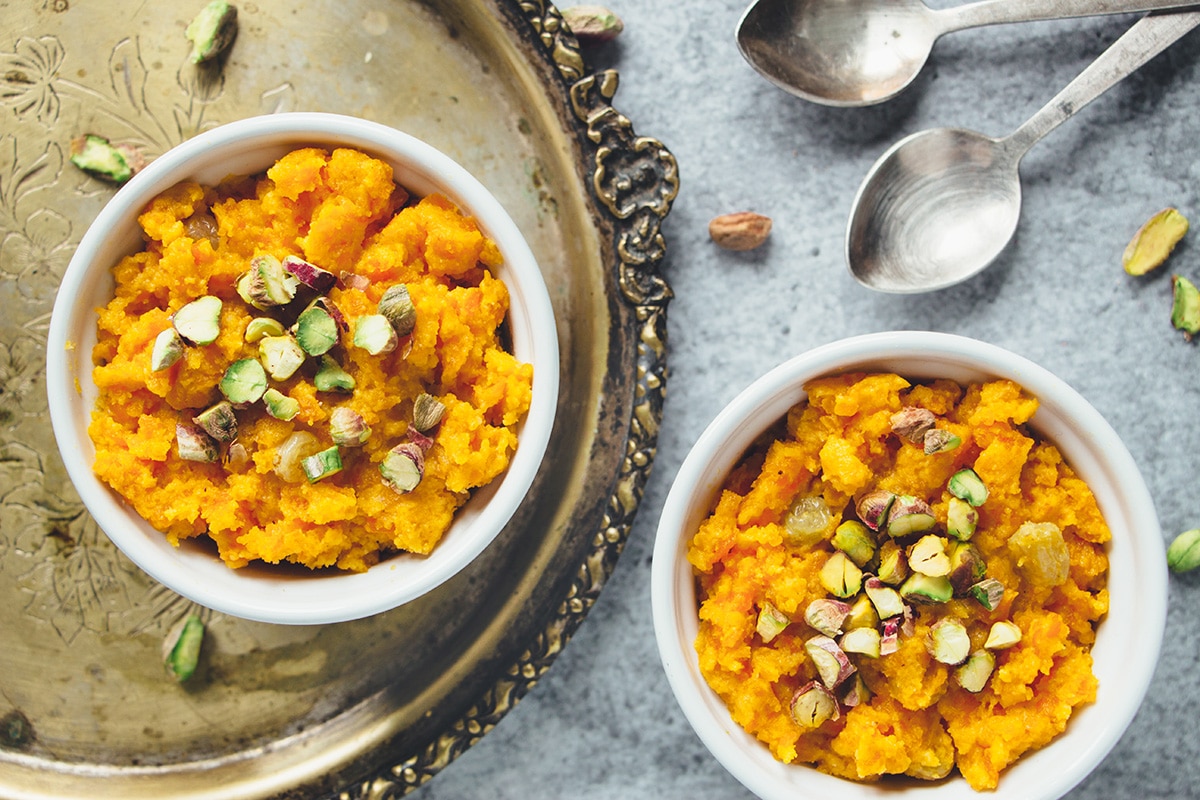 Indian Carrot Dessert - Gajar Ka Halwa
A signature Indian dessert - carrot pudding or halwa! Packed with nuts and infused with cardamom, it's unique and crazy delicious!
Ingredients
2

lb (900g)

carrots

, peeled

¼

cup + 2 tablespoons

ghee

6

cups

milk

1 ½

cups (300g)

sugar

¼

teaspoon

ground cardamom

1

cup

coarsely ground almonds

(you can also use almond flour)

1

tablespoon

golden raisins

1

tablespoon

chopped pistachios

, for garnish
Instructions
Grate the carrots either using a hand grater or a food processor.

Warm the ghee in a large pot. Add the grated carrots and saute for about 5 minutes until they soften, stirring constantly.

Add the milk and bring to a boil. Reduce the heat to low and simmer, partially covered, for 2-3 hours until all the milk is absorbed and there is no liquid left. Stir occasionally to avoid sticking to the bottom of the pot.

Raise the heat to medium and add the sugar. Cook for 30 minutes more, stirring occasionally, until the sugar melts.

Add the cardamom, almonds, and raisins. Cook 15-20 minutes more until the mixture gets really dry and starts to pull away from the sides of the pot. Keep stirring actively at this point because it can easily burn.

When done, remove from the heat and let cool. Serve either warm or chilled garnished with some chopped pistachios. Enjoy!
* This post contains affiliate links, thank you for the support in keeping Cooking The Globe up and running!