One of the most famous Turkish desserts is baklava. While this sweet phyllo dough based pastry is made in many countries around the world, I decided to make Turkish baklava version with pistachios and walnuts. A perfect treat for any occasion!
Long time no see, guys. I can't believe I haven't written a blog post in 2 months! That's crazy. Super busy lately. My wife is pregnant with our second baby so I spend all my free out-of-work time either running errands or with our son to make her life a little bit easier.
Really happy, though, because a new baby is always exciting!
This week I managed to find a free minute and, at last, cook something for the blog. Turkish Baklava!
Ever since I tried Turkish Breakfast in the beginning of this year, I'm in love with the cuisine of this country. We visited a Turkish restaurant a few times plus I've been experimenting with Turkish dishes in the kitchen.
The best way to explore a new cuisine is to start with its most popular dishes, right? Well, Baklava is one of them. I have actually tasted it a few times here and there but this was the first time I made it myself from scratch.
What is Baklava?
Baklava is a Middle Eastern delicate dessert usually made with walnuts, almonds or pistachios and sweetened with a syrup poured over top. The nutty mixture is baked in layers of phyllo dough and after it cools the syrup is distributed over the dough. It bakes into a delightful sugary pastry that melts in your mouth and is best served warm.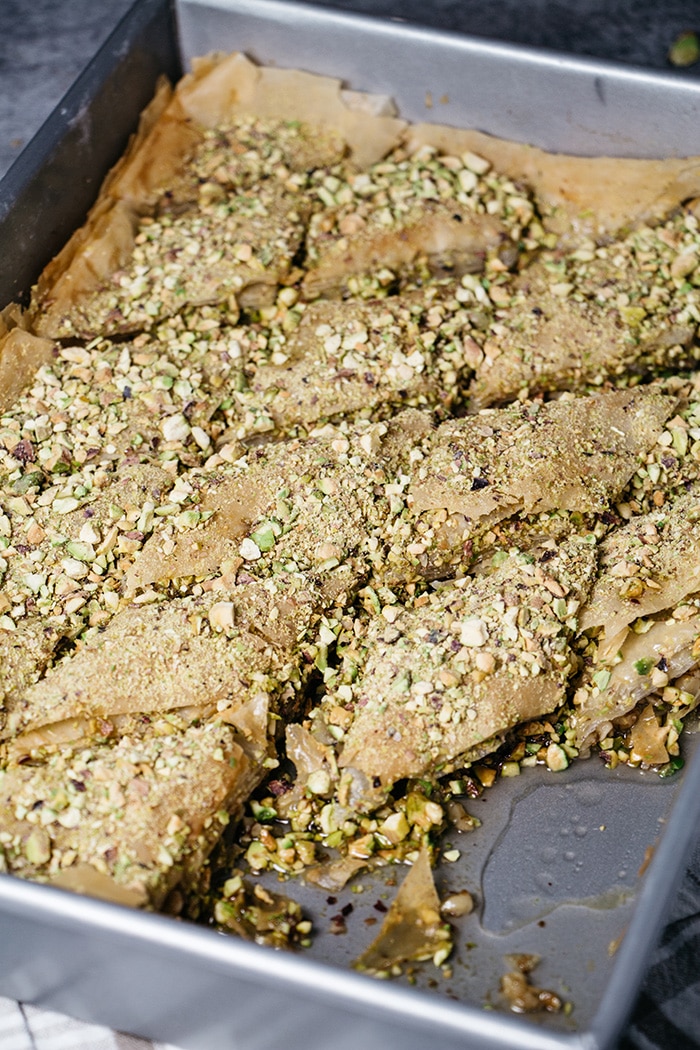 Baklava has quite a history that many people may not know. Most people in the United States just assume it is a pastry derived from Greece, however it has a more detailed history than that.
Baklava was found around the 8th century B.C. and is believed to be of Assyrian origin. The origin was lost over the years as the recipe spread to the Near East, Turkey and Armenia and then eventually to Greece. Many countries claim the recipe as their own and all have a little different ingredients.
The Turkish version is made with pistachios and walnuts. The syrup consists of simple sugar, lemon, and water.
The Iranian version is made with almonds and fresh ground cardamom. The syrup is sugar, water, and rose water.
The Greek version is usually made with walnuts and almonds. The syrup is made with sugar, honey, lemon juice, water, cinnamon, cloves, and vanilla.
It all depends on what region is doing the baking. However, it is known that the pastry was considered a sweet treat for the more wealthy families and was served on special occasions or holidays. No matter where it originated, the most important thing is that we can enjoy it today!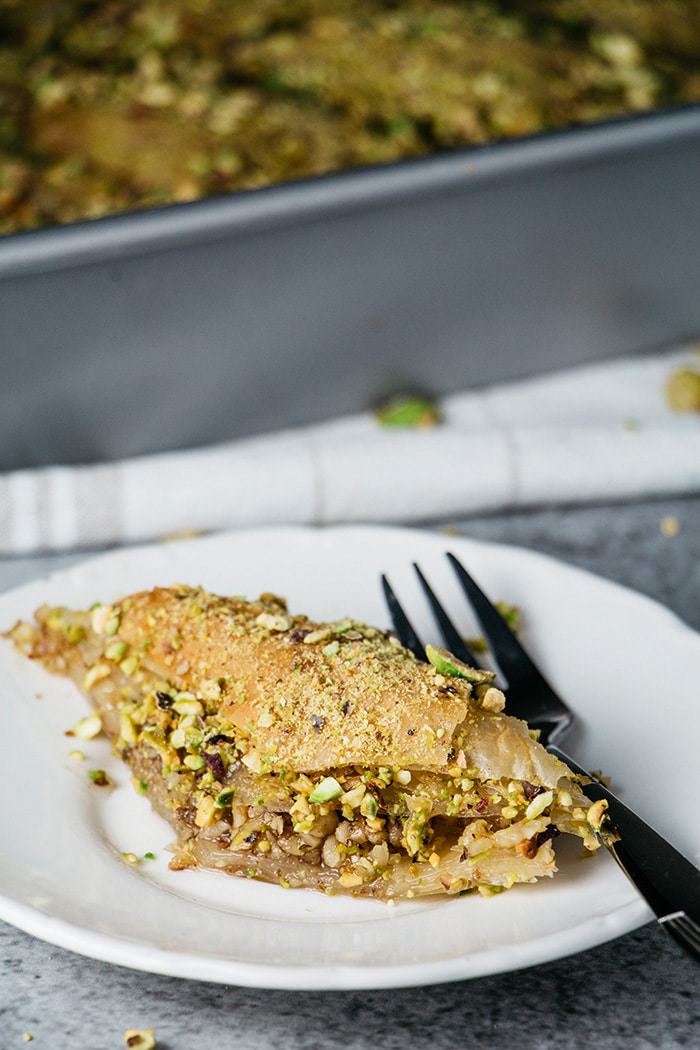 A Little About Phyllo Dough
Phyllo, Filo, or Fillo Dough which is used for this and many other Middle Eastern recipes has a history of its own. Filo means leaf in Greek and describes the paper thin quality of the pastry. The dough was invented by the Turks and was originally referred to as yufka or thin dough. The dough is usually made from unbleached flour, egg, lukewarm water, salt, olive oil and white vinegar. The art of making phyllo dough has to be practiced to roll it to a paper thin consistency.
If you decide to make your own phyllo dough it will take about 2 hours, you need a large workspace for the rolling and try to make on a day that is not rainy or humid because it is harder to work with. It bakes into a layered light flakey pastry and can be filled with different ingredients. Luckily for those of us that may not want to make our own phyllo dough (ME!), it is sold in most stores.
Looking for more recipes with phyllo dough?
- Moroccan Chicken Pie Aka Pastilla : A truly unique chicken and almond filling inside!
- The Famous Greek Spinach Pie aka Spanakopita : Creamy spinach and feta filling inside!
When working with store-bought phyllo dough keep in mind it is usually frozen so defrost in the refrigerator overnight rather than trying to defrost in room temperature and keep the extra dough covered with a damp cloth as you are working with another phyllo dough piece.
How to Make Turkish Baklava
Start by shelling your pistachios and spreading them on a baking sheet for roasting in a 320 degree oven for about 10 minutes. Then set the pistachios aside and allow them to cool.
While they are cooling you can make your sugary syrup mixture by combining the sugar, lemon juice and water in a saucepan. Bring it to a boil and cook for about 10-15 minutes until it thickens. Then set it aside to cool.
Mix your nut mixture together in a bowl so it is ready to disperse evenly on your phyllo dough. Melt your butter in a small pan and have a pastry brush available to begin working with your phyllo dough. You will be using a 9x13 baking pan coated with some of the melted butter.
Start to layer your dough brushing with melted butter and adding in your layers of nuts and continue until you have used all the nut mixture and layers of phyllo dough.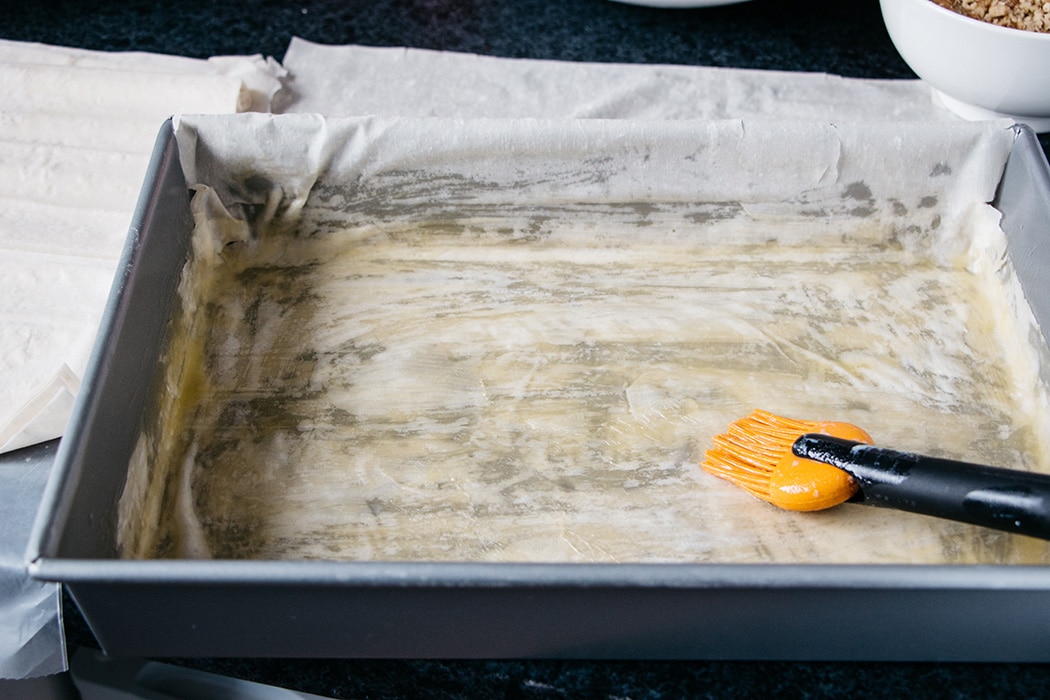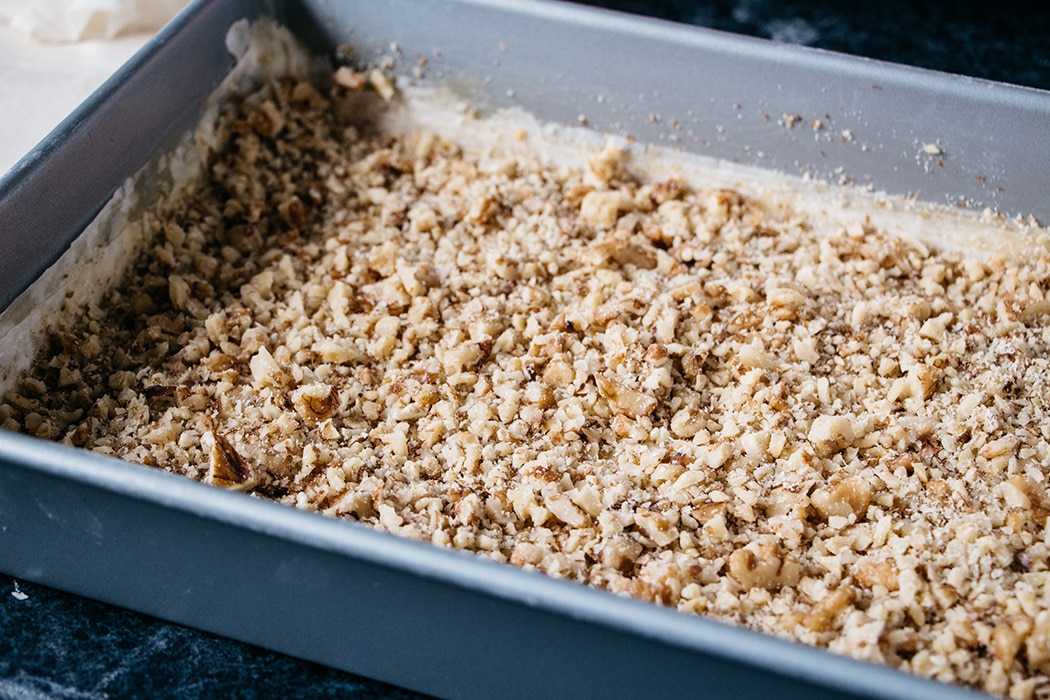 Finish with brushing the top layer of phyllo dough with melted butter. At this point, it is best practice to refrigerate for about 10 minutes so it is easier to cut the baklava into diamonds.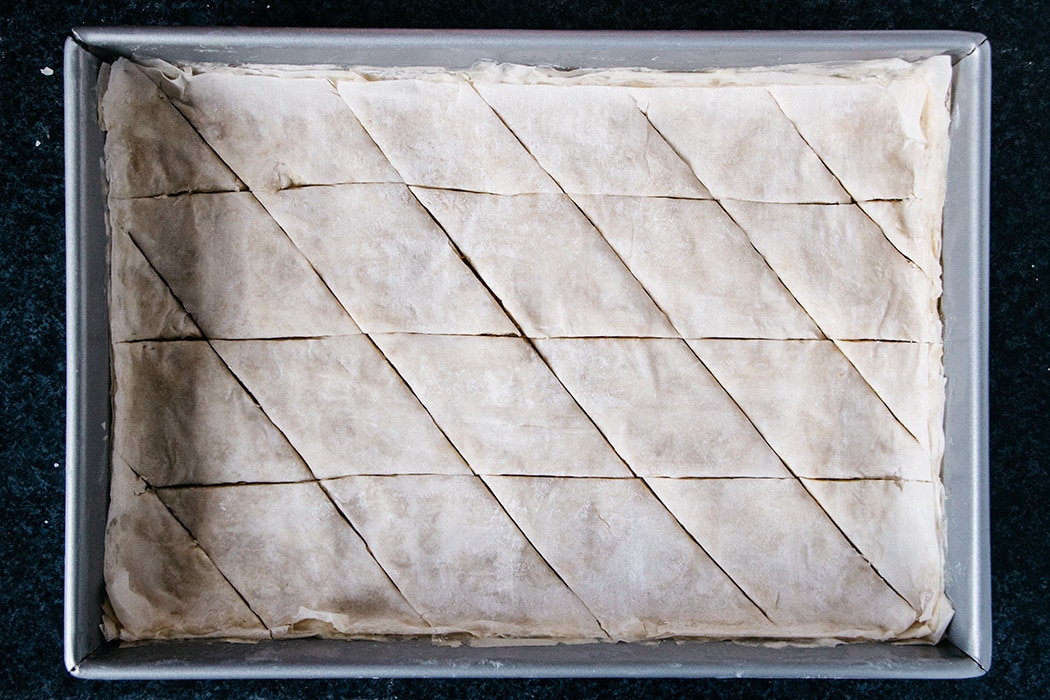 Bake in the oven for about 30 minutes or until golden brown. When the baklava is a golden brown remove it from the oven and pour the cooled syrup mixture over the top.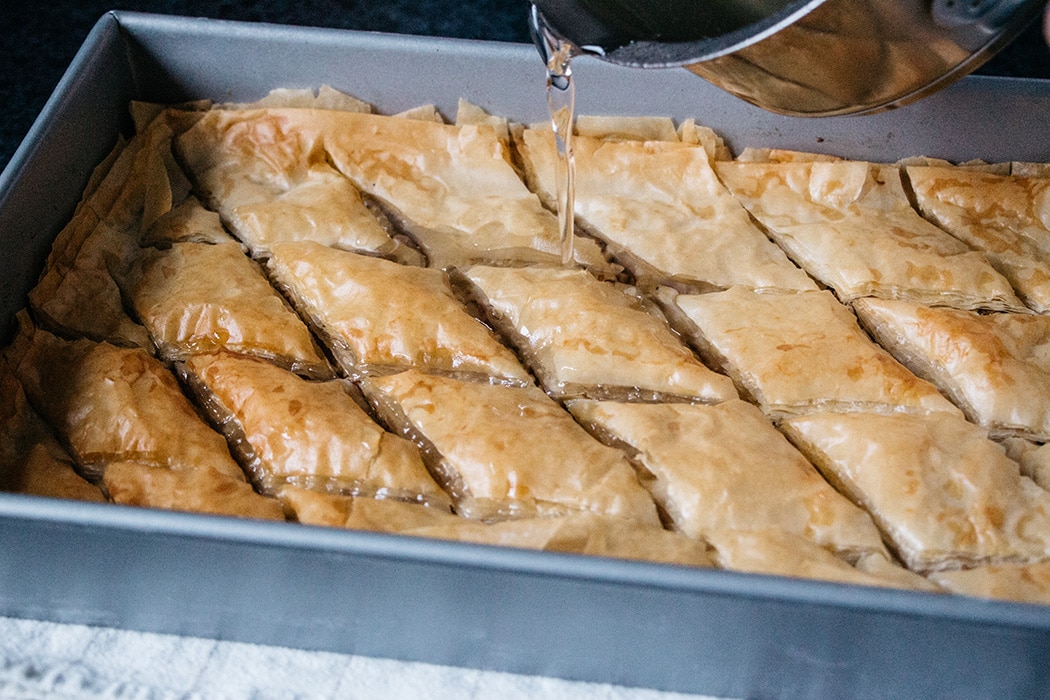 Sprinkle with additional crushed pistachio pieces and serve.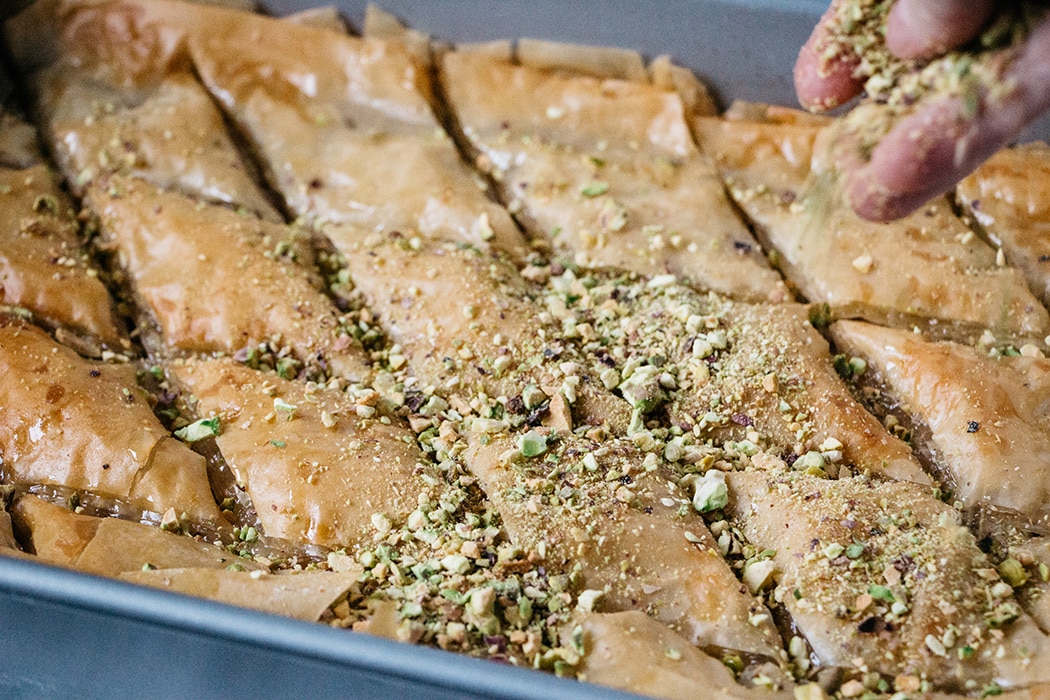 I like it warm but it is still very tasty when it is cooler. It can be heated in the microwave for about 30 seconds if you choose to take the chill off of it.
How to Store Baklava?
It is usually stored at room temperature in an airtight container and will last for weeks this way. If you choose, it can be stored in the refrigerator in an airtight container and may last for months this way. It will become a little drier and chewier when stored in the refrigerator. Baklava also may be stored in the freezer and then set out at room temperature to thaw.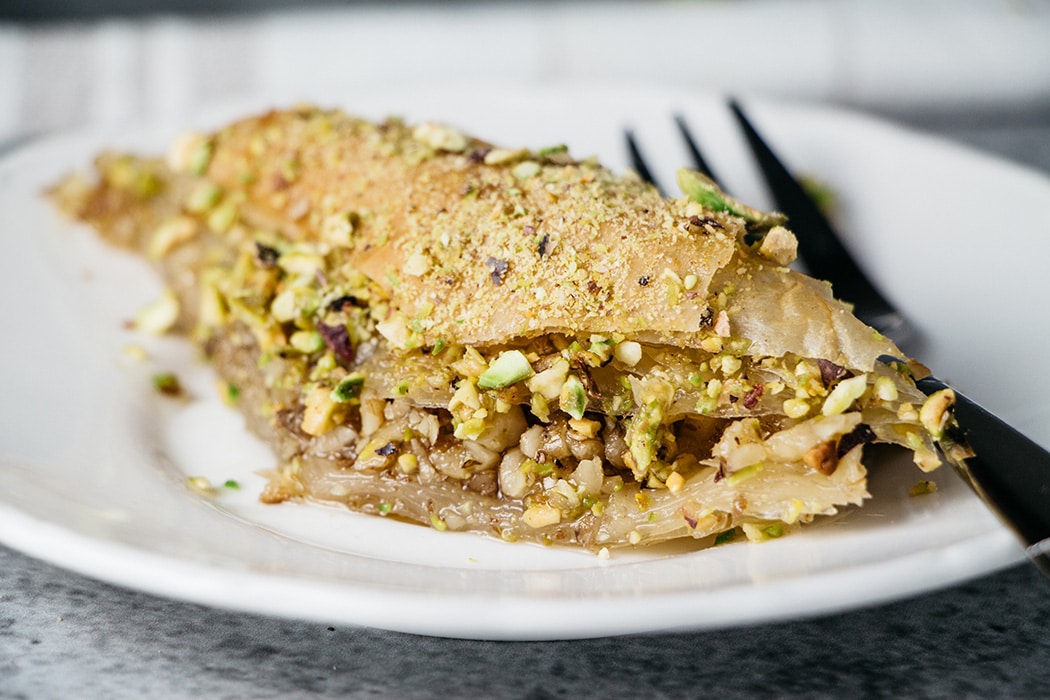 Turkish Baklava is a great pastry to have on hand when entertaining friends or family!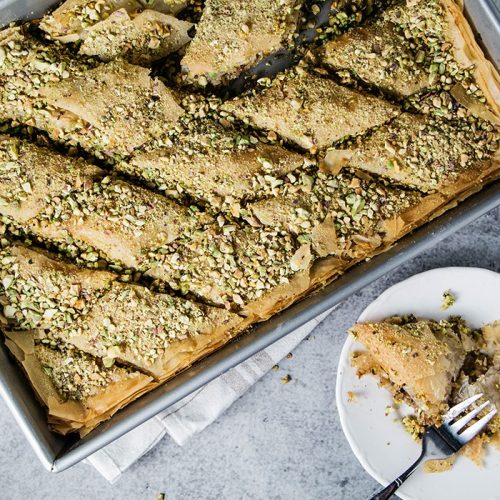 Turkish Baklava
Baklava is one of the most popular desserts in the whole world. This Turkish version is made with pistachios, walnuts, and lemony sugar syrup!
Ingredients
4

oz. (115g)

shelled pistachios

7

oz. (200g)

chopped walnuts

9

oz. (250g)

unsalted butter

, melted

1

lb. (450g)

filo pastry
For the syrup:
1

cup

sugar

juice of ¼ lemon

1

cup

water
Instructions
Preheat the oven to 320F (160C). Spread the pistachios on a baking tray and roast for 10 minutes. Let them cool and chop.

Now make the syrup by combining the sugar, lemon juice, and water in a saucepan. Bring to the boil and cook for 10-15 minutes or until the syrup thickens. Set aside to cool.

Lightly brush the 9x13-inch baking pan with some of the melted butter. Unroll the filo pastry and take one sheet covering the rest with a damp tea towel to prevent from drying out.

Place half of the sheet in the pan and let the other half hang over the side. Lightly brush the pastry in the pan with the melted butter, fold the hanging half over, and brush once again with the butter. Repeat until you have used the half of the pastry.

Sprinkle the walnuts over the pastry. Now repeat the process of layering and brushing the pastry until you have used all the remaining pastry. Generously brush the top with the remaining butter. Refrigerate for 10 minutes.

With a sharp knife, cut the pastry to diamond-shaped pieces. Bake for 30 minutes or until golden. When done, drizzle the cold syrup over the hot pastry and sprinkle with the pistachios. Enjoy!
Nutrition
Calories:
235
kcal
Carbohydrates:
15.4
g
Protein:
2.9
g
Saturated Fat:
18.7
g
Cholesterol:
18.3
mg
Sodium:
39.1
mg
Sugar:
7.2
g
Vitamin A:
350
IU
Nutrition Facts
Turkish Baklava
Amount Per Serving
Calories 235
% Daily Value*
Cholesterol 18.3mg6%
Sodium 39.1mg2%
Carbohydrates 15.4g5%
Protein 2.9g6%
Vitamin A 350IU7%
* Percent Daily Values are based on a 2000 calorie diet.
* This post contains affiliate links, thank you for the support in keeping Cooking The Globe up and running!