Saffron is most notably known as the world's most expensive spice. I think it's worth every single penny! Check out the 30 gorgeous saffron recipes I've collected for you. Everything from delightful main meals to drinks, desserts, snacks, and more!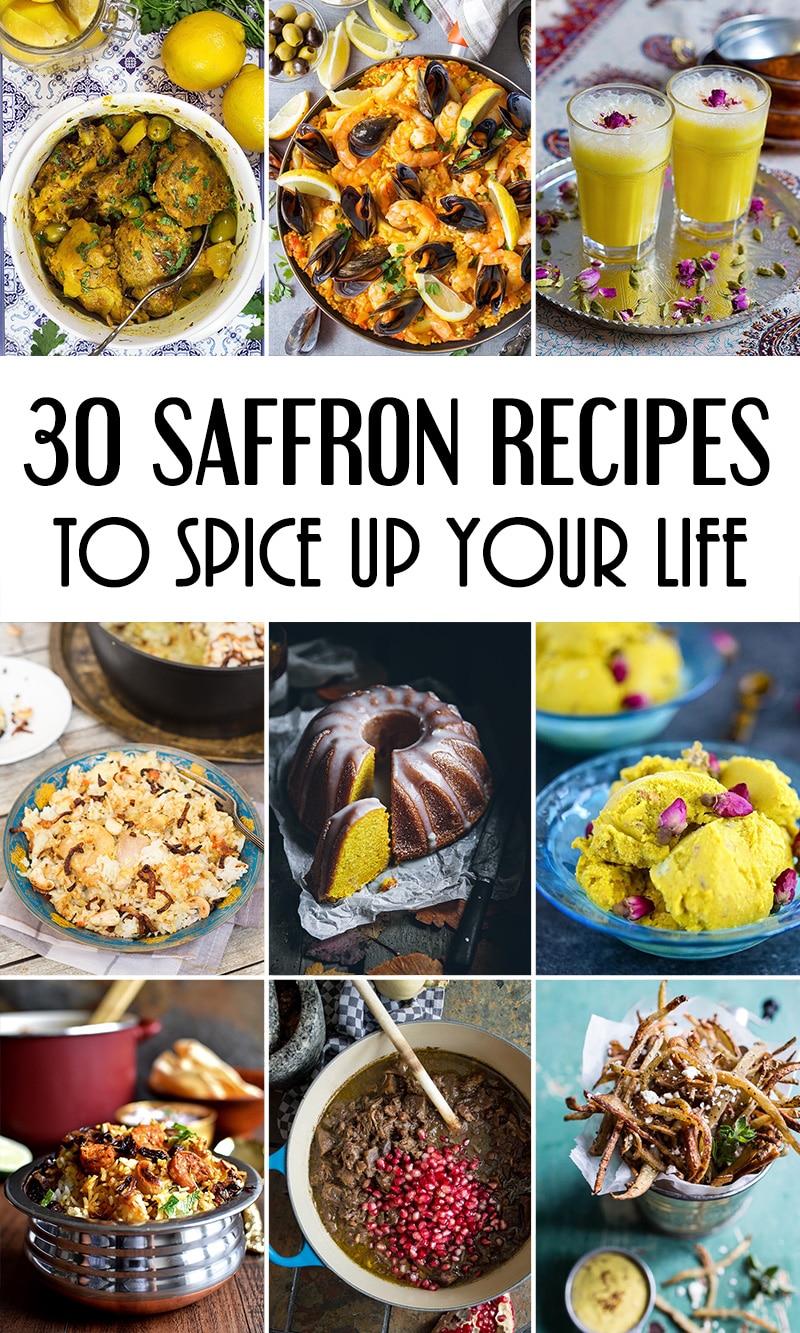 This post is a part of my "Around the World in 50 Ingredients" project. Be sure to check out the page where you'll find all the products I'm trying in one place!
What is the first thing that comes to your mind when you hear the word "saffron"? Expensive. That's the thought my mind generates immediately. Not surprising at all, saffron indeed is the world's most costly spice. In fact, it's worth more than its weight in gold!
But why it's so expensive?
Saffron is made from the stigma of a purple-flowered crocus. The flowers have to be gathered quickly after blooming as they wilt rapidly. The flower is first picked, then the stigma is removed and dried.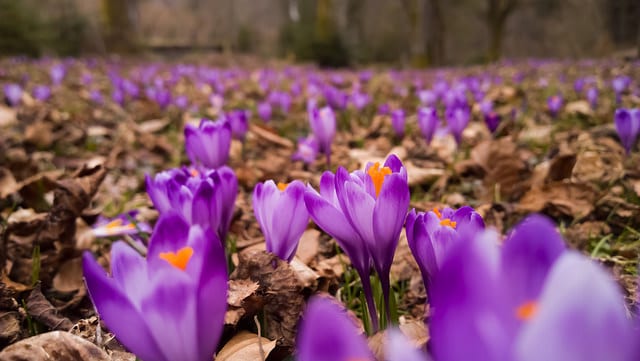 Saffron loves sunny conditions so it is usually grown in countries with hot and dry climate such as Spain, Greece, Morocco. The top producer is Iran, approximately 90% of the world's saffron is produced there.
So everything you need is just to plant some flowers in a sunny spot, get precious stigmas and dry them? Easy peasy, right? Well, technically yes. The problem is, you need many of them. How many? 150 flowers to get 1 gram of dry saffron threads. About 150.000 of them to get a kilo. Not that easy anymore? Ha ha!
Considering that one rainy day can kill your crops or somebody can steal them, it's not the most tempting business idea.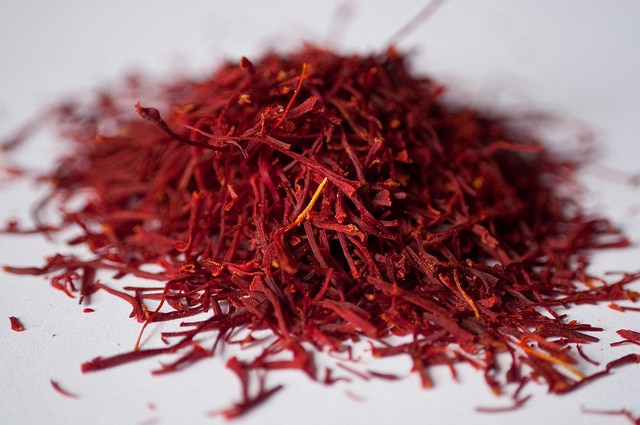 Saffron price in producing countries is significantly lower so I stocked up on it when being in Tenerife. Now I have like ten saffron boxes (tiny 1g ones, not the ones fridges are sold in) so I'm ready to rock and roll, baby!
I've made a collection of whopping 30 saffron recipes which I am sharing with you, guys. Only the best looking recipes are here. Some of them I already tried and each one of them was awesome. I plan to go through all this list while my saffron reserves last. Fingers crossed, I will get to try all of these beautiful ideas!
1. Moroccan Chicken Tagine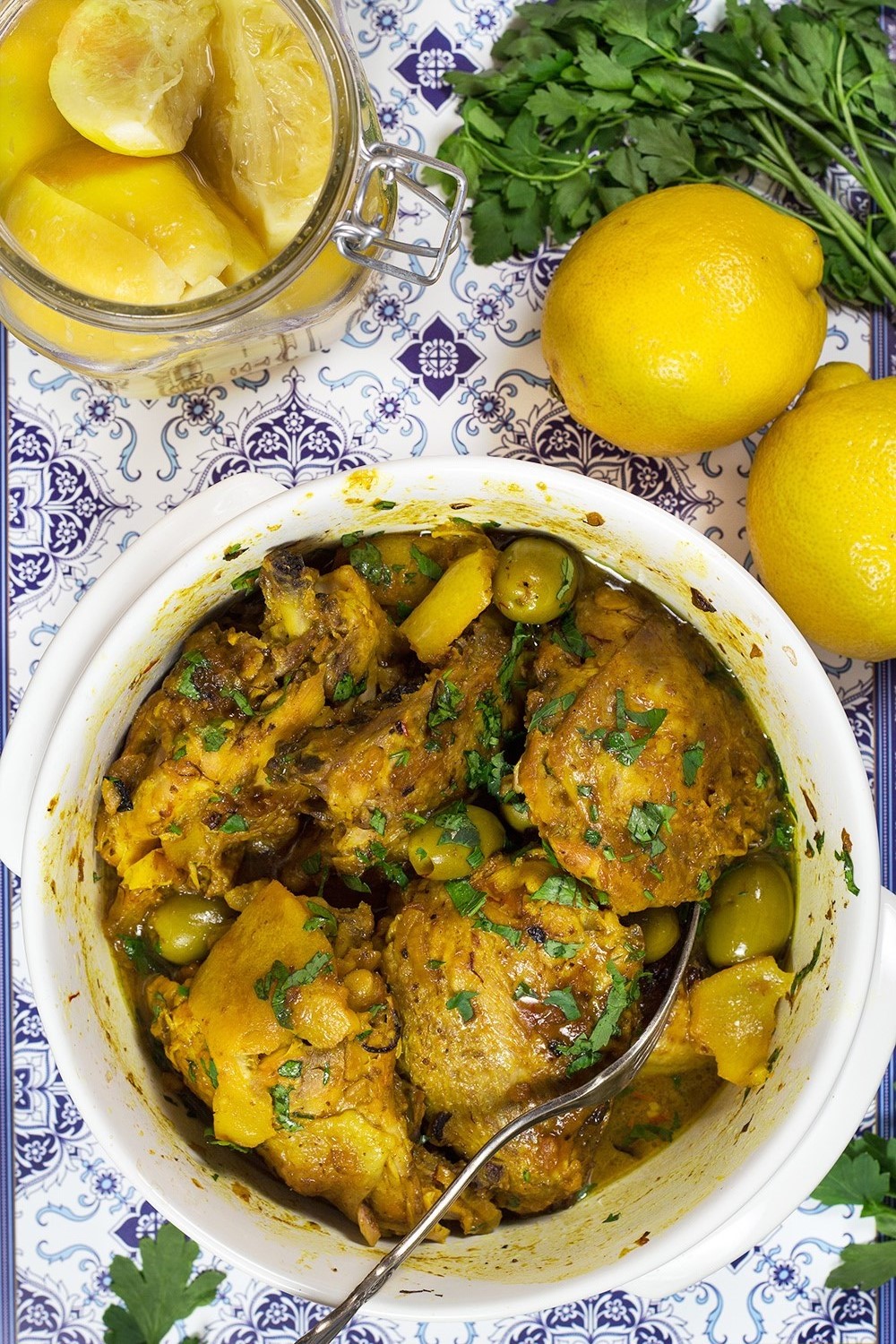 Juicy, lemon-y, and packed with flavor, this Moroccan Chicken Tagine is one of the most popular dishes in the country!
Recipe by: Cooking The Globe
2. Spanish Seafood Paella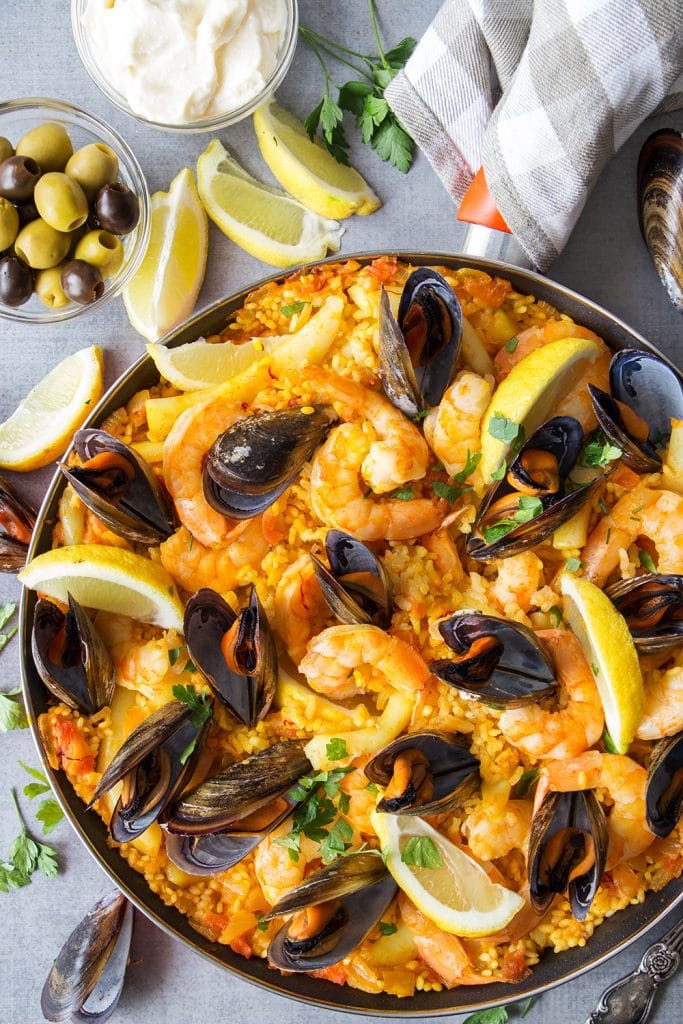 A crusty saffron infused layer of rice and sauteed veggies topped with squid, mussels, and shrimp!
Recipe by: Yummy Addiction
3. One Pot Chicken Saffron Rice with Peas and Olives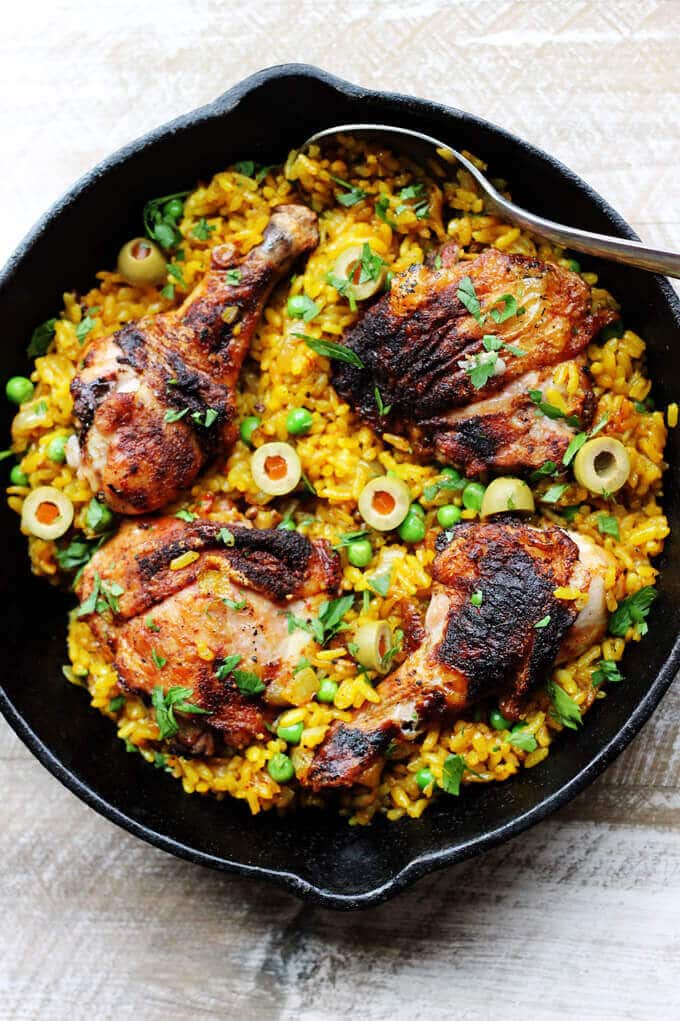 One Pot Chicken Saffron Rice with Peas, Olives and Pimenton is an easy weeknight meal that requires minimal work. The oven does the job for you!
Recipe by: Innocent Delight
4. Chicken Biryani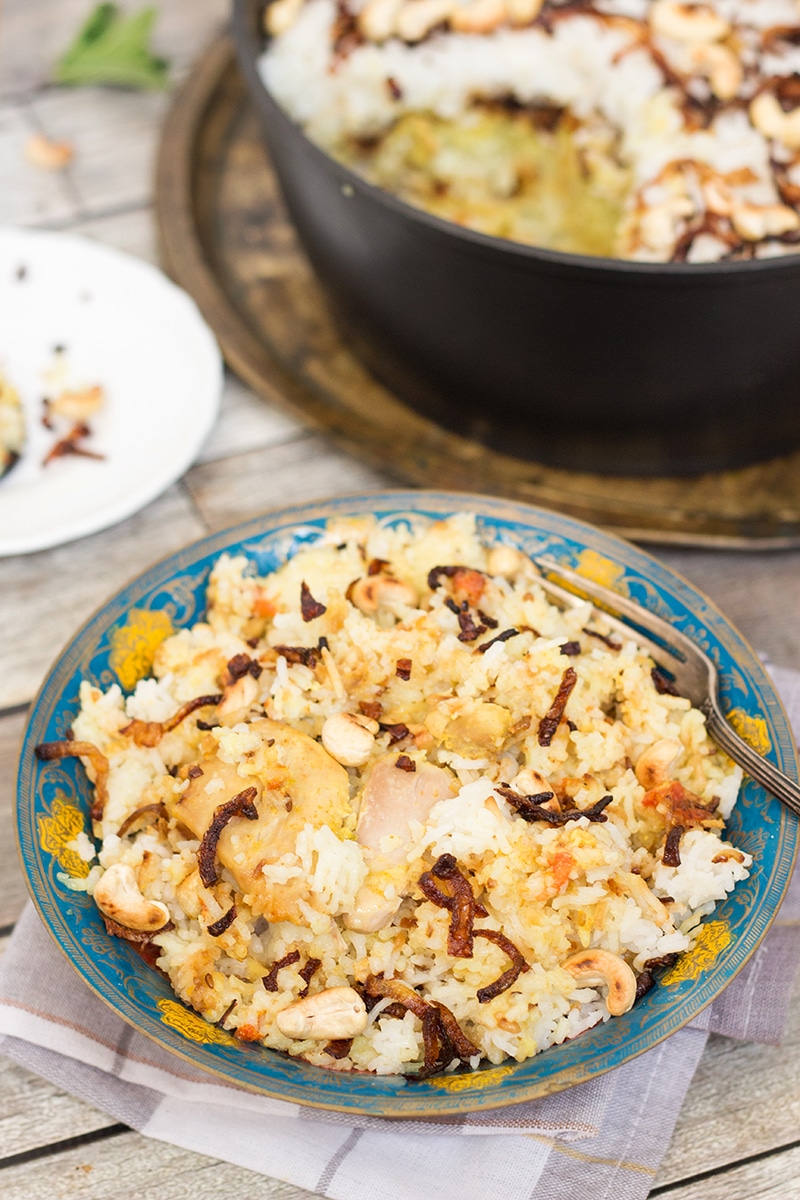 Chicken Biryani is a national Indian dish. It consists of the layers of rice, yogurt & ginger marinated chicken, aromatic fried onions, and topped with the roasted cashews!
Recipe by: Cooking The Globe
5. Peach And Saffron Iced Tea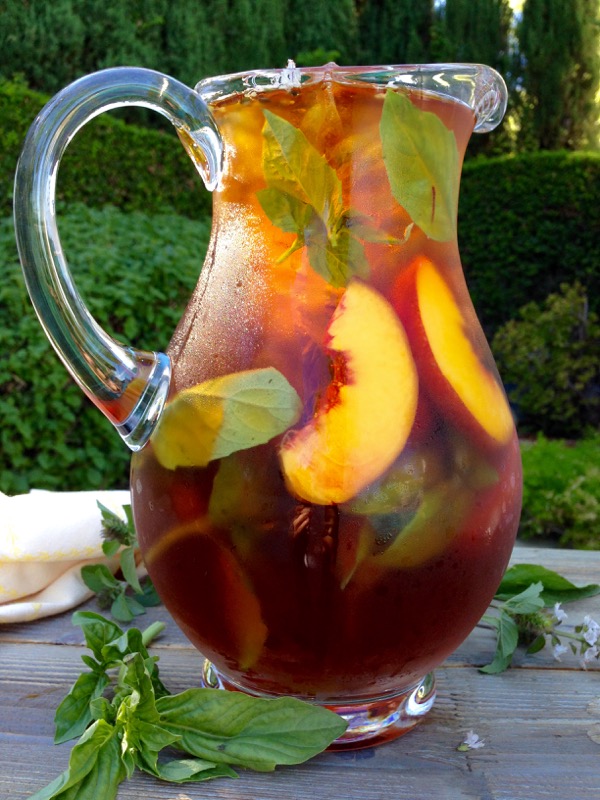 The honey like floral aromas explode in this concoction of rooibos tea and red saffron threads subtly infused with hints of vanilla, yellow peaches and fresh basil!
Recipe by: Ciao Florentina
6. Persian Saffron Milkshake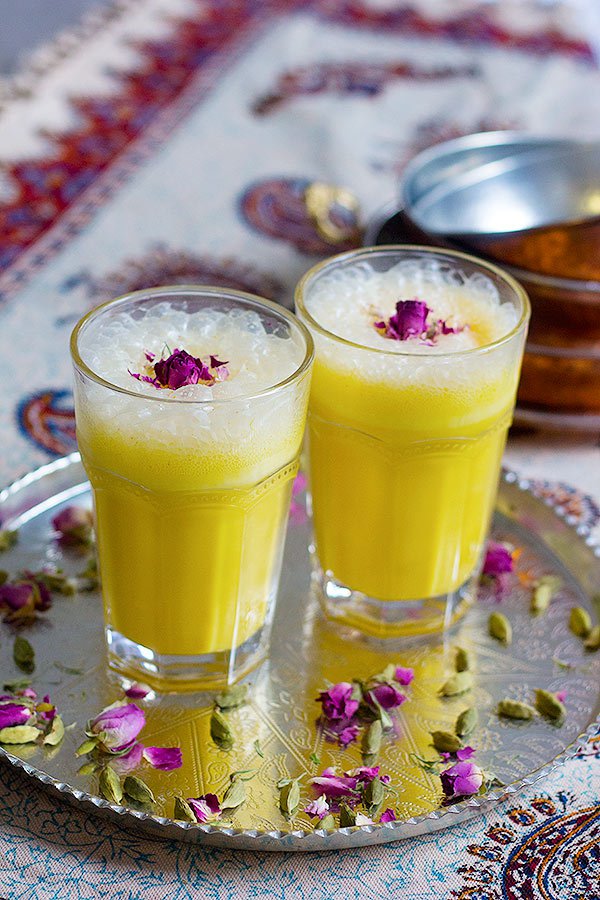 Take a delicious trip to Iran with this Persian Saffron Milkshake that tastes like traditional Iranian ice cream without the hassle!
Recipe by: Unicorns In The Kitchen
7. Rice Kheer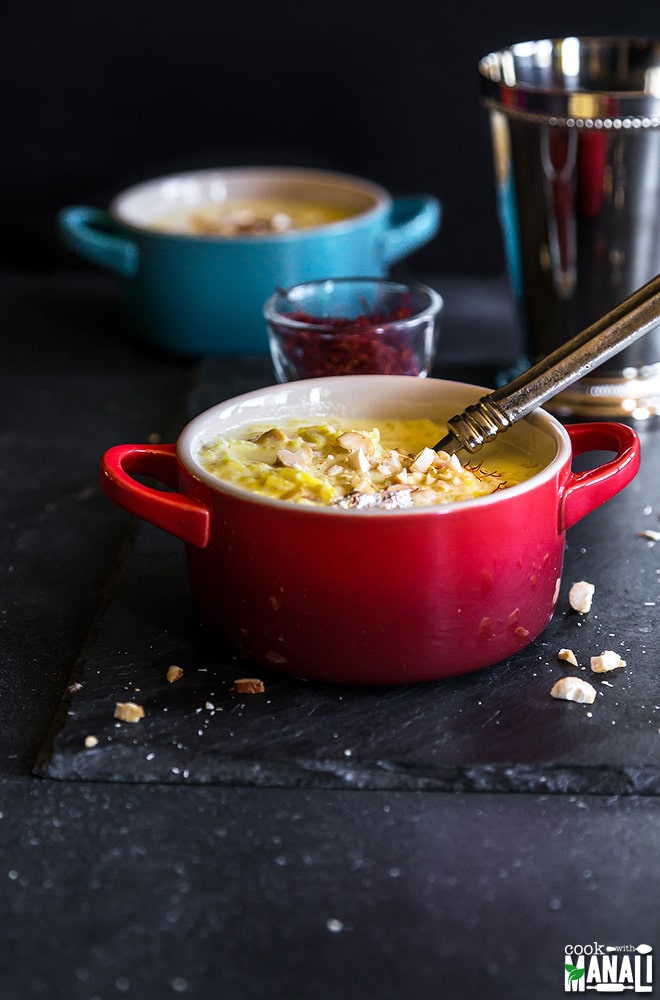 Rich and creamy rice pudding, this rice kheer is a classic Indian dessert which is flavored with nuts, cardamom and saffron!
Recipe by: Cook With Manali
8. Beef Rice Pilaf (Uzbek Plov)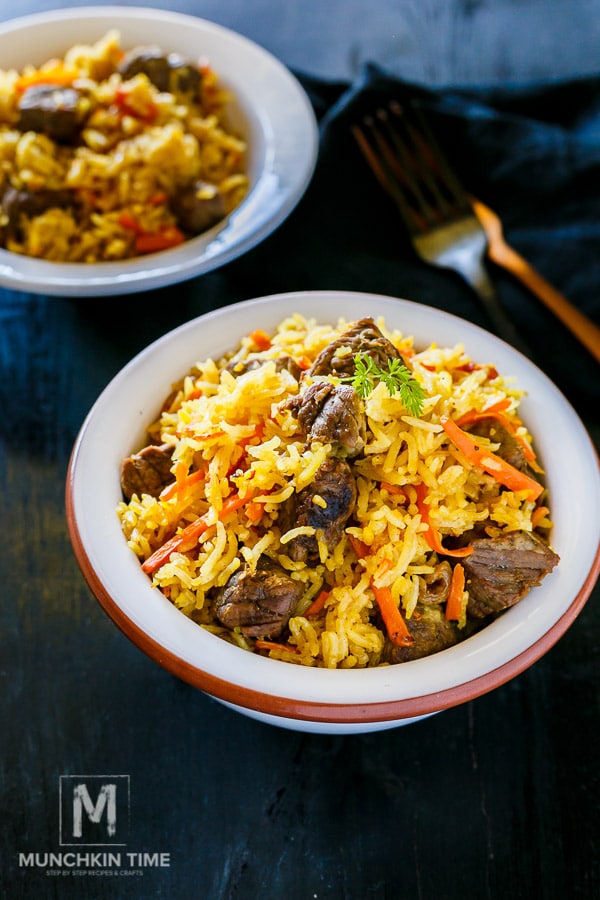 This Rice Pilaf Recipe is so GOOD! Ground cumin and an incredible aroma from saffron spice give this rice pilaf an amazing kick in flavor!
Recipe by: Munchkin Time
9. Shrimp and Asparagus Saffron Risotto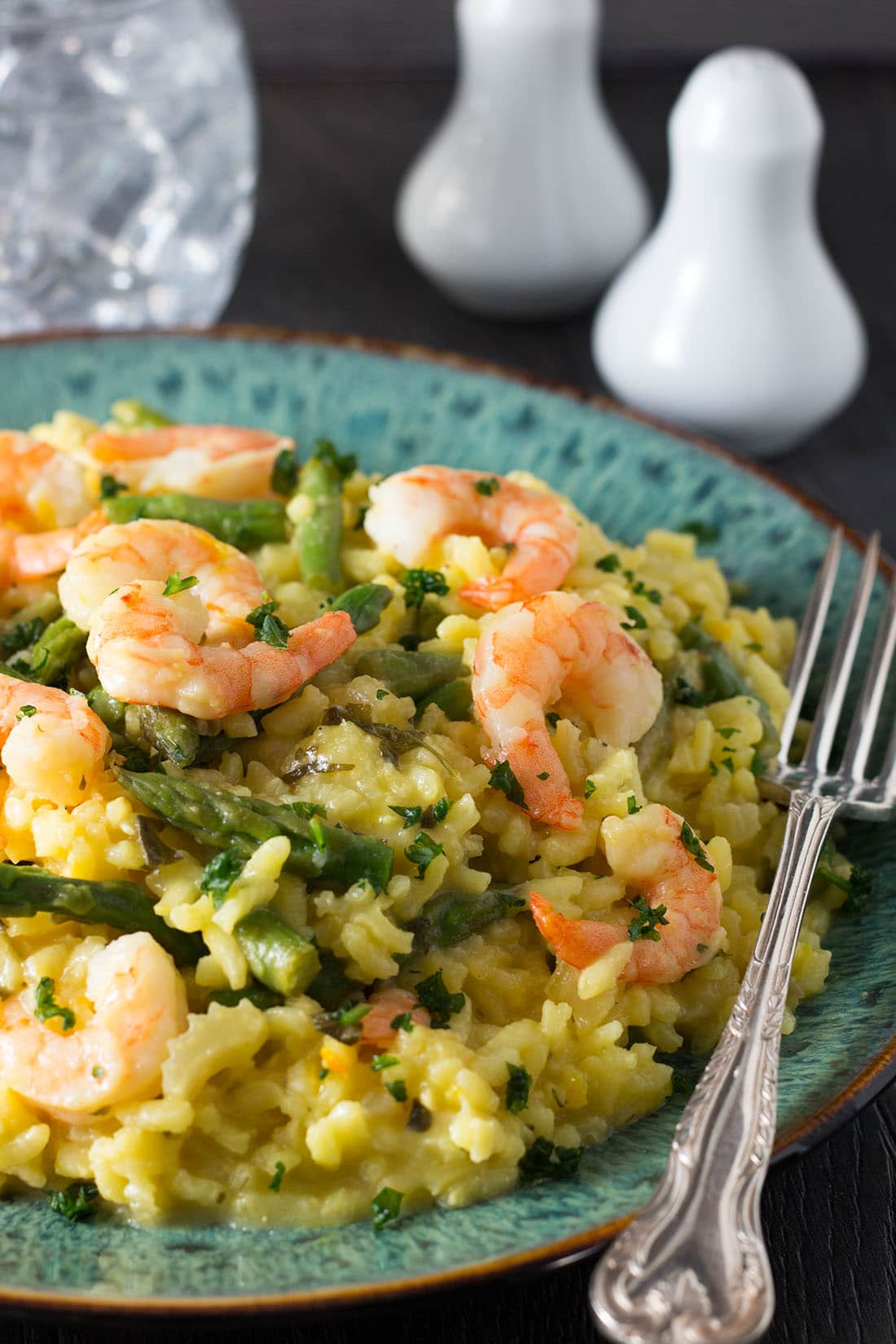 If you are looking for a simple dish, that both tastes and looks beautiful, this recipe for Shrimp and Asparagus Saffron Risotto will not disappoint!
Recipe by: Erren's Kitchen
10. Saffron Bundt Cake With White Chocolate Coconut Ganache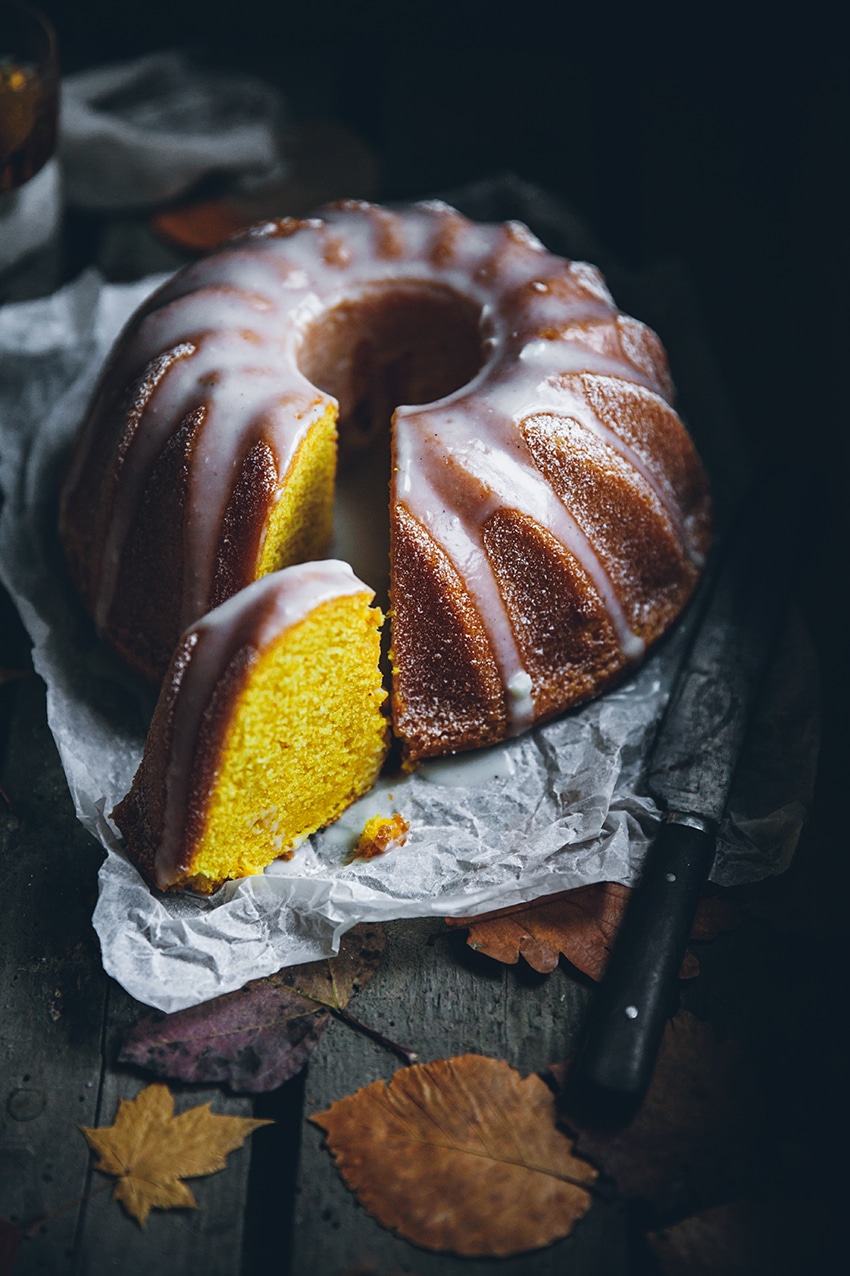 Just look at this gorgeous cake!
Recipe by: Call Me Cupcake
11. Skinny Greek Feta Fries with Roasted Garlic Saffron Aioli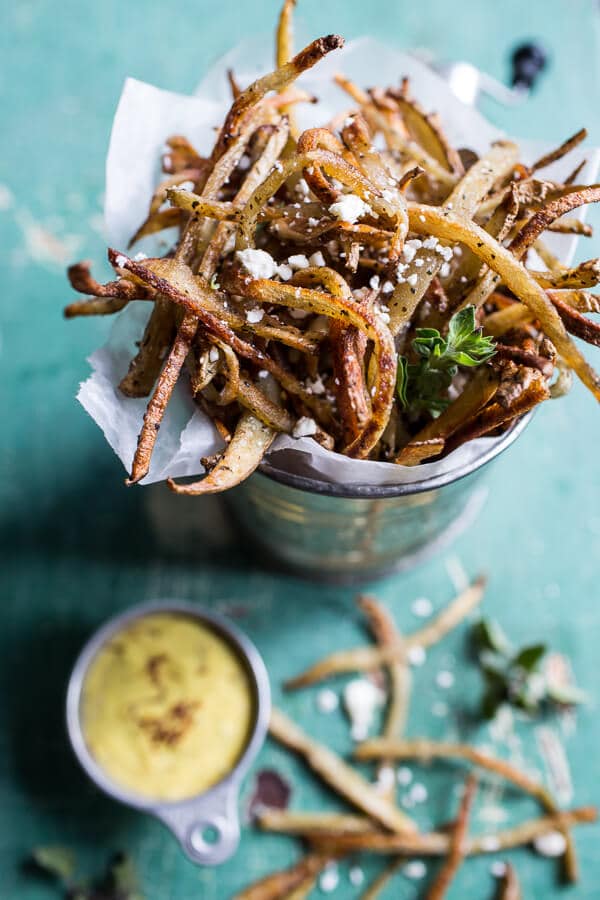 Skinny Greek Feta Fries with Roasted Garlic Saffron Aioli, appetizer, sidedish - heck even a meal, perfectly delicious either way!
Recipe by: Half Baked Harvest
12. Rigatoni With Saffron, Capers And Tomatoes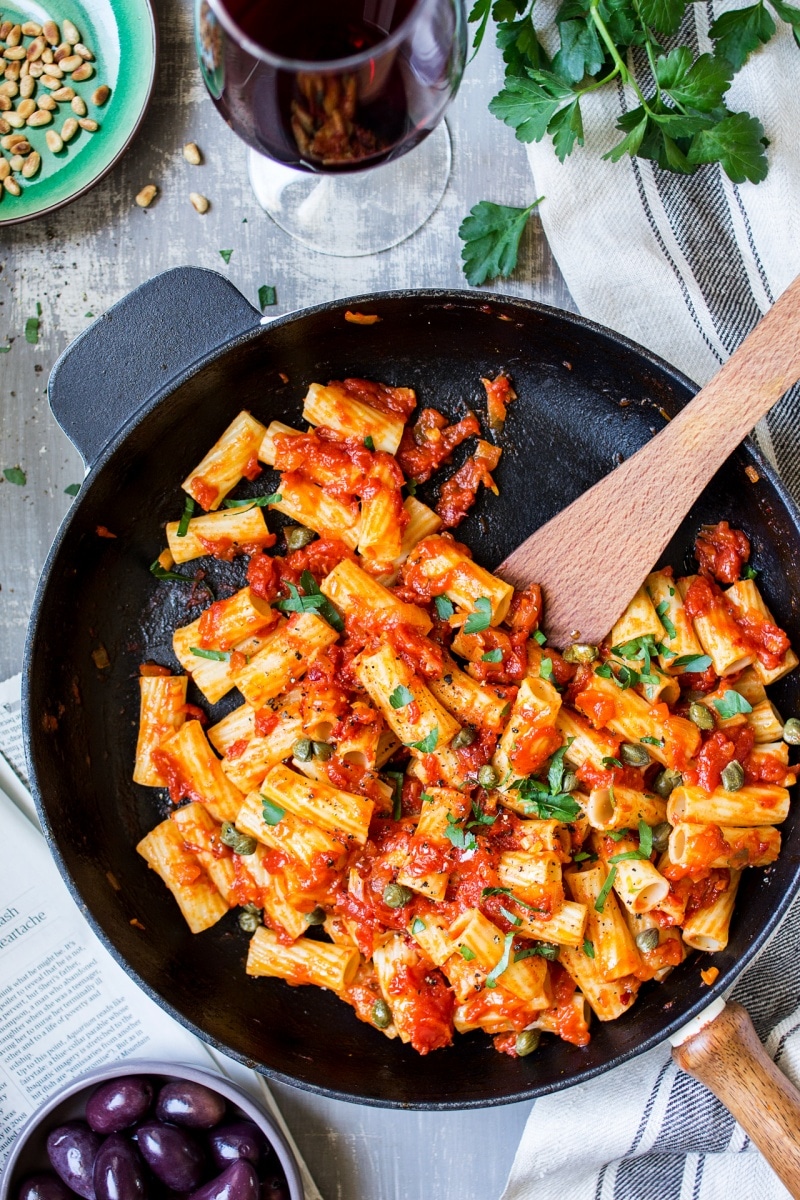 Vegan rigatoni with saffron, capers and tomatoes is a simple mid-week dinner. Apart from some chopping and occasional stirring doesn't require much work.
Recipe by: Lazy Cat Kitchen
13. Persian Cranberry Rice Pilaf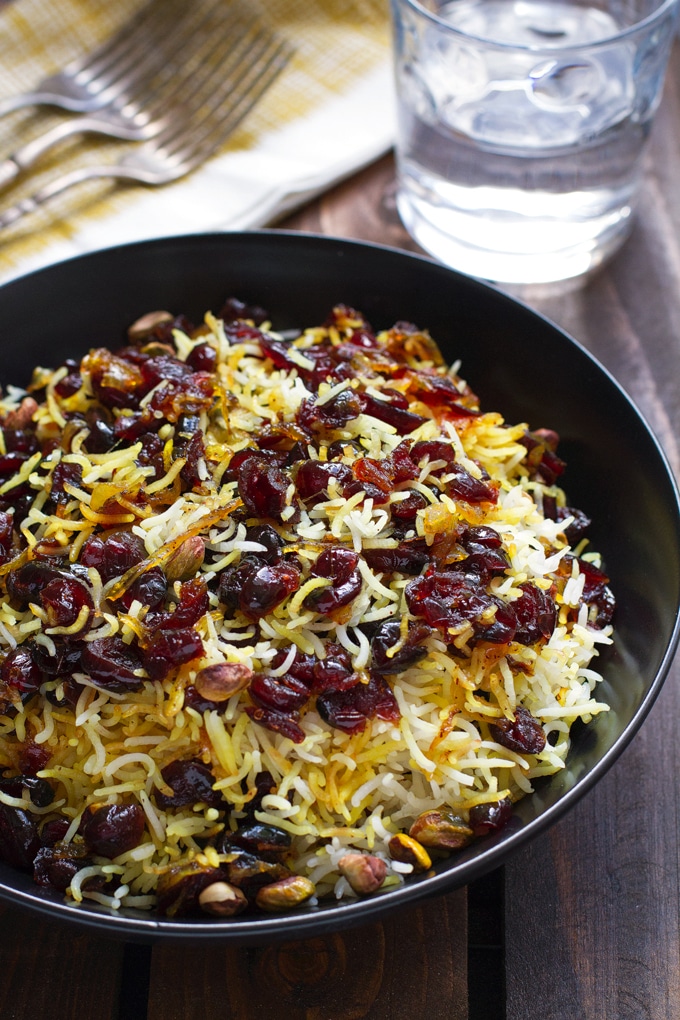 Fragrant, slightly sweet, and delicious, persian cranberry rice pilaf. It's studded with dried cranberries and pistachio and super fragrant from sweet saffron!
Recipe by: Little Spice Jar
14. Braised Fennel with Saffron & Tomato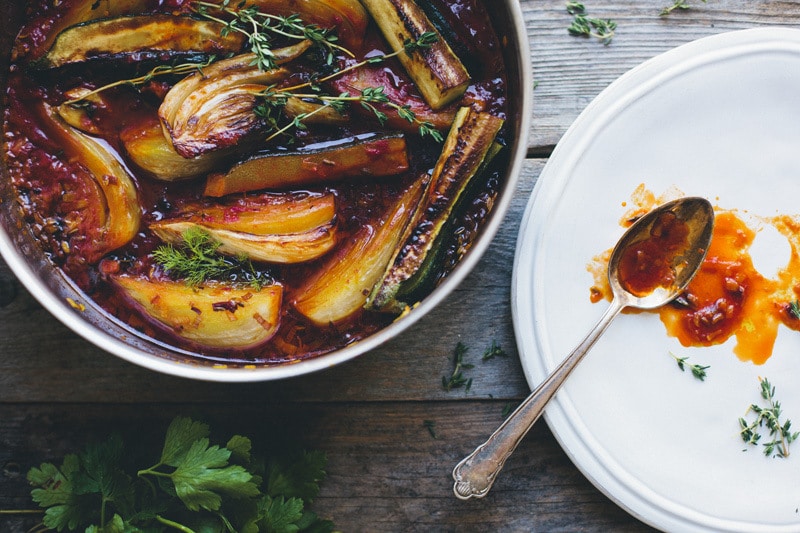 Braised fennel that is cooked in a tomato sauce and flavored with fennel seeds and saffron. All the flavors are perfect together, it tastes sweet, warm and comforting. A truly wonderful dinner!
Recipe by: Green Kitchen Stories
15. Slow Cooker Spanish Chicken Stew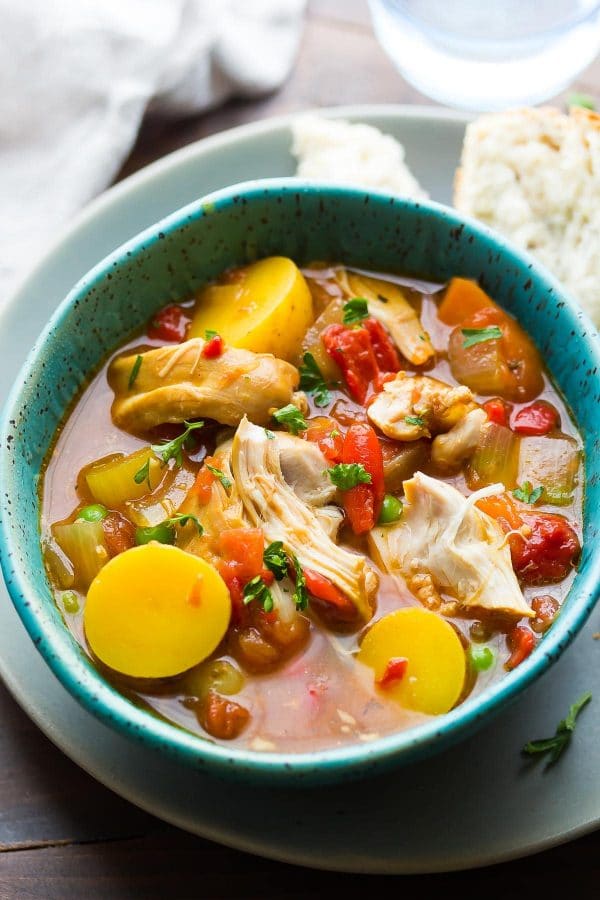 This healthy slow cooker Spanish chicken stew will warm you right up, and is full of Spanish flavor: smoked paprika, saffron and roasted red peppers!
Recipe by: Sweet Peas And Saffron
16. Brazilian Galinhada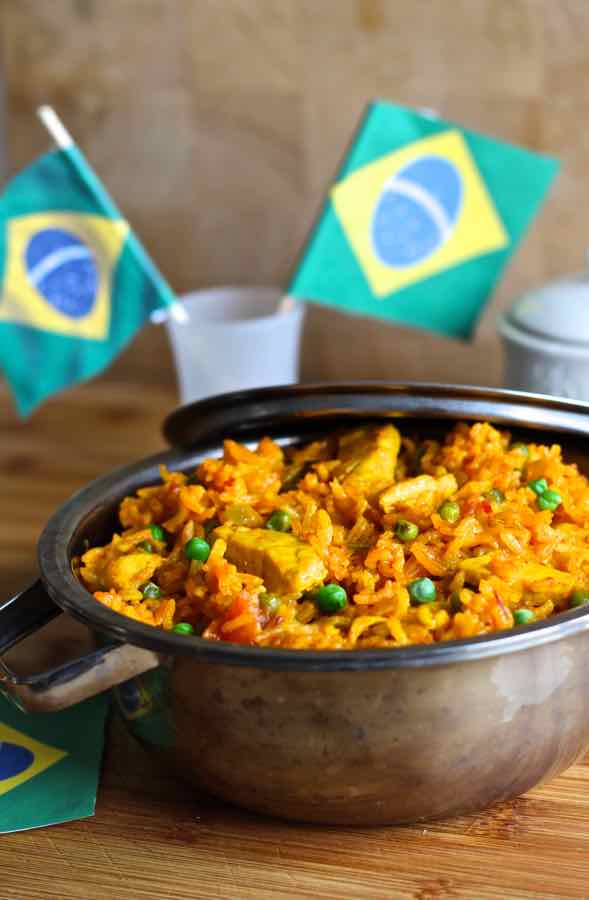 Galinhada is an emblematic Brazilian dish prepared with rice and chicken whose yellow color comes from saffron or turmeric!
Recipe by: 196 Flavors
17. Persian Rosewater, Saffron and Pistachio Ice Cream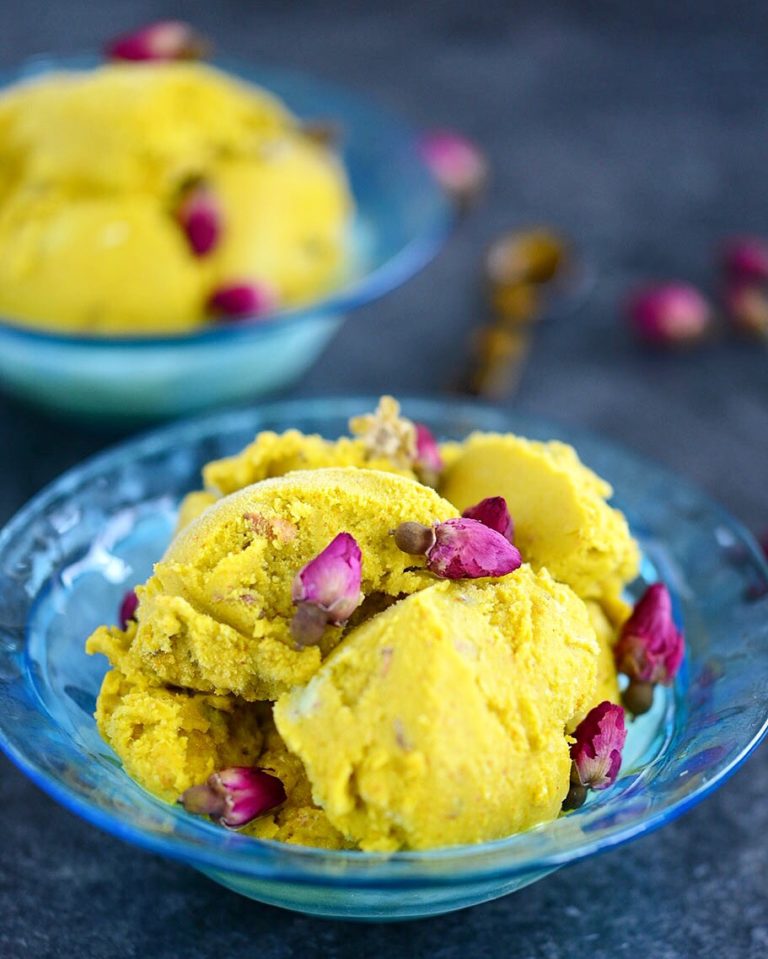 No churn Bastani - Persian ice cream with rosewater, pistachios and saffron. A semi-homemade Middle-Eastern treat!
Recipe by: Ahu Eats
18. Creamy Saffron & Lemon Pasta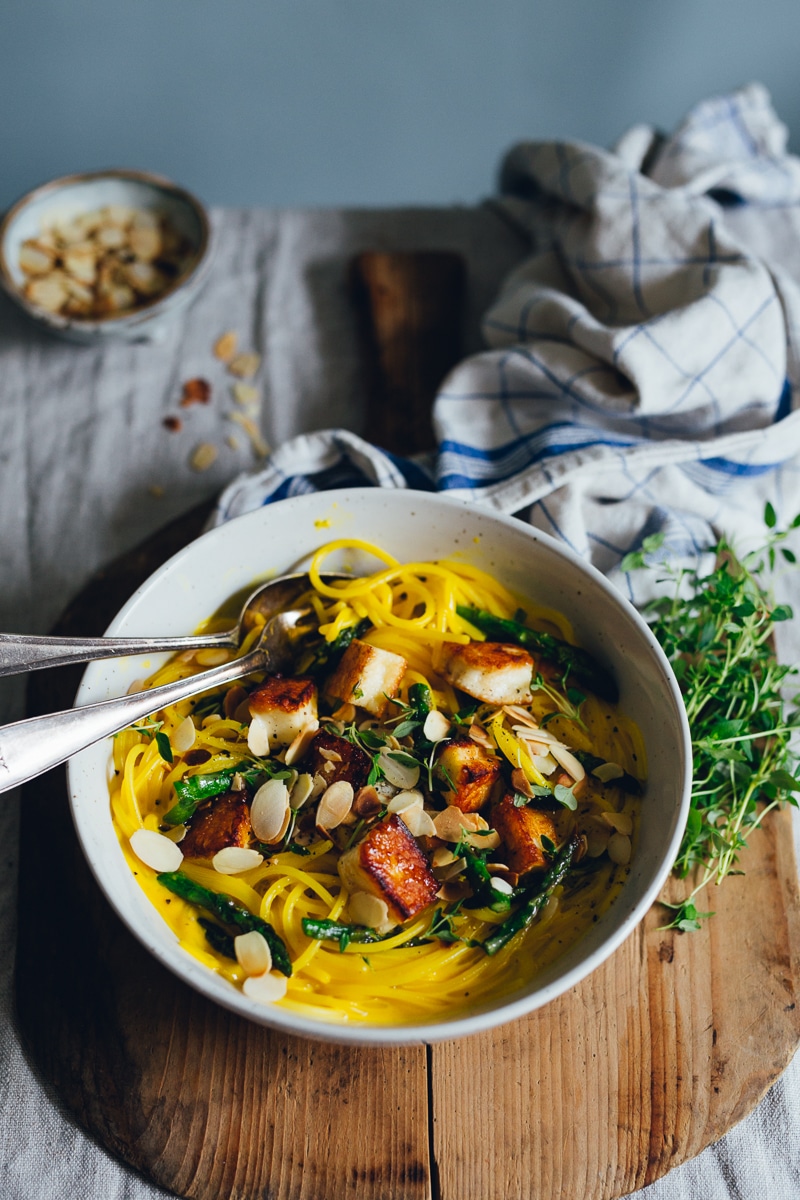 Creamy saffron & lemon pasta also featuring asparagus, halloumi, and slivered almonds!
Recipe by: Cashew Kitchen
19. Coconut Saffron Ice Cream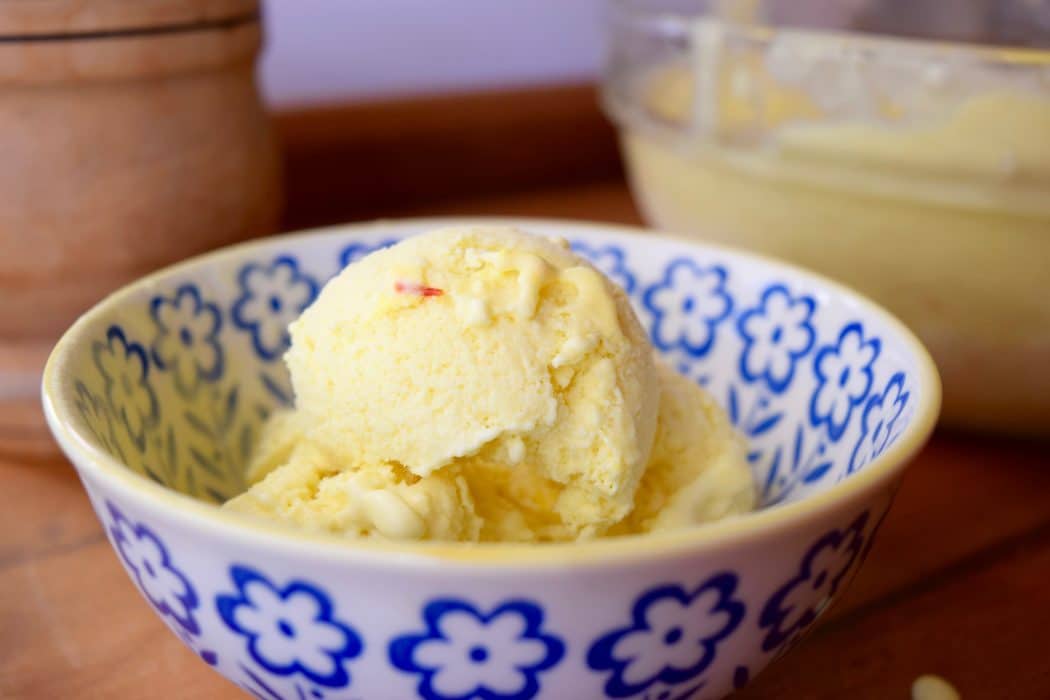 A perfect full-of-flavor ice cream for scorching days!
Recipe by: Earth Powered Family
20. Chicken & Chorizo Paella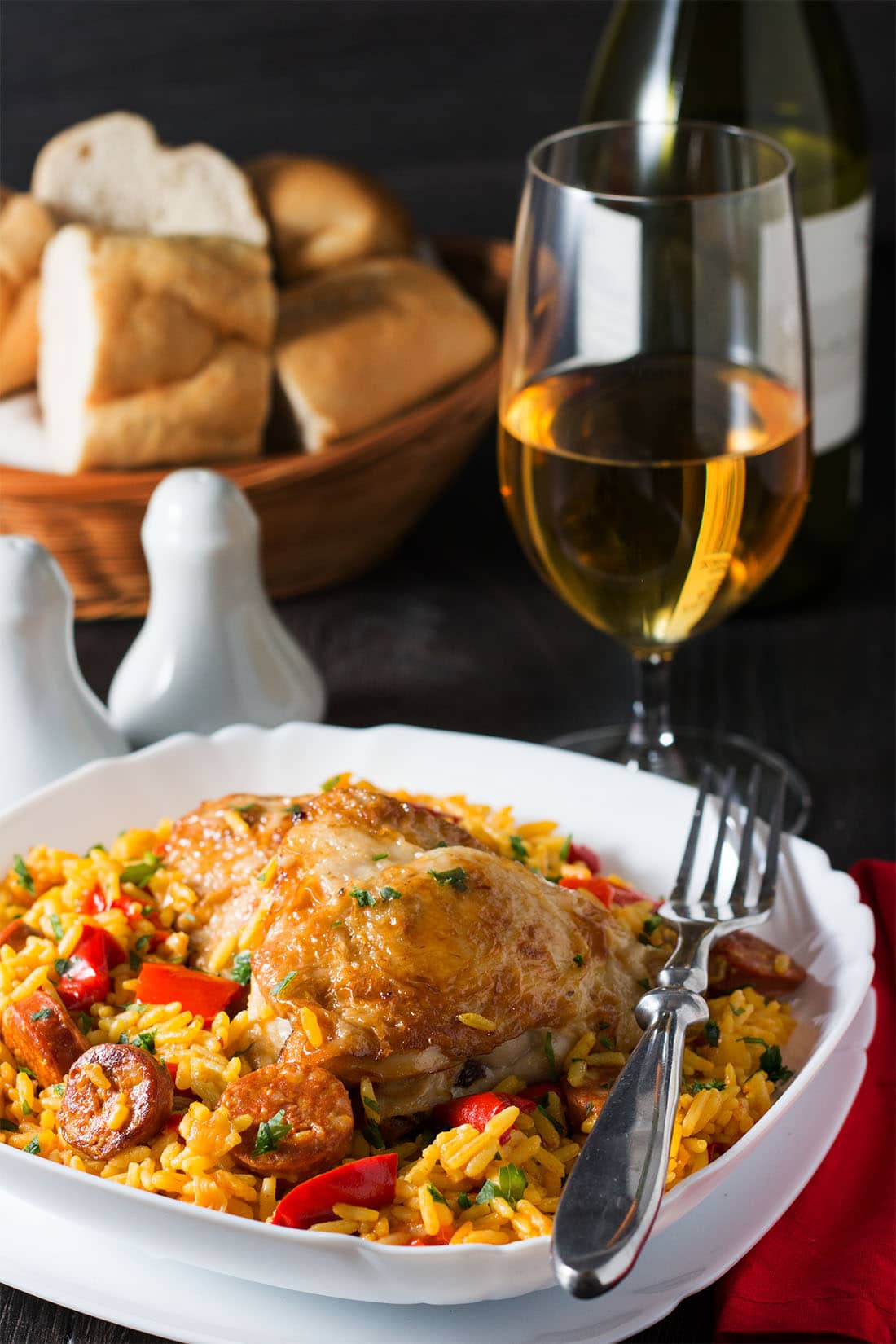 This hearty family dinner for four is a flavorful, one pot meal with chicken, Spanish sausage and saffron rice!
Recipe by: Erren's Kitchen
21. Bouillabaisse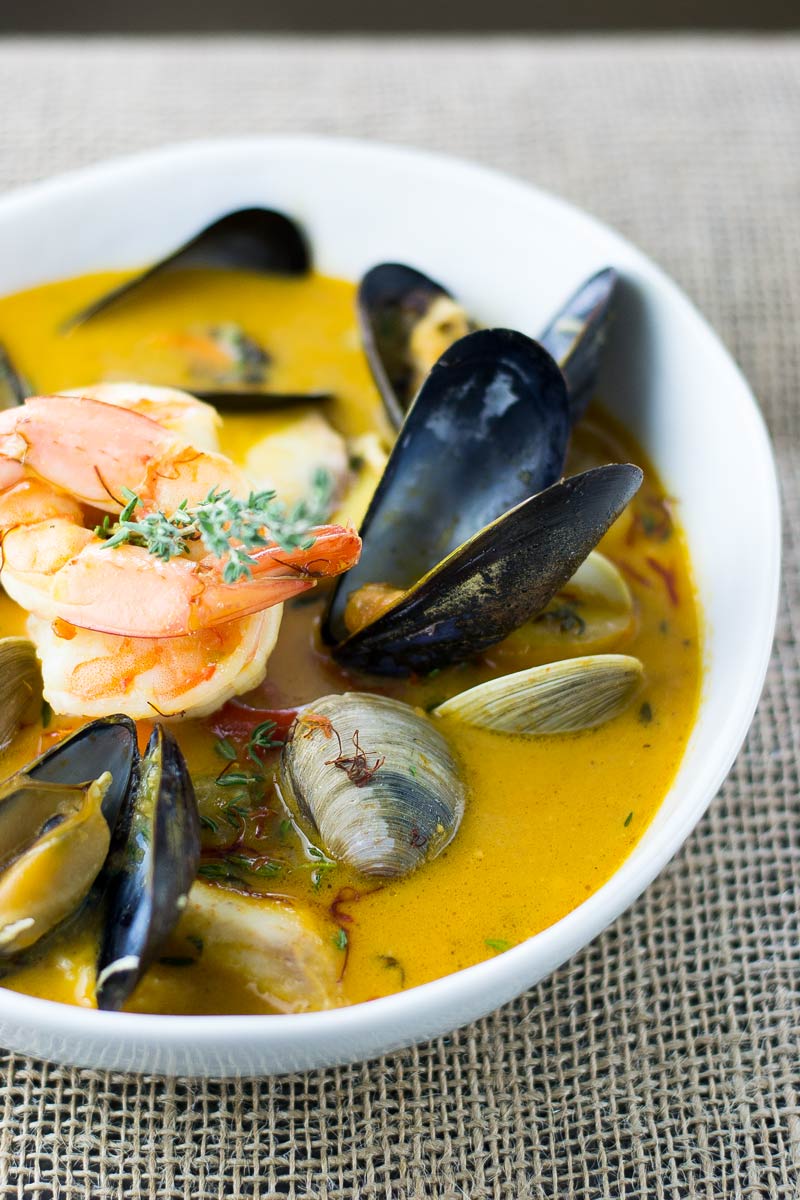 Our traditional Bouillabaisse is a fragrant saffron-infused, zesty stew resplendent with mussels, clams, shrimp and fish!
Recipe by: Wander Spice
22. Oven Baked Risotto With Saffron And Chorizo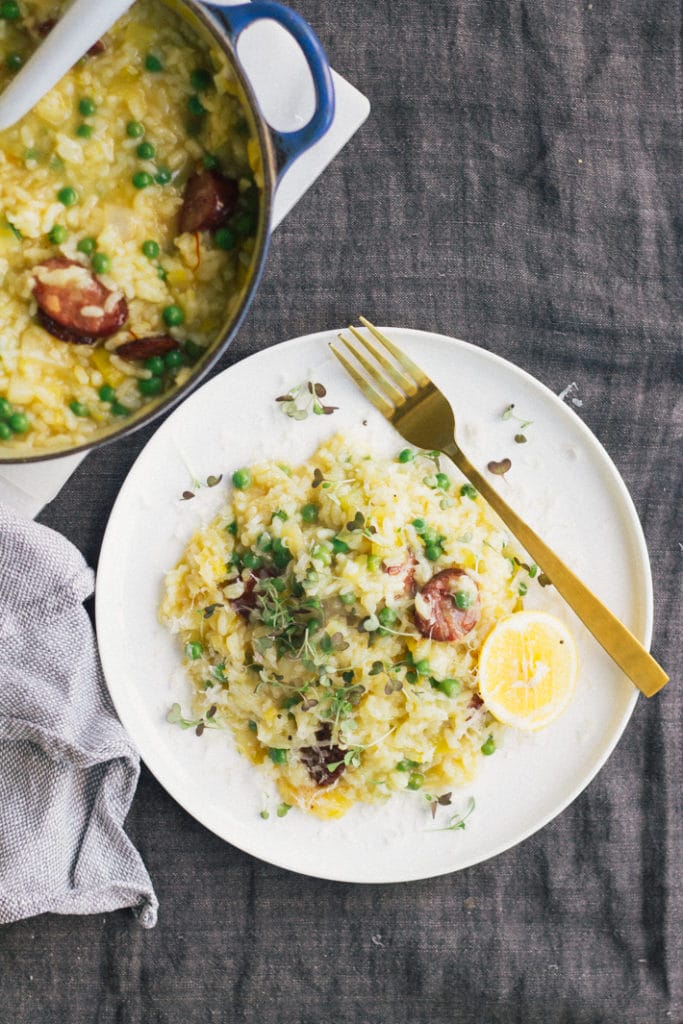 A recipe for oven baked risotto with saffron, chorizo and peas. No stirring and only 10 minutes prep but still creamy like a perfect risotto should be!
Recipe by: My Little Larder
23. Angel Hair Crab Cakes with Saffron Aioli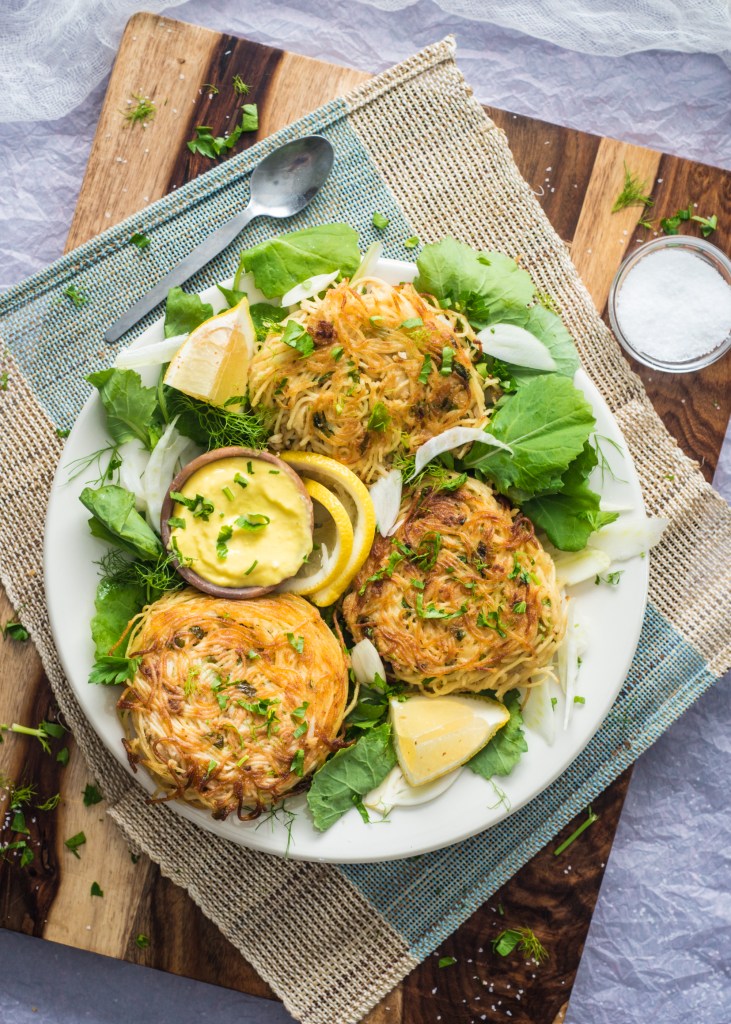 Boasting decadent chunks of crab meat nestled in nests of fried pasta smothered in Saffron Aioli, these Angel Hair Crab Cakes hold nothing back!
Recipe by: Rhubarb And Cod
24. Saffron Tomato Shakshuka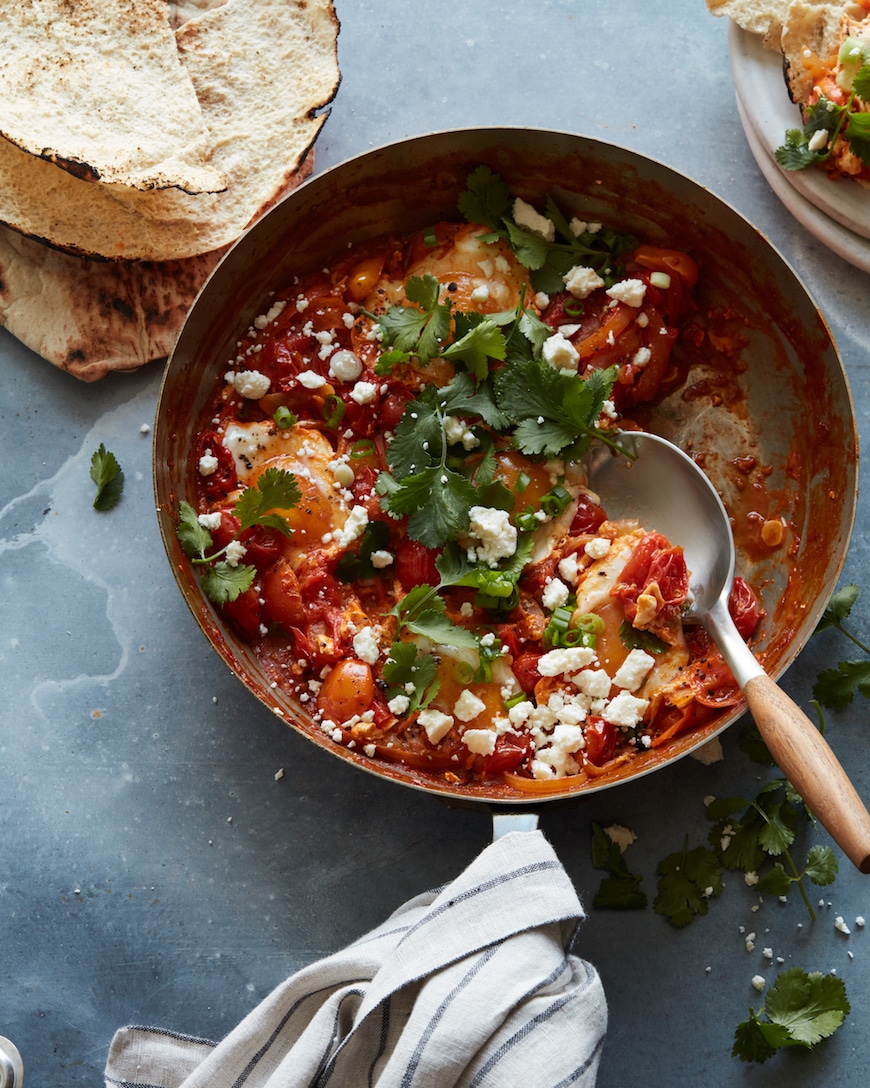 Poached eggs in a saffron-y tomato sauce with grilled bread or pita!
Recipe by: What's Gaby Cooking
25. Eggs Benedict With Saffron Hollandaise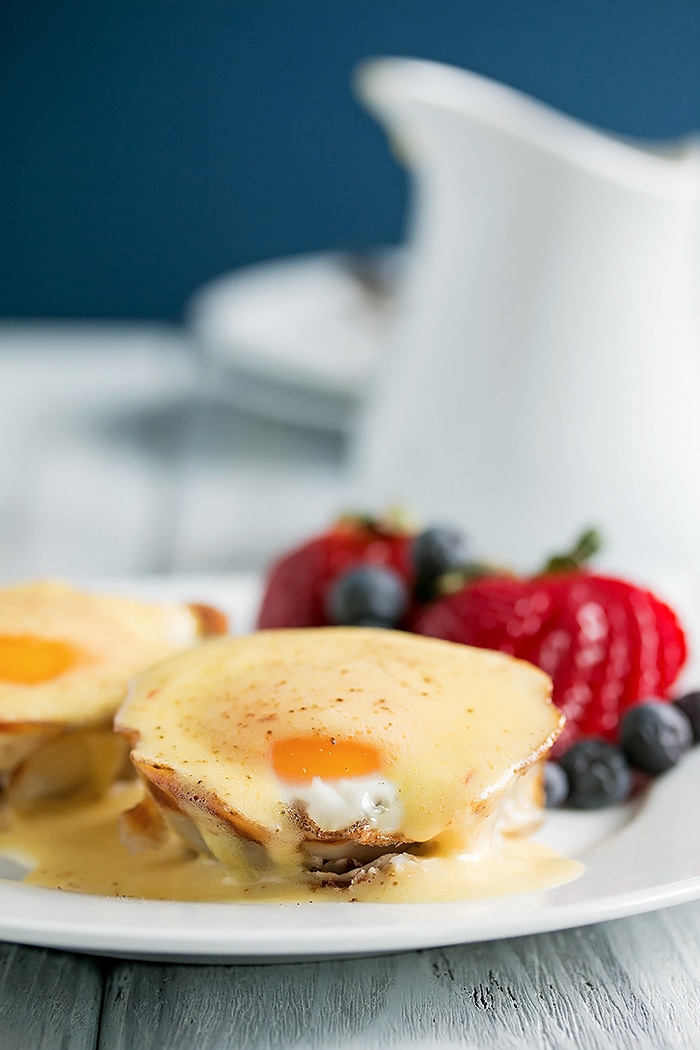 An easy eggs benedict recipe with a potato crust and a silky saffron hollandaise that's just as easy to make for six or more as it is for two!
Recipe by: Cooks With Cocktails
26. Prawn Biriyani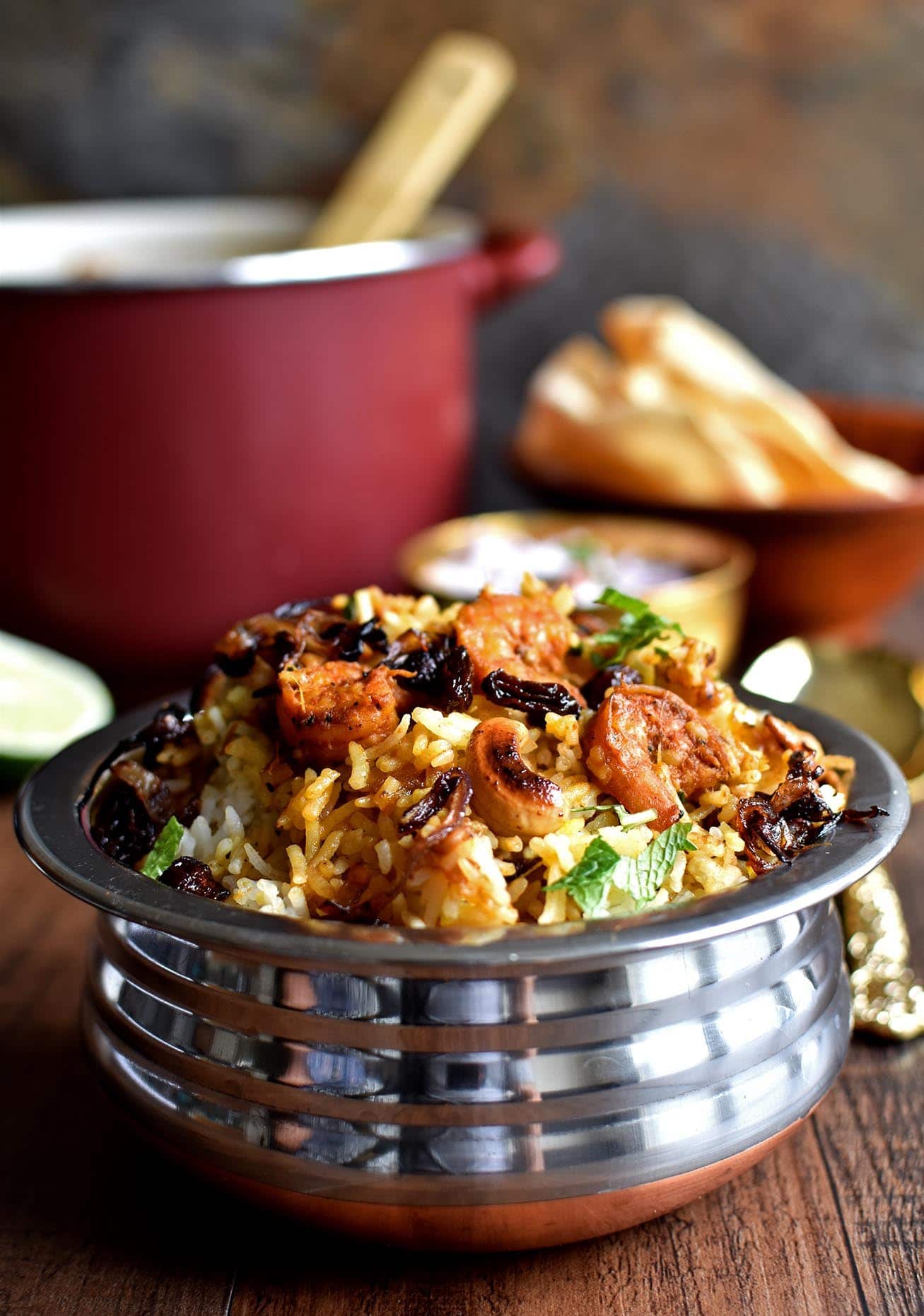 Rice, Prawns & Exotic Spices… layered with Caramelized Onions, Saffron and Fresh Herbs… Mouth Watering and Delicious!
Recipe by: Pepper Delight
27. Blood Orange IPA Bars with Saffron Cream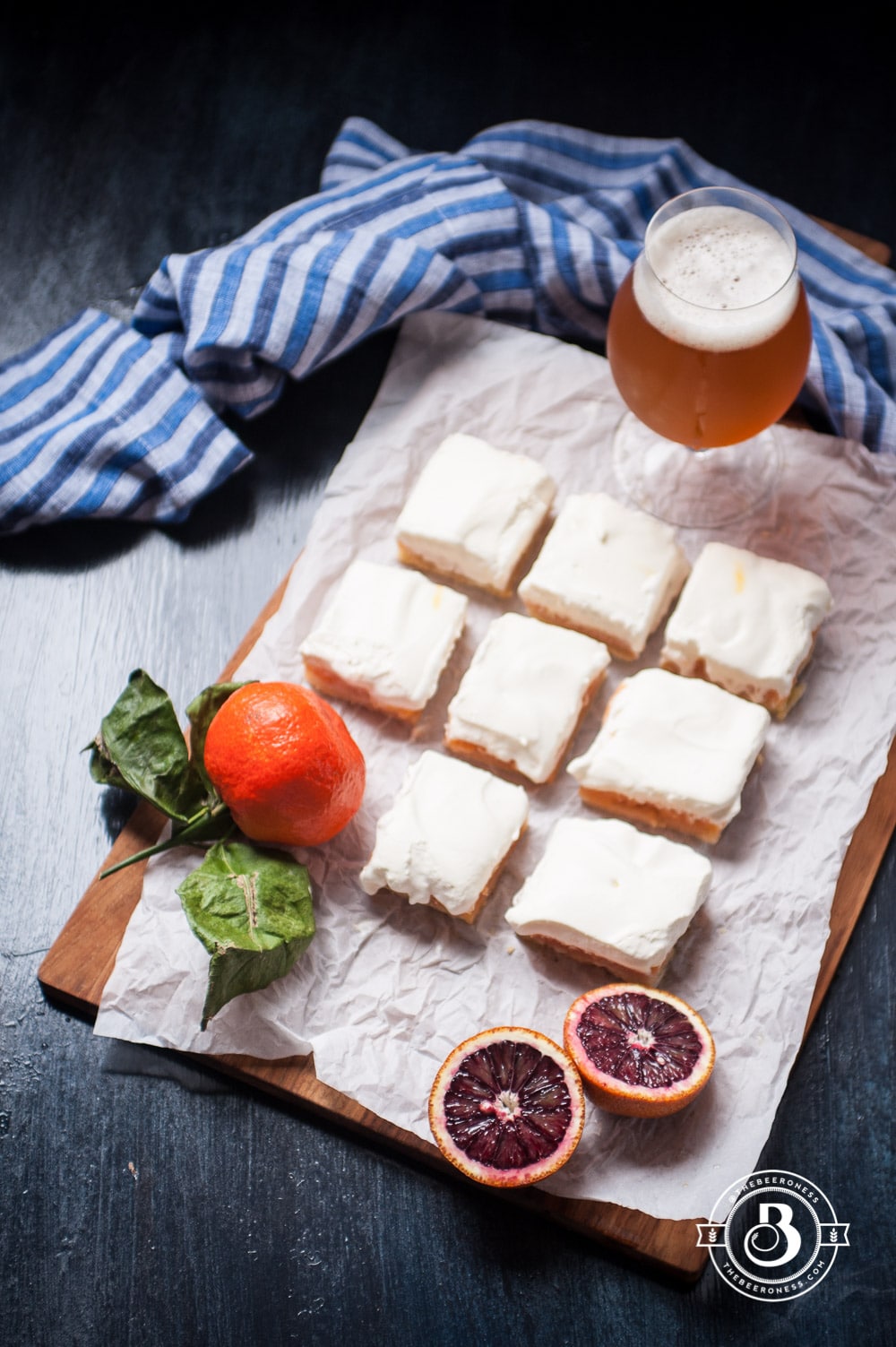 These blood orange bars are out-of-this-world good!
Recipe by: The Beeroness
28. Cardamom Saffron Cake
This cake is inspired by the perfume of cardamom and the earthy nature of saffron in an Indian dessert called Ras Malai!
Recipe by: Hungry Rabbit
29. Saffron Braised Leek With Cannellini And Farro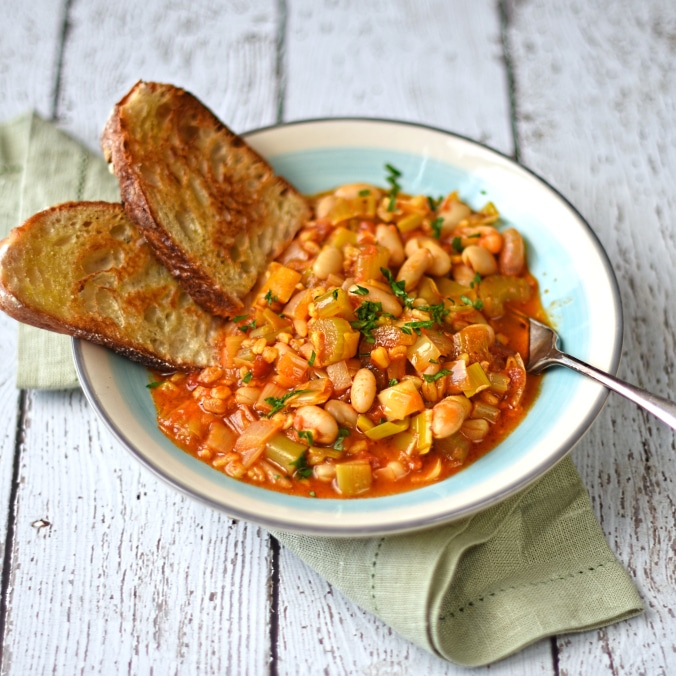 This lovely, comforting dish is great served with some steamed greens and garlicky crostini or plain crusty bread!
Recipe by: Circus Gardener
30. Persian Pomegranate Stew With Chicken, Squash & Walnuts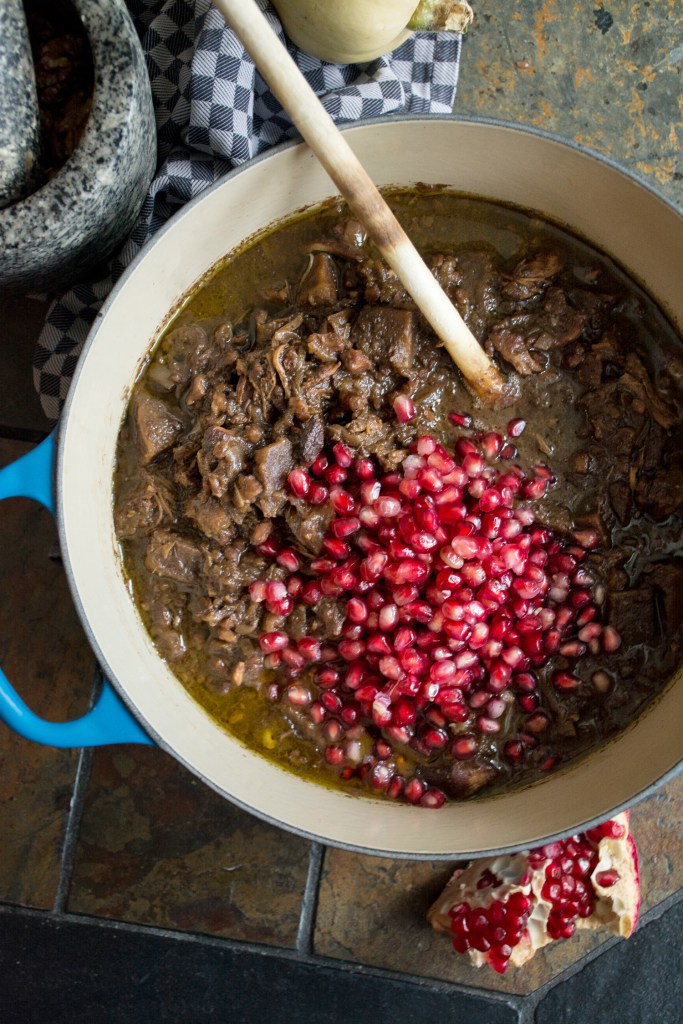 Tart and hearty, this traditional Persian stew is satisfying soul food and makes excellent leftovers!
Recipe by: Port And Fin