Mostarda di Frutta is a traditional Italian condiment made of mustard, red wine, and various dried and fresh fruits. It's sweet but not too sweet, spicy but not too spicy! Perfect with grilled meats, cheese, charcuterie, or anything you like!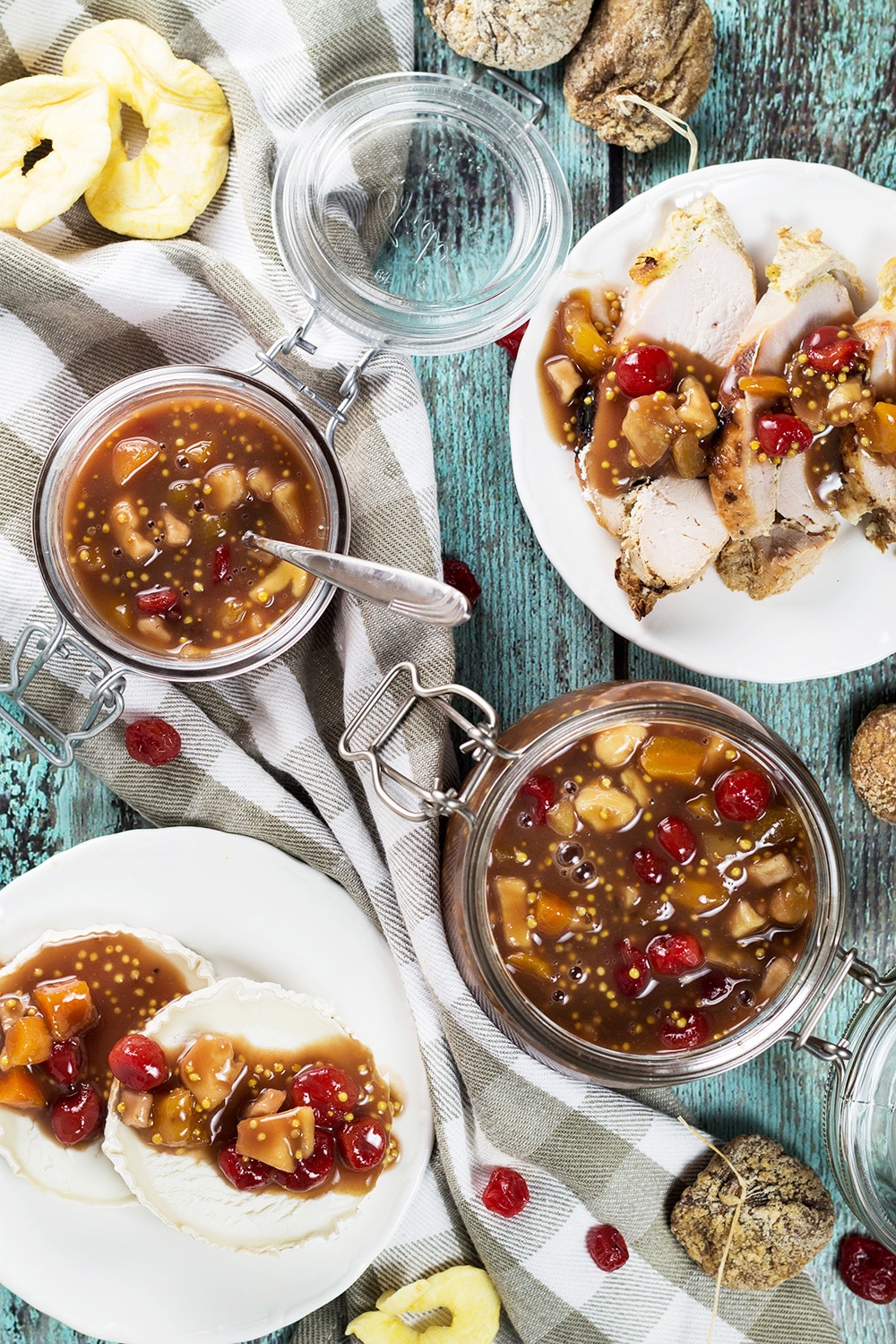 I can't remember (this blog already has over 100 posts and my memory sucks) if I told you that I am a grocery shopping junkie. All other kinds of shopping (clothes, tools, home decor) are not much of an interest to me. Or should I say, I hate them. There is something about groceries that attract me and force me to spend hours in a supermarket. In fact, I know what it is. The desire to taste things I have never tried or even seen before! That's exactly the same craving that led me to create this blog. So I am not that kind of a junkie throwing everything my eyes see into a cart. I am more like someone standing in front of an Asian shelf for twenty minutes and choosing what new to try today. Yes, sometimes I end up buying too much of strange stuff my taste buds can't even stand. Stuff happens.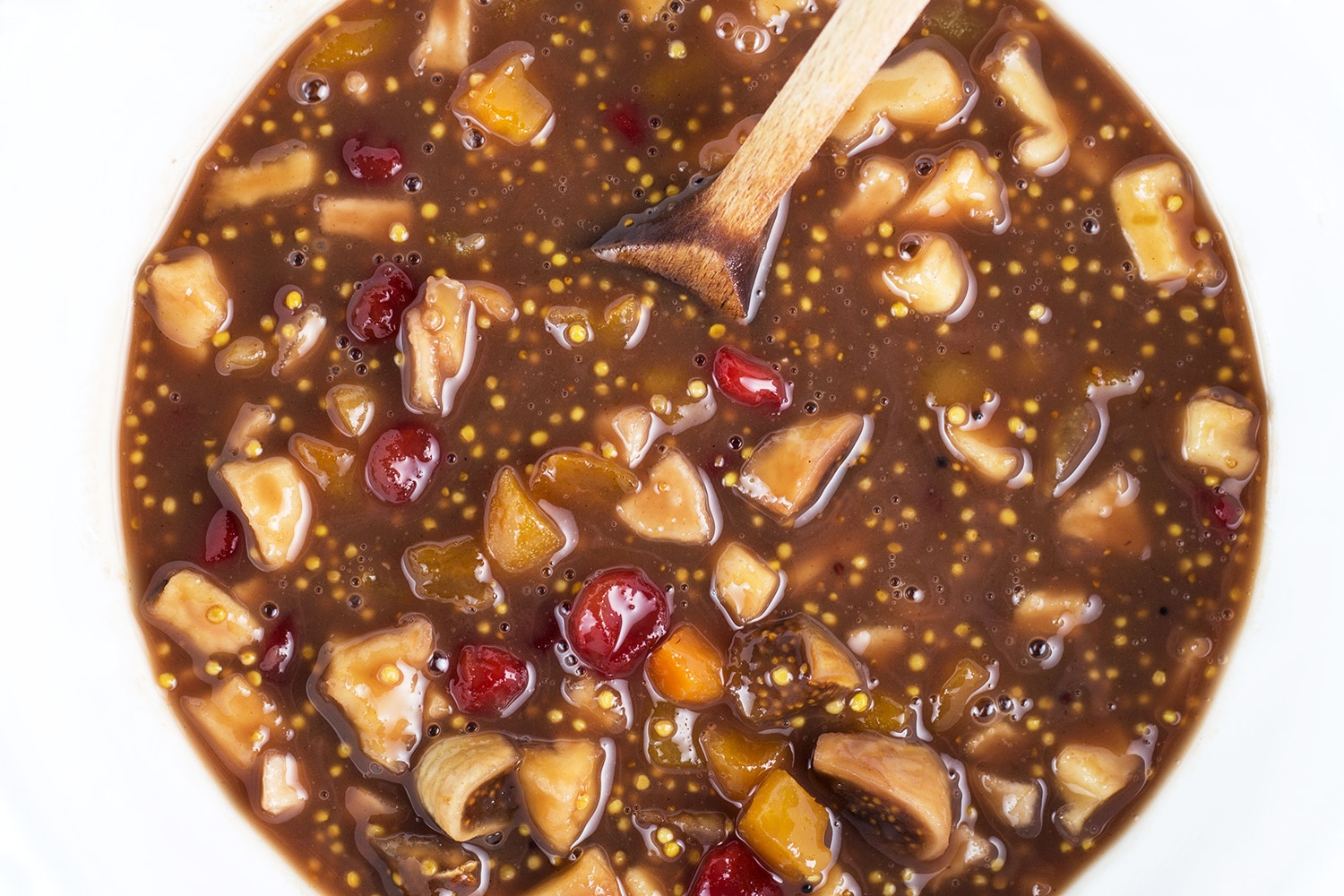 On one of such grocery scavenging days, I stumbled upon the most wonderful thing I've tasted in a long time. It looked like some sort of fruit preserves but the label said that it wasn't your ordinary jam or anything like that. The fruits were mixed with… Mustard! I was sold immediately. In a blink of an eye. The label also said that this mixture is called Mostarda di Frutta and that it comes from Italy. Sounded good to me!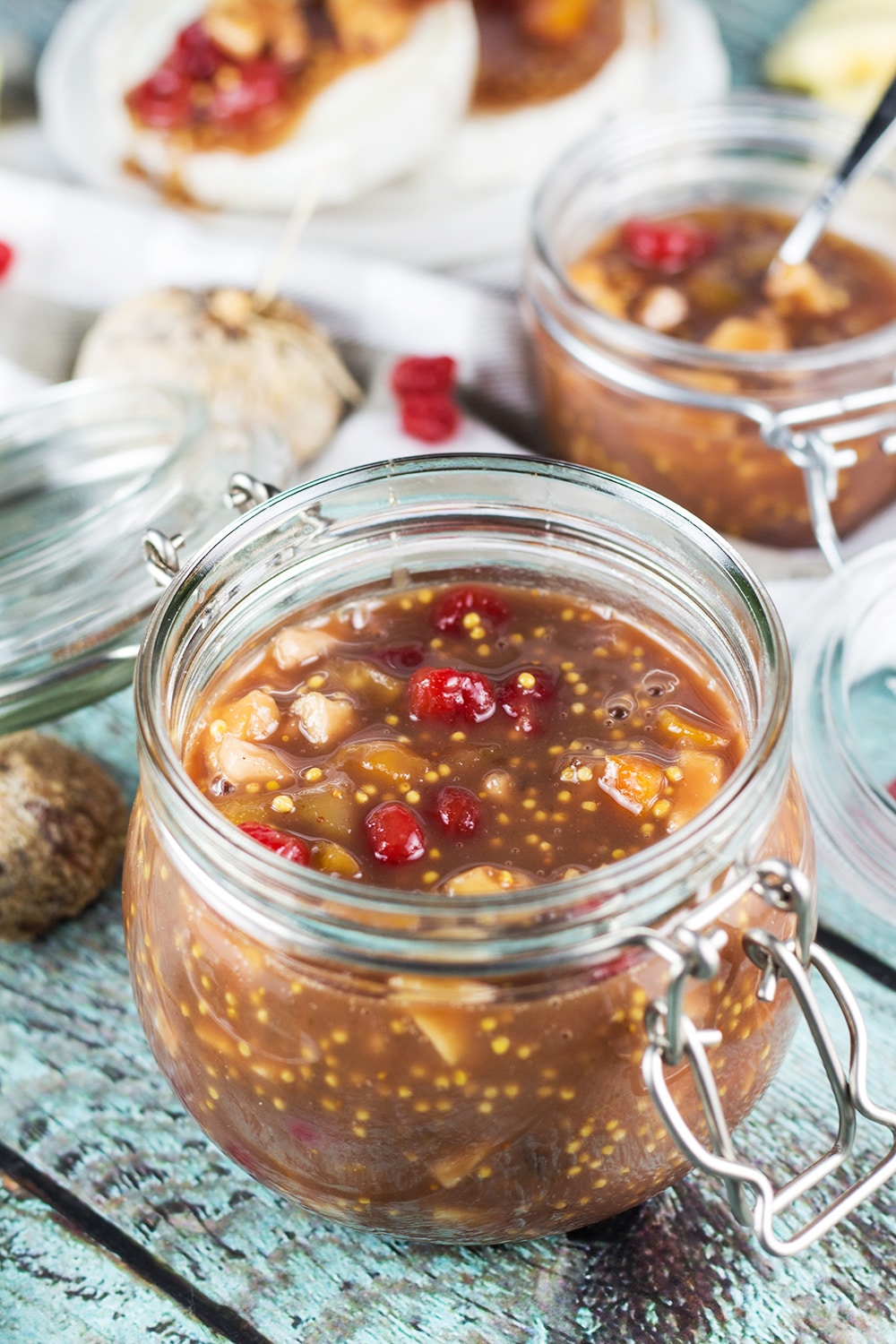 My wife was skeptical at first because fruit and mustard are not a combo you would normally expect. However, after trying it with roasted turkey and cheese (like the label suggested) her doubts vanished like cotton candy at the circus. The flavor was fantastic! We finished the jar on the very next day. Not because we swallowed it like crazy. The jar was really really small and, as you can guess from such a fancy name as Mostarda di Frutta, it cost me a fortune. D'oh!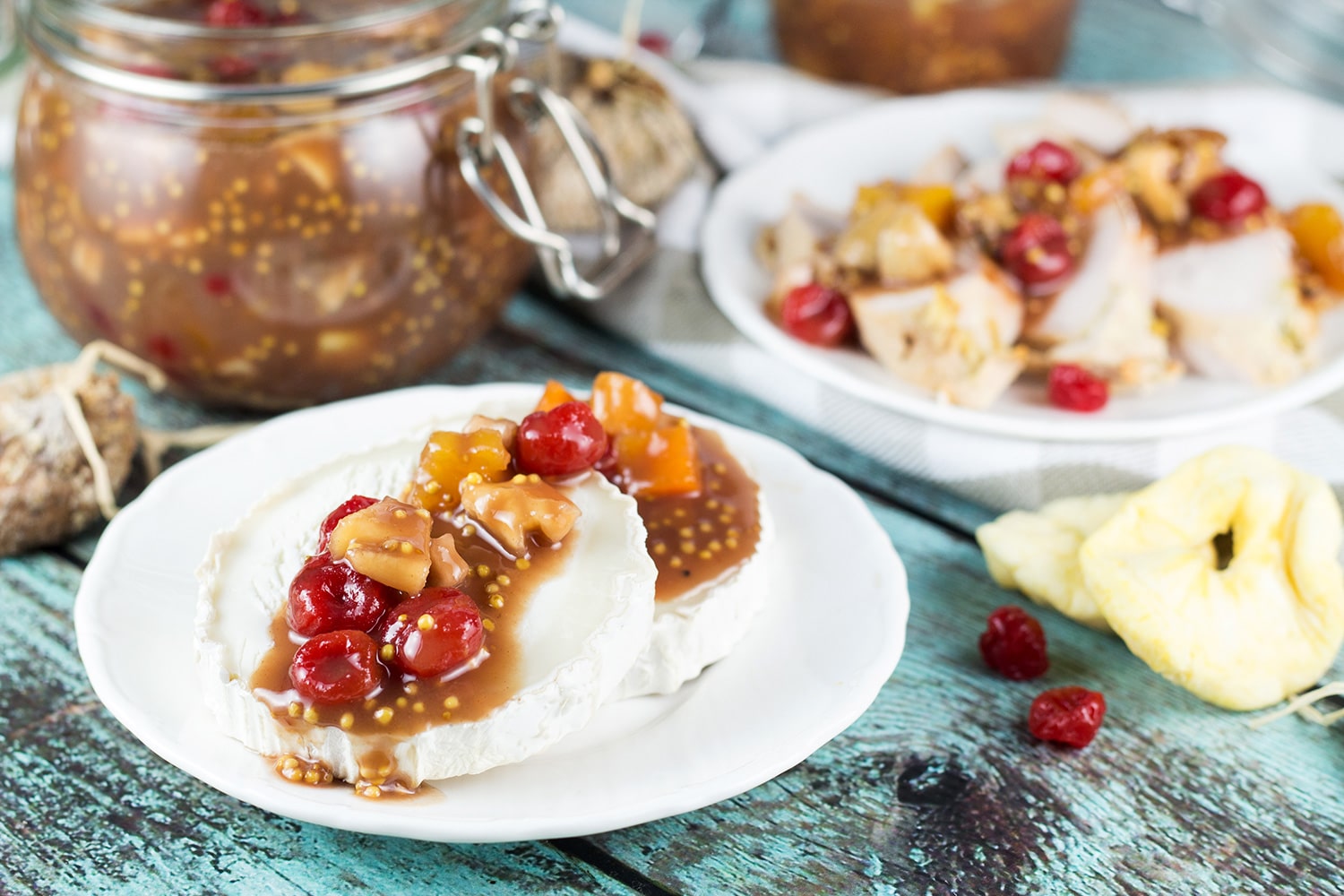 I started looking for ways to replicate this goodness at home. After a few days of trying tons of different recipes, I think I found the one! The closest version to the Mostarda I bought in my local shop. Sweet but not too sweet, spicy but not too spicy… Perfection. I made a bowlful of this divine condiment and it cost me 10 times less. I'm happy as a horse!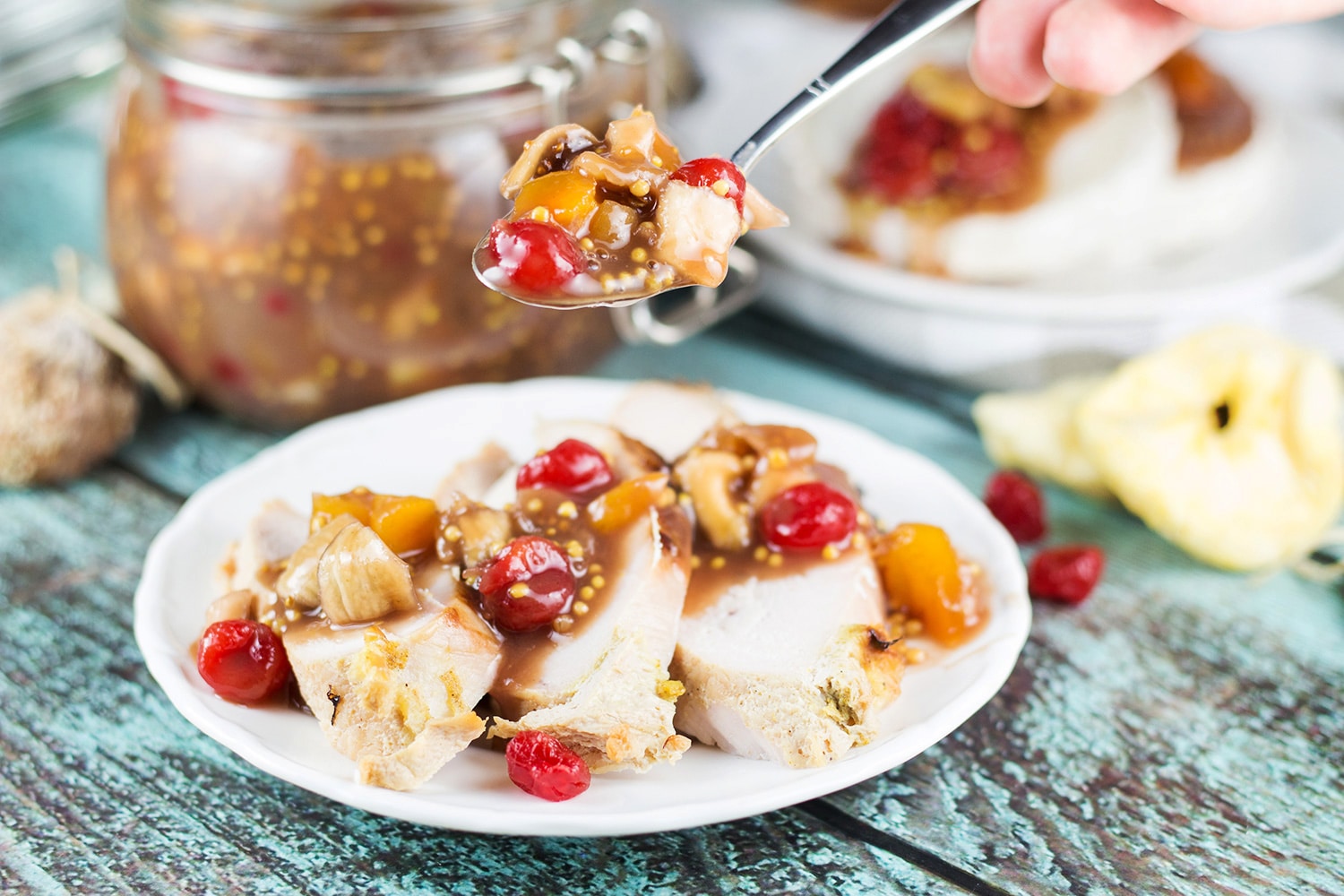 Mostarda traces its roots to a Northern Italy. It's not something created a few years ago and just produced in Italy. It's a true traditional condiment served with boiled meats for centuries! You can serve it with grilled meats, sausages, pork chops, cheese, charcuterie, anything you like. Try this goodness and come back to thank me later. Oh, you will!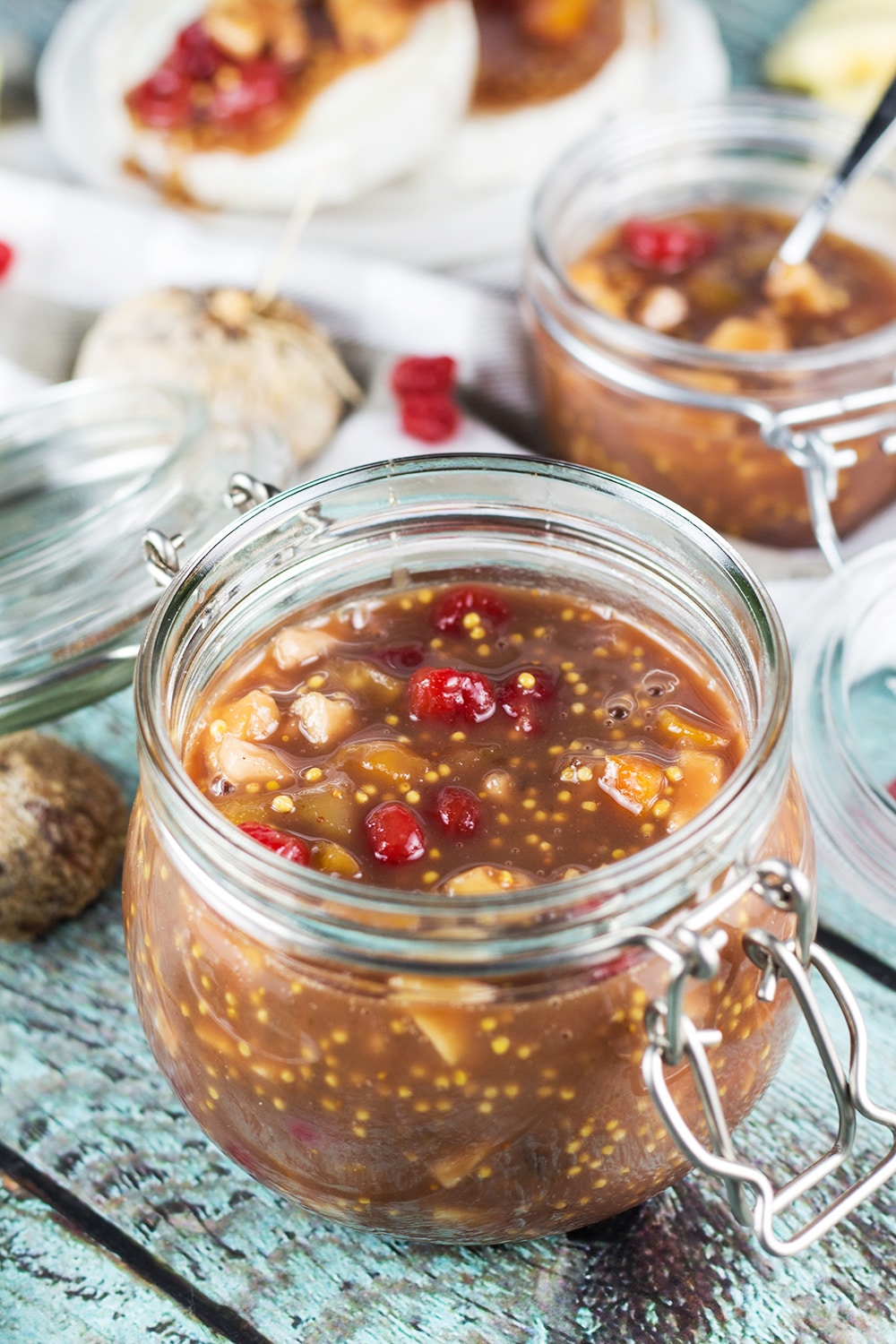 Mostarda di Frutta - Italian Mustard Fruits
Mostarda di Frutta is an Italian condiment consisting of mustard, red wine, and dried fruit. Great with meat and cheese!

Print
Pin
Rate
Ingredients
4

dried figs

, roughly chopped

1/2

cup

dried apricots

, roughly chopped

1/2

cup

dried cherries

1/2

cup

dried apple

, roughly chopped

1

pear

, peeled, roughly chopped

1 1/2

cups

dry red wine

1

cup

sugar

1/2

cup

honey

1/2

cup

mustard

1/4

cup

mustard seeds
Instructions
In a bowl, mix together the figs, apricots, cherries, apple, and pear. Set aside.

In a saucepan, add the wine, sugar, and honey and bring to a boil. Boil for 8-10 minutes, until slightly syrupy (it won't get really thick until the next day). Remove from heat and stir in the mustard and mustard seeds.

Pour the mixture over the fruits and let sit until the next day in a fridge. It will thicken and become more syrupy. Serve with grilled meats, cheese, or anything you like. Enjoy!
Notes
I used Dijon mustard for this recipe but you can use any mustard you like. If you want more heat, use a spicy mustard.
Adapted from Evelyn/Athens recipe on Food.com
Nutrition