Olivier Salad, also known in other countries as Russian Potato Salad, is one of the most famous Russian foods. This filling, hearty, and comforting salad is usually served on various occasions, but mostly on a New Year's Eve which is the most important Russian holiday of the year.
This blog has over 100 recipes from all around the world, yet I tend to forget about my own country, my roots, the dishes I grew up with. My mind kind of always assumes that there is nothing interesting in them because I've had them thousands of times. It's a nonsense assumption because these dishes are interesting first and foremost to YOU, my dear readers. I understood that when a guy wrote me an email saying that he visited Lithuania a month ago and asking why I have posted only one Lithuanian dish on the blog so far! He is absolutely right, that's crazy.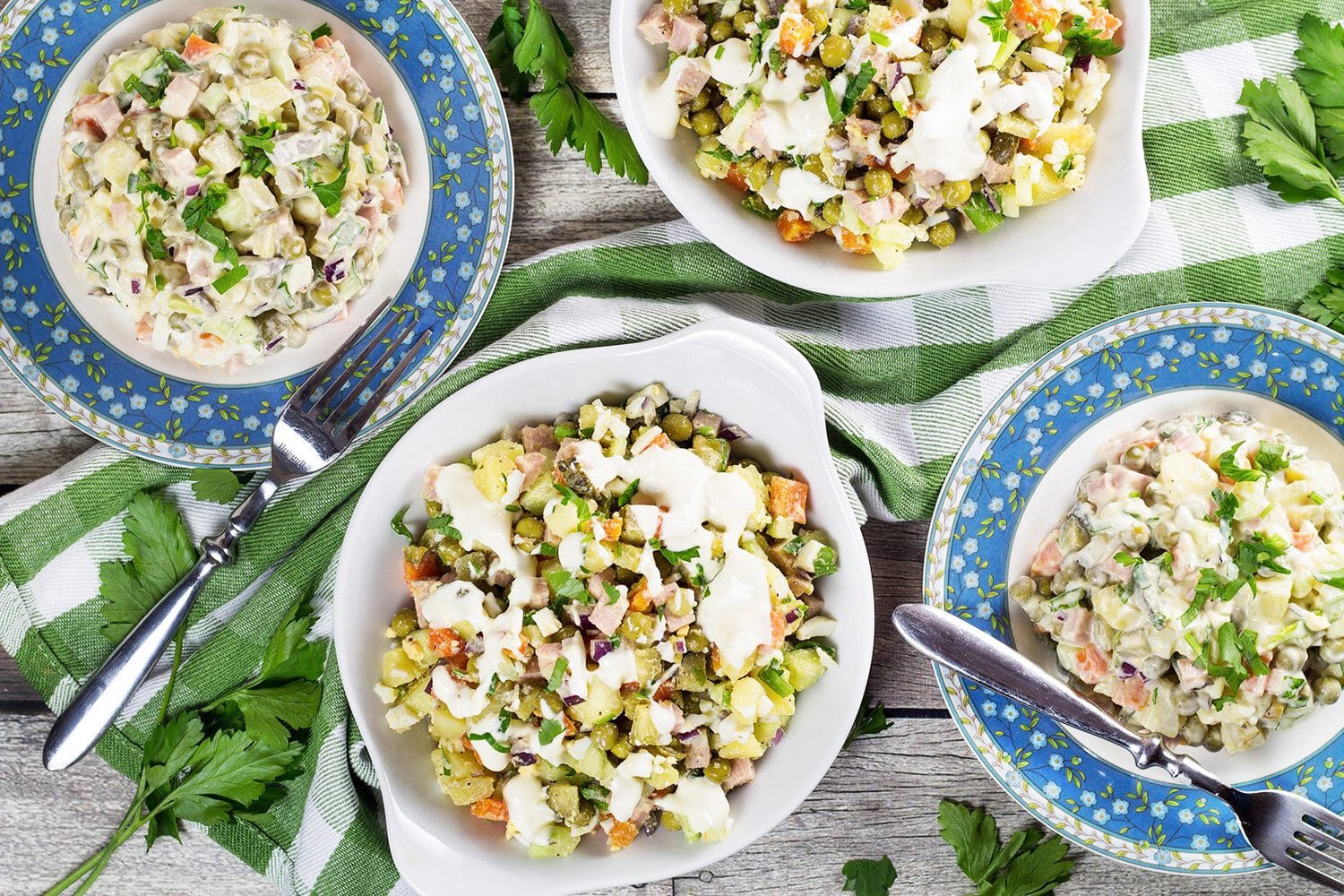 Sorry but even after such a promising monolog, today's dish is still not from my country, ha ha! However, it's a dish of my childhood, a dish we've enjoyed and still enjoy numerous times a year. It's Olivier Salad which originated in Russia in the 1860s. You might have heard about it or even tasted it in some restaurants all around the globe because it's quite widespread. Americans and Europeans know it better as Russian Potato Salad, Spaniards as Ensaladilla Rusa, maybe there even exist some other names I haven't heard of! The name Russians and people from other post-Soviet countries use is Olivier salad, though.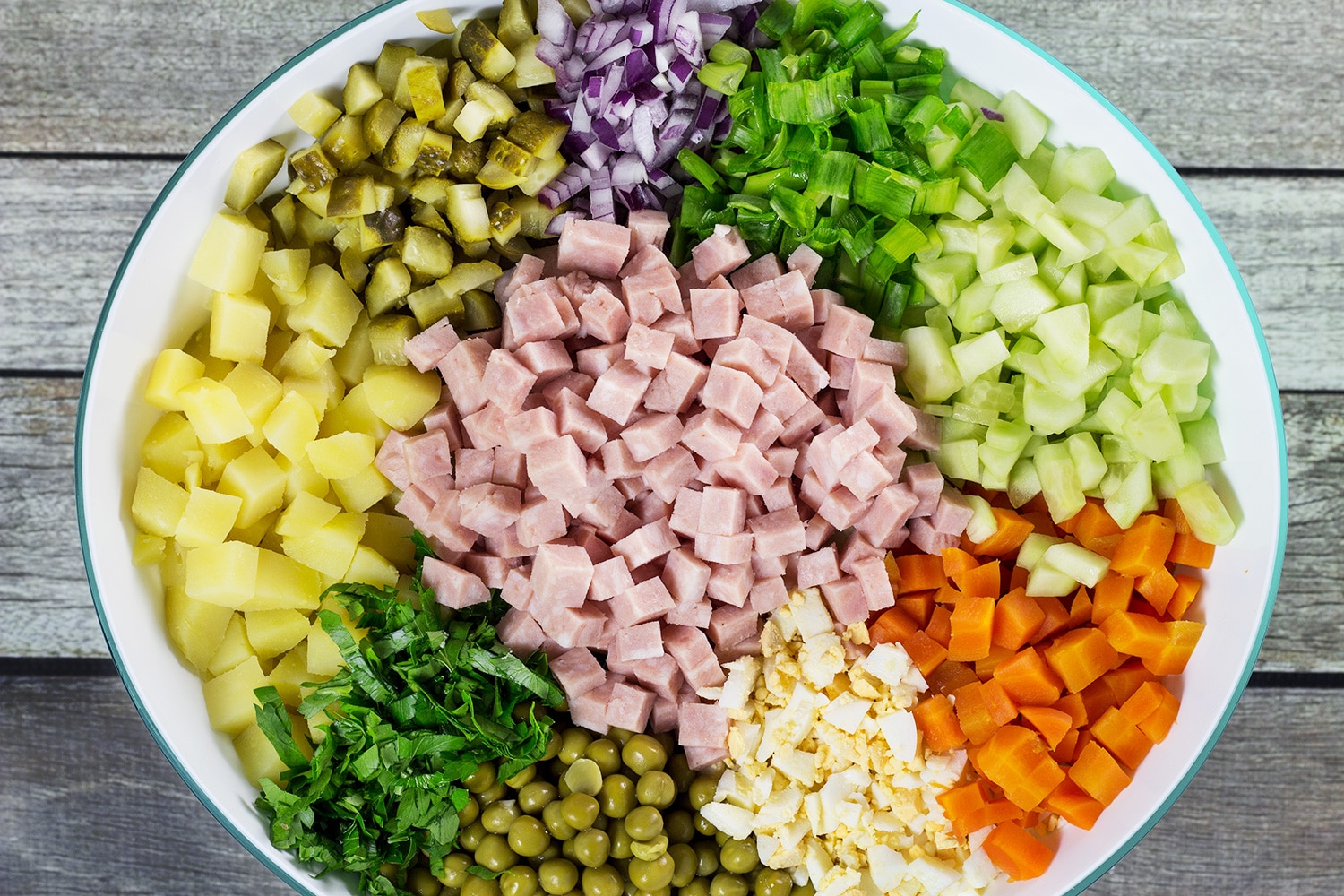 This salad was named after a Belgian chef Lucien Olivier, who created it while working in his restaurant in the center of Moscow. The original recipe differs quite a bit from the versions that are made today. There is a reason for that. The original Olivier salad recipe was gourmet and included many rare ingredients such as grouse, veal tongue, crayfish, and black caviar. Even today it would be still considered gourmet because the prices for black caviar are crazy high. Gradually, these expensive and hard-to-get ingredients were replaced with cheaper and more accessible ones. In Soviet times the only meat that was left in the salad was... A Russian boiled sausage (Varenaya Kolbasa) which can be compared to bologna.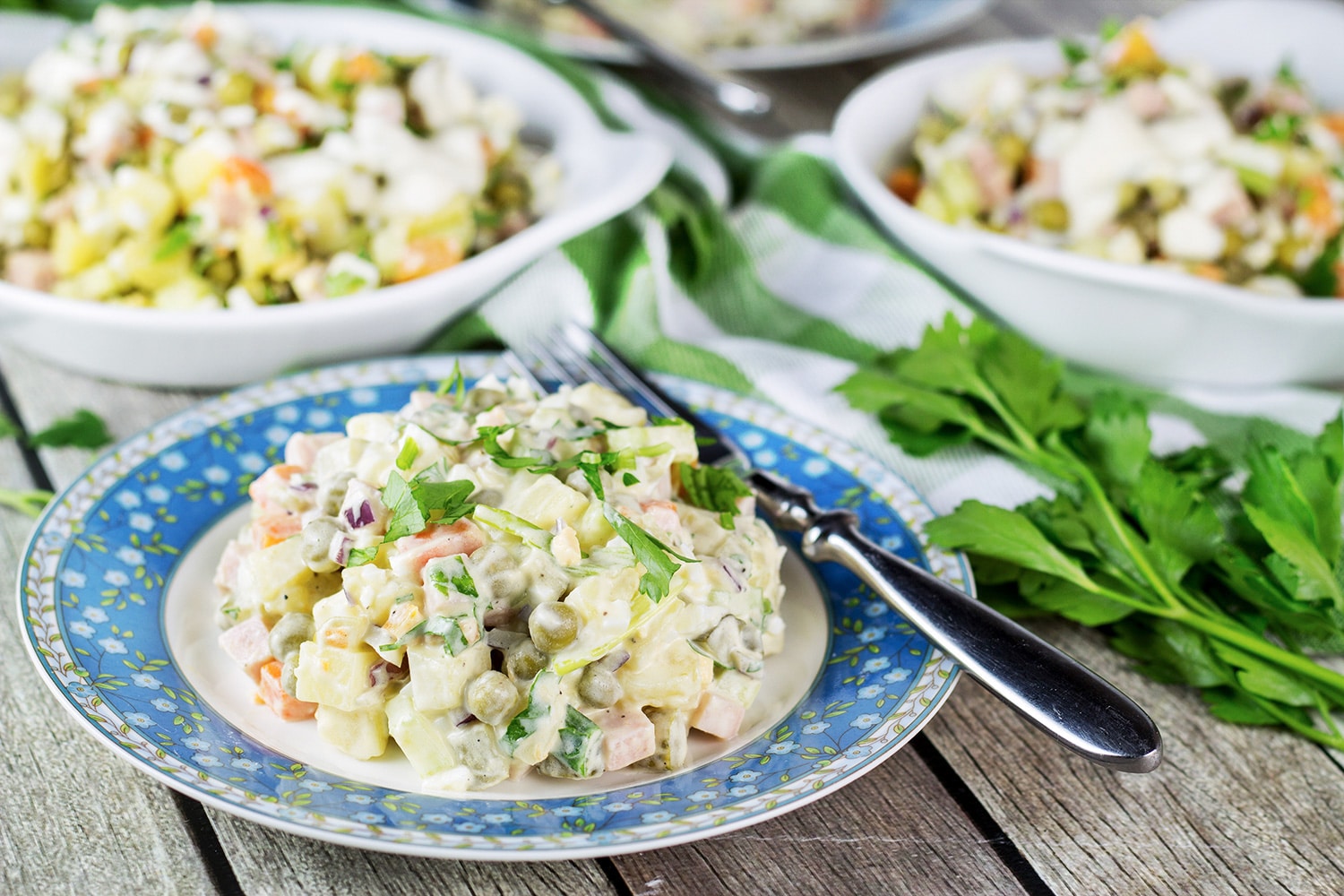 Today almost every family in Russia and other countries where this salad is popular makes it differently. Ones still add boiled sausage, while others substitute it with chicken or other meat, some add pickles while others choose fresh cucumbers or a mixture between these two, some add carrots others skip them, some use only mayo as a dressing others use a mixture of mayo and sour cream. And the list goes on and on.
One thing is pretty clear - there doesn't exist one right Olivier salad recipe. If someone claims that their version is authentic, it has to have grouse, black caviar, and other ingredients from the 1860s, otherwise it's not authentic at all. Even my family tried making this salad in numerous different ways. The recipe I'm showing you today is just our latest one that we use for the last 5 years or so.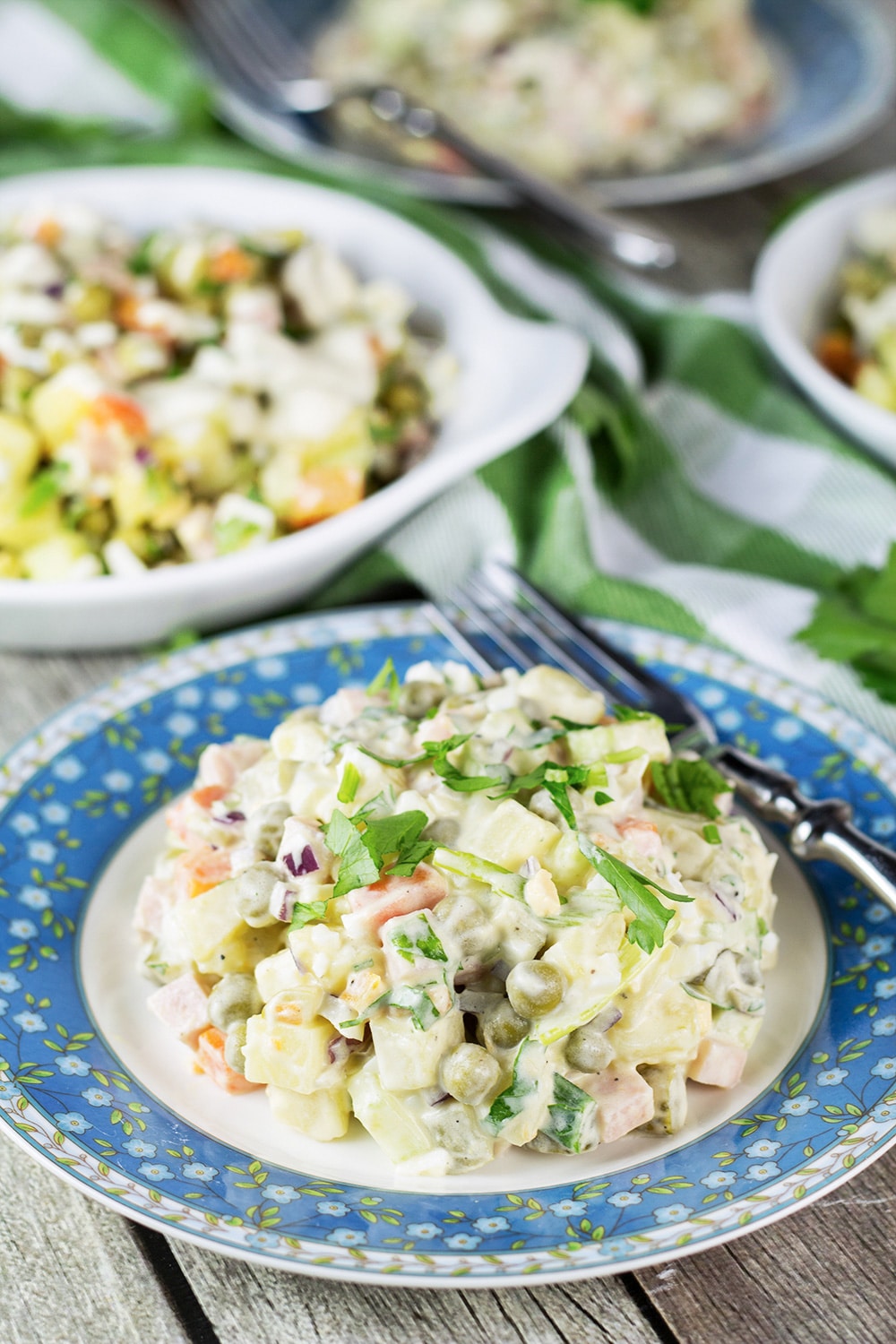 Usually, Russian potato salad is served on various occasions: Easter, Christmas, birthdays, to name a few. While serving it on these days is an optional thing, there is one day of the year when this salad just can't be left out of your table - a New Year's Eve. This is the most festive day of the year for Russians and it even surpasses Christmas in importance. If you would have magical binoculars that let you see holiday tables all around Russia on this day, 99% of them would have Olivier salad on them. Seriously. It's cheap so everyone can afford it and it's most probably the biggest food tradition in Russia of all.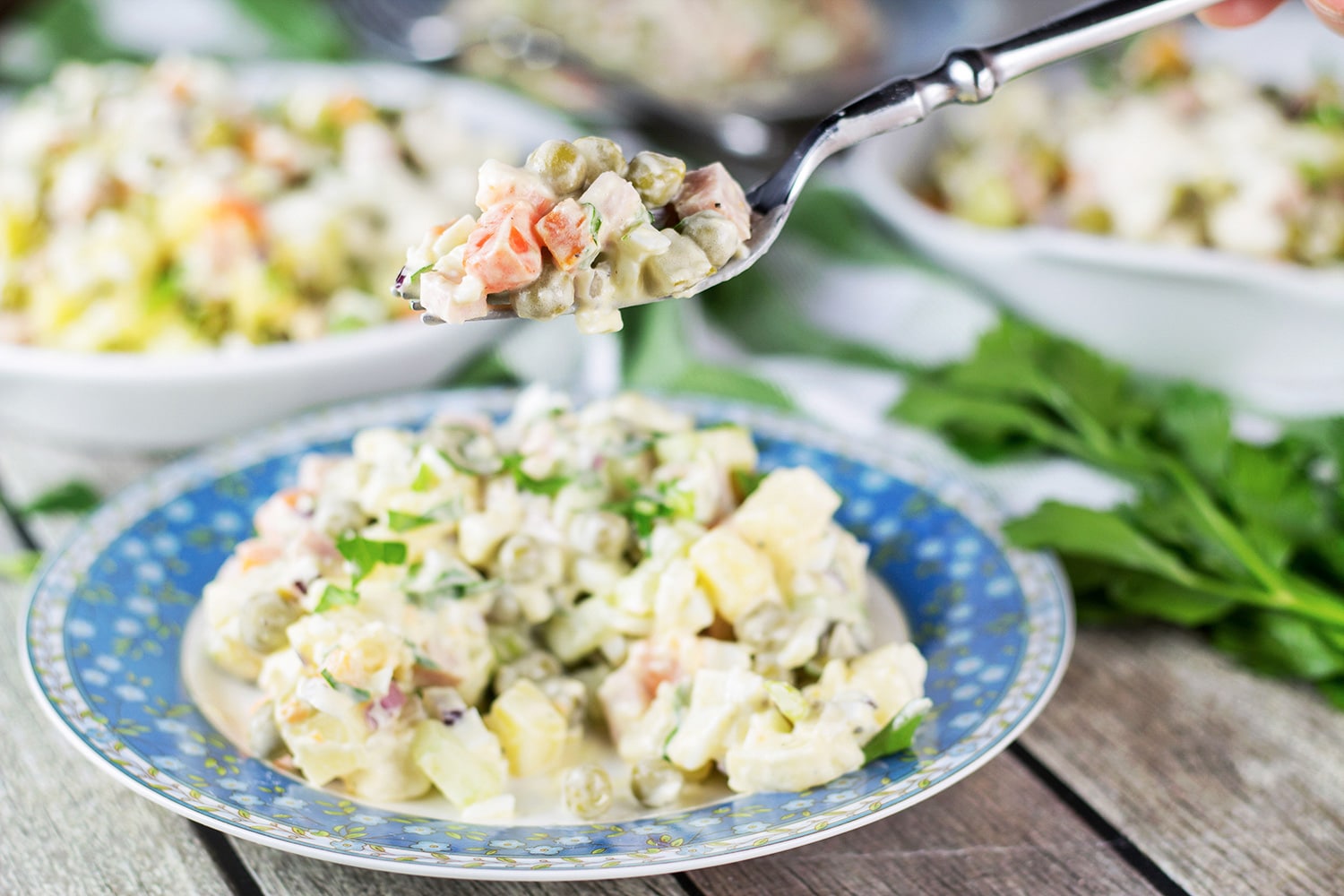 Phew, somebody stop me. I didn't even plan on writing so much but words just fly from my keyboard when my childhood food is in question. Alright alright, but you are not even from Russia, Igor, why the love for the salad? Well, first, I am living in a post-Soviet country which took over some Russian traditions. Second, my father was born in Russia so we also celebrate a New Year's Eve along with Christmas.
Guys, if you want a hearty, comforting, and filling salad, you will love Olivier. I would call it the best potato salad ever but my opinion can be biased. Try it and let me know if you loved this Russian potato salad as much as I do!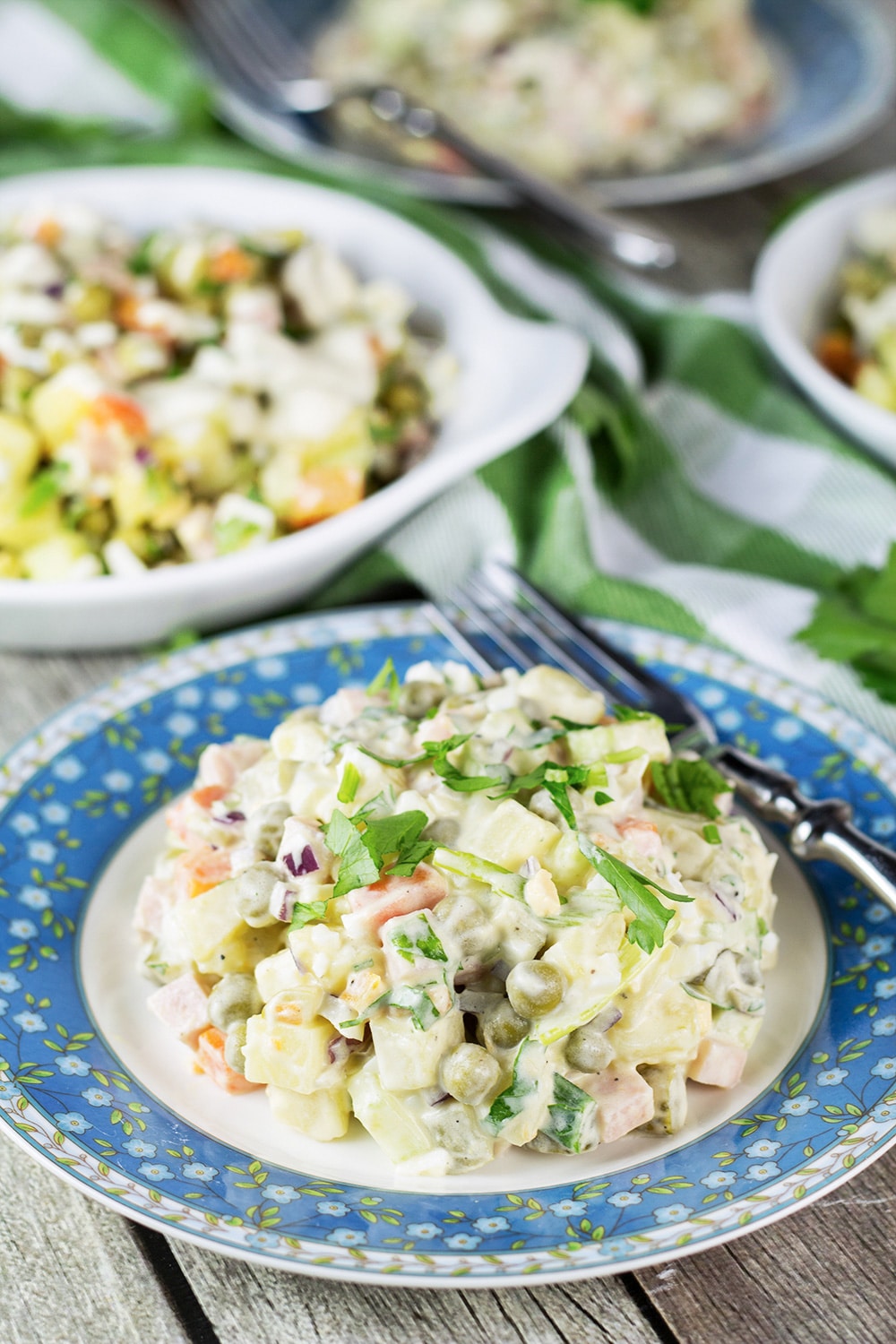 Olivier Salad (Russian Potato Salad)
Olivier Salad is a famous Russian potato salad eaten on various occasions. Filling, hearty, and comforting!

Ingredients
1

lb (450g)

potatoes

, unpeeled

½

lb (225g)

carrots

, unpeeled

½

lb (225g)

bologna or ham

, diced

5

large eggs

½

lb (225g)

fresh cucumber

, peeled, diced

½

lb (225g)

pickles

, diced

¼

lb (115g)

red onion

, chopped

¼

lb (115g)

chives

, chopped

1

handful parsley

, chopped

1

15 oz or 440ml

can sweet peas

, drained

2

heaping tablespoons

mayo

2

heaping tablespoons

sour cream

salt and pepper

, to taste
Instructions
In a pot, covered, on a low heat, boil the potatoes and carrots for 30 minutes, until a knife pierces through without resistance. Hard-boil the eggs.

When cool enough, peel and dice the potatoes, carrots, and eggs.

Add all the ingredients except the peas to a bowl and mix well. Now add the peas. Give a taste and adjust the seasonings, if needed. The salad can last up to a week in the fridge. Enjoy!
Notes
1. You can use only pickles instead of combining fresh cucumber + pickles.
2. Bologna or ham can be substituted with chicken or other meat.
3. The dressing can be made only with mayo or only with sour cream for a healthier version.
Nutrition