Hey there! When I started this blog, I set myself a mission to recreate as many traditional breakfasts from all around the world as possible. Many people skip the breakfast, but in my opinion, it is the most important meal of the day. Your body and brain need some fuel to start moving for God's sake! That's why I find it insanely interesting to discover what people eat for breakfast in different countries across the globe. Let's go!
If the French Breakfast I explored last time can be called as the world's most popular and widespread one, the English breakfast, featured in this #9 installment of the "Breakfast around the world" post series, is undoubtedly the most famous and the most historically sacred one. It is a centuries-old tradition dating back to the 19th century. There were some obstacles along the way but this iconic dish got through it and is enjoyed today by millions of breakfast lovers all around the globe. The English breakfast is even considered as a national British dish and is deeply ingrained in the culture of the country. Let's check out what's so awesome about it!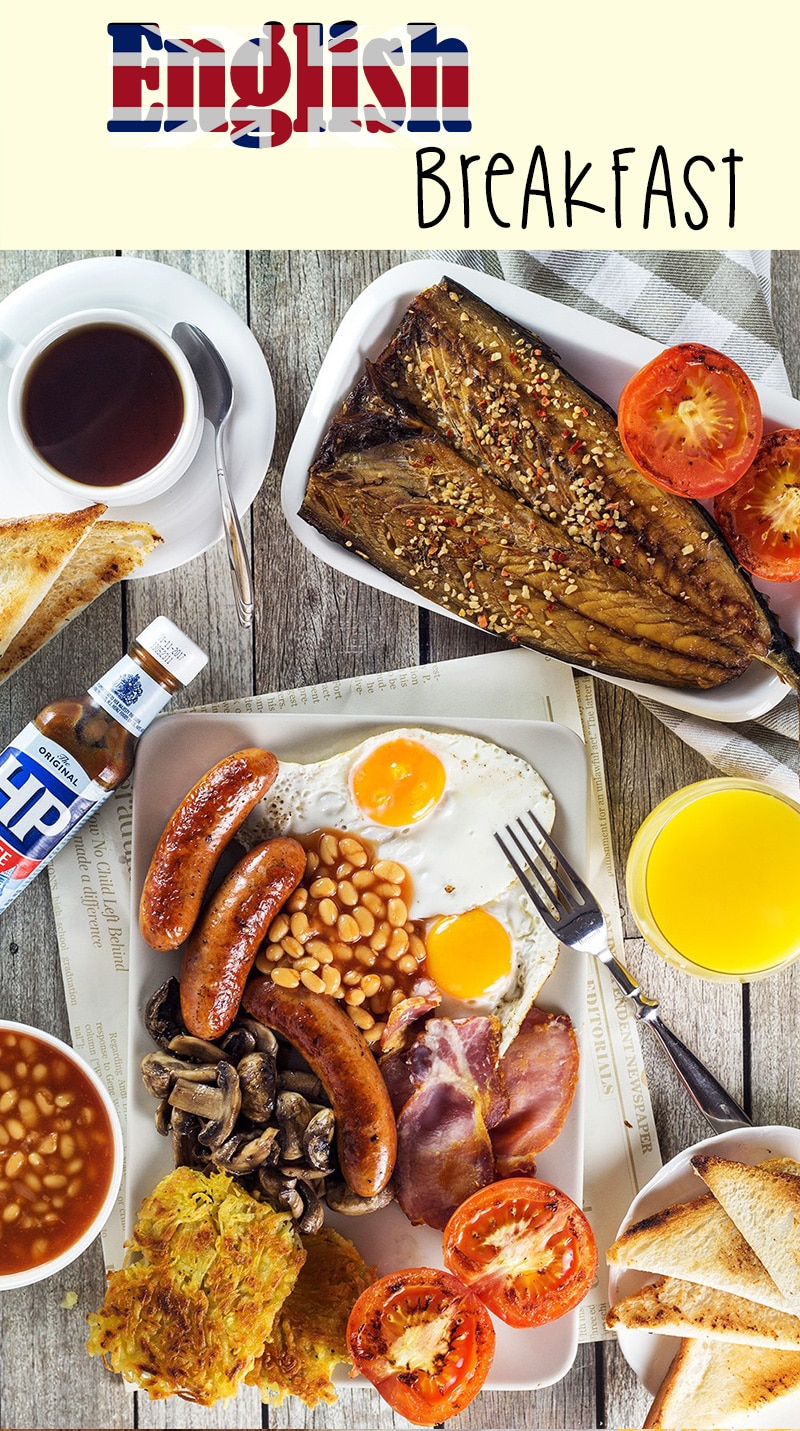 First of all, I am so happy to get back to exploring world breakfasts. It's been 3.5 months (!) since the last post. I've been quite busy lately and while I was able to keep posting simple recipes, breakfasts are time-consuming so I kept putting them off. Enough about that, now I'm back and ready to rock! The decision to celebrate my comeback with the English breakfast was a simple one. I have heard about it since I was little so it was a question of time when I'll get my hands on the British morning fare. Moreover, a few readers asked me to make it in their e-mails.
I still remember, which is amazing given my awful memory, how I got acquainted with this famous dish many years ago. There was a food show on some TV channel and in one episode they went to a British restaurant which was offering the English breakfast absolutely for free! With a few small conditions, though. You had to finish it off in 20 minutes and you were not allowed to have even a drop of water. If you fail, you pay. What an awesome deal, isn't it? Well... Only until you see how enormous the plate is and how it's packed with sausages, bacon, eggs, bread, beans, mushrooms... I guess only few people can make all this food disappear! Otherwise, the owner of the restaurant won't be offering free breakfasts, right? It was a perfect marketing strategy which let the restaurant to get some attention.
While I don't remember either the show or the restaurant, there exist more places with such offers. Here you can read about the Mario's Café in Westhoughton, Bolton where such a "free" British breakfast is offered (maybe it isn't anymore because the article is dated back to 2009). It's funny that at the time of the article no one out of 53 people who tried finishing it off managed to do that. Not surprising at all, keeping in mind that the meal contained whopping 5000 calories! The brave who wanted to accept this challenge even had to sign a health disclaimer before ordering it, ha!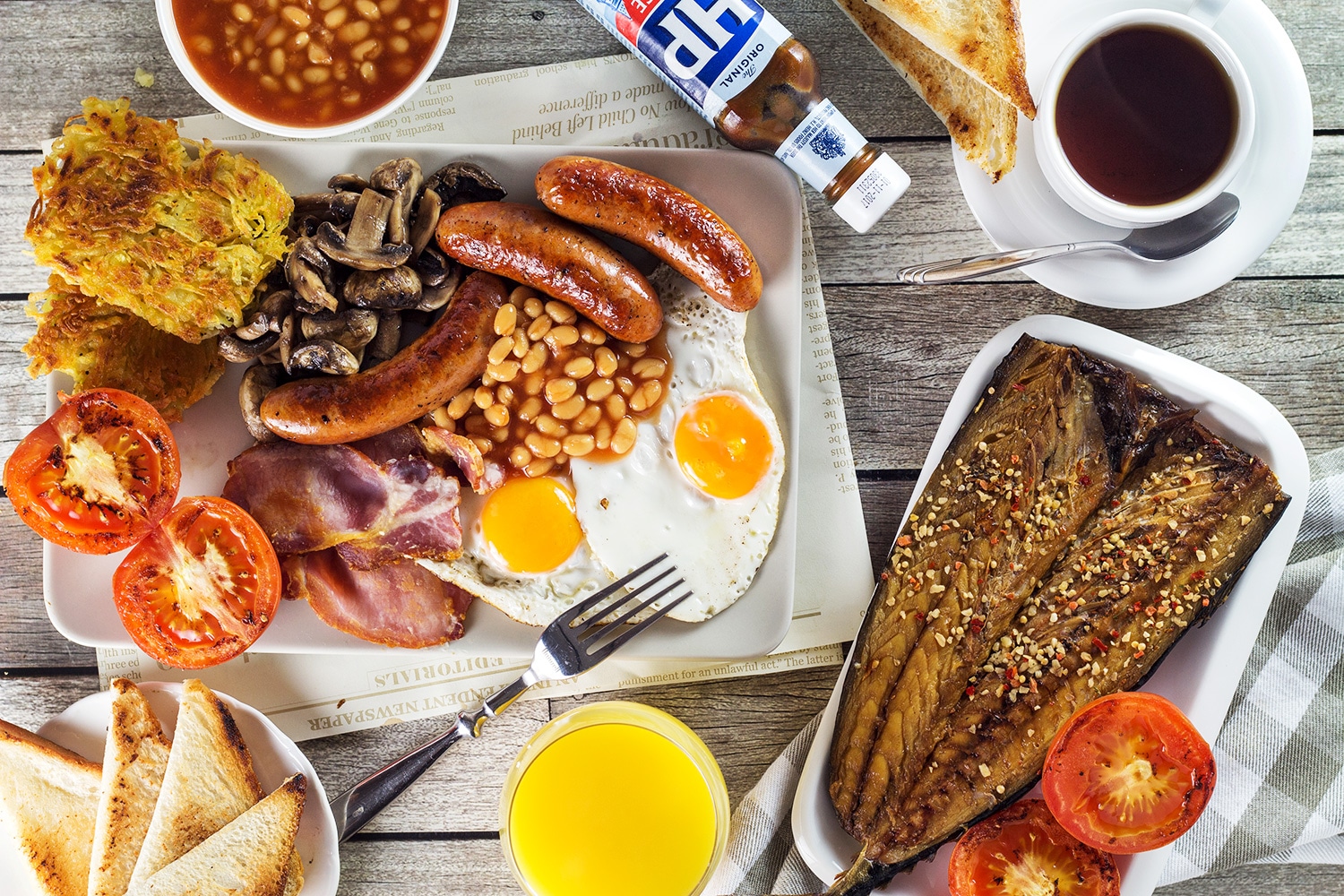 Don't get afraid and please, don't close the blog yet. The average English breakfast is usually not packed with 5000 calories. It's still heavy, though. A typical fry-up (another name for this breakfast) has approximately 1200 calories and 95 grams fat. For these reasons, it's sometimes called as a "heart attack on a plate", ha ha! Another joke I like is that inventors of this breakfast should be thanked for enabling the research of heart diseases! But who cares about all those numbers? We are here to enjoy good food and nothing is going to stop us!
A Bit of History
It is agreed that the idea of the English breakfast "was born" in the middle of the 19th century when the home economist Isabella Beeton described the concept of the hearty breakfast in the Book of Household Management in 1861. The need for a filling morning meal arose when middle-class men started to work regular hours in offices and needed more fuel. The version described in the book included many ingredients that haven't made it to the modern era, such as mutton chops, rump-steaks, sheep's kidneys. Other than that, the breakfast has stayed almost the same through centuries.
Before starting actually talking about the breakfast itself, I have to stress a few more facts to stop your mind from painting a picture of Britons as fat, not caring people. First, researches show that only 5 percent of the population eat a fry-up for breakfast today. Second, those who do that, usually enjoy this morning fare only at weekends. Young people usually choose such breakfast staples as cereal, toast, and porridge. Boooooring. Soon we won't have what to explore anymore because all the world will be eating the same!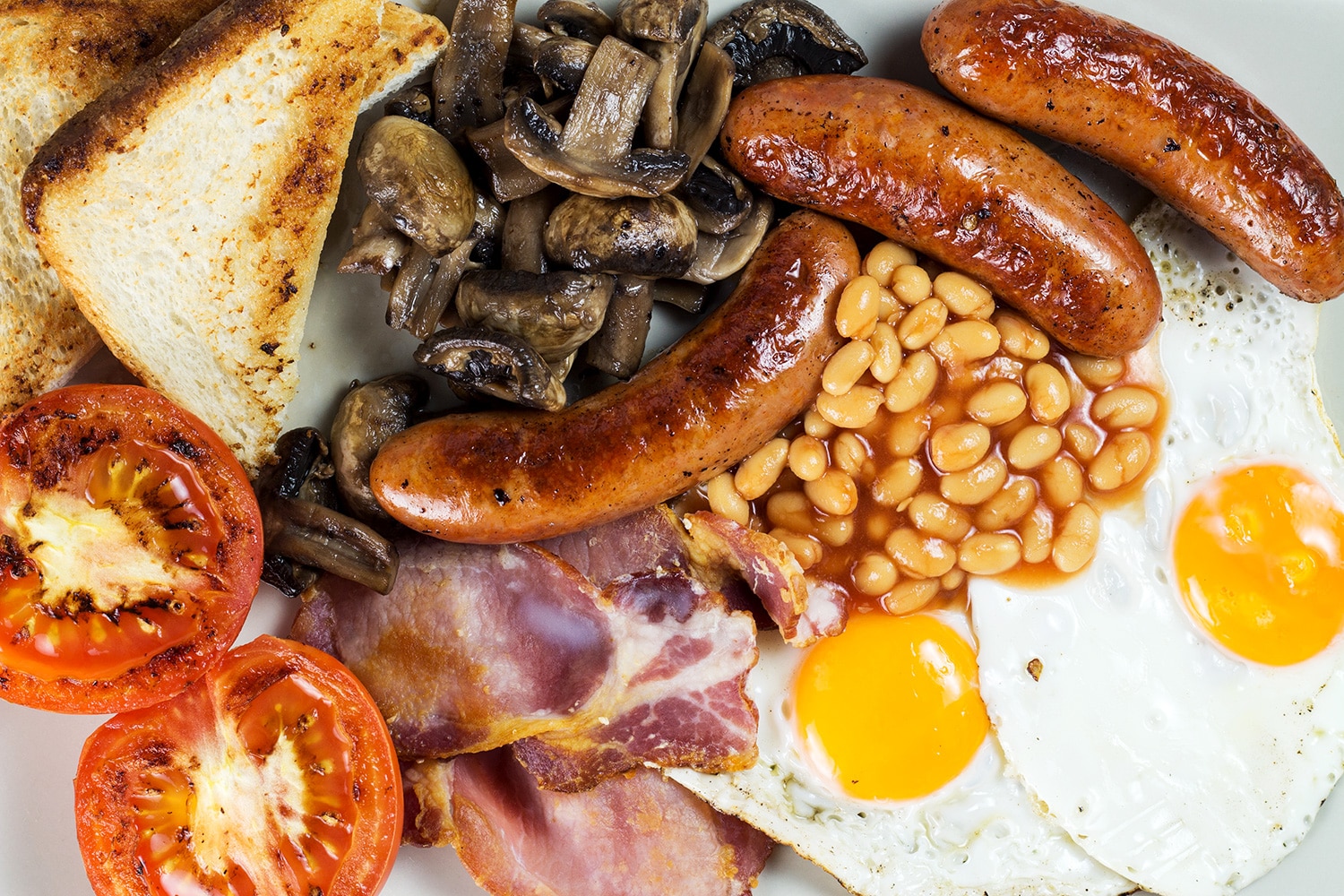 Let's check out what this famous breakfast consists of!
The Essentials
The English breakfast can include a plenty of ingredients, depending on the region, traditions, and the taste preferences of the one cooking it. However, these are some staples which you will always find on a plate, no matter in which corner of the world the dish will be ordered.
Eggs
One of the most popular breakfast elements in the whole world is also present here. Fried, scrambled, poached, it's up to you. A typical English breakfast consists of 2 eggs but it's not a hard rule. The only rule is - the fry-up is not possible without them. I always like my eggs runny because there is nothing better than dipping a toast into them. Yum! My wife, on the other hand, can't stand runny yolks so it's a question of preference.
Beans
Baked beans, to be exact. The easiest (and by far the most popular choice) is ready-to-go Heinz canned beans in a rich tomato sauce. From what I read, almost everyone uses them for the English breakfast. I was pleasantly surprised to find them in my local supermarket! You can also make homemade baked beans if you want to.
The Meat
A very very important, if not the most important, part of this breakfast. I've already told you that the first British breakfast included many different kinds of meat. The modern version, though, mainly features sausages and bacon. Together of course. You can use any pork sausages you like. The British usually choose bangers. What's about the bacon, once again any will do the job.
Tomatoes
Fried, grilled or even stewed. I simply cut my tomatoes in half and fried them in a skillet. Tomatoes are an awesome addition to the English breakfast because they give you some freshness which you may need with all the meats on your plate.
Mushrooms
Simple fried mushrooms are everything you need. Usually, the choice is whole-cooked white button mushrooms but once again, any kind will fit. I love mushrooms with my omelettes and fried eggs so I'm really happy they are here.
Toast
Bread of your choice toasted in a pan. Simple as that. You can use any bread you like. I went with a simple white bread. For me, bread is necessary here because I love dunking it into the egg yolks. Yum!
Beverages
Forget about coffee, tea is the king in the United Kingdom. It always was and it always will be. UK has been one of the world's greatest tea consumers since the 18th century. Once again it's right up my alley because I would take tea over coffee anytime. And believe me, there is no better time to have a big cup of tea than the breakfast. Britons would agree with me.
Orange juice is also quite a popular option.
Condiments
There is no English breakfast without the sauces. Two most popular options are tomato sauce and brown HP sauce. There is always a battle between them: some people say that ketchup is the best, while others are all for HP. I have never tried the brown sauce in my whole life and I didn't even think that I can find it in my local shop! Of course, I bought it. Now I can truly say that my British breakfast is authentic! The taste? Well, I loved the old good tomato sauce more. Maybe that's because my taste buds are not used to the taste of the HP sauce.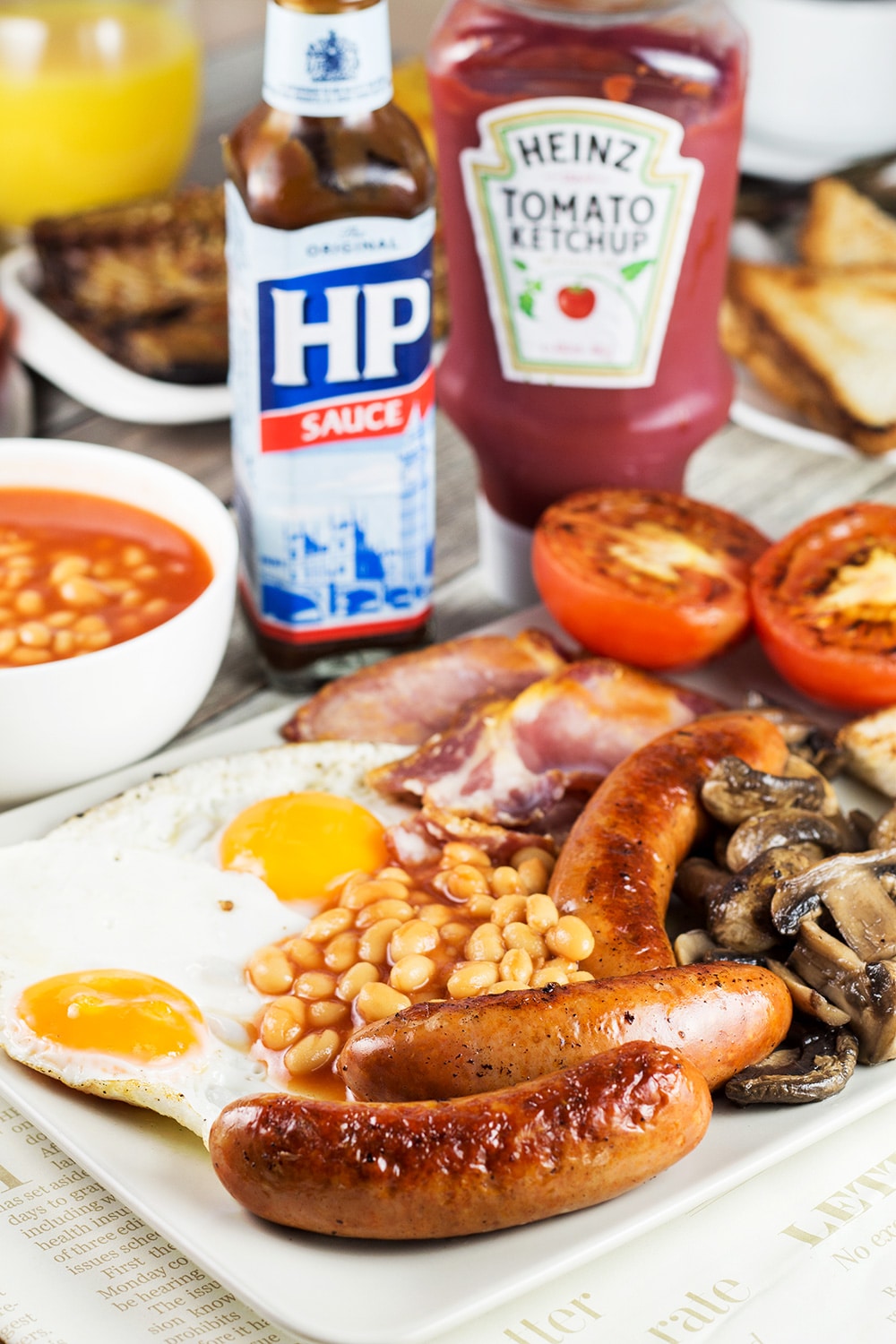 I find the situation with some products in the United Kingdom interesting. The Heinz beans and the HP sauce are considered like staples. Not the broad products like butter, sour cream, cottage cheese, with hundreds of firms producing them, but specific products made by specific companies. Interesting. Why other companies don't make baked beans and brown sauce if they are so popular? If you are a Brit and you are reading this post, please clarify the situation in the comments section below. Thanks in advance!
Optional Items
These are the ingredients the full English breakfast ordered in one part of the UK can include, while others not.
Potatoes
Potatoes for breakfast? That's right. Hash browns, mashed, fries, chips. You can find any of these options in the British breakfast you'll order somewhere. I made a few hash browns really quickly and I enjoyed the hell out of them.
Kippers
Well, that's something really interesting. Wikipedia says that a kipper is a whole herring, that has been split into a butterfly fashion and cold smoked. While I have never heard such a word in my life, we do eat kippers here in Lithuania (we just don't call them like that) but it's more like a snack with a cup of beer. I got one so you can see it on the photo.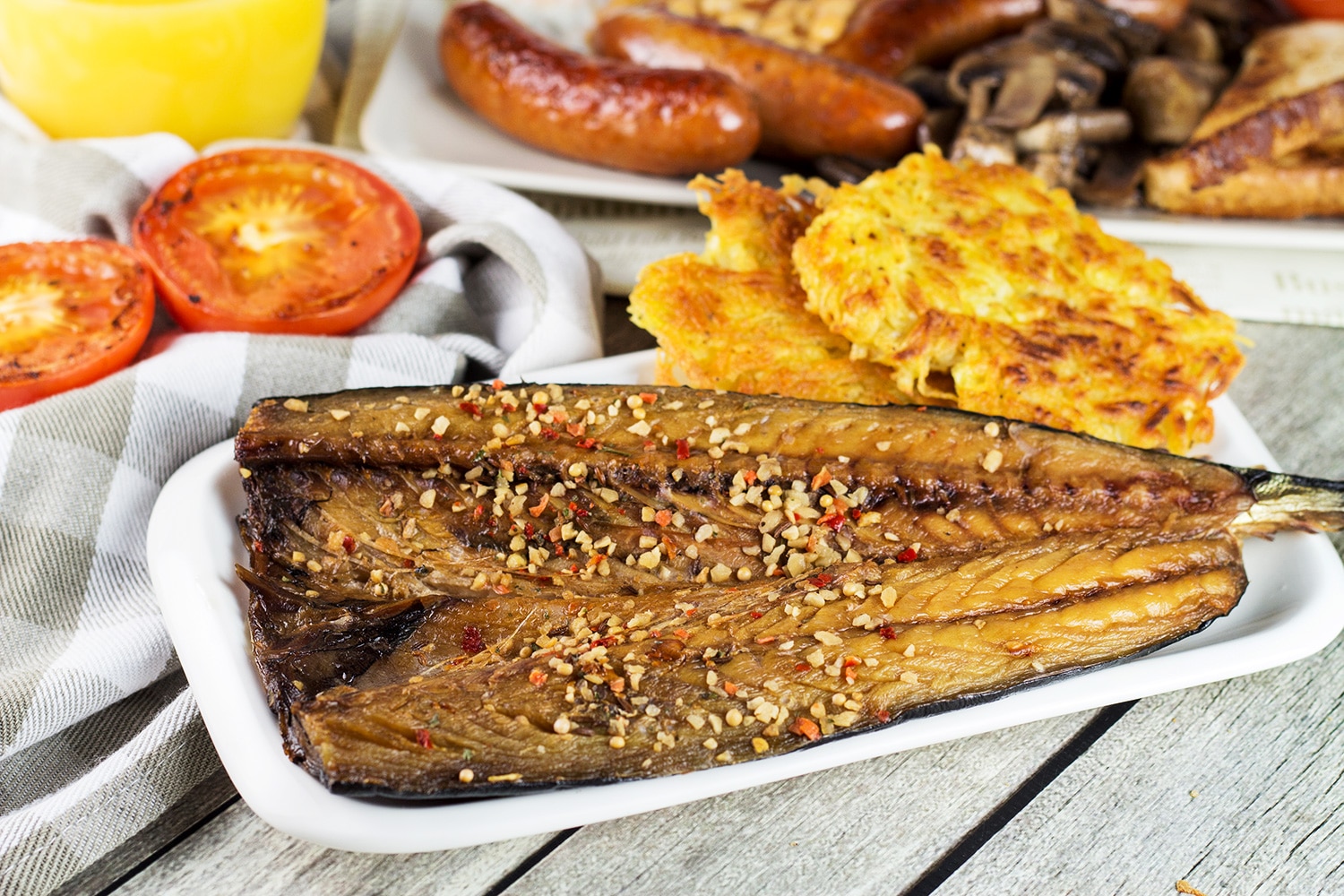 While I can eat it for breakfast and nothing will happen, it surely wouldn't be the most pleasant experience. From what I read, nowadays kippers are rarely included in the English breakfast and are not a popular option anymore. Maybe they were a few decades ago but not anymore. If you will be able to find these in your town, do try them. It's an interesting experience!
Other possible ingredients I didn't include are black (blood sausage) and white pudding, and kidneys.
That's everything I wanted to tell you about the English breakfast, my dear readers. What's my opinion about it? In fact, I loved it very much. You see, if we are talking only about the essential ingredients (eggs, beans, bacon, sausages, tomatoes, mushrooms, toast), that's pretty much the same stuff I ate for many years while living with my parents. Fried eggs with a few bacon slices or sometimes sausages and mushrooms were a frequent fare in our house. My parents still have all these things for breakfast on weekends. I do too but not so often because such a food triggers my acid reflux.
I think sometimes you can enjoy such a breakfast and it won't do any harm to your health. See you in other "Breakfast Around the World" posts!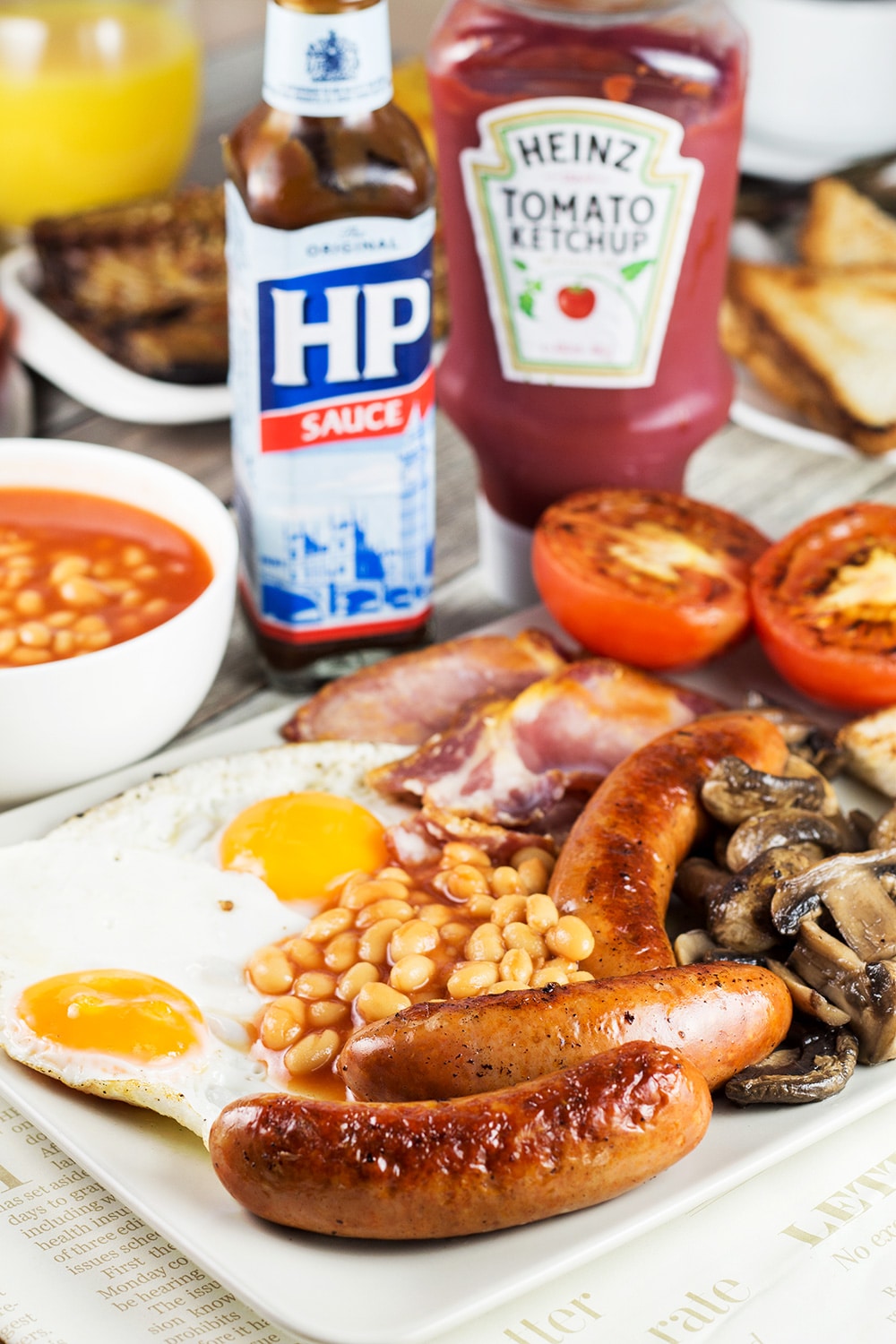 English Breakfast - Breakfast Around the World #9
English Breakfast is most probably the world's most famous and historically sacred morning meal. Packed with calories, it won't leave you hungry!

Ingredients
Eggs

Baked Beans

Sausages

Bacon

Tomatoes

Mushrooms

Toast

Tea

Orange juice

Tomato sauce

Brown sauce

Hash browns

Kippers
Instructions
Serve all the items and enjoy your hearty English breakfast!