With a flaky golden pastry and curry & chili spiced beef filling, these Jamaican Beef Patties make a perfect on-the-go snack. Be ready to make more because these hand pies disappear quickly!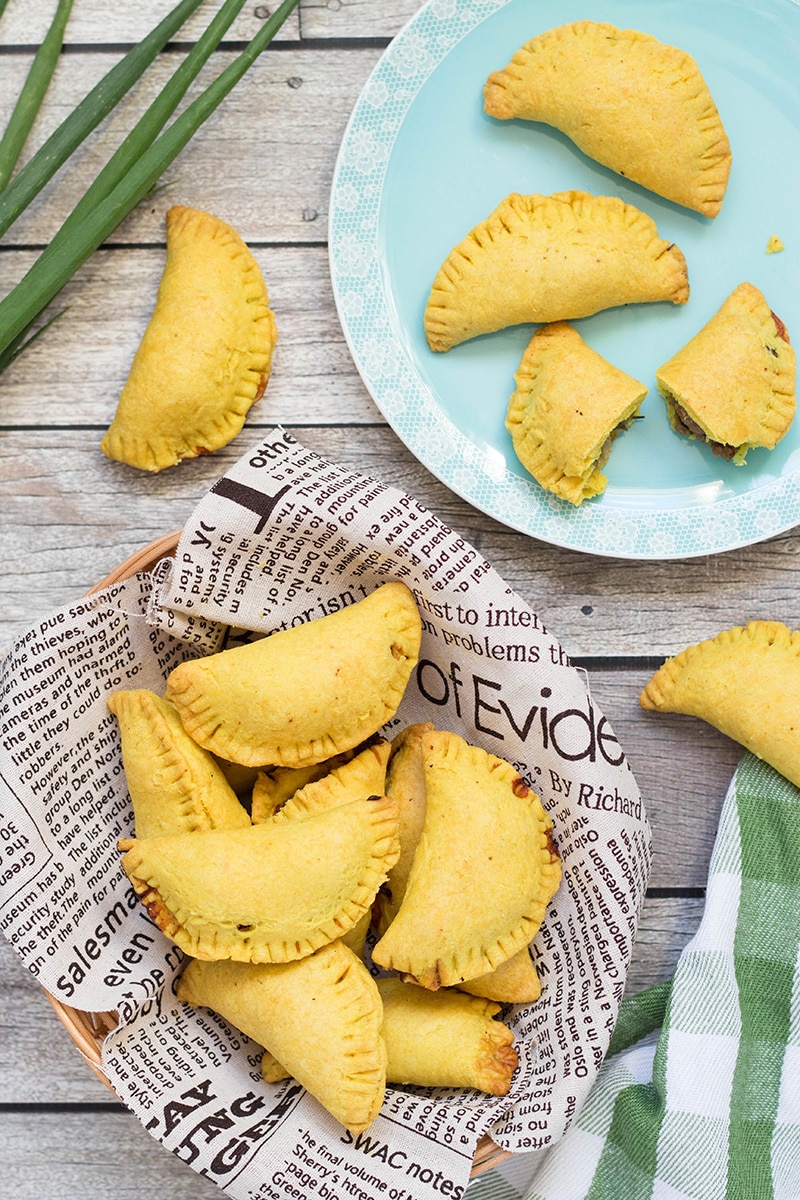 When it comes to lunch, I am a big fan of various handheld meals. Burgers, sandwiches, wraps, hot dogs, you name it. All these are classics eaten million times before, so it's normal that they get boring over time. Me and my wife, we love trying new things. For example, one of our lunch favorites lately are these beautiful steamed Filipino buns (Siopao). So good! Unfortunately, the only way to enjoy them in my country is to make them at home by yourself. What a pity. I read that they are really popular in other countries and numerous stands sell them in the streets. Ah, what you gonna do!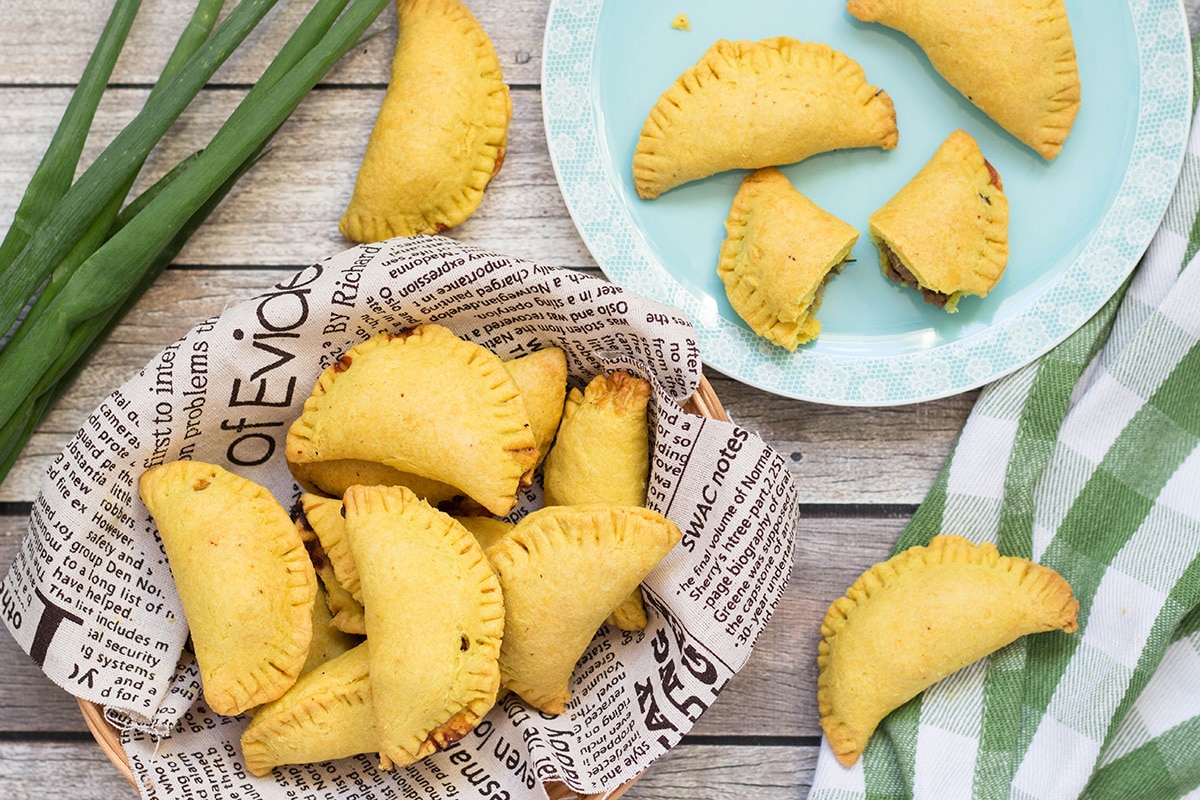 However, this post is not about Filipino buns. It's about my new lunch favorite - Jamaican Beef Patties. Don't let the name fool you - it's more like meat pies. A spicy ground beef filling flavored with onion, thyme, scotch bonnet or jalapeño pepper, and curry is encased in flaky golden curry infused pastry. Such a feast of flavors! Perfect for on the go.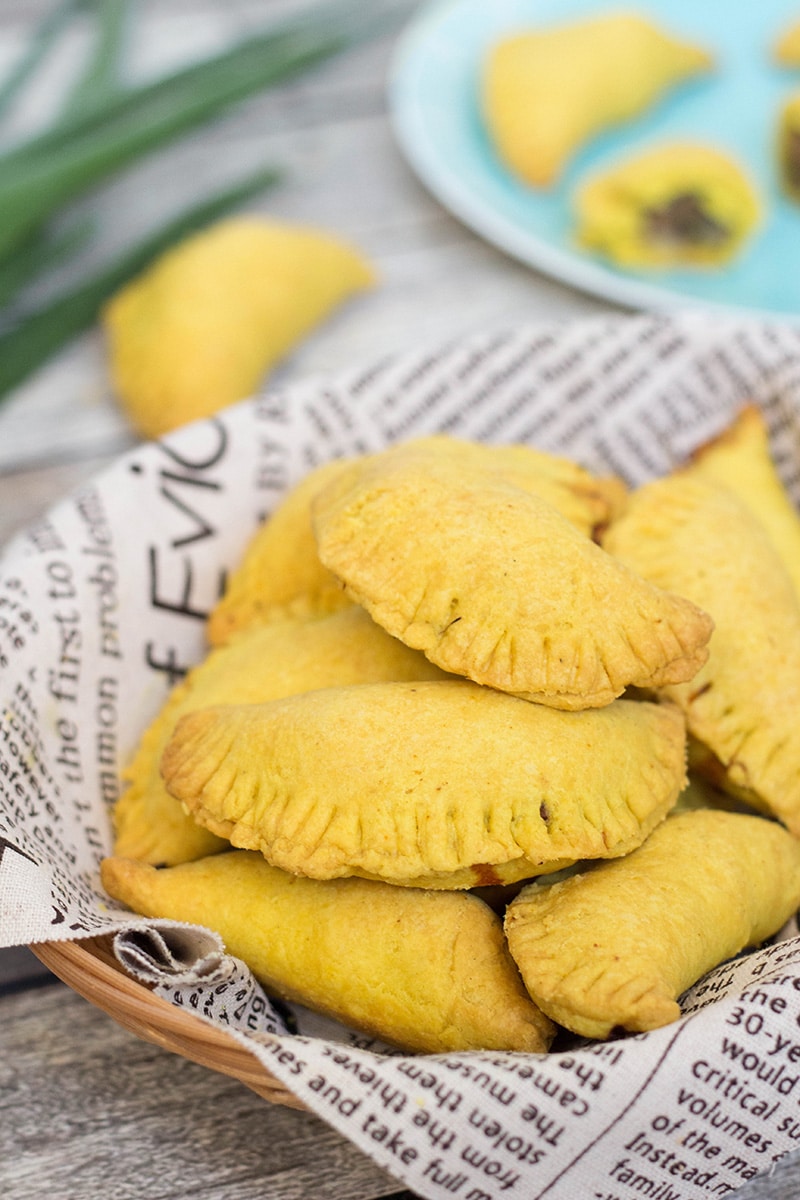 While the origins of Jamaican beef patties remain unclear (some say they arrived from Haiti or other Caribbean countries, others believe they are somehow related to Central and South American empanadas), nobody would argue that the best ones are made in the country of sunshine, reggae, and world-class runners. I am pretty sure that Usain Bolt devours a dozen of these meat pies before every start because Jamaicans have them every single day! It's like their national snack.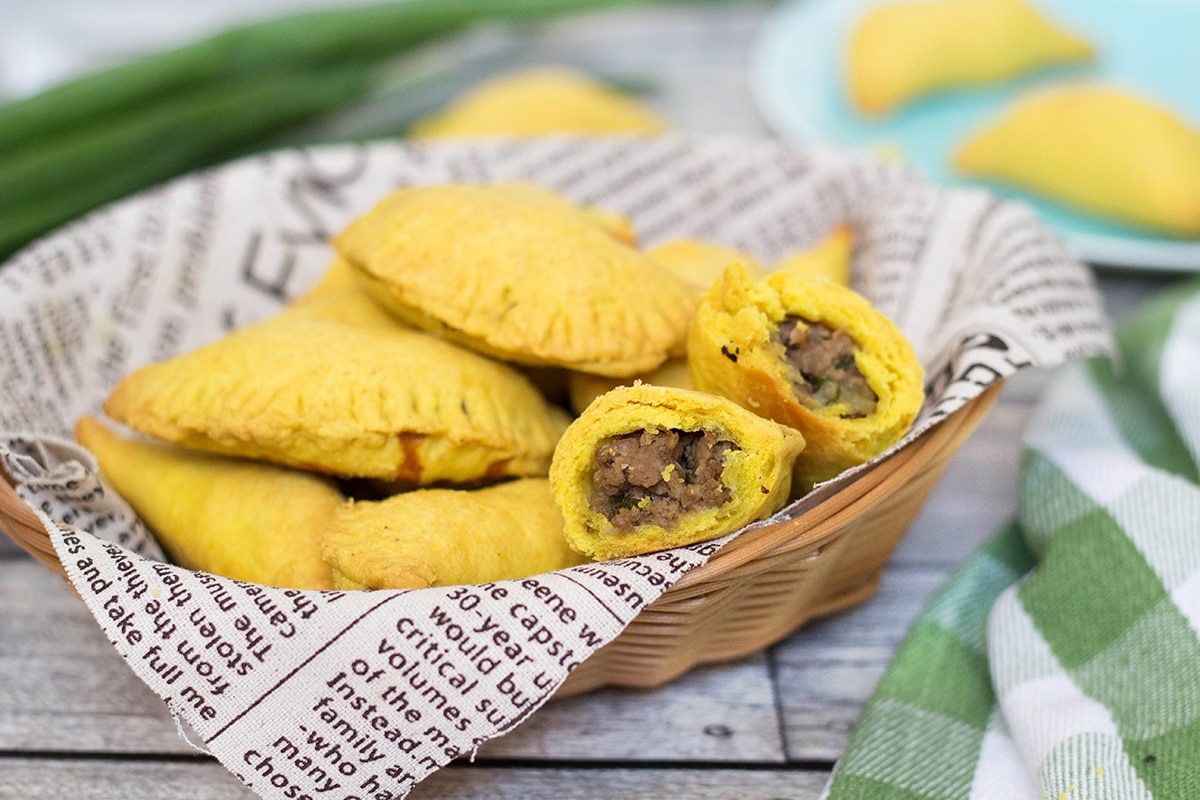 Curry is so on point here. It was brought to the Caribbean by Indian immigrants. Big thanks to them! Oh and I love the addition of spicy peppers. Usually I am not too keen on spiciness, but in this case, it makes these patties even better. However, you can easily leave the peppers out if you want to.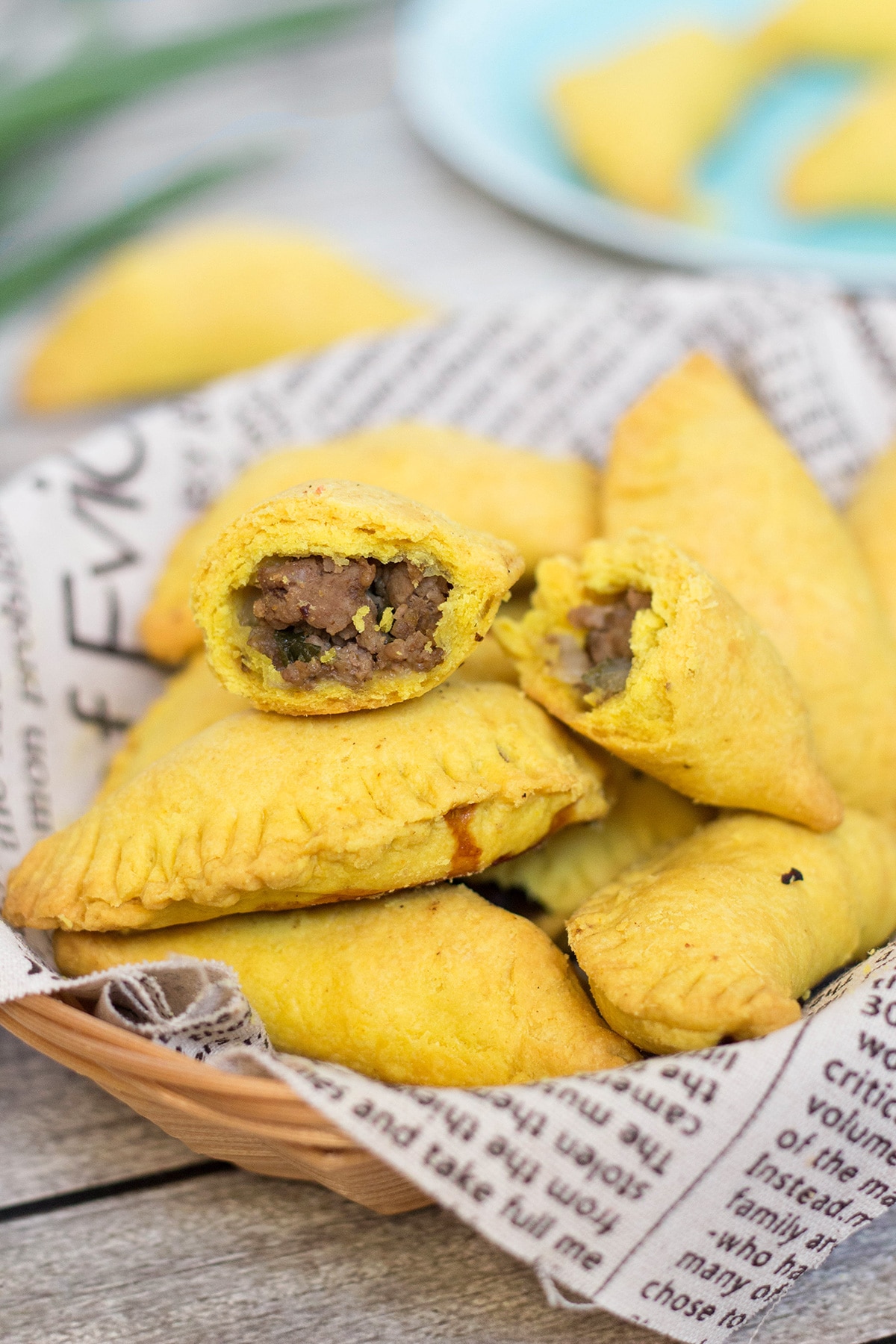 I made these Jamaican beef patties a few times already making them bigger once and smaller the second time. For the blog I've gone with a smaller version, because they look cuter and more delicious for me this way. Just make bigger dough circles if you want them bigger. Simple as that! Sorry, I have to go now. The new batch of these guys is waiting for me in the kitchen!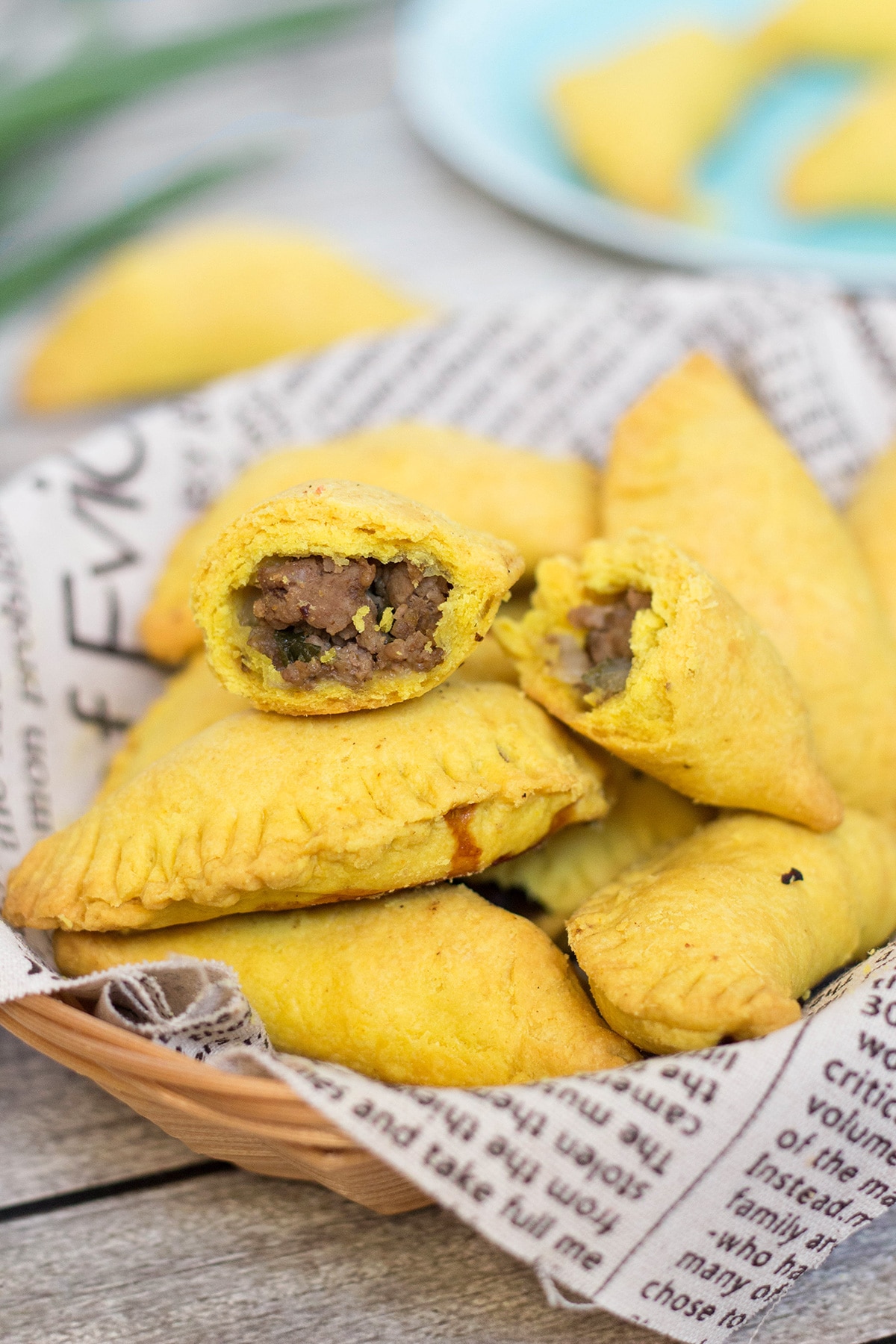 Jamaican Beef Patties (Hand Pies) Recipe
These Jamaican Beef Patties feature a spicy and flavorful beef filling encased in a golden flaky crust!

Ingredients
For the pastry:
2

cups

all-purpose flour

1

teaspoon

turmeric

½

teaspoon

Curry powder

¼

teaspoon

salt

½

cup

cold butter

, cubed

3

tablespoons

ice cold water
For the filling:
1

medium onion

, finely chopped

2

scallions

, finely chopped

1

Scotch bonnet or jalapeño pepper

, seeds removed, chopped

½

lb (225g)

ground beef

2

tablespoons

vegetable oil

½

cup

unseasoned dry bread crumbs

½

teaspoon

dried thyme

1

teaspoon

Curry powder

salt and pepper

, to taste

½

cup

water
Instructions
The pastry. In a large bowl, add the flour, turmeric, curry, and salt. Work the butter into the dry ingredients using a pastry cutter until the mixture resembles crumbs. Mix in the water. Shape the dough into a ball. If it's not sticky enough, add some more water until you can form a ball. On a lightly floured surface, kneed the dough for a few seconds, cover with a plastic wrap and let sit in a fridge while preparing the filling.

The filling Mix the onion, scallions, and the pepper with a ground beef. In a skillet, heat the oil and cook the ground beef mixture, stirring, for about 10 minutes. Add the remaining ingredients and stir well. Cover and cook for another 30 minutes. When done, let the mixture cool completely.

The assembly. Preheat the oven to 400°F (200°C). Remove the dough from the fridge and divide into 12 equal pieces. Roll each one of them into a 4-inch circle. Place about 1/12 of the beef filling in the middle of each circle, fold over and press edges together with a fork.

Place the patties on a parchment-lined baking sheet and bake for about 30 minutes, until golden brown. Enjoy!
Nutrition