Looking for a quick and delicious dinner? This Jamaican Brown Stew Chicken is exactly what you need. Cooked in a fragrant Caribbean-style sauce, it is guaranteed to become your favorite!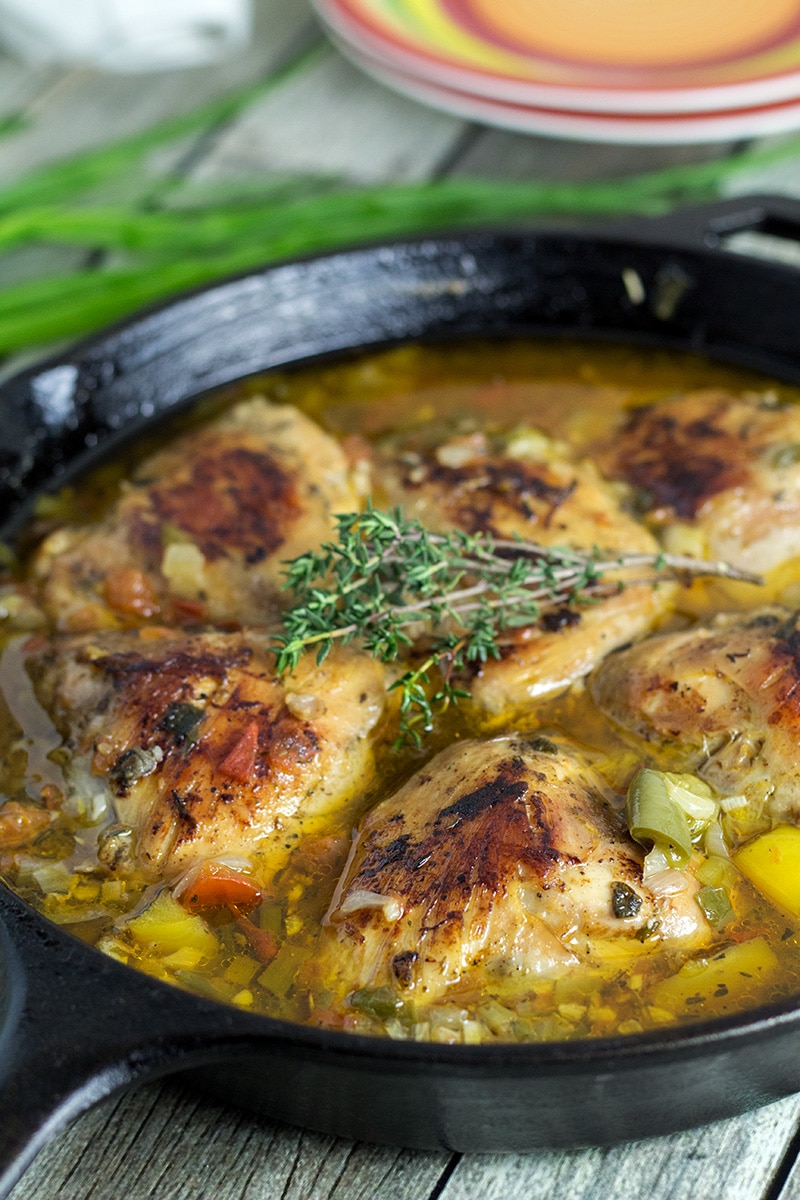 Now I want all vegans and vegetarians reading my blog to close their eyes because my next statement can shock them. I LOVE chicken. I love it baked, sauteed, grilled, roasted, broiled, braised, poached, steamed, fried, you name it. I think it would be safe to say that chicken is my favorite type of meat. Or, let's put it another way: chicken, whole or in parts, is a frequent visitor in my fridge. It is cheap and easy to find. Only pork is as cheap and accessible in my country, but for me chicken > pork.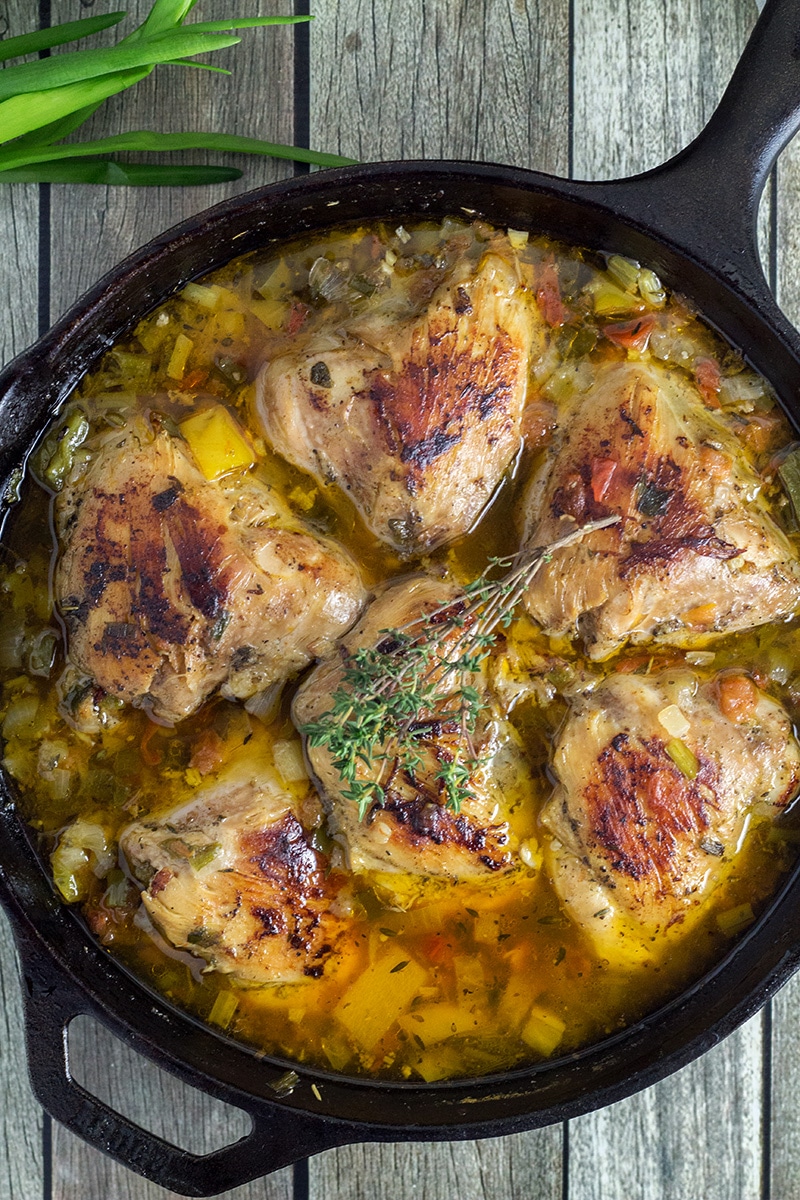 Anthony Bourdain, in his bestseller Kitchen Confidential, criticized chicken, calling it too bland.
Chicken is boring. Chefs see it as a menu item for people who don't know what they want to eat.
What a douchebag, right? Just kidding, I love Tony and all his work, but I just can't agree on this one. It surely can become boring if you will cook it the same way from year to year. That's why I am always in search of new marinades, sauces, stuffing or whatever else to improve my chicken dishes. Recently, on my internet wanderings, I stumbled upon a great and new (for me) way to cook my poultry - Jamaican brown stew chicken, also called Fricassee Chicken.
This is the typical way to cook chicken in Jamaica. It is considered an all time favorite there and is very popular in homes and places, where local food is served. While the exact origins are in doubt, it is believed that this dish was brought by the British settlers who came to the island. Well, thanks to them!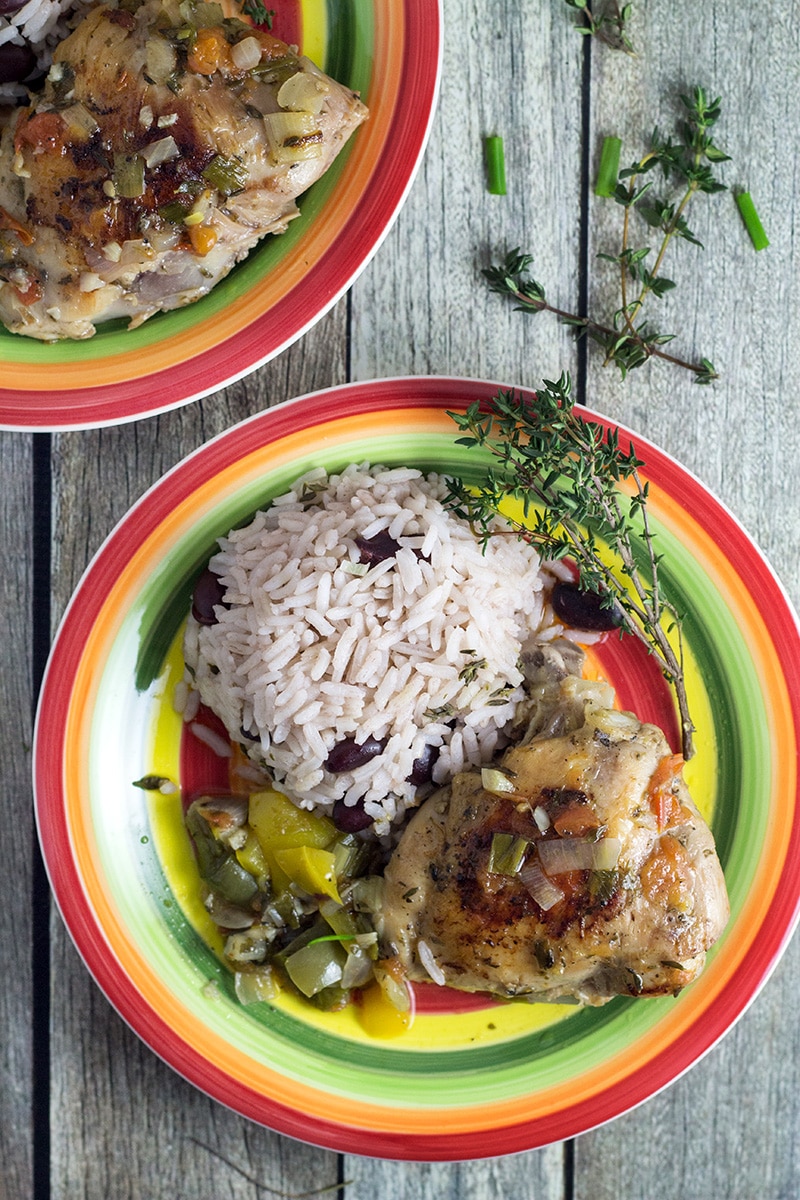 While looking at these pictures, a question may arise in your mind: everything is cool, but why your brown stew chicken is not actually brown? Well, there is an easy explanation for that. People in Jamaica and other Caribbean countries use a special browning sauce for the color. It consists of palm sugar, water, and salt. It is not available in my country and it's possible that you won't be able to find it too, but don't worry! The browning sauce is mostly for color, not taste! But if you really want to get that color, make a homemade sauce using this recipe, or buy one if you are able to, and add 1 teaspoon when making a sauce.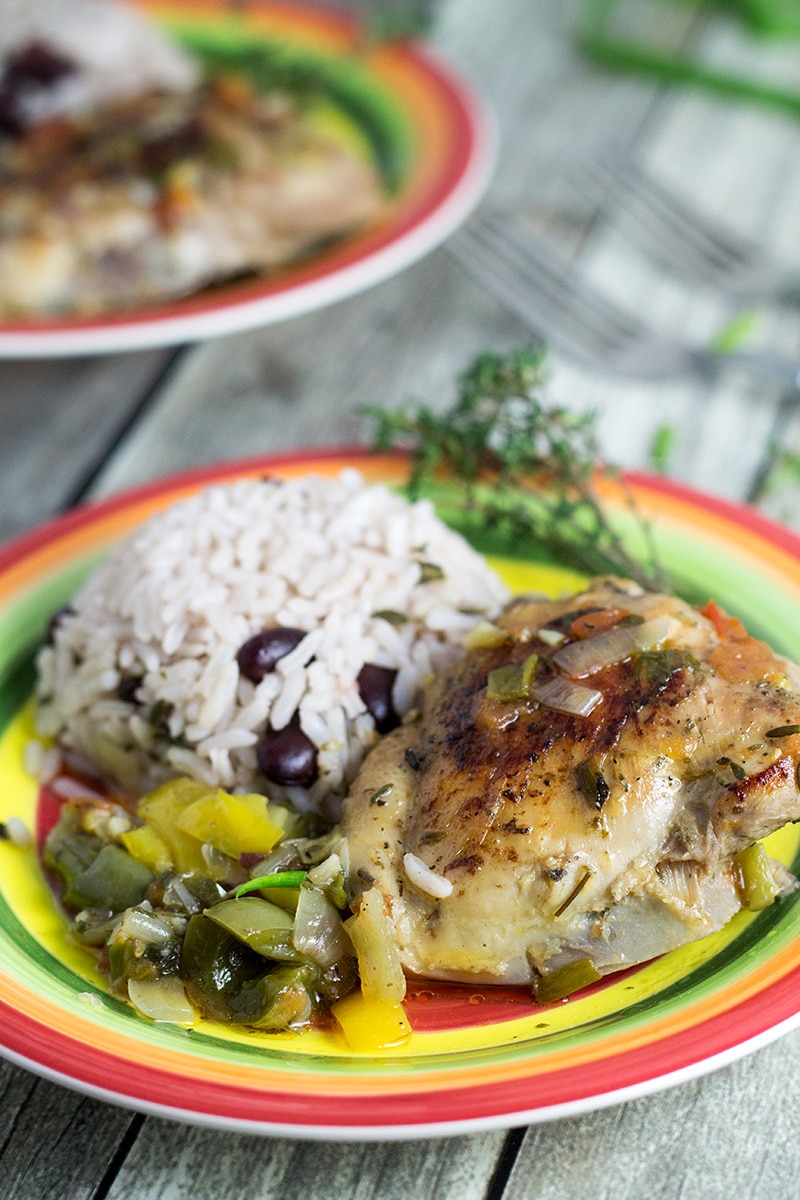 Jamaican brown stew chicken gets that unique taste from the fragrant sauce in which the chicken is simmered. The blend of garlic, tomato, scallion, onion, bell pepper, thyme, and soy sauce gives this dish a fantastic flavor! Who will now dare to call this chicken boring? This brown stew chicken is commonly served with traditional Jamaican rice and peas but you can pick your own side easily. I am off to stuff that chicken in my face. See ya!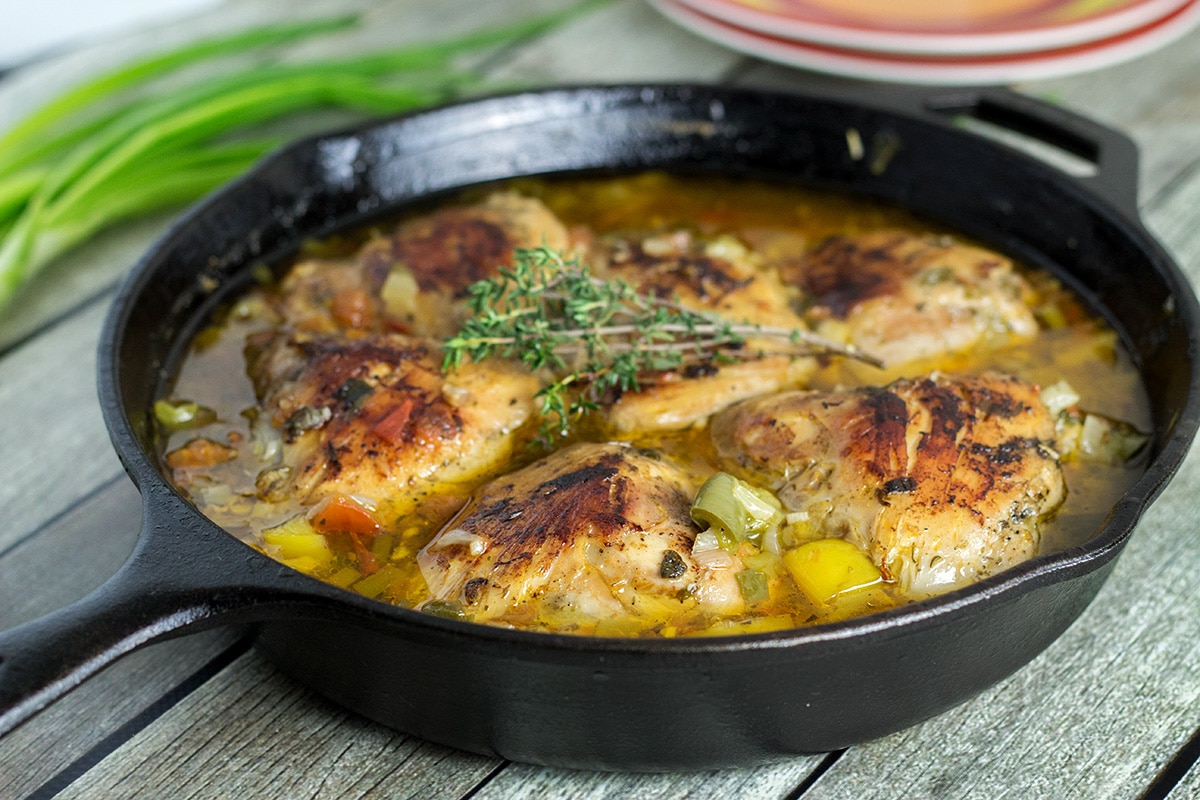 Jamaican Brown Stew Chicken
Bring Caribbean flavors to your kitchen with this outstanding Jamaican Brown Stew Chicken. Perfect weeknight dinner!

Ingredients
For the chicken:
6

chicken thighs

1

teaspoon

lemon juice

2

teaspoons

salt

½

teaspoon

black pepper

2

teaspoons

chicken seasoning

2

teaspoons

brown sugar

⅓

cup

cooking oil
For the sauce:
1

teaspoon

salt

2

teaspoons

soy sauce

1

medium tomato,

finely chopped

3

cloves

large garlic,

minced

2

stalks scallion,

chopped

1

medium onion,

chopped

½

green bell pepper,

chopped

2

sprigs thyme

1

teaspoon

tomato ketchup

2

cups

hot water

pinch of brown sugar

1

teaspoon

browning sauce

(optional)
Instructions
Wash the chicken with lemon water and drain well.

Season with salt, black pepper, sugar, and chicken seasoning. Marinate the chicken in the fridge at least one hour before cooking, preferably overnight.

Heat cooking oil in a large saucepan. Fry the chicken for about 3-5 minutes on each side until golden brown and remove from the pan.

Remove half of cooking oil from the pan.

Add thyme, garlic, scallion, onion, tomato, sugar, salt, bell pepper, soy sauce, tomato ketchup and 1 cup of hot water to the pan and stir. Bring to boil.

Add the chicken to the sauce. Add remaining water, turn heat on medium to low and cover the pan. Simmer for 25-30 minutes or until the chicken is tender.

Add more salt if necessary. Discard the thyme and serve. Enjoy!
Nutrition
* This post contains affiliate links, thank you for the support in keeping Cooking The Globe up and running!