These melt-in-your-mouth Portuguese Egg Tarts, known as Pastel de Nata in the homeland, will surely become your favorites. Filled with rich, creamy, and sweet custard, they are perfect with a cup of tea or coffee!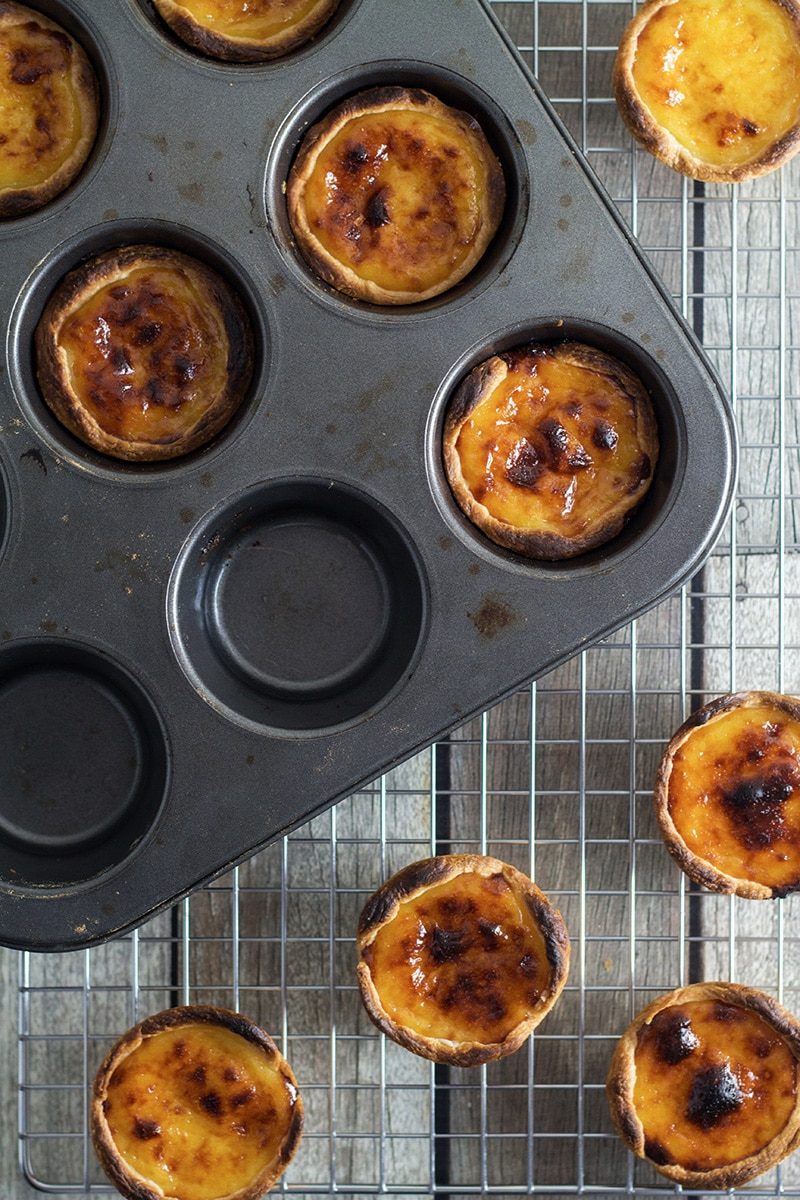 If you ask any Portuguese on the street what the most popular dessert in their country is, they will answer without any hesitation that it's Pastéis de Nata if you say it in Portuguese or Pastel de Nata in English. It's egg custard encased in crispy puff pastry cups. If I haven't sold you yet - these Portuguese egg tarts will be one of the best things you have ever tasted. These are not just empty words you see in every other blog. I am a no-bullshit guy, so you can trust me on this one!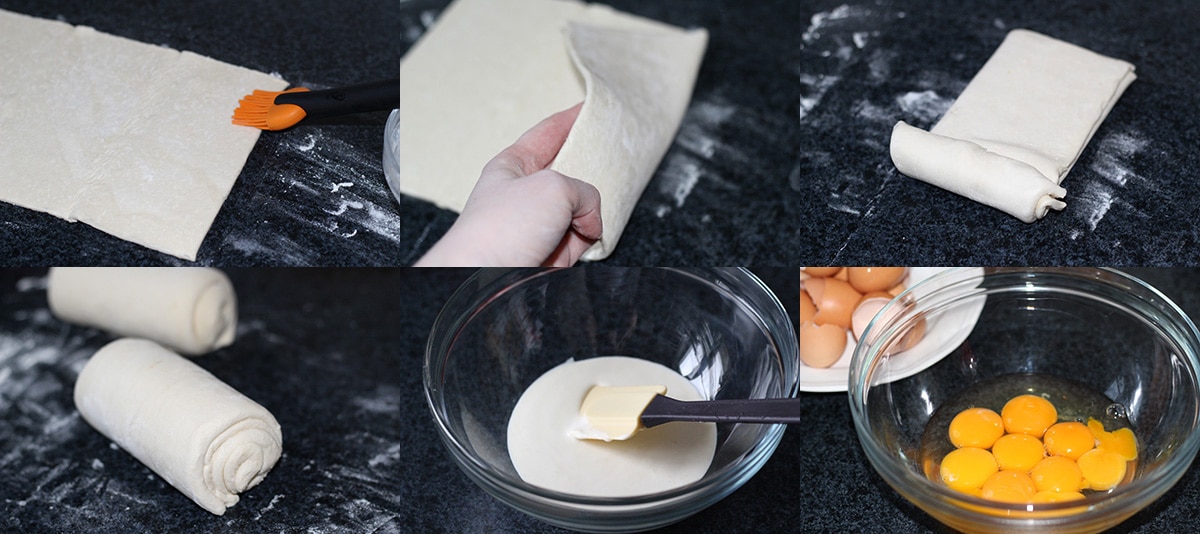 Pastel de Nata has an interesting history that started over 200 years ago. It is generally believed that the recipe was created by Catholic monks at the Monastery of Jeronimos in Belem, Lisbon. However, there are few versions on HOW it was actually born. First one says that monasteries used egg-whites for starching of clothes, that's why there were plenty of leftover egg yolks that were used to make pastries. The other one states that Portuguese wineries used egg whites to clarify the wines, giving leftover yolks to convents and monasteries, that, once again, used them for cake and pastry making. After all, the only thing that matters is that monks used those yolks to create these wonderful egg custard tarts we can now stuff our mouths with.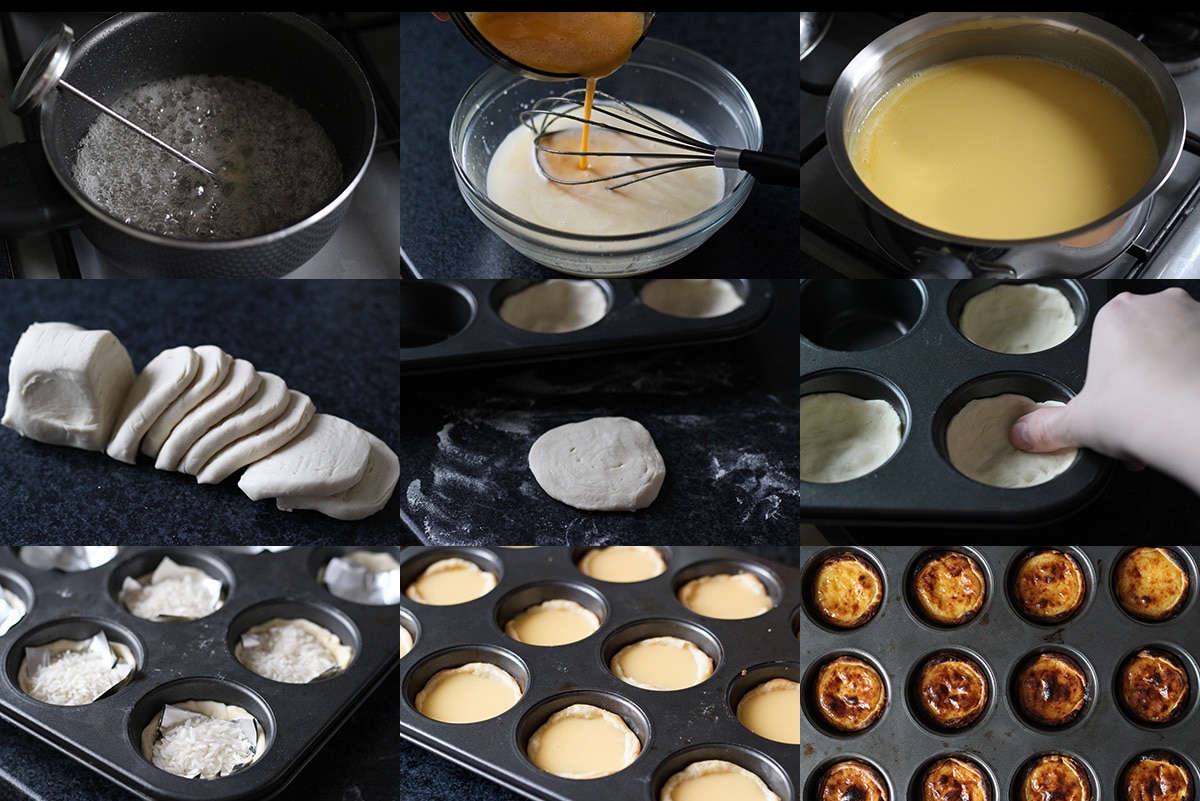 When the monastery was closed, in 1834, the recipe was sold to the owners of the dessert shop and bakery called Fábrica de Pastéis de Belém which is still baking Pastéis de Nata to this day! Amazing, isn't it? I will tell you even more. They are not only simply functioning, but it's THE BEST PLACE to taste the Portuguese egg tart in the whole world. The Guardian even included this famous bakery and their tarts to "The 50 best things to eat in the world, and where to eat them" list. I told you they are good!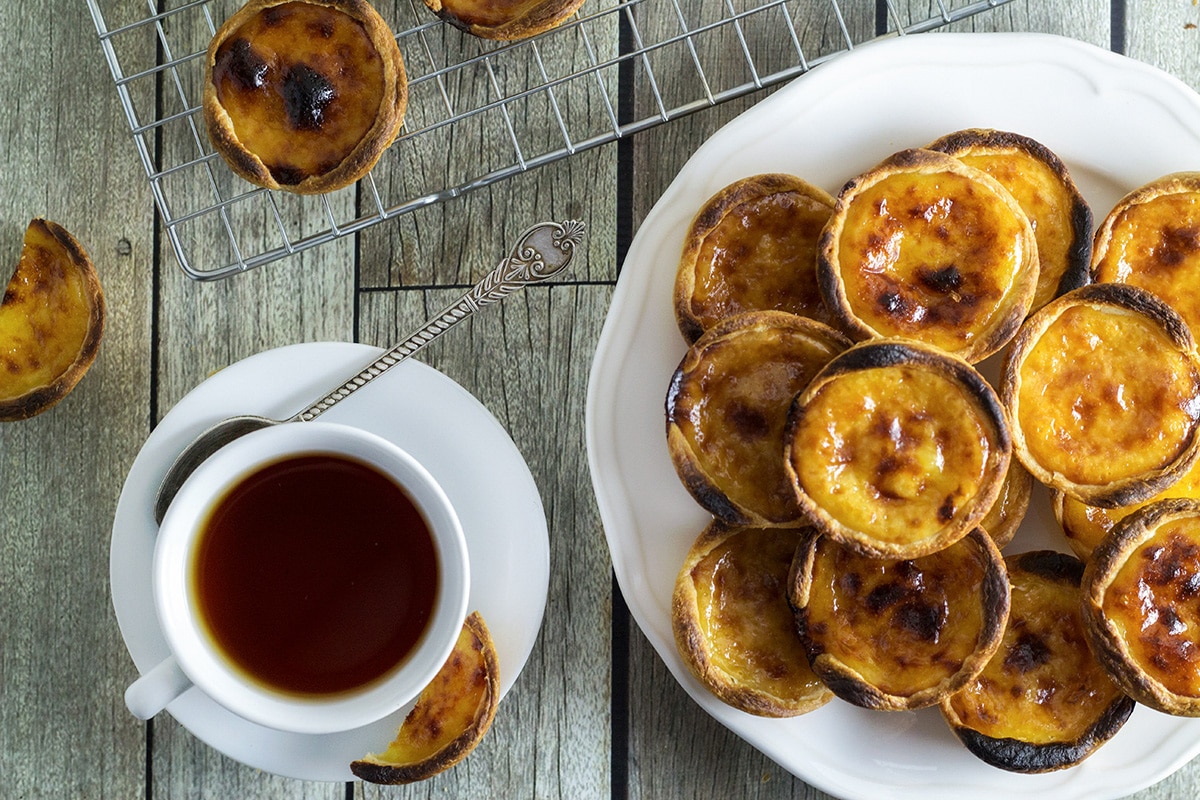 One more interesting thing about this bakery. They are keeping the authentic recipe a secret. Argh! I've tried my best to replicate it and the wonderful cookbook The New Portuguese Table by David Leite helped me in this mission. It's my favorite book on Portuguese cuisine, hands down, so if you want to dive into the cooking world of this beautiful southern European country, I highly recommend this one!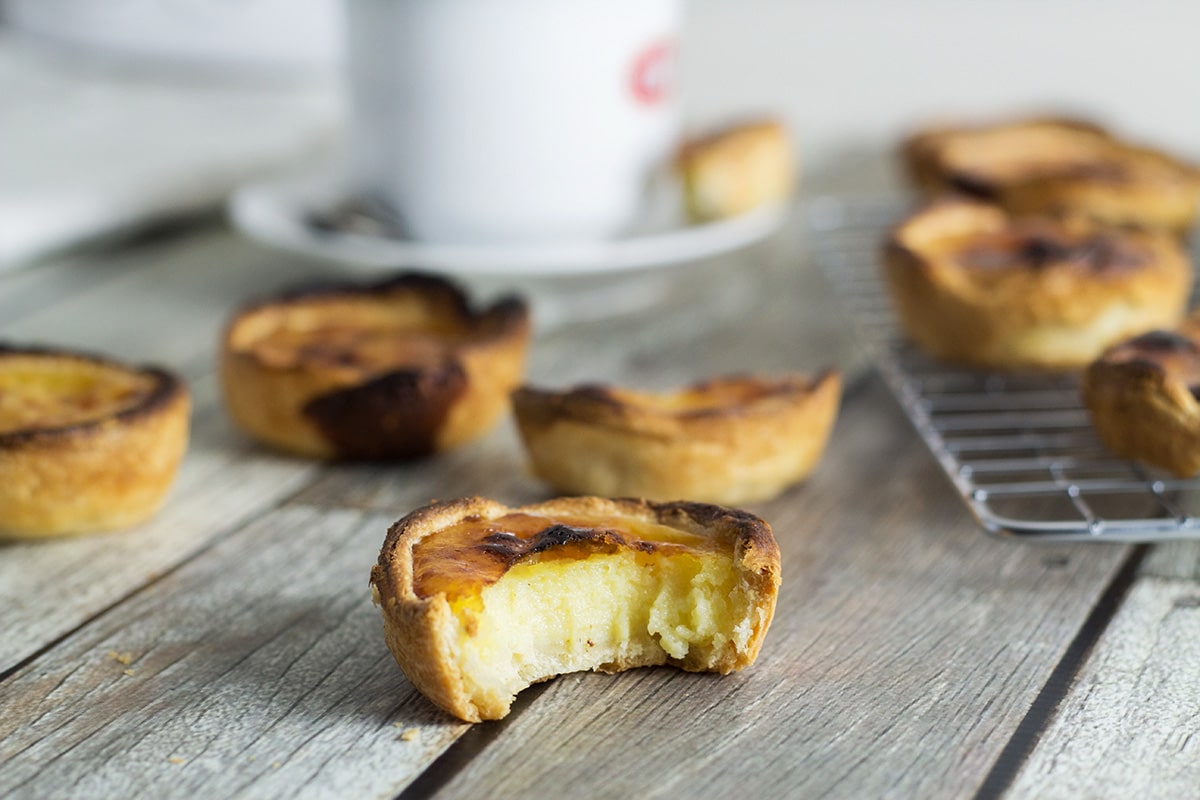 Flaky, crispy shells filled with creamy, sweet, rich, melt-in-your-mouth custard. What can be better? Oh and the tops blistered with dark caramelized spots... Divine! They make these little treats look even more appealing!
As I have said in the beginning of this post, these Portuguese egg tarts are eye-opening for me. For me personally, it is truly one of the best things I have ever tasted in my whole life. Keeping in mind that these tarts are made at home... I think we have a clear winner here. Oh and don't be scared off by a long number of steps. It is totally worth it!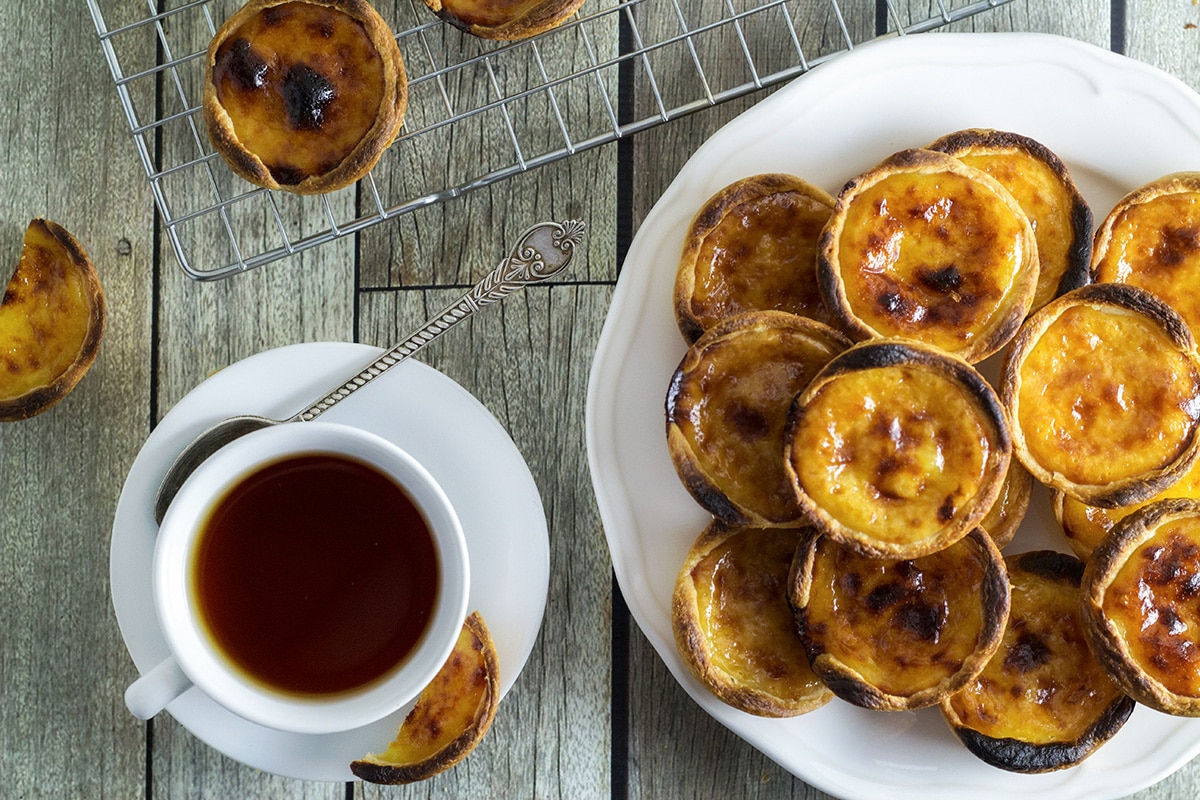 Portuguese Egg Tarts (Pastel de Nata) Recipe
Flaky Portuguese Egg Tarts filled with a creamy and sweet custard. They require some effort but the result is totally worth it!


Ingredients
1

17¼ oz (500g)

package frozen puff pastry,

thawed

2

tablespoons

all-purpose flour,

plus more for dusting

1

teaspoon

Kosher salt

½

lemon,

zest only

1 ¾

cup (415ml)

heavy cream,

divided

1

large egg

8

large egg yolks

1

cup

sugar

½

teaspoon

vanilla extract

powdered sugar

for dusting (optional)

ground cinnamon

for dusting (optional)
Instructions
Place one unfolded sheet of pastry on a work surface so that a longer end is facing you. Lightly brush the right panel on both sides with water, and fold it back. Cover with the left panel and press down to seal. Brush the top of the pastry with water, and roll it up tightly, starting with the short edge. You should have a 3-inch-wide (7,5cm) log. Roll to extend it to 3 ½ inches (9 cm). Repeat with another sheet of pastry. Wrap in plastic wrap and refrigerate.

In a medium bowl, combine the flour, zest, and salt. Add ½ cup (125ml) of the cream and whisk until no lumps remain. Set aside.

In a bowl, beat the egg and yolks together. Set aside.

In a small saucepan, bring the sugar and ⅔ cup (160ml) of water to a boil over high heat. Don't stir and continue to cook until thermometer reads 230°F (110°C).

Meanwhile, in a medium saucepan, heat the remaining cream (1 ¼ cups or 300ml) over medium-high heat until bubbles form around the edges.

Whisk the hot cream into the flour mixture until smooth. Pour in the hot sugar syrup. Whisking constantly, add the egg mixture. Now pour the mixture you got back into the medium saucepan and cook over low heat, whisking slowly, until it coats the back of a spoon and reaches 170°F (75°C), about 5 minutes. Strain the mixture through a sieve, add the vanilla and let cool.

Cut off the uneven ends of the dough logs and discard them. Cut each log into twelve ¼-inch (0,6cm) slices. Refrigerate the slices.

Work with only 1 slice at a time. Flatten each slice with your fingers on a floured surface and fit into a muffin tin. Press the dough against the bottom and up the sides. Prick the shells with a fork and refrigerate for 20 minutes.

Preheat the oven to 400°F (200°C).

Line the tart shells with foil and fill with rice or dried beans. Bake until the edges of the dough are puffed and brown, about 15 minutes. Cool on a wire rack.

Discard the foil and rice. Fill each tart shell ¾ full (2 ½ tablespoons) with the cooled custard. Bake until the custards barely jiggle in the middle, about 12 minutes. If the tops of the custards are not caramelized, you can put them under the broiler for a minute or so.

Cool on a wire rack. Dust with powdered sugar and cinnamon, if desired.
Nutrition
* This post contains affiliate links, thank you for the support in keeping Cooking The Globe up and running!