Made with a flavorful dashi stock base, this Japanese Clear Soup features shiitake mushrooms, daikon, carrot, and sweet potato. Perfect as an appetizer before the main meal or as a light meatless lunch!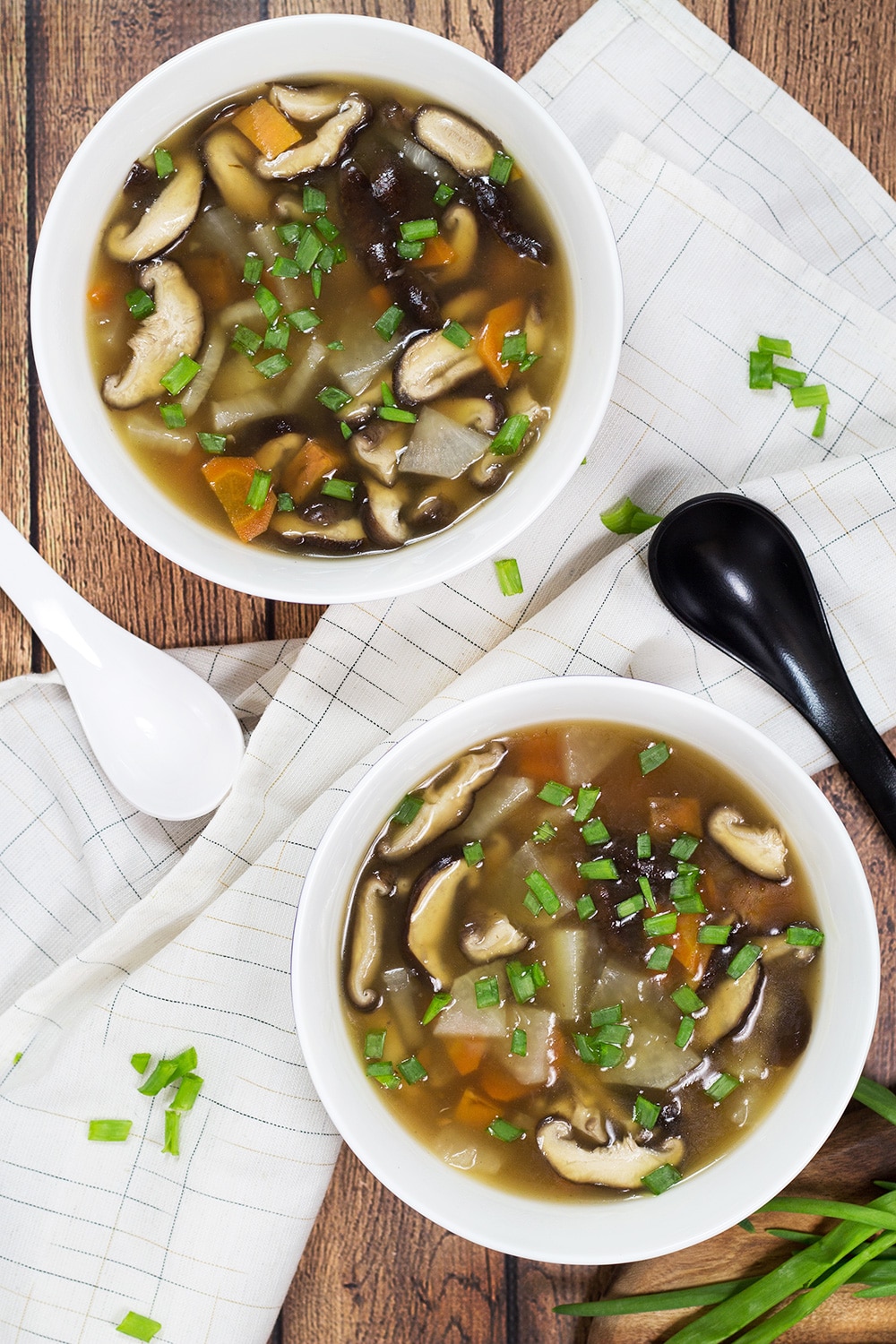 Let me start this post by saying that I love recipes that require advance preparation. Particularly when hard-to-get ingredients or equipment are involved. I already expressed my love to grocery shopping in some of the earlier posts. Not those boring store visits to get some staples but strolling through, let's say, Asian or Indian sections or getting some exotic fruits and veggies.
It's even more exciting when I need ingredients that are impossible to find in my country. Not in my local store, not in my town, in the whole freaking country! That's definitely not a rare occasion given the size of Lithuania. Thanks to globalization, I can easily order products I need with a few clicks of the mouse. That was the case with this Japanese Clear Soup.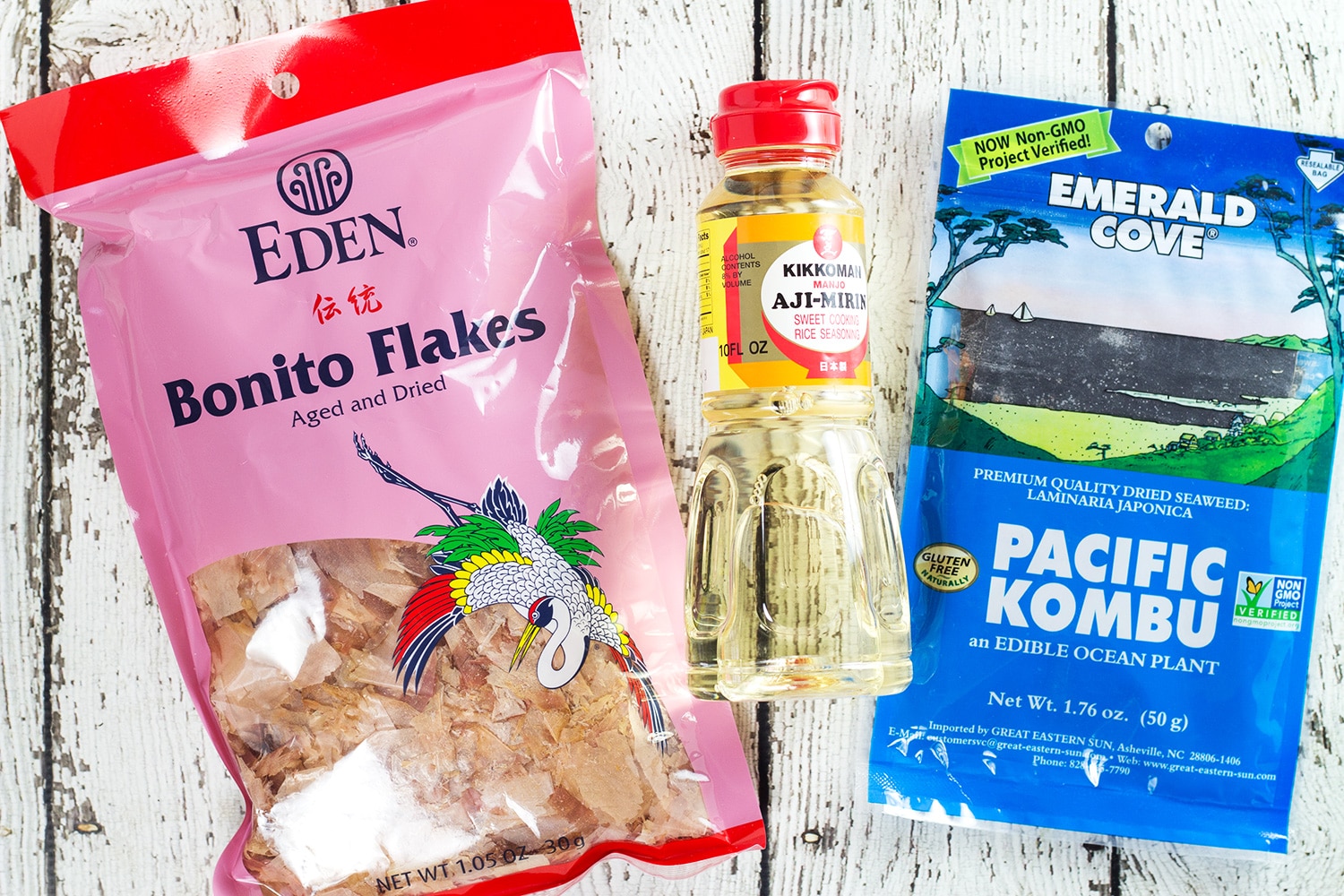 I first encountered this delicious soup at the local Asian restaurant somewhere a month ago. It was simple yet utterly satisfying. After getting back home I immediately started looking for the recipe. It wasn't a problem - one of my books had it (Washoku: Recipes from the Japanese Home Kitchen in case you are interested). The problem was elsewhere. The list of ingredients included 3 (!) items I wasn't able to find in local grocery stores. Local internet shops didn't have them either.
Those ingredients were: Kombu (edible seaweed), Katsuobushi or Bonito flakes (dried and shaved into fine flakes tuna), and Mirin (sweet rice wine). The first two, unheard to me before, are needed to make a famous Japanese stock used in many recipes called dashi. Sweet rice wine, on the other hand, caught my eye many times before (it's an essential condiment of the Japanese cuisine) but I always either skipped it or substituted with something else.
I wanted to make Japanese Clear Soup really badly so I ordered all these exotic ingredients online. A month later I had them on hand and here I am sharing this beautiful recipe with you today, guys!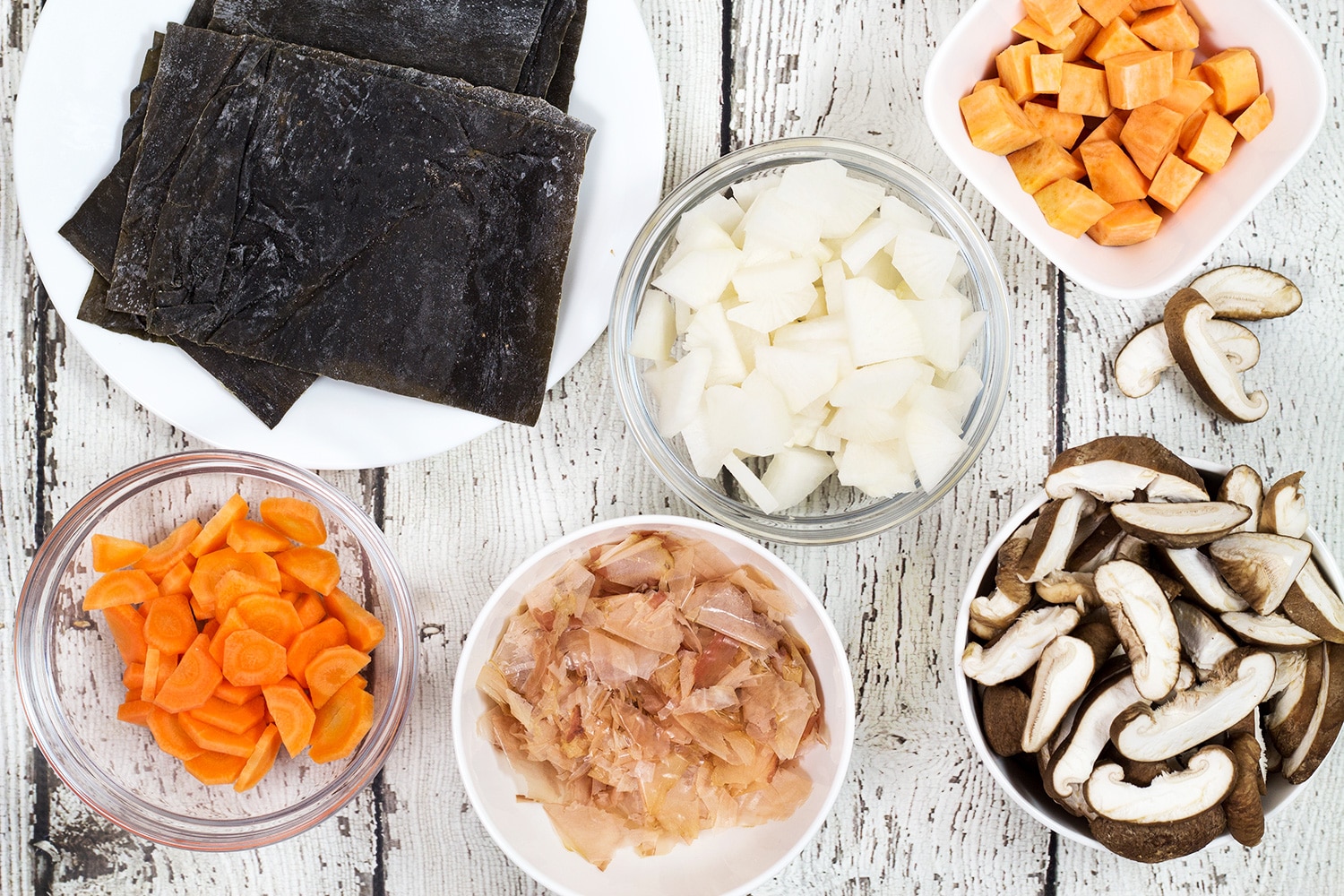 A few words about the clear soup tradition in Japan. Suimono - that's how this type of soup is called in the land of the rising sun. It can be of two types: a few ingredients swimming in a sea of broth or a more filling one like we are used to in the Western world. I've chosen the latter because I always have that fear to use a small number of ingredients in the recipe.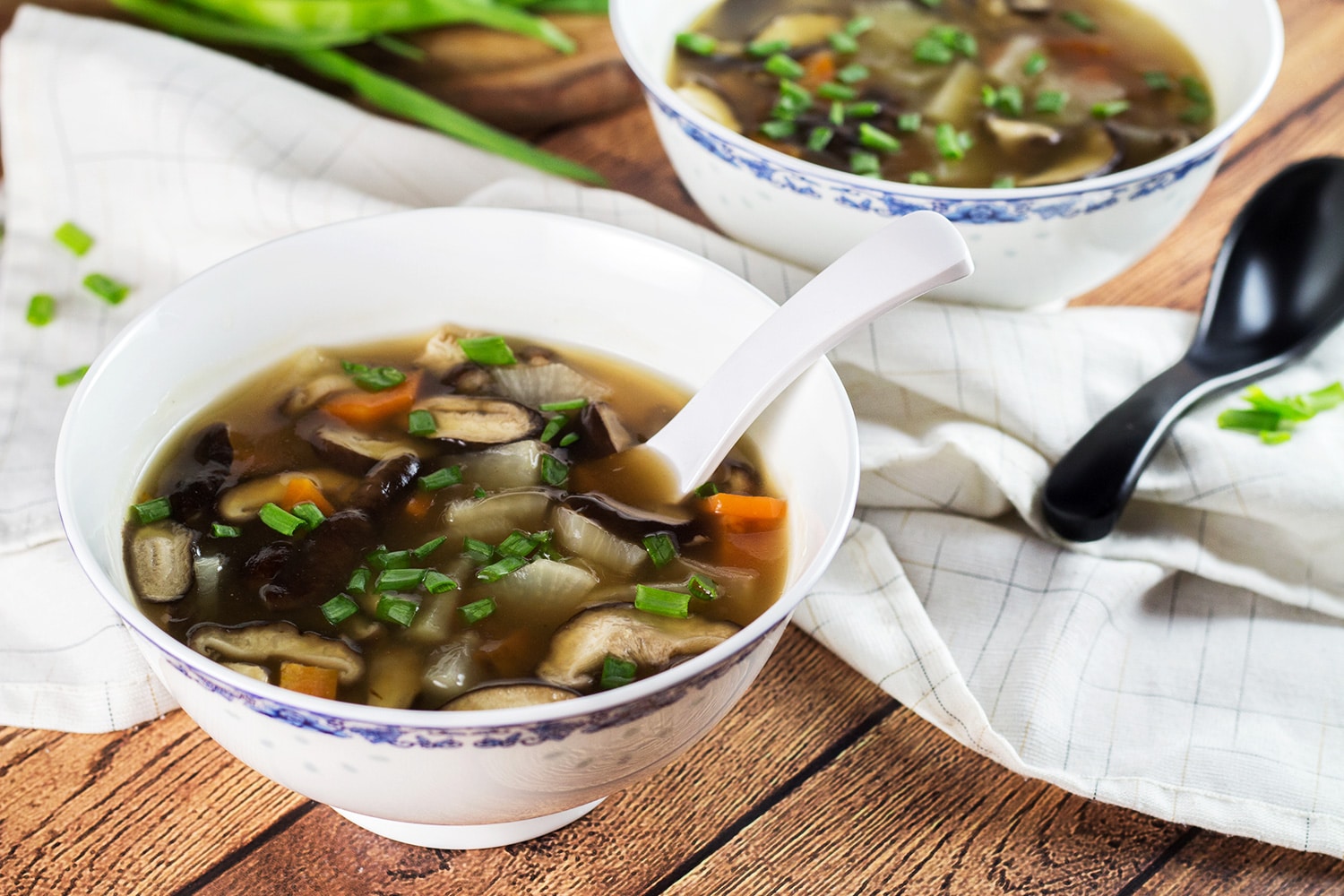 There is no one list of ingredients for the Japanese Clear Soup. Some add shrimp or fish or even chicken or pork, others prefer a meatless version. Some add tofu, others skip it. Mushrooms can be also added or left out. Veggies - any can be used for this soup. Daikon, snow peas, carrots, bok choy, bamboo shoots, and the list goes on and on. The only ingredient common to all clear soup recipes is dashi, a stock I talked about earlier.
The version of soup I made includes daikon (thanks to my local store for at least having this veggie available because I'm not sure you can order veggies for international shipping), carrot, shiitake mushrooms (the original recipe used naméko but I wasn't able to find them; not a biggie, I guess), and, surprisingly, sweet potato. If the author of the Japanese book included a non-Japanese veggie, it means that you can use anything you like for this soup.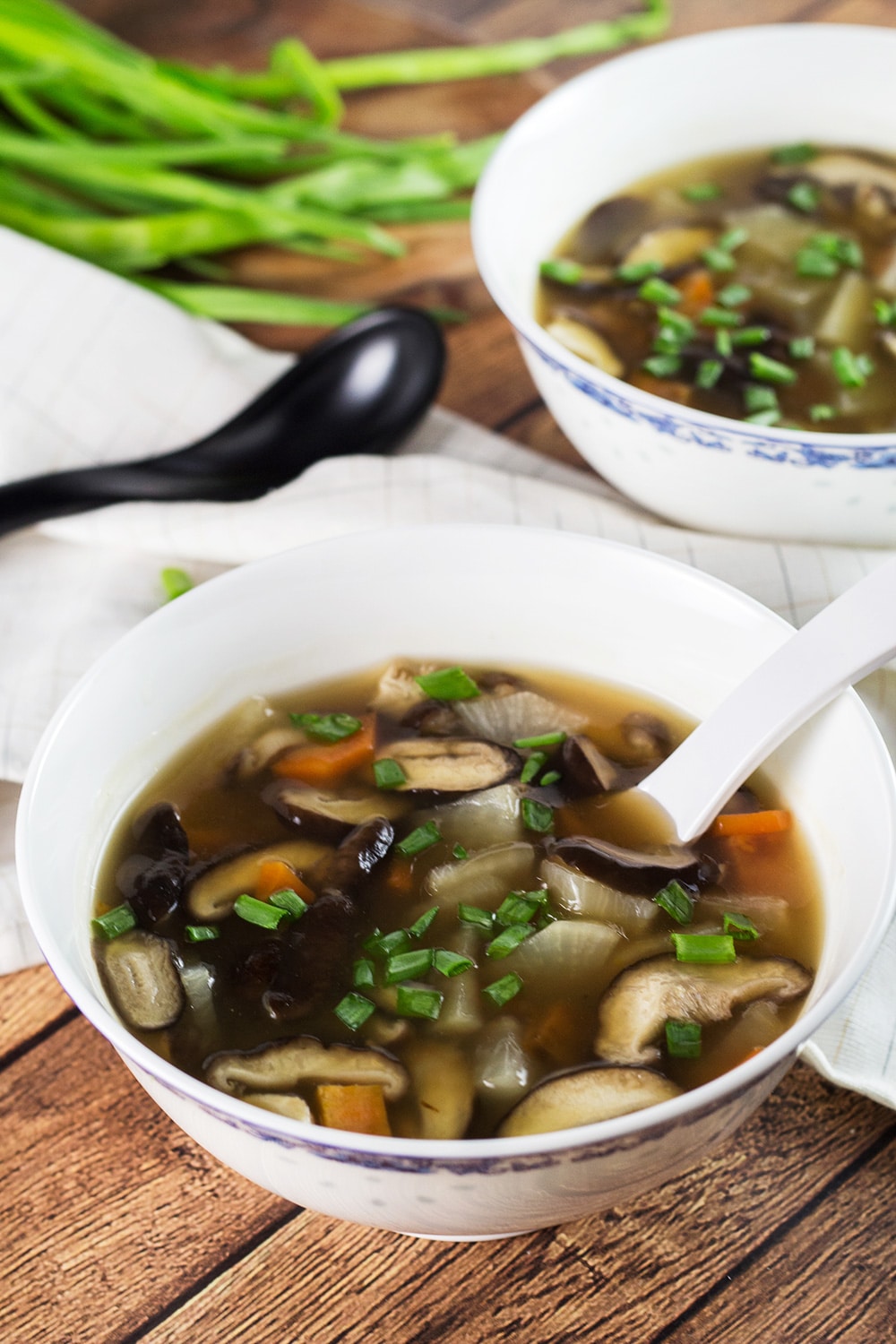 A light version of Japanese Clear Soup is usually served after the appetizer as the first course of a full meal or alongside sushi dishes. If the soup is more substantial (like our version), it can be served as a side dish to complement fish or meat. I just had it as a light but quite filling lunch. It depends on the size of the serving, though. The book offers to serve this recipe for 4 people, while I would say it's more like for 2.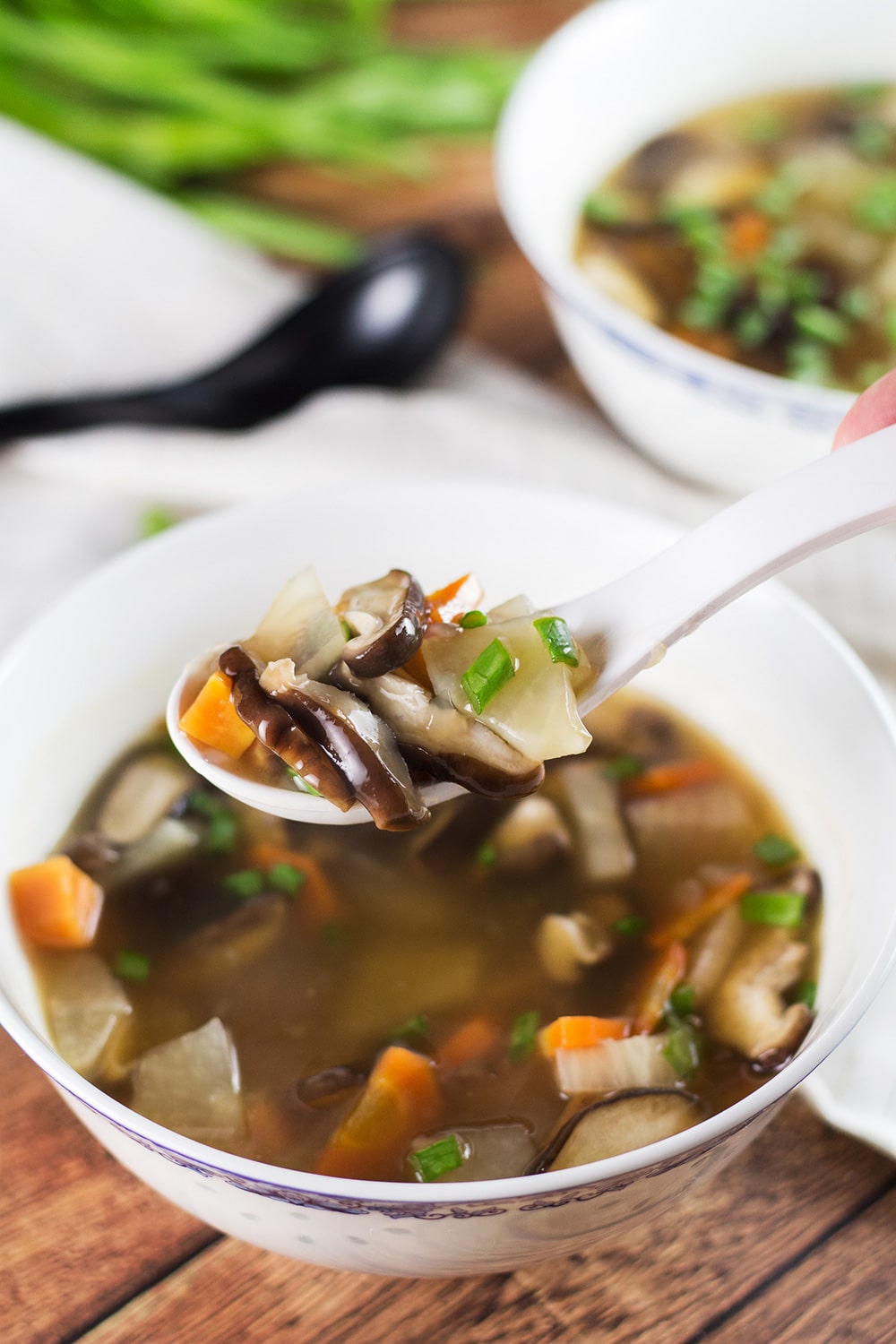 Was it worth getting all these rare ingredients to make this soup? You bet. I can't even explain that wonderful taste. Dashi stock is so flavorful. Slightly smoky, mildly sweet, unique! If you have never tried dashi before, you have to. The soup is also full of mushroom flavor with all the veggies complementing it wonderfully. A definite must-try!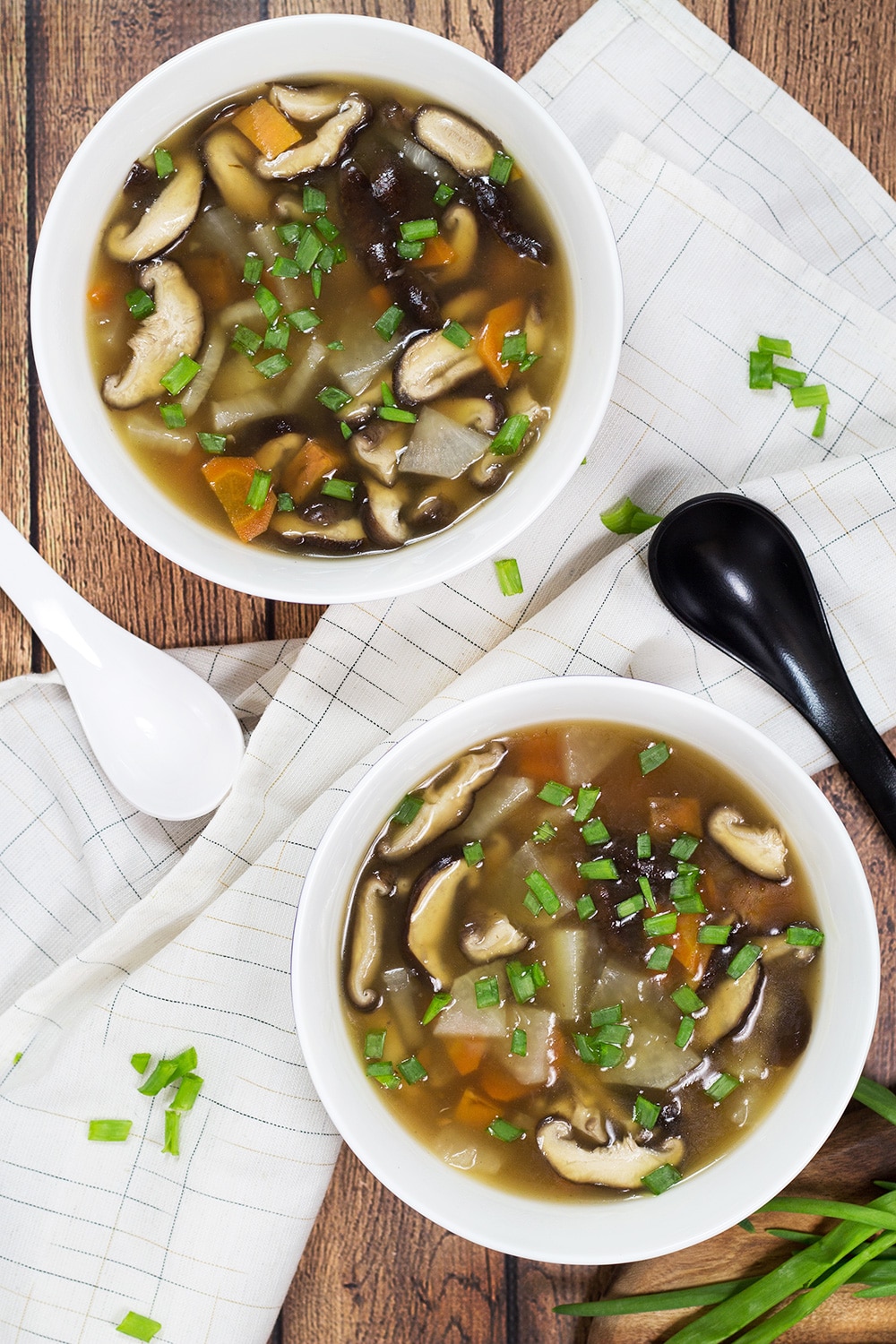 Japanese Clear Soup
This low-calorie Japanese Clear Soup makes a perfect appetizer before the main meal or a delicious light lunch!

Ingredients
For the dashi stock:
15

square inches (40 square cm)

kombu

4 ¼

cups

cold water

½

cup

katsuobushi (bonito flakes)
For the soup:
1

teaspoon

sesame oil

2

oz (60g)

sweet potato

, cubed

4

oz (115g)

daikon

, cubed

2

oz (60g)

carrot

, cut into half moons

½

teaspoon

salt

3 ½

oz (100g)

fresh shiitake mushrooms

(dried can also be used)

1 ½

teaspoon

soy sauce

1 ½

teaspoon

mirin

2

tablespoons

cornstarch

1

tablespoon

cold water

chopped green onion

, for sprinkling
Instructions
To make the dashi stock, soak the kombu in a pot with water for 10 minutes. After that, turn on the heat and wait until just starting to boil. Remove from heat and add the katsuobushi. Wait for 3-4 minutes and pour the stock through a strainer discarding the solids.

In a skillet, add the sesame oil and spread the sweet potato cubes in a single layer. Cook for 1 minute, then shake the skillet to flip them and cook for a minute more. Set aside.


In a 2-quart pot, bring the stock to a rolling boil. Reduce the heat to a simmer and add the daikon, carrot, and salt. Simmer for 2 minutes or until the veggies are barely tender. Skim away any froth if it appears.


Add the shiitake mushrooms. Cook for 3-4 minutes. Add the soy sauce and mirin. Add the sweet potato cubes.


Mix the cornstarch with water to get a paste and stir it into the soup, on a high heat. Continue stirring for about a minute, until the soup thickens. Sprinkle with the chopped green onions and serve. Enjoy!

Notes
Adapted from Washoku: Recipes from the Japanese Home Kitchen by Elizabeth Andoh
Nutrition
* This post contains affiliate links, thank you for the support in keeping Cooking The Globe up and running!