Buttery, crumbly, and nutty, these Mexican Wedding Cookies are also topped with almonds and coated with confectioners' sugar. Perfect with a mug of hot cocoa or a cup of tea, coffee, or milk!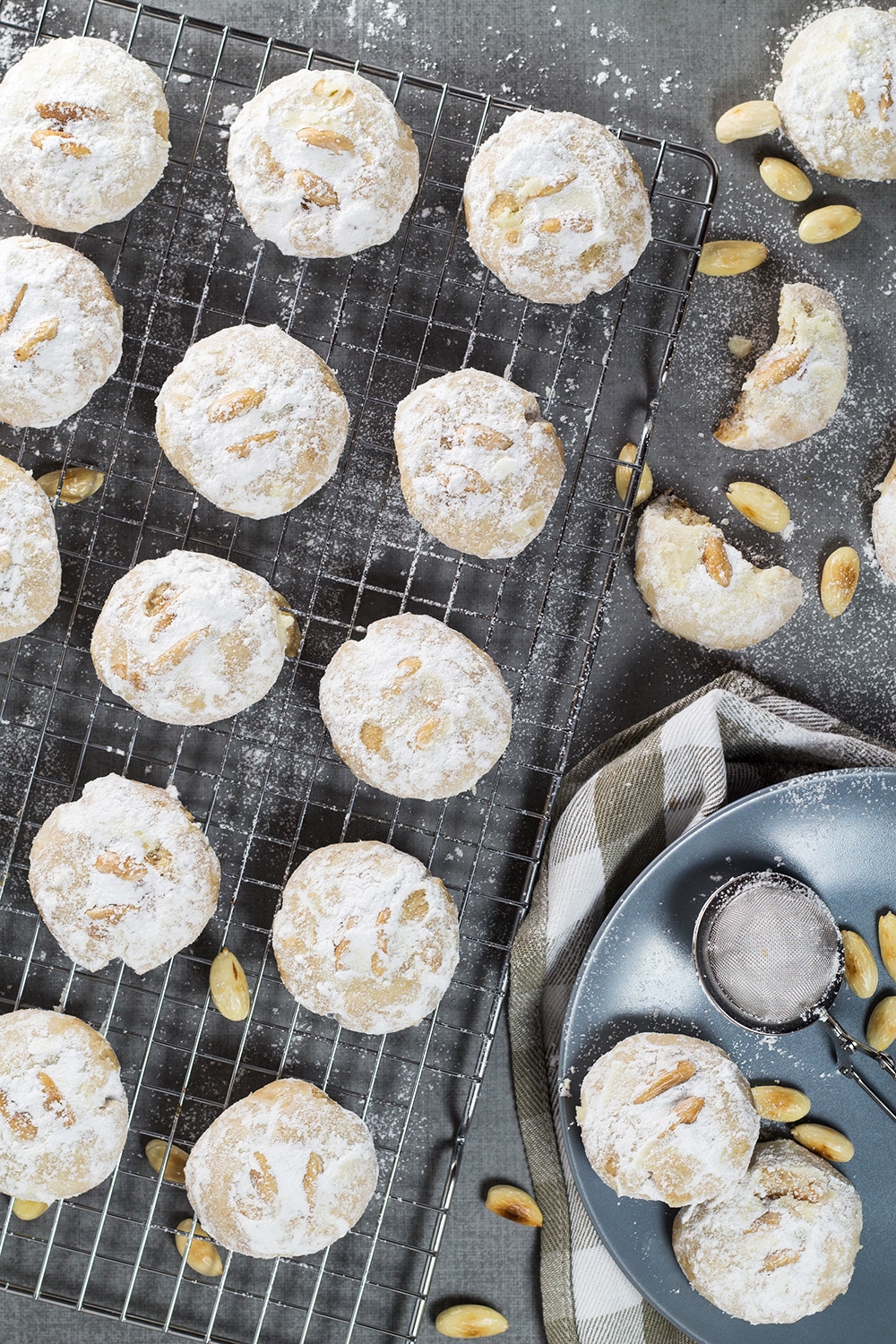 Thanks to UncommonGoods for sponsoring today's post. They offer a vast variety of creative and unusual gifts for any occasion!

I got tired of... holidays. Seriously. The end of December and the first part of January is usually busy in our household. You see, my family has more holidays to celebrate than the majority of other people have. Count with me: Catholic Christmas on December 25th, New Year's Eve on December 31st, Orthodox Christmas on January 7th, and, finally, my birthday on January 12th. Pretty tense, right?
Until I met my wife, the most favorite and the most important holiday for me was New Year's Eve. The reason is simple: it was the day when the Santa Claus visited and left gifts under the Christmas tree. Yes, in Russia and some nearby countries kids get presents on New Year's Eve. Don't ask why, that's just how it works in these countries. My father has Belarusian roots and my grandpa on mother's side was Belarusian too, so that's how these traditions made their way into our family. That's also the reason why we celebrate Christmas on January 7th.
When I met my lovely wife, we started celebrating Catholic Christmas on December 25th too. She was Lithuanian, I was also born in Lithuania, so it seemed right to do so. We still exchanged presents on New Year's Eve, though, but when our baby boy was born over a year ago, we changed this tradition and now Santa Claus visits us on Catholic Christmas. Of course, we still celebrate, and we always will, Orthodox Christmas too because it's important to remember your roots. Sorry if the explanation was confusing, I just wanted you to imagine how busy this whole holiday period is for me!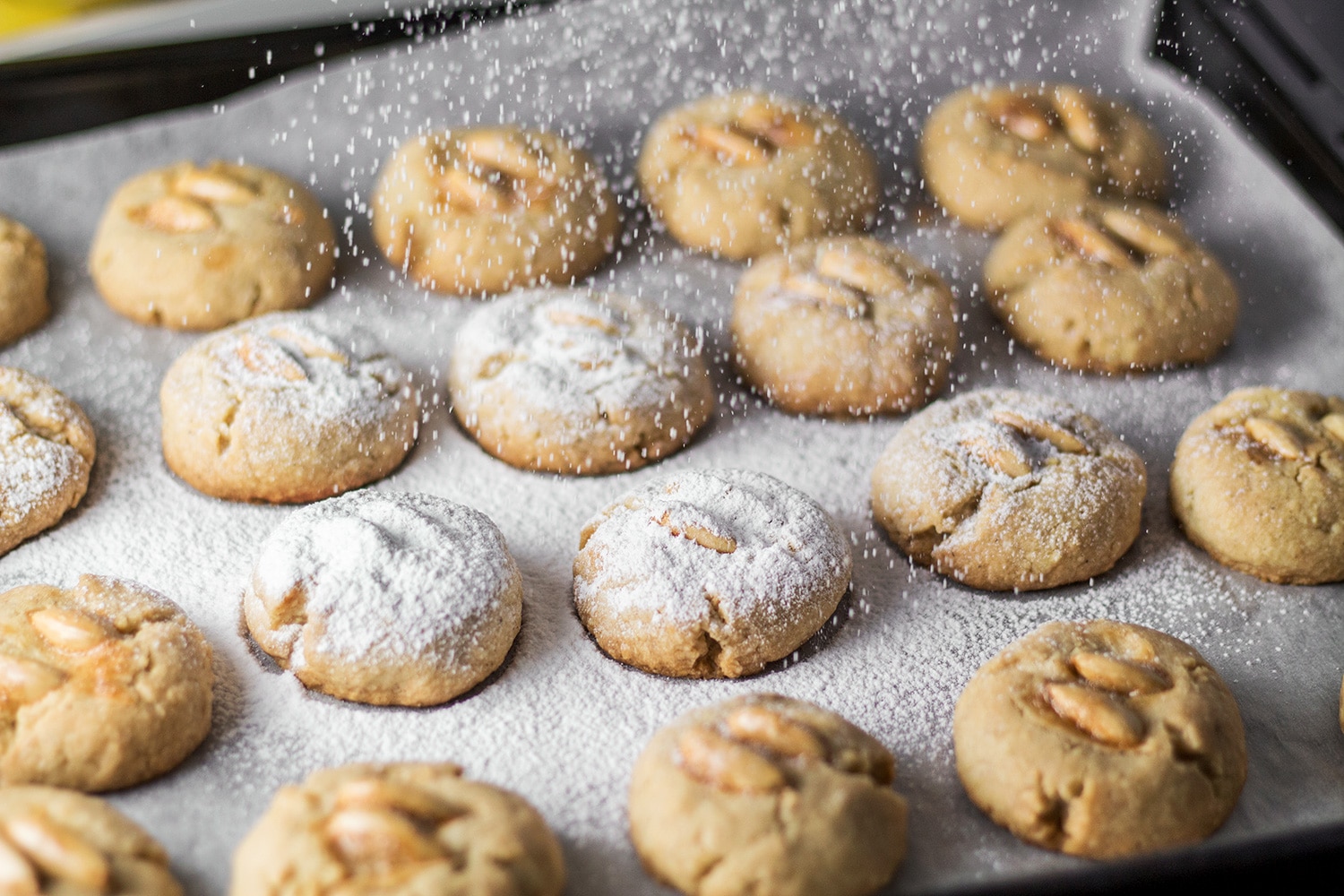 As it wouldn't be enough, a friend of mine is having a wedding soon so I am not getting any rest this month, ha! A few days ago I still didn't have a present or any idea what could it be, but today it's all set. A series of fortunate events led to this. First, I stumbled upon these beautiful Mexican Wedding Cookies on Pinterest and they immediately caught my attention. My friend is a travel fan, just like me, so he will surely love the idea and symbolism behind them. Of course, the cookies alone won't cut it so I needed something more serious.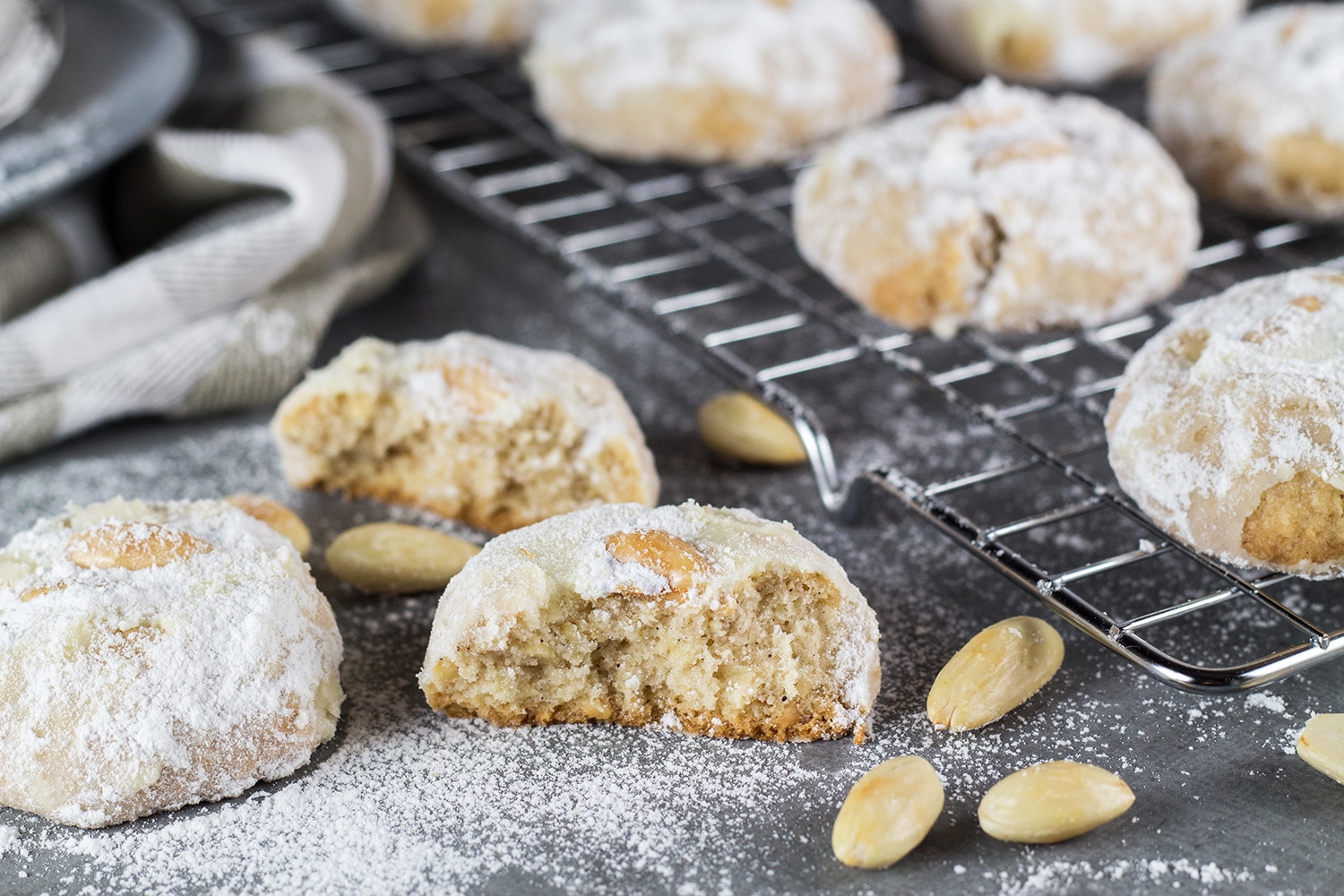 That's when I was approached by UncommonGoods. I have never heard anything about them before but after going through their website I was hooked. It's packed with cool and unusual gifts, exactly what I needed! And they have international delivery! That's what I call a happy coincidence.  Just look at these wedding present ideas UncommonGoods offer.  I needed only about a minute and the gift was picked. This Pushpin World Map sold me. Such a brilliant idea for mapping your adventures + it looks great. Now I want it too! By the way, this friend of mine doesn't know about CookingTheGlobe yet that's why I am not keeping my wedding presents in secret!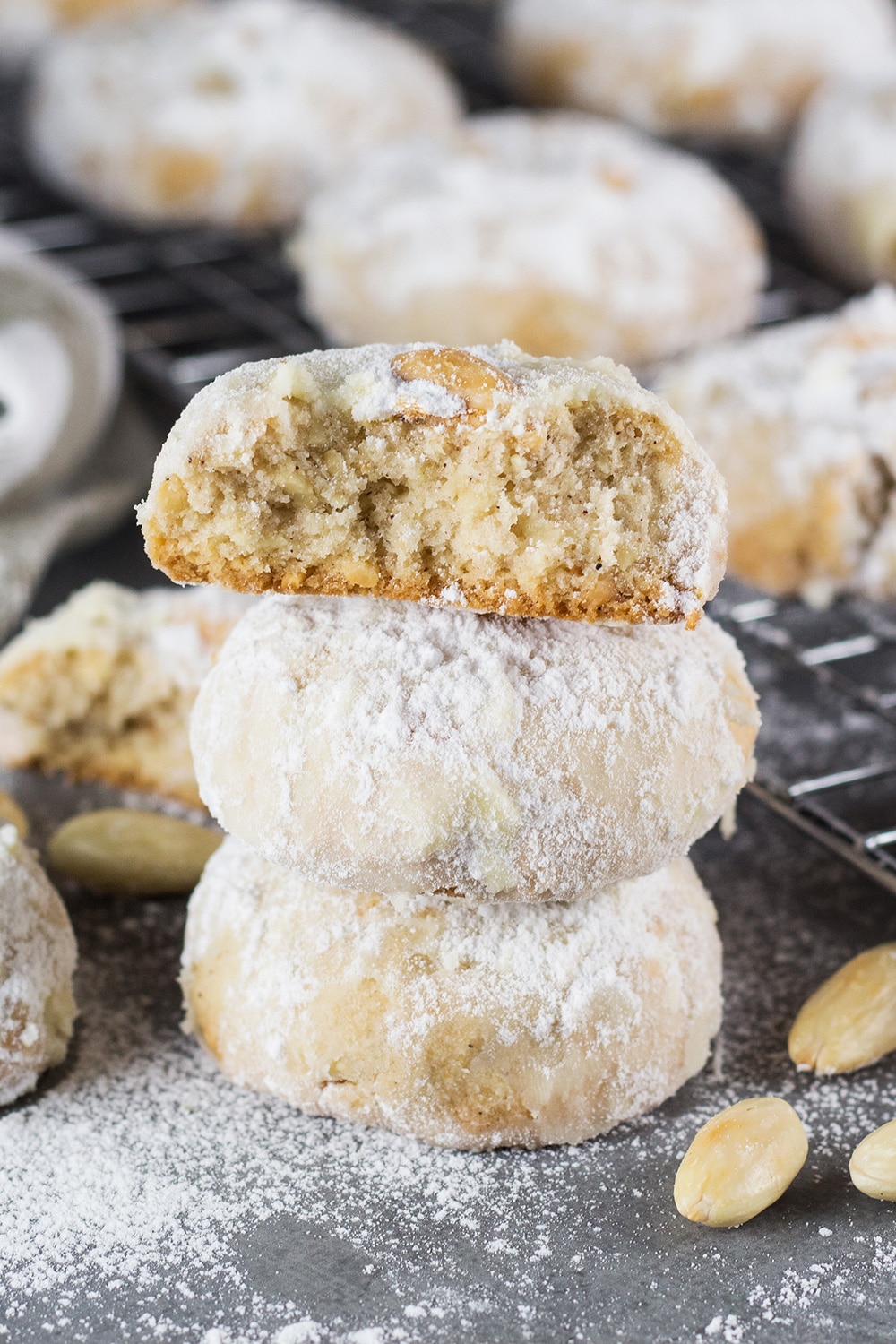 UncommonGoods are awesome not only for their gifts but also for the way they are doing their business. They donate a 1$ to non-profit organizations from every single checkout and have donated over $1,000,000 already! These guys are also environmentally conscious - you won't find any products containing leather, feathers or fur in their shop + they feature products containing recycled components.
I am surely picking a birthday gift for my wife at UncommonGoods too. It's also approaching by the way, in February, ha ha! She is crazy about all kinds of home decor ideas so she'll love it!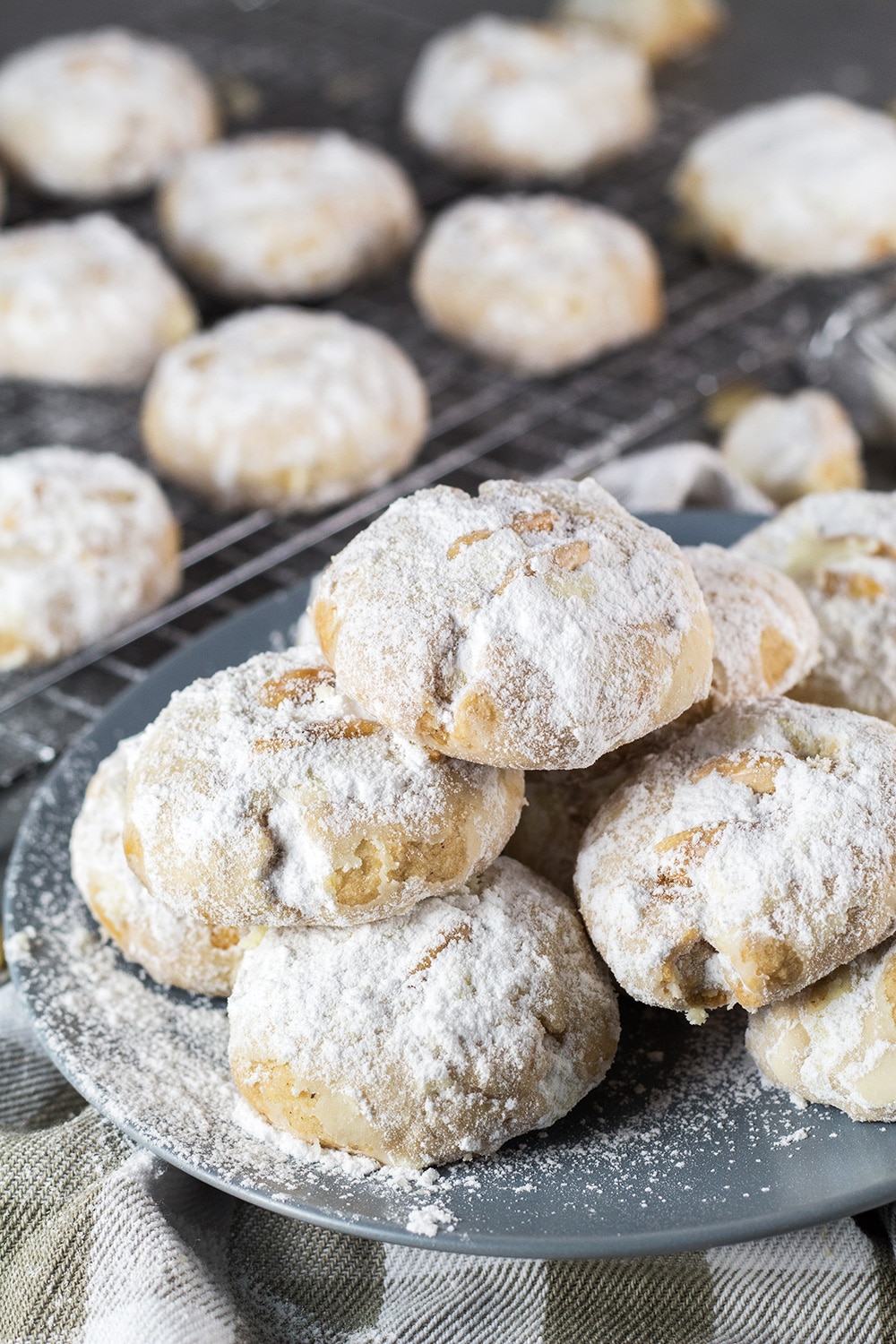 Now a few words about our today's recipe - Mexican Wedding Cookies. Similar shortbread-like cookies can be found in other world countries such as Russia, Greece, Spain, and others. They even have multiple names: Russian Tea Cakes, Spanish Polvorones, to name a few. I don't know exact origins of these little guys. What I do know, is that they taste amazing!
These cookies are popular not only at weddings but they are also made for various holidays. Buttery, nutty, crumbly, and covered in confectioners' sugar, they are guaranteed to send your taste buds to heaven!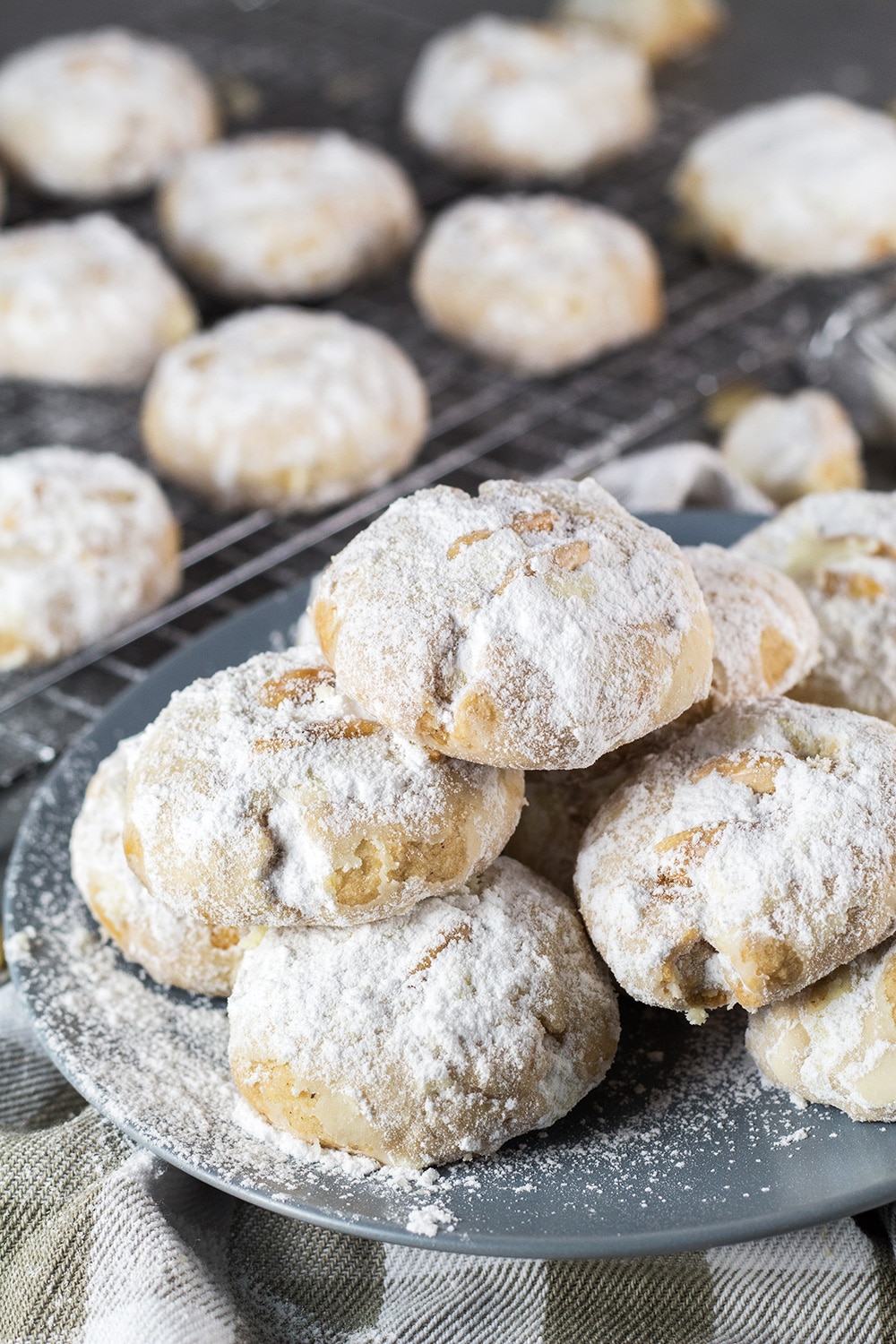 Mexican Wedding Cookies
Buttery and crumbly, these Mexican Wedding Cookies are topped with almonds and covered in confectioners' sugar!

Ingredients
5

oz (140g)

blanched and toasted almonds

, plus 40 more

2

cups + 2 tablespoons

all-purpose flour

¼

teaspoon

salt

½

teaspoon

ground cinnamon

2

sticks (225g)

unsalted butter

, at room temperature

2

cups

sifted confectioners' sugar

1

teaspoon

vanilla extract

½

teaspoon

almond extract

1

large

egg white

, beaten
Instructions
Preheat oven to 350°F (175°C). In the bowl of a food processor, add 5 oz (140g) almonds, flour, salt, cinnamon, and process for about 1 minute. Set aside.

In the bowl of a mixer with paddle attachment, on medium speed, mix the butter with 1 cup confectioners' sugar until fluffy, for about 4 minutes. Add the vanilla and almonds extracts and process until combined. Add the flour-almond mixture and process on low speed until dough just comes together.


Roll the dough into 20 balls, 1 ½-inch (3.8cm) each. Place them on a baking sheet, leaving some space in between and flatten slightly.


In a small bowl, mix the remaining 40 almonds with 1 tablespoon beaten egg white and toss to coat. Press two almonds into each cookie.


Bake for about 25 minutes, rotating halfway through. When done, transfer to wire racks to cool.


When cookies are cool enough, roll in the remaining confectioners' sugar. Enjoy!

Nutrition