Loaded with flavors, crunchy and easy to make- that's what this Jhaal muri recipe is all about. Treat yourself to this delicious Indian puffed rice snack that takes minutes to whip up, and is super healthy too.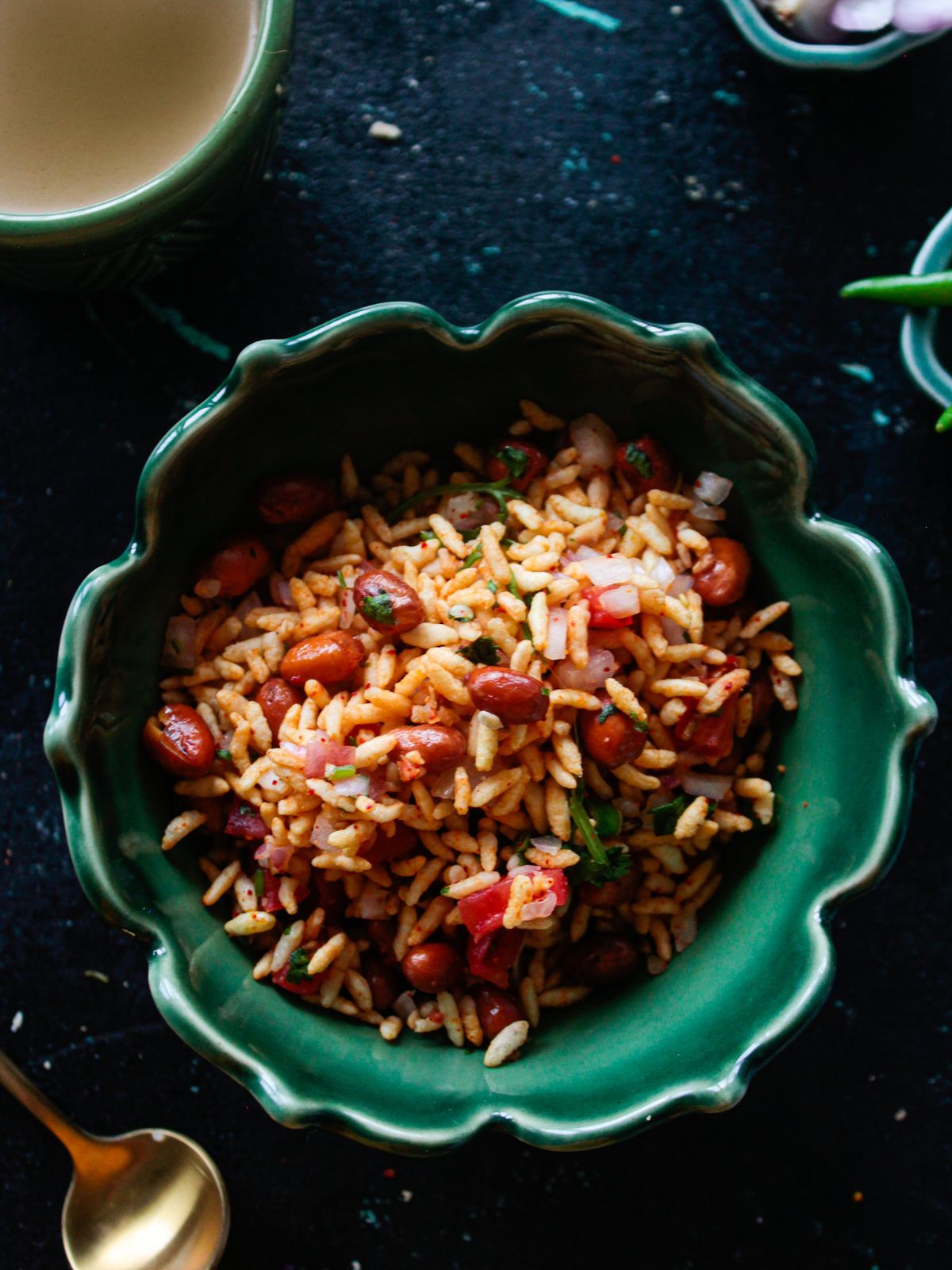 Jump to:
What is Jhaal Muri?
Jhaal muri literally translate to spicy puffed rice, and quite frankly, that's exactly what it is. It is a flavorful Indian snack that is made using puffed rice as the key ingredient and is layered with chopped veggies, spices, and other additions that make it a healthy yet delicious snack that's worth all the hype.
While I love the Indian flavors and spices in this snack if you want something that isn't spicy but still delicious you might want to try out this Brazilian cheese bread recipe.
Of course, if you crave the spices of classic Indian cuisine, then you can always add kirkrui bhindi or even potato dosa to your menu as tasty classic snacks loaded with flavor.
Ingredients For the Jhaal Muri
Puffed rice
Peanuts
Onion
Tomato
Green chiles
Red pepper flakes
Lemon juice
Fresh coriander leaves
Green chutney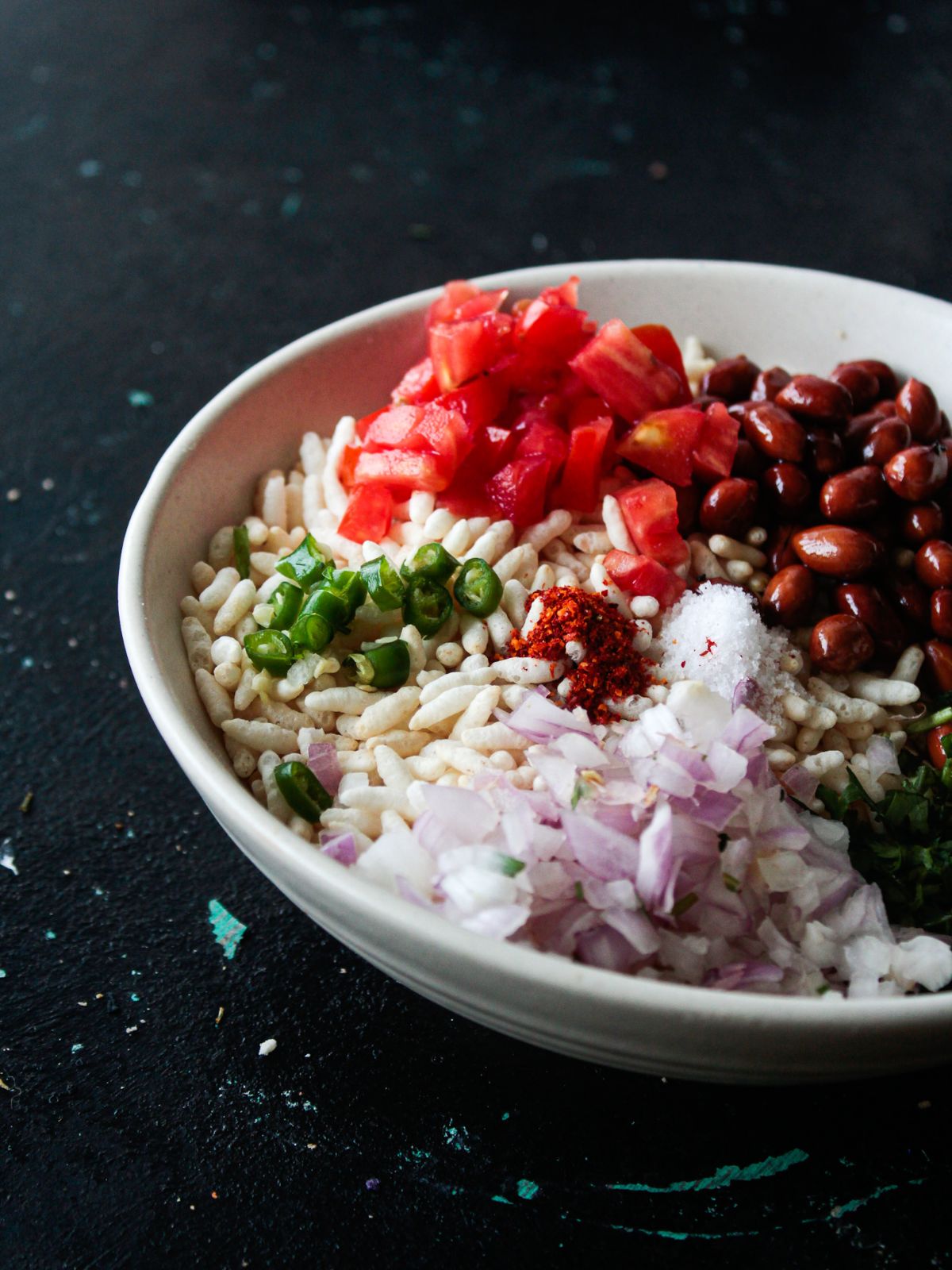 Kitchen Tools Needed
How to Make Jhaal Muri
Mix all ingredients together in a medium bowl until combined and spices, as well as ingredients, are distributed evenly.
Serve in individual bowls after garnishing with freshly chopped coriander with hot tea.
Where Can I Get Plain Puffed Rice?
This is not the same puffed rice cereal that has been sweetened that you often see in American grocery stores. It is instead, plain puffed rice. You can find this most often in Asian food markets, Indian groceries, or in the ethnic cuisine section of your local grocery store.
Can I Use Puffed Brown Rice Instead?
Yes! That's a great healthy option to use in place of white puffed rice in this recipe.
Is Jhaal Muri Spicy?
Yes. This recipe is spicy due to the red pepper flakes and green chiles. If you prefer a mild snack, you can leave out the green chile and reduce the amount of red pepper flakes or replace it with chili powder for heat that isn't quite as spicy.
How Do I Store Leftover Jhaal Muri?
Since the puffed rice does not hold its shape well, this is a recipe you will make only when ready to eat and not store for later as leftovers. Prepare the individual ingredients and then store them to assemble just when ready to serve.
Tips & Tricks to Make the Jhaal Muri
Ready to give this easy recipe a shot? Keep these tips and tricks in mind to make sure you get the recipe right.
Sprinkle a bit of black salt into the mixture right before you serve. This will lend the Jhaal muri a pop of flavor and tanginess.
Another excellent spice mix you can add to this flavorful recipe is roasted cumin powder. Not only does it lend a very distinct flavor to the snack, but also makes it easier to digest.
If you're trying to balance out the spice content in this recipe, you can also add a spoonful of sweet chutney into the mix.
If you are looking for healthier options for the sweet chutney, then go for jaggery instead of sugar while making the sweet chutney. Dates can also be an excellent healthy sweetener.
The roasted peanuts can lend the Jhaal muri an element of crunch and also make it a protein-rich snack. If you don't have it, you can totally skip it too, or add in another crunchy element of your choice like chopped nuts.
The green chilies help make the Jhaal muri spicy like it is meant to be, but if you have sensitive taste buds, you can just avoid adding them or replace them with some white pepper powder instead.
You can also make the Jhaal muri even more healthy by adding in some more chopped veggies like chopped cucumber, chopped bell peppers, boiled corn, boiled potatoes, grated beets, grated carrot, or some grated fresh coconut. While many of these are not typically added to the authentic Jhaal muri, you can still add them to give the recipe your own healthy twist.
Another excellent way to make this evening snack healthy and more nutrient-dense is to add in some sprouted mung beans or sprouted brown chickpeas.
Don't have roasted puffed rice? You can actually roast it yourself pretty easily. All you need to do is heat a large wok or a pan and add a teaspoon of mustard oil to it. Then add in the puffed rice and let it roast on medium to low flame for a few minutes, constantly tossing it, so that all the puffed rice is roasted well.
You can use any other oil for roasting the puffed rice too, but using mustard oil is highly recommended since it lends the Jhaal muri a nice distinct aroma.
Got some dry mango powder? Add a couple of pinches of it into the mix. It'll elevate the flavor of your crispy snack.
Love sour and tangy flavors? You can add in some chopped raw mango too.
Got some classic Indian sev? Don't forget to add it into the mix towards the end. You'll love how it lends your evening snack a bit of extra crunchiness.
There's nothing like some chopped coriander and/or mint leaves added to your Jhaal muri right before you serve it. They add in a pop of color and a touch of freshness to the dish that you'll totally love.
Serving Ideas & Suggestions
Thinking of whipping up this Indian snack for a movie night you're hosting or enjoying with your partner on a lazy weekend? Here are a few ideas to serve it right.
Warm up the puffed rice a bit in the microwave, or dry roast it fresh before you put it all together because Jhaal muri taste best when it is slightly warm.
Looking for a refreshing drink to pair this spicy and crunchy snack with? You can't go wrong with a tamarind cooler.
Want to pair it with some other Indian snacks? Try making some Aloo tikki chaat or Sabudana vada or even some papdi chaat.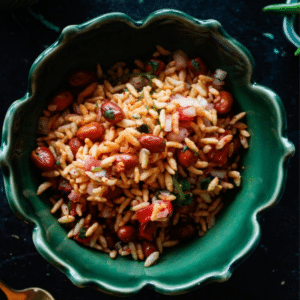 Jhaal Muri Indian Puffed Rice Snack
Spicy Jhaal Muri is a perfect Indian puffed rice snack to serve up as a simple option between meals! Puffed rice, onion, peanuts, chili, and spices come together to create a tasty and fast option everyone loves!
This is one of the easiest snacks that exists on the planet. Just takes 15-20 minutes to whip up and even less time to gobble it up!
Ingredients
3

cups

Puffed rice

lightly roasted

½

cup

Peanuts

roasted

¼

cup

Chopped red onion

½

cup

Chopped tomato

1

tsp

Chopped green chiles

1

tsp

Red pepper flakes

1

tbsp

lemon juice

2

tsp

Fresh chopped coriander leaves

2

tsp

Green chutney
Instructions
In a mixing bowl, add all the ingredients one by one. Give it a good mix.

Serve in individual bowls after garnishing with freshly chopped coriander with hot tea.
Notes
Substitute brown puffed rice for a healthier option.
Nutrition
Calories:
154
kcal
Carbohydrates:
14
g
Protein:
6
g
Fat:
9
g
Saturated Fat:
1
g
Polyunsaturated Fat:
3
g
Monounsaturated Fat:
4
g
Sodium:
60
mg
Potassium:
220
mg
Fiber:
3
g
Sugar:
1
g
Vitamin A:
186
IU
Vitamin C:
5
mg
Calcium:
32
mg
Iron:
4
mg