Maultaschen is a big fat German version of ravioli. These dumplings are usually stuffed with meat and spinach mixture but I also made a vegetarian filling consisting of mashed potatoes, spinach, and topped with cream and mushrooms!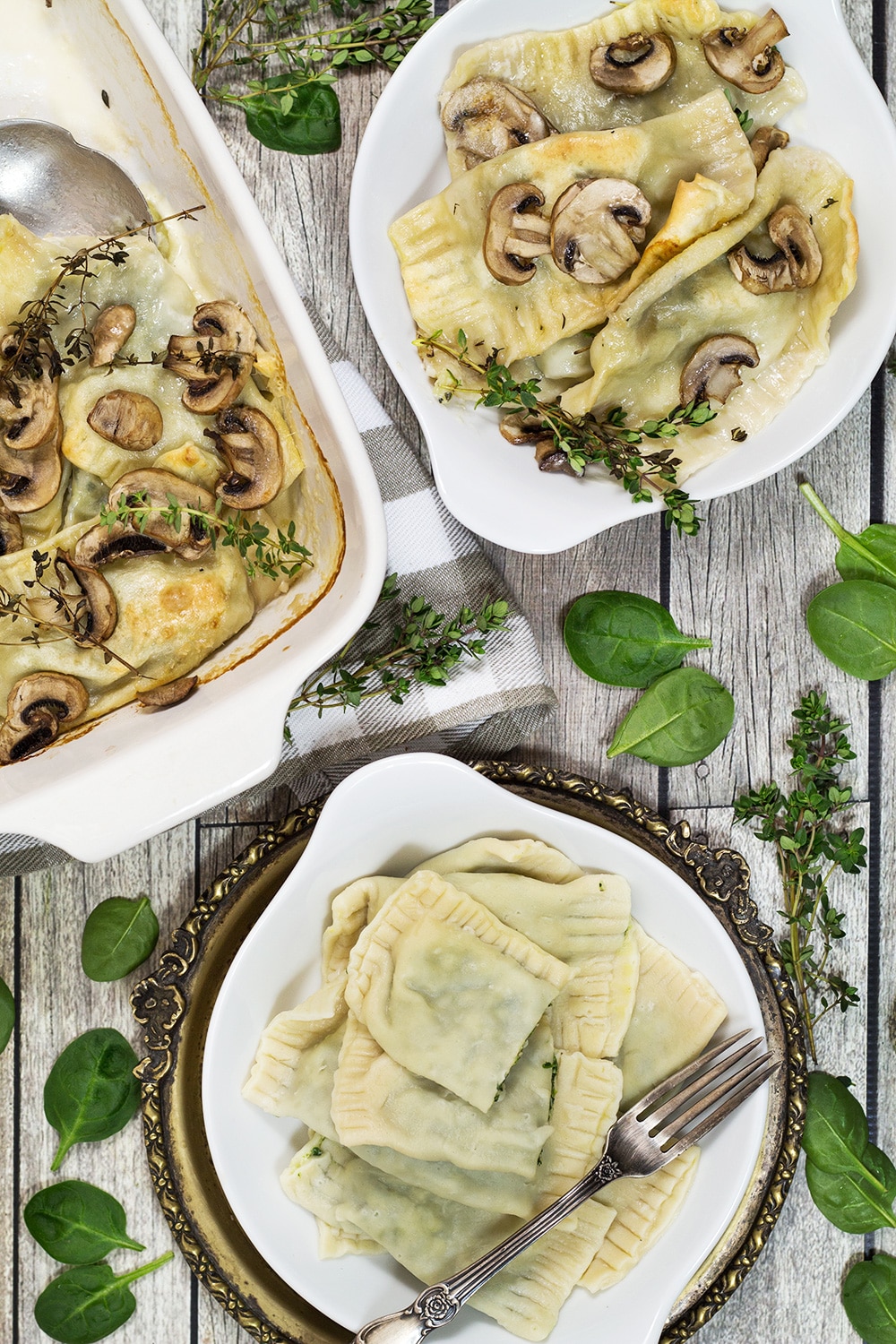 I love cooking, I really do. Even if the recipe is a challenging one and it takes a couple of attempts to get it right, I still enjoy the process. However, there are a few types of dishes that are not my cup of tea. When making them, the level of enjoyment reduces and sometimes, not too often, I can even get frustrated. One of such dishes is dumplings. All kinds of them. Ravioli, pelmeni, jiaozi, gyoza, it doesn't matter. Each one of them is a challenge to me and I spend unthinkable amounts of time in the kitchen trying to master these evil creatures!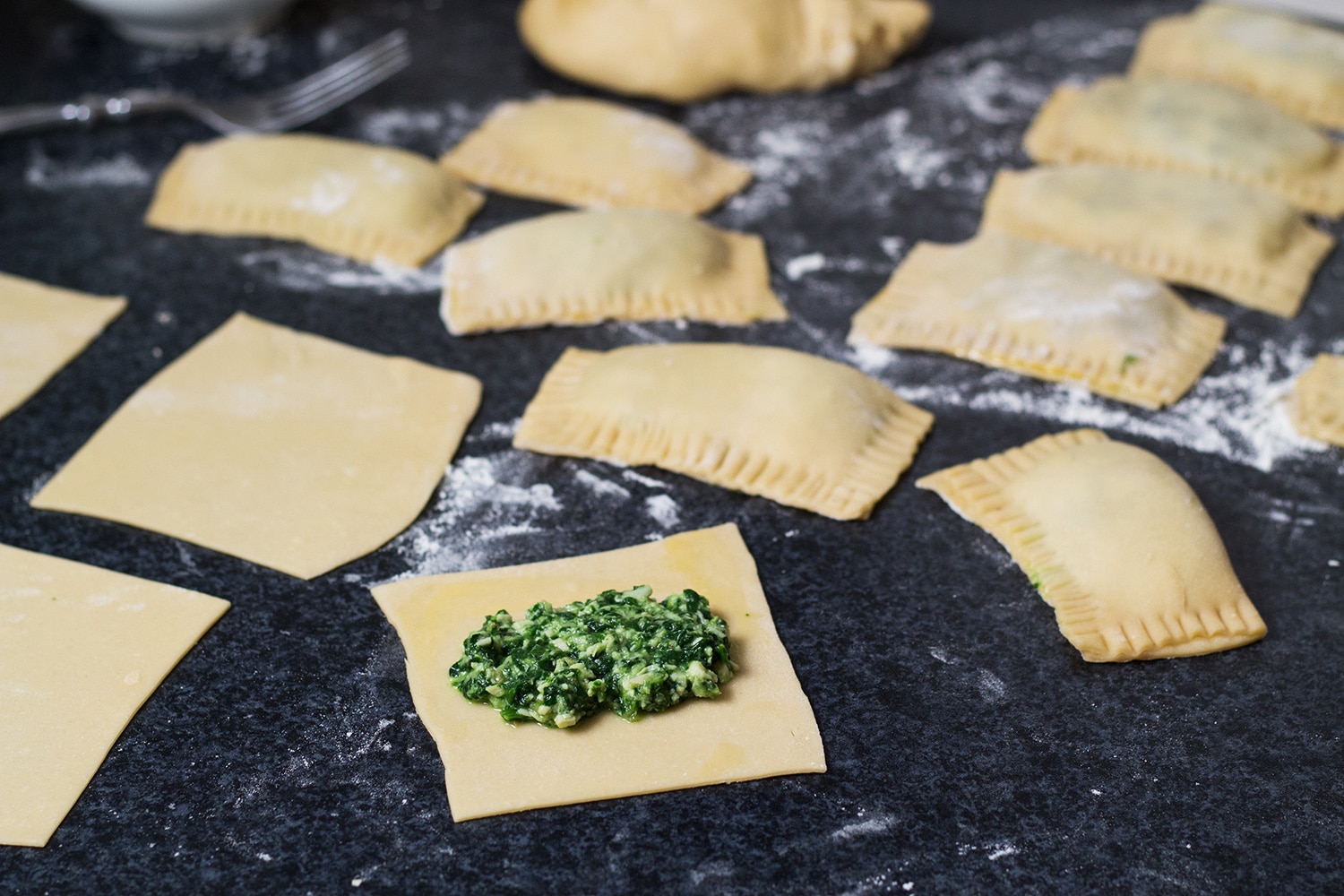 BUT. Here is another thing about me. I also love challenges. Not only in the kitchen, everywhere. You know, there are people who hate losing. Me - I love when somebody crushes me in basketball, bowling, anywhere. Be my guest. It means that I have a goal to get better and eventually win against my opponent. This feeling is amazing. It's way better than just get an easy win all the time. That's why I challenged myself today and made these German dumplings / stuffed pasta called Maultaschen. These are like big fat cousins of Italian raviolis!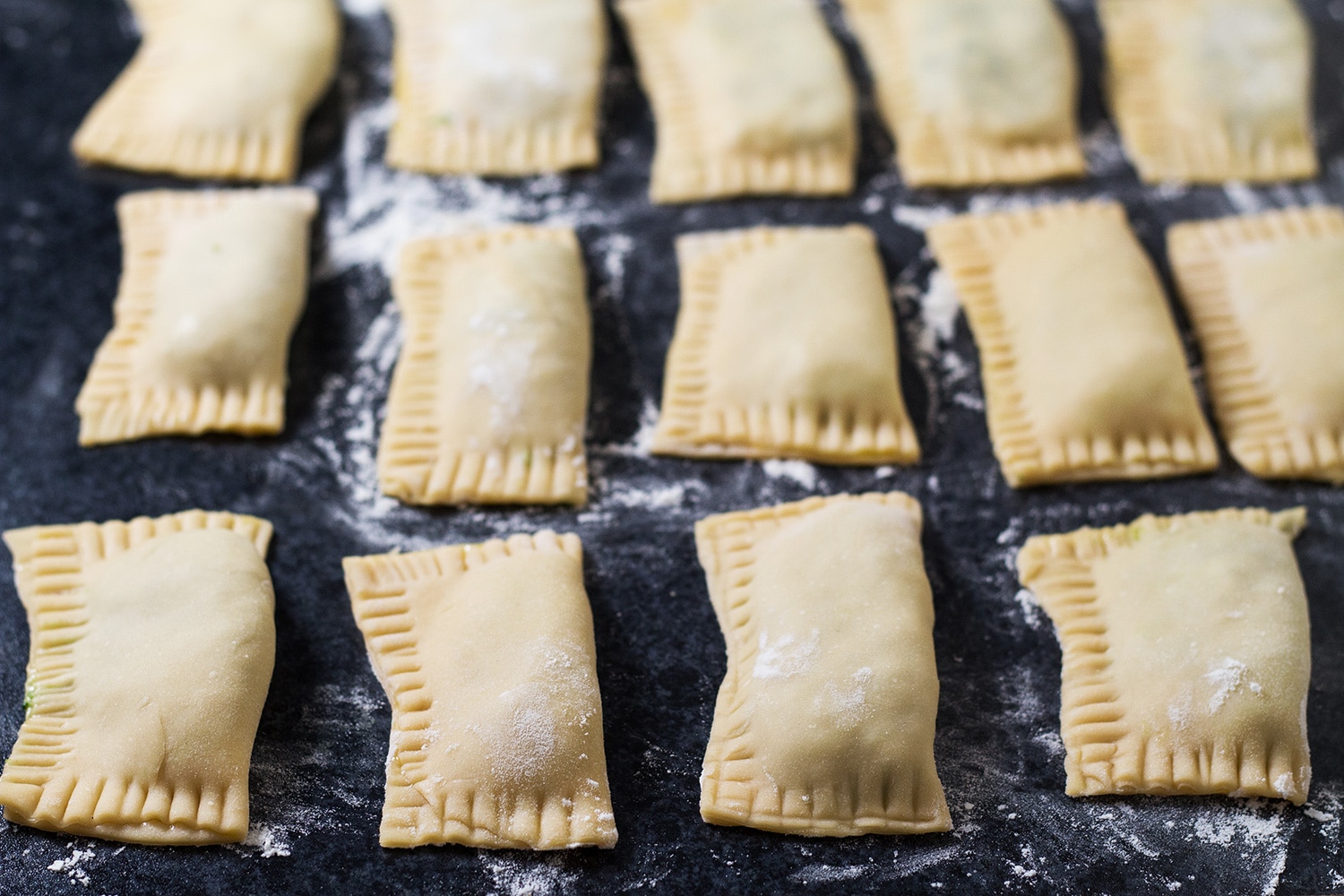 The dish originated in the region of Swabia and sometimes is called Swabian Pockets. While it's not surely known why these dumplings are called Maultaschen, Wikipedia offers a few interesting versions. First one suggests that the word derived from a combination of Maul (mouth of an animal) and Tasche (bag). It would mean feedbag then because of the appearance of the dumplings. The second version says that the name derived from an archaic word Maultatzen or Maultatschen, meaning slap in the face. How it's related? You will laugh. It would be a comparison between a swollen cheek after being slapped with the shape and appearance of the dish!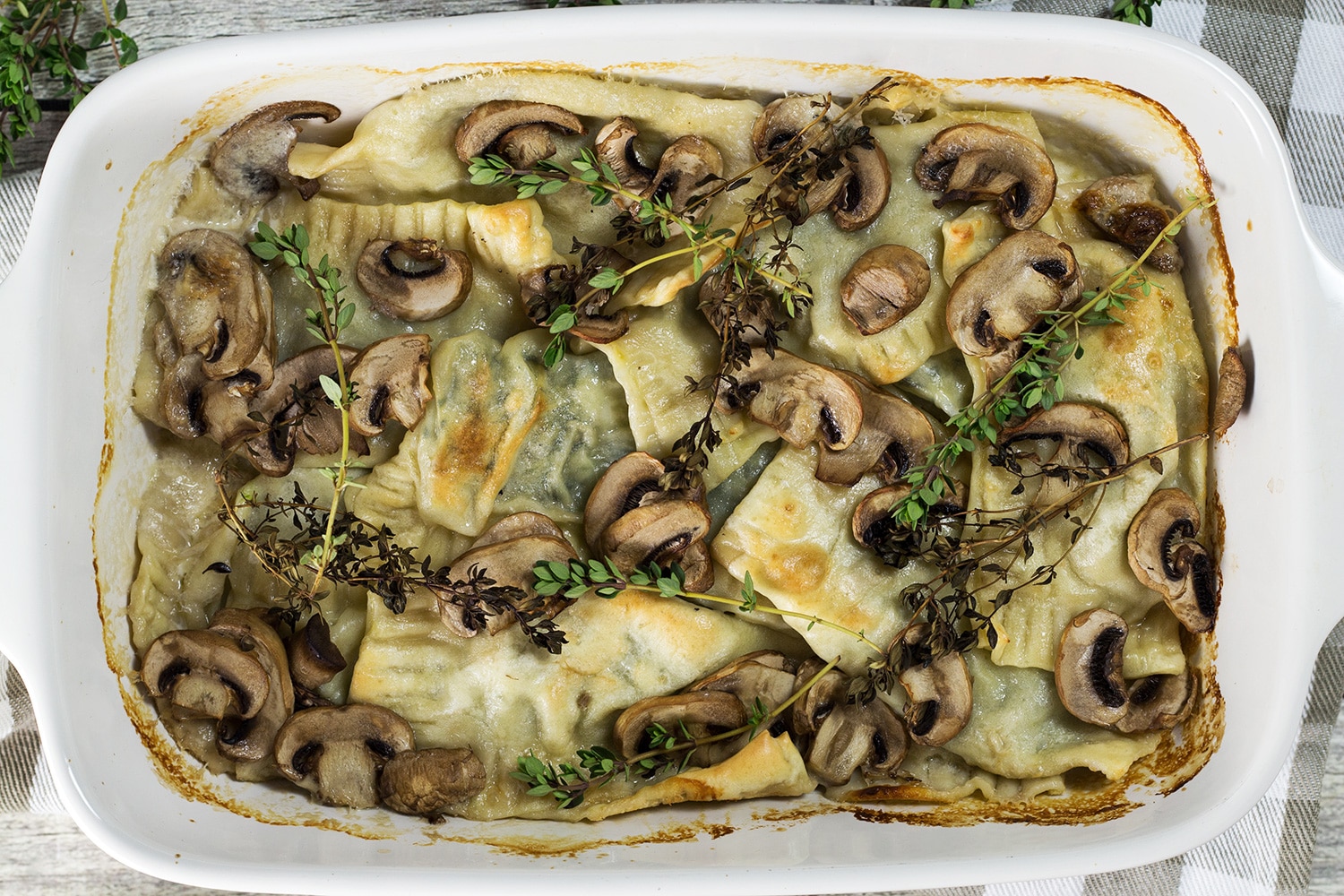 But it's not even the funniest part. A Swabian German nickname for this dish is Herrgottsbescheißerle, meaning "small God-cheaters". Such a nickname was born because of a funny association of Maultaschen with the Lent days, when Christians abstain from eating meat. Germans say that the meat in this dish is hidden under a layer of pasta so the God can't see it! Creative Germans, huh?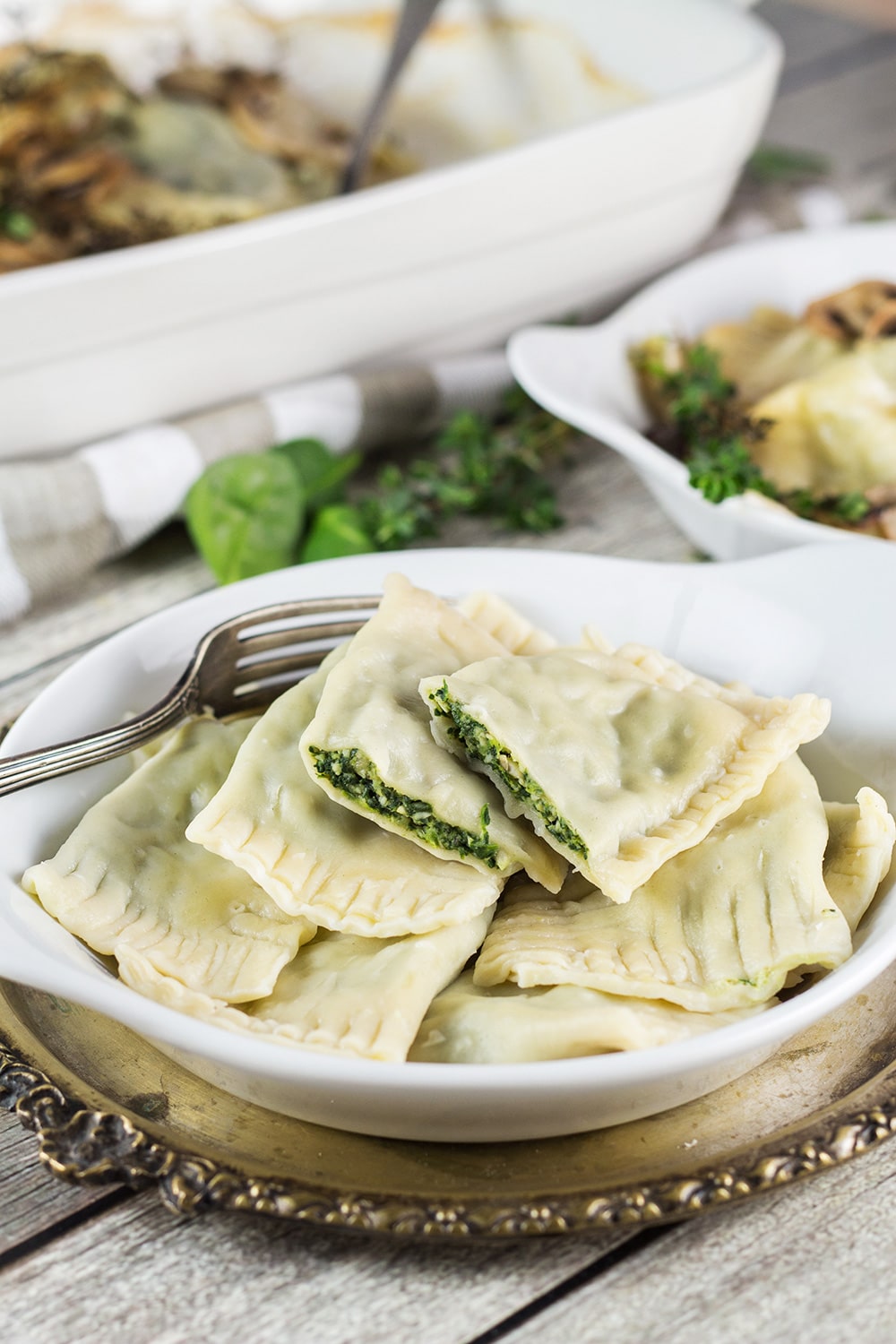 A few words about the dish itself. These big dumplings are usually stuffed with a combo of spinach, meat, onion, and bread. However, as you can imagine, today Maultaschen are made with a variety of different "modernized" fillings too. That's why I decided to include both: a traditional meat-filled one and a "modern" vegetarian version filled with mashed potatoes, spinach, and topped with cream and mushrooms. I hope you will like them both!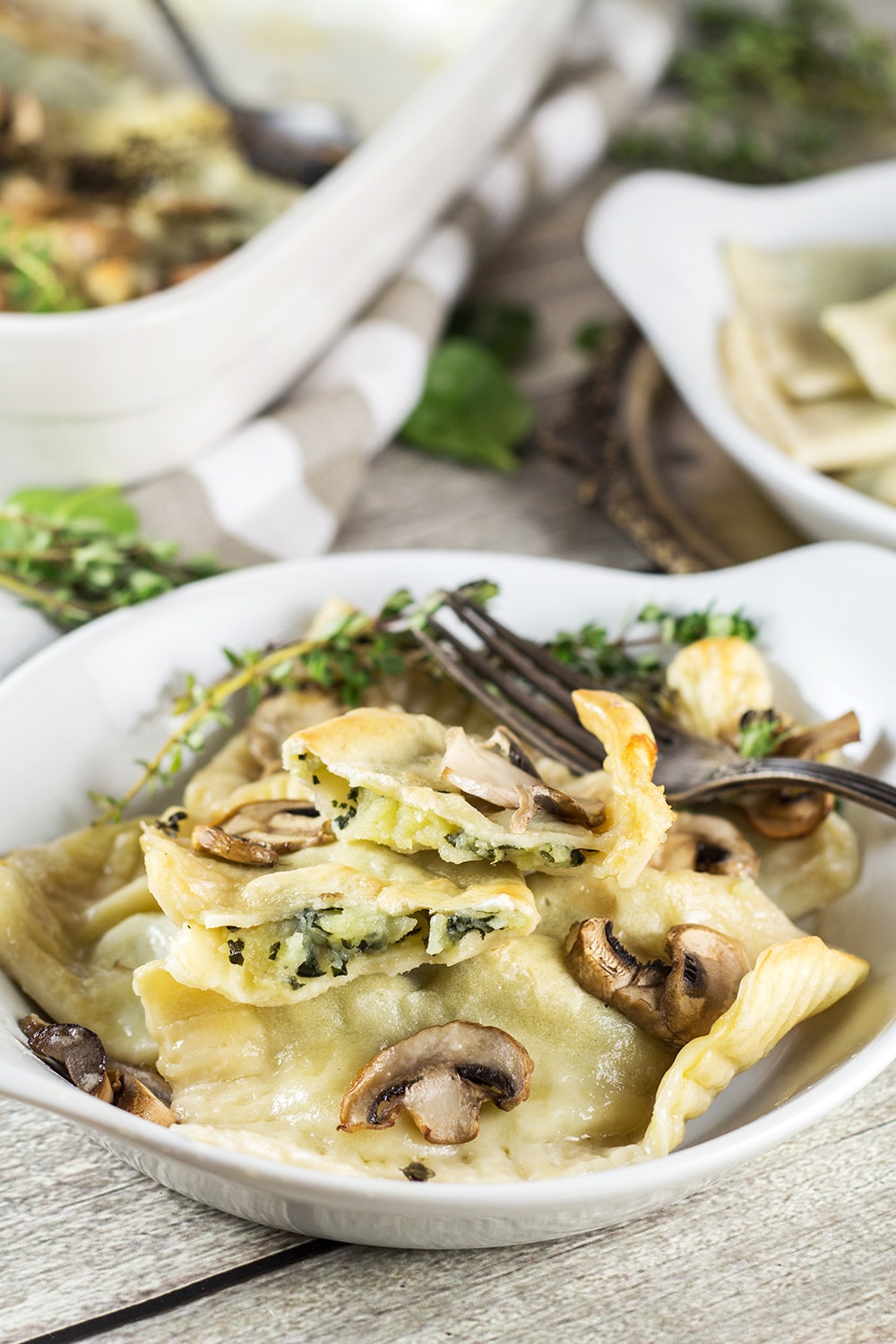 Meat-filled (traditional) Maultaschen are often served in a chicken or beef broth, like some sort of a soup, but I decided to serve them with some sour cream or yogurt on top because that's how I like my dumplings the most! It's up to you, though. They are fantastic any way!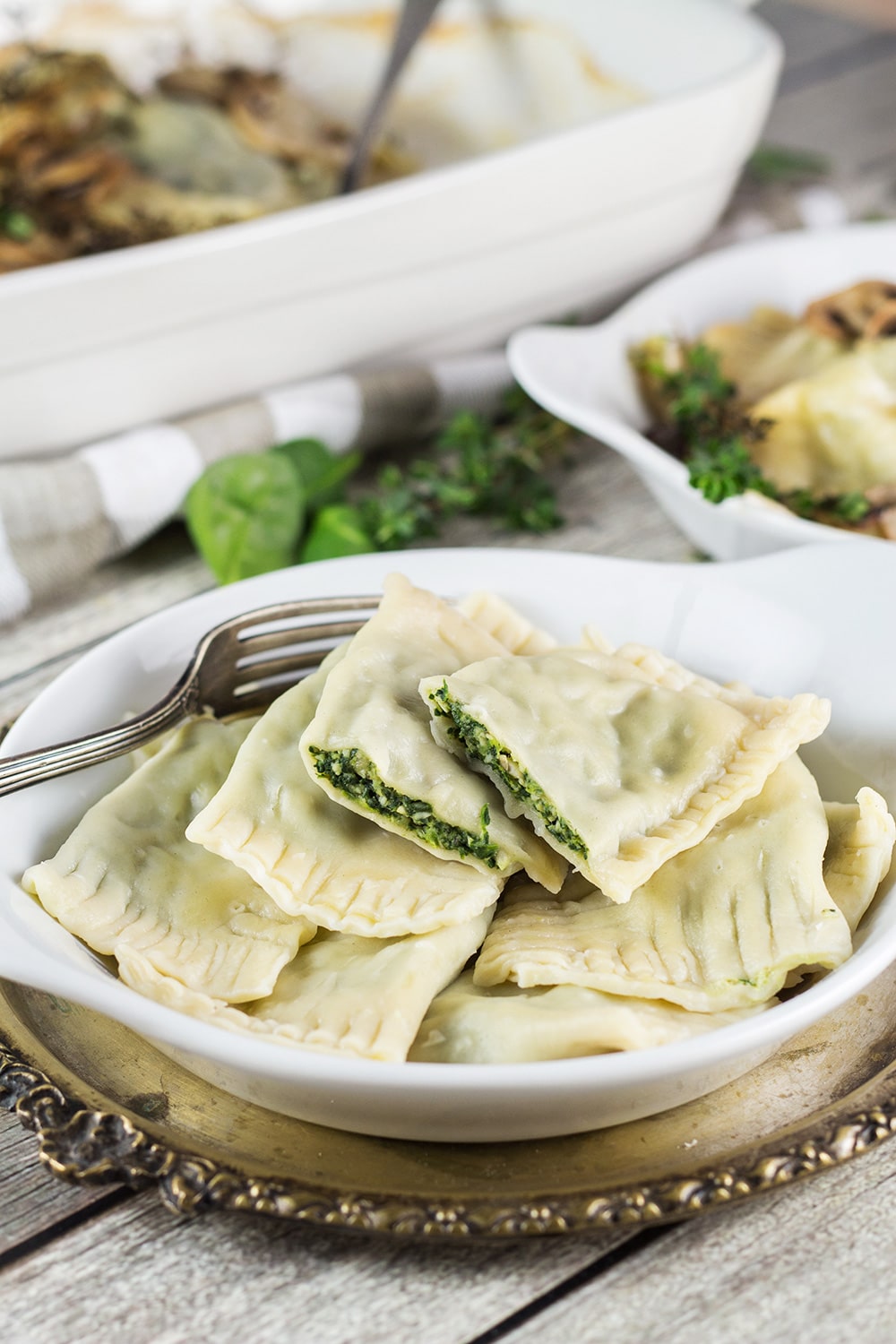 Maultaschen Recipe - German Stuffed Pasta with Two Fillings
Maultaschen is a German version of stuffed pasta or dumplings. This recipe offers two different fillings: a traditional and a modern one!

Ingredients
For the dough:
3

eggs

4

tablespoons

water

1

teaspoons

salt

4

cups

flour
For the meat-spinach filling:
1

lb (450g)

fresh spinach

, cooked, finely chopped, and drained

1

cup

minced cooked chicken, beef, or pork

1

onion

, grated

4

slices

white bread

½

cup

water or milk

salt and pepper

, to taste

nutmeg

, to taste

2

eggs

1

egg yolk beaten with 1 teaspoon water
For the spinach-potato filling:
1

lb (450g)

potatoes

, unpeeled

1

tablespoon

unsalted butter

1

onion

, finely chopped

2

cloves

garlic

, minced

6

oz (170g)

spinach

, chopped

1

cup

heavy cream

8

oz (225g)

mushrooms

, sliced

6

sprigs

fresh thyme
Instructions
Either in a bowl or in a mixer, combine all the dough ingredients. Knead for about 10 minutes by hand or keep mixing in a mixer until you get a tight dough ball. Remove the dough from the bowl and wrap in plastic wrap. Let sit at room temperature for at least 30 minutes.

Meanwhile, prepare the fillings. For the meat-spinach filling, mix the spinach, cooked meat, and grated onion in a bowl. Soak the bread slices in water or milk, squeeze, and crumble into the meat-spinach mixture. Season with salt, pepper, and nutmeg to taste. Add the eggs and mix until well blended.


For the spinach-potato filling, boil the unpeeled potatoes for 25-30 minutes until done. Let cool until they can be handled and peel them. Pass the warm potatoes through a ricer or simply mash with a potato mashed until smooth. Let cool.


In a saucepan, melt the butter and add the onion, garlic, and 1 teaspoon salt. Cook, stirring, for about 4-5 minutes, until the onion is translucent. Add the spinach and cook, stirring, for about 3 minutes, until wilted. Remove from heat and add the spinach mixture to the potato mixture. Mix well and set aside.


Take the dough and cut it into portions. Lightly flour a work surface and roll each portion into a thin sheet. Cut each sheet into 3-inch (8 cm) squares. Put a heaping teaspoon of filling in the center of each square, moisten edges with the egg yolk mixed with water, and fold in half to form pockets. Press edges together firmly and crimp with a fork.

For the spinach-meat filling, boil the dumplings in salted water for about 10 minutes. Serve in chicken or beef broth or simply topped with some yogurt.


For the spinach-potato filling, preheat the oven to 350°F (180°C). Boil the dumplings in salted water for about 6-7 minutes. When done, transfer with a slotted spoon to a baking dish. Top with the sliced mushrooms and pour the cream evenly over the top. Arrange the thyme sprigs evenly around the dumplings and bake for about 20 minutes, until the mushrooms start to brown. Enjoy!

Notes
The amount of dough is measured for one of the fillings. If you want to make both of them, double the ingredients of the dough.
The traditional filling is adapted from The German Cookbook by Mimi Sheraton, the modern filling - from New German Cooking by Jeremy and Jessica Nolen
Nutrition