Juicy, lemon-y, and packed with flavor, this Moroccan Chicken Tagine is one of the most popular dishes in the country. The recipe uses preserved lemons and saffron threads so be ready for something special!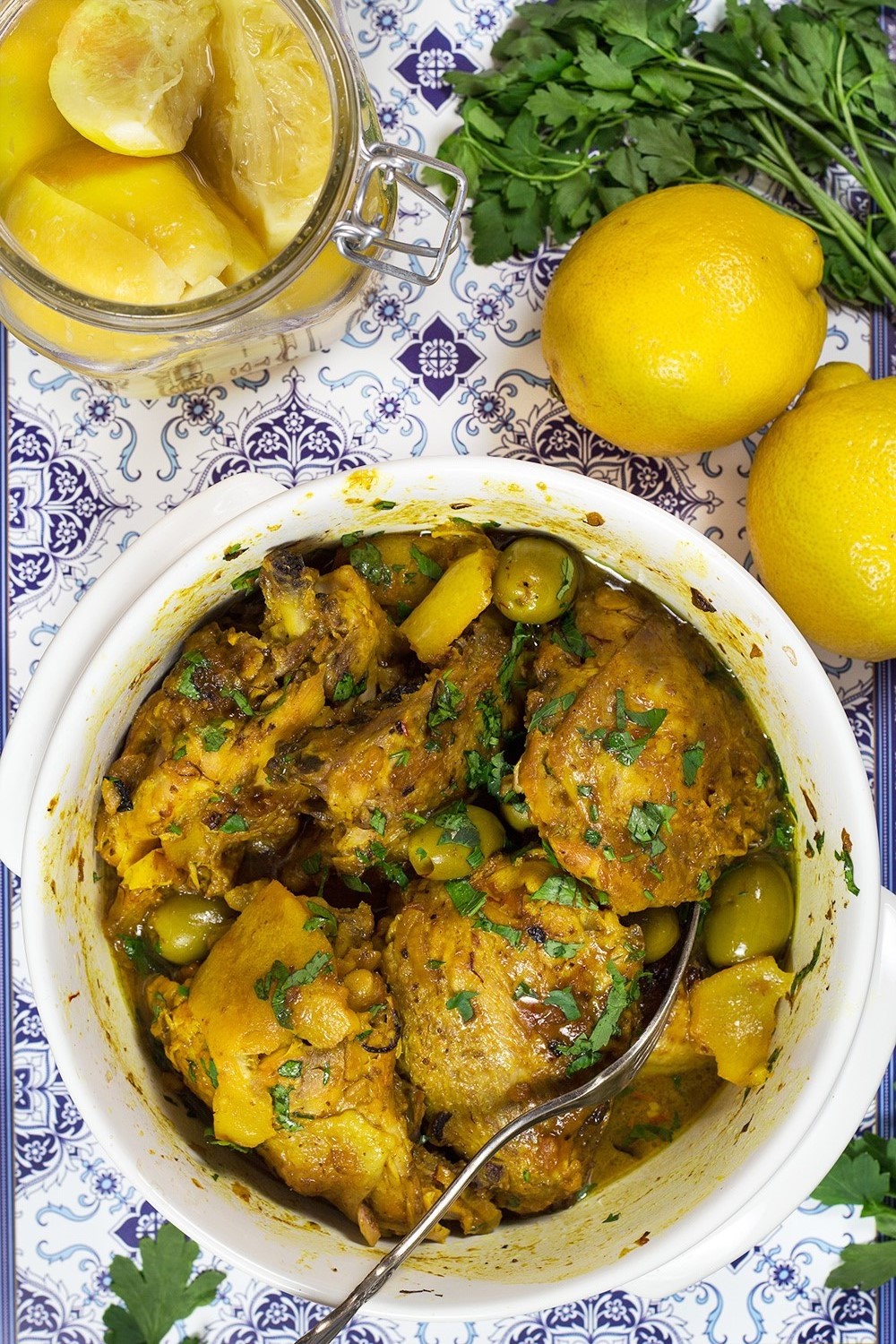 Finally, the day has come! The day when, after a grueling month of waiting, I was able to open a jar of my homemade Moroccan preserved lemons and for the first time in my life savor them. You can read about my emotions in the post mentioned earlier, while here I will talk about how I am using these little pickled guys. The possibilities are endless!
Sauces, salads, marinades, stews, tagines - preserved lemons will enhance the flavor of any of these culinary creations. When the aroma from the opened jar reached my nostrils my mind immediately started flipping through options for the usage of these bad boys. However, it wasn't until I grabbed a few Moroccan books I possess that I found a perfect idea for my very first experience with them. Moroccan Chicken Tagine!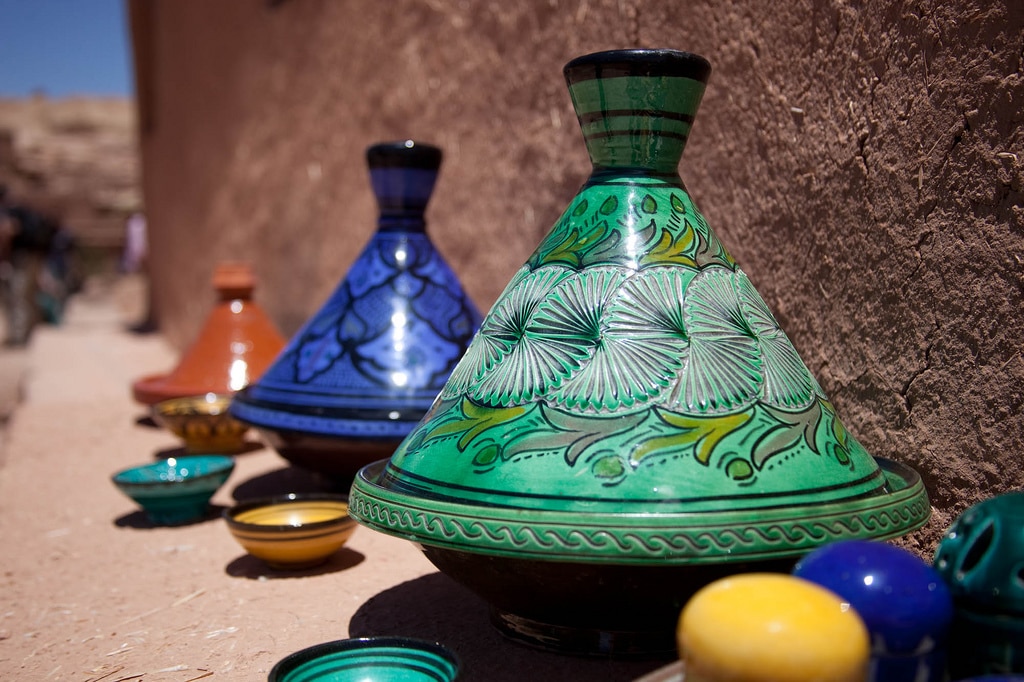 A little explanation for those of you who are not familiar with the word "Tagine" (can be also spelled as "Tajine"). It's a special North African earthenware pot and all the stews that are cooked in this dish are named after it. Does it mean that you won't be able to make this recipe without this pot on hand? Don't worry, it doesn't. I don't have it either at the moment (I plan to get it soon, though). A Dutch oven will work just fine! I'm including a picture for you to see how it looks like. A true beauty!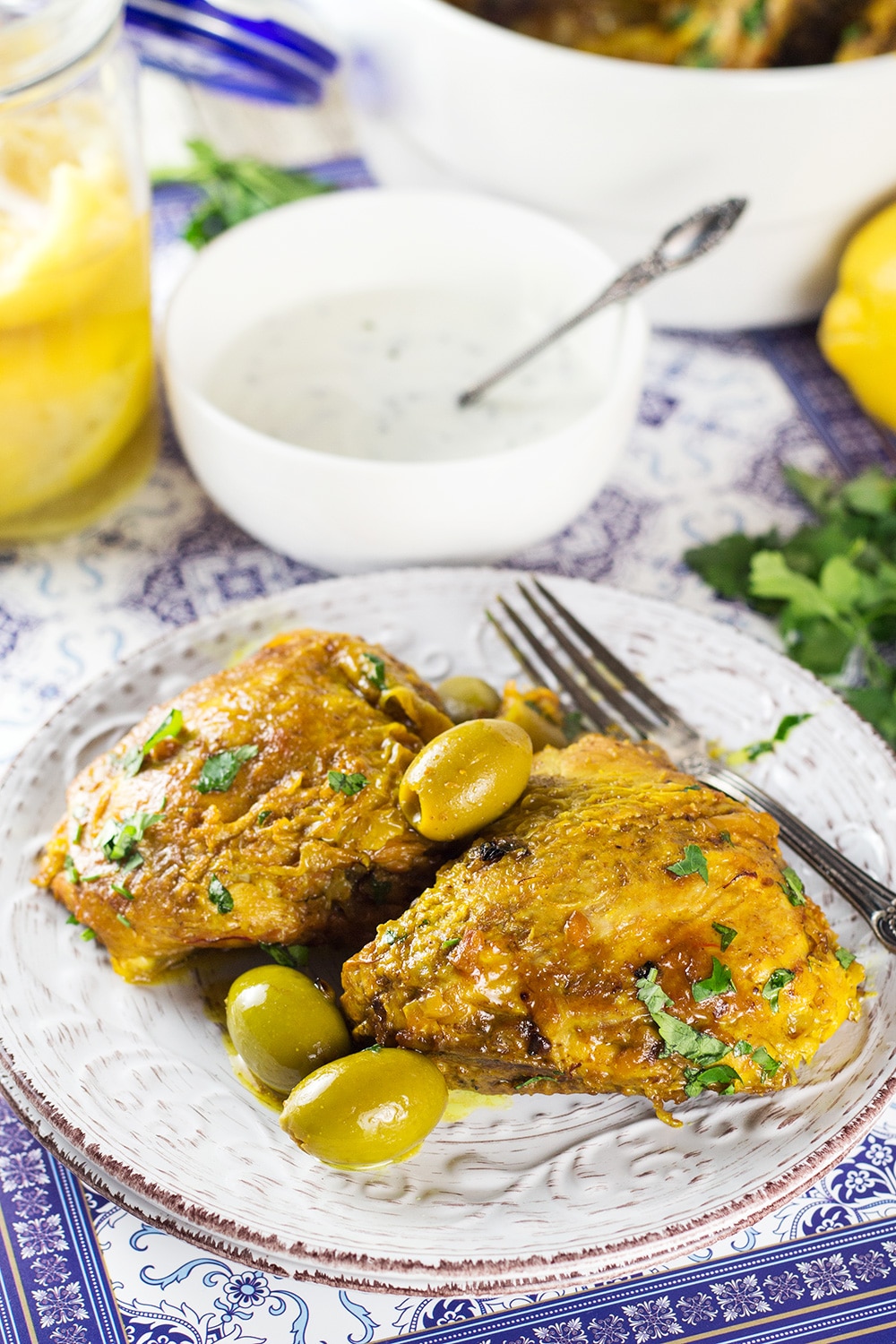 Moroccan cuisine offers a big variety of various tagines (that's why it's a good idea to get that pot sooner or later) but the one with chicken, preserved lemons, and olives I made today is perhaps the most popular. Maybe that's because chicken meat is cheap and accessible (a significant number of tagines in Morocco are made with lamb) or maybe it's a combination of flavors that makes it so beloved.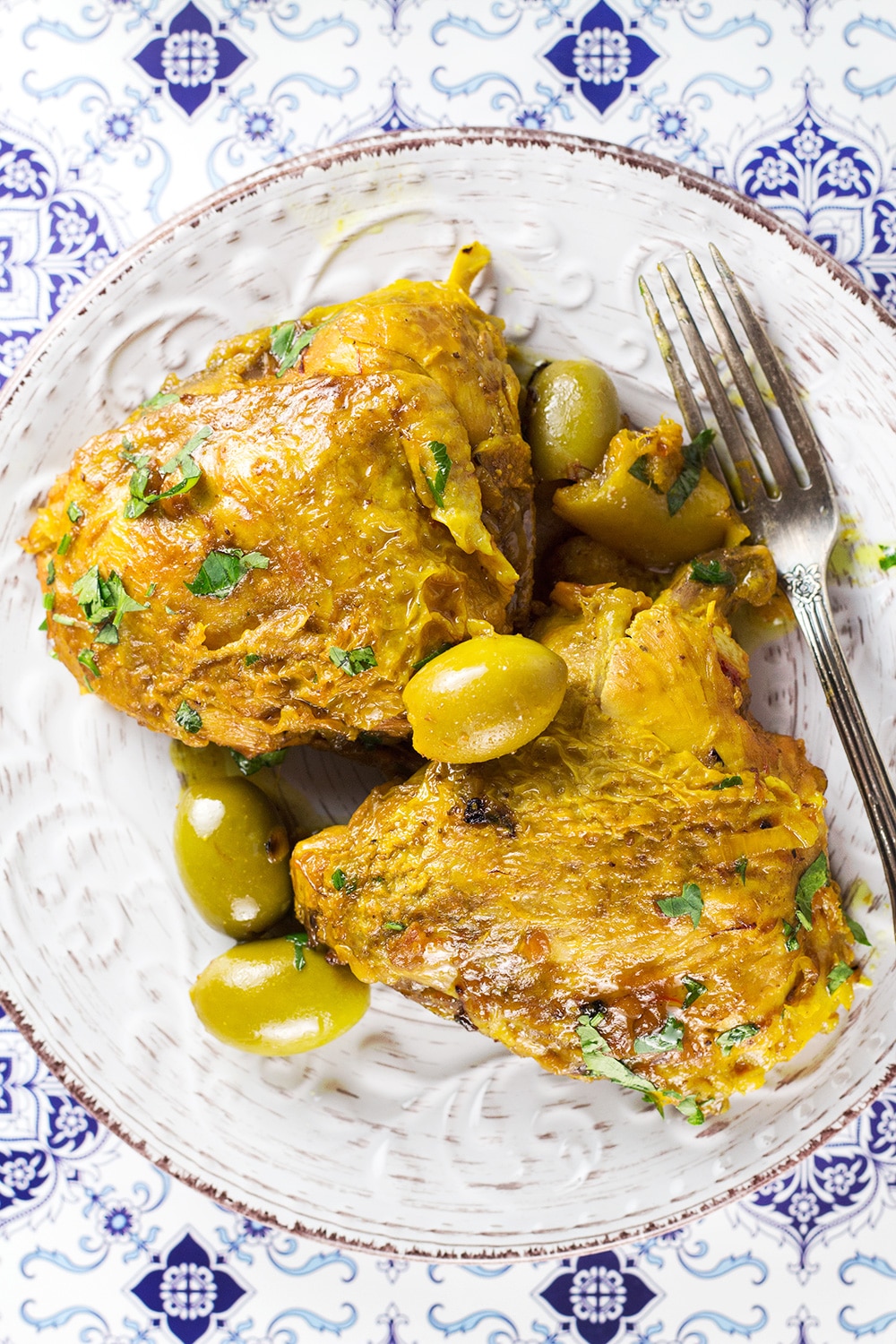 Traditionally, a whole chicken is used to make the Moroccan Chicken Tagine but in many modern recipes, even those made by the famous Moroccan chefs (for example, Mourad Lahlou from whose book New Moroccan I adapted this recipe) only chicken legs or thighs are used. I agree with this one because it's less work + chicken breast can turn out dry and not so pleasant to eat.
This Moroccan stew looks good, isn't it? Check out more awesome stews from other countries!

I had a great anticipation for this recipe and it didn't disappoint. Or should I say that it even exceeded my highest expectations! Seriously, guys. Preserved lemons are the beast. I can't believe that they gave so much flavor even though I added them only in the last stages of the recipe. Unbelievable. Buy them or make my homemade version but be sure to get them! They are worth everything.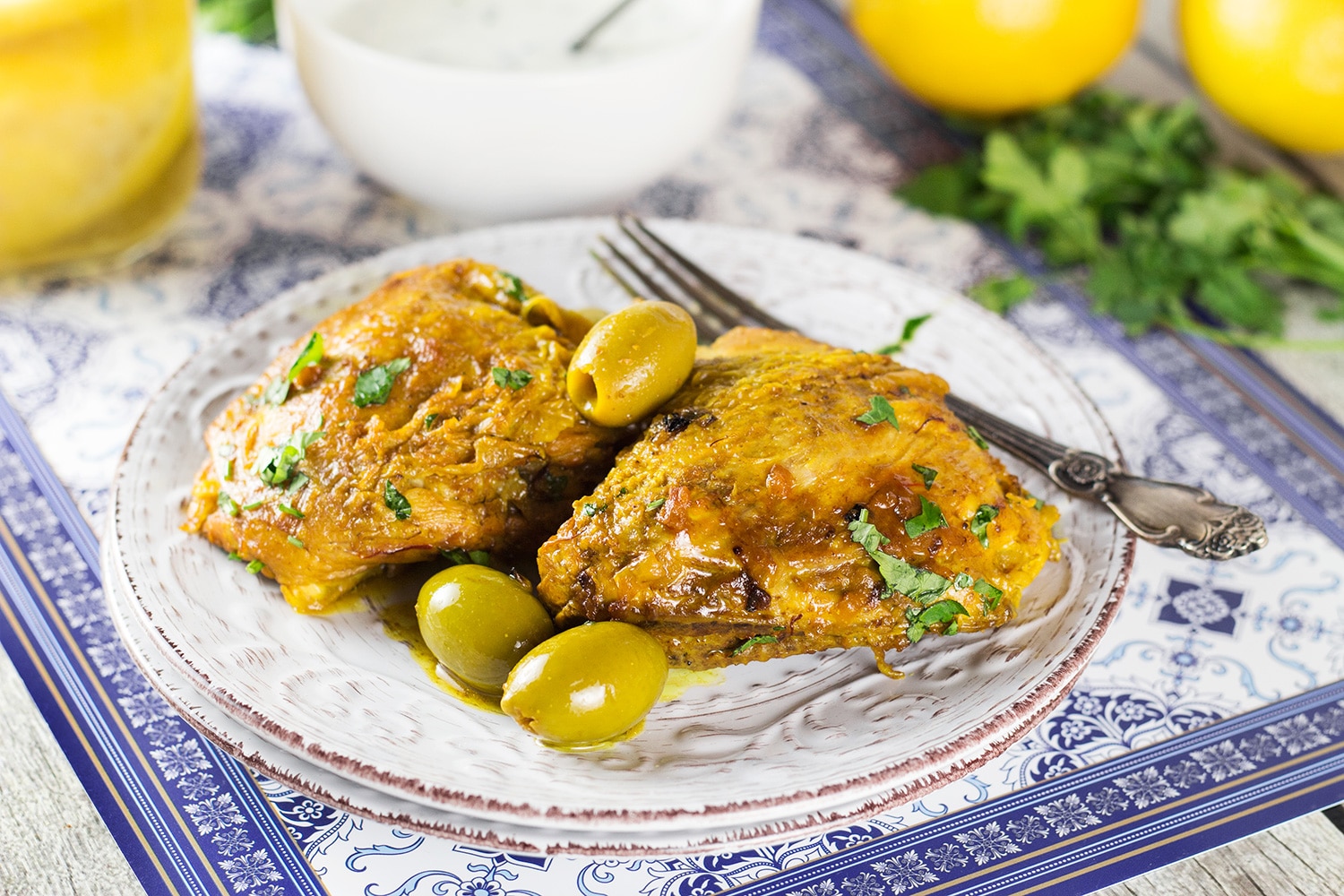 The sauce in which the chicken cooks is also packed with flavor. Coriander, white pepper, ginger, turmeric, even saffron! That's an impressive combo. Oh, and the green olives are so on point here. All these things combined result in a juicy, lemon-y, finger-licking-good chicken. Hands down one of the best chicken stews I tried lately!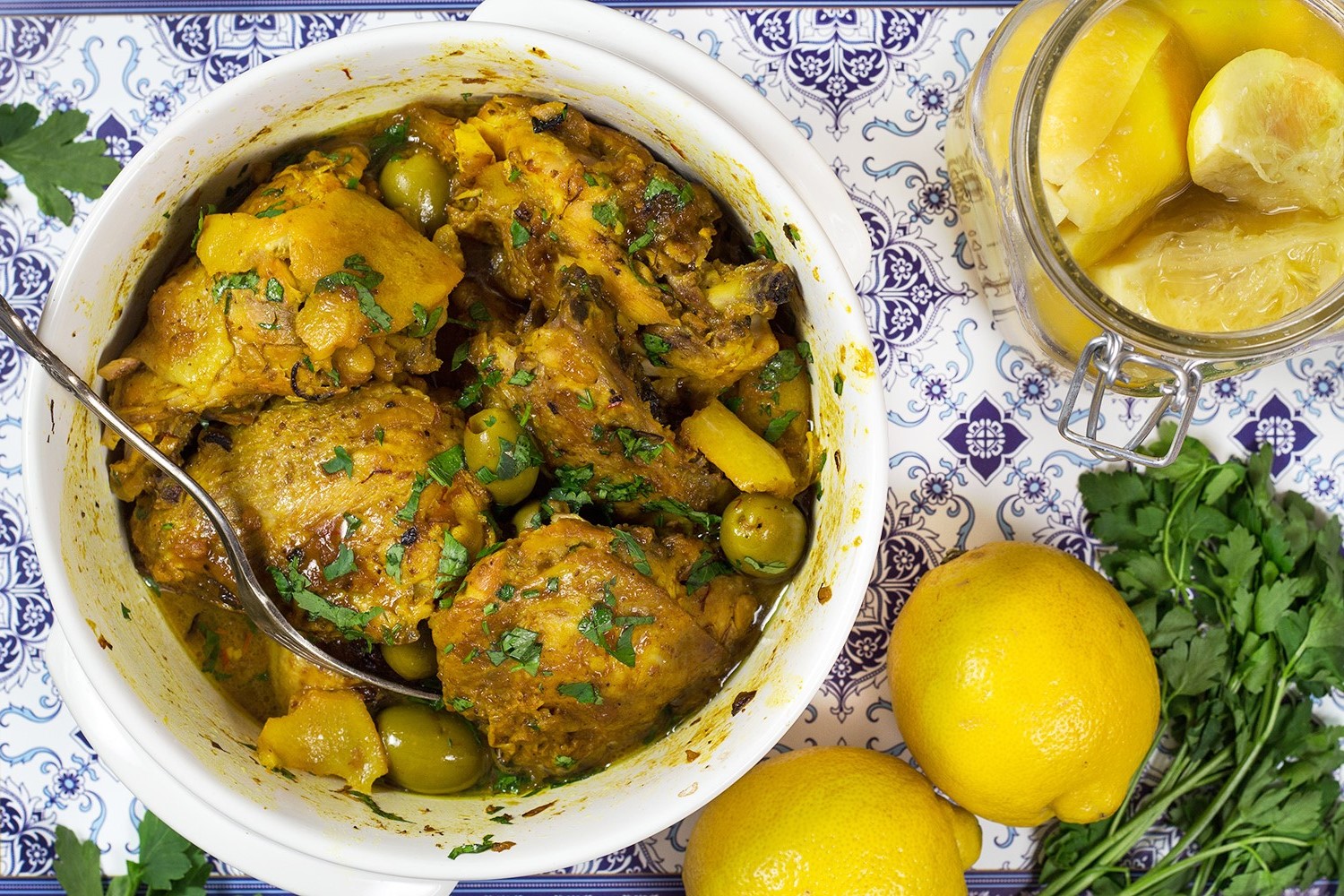 Moroccan Chicken Tagine Recipe
Flavorful and fragrant, this Moroccan Chicken Tagine features preserved lemons, olives, saffron, and more!

Ingredients
6

chicken thighs

Kosher salt

, to taste

1

tablespoon

Olive oil

19

oz (540g)

yellow onions

, thinly sliced

1

tablespoon

ground coriander

1

teaspoons

ground white pepper

1

teaspoon

ground ginger

½

teaspoon

saffron threads

¼

teaspoon

ground turmeric

1 ½

cups

chicken stock

3

oz (85g)

preserved lemon

(rind only)

3

oz (85g)

pitted green olives

4

tablespoons (60g)

unsalted butter

1

tablespoon

chopped flat-leaf parsley

2

teaspoons

chopped cilantro
Instructions
Generously salt the chicken thighs on all sides and let sit for about 1 hour at a room temperature.


In a tagine or a Dutch oven, heat the olive oil and cook the chicken on both sides (3-4 minutes per side) until well browned. Remove from the pot and set aside.

Preheat an oven to 350°F (175°C). Discard all but 2 tablespoons of the fat remaining in the pot and heat it. Add the onions and cook, stirring often, over medium heat for about 15 minutes, until golden brown.


Add the coriander, white pepper, ginger, saffron, turmeric, and a pinch of salt to the onions and stir constantly for a few minutes. Return the chicken to the pot. Add the chicken stock and bring to a boil. Cover the pot and cook in the oven for 40 minutes.


When done, remove the chicken thighs from the pot and return it to a burner. Simmer for about 6-8 minutes or even more if needed to reduce the sauce. Add the preserved lemons and olives. Heat them for a couple of minutes, then add the butter, parsley, and cilantro. Season with salt to taste.


Serve the chicken thighs with some sauce, lemons, and olives over them. Enjoy!

Notes
Adapted from Mourad: New Moroccan by Mourad Lahlou
Nutrition