Scented with cayenne, allspice, cumin, and garnished with cilantro and avocado, this Mexican tomato-based noodle soup (Sopa de Fideo) will take you to Mexico. Ready in 30 minutes!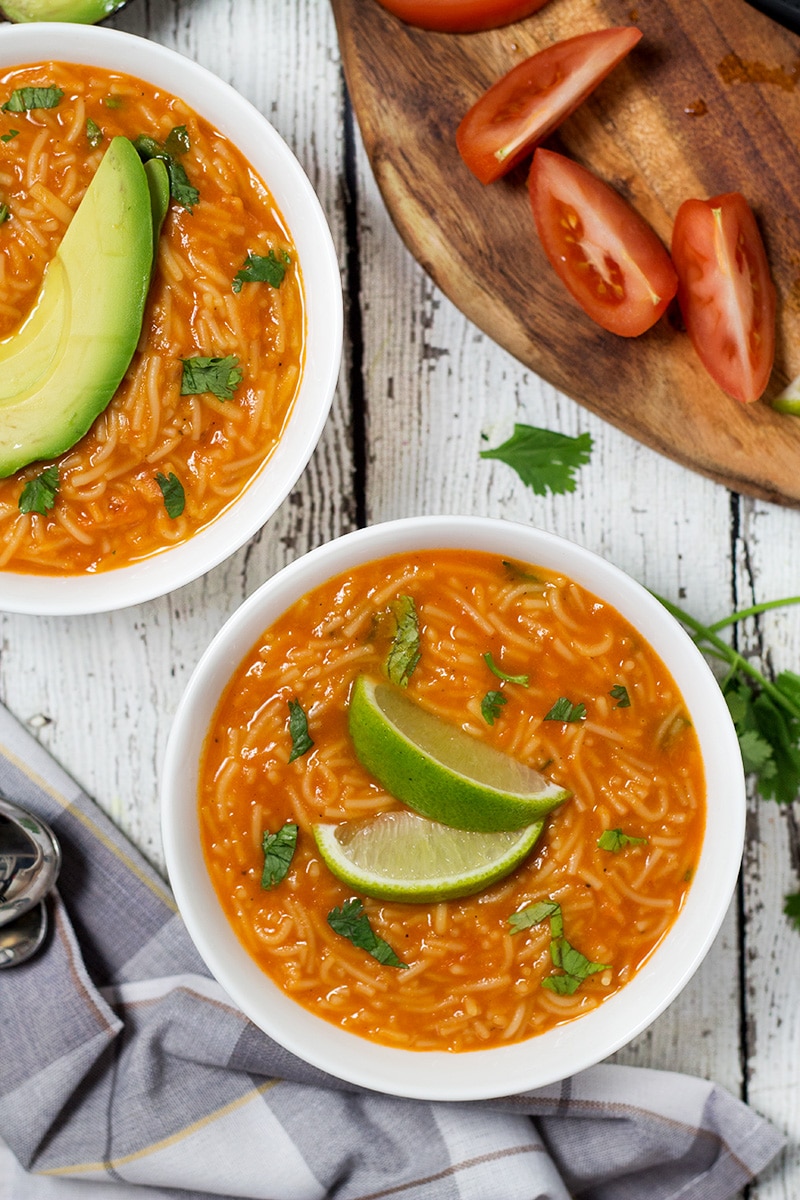 I will tell you this. I am not a huge fan of spicy food. Yep, I said it. That's why Mexican food is not a frequent guest in my kitchen (Carne en su Jugo was amazing though). However, lately I am discovering that far from all food from this sunny country is overly-spiced. There actually exist dishes that are not packed with chillies or other hot peppers with exotic names. Or there are recipes that let you skip them without losing too much flavor. Good news for me! Sopa de Fideo is one of them. The name translates as "noodle soup" from Spanish. That's exactly what it is!
The base of this hearty soup is made from tomatoes. Different recipes use different type of tomatoes. There are versions with fresh, roasted and canned ones. As with every traditional dish, there is no single recipe, because every family has their own tricks and secrets! I've used canned ones because it's winter now and I won't be able to find fresh and juicy tomatoes. I definitely don't want to use those tasteless, woody things they call winter tomatoes for the soup! Even if I did want to use them, it would be complicated to do that, because we need juice for Sopa de Fideo and there is no juice in them, at all.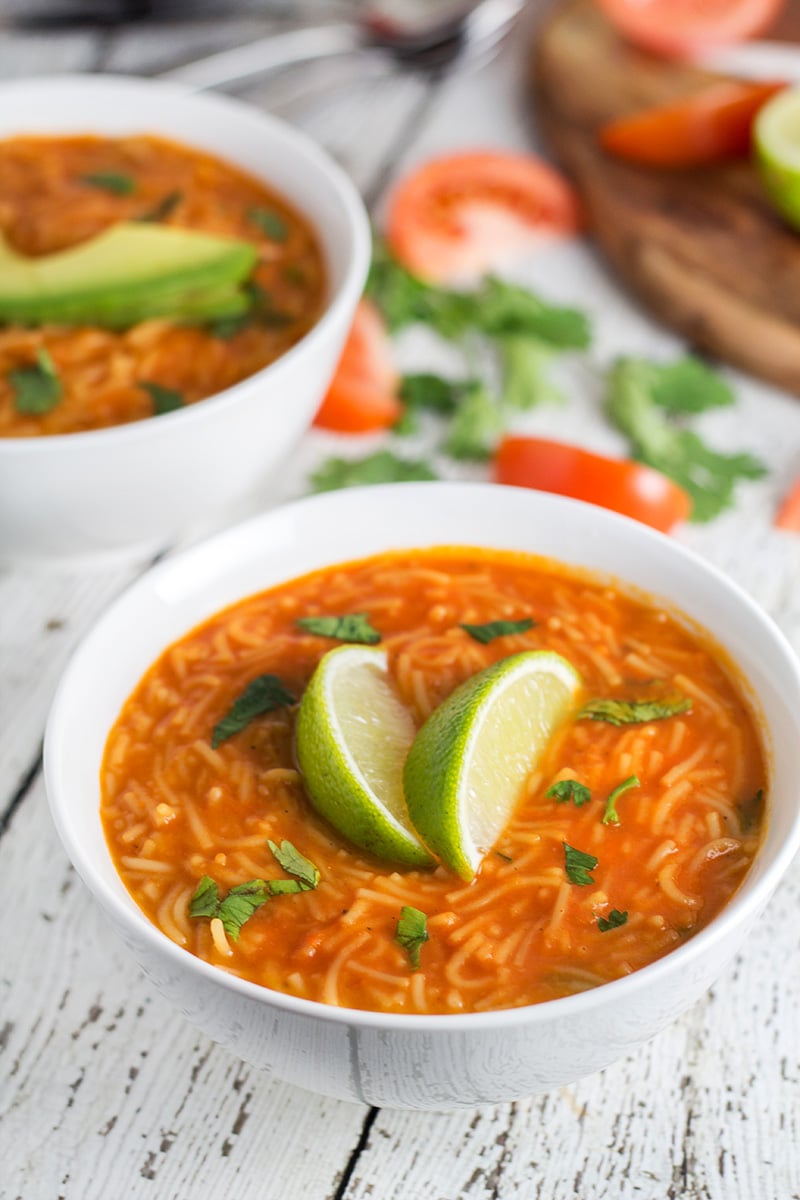 As for the noodles, this soup requires Fideo, angel hair or vermicelli. The interesting thing is that you don't cook them in the water or broth, but you fry them before adding the liquid instead. That's the secret of this dish! You will see how the noodles will absorb the liquid nicely, thickening the soup in the end.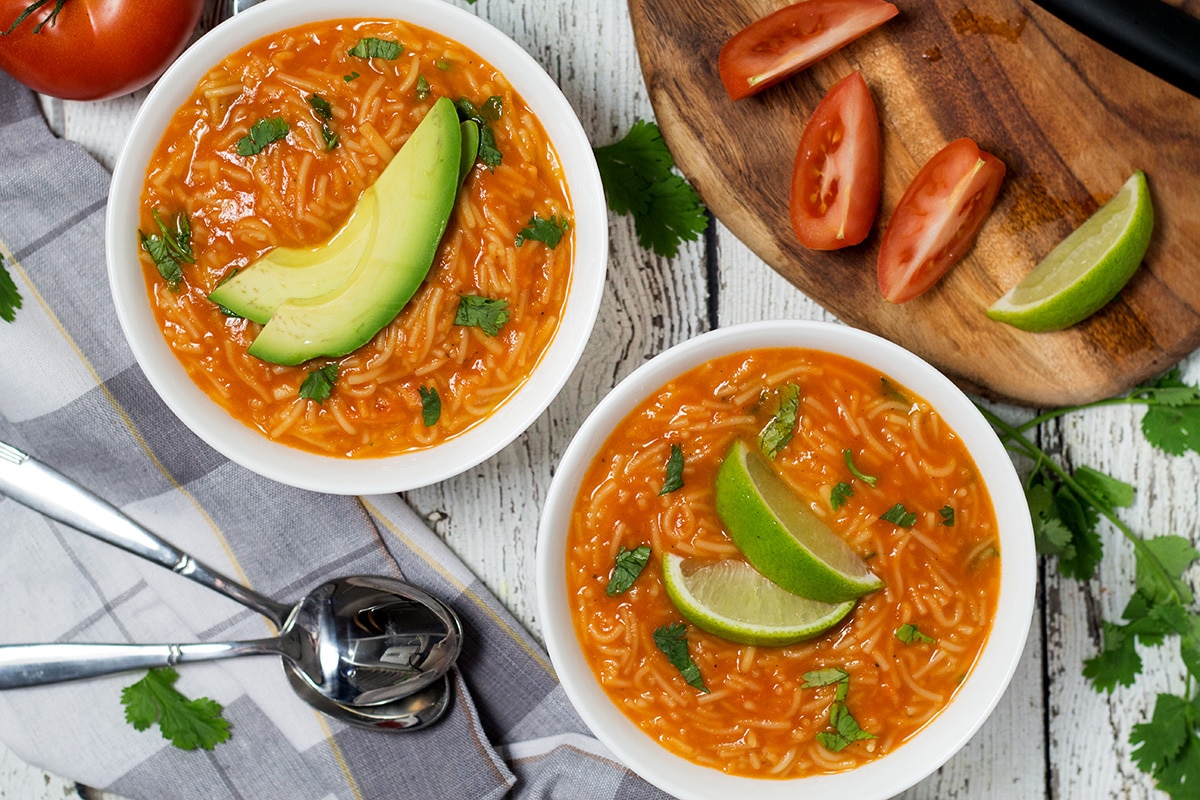 This Sopa de Fideo recipe is a feast of flavors. Tomatoes, cumin, cilantro, avocados, lime - everything in one bowl! A bowl of comfort and warmth. Talking about lime, you can add juice of one lime to the pot in the very end or cut into wedges and serve it like that so everyone would be able to decide if they want it. If you are not like me and want some heat - just add 1 jalapeno to a pot. You can serve this Mexican noodle soup as a side dish or a starter before the main meal. Or you can add some shredded chicken or beef and make it as a standalone filling soup. Enjoy!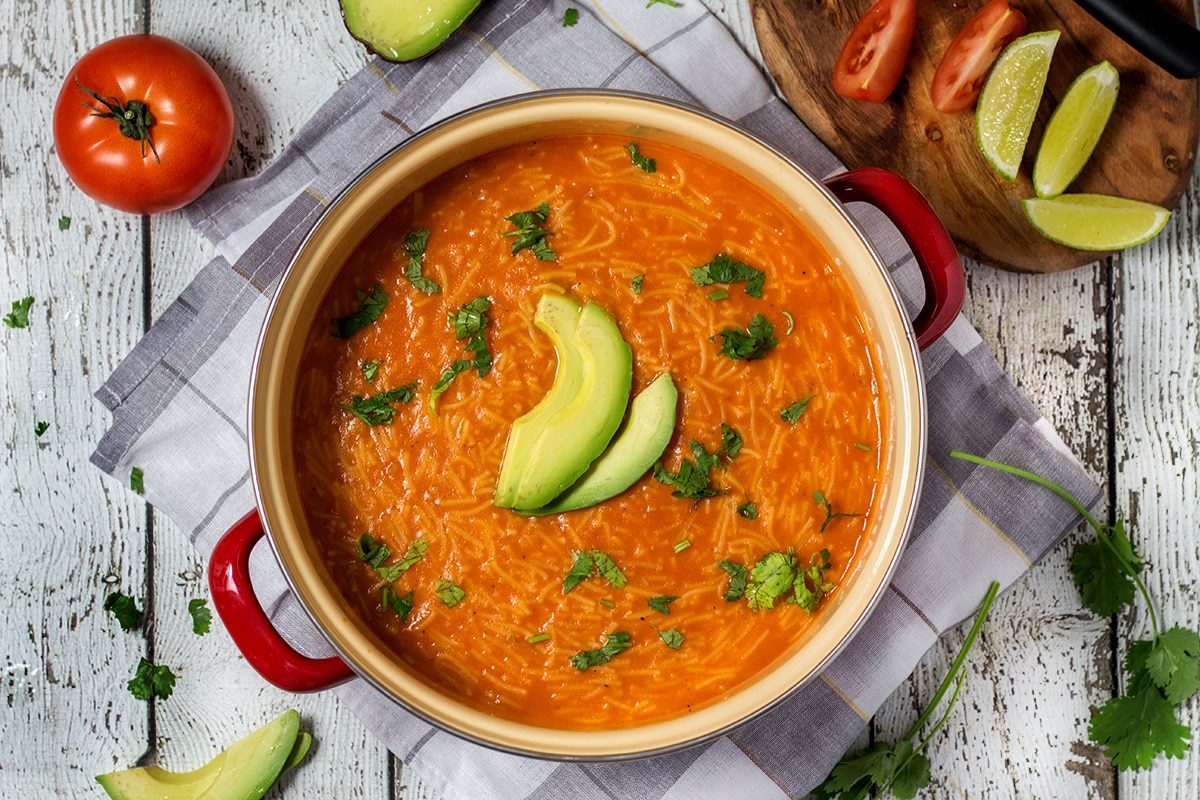 Sopa de Fideo - Mexican Noodle Soup
Fideo soup is a tomato-based noodle soup coming from Mexico. This version is vegetarian and is supposed to be served before the main meal but feel free to add some meat and turn it into a filling standalone dish!

Ingredients
3

teaspoons

vegetable or olive oil

8

oz (225g)

Fideo, vermicelli or angel hair noodles, broken into 1-inch pieces

1

14 oz (400g)

can chopped or crushed tomatoes

4

cloves

garlic,

minced

1

medium onion,

chopped

8

cups

chicken broth or vegetable broth,

water mixed with chicken bouillon works too

1

teaspoon

ground cumin

¼

teaspoon

ground allspice

¼

teaspoon

cayenne pepper

salt and pepper,

to taste

1

lime

¼

cup

chopped cilantro

1

avocado
Instructions
Heat 2 teaspoons of oil in a soup pot on medium heat. Add the onion and cook for about 5 minutes, until translucent. Add garlic and cook for another 30 seconds.

Transfer the cooked onion and garlic into a blender. Add canned tomatoes, 1 cup of broth, cumin, allspice and cayenne pepper. Blend until smooth.

In the same soup pot heat 1 teaspoon of oil on a medium heat and cook noodles for about 2-5 minutes, stirring continuously. Noodles have to be golden brown, but be careful not to burn them! Stir!

Pour the tomato mixture into the pot. Add the remaining broth. Bring to a boil and cook for about 10 minutes, until the noodles are tender. Salt and pepper to taste.

Add the juice of 1 lime into the pot or serve the lime cut in wedges individually. Garnish with cilantro and avocado slices. Enjoy!
Nutrition