Flaky, buttery, and rich, these Polish Cream Cheese Cookies, also known as Kolaczki or Kolacky, are traditionally made for Christmas and other holidays. They are usually filled with a fruit jam of your choice but other fillings such as poppy seeds or nuts are also welcomed!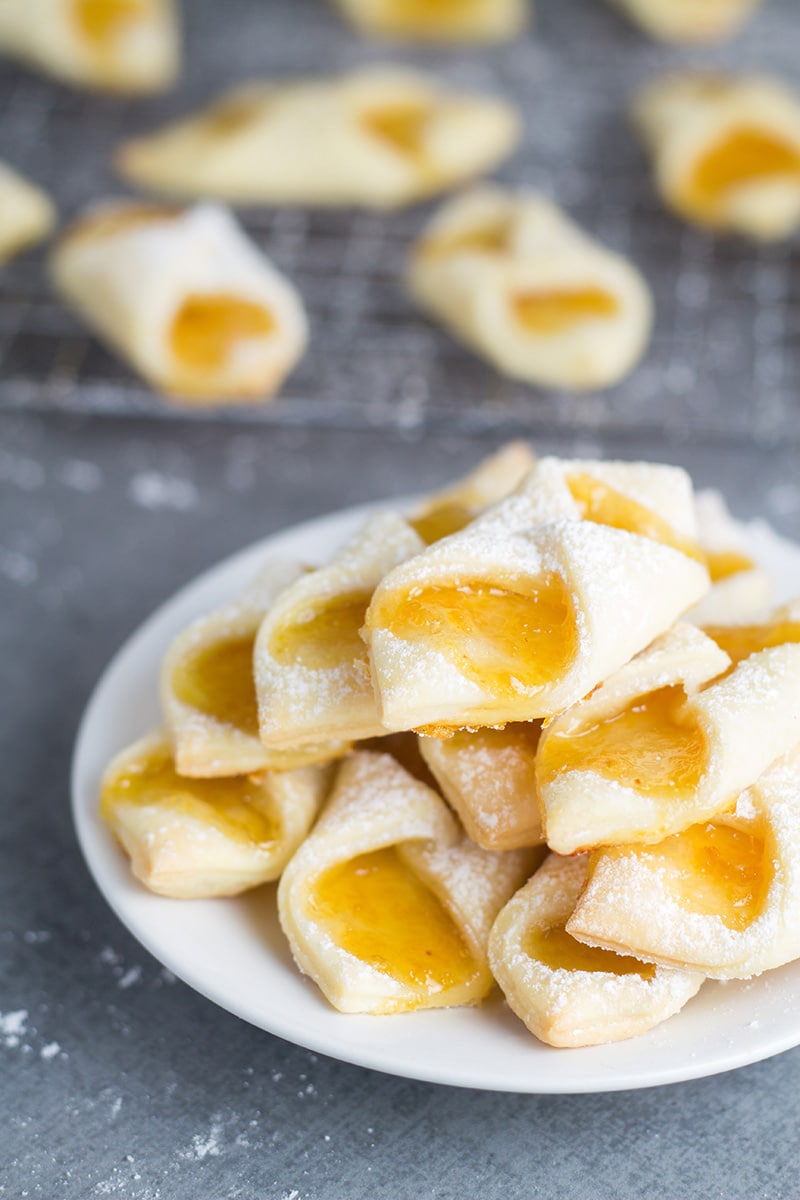 Despite my inexhaustible love for the different cuisines of the world, Eastern European food will always hold a special place in my heart. It's the food I grew up with, the food I will always associate with the most important events in my life, the food my palate is the most comfortable with. Due to Soviet Union's expansion, many dishes spread outside their home countries and became popular in other places. That's what happened with Polish cream cheese cookies too. These little guys, called Kolaczki or sometimes Kolacky, are a Christmas tradition in Poland but they are popular in other Eastern European countries as well. I was lucky enough to enjoy them quite often in the childhood!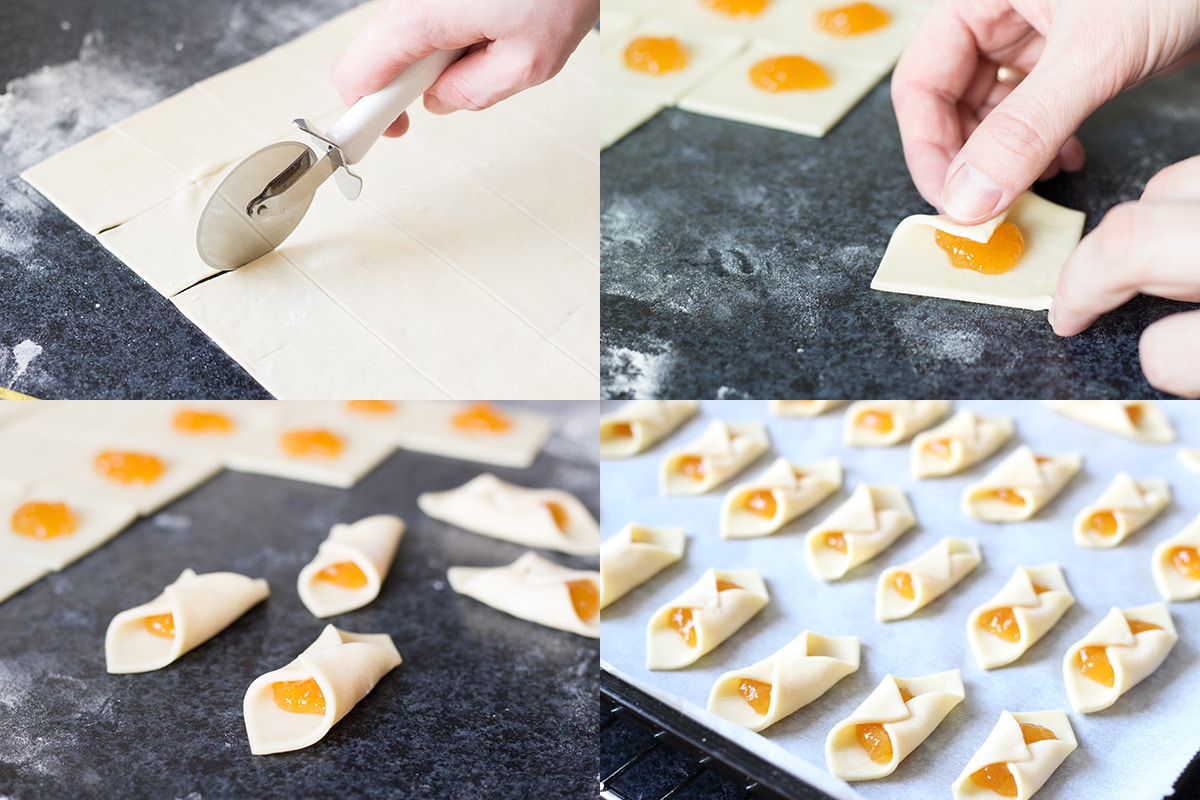 Various Eastern European countries have their own variations of these cookies now, but only Poles do them using the cream cheese dough. That's what I love about these cookies. They are rich, buttery, flaky... Oh, and the filling! It deserves a separate paragraph.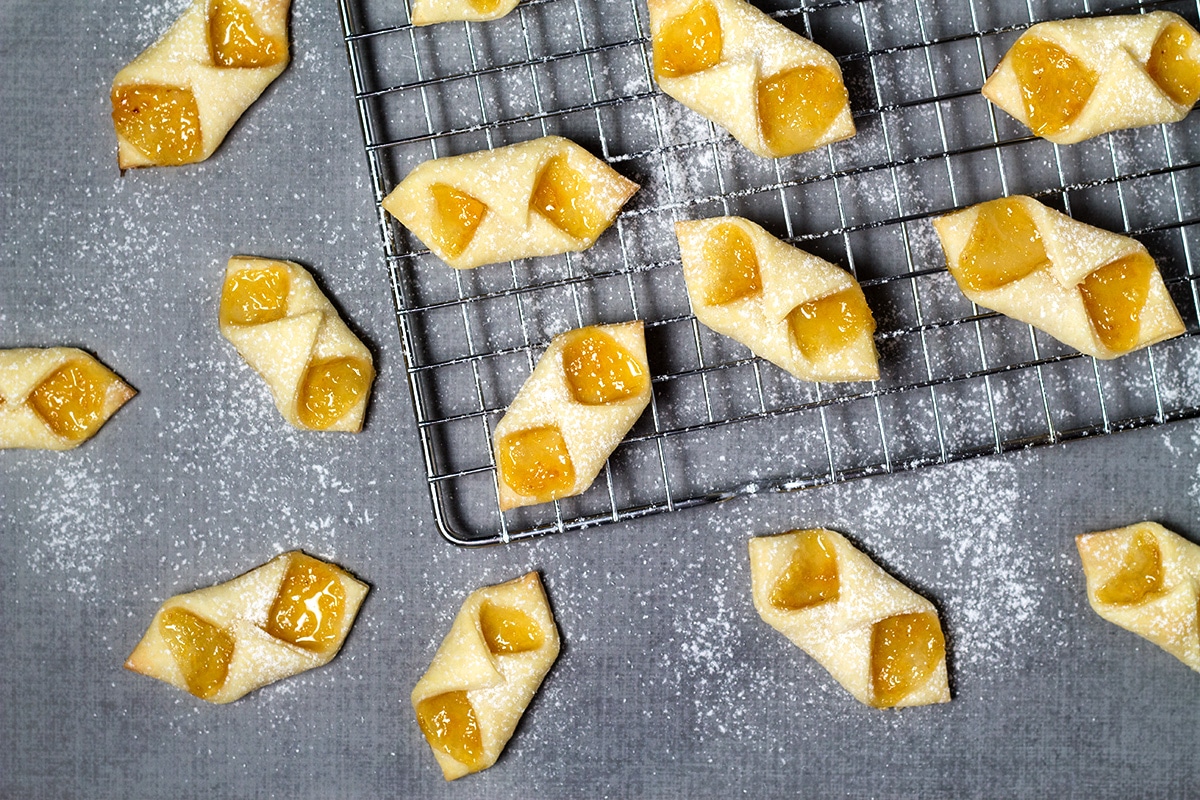 Traditionally, these cream cheese cookies are filled with fruit preserves. My favorite filling always was, and still is apricot jam. There is something about it that makes my mouth water. However, you can use any other fruit filling you like: raspberry, blueberry, strawberry, and so forth. It is not limited to fruit preserves though. You can also use poppy seed, almond or other fillings. Literally anything you like. Kolaczki are great with many different fillings!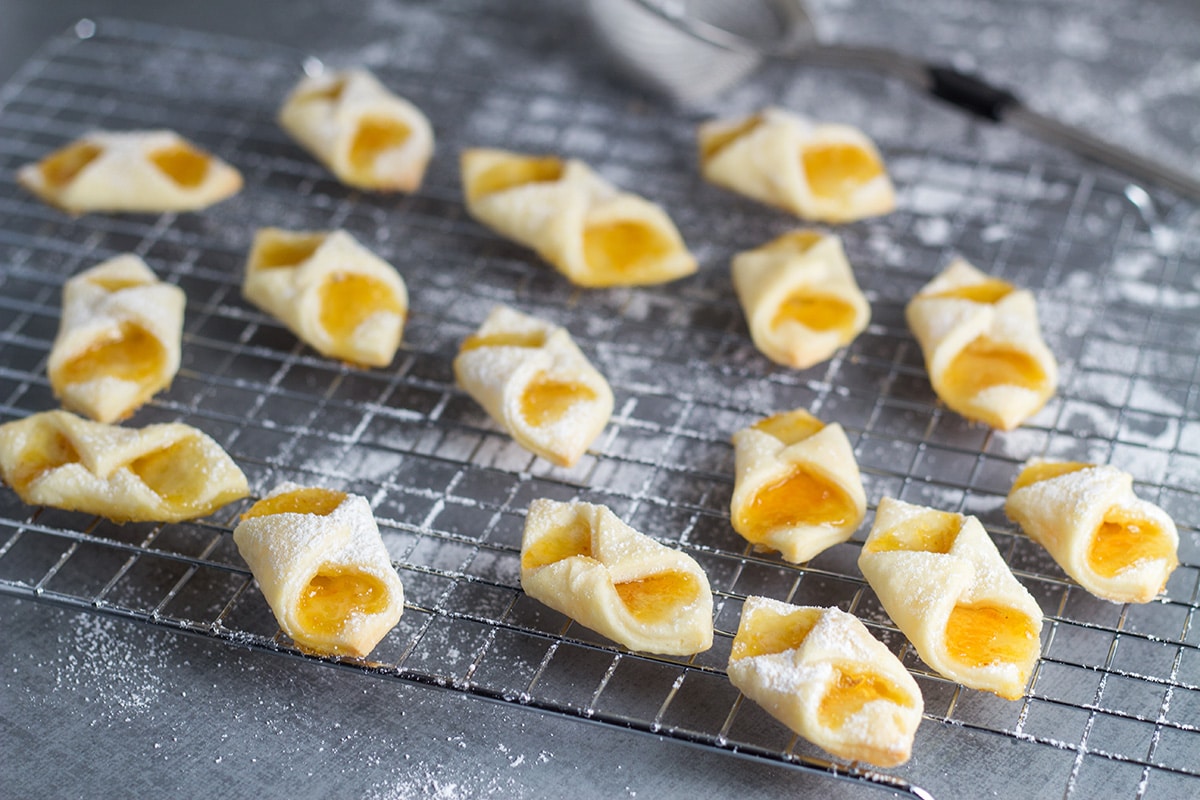 This delicate Polish pastry goes really great with a cup of tea. Kolacky were disappearing in my mouth so fast, I quickly lost the number. Maybe it is for the best, because I most probably would be ashamed by how much cookies I ate!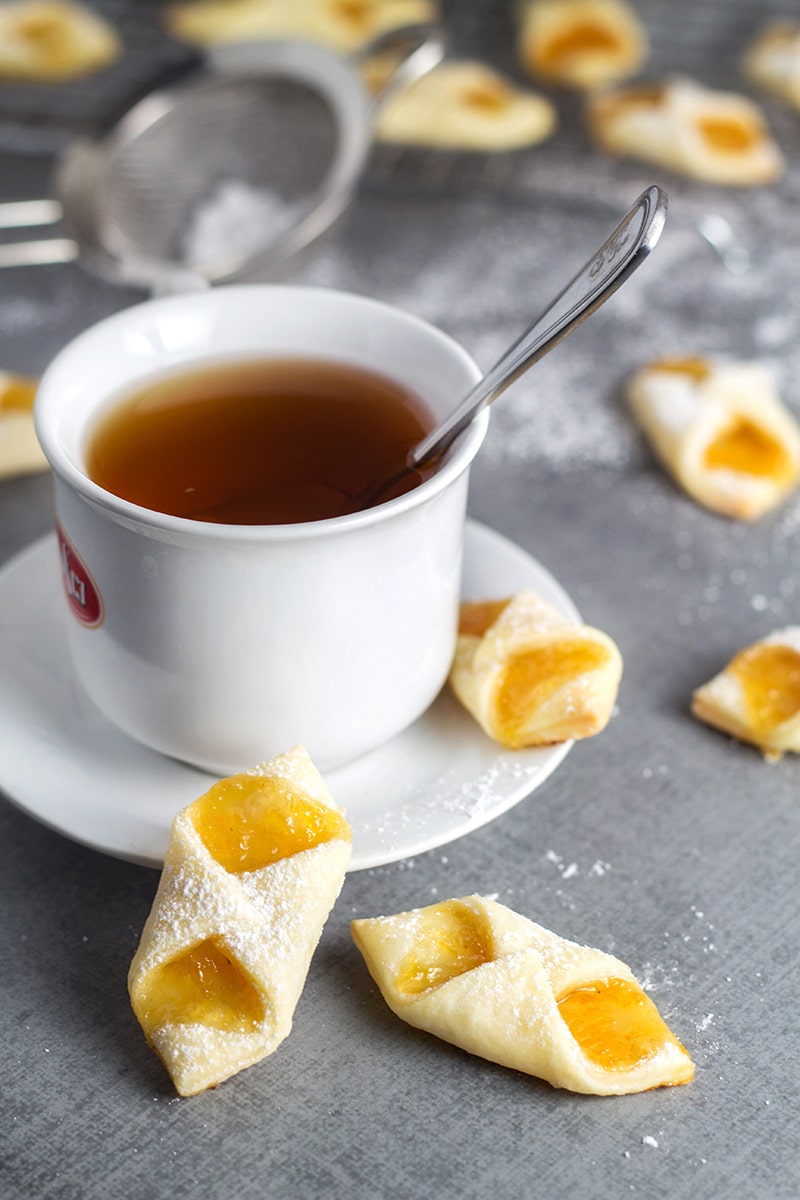 Will I make these cream cheese cookies again? Zero doubt about it. These are the perfect holiday cookies. Easter, Christmas, you name it. By the way, they freeze well. Just freeze them filled but unbaked. You will be able just to throw them from the freezer to the oven whenever you want to. Simple as that!
If you want to explore more of the Polish cuisine, try this Sauerkraut Soup!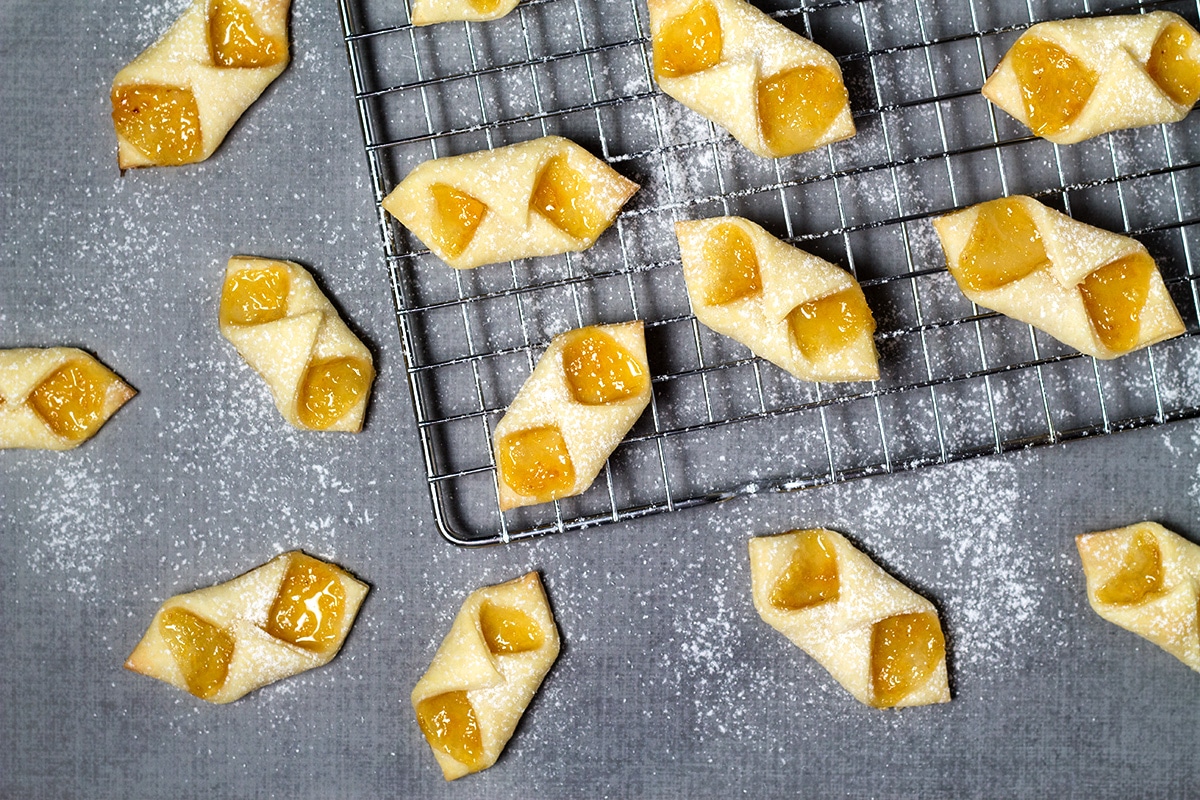 Polish Cream Cheese Cookies (aka Kolaczki or Kolacky)
Flaky, buttery, and filled with an apricot jam, these Polish holiday cookies are also easy and quick to make!

Ingredients
8

oz (220g)

cream cheese

1

cup (220g)

butter,

at room temperature

2 ½

cup (320g)

all-purpose flour

About ½ cup fruit preserves of your choice (thicker is better, I've used jam)

Confectioners' sugar for dusting
Instructions
In a large bowl, beat together cream cheese and butter using an electric mixer until smooth. Gradually beat in the flour until you get a soft and sticky dough. Divide the dough into three parts and wrap each in plastic wrap. Refrigerate for at least one hour or up to 1 day.

Preheat the oven to 350°F (175°C). Work with one dough part at a time keeping the remaining dough refrigerated. Dust your working surface with flour and roll out the dough very thin, less than ⅛" (3mm). Cut into 2-inch (5 cm) squares.

Place a heaping ¼ teaspoon of the filling in the center of each square. Moisten opposite corners of the square with water and overlap them to the center, gently pushing the dough down to the filling. Repeat with all the dough.

Bake for 12-15 minutes or until lightly brown. Transfer to wire rack and dust with confectioners' sugar while still warm. Enjoy!
Nutrition