This Loco Moco recipe comes straight from the heavenly island of Hawaii. Basically, it's white rice topped with a hamburger patty, fried egg, and a flavorful gravy. Perfect for lunch, dinner, or even as a breakfast after a night out!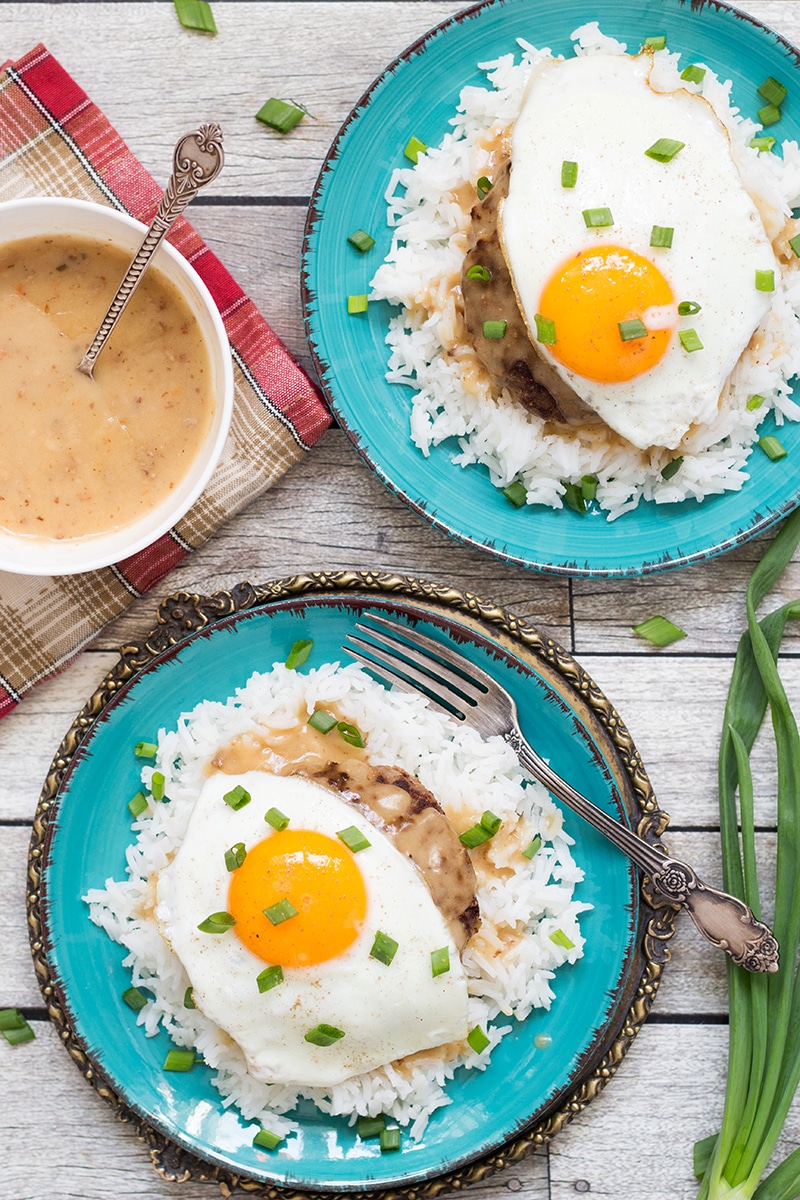 Hawaiian cuisine holds a special interest to me. First of all I love that it's a mash-up of Asian and Western cultures. Dishes are really unique in this beautiful island! Moreover, Hawaiian cuisine is totally new and unexplored for me. My fascination with the Hawaiian food started when I made this fantastic salad / side dish called Lomi Lomi salmon. It is so simple yet so tasty! I couldn't believe how good it is when I tried it for the first time. Oh and it looks so exotic! Perfect for serving to your guests. I know know, this post is not about it! Sorry. I just wanted to speak my mind on this salmon goodness so bad. Ok, back to the regularly scheduled program. This time I made another Hawaiian classic - Loco Moco (I love these Hawaiian names: Lomi Lomi, Loco Moco, ha ha!). Basically, it is rice, topped with a hamburger patty, fried egg and drown in a fantastic brown gravy. Comfort food at its best!

Loco Moco has an interesting story behind it. It is said that this dish originated in a small cafe located in a Hawaiian town of Hilo in 1949. The owners of the restaurant (husband and wife Mr. and Mrs. Inouye) wanted to create something affordable yet filling for the local teenagers. That's how Loco Moco was born! As for the name, there are few different versions on how it came about. First one says that the husband owner offered to call it Loco Moco because, as he said, kids are crazy. "Loco" means "crazy" in Portuguese and Hawaiian pidgin. Another version says that the dish was name after the first boy who tasted it. His nickname was Loco. What about the second word "Moco"? It doesn't mean anything and was just created to rhyme with the first one!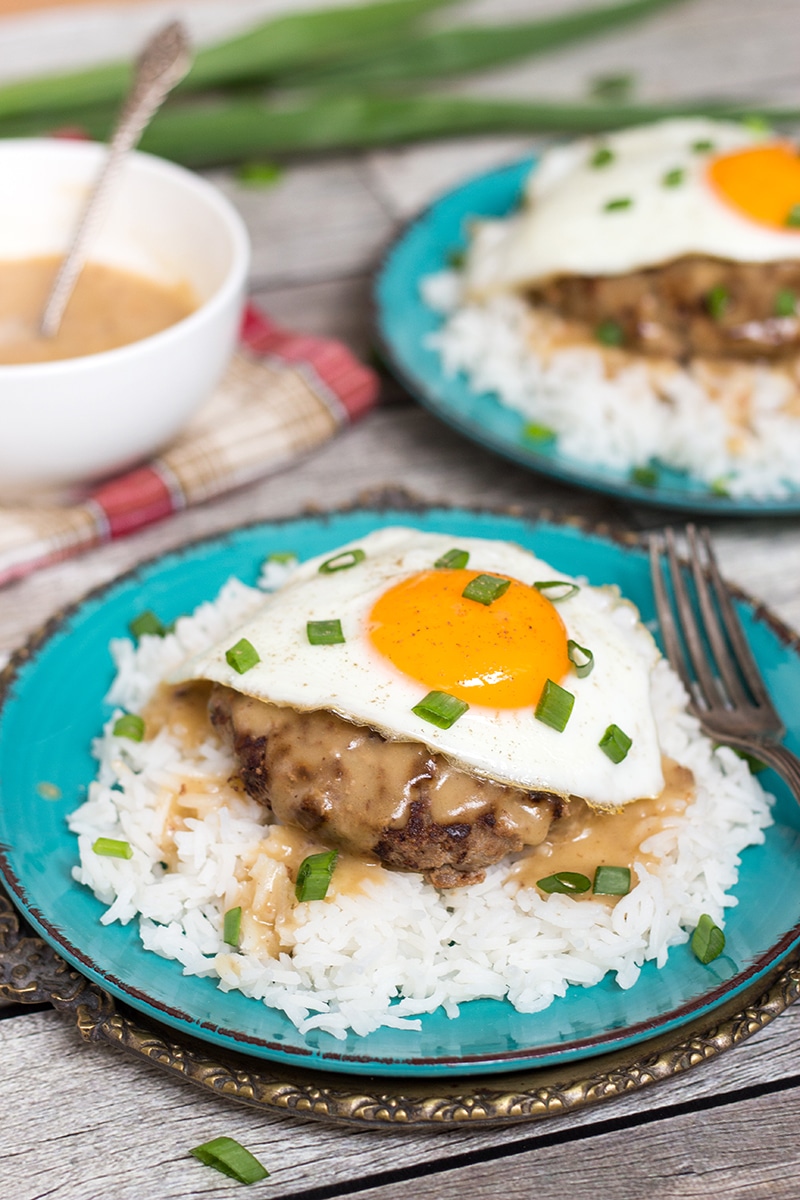 Nowadays Loco Moco is a true Hawaiian favorite. It is often served in school cafeterias and lunch counters. This dish is a perfect example of the combination of Asian and Western cuisines I told you earlier about. The rice and the gravy are more Asian, while a hamburger patty and a fried egg are more Western. The traditional Loco Moco should always feature runny sunny-side-up eggs! The idea behind it is to pop the egg yolk so it pours all over the rice. Don't you dare to think that it's a joke or a detail not worth paying attention to! Hawaiians are really serious about it. Few years ago, during the annual Rice Festival held in Hawaii, there was an attempt to set the record for the largest Loco Moco ever made. Actually, it wasn't just the attempt, the record was successfully set. It weighed 1126 pounds (wow!). But. There was one tiny detail that disappointed some Hawaiians. Eggs were scrambled instead of cooked sunny-side-up! Told ya they are serious about it!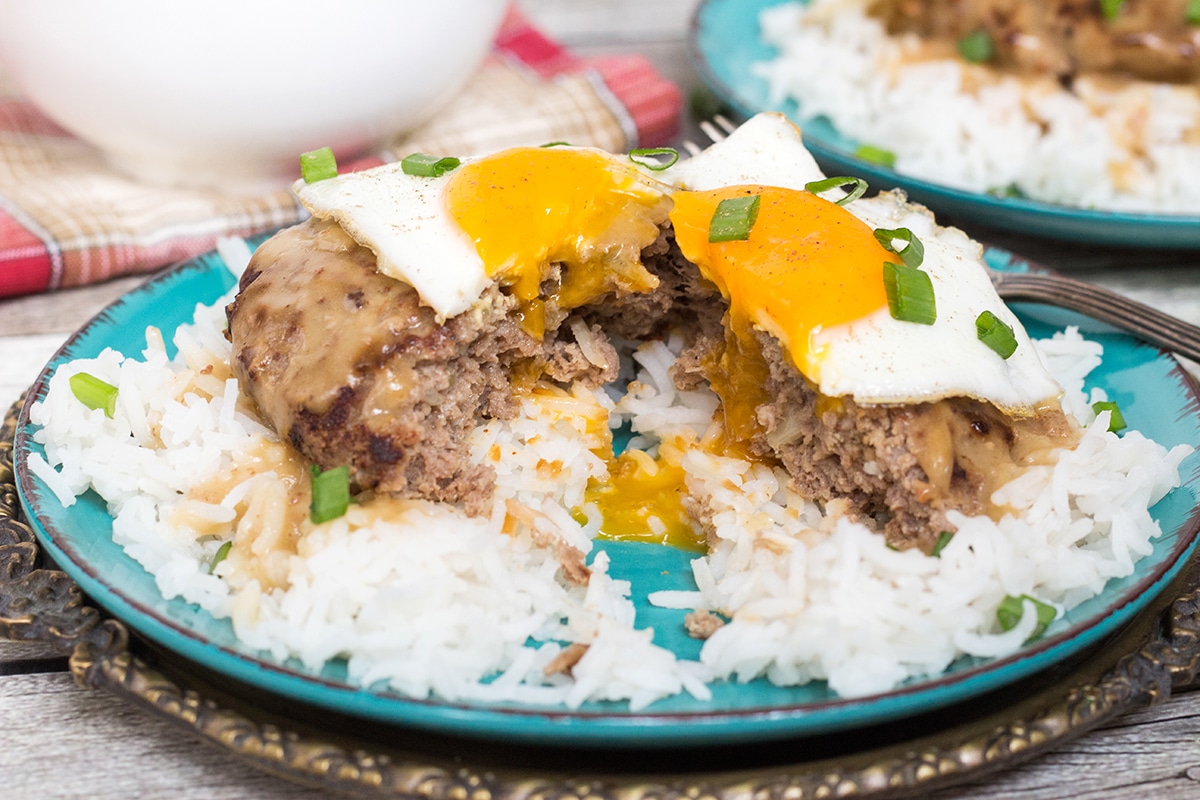 Loco Moco is really worth your attention. It's more than just a ground meat patty, rice and a fried egg. The gravy makes all the difference! I saw that some people add mushrooms in the gravy. I decided to make a classic version but it's not a bad idea at all. I also heard that this dish is a perfect hangover cure (just in case). I am already looking forward to more dishes from this heavenly island!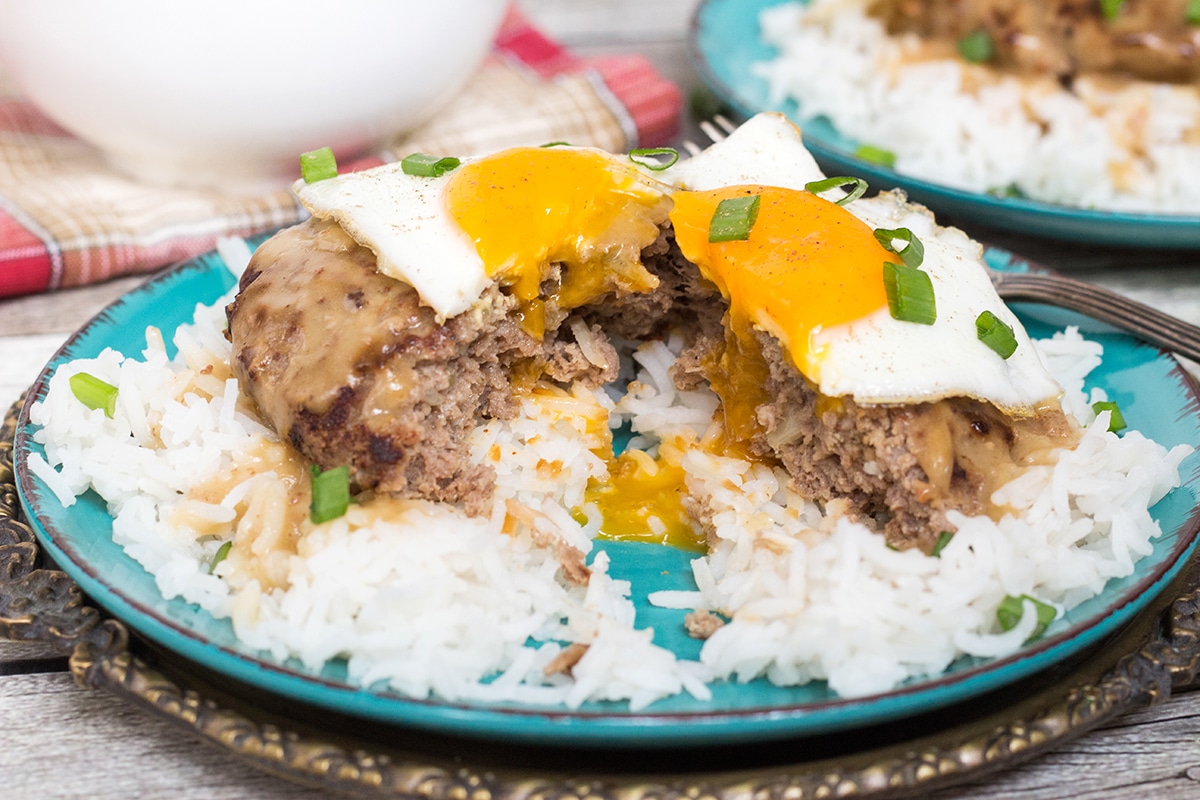 Loco Moco Recipe
White rice topped with a hamburger patty, a fried egg, and all drowned in a delicious gravy. This Hawaiian specialty will immediately win your hearts!

Ingredients
For the patties:
1

pound (450g)

ground beef

½

cup

panko bread crumbs

½

cup

sweet onion

, minced

1

egg

, beaten

1

teaspoon

Worcestershire sauce

1

teaspoon

salt

1

teaspoon

black pepper

vegetable oil

, for frying
For the gravy:
1 ½

cup

beef broth

2

tablespoons

all-purpose flour

2

tablespoons

butter

2

dashes

Worcestershire sauce

salt and pepper

, to taste
For the assembly:
2

cups

cooked white rice

, hot or warm

4

eggs

, cooked sunny side up
Instructions
The patties. Combine all the ingredients together and make 4 patties. Heat the oil in a skillet an fry the patties until desired doneness. I did like 4 minutes per side. Transfer to a plate.

The gravy. Use the same skillet you used for cooking the patties. Scrape up the browned bits of the meat. Melt the butter. Whisk in the flour and continue whisking until you get a light-brown paste. Slowly pour in the broth, whisking continually until the flour is combined with the broth. Bring to a boil, reduce to simmer, add the Worcestershire sauce and cook for 5 minutes more. Season to taste.

The assembly. Serve the patties over the cooked rice and top each patty with the fried egg. Pour the gravy over the top and enjoy!
Nutrition