Russian Cabbage Pie is one of the best culinary creations this country can offer. Rich and buttery crust featuring a secret ingredient (sour cream) filled to the brim with a classic Russian mixture of braised cabbage and boiled eggs. Perfection.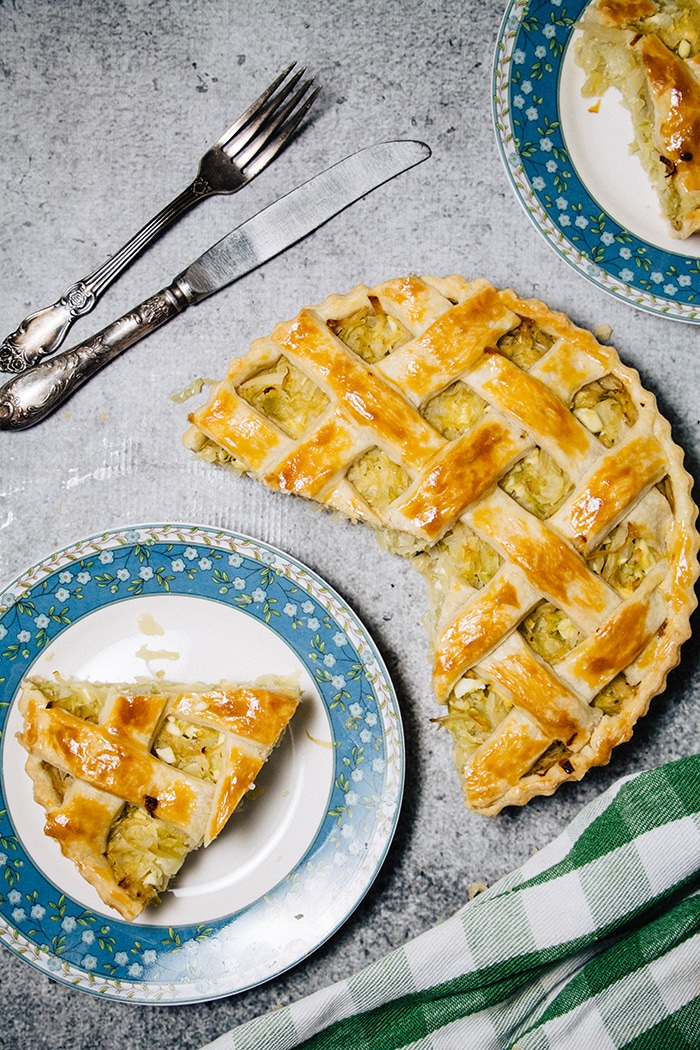 Let's talk about cabbage, shall we? Did you know that Russia is the world's largest cabbage consuming country? It's true. The average person in Russia consumes 20 kilograms of cabbage every year. Russians are crazy about this leafy vegetable and have been for hundreds of years.
Russia is also among the top three cabbage producers in the world, behind only China and India with over 3 million tons of it grown each year. Maybe that's why Russian cuisine has so many amazing cabbage recipes.  
Some of my favorites include stuffed cabbage rolls and traditional Russian cabbage soup (Shchi). Cabbage is also one of the most popular fillings for Piroshkis (Russia's popular hand pies).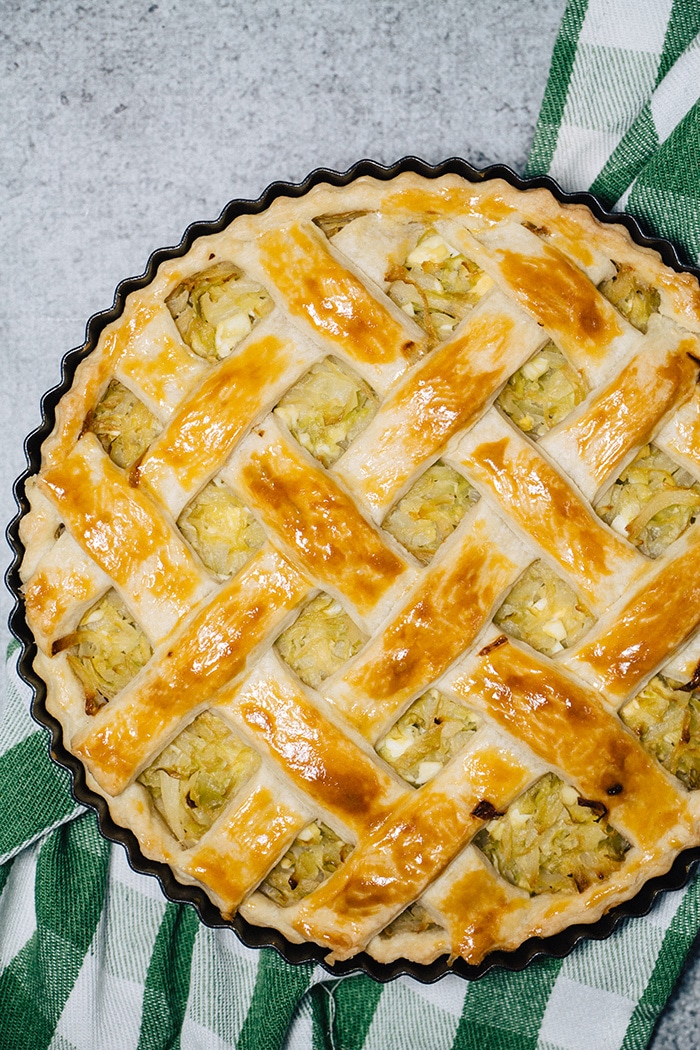 As you can see, cabbage is a very important part of Russian cuisine. This is for good reason - it is easy to grow, cheap, and simply delicious. Plus, in case you needed further convincing to add more cabbage recipes into your repertoire, you may be interested to know that cabbage also has some great health benefits.
It's ridiculously low in calories (less than 25 calories per serving), and it also boasts great levels of natural antioxidants, as well as vitamin C, vitamin K, vitamin B-5, vitamin B-6 and vitamin B-1. Delicious and healthy? Yes, it is.
Enough talk about cabbage, let's get to cooking! Today I decided to show you one of my favorite Russian recipes ever - cabbage pie. My mom used to make it often when I was a child. Now I make it for my friends and family, continuing the tradition.
This recipe is so good that it never lasts long once it's made because everyone loves it. Even though it is delicious as a leftover meal, we rarely have leftovers!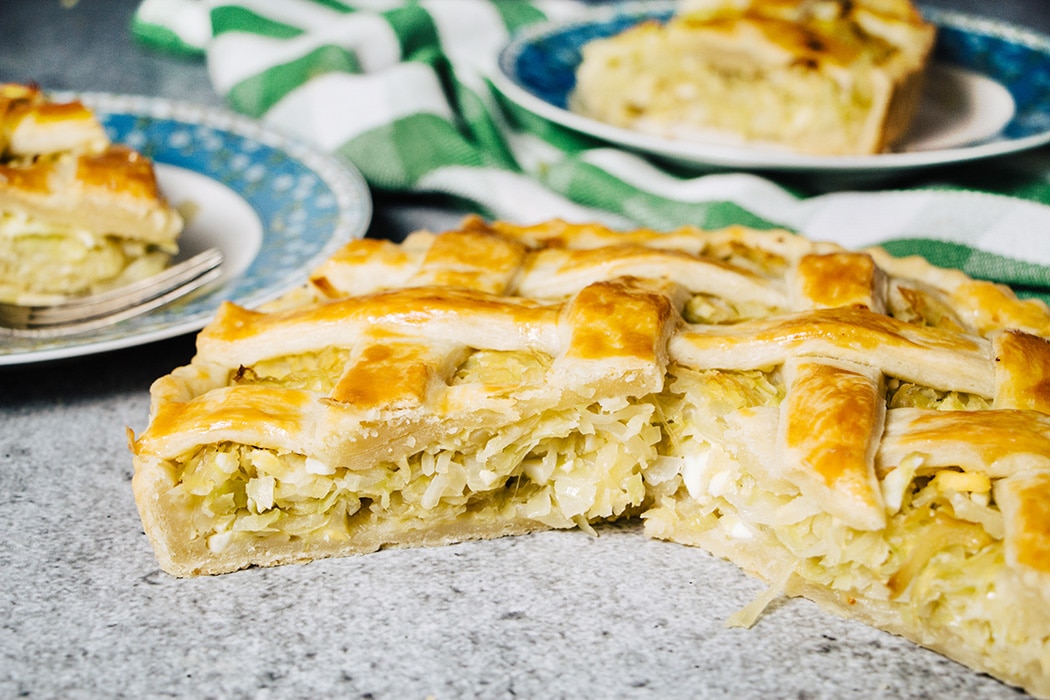 What's the fuss is all about, you may ask. Well, it's a mixture of the fact that this pie is simply delicious, it's a great comfort food, and for many, the taste is a way to step back in time and remember those delicious authentic dinners from their childhood.
Plus, it's versatile. Depending on my mood I will prepare cabbage pie to enjoy as a vegetarian main dish for dinner, or, on occasion, I will simply pair it with a cup of tea or my beloved cranberry Mors for a quick lunch. The versatility is one of my favorite things about this recipe.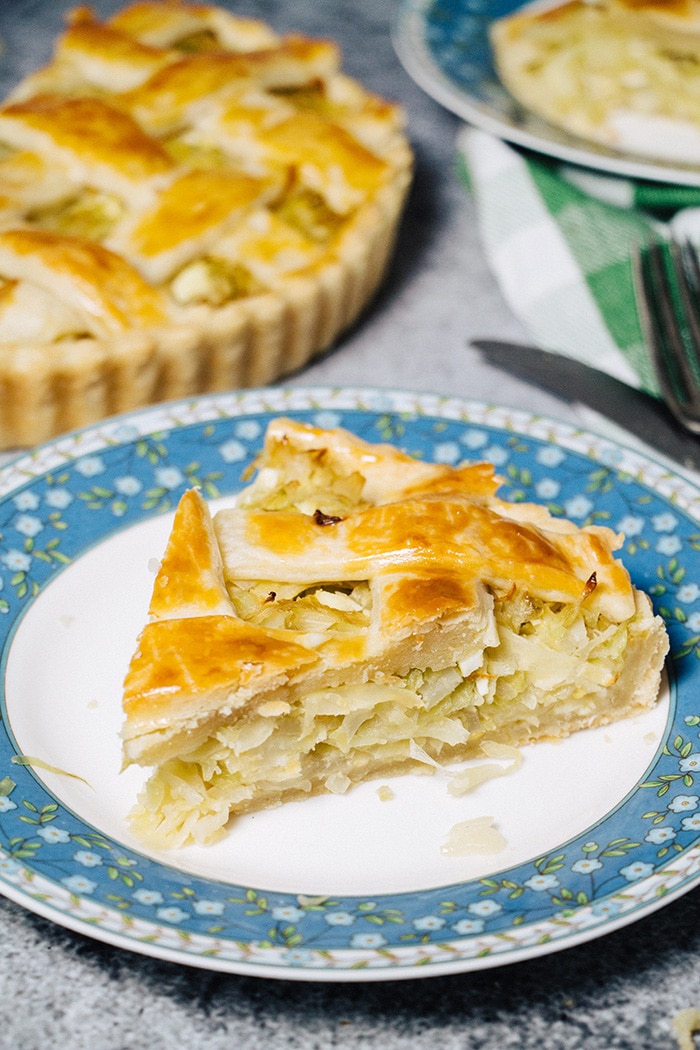 Now that I have you thoroughly convinced (hopefully) that you need to try this Russian creation, grab the ingredients and let's get started.
How to Make Russian Cabbage Pie
Once you are ready to start, begin by combining the butter, flour, and salt in a food processor. Process these ingredients until the mixture presents itself in fine crumbs.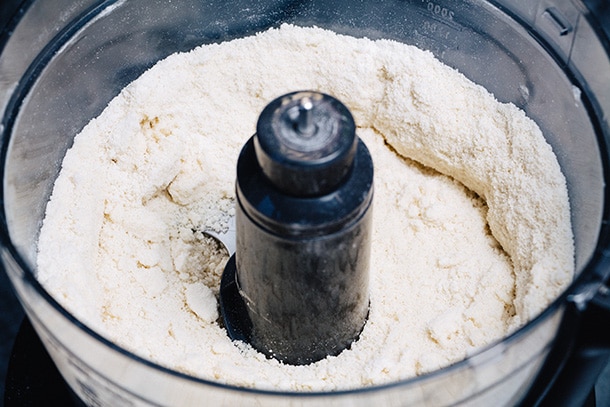 Transfer your mixture to a medium-sized mixing bowl. Next, add the sour cream and egg, stirring until your mixture is a dough consistency. From here, form your dough into a ball, wrap it in plastic wrap and place in the refrigerator for an hour.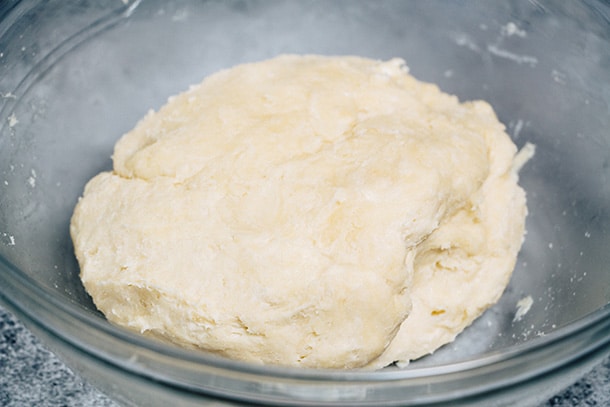 While you wait for the dough, hard boil the eggs that will be used for the filling, chopping them up.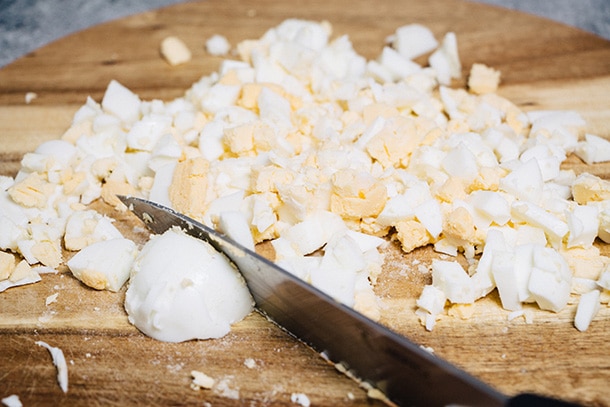 You can also take this time to slice the cabbage (thin slices) and salt them to taste.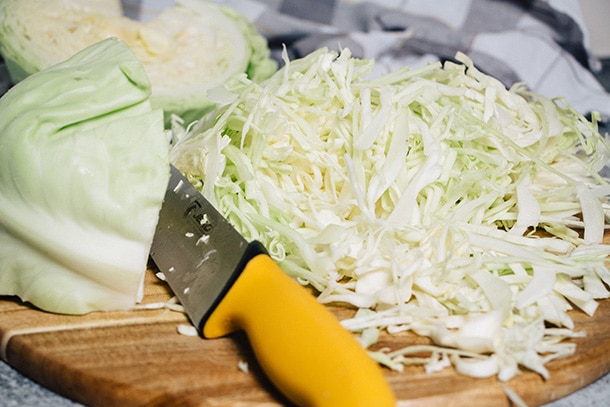 Next up, heat up the oil and butter in a large pan and cook the cabbage for approximately 3-5 minutes at which point, you will put a lid on the pan and cook for another 10 minutes or until it's soft. Once the cabbage is cooked and it has cooled, it is now time to mix it in with the hard-boiled eggs.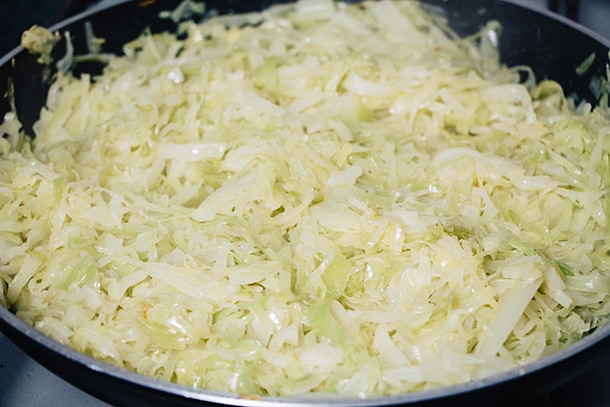 It's time to get your oven and baking pan ready!  Preheat your oven to 350F (175C). Also, be sure to lightly grease your baking pan with butter. I use a tart pan, but any 9 inch round baking pan should do.
Now that the dough is ready, divide it into two parts, with one being slightly larger than the other. With the larger part, roll it out on a lightly floured surface and use it to line your baking pan, trimming the excess dough from the edge of the pan. With the smaller portion, cut it into even strips to use later as your pie topping.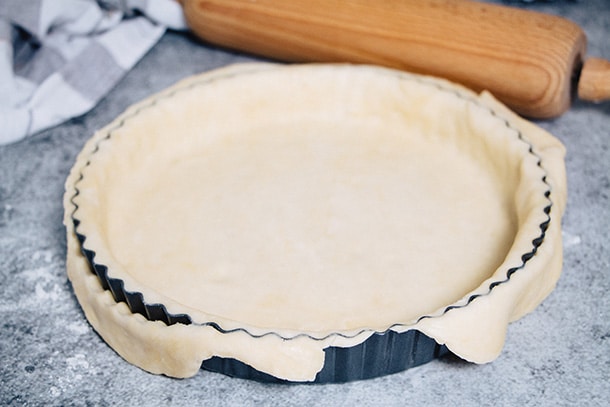 Now you can take your cabbage and egg filling and add it to your baking pan filling it clear to the top. Once you have done that, add your dough strips to form a nice lattice topping. Press the ends of the strips into the crust edge. This will help them to keep their shape when baking.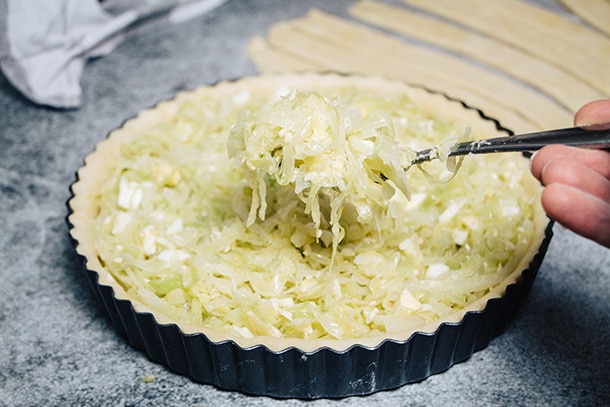 With the remaining egg yolk, lightly beat it, adding just a small pinch of salt and brush the dough strips.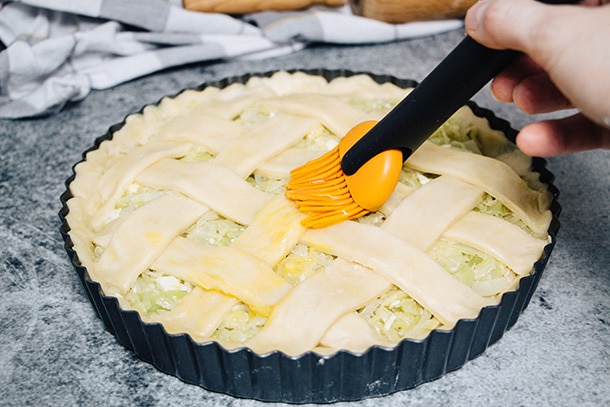 Bake your Russian cabbage pie for 40-45 minutes, or until the filling is lightly browned and springy to the touch. Let your pie cool for 10-15 before serving and enjoy!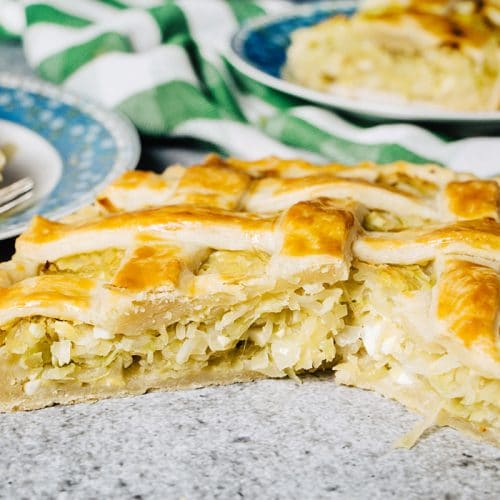 Russian Cabbage Pie
This Russian cabbage pie with a traditional braised cabbage and boiled egg filling is great as a vegetarian dinner or for a lunch with a cup of tea!
Ingredients
For the dough:
⅔

cup (150g)

cold butter

, cubed

2 ½

cups (300g)

all-purpose flour

a pinch of

salt

3.5

oz. (100g)

sour cream

1

egg

1

egg yolk

, for brushing
For the filling:
1

lb. (450g)

fresh cabbage

4

eggs

salt

, to taste

oil

¼

cup (55g)

butter
Instructions
Put the butter, flour, and salt in a food processor and process until the mixture resembles fine crumbs.

Transfer to a bowl and add the sour cream and egg. Stir until everything is combined and you get the dough. Form to a ball, wrap in plastic wrap and refrigerate for 1 hour.

Meanwhile, hard boil the eggs for the filling and chop them. Thinly slice the cabbage and add some salt to taste.

In a large pan, heat the oil and butter and cook the cabbage for 3-5 minutes. Put a lid on and cook for 10 minutes or more until it's soft. The cooking time depends on the toughness of the cabbage. Let cool and combine with the hard-boiled eggs.

Preheat the oven to 350F (175C). Lightly grease the round 9-inch baking pan (I used a tart pan) with butter.

Divide the dough into two parts: one slightly larger than the other. Roll out the larger part on a lightly floured surface and line the pan. Trim the excess dough from the edges. Roll out the smaller dough part and cut into even strips.

Add the cabbage and egg filling to the dough-lined pan and top with the dough strips to form a lattice. Gently press both ends of the strips into crust edges to keep their shape when baking.

Lightly beat the egg yolk with a small pinch of salt and brush the strips. Bake 40-45 minutes. Enjoy!
Nutrition
Calories:
288
kcal
Carbohydrates:
27
g
Protein:
7.1
g
Fat:
17
g
Cholesterol:
132.3
mg
Sodium:
75.4
mg
Sugar:
1.9
g
Vitamin A:
900
IU
Vitamin C:
23.1
mg
Nutrition Facts
Russian Cabbage Pie
Amount Per Serving
Calories 288
Calories from Fat 153
% Daily Value*
Fat 17g26%
Cholesterol 132.3mg44%
Sodium 75.4mg3%
Carbohydrates 27g9%
Protein 7.1g14%
Vitamin A 900IU18%
Vitamin C 23.1mg28%
* Percent Daily Values are based on a 2000 calorie diet.