This sauerkraut-based version of the famous Russian Cabbage Soup, also known as Sour Shchi, is comforting, hearty, and utterly delicious. The best thing - it's even better the next day!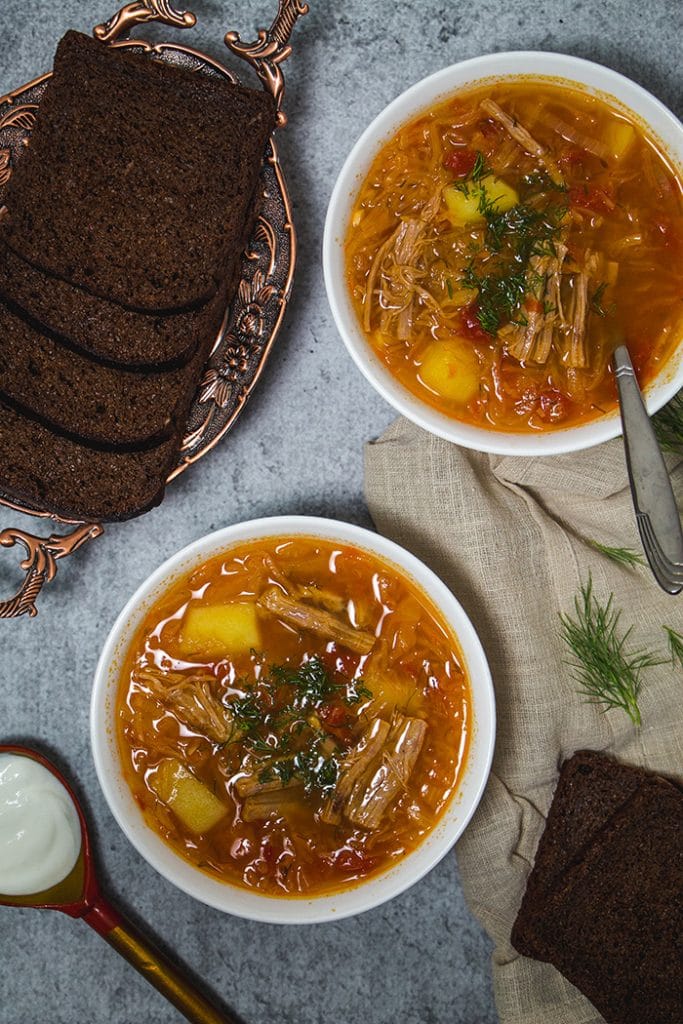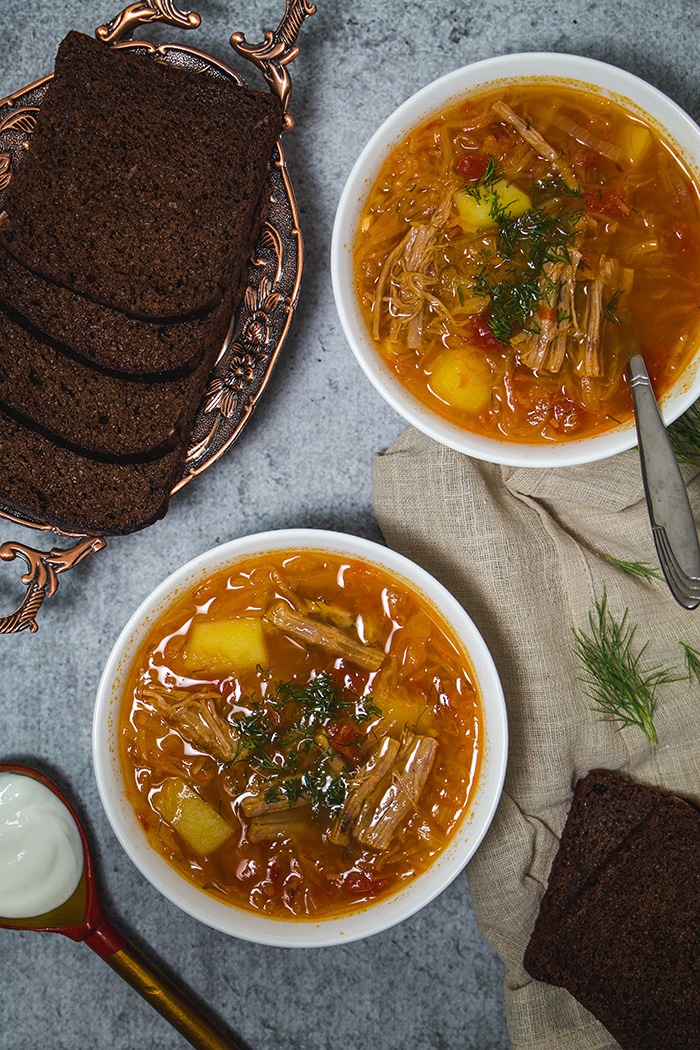 Guess who is back! Two years since my last recipe I am finally ready to continue the blog and introduce you to even more amazing recipes from all around the world.
For those who are interested in what I was up to while I was away: my wife and I welcomed our second son Daniel into the world in 2018, and we spent the bigger part of 2019 traveling with our kids. Madeira, Gran Canaria, lake Como in Italy, Belgium, and 2 amazing months in Taiwan. What an amazing year it was. I'll definitely post some food related stuff from our travels here but for now - let's dive straight into the new recipe. Good to be back!
How is your winter going? Are you getting tired of being indoors yet? Or, are you still enjoying staying cozy indoors and enjoying all of the delicious comfort foods that come with the cold season?
I seem to be in the middle somewhere, I am looking forward to warmer weather, but I am still enjoying the coziness of the colder weather and the good food that comes along with it. Let's be real here, I love me some good comfort food recipes, how about you? Delicious comfort food is one of the best things about the winter season.
I have been craving the perfect winter comfort food lately and knew that I just had to make a delicious batch of Russian cabbage soup, known as Shchi in Russia. Just in case anyone else is feeling like they need the perfect recipe for these chilly winter days, this is it!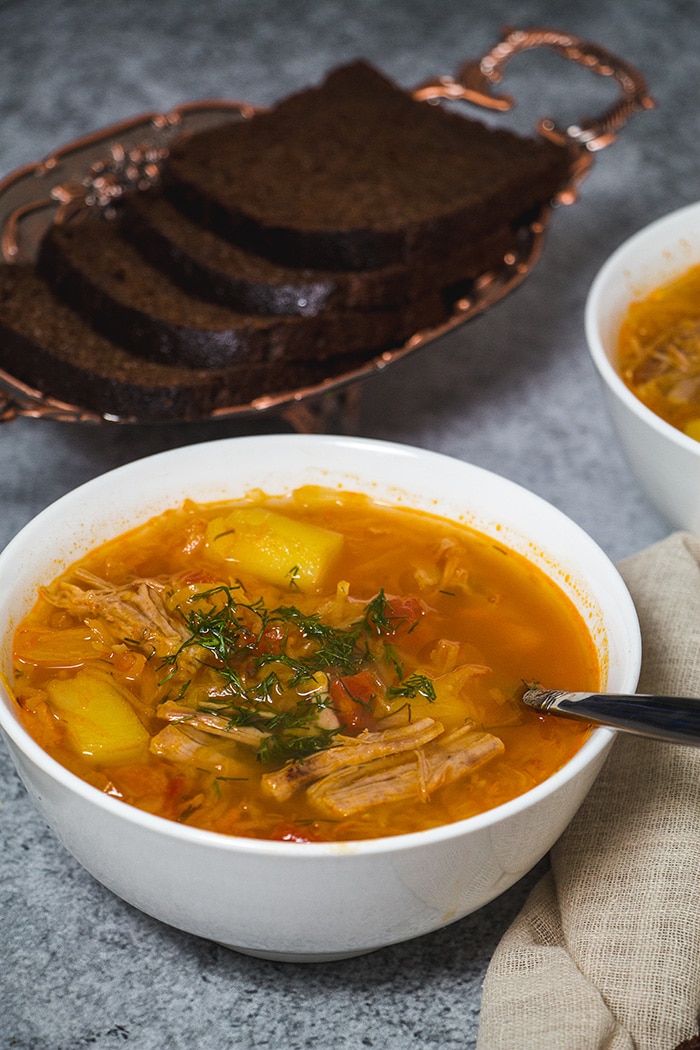 There are two versions of this utterly satisfying soup. One features sauerkraut and is called Sour Shchi and the other one is made with fresh cabbage and is called simply Shchi. Sometimes both sauerkraut and fresh cabbage can be used. I love both but give a slight edge to the sauerkraut only version. That's the one I will show you today!
Russian cabbage soup is one of my favorite soups to make for several reasons.
One of the reasons is the options available with it. You can use any kind of meat in it, or none at all. So it doesn't even matter what you have on hand in your kitchen, you can still make a delicious batch.
I typically make it by using my own stock that I have made with bone-in meat (chicken, beef, etc). I then use this stock for my soup base, plus, once the meat has been picked from the bones, I use it for the meat in this soup.
If you don't have the time to create your own base, you can use store-bought soup stock and boneless meat. If you are following a vegetarian or vegan diet, skip the meat altogether and use vegetable stock. I told you, I just love the options available with this recipe!
Another thing that makes this soup one of my favorites is that this is the type of recipe that makes delicious leftovers. After all of the flavors have time to develop together, this soup really does just get better the next day. Many Russians even leave it to rest overnight before eating it but I don't have such patience, ha!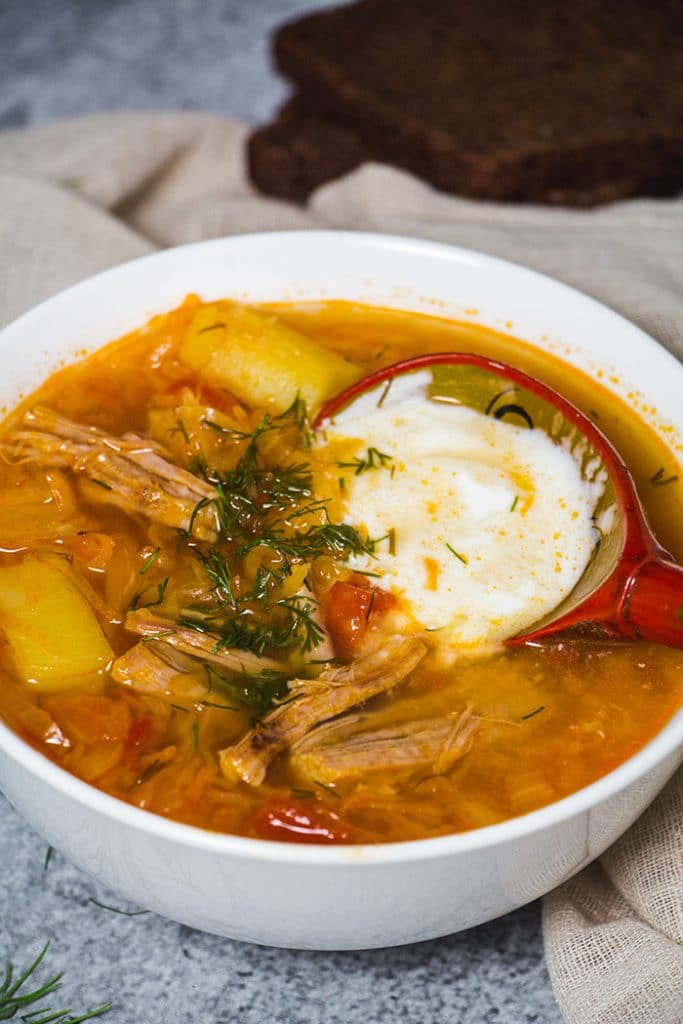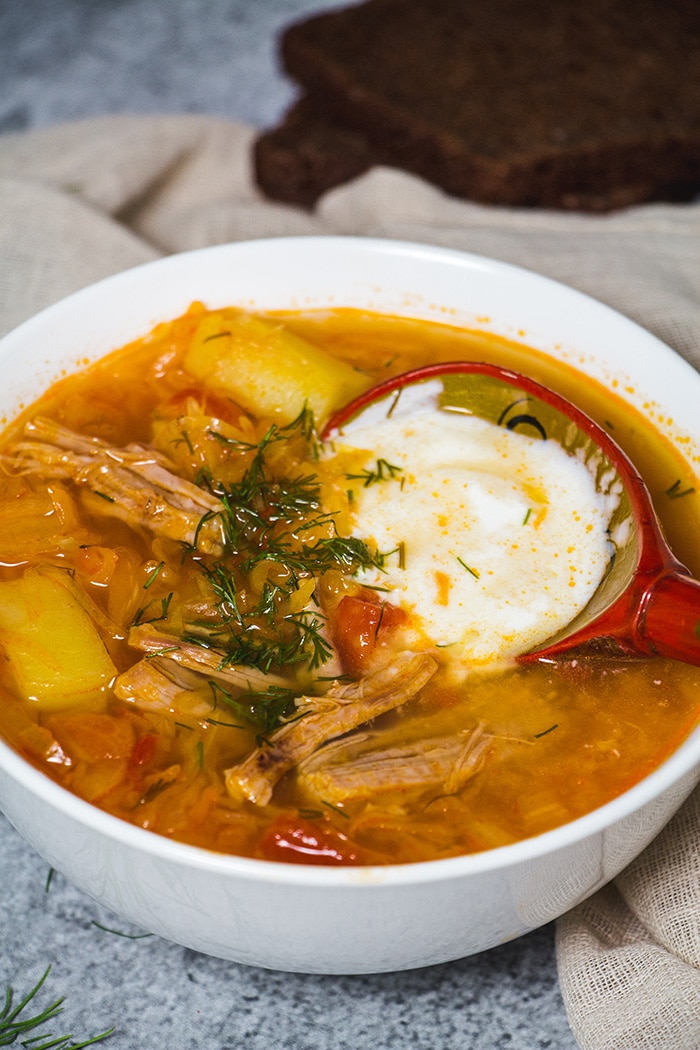 You may remember that I have previously cooked a different version of sauerkraut soup. That was actually a Polish version that used smoked sausage and bacon in it, and while it was delicious, I actually prefer this Russian version, partially because of its lower fat content.
Ok, it's time to make some soup!
How to Make Russian Cabbage Soup
Let's start with the stock. Bring 4 quarts of water to a boil in large stock pot. Once boiling, place your 2 pounds of bone-in beef (can also use chicken or pork) into the pot and once again bring to a boil. Skim the foam that has been produced then add bay leaves, one of your chopped onions, and carrots.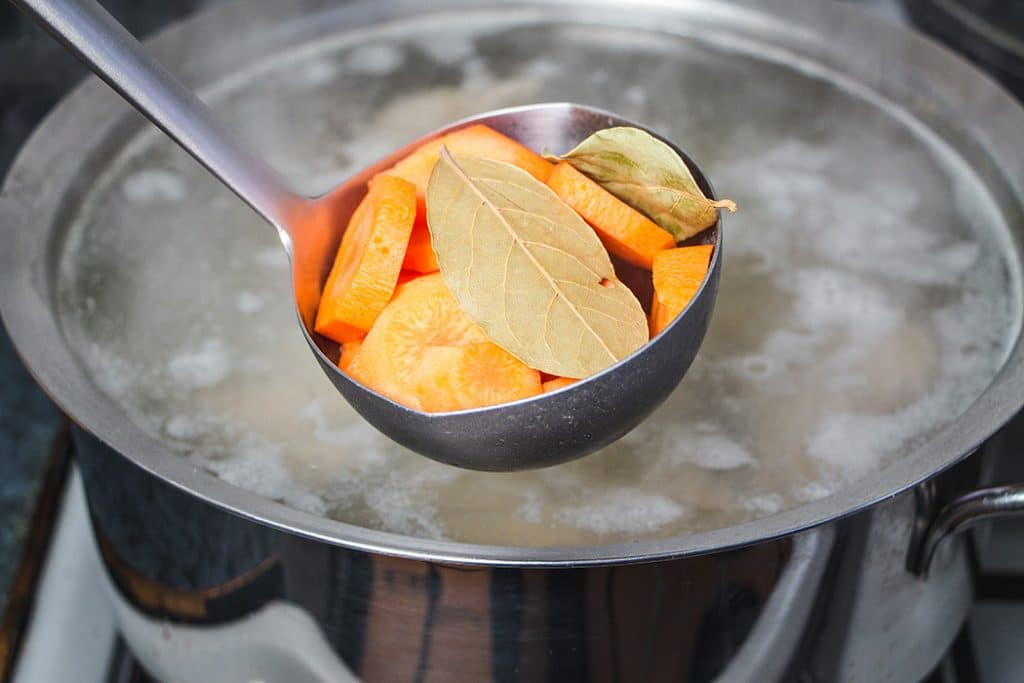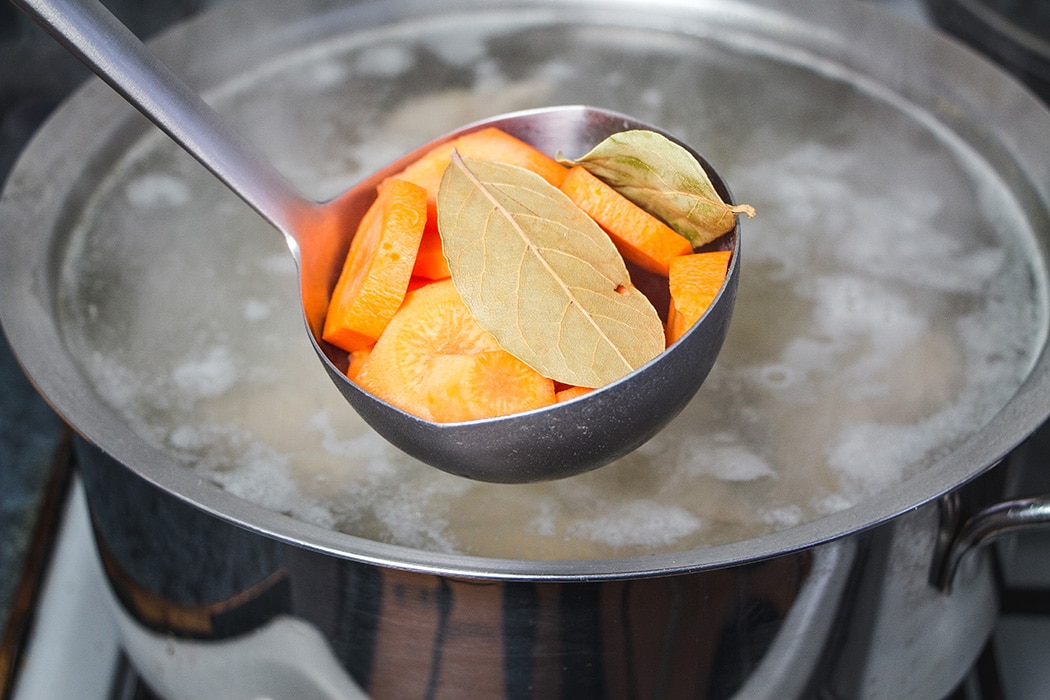 Turn down the temperature and cook for one hour or until the meat falls from the bone. Once this is done, remove the carrots, onions and bay leaves and add potatoes. Continue to cook on low heat.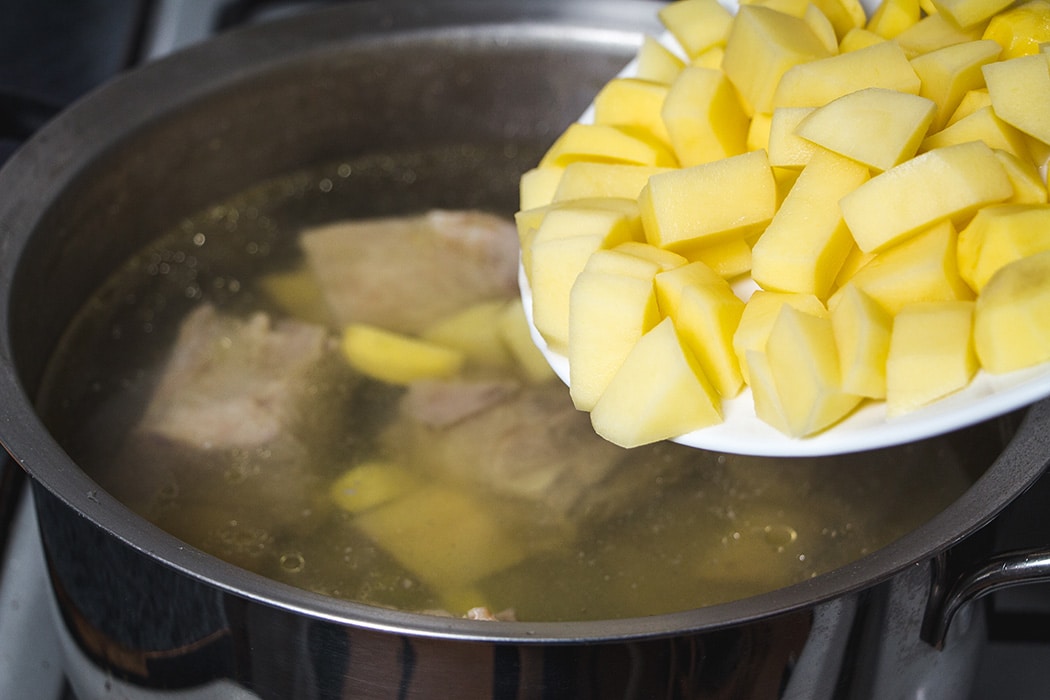 In a separate bowl, mix the canned tomatoes, paprika, garlic, dill, and paprika and set aside.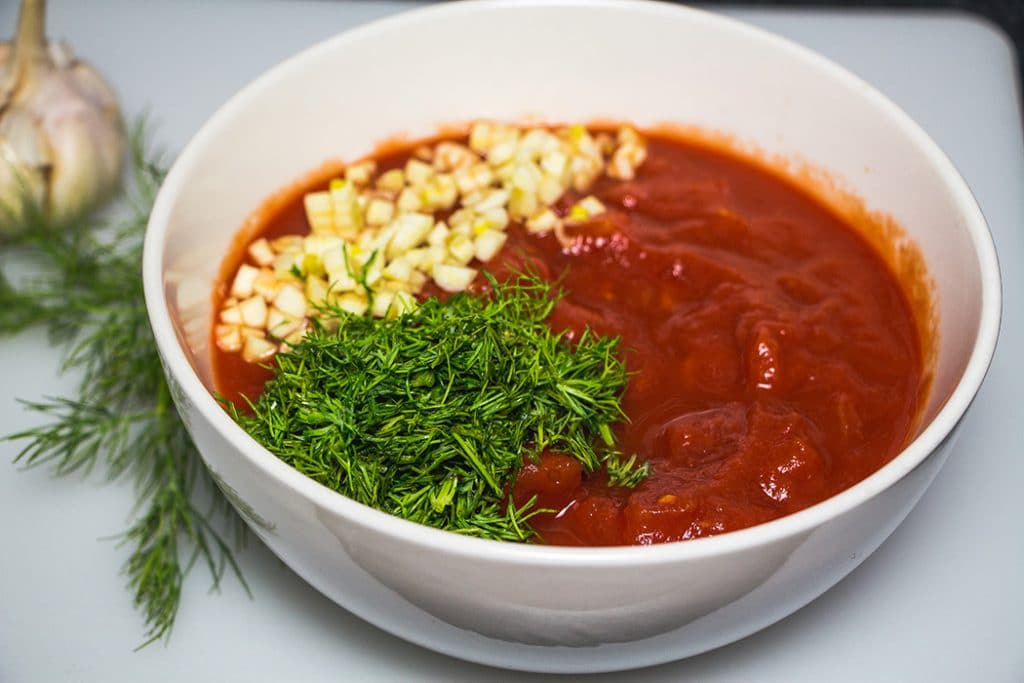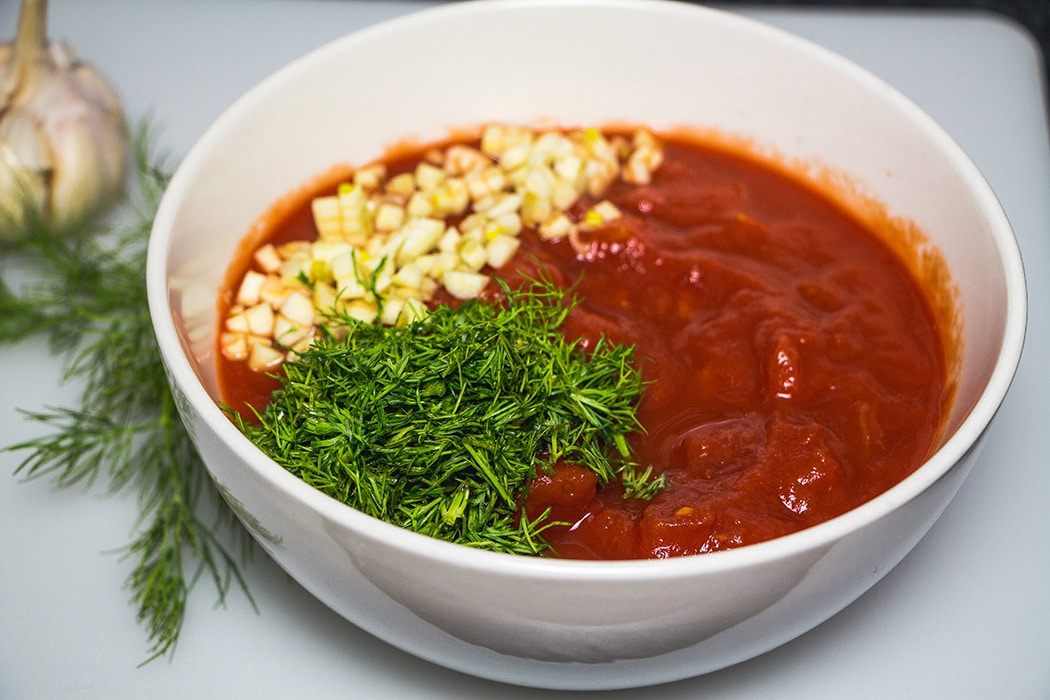 In a mid-sized skillet, heat up the olive oil and toss in the chopped onion, cooking until softened. Next, add in the canned tomato mixture and mix well. It's now time to reduce the heat to low on the skillet and cook for an additional 10 minutes.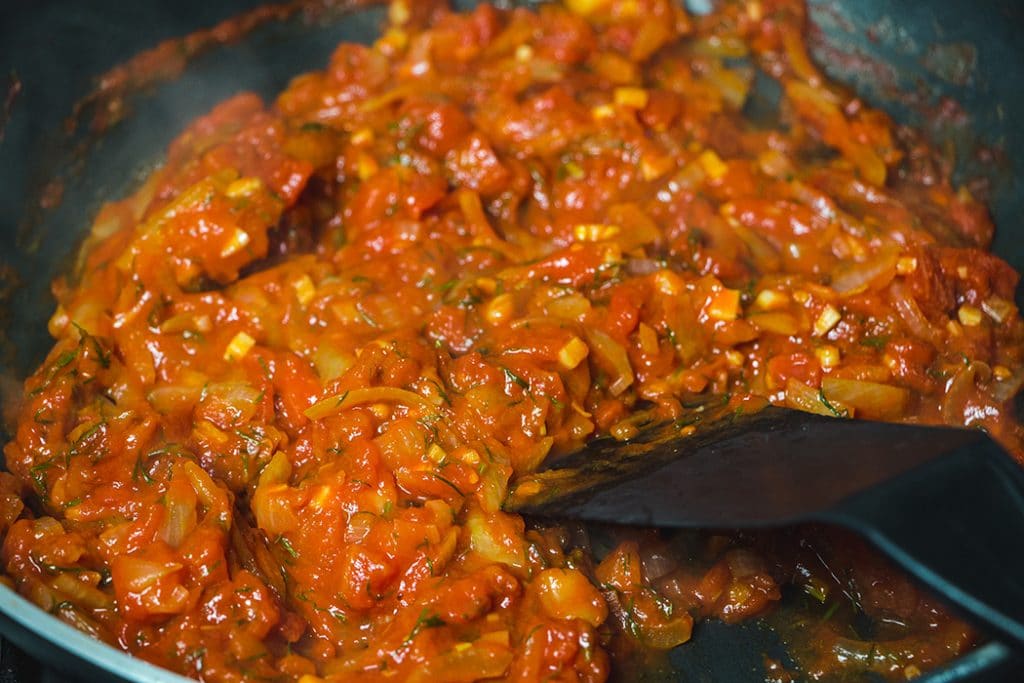 Then, transfer this mixture to the pot with the stock and meat. With the heat turned up, bring to a boil. Reduce the heat and continue cooking.
Place the sauerkraut onto a cutting board and chop up to create smaller pieces. Once you are done chopping, transfer to your pot and bring to a boil, cooking for 15 minutes. Add in the salt, bay leaves, and a few black peppercorns and return to burner, cooking for an additional 2 minutes. Remove from heat and let sit for 30 minutes.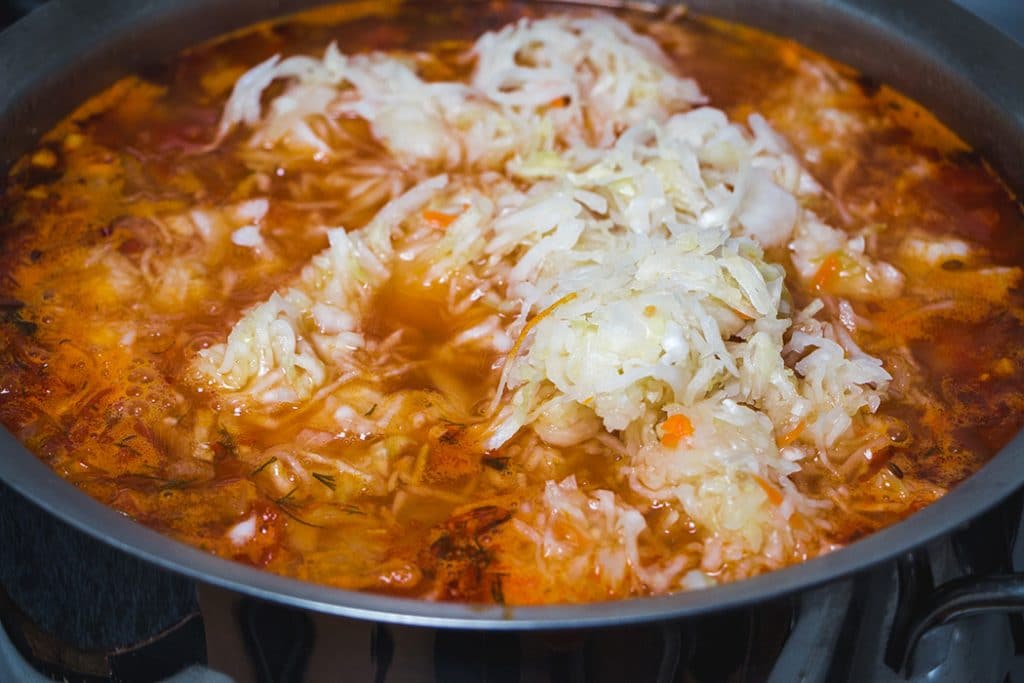 I have found it to be extra delicious when served with chopped dill and a dollop of sour cream. Enjoy!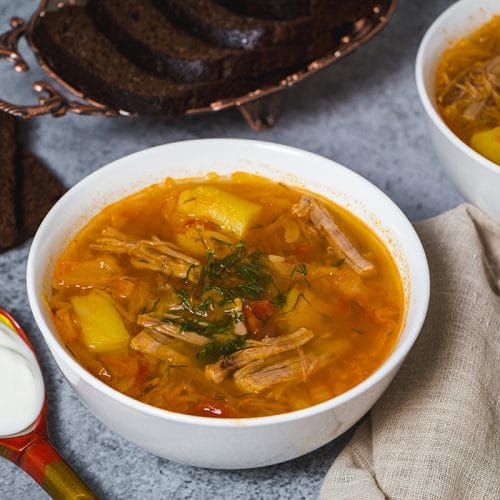 Russian Cabbage Soup (Sour Shchi)
Ingredients
2

lb. (900g)

bone-in beef

(I used short ribs; pork ribs or any other bone-in pork can also be used)

2

medium

carrots

2

bay leaves

1

medium

onion

, halved

3

medium

potatoes

, diced

1

14.5 oz. (400ml)

can chopped tomatoes

, with juice

4

cloves

garlic

, chopped

a few

sprigs

dill

, chopped

a pinch

paprika

Olive oil

, for frying

2

medium

onions

, chopped

1

lb. (450g)

sauerkraut

salt

, to taste

3

bay leaves

a few

black peppercorns
Instructions
In a large pot, bring to a boil 4 quarts (liters) water. Put the meat into the pot. When the water boils, skim the foam and add the carrots, bay leaves, and 1 onion. Cook for about 1 hour or until the meat comes off the bone easily.

When done, remove the carrots, onions, and bay leaves. Add the potatoes and keep cooking on a low heat.

Meanwhile, in a bowl, combine the canned tomatoes, garlic, dill, and paprika. Set aside.

In a skillet, heat the olive oil and cook the chopped onion until softened. Add the canned tomato mixture and mix to combine. Reduce the heat and cook 10 more minutes on a low heat. Transfer the mixture to the pot. Bring to a boil and keep cooking on a low heat.

Arrange the sauerkraut on a cutting board and chop a bit. Transfer to the pot and bring to a boil. Cook 15 minutes. Add some salt if needed, 3 bay leaves, and a few black peppercorns. Cook 2 minutes more. Remove from heat and let sit 30 minutes.

Serve with some chopped dill and a big dollop of sour cream. I like to pick the meat from the bones and discard bones. Enjoy!