The best Shakshuka recipe is here, guys! If you still haven't tried this North African creation, it's about time because it's one of the most awesome breakfast egg dishes ever!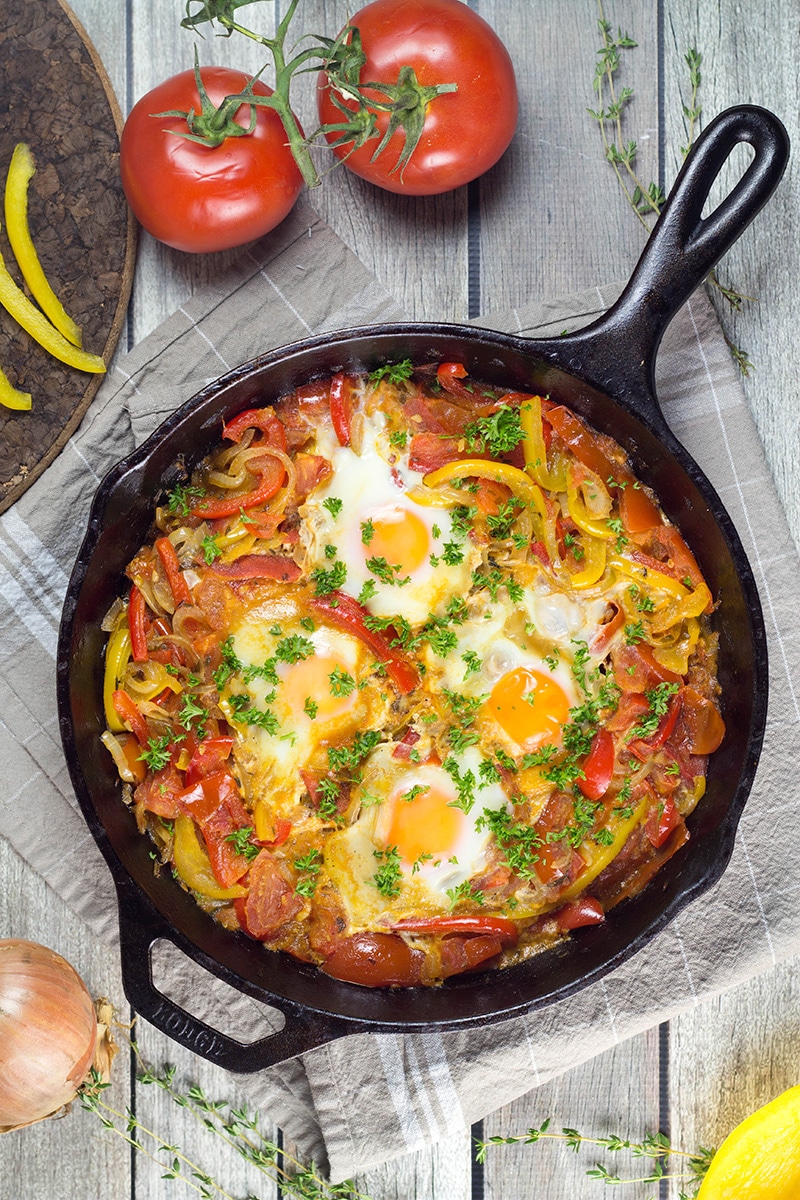 There are dishes that I enjoy regularly, but they are still not on the blog yet. Why so, you may ask. Well, some of them are so popular that almost every single blogger out there made their version and I feel that I have nothing to add. It looks like those dishes are all over Pinterest and there is that feeling that no one will notice another post on the same topic.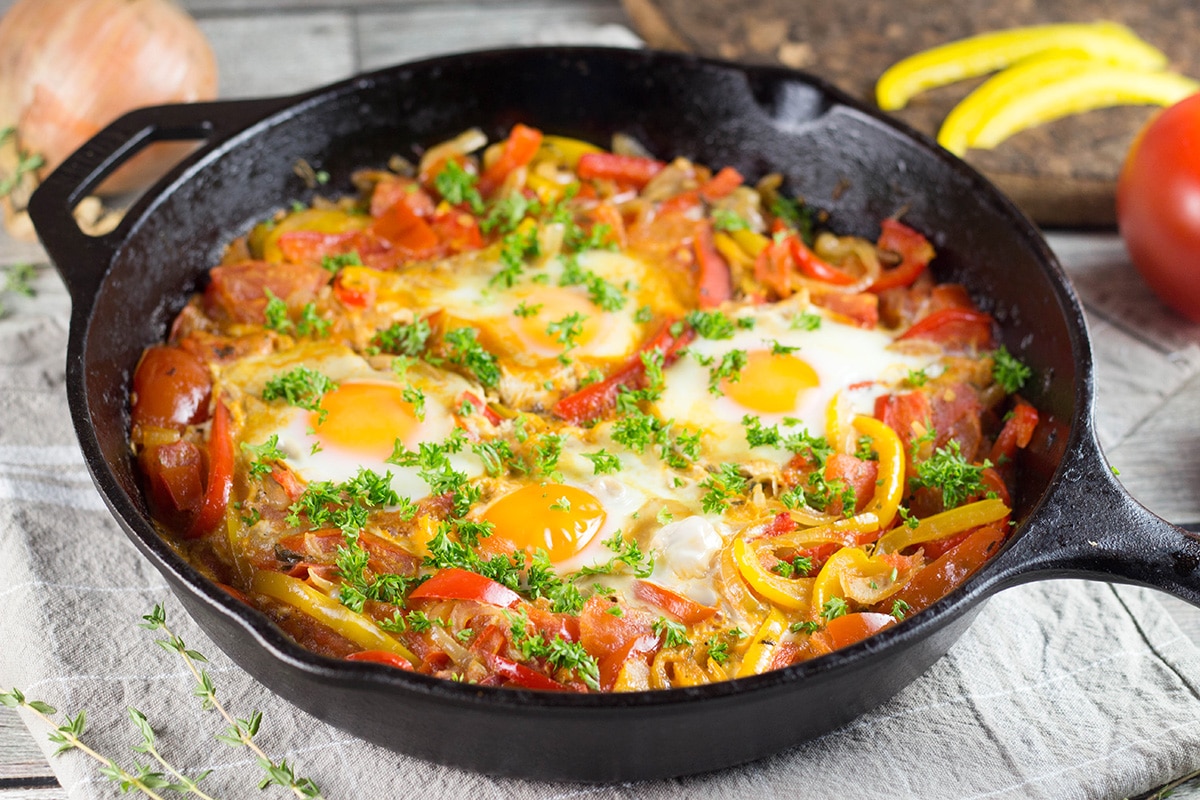 But today I thought; who cares if it won't get the attention it deserves on Pinterest? In the end of the day, the most important thing is my readers. Why shouldn't I share a recipe if I know that it's outstanding and that my readers will enjoy it? Moreover, it's strange to keep making a dish every single week and not recommend a recipe to you, guys. Ok, enough words, let's cook one of my favorite breakfasts ever!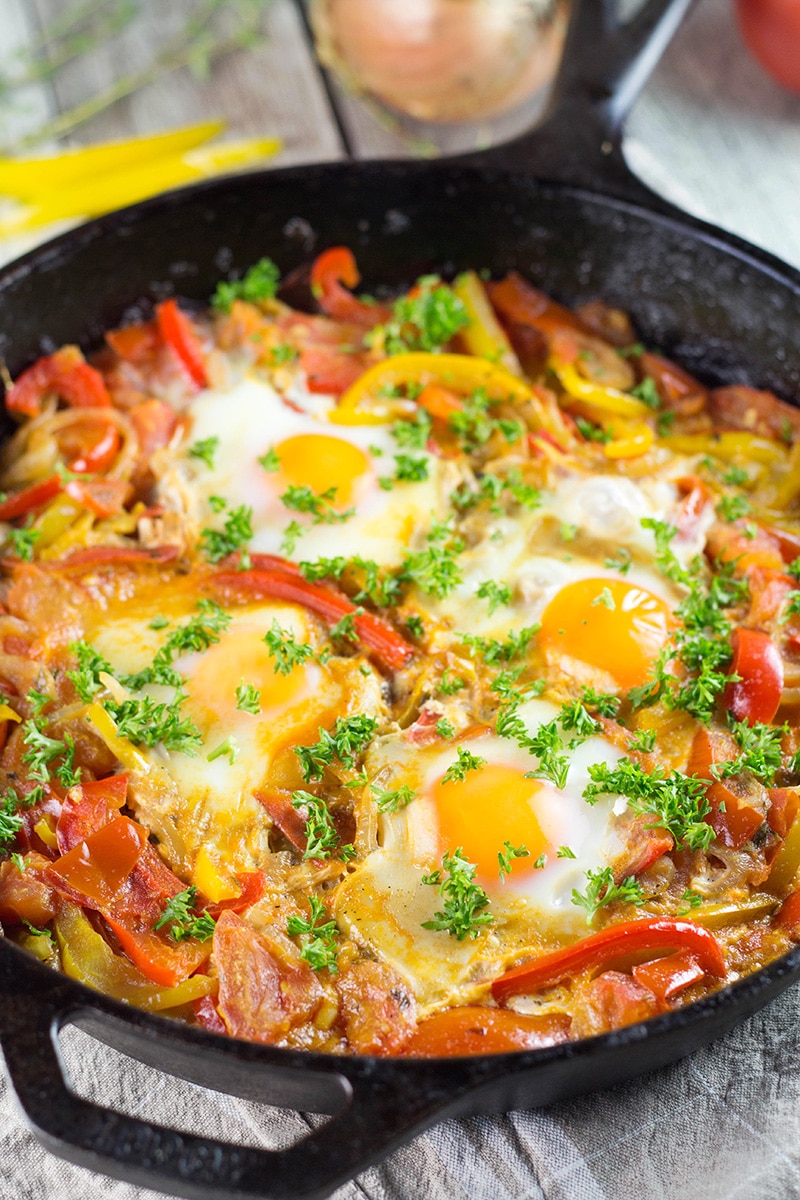 There are dozens of ways of cooking eggs, but Shakshuka is undoubtedly one of the best and most popular ones. It's a staple of many countries all around the world. Wikipedia says that it's enjoyed in Tunisia, Libya, Algeria, Morocco, Egypt, and Israel. I always thought that Shakshuka was born in Israel, but it seems that these eggs in tomato sauce were simply introduced by Jews, but not necessarily the ones living in Israel. In fact, such a country as Israel hadn't even existed when Shakshuka was invented. It would be more accurate to say that it's a North African dish.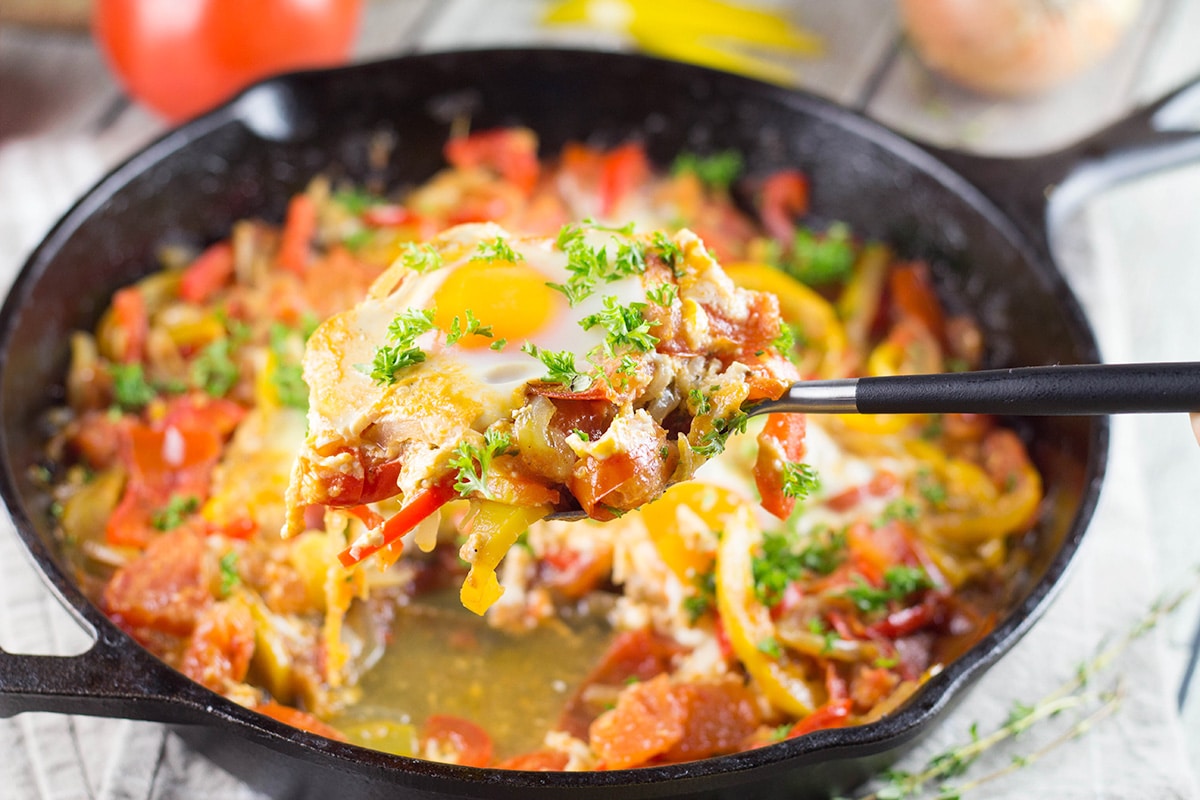 So what it's all about? First, we make a fragrant tomato and bell pepper based sauce, with the aromas of onion, thyme, parsley, and cilantro. When the sauce is ready, we gently cook eggs in it. Sprinkle with some more cilantro or parsley and that's it! You can begin savoring this fantastic creation and praising it. Yes, you WILL praise it. I am one hundred percent sure because this Shakshuka is crazy good.
The tomato and bell pepper sauce is the thing that makes this dish stand out. It goes so well with the eggs, creating a feast of flavors in your mouth! It's really hard to explain how good this North African dish is. You will have to try it yourself to truly understand the magic behind it!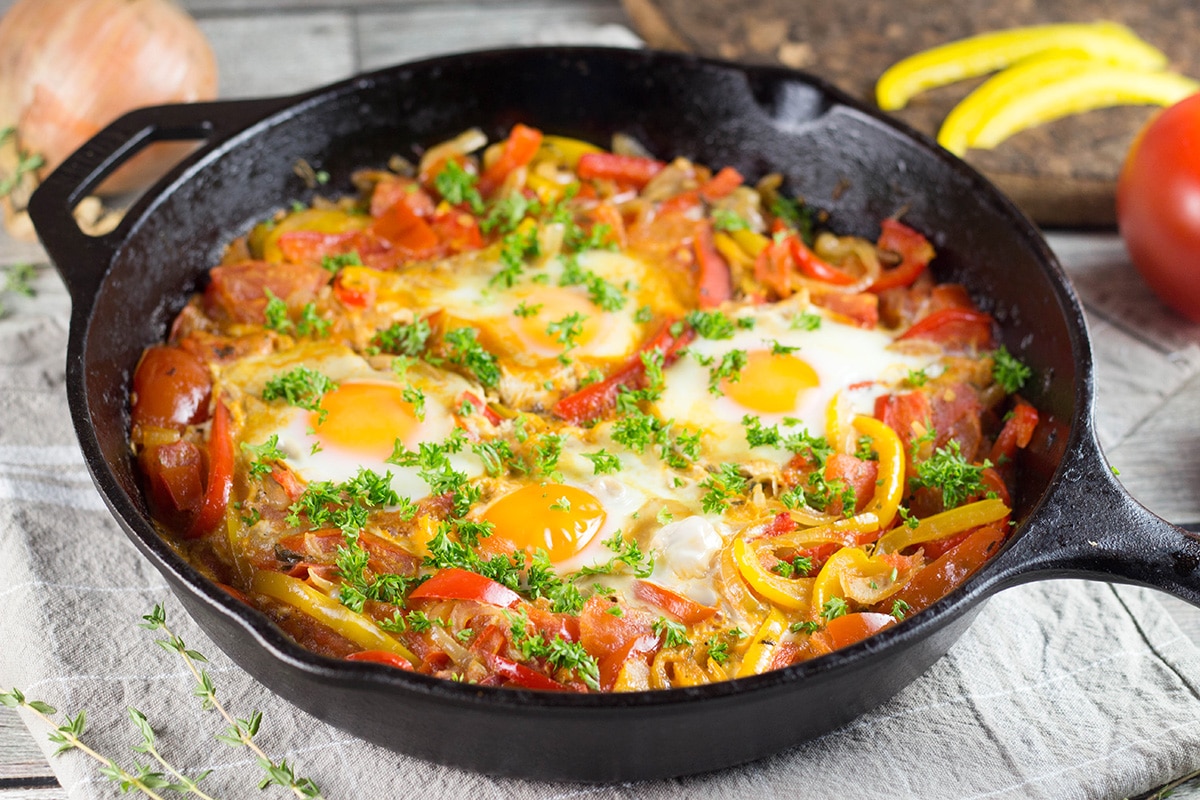 Shakshuka Recipe
This North African dish features eggs fried in a spiced tomato and bell pepper sauce. The best breakfast egg dish ever!

Ingredients
¼

teaspoon

Cumin seeds

2

tablespoons

olive or vegetable oil

1

large onion

, sliced

1

red bell pepper

, cut into strips

1

yellow bell pepper

, cut into strips

2

teaspoons

muscovado sugar

1

bay leaf

3

sprigs

thyme

, leaves only, chopped

1

tablespoon

chopped parsley

, plus more for garnish

1

tablespoon

chopped cilantro

3

ripe tomatoes

, roughly chopped

pinch of cayenne pepper

salt and black pepper

4

eggs
Instructions
In a pan, on high heat, dry roast the cumin seeds for a couple of minutes. Add the oil and onion and cook for 5 minutes. Add the bell peppers, sugar, bay leaf, thyme, parsley, and cilantro and cook for 5-10 minutes more.

Now add the tomatoes, cayenne, salt, and pepper. Reduce the heat to low and cook for 15 minutes. During the process, keep adding the water to get a pasta sauce consistency.

Remove the bay leaf. Make 4 gaps in the tomato and pepper mixture and break an egg into each gap. Sprinkle with some salt and cook, covered, on a very low heat, for 10-12 minutes, until the eggs are just cooked. Garnish with some parsley or cilantro. Enjoy!
Notes
Adapted from Plenty by Yotam Ottolenghi
Nutrition