These Swedish Pancakes require only 5 simple ingredients and 20 minutes of your precious time to make. Serve them rolled up with some jam inside or simply on top and enjoy!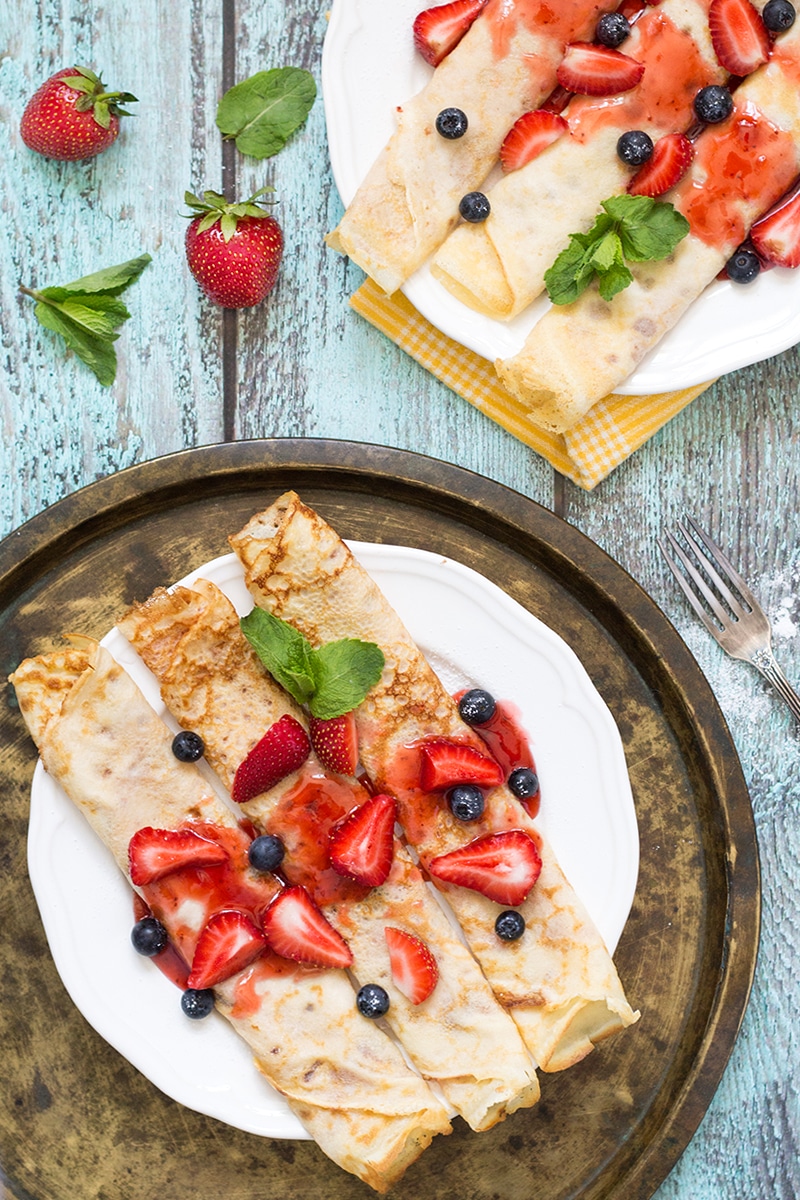 If you are following my blog you already know that I am a little bit crazy for pancakes. I made them 1..2..3..4..5... Yes, 5 times already on this blog! I guess it's my heritage talking. I have grown up eating different kinds of pancakes: sweet, savory, made of potatoes, cabbage, the list goes on and on. Now my childhood is in the past but I still love them. My pancake addiction can also be explained with my deep love for breakfast. It's my favorite meal of the day and pancakes go so well in the early morning!
This time we are heading to Europe to savor the famous Swedish Pancakes. I can say many great things about them. First of all they need only 5 ingredients to make. Really basic ingredients. Also, you can top them with everything you want: all kinds of preserves, applesauce, fresh berries, maple syrup, whipped cream, to name a few. And, they are super easy and quick to make. What else do you need? You have to be convinced by now!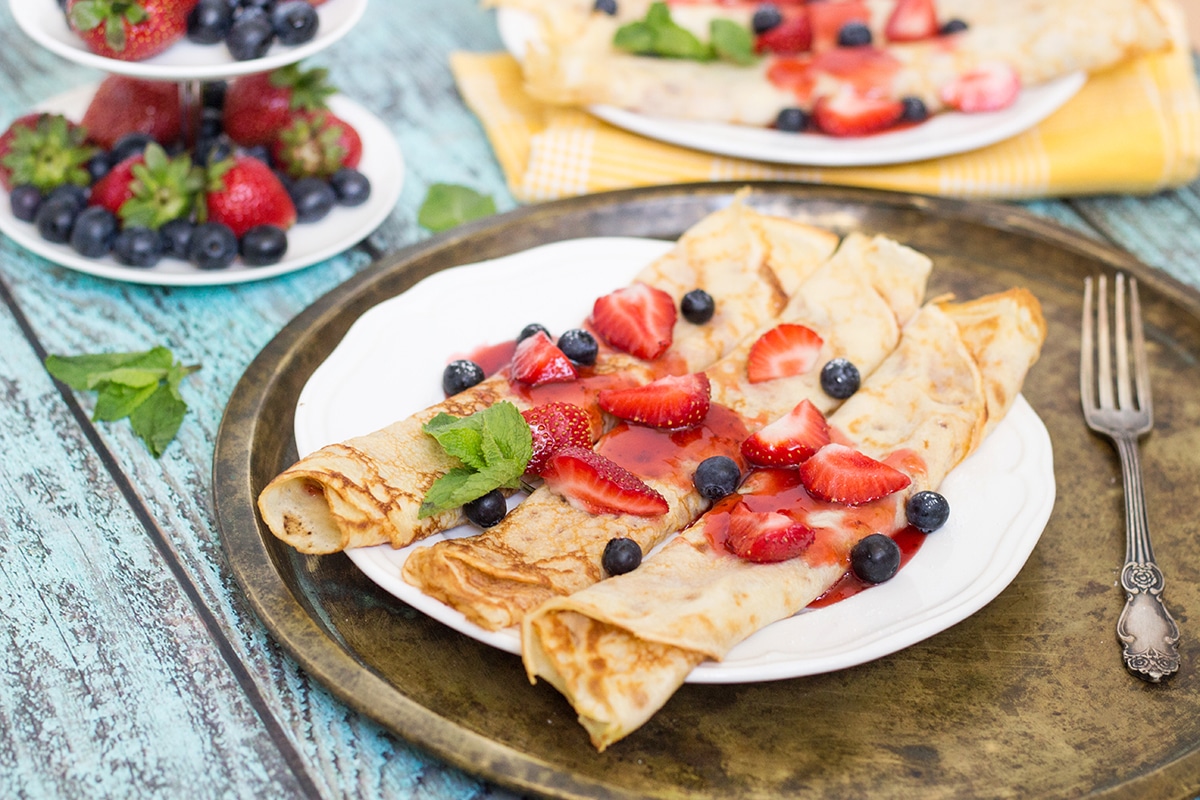 There are actually few kinds of Swedish pancakes. I made the big thin ones called Pannkakor. There are also small pancakes, called Plättar, which are cooked in a special pancake pan. Then there are potato pancakes - Raggmunk. Plenty of choices! But let's talk about the big and sweet ones this time. The question many people are asking is what's the difference between Swedish pancakes and French crepes? Well, there are few differences. First of all Swedish ones are made only with sweet toppings. They are considered to be more like a dessert. French crepes can be made with either sweet or savory toppings. I read that Swedish people call their pancakes Swedish if they are sweet, and call them crepes if they are savory. It's not the only difference.
Swedish pancakes are also thicker than their French counterparts. Of course not so thick and fluffy as American pancakes. If you will ever have a chance to visit the beautiful Sweden and taste their famous pancakes, don't ever call them crepes or say that it's the same thing. Swedes consider them as their national dish and there really are differences.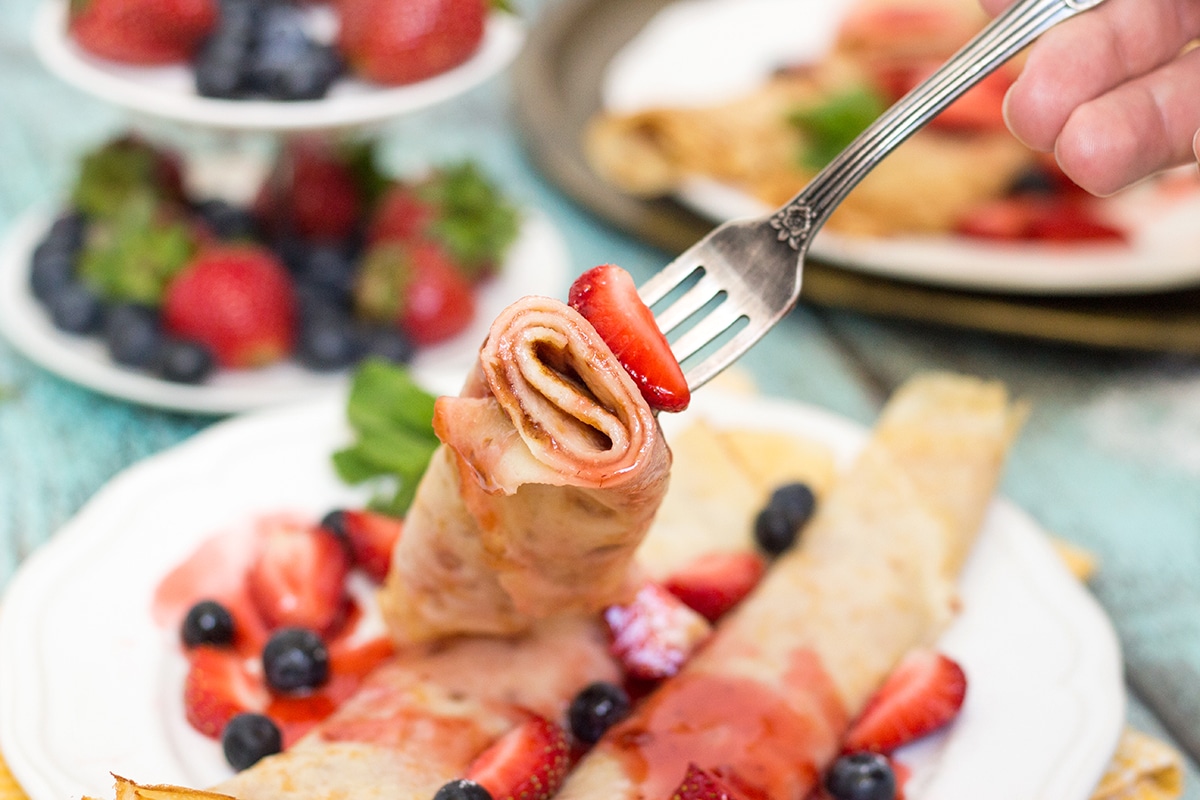 You can serve your pancakes in any way you like. I love mine rolled up with some jam inside and on top! There is never too much jam for me. Especially if we are talking about the strawberry one, but you can use any you like. I love the type of more runny jam with my pancakes. I also topped them with some fresh strawberries and blueberries. Heavenly! Make these easy Swedish pancakes, fill or top them with any sweet ingredients you want and enjoy!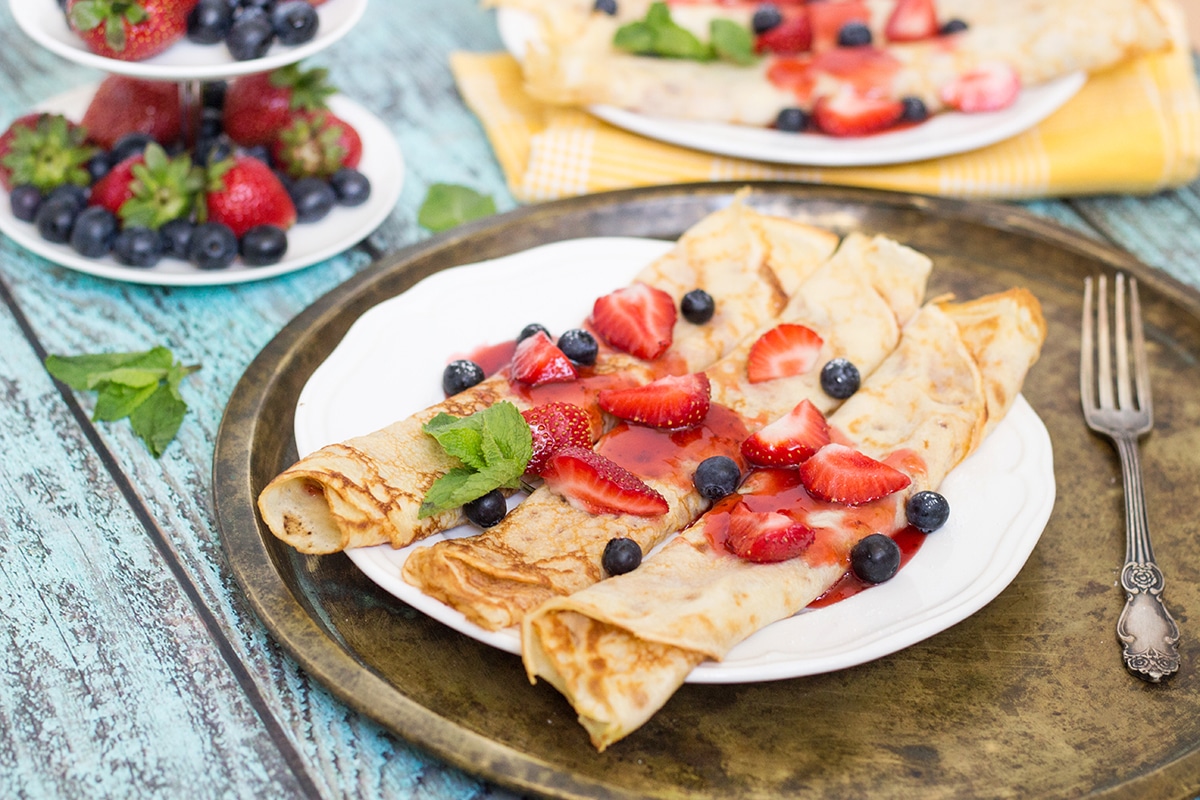 The 5-Ingredient Swedish Pancakes
These delicious pancakes come from Sweden and require only 5 simple ingredients and 20 minutes of your time to make!

Ingredients
2

eggs

1 ¾

cup

milk

¾

cups

flour

1

oz (30g)

butter

, melted

1

pinch salt
Instructions
In a large bowl, combine the eggs with a half of the milk. Whisk. Add the flour and mix well until smooth. Add the salt, the rest of the milk and melted butter. Mix.

Butter a frying pan over medium heat and pour a thin layer of batter on skillet, spreading it evenly to edges. Cook until the surface of the pancake looks dry, then flip it. Repeat with the remaining batter.

Serve with any sweet fillings and toppings you like. Enjoy!
Nutrition