This Peruvian Chicken is already one of my favorite chicken recipes ever despite the fact that I tried it only a few times so far. The star of this recipe is the green cilantro and chile sauce (Aji Verde), which is magical!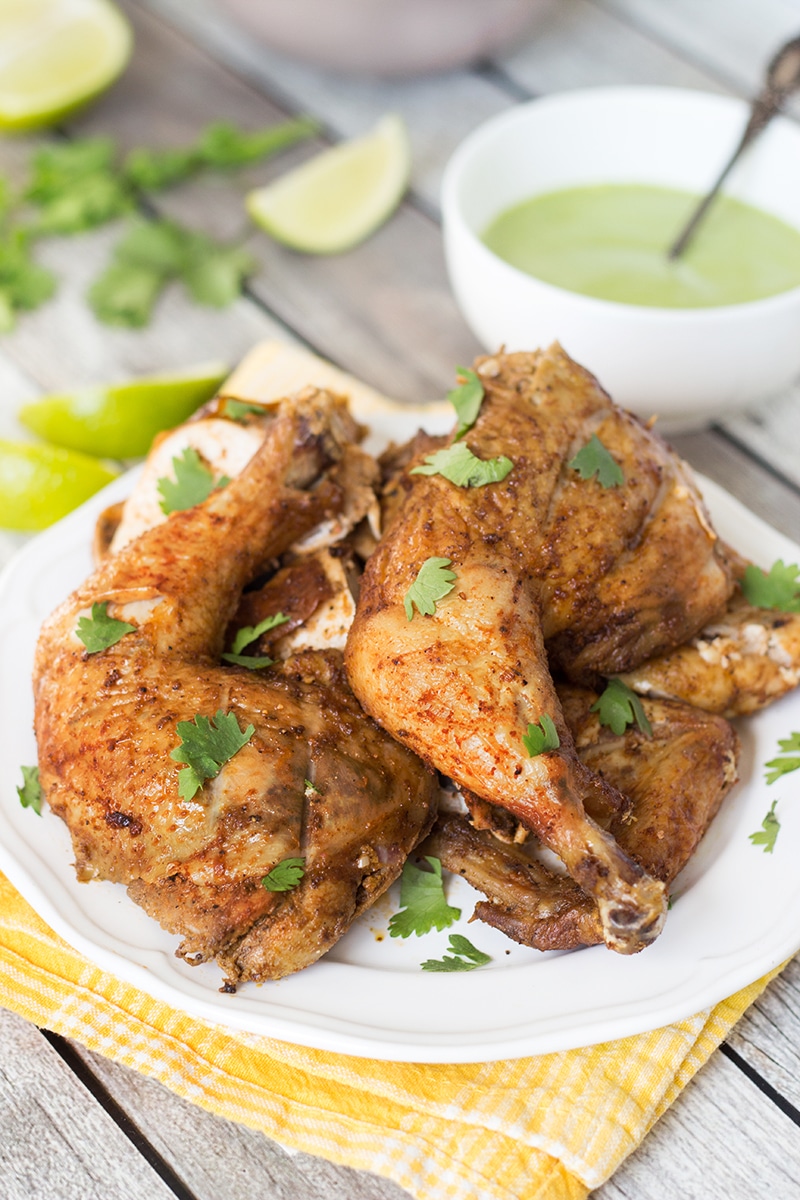 I have already talked about my deep love for chicken when I was making it Jamaican style. Some people say this type of poultry is too bland, but I think you just have to cook it right! For example, how can you call this Spanish garlic chicken bland? You have to be nuts to say that! Today I want to introduce you another fantastic way of cooking my favorite meat - Peruvian Chicken (Pollo a la Brasa). If you have ever been to a Peruvian restaurant, you must have seen it on their menu, because it's one of the most consumed Peru dishes. It's not even the chicken that makes this dish amazing, it's a popular Peruvian green sauce (Aji Verde). Authentically, it's made with spicy aji amarillo peppers, however it's really hard to find them not only in my country, but I guess in yours too (of course not only if you are Peruvian). That's why we are going to substitute them with jalapeño chilies. Be ready for something groundbreaking, because this chicken is really good!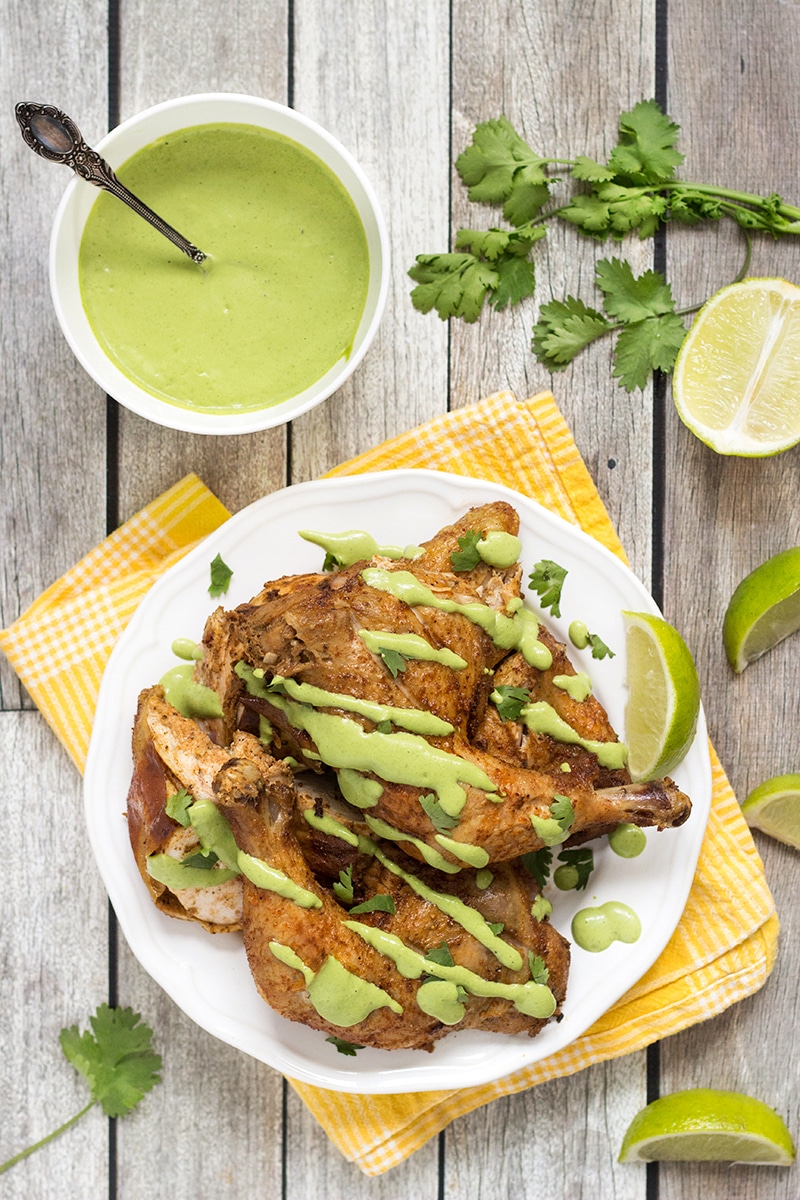 Basically, Pollo a la Brasa is a spit-roasted chicken. The bird is marinated with oil, garlic and spices and cooked on a rotisserie to achieve a juicy meat and a crisp skin. Luckily for us, it's perfectly possible to cook it in the oven! You just have to butterfly your chicken and it will result in a very moist meat inside and a perfectly crispy skin outside. I adapted the recipe for this Peruvian chicken as well as the sauce from one of my favorite books ever - "The Food Lab: Better Home Cooking Through Science" by J. Kenji López-Alt. I have always been a fan of this guy and his stuff on Serious Eats. For those of you who hear about Kenji for the first time - the guy takes a scientific approach to food and does a deep research on every recipe he makes. That's why his recipes are always fool-proof!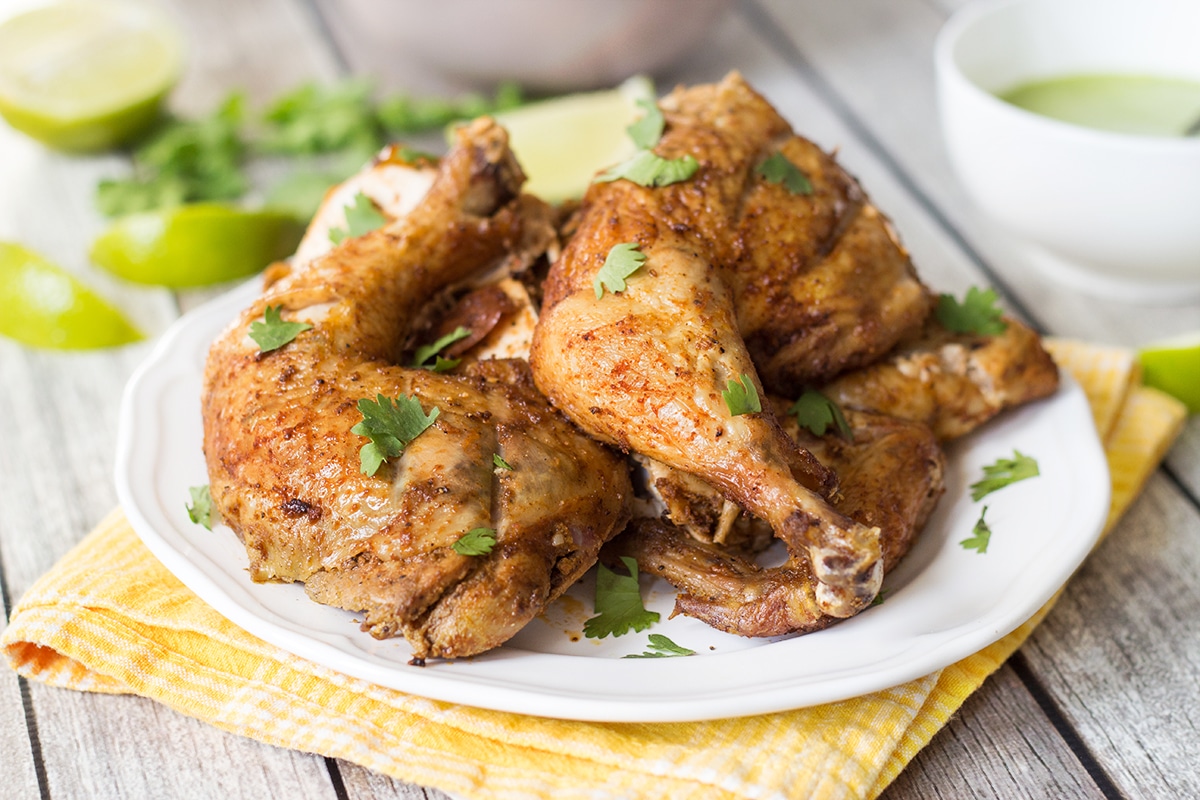 As I have already said, the traditional Peruvian green sauce contributes immensely to the success of this dish. It's spicy, but not too spicy (you can control the spiciness by removing some ribs and seeds), creamy, and full of flavor. Jalapeño chiles, mayo, sour cream, garlic, lime juice, and a bunch of cilantro! You can put it literally everywhere: on all kinds of grilled meats, it's also great for dipping fries or any other veggies, or as a salad dressing. Aji Verde is super versatile.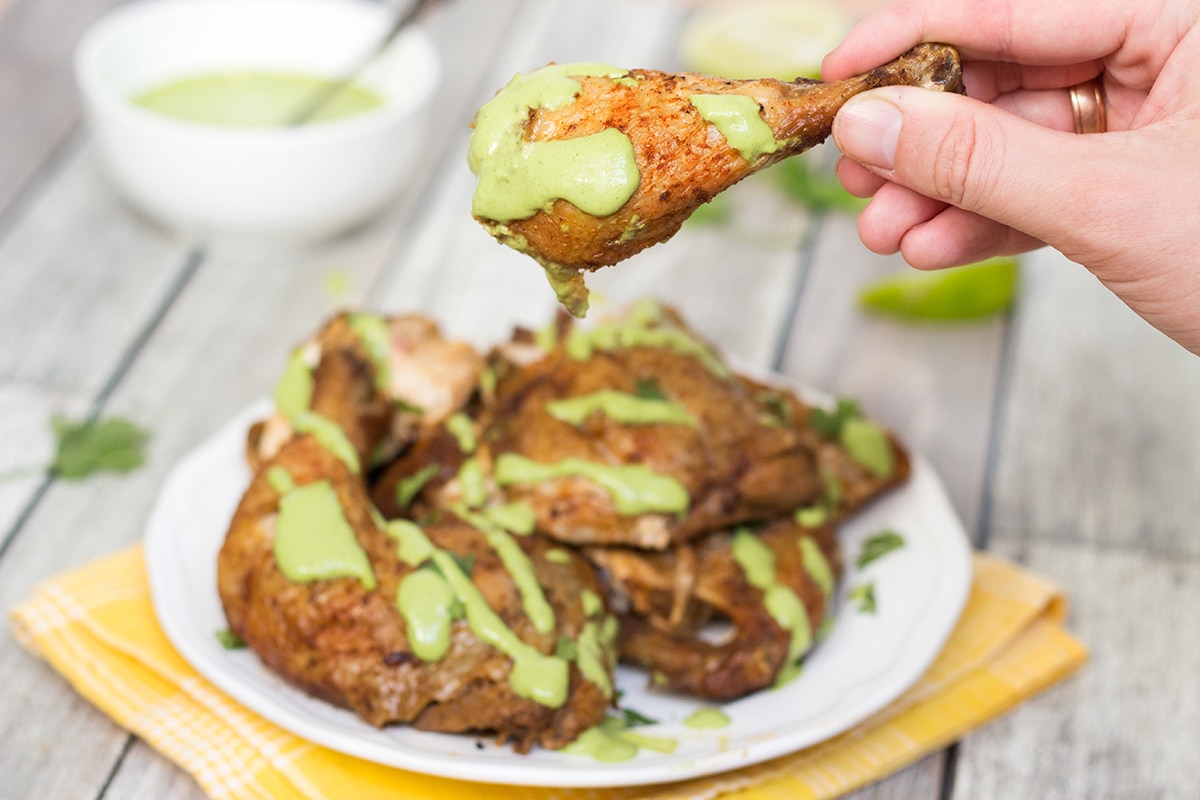 Peruvian chicken might be one of my new favorite chicken dishes. Dipping the juicy meat and crispy skin in a flavorful green sauce is a true pleasure. There are no Peruvian restaurants in my town, but that's not a problem, I can make my own Peruvian chicken in a flash! If you are reading this right now and thinking whether to make it or not, stop. MAKE IT. Seriously, you won't regret it for a second.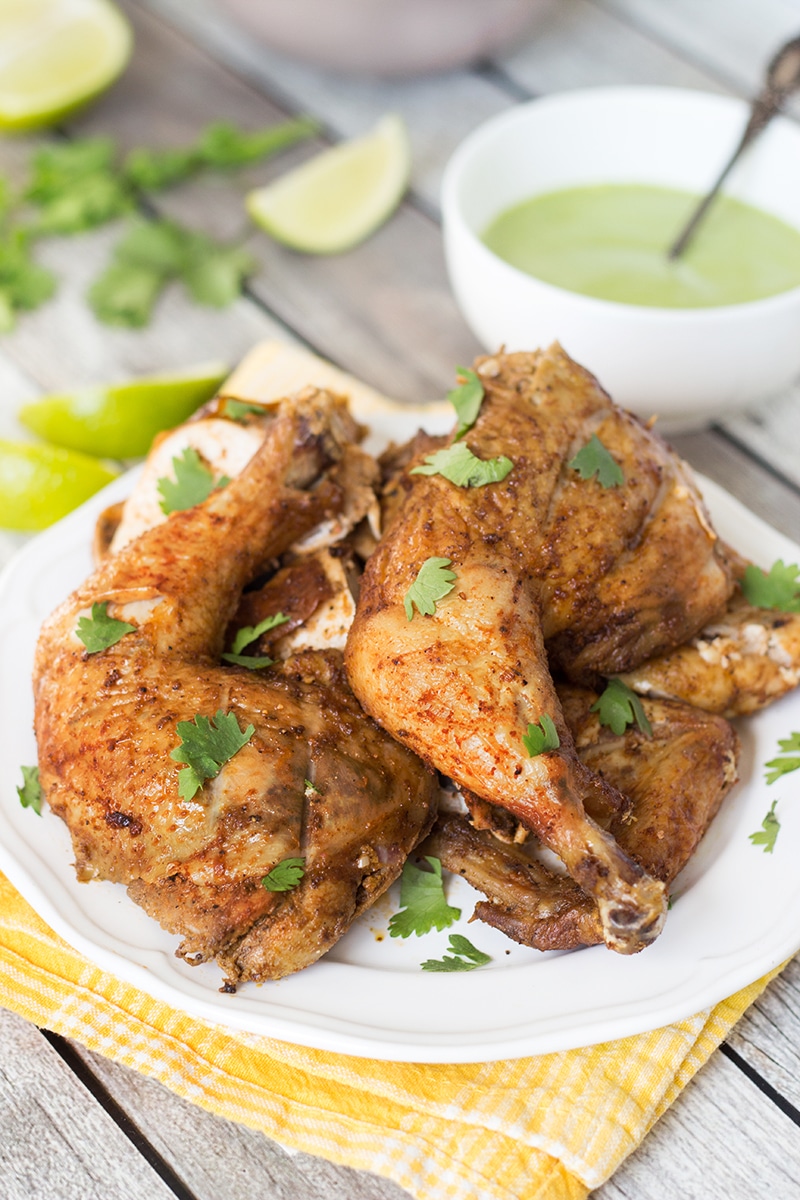 Peruvian Chicken with Traditional Green Sauce
This Peruvian Chicken is freaking amazing, thanks to the green chile and cilantro sauce. It is guaranteed to become one of your favorites!

Ingredients
For the chicken:
3 ½ - 4

lb (1.5-2kg)

whole chicken

1

tablespoon

ground cumin

1

tablespoon

paprika

3

cloves

garlic

, minced

1

tablespoon

white vinegar

2

teaspoons

Kosher salt

1

teaspoon

ground black pepper

1

tablespoon

vegetable oil
For the Aji Verde sauce:
3

jalapeño chiles

, roughly chopped

1

cup

fresh cilantro leaves

2

cloves

garlic

, minced

½

cup

mayonnaise

¼

cup

sour cream

2

teaspoons

fresh lime juice

1

teaspoon

white vinegar

2

tablespoons

extra-virgin olive oil

salt and pepper to taste
Instructions
The chicken.

Butterfly the chicken according to

these instructions

. Preheat oven to 450°F (230°C). In a small bowl, combine the cumin, paprika, garlic, vinegar, salt, pepper, and oil and spread the mixture all over the chicken. Line a baking sheet with foil and set a wire rack on it. Put the chicken on it and roast until the thickest part of the breast registers 145°F (60°C), for about 40 minutes. Carve the chicken and serve.

The sauce. Combine all the ingredients except the oil in a blender and blend until smooth. With the blender running, add the olive oil. Season with salt and pepper to taste. Enjoy!
Nutrition
* This post contains affiliate links, thank you for the support in keeping Cooking The Globe up and running!