Pastila is a traditional Moroccan Chicken Pie and it's really awesome. Crispy outside with a cinnamon flavored chicken and almond filling inside, it has a sweet and sour taste, which is heavenly!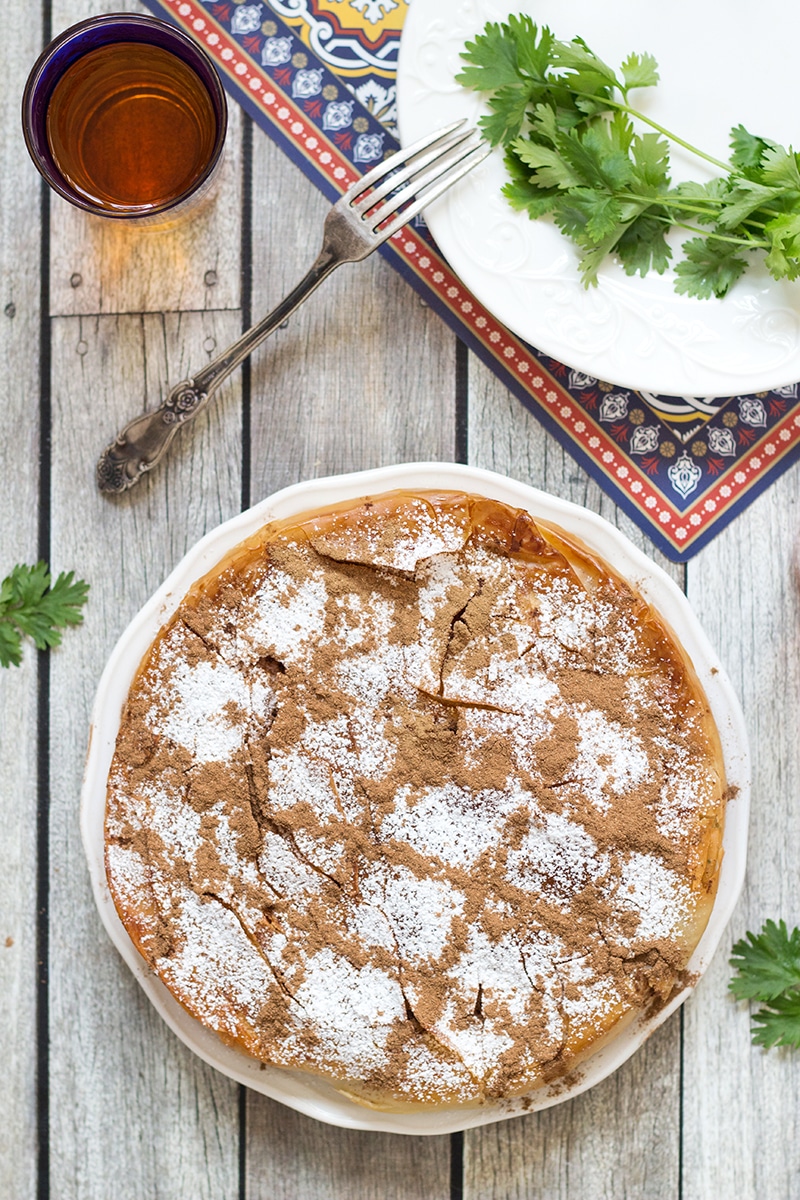 Moroccan cuisine is a frequent guest on this blog. I already made the famous Harira soup, semolina pancakes, traditional Moroccan bread, and wrote a comprehensive guide about Moroccan breakfast. Loved every one of them. If you think that I covered a big part of Moroccan food world with these four posts, you are so wrong. It's only a tip of an iceberg! This African country offers so many awesome dishes that I would have to create a separate blog dedicated solely to it to TRY to make them all. This time I want to show you a legendary sweet and savory Moroccan dish called Pastilla, or B'stilla, or Bisteeya (there are more names but I won't mention them all). It is usually served on special occasions.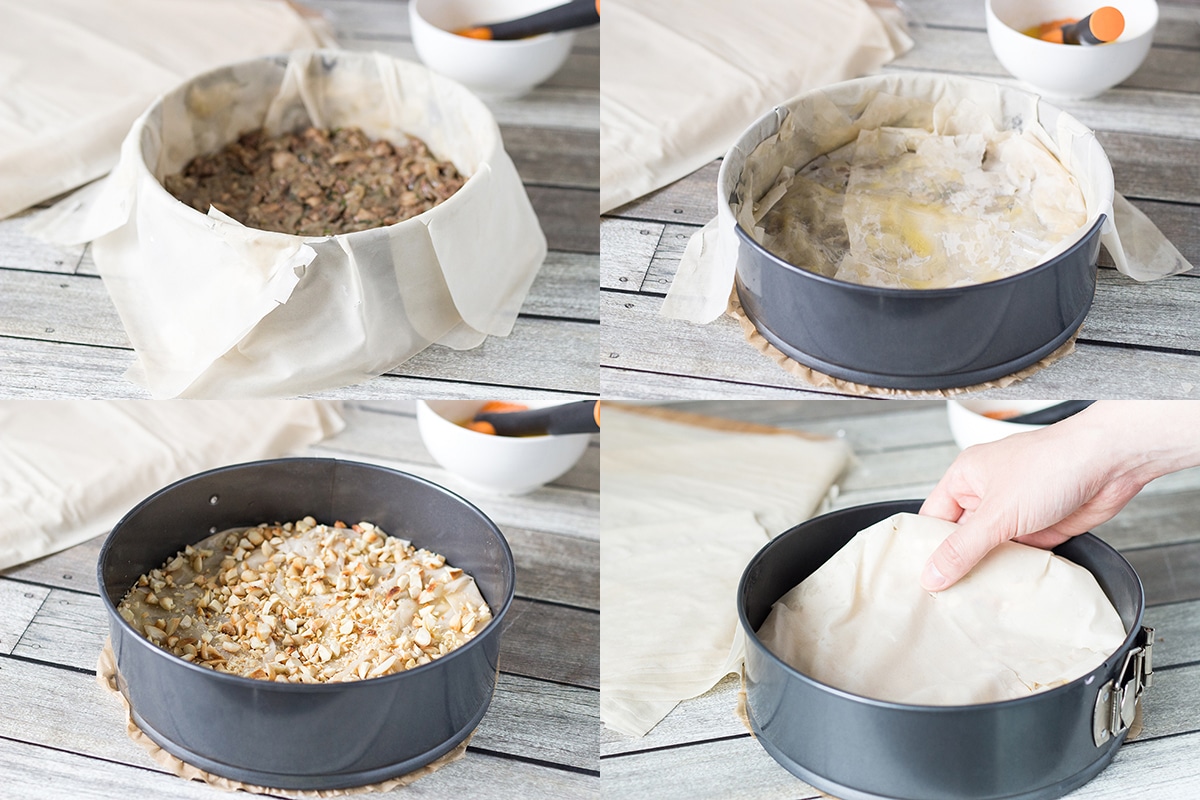 Authentically, it's a pie made using puff pastry and stuffed with a sweet spiced pigeon, onions and almonds. Yes, you heard me right. Pigeon. Wait! Don't close this post yet! Traditionally Pastilla is really made with a pigeon, but a version with chicken is popular too. That's the one I made. Actually, my balcony (I am living in a flat) is getting attacked by pigeons all the time, so... I won't lie, a thought went through my mind, for a second, to make a delicious pie out of them... I guess it would be a nice warning to all other pigeons trying to "visit" my balcony in the future, right? Well, unfortunately, I am a good guy with zero cruelty, so the pigeons continue to prosper in my little balcony.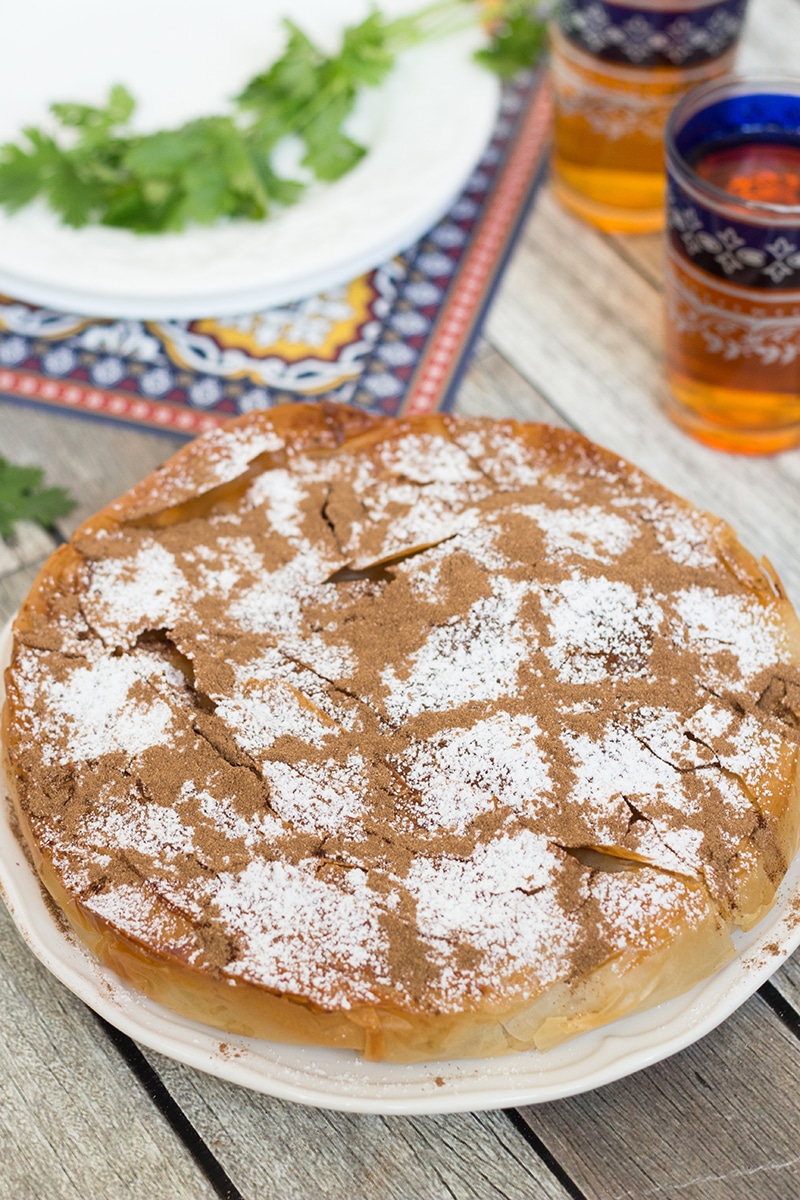 Ok, enough about pigeons, after all we are using chicken for our Moroccan Pastilla. First of all, lets talk about the dough. Moroccans use many different dough types for their Pastillas, but we are going to use the one that is the easiest to get outside of this African country - filo (or phyllo). I am pretty sure you will be able to find filo sheets in your local supermarkets. It is best to use large sheets, but it's perfectly possible to make this pie using small ones too. You will just have to do more overlapping.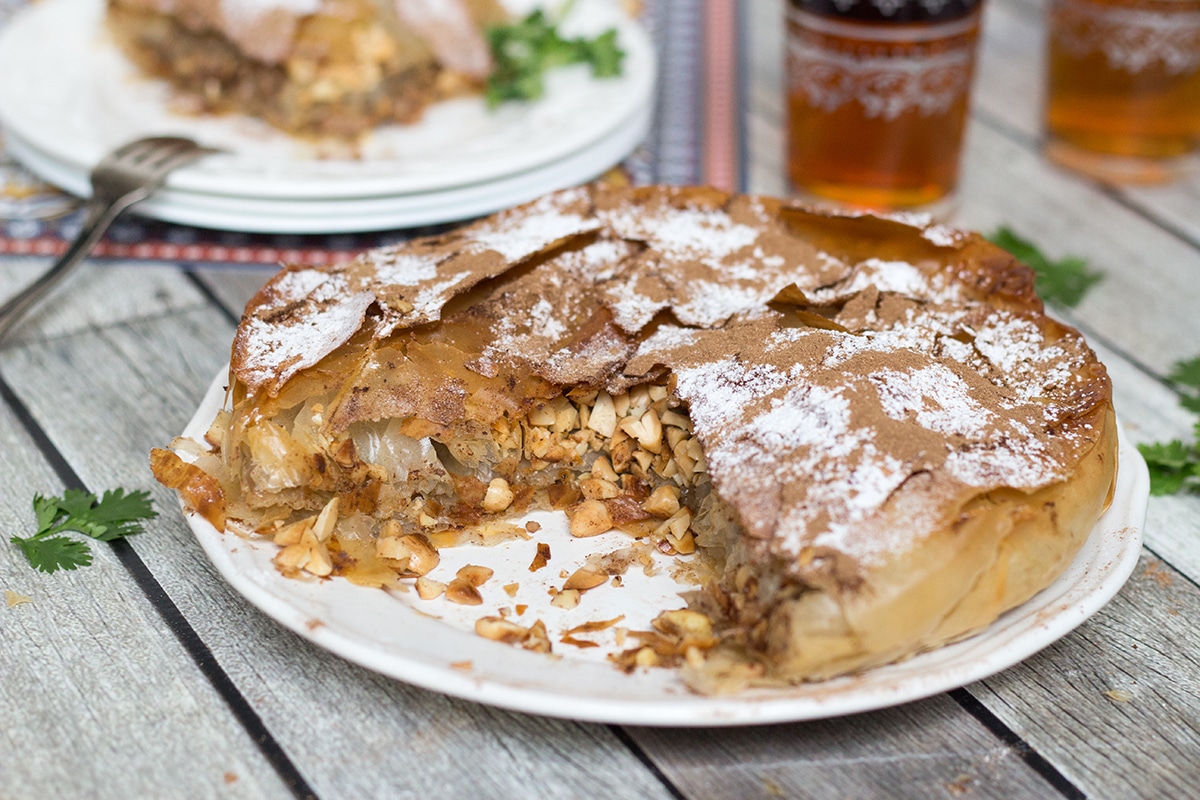 The taste of the chicken seasoned with ginger and cinnamon is unbelievable. Despite the fact that it is quite sweet, I wouldn't call it a dessert. I tried such a combination for the first time in my life and I loved it right away. Together with a crisp, flaky pastry, fried golden onions, and toasted almonds it's an undeniable winner. Don't wait for a special occasion, try this sweet & savory Moroccan pie and it won't disappoint you!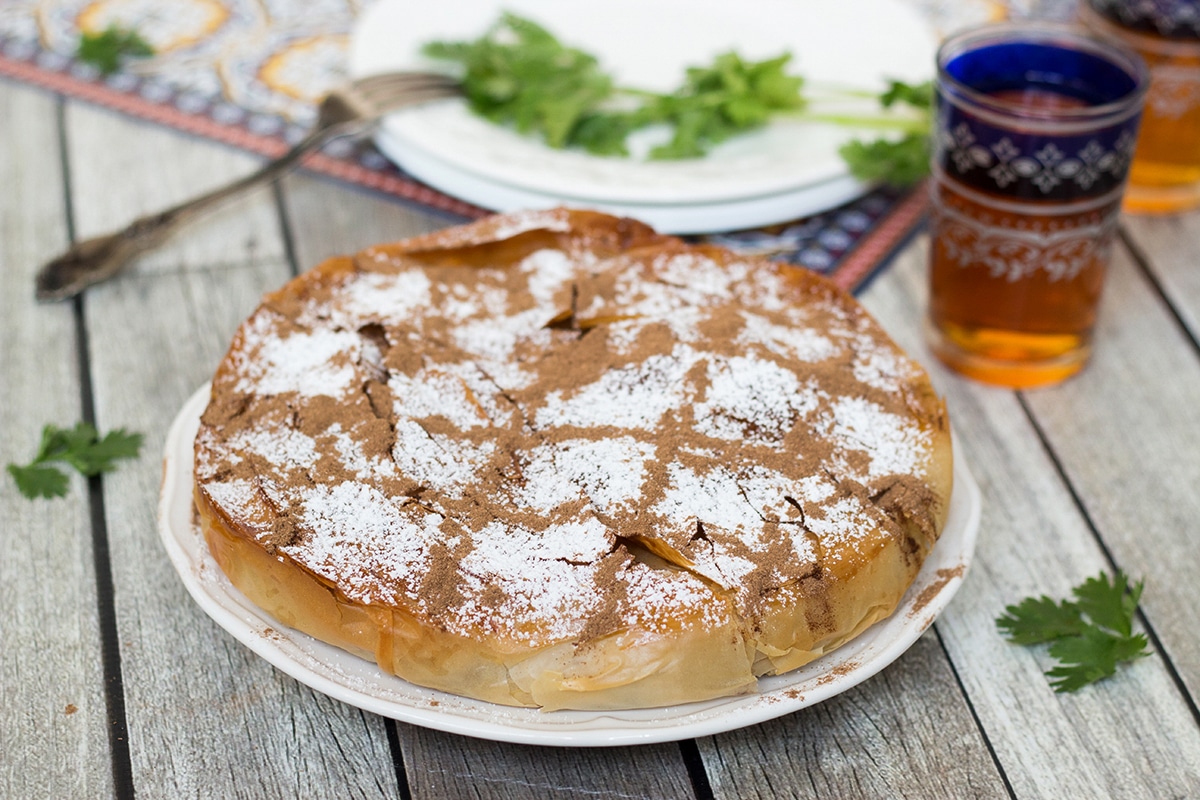 Pastilla - Moroccan Chicken Pie
This sweet and sour Moroccan Chicken Pie is filled with cinnamon flavored chicken & almonds and encased in flaky and crispy pastry!

Ingredients
For the filling:
1

lb (450g)

onions

, sliced

3

tablespoons

vegetable oil

⅓

cup

blanched almonds

½

teaspoon

ground ginger

1 ½

teaspoons

ground cinnamon

10

oz (300g)

boneless, skinless chicken thighs

, cut in bite-size pieces

salt and pepper

, to taste

½

cup

chopped cilantro
For the pie:
7

large filo sheets

6

tablespoons

butter

, melted

1

egg yolk

confectioner's sugar

, for garnish

cinnamon

, for garnish
Instructions
The filling. Heat 2 ½ tablespoons oil in a large saucepan and cook onions over a low heat, stirring occasionally, until they are soft and just begin to color.

Meanwhile, in a skillet, fry the almonds, using the remaining ½ tablespoon oil, until lightly golden. Drain on paper towels and chop coarsely.

When the onions are cooked, add the ginger, cinnamon and the chicken. Season with salt and pepper. Cook, stirring occasionally, until the onions are pale gold, for about 15-20 minutes. Add the cilantro and mix everything together.

The pie. Grease a round baking pan (I used 9-inch) and place a first sheet of filo in it. Brush it entirely with the melted butter pushing the filo into the corners. Let the longer edges hang over the sides. Do the same with 4 more filo sheets, placing every sheet slightly further round so that you have pastry draping over the sides all around the tin. Brush all the sheets with butter, including the ends that overhang.

Spread the chicken and onion mixture evenly and cover it with the overlapping filo. Sprinkle with the chopped almonds.

Lay another filo sheet over the top, brush it with butter, and lay one more filo sheet on top of that. Don't brush the last sheet with the melted butter. Tuck the overhanging edges into the sides of the pan around the pie.

Preheat an oven to 350°F (175°C). Brush the top of the pie with egg yolk mixed with a drop of water. Bake for 30-40 minutes, until it is puffed up and golden.

Dust the top with confectioner's sugar and cinnamon, making a geometric pattern. Enjoy!
Nutrition