This Thai Green Papaya Salad, also known as Som Tum or Som Tam, is traditionally made in a large mortar and pestle but I am using the easier method which will take only 15 minutes! Named by CNN as one of the world's 50 best foods, this crunchy, tangy, and salty salad is a true feast of flavors!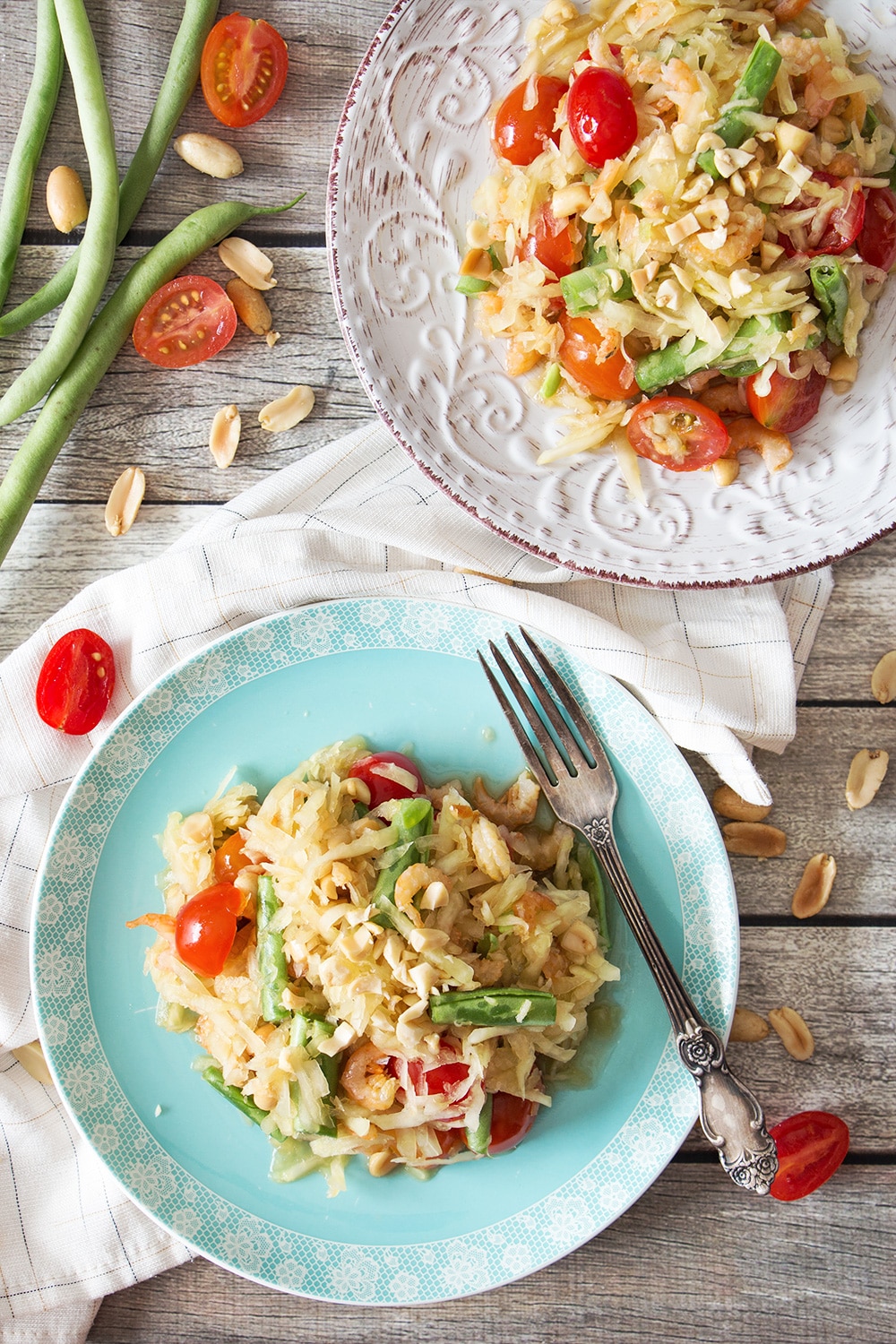 Even if you have never read my "About" page, you wouldn't have to be Sherlock Holmes to figure out that this blog was born because of my love and passion for international foods. I feel like a baby who received a new toy every time I am exploring a recipe from a different country than mine.
However, sometimes I find a mind-blowing recipe and I just can't make it because of exotic ingredients I can't find. My country is lacking in international grocery stores so bad! Often Amazon is my only choice. For example, I had to order 3 ingredients to make this Japanese Clear Soup: Kombu, Katsuobushi, and Mirin. The absence of the last one (sweet rice wine) in my country pisses me off because it's featured in every second Asian recipe! While Amazon is awesome I just don't have enough patience to wait a few weeks for products I need. Plus, the shipping to my country is expensive.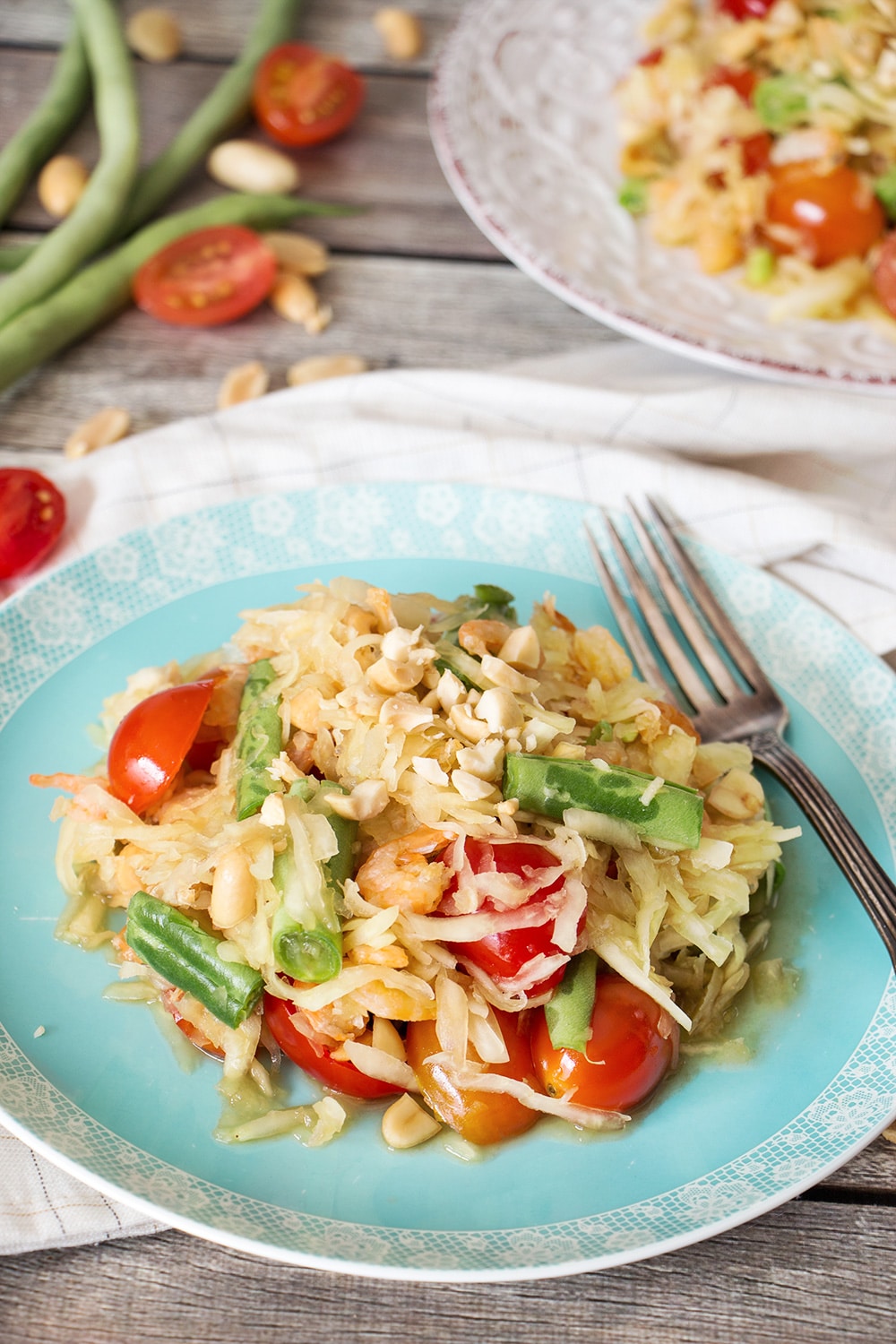 I understood that my country is one of the worst places on Earth when it comes to international foods (I am probably exaggerating a little but you got the point) when I came to Tenerife. Here you can find an international store almost on every single street! It's literally a foodie paradise. All Asian or Indian ingredients I have ever seen in various recipe books are here. You can find EVERYTHING and make almost ANY recipe you want to.
That's exactly the story with a Thai Green Papaya Salad, known as Som Tum or Som Tam I made today. I read about this salad (it's crazy popular in Thailand and was also named as one of the World's 50 best foods by CNN) many times and I was thinking about making it BUT where the hell I would get a green papaya in my country? Are you kidding me? In this case even Amazon is not an answer.
I read and forgot about it. Until I went to a small fruit and veggie store here in Tenerife one day. After putting a ripe and super cheap papaya into my cart my eyes caught the same-shaped GREEN fruit sitting in a nearby box. There were no doubts left - it's a green papaya! Som Tum immediately popped in my mind!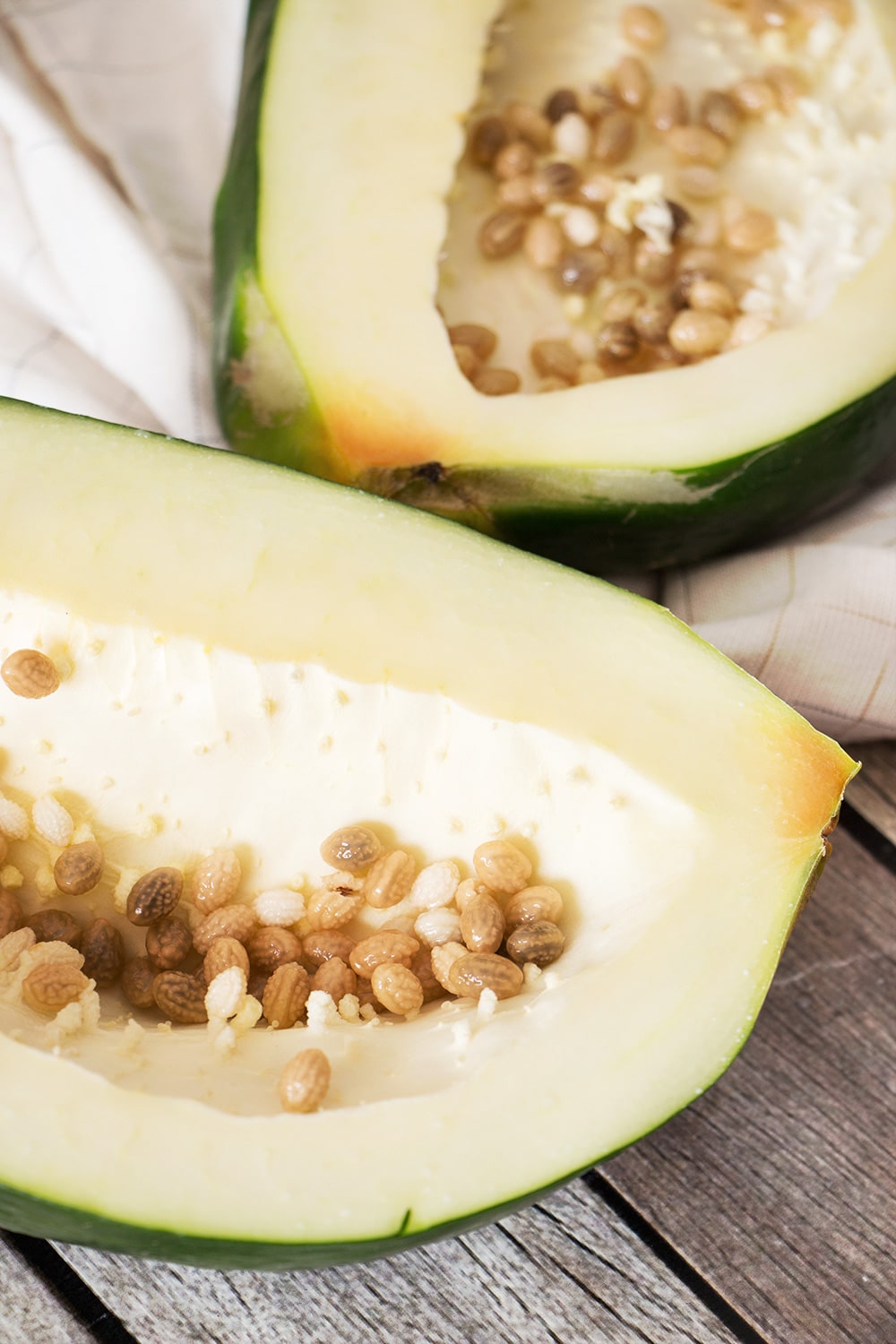 Now let's make it clear - what's green papaya about? I always thought that it's a different kind of papaya but it appears that it's basically a simple unripe papaya picked green! If I got it correctly, people buy it because it's firm and great grated for savory salads like Som Tam. Plus, papayas are packed with goodness!
Don't worry if you have never seen such a fruit in your life and you think that your chances to make this Thai Green Papaya Salad are ruined. Actually (I just found it out myself) you can find pre-grated green papaya in some Asian grocery stores so give it a chance!
When I brought my papaya home and started looking for a Som Tum recipe, I found out that I need another exotic ingredient - dried shrimp. Not a problem while I am in Tenerife! A short visit to a nearby Asian grocery store and I had them in my bag. Easy peasy.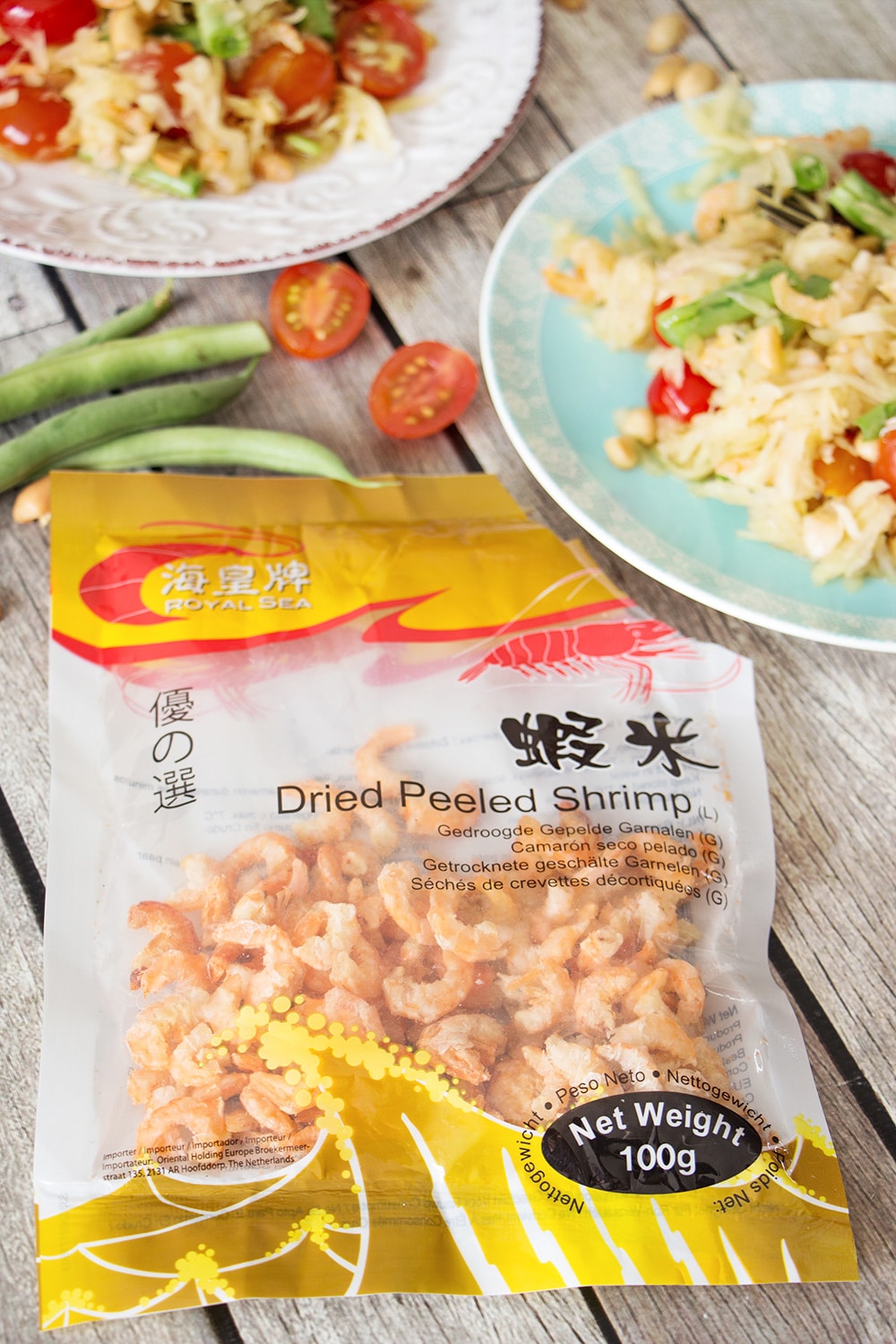 However, I ran into some problems trying to understand how to prepare these shrimp. I thought that, well, they are DRY so I don't have to do anything else + all Thai green papaya salad recipes just say to throw them into a bowl and that's it. My package, though, said that they are "not suitable for raw consumption". What the heck?
The almighty google had no answers this time too. Well, almost. I found one guy telling that he toasts them without oil in a skillet for a minute. That's exactly what I did to avoid any possible problems.
This Asian salad also features peanuts, beans, tomatoes, and chilies (you can leave them out if you want to just like I did). Som Tum has such a unique flavor! I am not sure if I tasted anything like that before. Crunchy, tangy, pungent, salty, and savory. You'll have to try it yourself because it's really hard to describe that taste in writing!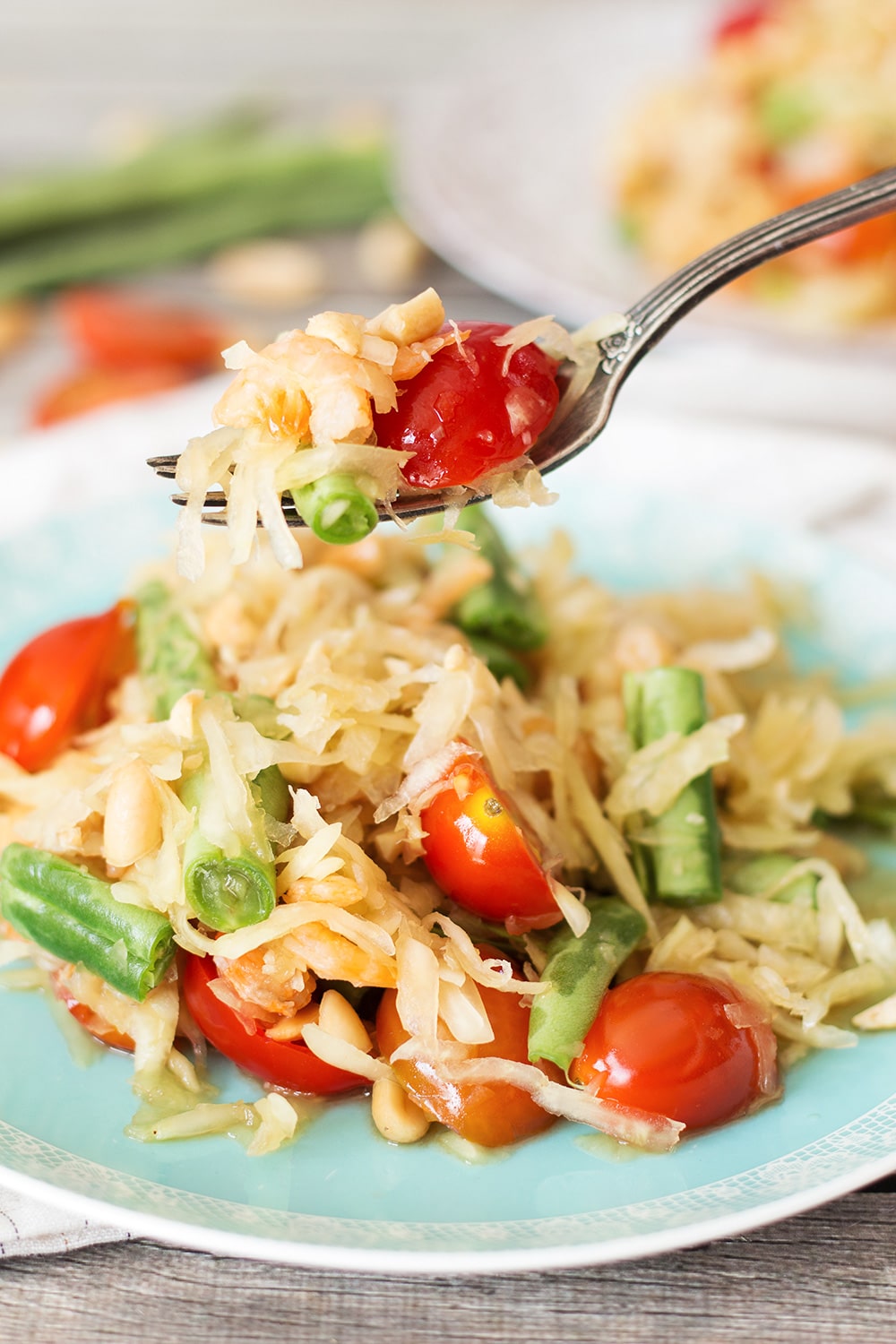 By the way, Som means sour and Tum refers to the pounding sound of the pestle used in a process of making this salad. Yes, traditionally Thai green papaya salad is pounded in a large mortar and pestle! Fortunately, there is an alternative way of preparing it which I used.
Here is a video showing how Som Tum is made on the streets of Thailand.
[embedyt] https://www.youtube.com/watch?v=BYSmj08RAIk[/embedyt]
To wrap it up, I just really want to recommend you to try this salad if you can find a green papaya either fresh or pre-packaged. What about dried shrimp, some sources listed them as an optional ingredient so you can leave them out, I guess.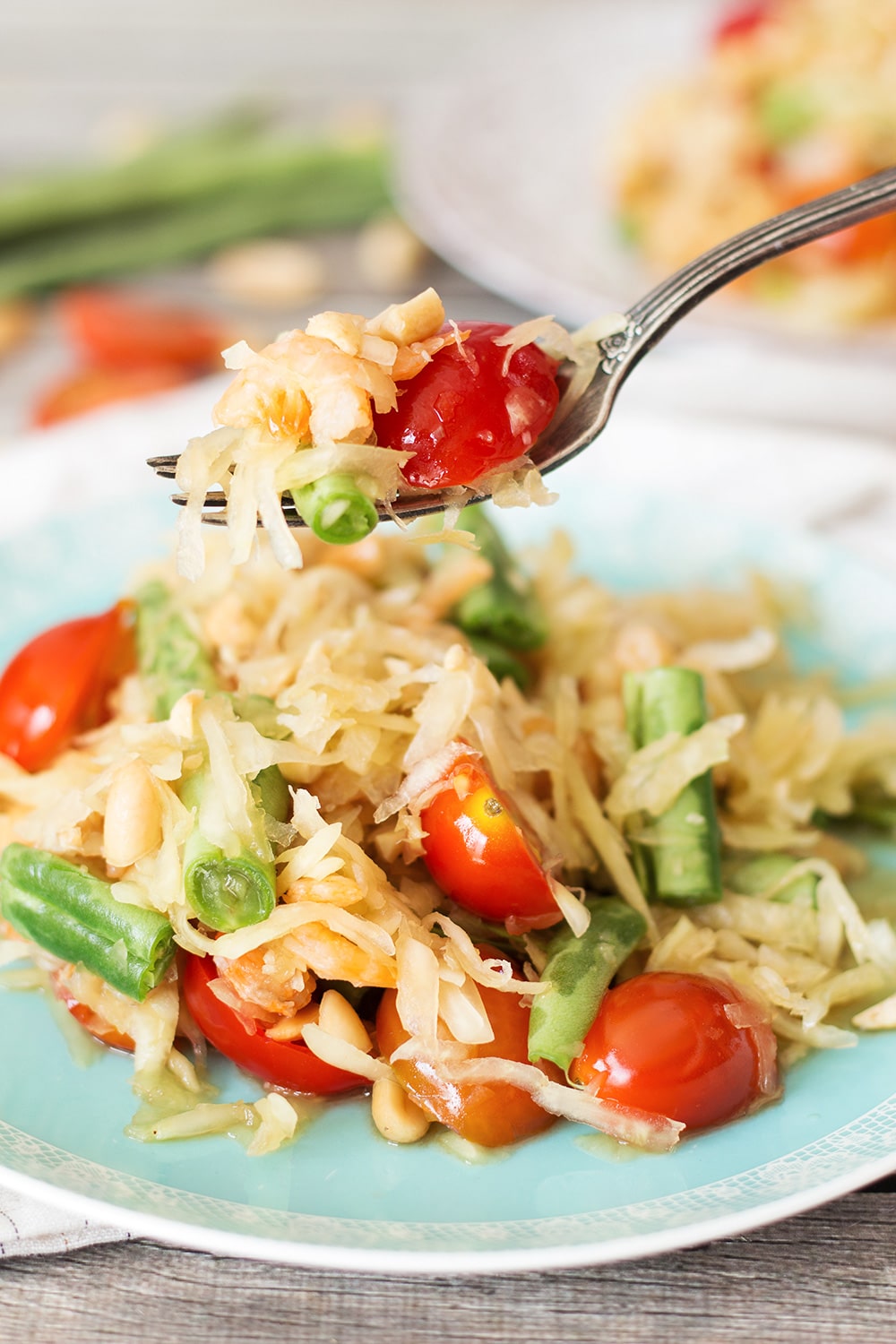 Som Tum - Thai Green Papaya Salad
This Thai Green Papaya Salad or Som Tum is a true feast of flavors ranging from tangy and pungent to salty and savory!
Ingredients
2

tablespoons

fish sauce

2

tablespoons

lime juice

2

tablespoons

finely chopped palm sugar

2

cloves

garlic

, grated with a zester

¼

cup

roasted peanuts

, roughly chopped

1-3

Thai chilies

, minced (optional)

6

green beans

¾

cup

cherry tomatoes

1 ½

tablespoons

small dried shrimp

(if you will get large ones, chop them)

2

cups

peeled and shredded green papaya
Instructions
Combine the fish sauce, lime juice, and palm sugar in a large bowl and stir until the sugar has almost dissolved. Add the grated garlic, peanuts, and the chilies (if using).

Pound the green beans with a rolling pin to make them more tender and also add to the bowl. Add the tomatoes pressing down a little bit with a spoon to release some juice.

Finally, add the dried shrimp and papaya and toss everything together. Enjoy!
Notes
If you will have some leftover papaya, you can add it to stir-fries or anywhere you like actually. Treat it like any other firm veggie like broccoli or carrot. I made veggie pancakes with mine and they were awesome. Recipe adapted from Hot Thai Kitchen by Pailin Chongchitnant. A great book about Thai cuisine!
Nutrition
Calories:
234
kcal
Carbohydrates:
34.3
g
Protein:
8.4
g
Fat:
9.6
g
Cholesterol:
11.5
mg
Sodium:
1475.4
mg
Sugar:
24.3
g
Vitamin A:
550
IU
Vitamin C:
144.4
mg
Nutrition Facts
Som Tum - Thai Green Papaya Salad
Amount Per Serving
Calories 234
Calories from Fat 86
% Daily Value*
Fat 9.6g15%
Cholesterol 11.5mg4%
Sodium 1475.4mg64%
Carbohydrates 34.3g11%
Protein 8.4g17%
Vitamin A 550IU11%
Vitamin C 144.4mg175%
* Percent Daily Values are based on a 2000 calorie diet.
* This post contains affiliate links, thank you for the support in keeping Cooking The Globe up and running!