These Greek Butter Cookies (Kourabiedes) usually appear at weddings, birthdays, or various holidays such as Christmas, Easter and other. They are melt-in-your-mouth tender, buttery, with a hint of brandy and cloves. Oh and these beauties are stuffed with pistachios!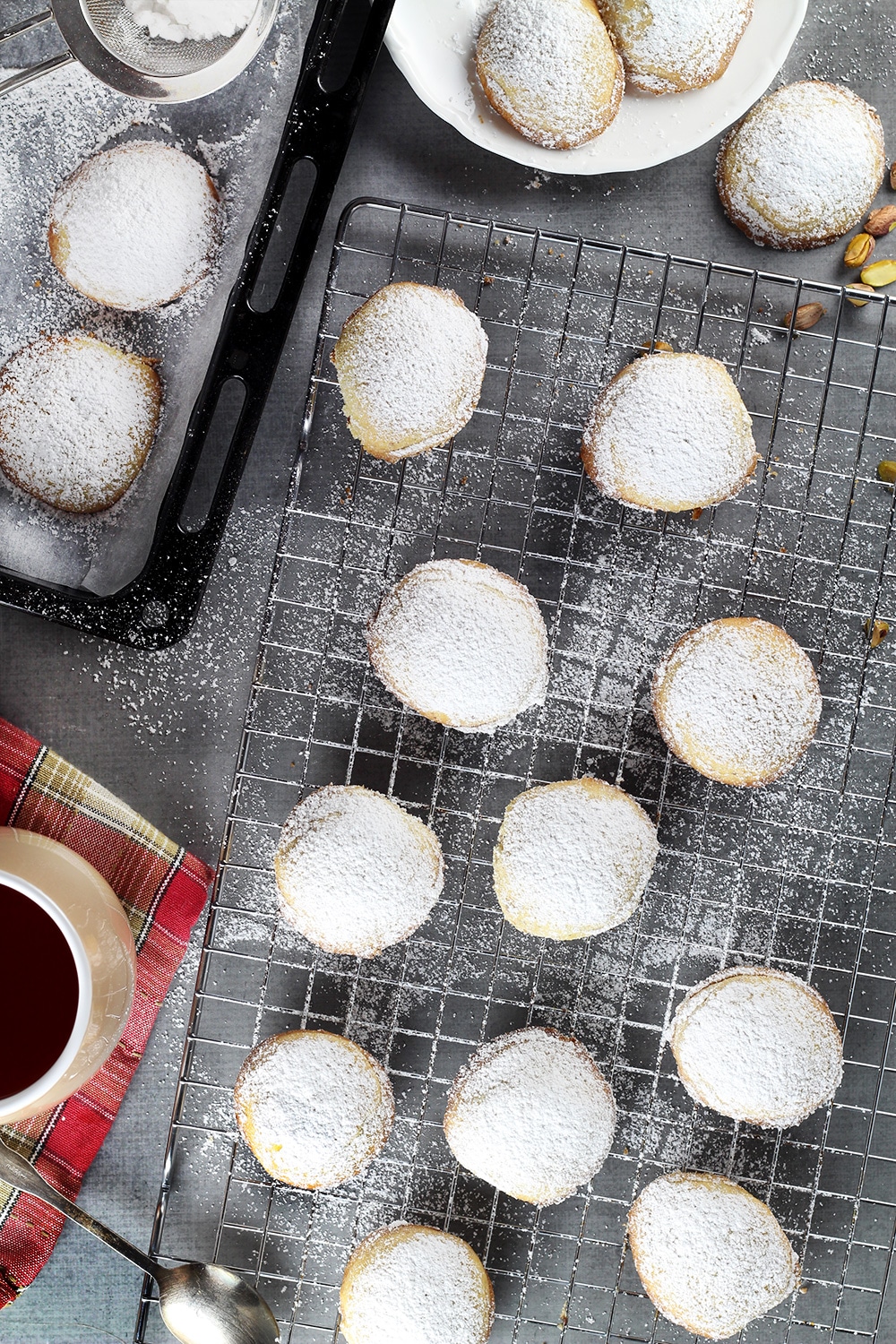 A few days ago I got an email from a fellow blogger Sarah, who runs a blog in the same niche as mine (cooking food from all over the world) called Curious Cuisiniere. In fact, she contacted me almost two months ago but I saw her message only now. Oops. She invited me to join the annual International Cookie Exchange (Virtual) hosted by herself where a group of bloggers will be sharing cookie recipes from various countries. I couldn't resist such an offer even though there were only 4 days left until the exchange (it takes place on December 2nd). It's my first time participating in such events as a blogger so I am super excited!
The cookies I picked for this event come from one of my most favorite countries to cook from - Greece. They are called Kourabiedes and are traditionally made on Christmas, Easter, and other holidays. Well, that's a perfect timing! A few weeks ago I made these beautiful Italian Christmas Cookies and now I'll have one more idea for my Christmas table.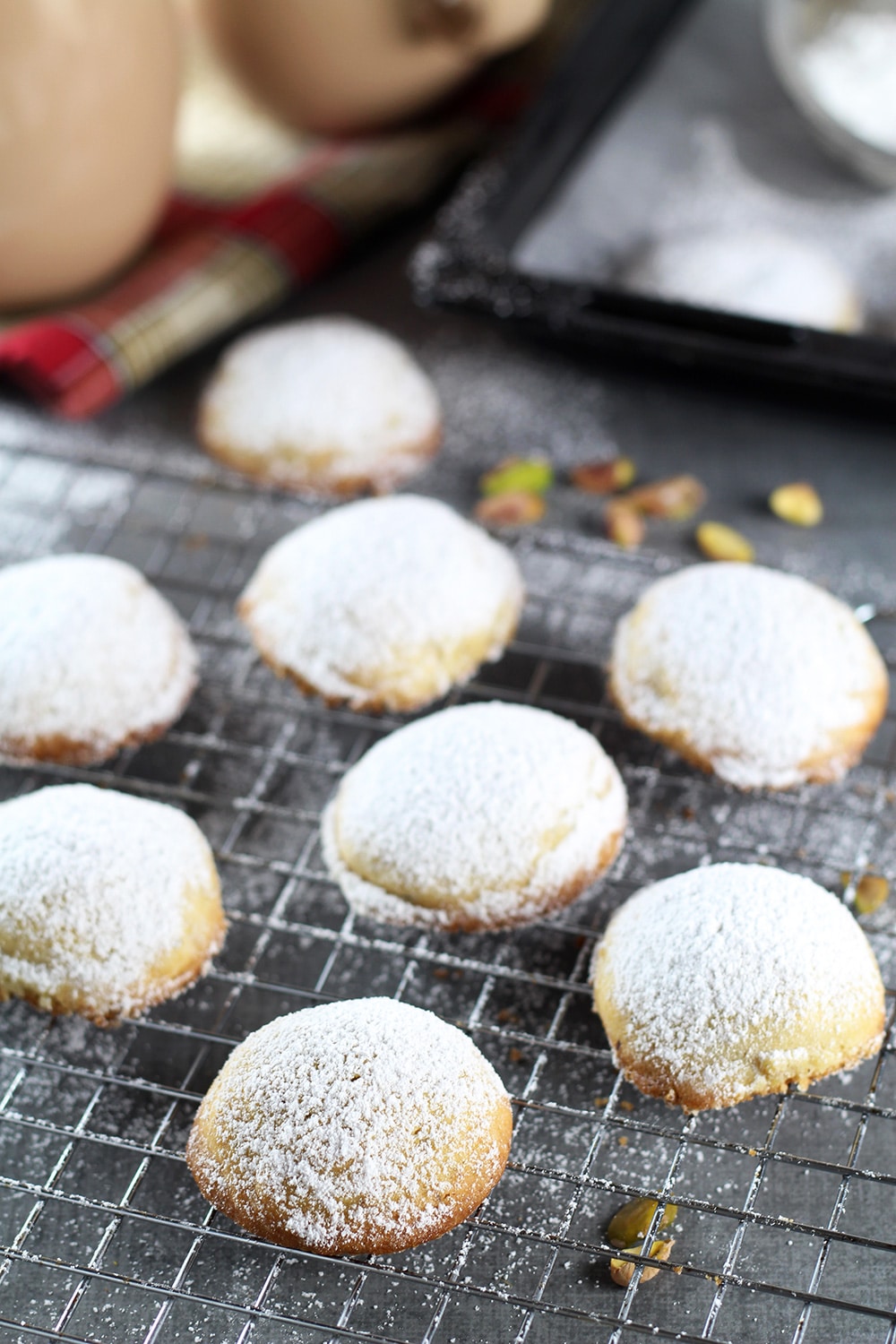 Kourabiedes are also known as simply Greek Butter Cookies. Butter plays the main role in this recipe, but there are also honey, brandy, and plenty of pistachios! These nuts are crazy popular in Greece (do you remember Kataifi?) so I wasn't surprised at all to stumble upon them in these cookies. Pistachios are used two times: a part of them is grounded in a food processor and added to the dough, while the other ones are inserted whole into each cookie. Actually, pistachios are not necessary for Kourabiedes. You can use almonds or walnuts instead.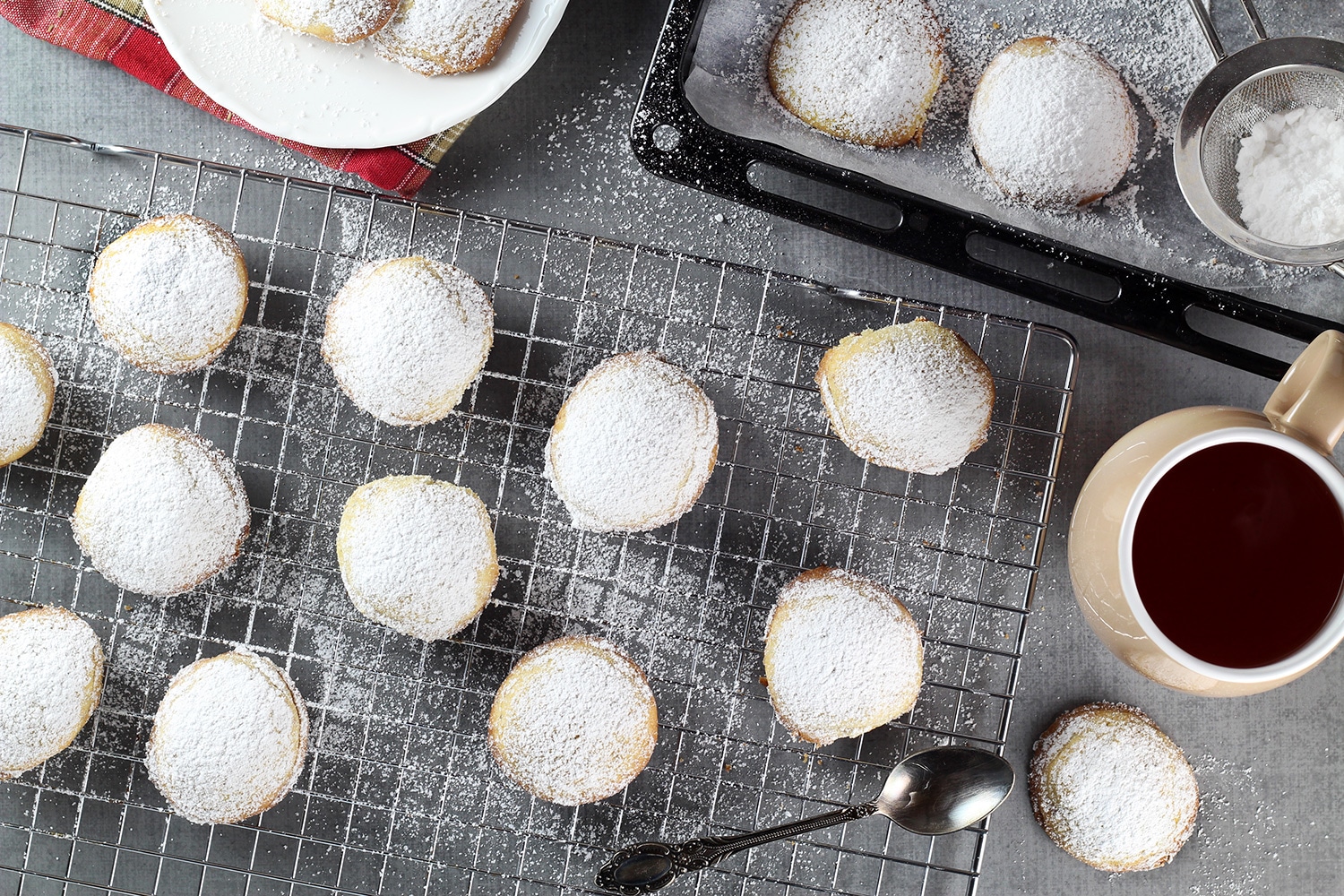 Traditionally, these cookies are made with a whole clove inside, symbolizing the spices brought by the Magi (Three Wise Men) as a gift to baby Jesus. However, eating a whole clove is not the most pleasant experience in the world so many recipes omit it or substitute with a nut (like me). I still included ground cloves, though, so the historical connection is not completely lost.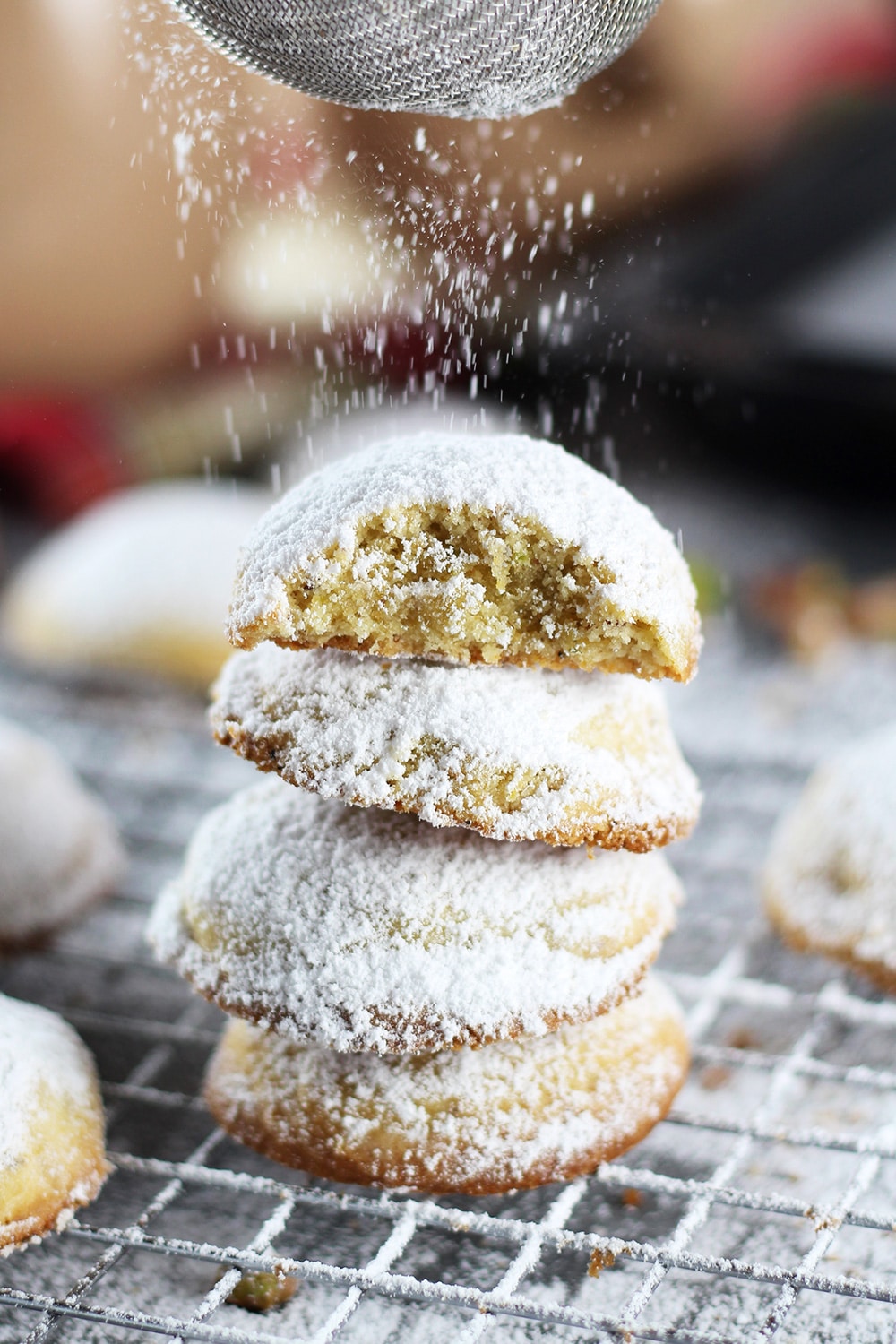 What can I say after tasting these beauties? These cookies are sooooo tender. They literally melt in your mouth! Oh and they taste fantastic: buttery, with a hint of brandy and cloves. At first, I thought that 30 cookies is too much for me and my wife but 10 minutes later I changed my mind, ha! Make these Greek butter cookies for Christmas, any other occasion, or simply any day you like. They will brighten up even the gloomiest days!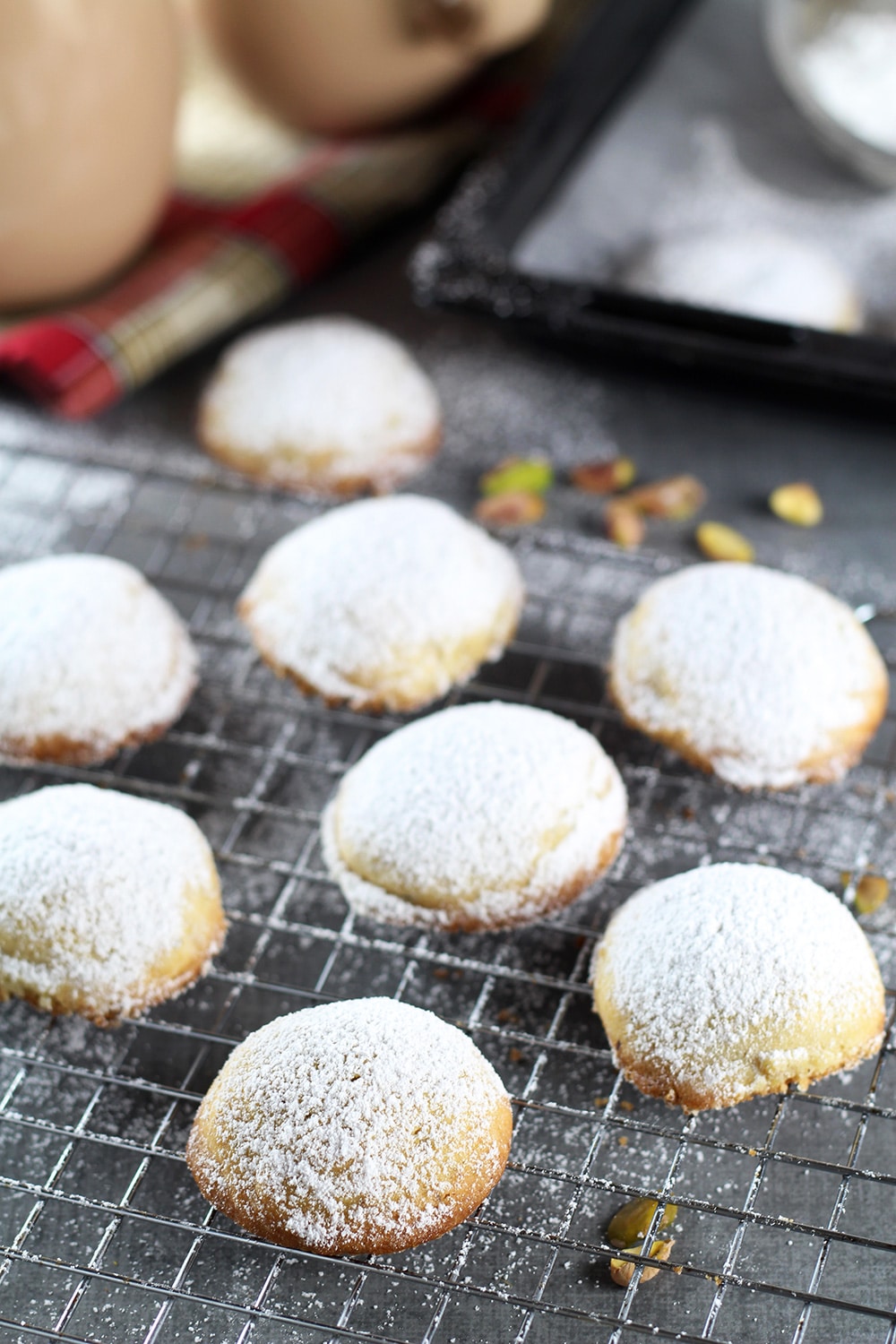 Kourabiedes - Greek Butter Cookies
Kourabiedes, or Greek Butter Cookies, are buttery, melt-in-your-mouth tender, and stuffed with pistachios!

Ingredients
¼

cup

unsalted pistachios

+ 34 whole nuts for stuffing

½

cup

confectioners' sugar

+ more for dusting

2

sticks

unsalted butter

, softened

1

tablespoon

honey

⅛

teaspoon

salt

⅛

teaspoon

ground cloves

1

large

egg yolk

1

tablespoon

brandy

1

teaspoon

vanilla extract

2

cups

all-purpose flour

, sifted
Instructions
In a bowl of a food processor, add the pistachios and confectioners' sugar and process for about 30 seconds, until the nuts are finely ground. Set aside.

Beat the butter, honey, and salt using an electric mixer with a paddle attachment until creamy, for about 1 minute. Add the pistachio mixture, ground cloves, egg yolk, brandy, and vanilla extract and beat for a couple of minutes more. Now add the all-purpose flour at low speed. Cover the dough and let sit in a fridge for about 30 minutes, until firm enough to handle.

Preheat the oven to 350°F (175°C). Line two baking sheets with parchment paper.

Shape the dough into 1-inch balls and arrange them on the baking sheets. Insert a whole pistachio into each one of them. One sheet at a time, bake the cookies for 15-17 minutes.

When done, transfter to a wire rack to cool completely. Sift the confectioners' sugar over the top until coated and serve. Enjoy!
Notes
Adapted from The Good Cookie by Tish Boyle
Nutrition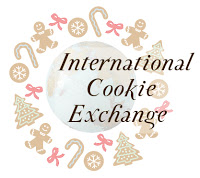 Welcome to the second annual International Cookie Exchange hosted by Sarah from Curious Cuisiniere and me - Camilla from Culinary Adventures with Camilla .
Today a group of cookie-loving food bloggers is sharing recipes for cookies from around the globe. Get ready to break out your
mixing bowl, because these recipes are sure to inspire you to fill your cookie jar with cultural treats!
You can follow along on Twitter with the hashtag
#IntnlCookies, and you can find these great recipes and more cookies from
around the world on the
International Cookie Exchange Pinterest Board
.
Here's the #IntnlCookies Tray...
listed in alphabetical order of the cookies' country of origin