Filled with figs, walnuts, raisins, rum, and other goodness, these Italian Christmas Cookies (Cuccidati) are traditionally made on various holidays with Christmas being the peak season but they are perfect any time of the year!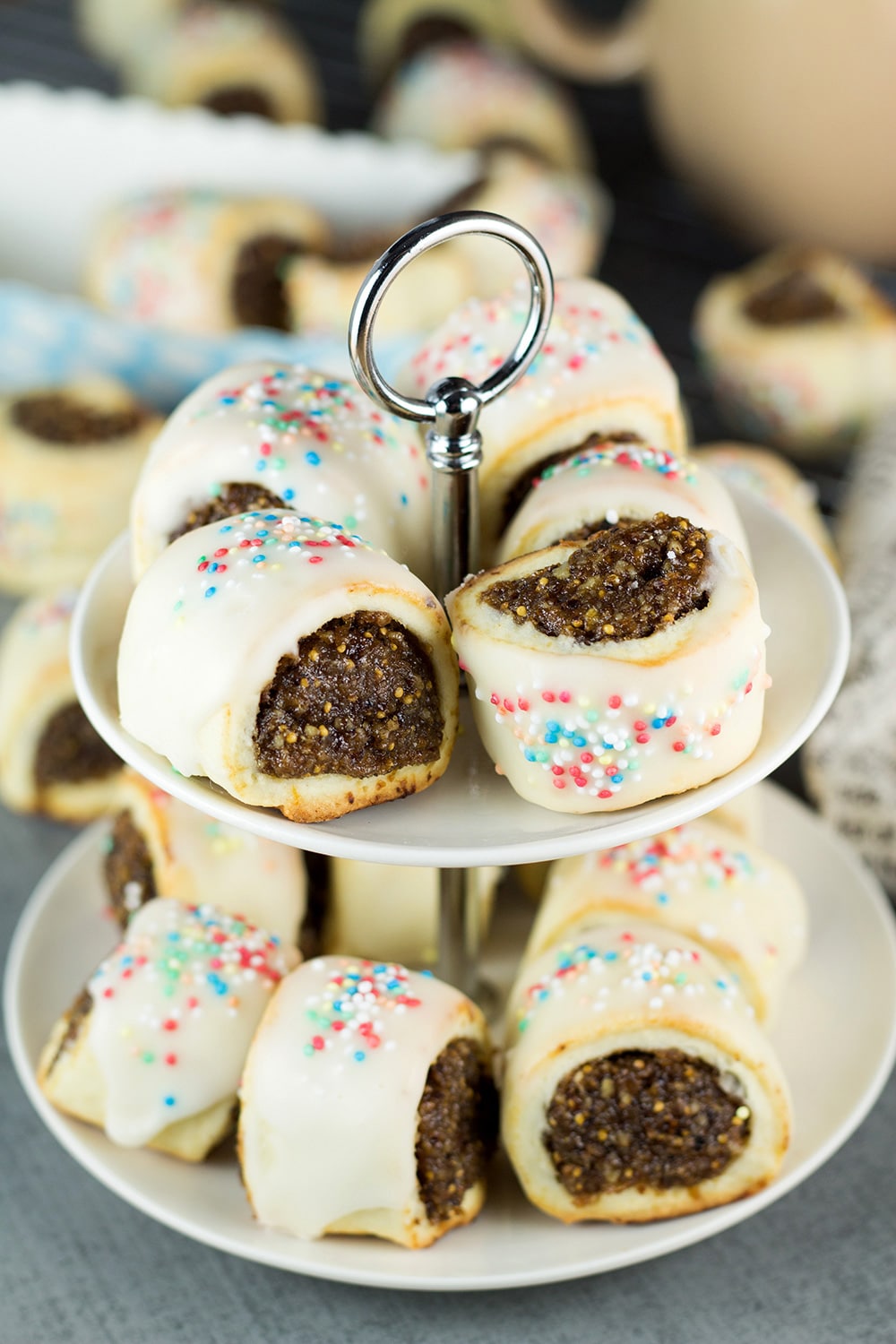 I am very very happy today, guys. You know why? Drumroll, please... This is my 100th post on this blog! Can you believe it? Cooking The Globe hasn't even celebrated its first birthday yet. It feels like just yesterday the idea to start this kitchen diary of mine popped in my head. The time goes by so fast. Especially when you look at your kids. I know that now. We, adults, stay almost the same throughout such short periods of time as a year or two, while a life of a newborn changes 360 degrees like 10 times in his first years. He learns sitting, then walking, then saying his first word. It's amazing, isn't it?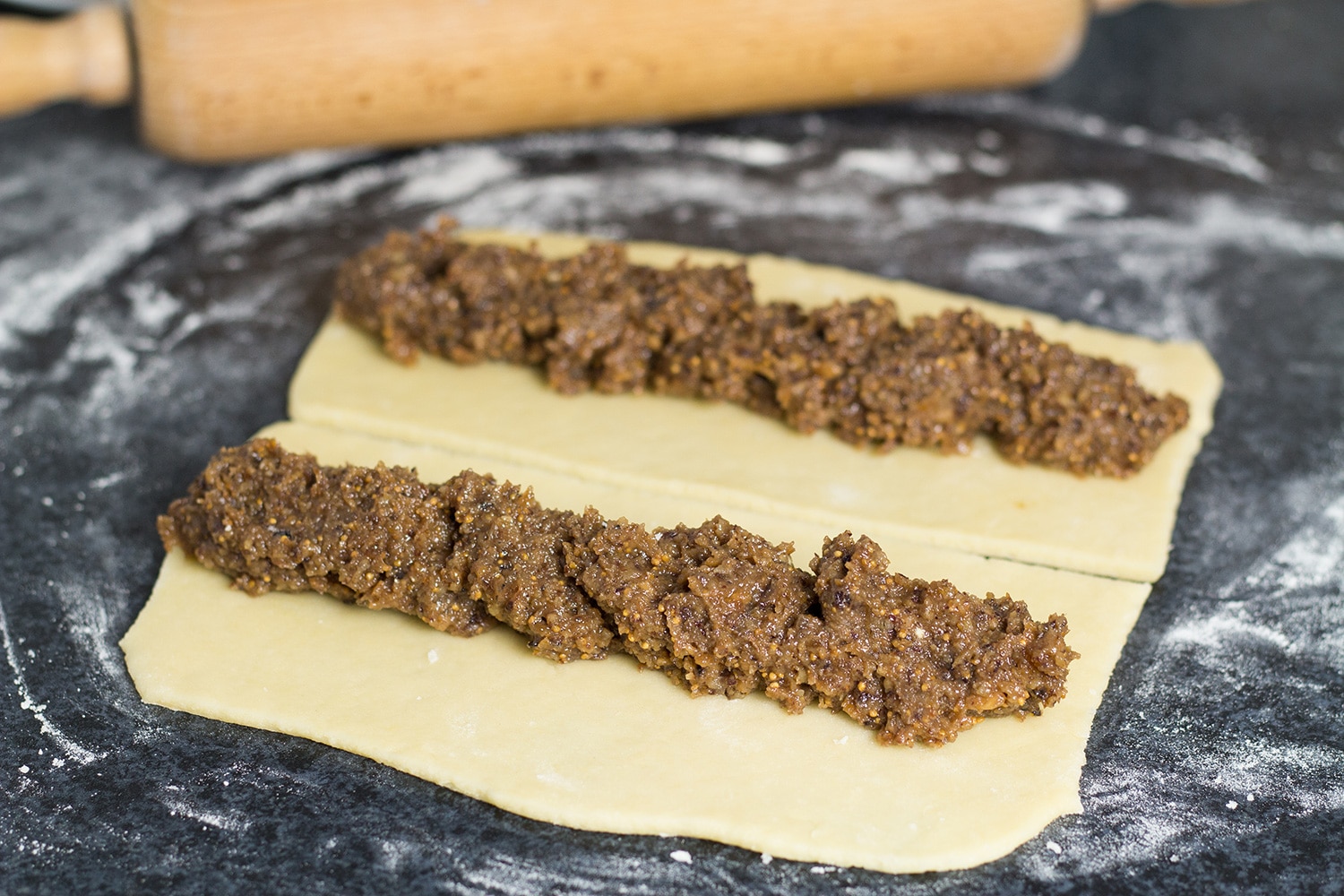 Such a special occasion calls for a special treat. It has been a long time since I made a dessert (Canadian butter tarts in August to be exact) so I decided to prepare something sweet and beautiful today. Plus, Christmas is approaching, so I am going to kill two birds with one stone here. Let me introduce you these cute Italian Christmas Cookies filled with figs, walnuts, and other goodness. It's not the first Italian cookies I make for the blog - Anginetti were fantastic.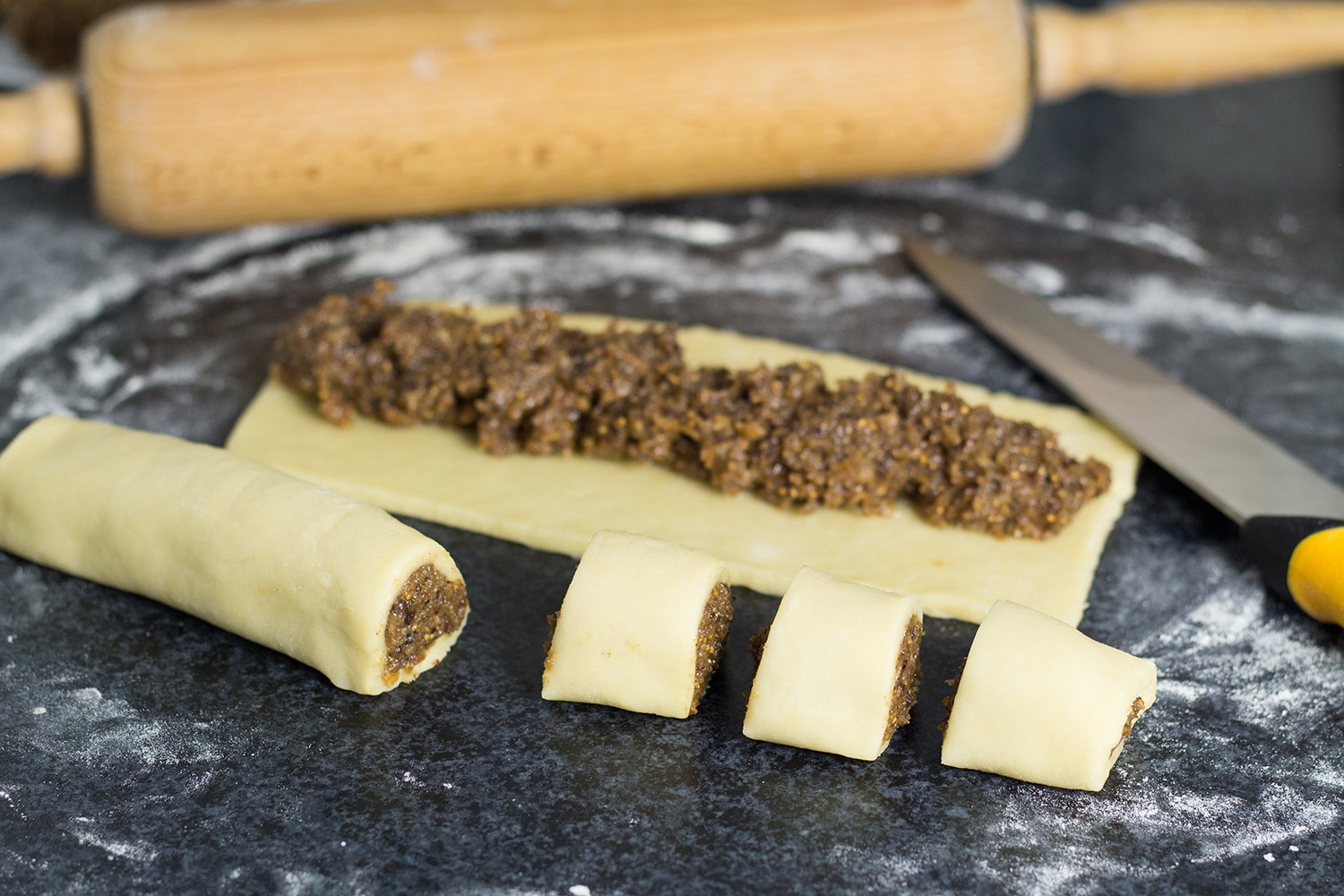 These beauties come from the island of Sicily and are called Cuccidati or Cucidati. They are traditionally made on various holidays, but only when Christmas rolls around you can see them everywhere. Every family has their own recipe passed through generations and every grandma in Italy knows how to make these cookies.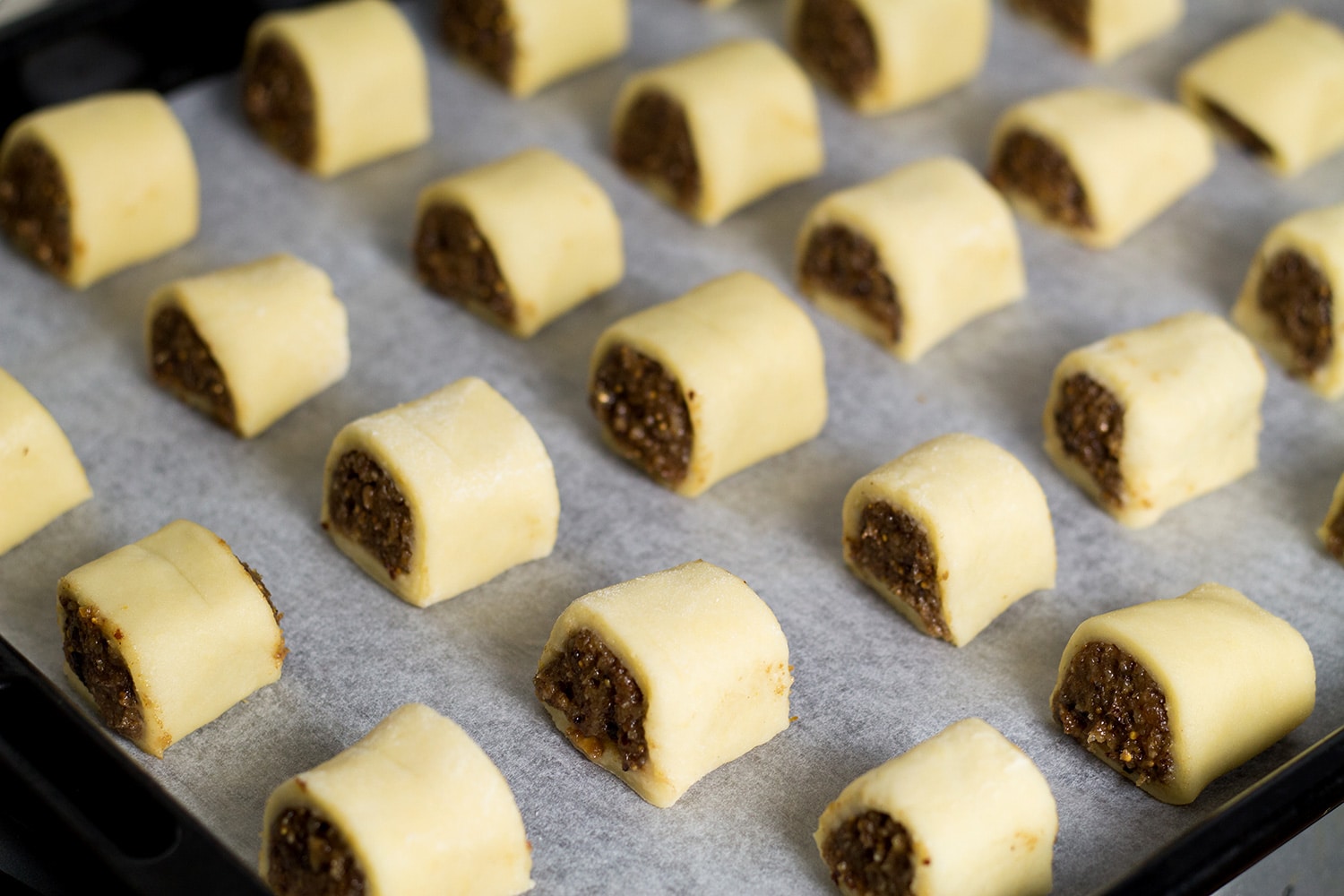 You know why from all the wide variety of dried fruit Sicilians chose to use figs for Cuccidati? I would have never guessed. It appears that they just used the cheapest option available, and in Sicily it was (and maybe still is?)... right, figs. Many Italians have fig trees so it's a staple there.
The situation in my country is opposite - I had to walk miles (ok ok, drive) to find them + they were one of the most expensive dried fruits available. However, it's not something you need every day, so it's not too bad to pay the price from time to time. Sometimes we throw our money away on more pointless things than figs. Oh and the book I made these Italian Christmas cookies from says that you can easily substitute figs with other dried fruits such as apricots or dates.
There are numerous ways of preparing these cookies, and I will show you one of the easiest ones. First, we make a delicate buttery dough in a food processor. Super easy and quick. Then we make a filling combining walnuts, figs, raisins, honey, rum, and cinnamon. Once again we use a food processor keeping our hands clean. Now we are going to shape our cookies so it's time to put in a little bit of work. Sorry guys, a food processor can't do that!
Don't worry, though, once again I'm showing you the easiest method of doing it. Just roll out the dough into strips, put the filling in a long ribbon, fold the dough over, and cut into small segments. That's it! How easy was that? Now throw these little guys into an oven and wait for 15 minutes until they are done. The easiest Christmas dessert ever!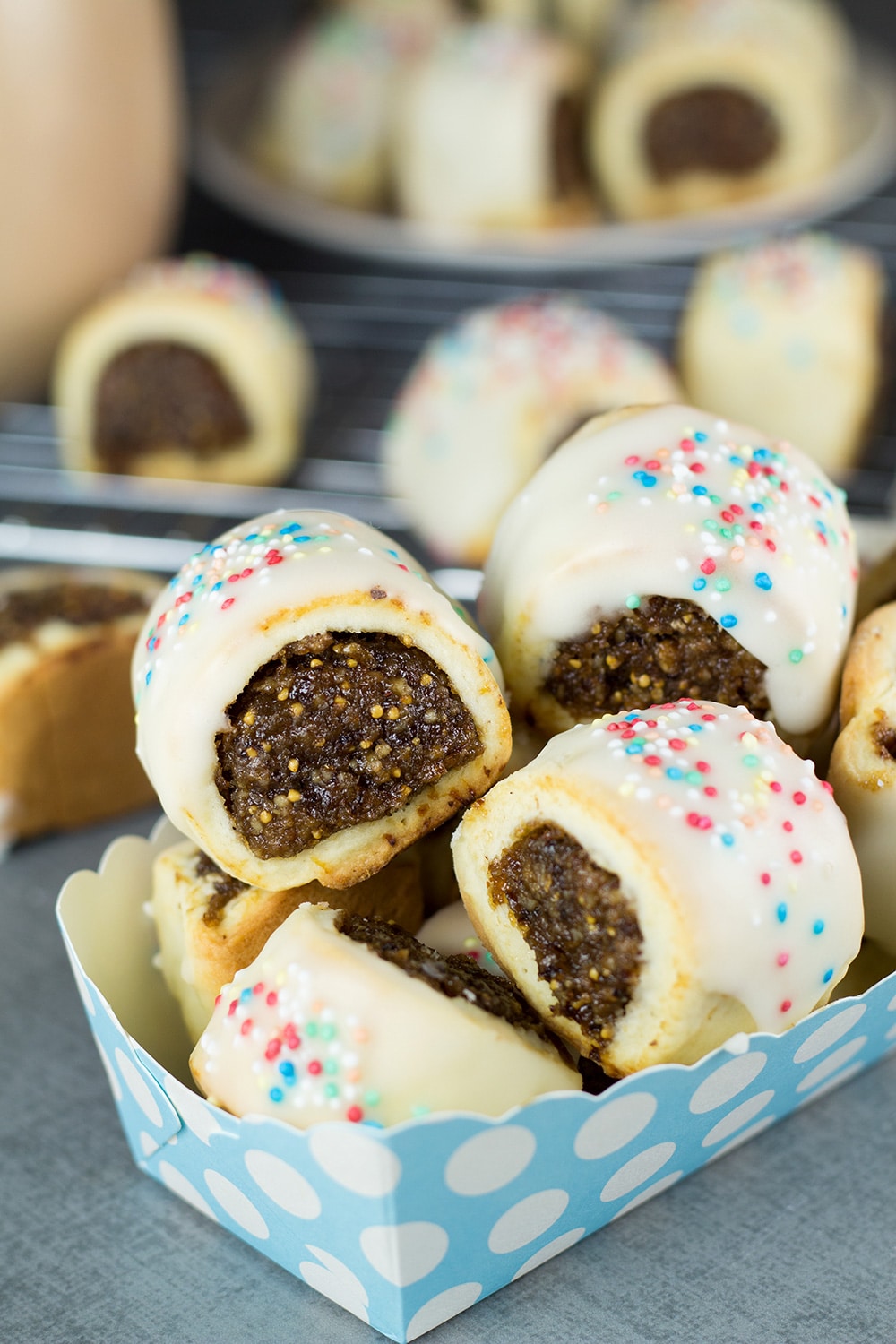 That filling with cinnamon, honey and rum infused figs will blow your mind. The aroma is fantastic. Oh, and the walnuts are so on point. Love the crunch! These Italian Christmas Cookies are exactly what you need if you are looking for something new and never tried before for the approaching holidays. Even if you just plan a party or a family get-together, these cookies make a great snack. Highly recommended!
P.S. Italians know their way with desserts. Their Chocolate Salami I made some time ago for the blog is still one of my most favorite sweets ever. Check it out!

Italian Christmas Cookies with Figs & Walnuts
These Italian Christmas Cookies (Cuccidati) are filled with figs, walnuts, raisins, and other goodness. Perfect any time of the year!

Ingredients
For the dough:
2 ½

cups

sifted all-purpose flour

½

cup

sugar

2 ½

teaspoons

baking powder

¼

teaspoon

salt

1

stick (4 oz. or 113g)

unsalted butter

2

large eggs

½

teaspoon

vanilla extract

¼

cup

milk
For the filling:
1

lb (450g)

dried figs

, chopped

1

cup

seedless raisins

juice and zest of 1 orange

½

lb (225g)

toasted walnuts

, chopped

1

cup

honey

½

cup

dark rum

1

teaspoon

ground cinnamon
For the icing:
1 ½

cups

powdered sugar

3

tablespoons

freshly squeezed orange juice

colored sprinkles
Instructions
The dough. Pulse the flour, sugar, baking powder, and salt in a food processor. Add the butter and pulse again. Add the eggs, vanilla extract, and milk and process until you get a smooth dough. Shape into a disk, cut into 4 equal pieces, wrap in plastic, and store in a fridge until needed.

The filling. In a food processor, pulse the figs, raisins, orange zest, orange juice, and walnuts until finely chopped. Transfer the mixture to a bowl and stir in the honey, rum, and cinnamon. Mix well. Preheat the oven to 400°F (200°C). Line two bakings sheets with parchment paper and set aside.

Shaping the cookies. Working with 1 piece of the dough at a time, roll it out to an 8 x 8 inch (20x20cm) square and cut it in half. Brush the bottom inch of each piece with cold water. Spoon the filling from one end of each piece to another (in the center) in a thick ribbon. Fold the moistened edge of the dough over the filling and press to seal.

Cut each strip into 1-inch (2.5cm) parts. Transfer to the prepared baking sheet and repeat with all the remaining dough. Don't overcrowd your baking sheets leaving some space between the cookies.

Bake the cookies for about 14-16 minutes until their tops are golden. When done, remove from the oven and let cool for 5 minutes on the baking sheets. Transfer to a wire rack and let cool completely before covering with the glaze.

The icing. Meanwhile, prepare the icing by whisking the sugar and orange juice in a small bowl until smooth. Dip the top of each cookie in the icing and top with the colored sprinkles. Let the icing harden before serving. Enjoy!
Notes
1. Hazelnuts or almonds can be used instead of walnuts. A mixture of a few kinds of nuts can also be used.
2. Marsala can be used instead of rum.
3. A mixture of figs + apricots or figs + dates can be used instead of just figs.
Adapted from Classic Home Desserts by Richard Sax
Nutrition