Jamaican Rum Cake, also known as a black cake or fruit cake, is usually made for weddings and holidays. This dark, dense cake is moist and packed with the flavors of rum-soaked dried fruit and spices. It's guaranteed to become your favorite!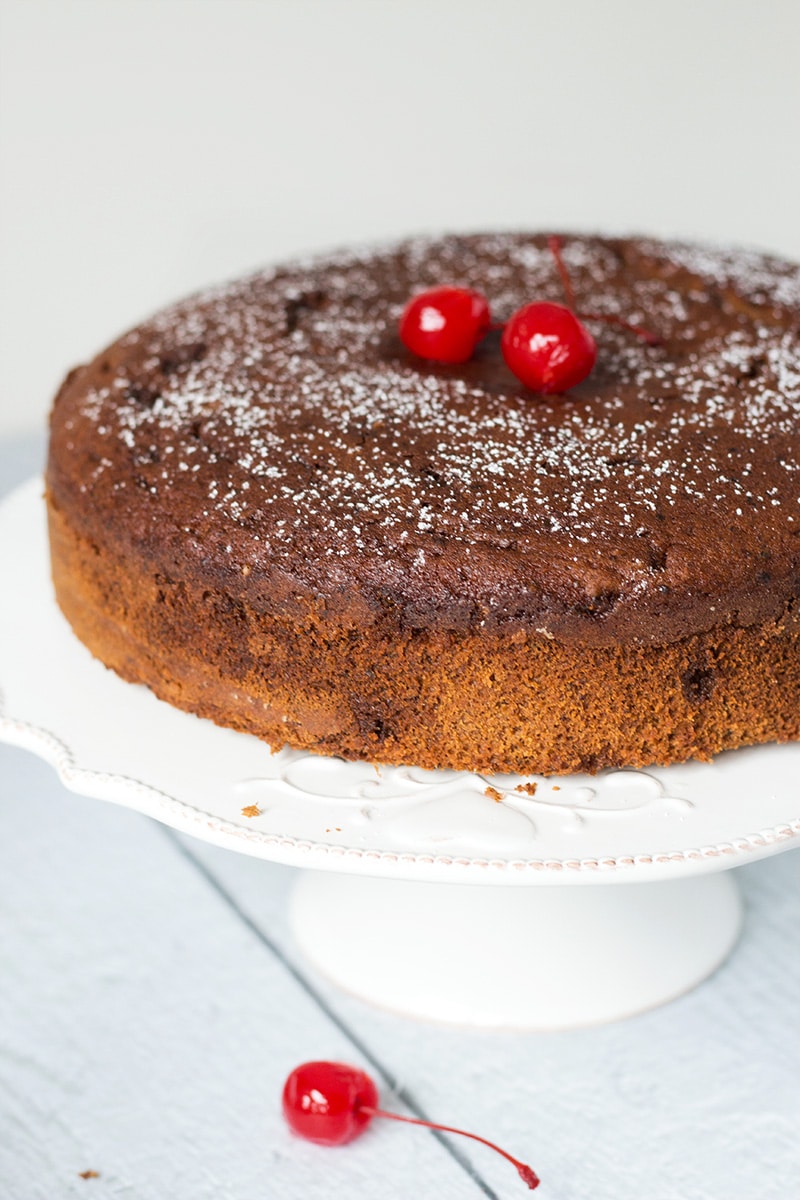 Who would have thought that recipes from such a relatively small island country as Jamaica will be so frequent in my blog. I already made this super delicious brown stew chicken and traditional Jamaican rice and peas (don't get fooled by the name, it's actually rice and beans). Now it's time for what? That's right, for something sweet! A meal without a dessert is like reading a book without looking at the ending. I definitely don't want that. That's why I made this beautiful Jamaican Rum Cake. It is also known by few other names such as Jamaican Black Cake and Jamaican Fruit Cake. All three names make a perfect sense: it is black, it contains rum and dried fruit. I stumbled upon the recipe of this cake in the wonderful book Secrets of the Best Chefs. I love it because all recipes there are totally fool-proof!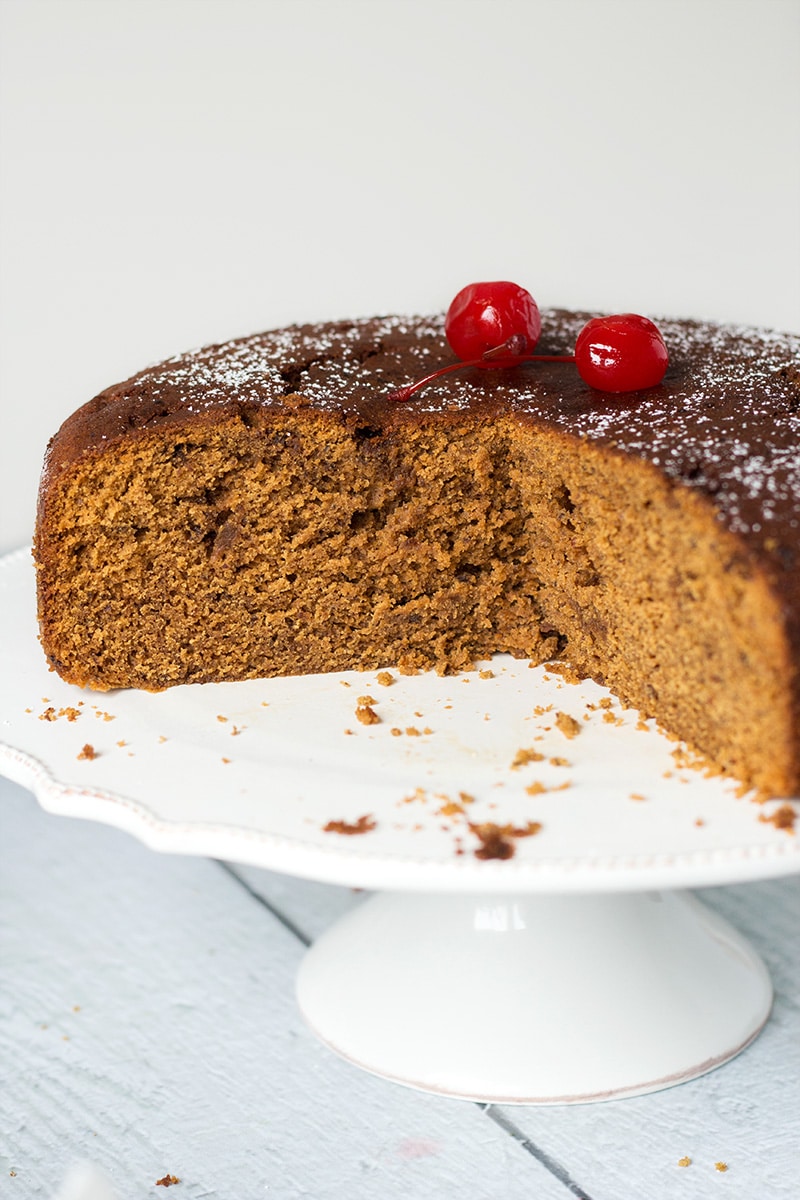 Jamaican rum cake is a traditional favorite at weddings and holidays. It is often made on Christmas, and sometimes is even called like that - a Christmas cake. From what I've read, it looks like Jamaicans love their rum cake, because they make it for every possible occasion! As it is always the case with traditional recipes, every family has its own way of making this dark, dense cake. However, there are few ingredients that you can meet in every single one of them: rum, dried fruit, and Christmassy spices, such as cinnamon and nutmeg. Dried fruit are soaked in rum (sometimes together with wine) and pureed in a blender. I read somewhere that some Jamaican cooks are soaking fruit for a year, so they would break down by themselves. Well, after a long time of thinking, I decided to stick with a blender.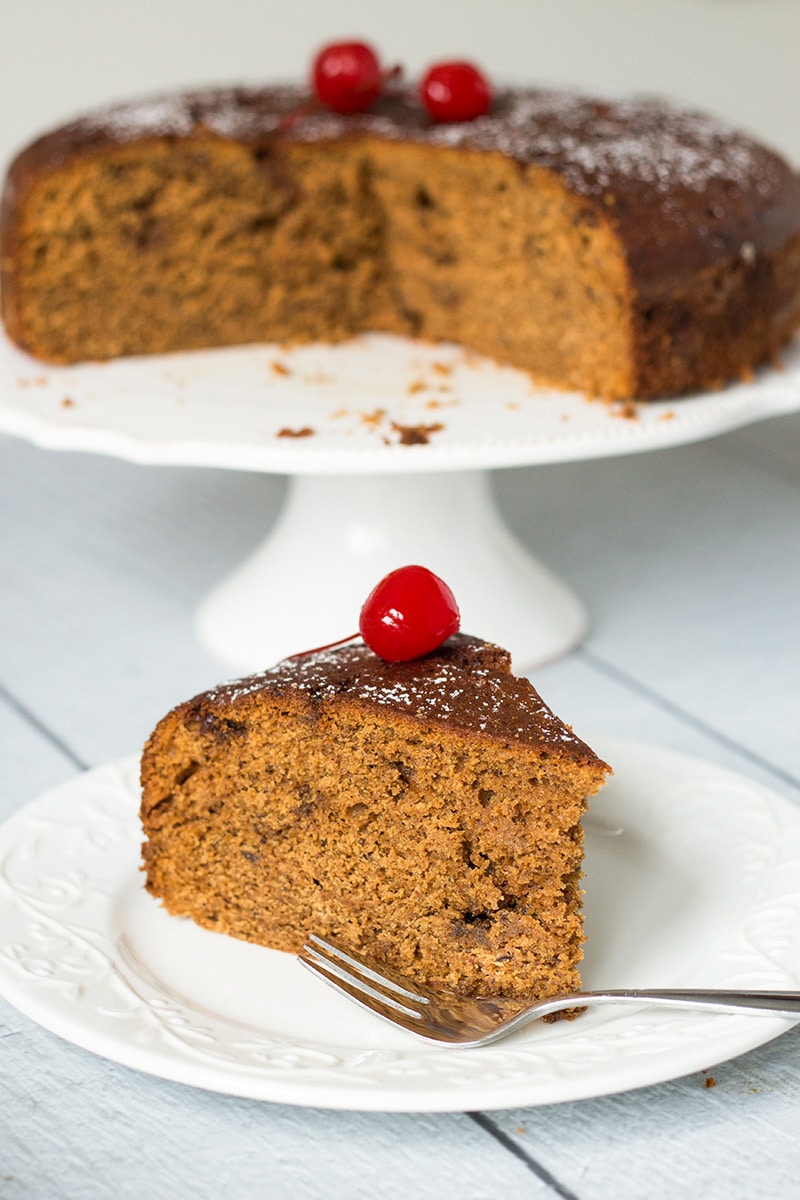 After the very first bite of this moist and flavorful cake I immediately understood why it's such a favorite in Jamaica. It tastes so good! I love how the intense flavor of spices combines with the taste of rum-soaked raisins and prunes. Magical. This Jamaican rum cake is such a mix of flavors. Even vanilla is used in large amounts here. Just try to remember when was the last time you added 1 ½ tablespoons of vanilla extract to anything? I am pretty sure you would be able to count these occasions on the fingers of one hand.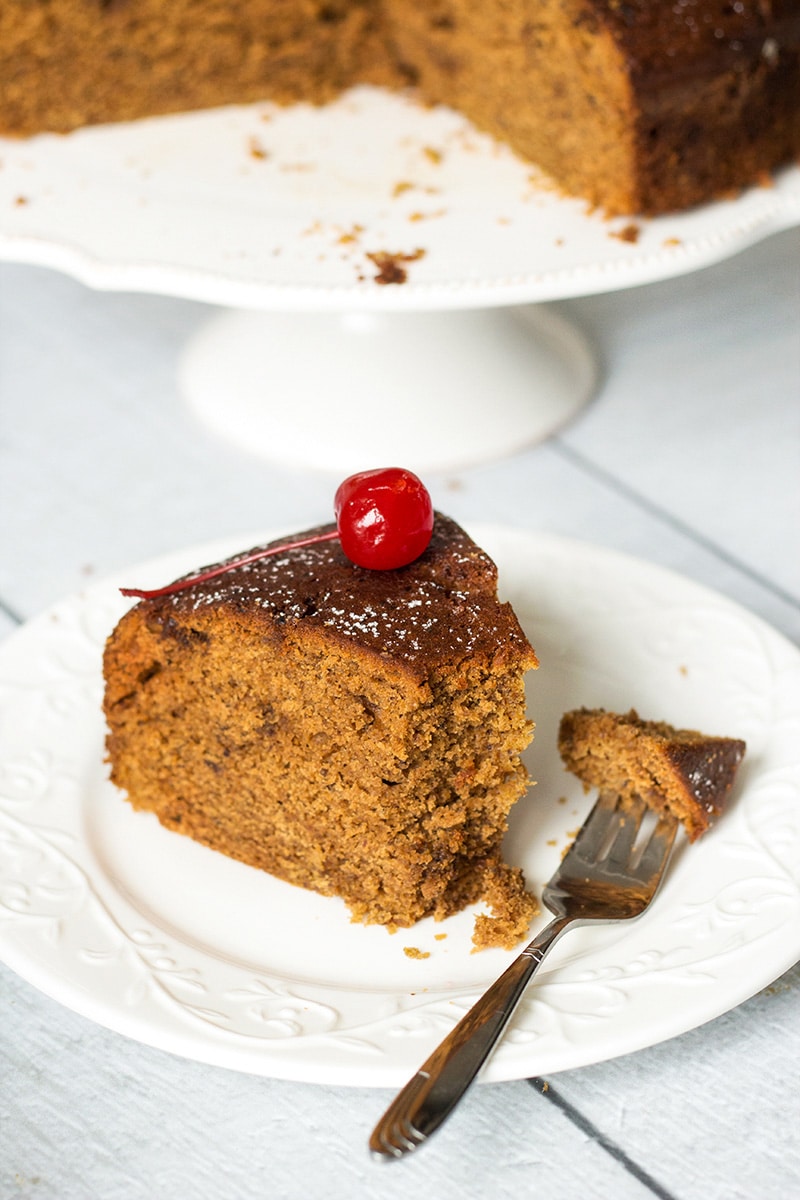 I am seriously considering to start making this Jamaican rum cake for Christmas every single year. It's totally worth it. My family will love it! If you are afraid of getting tipsy by eating the piece of this boozy cake - don't be. You boil the alcohol and then bake it for an hour. I think most of the alcohol content (if not all of it) burns off during the cooking process, but the flavor goes nowhere!  Just skip the last part of sprinkling the rum on a finished cake, and you are good to go!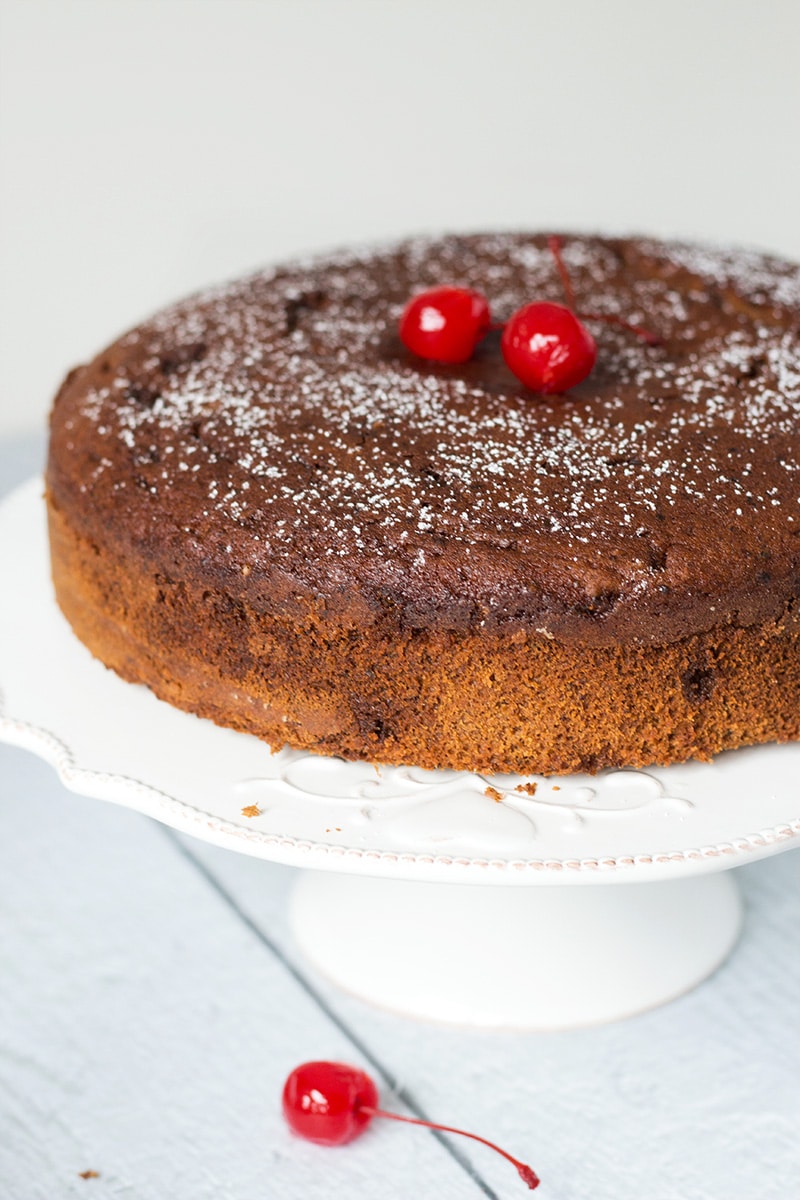 Jamaican Rum Cake
Jamaican Rum Cake is dense, moist, and packed with the flavors of rum-soaked dried fruit and spices!

Ingredients
¼

cup

raisins

½

cup

pitted prunes

1

cup

white rum,

plus ¼ cup more for sprinkling

2 ¾

cups

all-purpose flour,

plus more for dusting the pan

1 ½

tablespoons

baking powder

1 ½

teaspoons

salt

1

tablespoon

ground cinnamon

½

tablespoon

ground nutmeg

2

sticks (½ lb or 225g)

unsalted butter,

at room temperature

2 ½

cups

dark brown sugar

4

large eggs,

at room temperature

1 ½

tablespoons

vanilla extract

¼

cup

molasses

powdered sugar,

for dusting
Instructions
In a saucepan, bring the rum to a boil. Turn off the heat and add raisins and prunes into it. Cover and wait until the fruit has absorbed most of the liquid. If it doesn't happen, turn on the heat and simmer, until most of the liquid is absorbed. Allow to cool and puree dried fruit in a blender. Set aside.

Preheat oven to 350°F (175°C). Half-fill a baking pan with water and place it on the oven's bottom shelf to create steam. Spray a 9-inch cake pan with cooking spray, line with parchment paper, and spray again. Dust it with flour, tapping out excess.

In a bowl, sift together the flour, baking powder, salt, cinnamon, and nutmeg. Set aside.

In a stand mixer with a paddle attachment, cream the butter and brown sugar until light and fluffy. Add the eggs, one at a time, until they are incorporated. Add the vanilla extract, molasses and the pureed dried fruit and mix just until they are combined. On a low speed, add the sifted flour mixture, in batches. Finish by incorporating the final batch of the flour mixture with a rubber spatula.

Pour the batter into the prepared cake pan and bake for about 45-60 minutes, or until a toothpick comes out clean.

When ready, transfer to a cooling rack, wait for 5 minutes, and flip the cake upside down. Remove the pan and the paper and sprinkle with the reserved ¼ cup of rum. Allow to cool and flip the cake back to it's upright position. Dust with powdered sugar. You can garnish the cake with cherries or strawberries. Enjoy!
Nutrition
* This post contains affiliate links, thank you for the support in keeping Cooking The Globe up and running!