This Mexican Shrimp Soup (Albóndigas de Camarón) features melt-in-your-mouth tender shrimp meatballs swimming in a flavorful spicy tomato broth. Light and low in calories, it's usually served before the main meal to increase the appetite. Perfect all year long!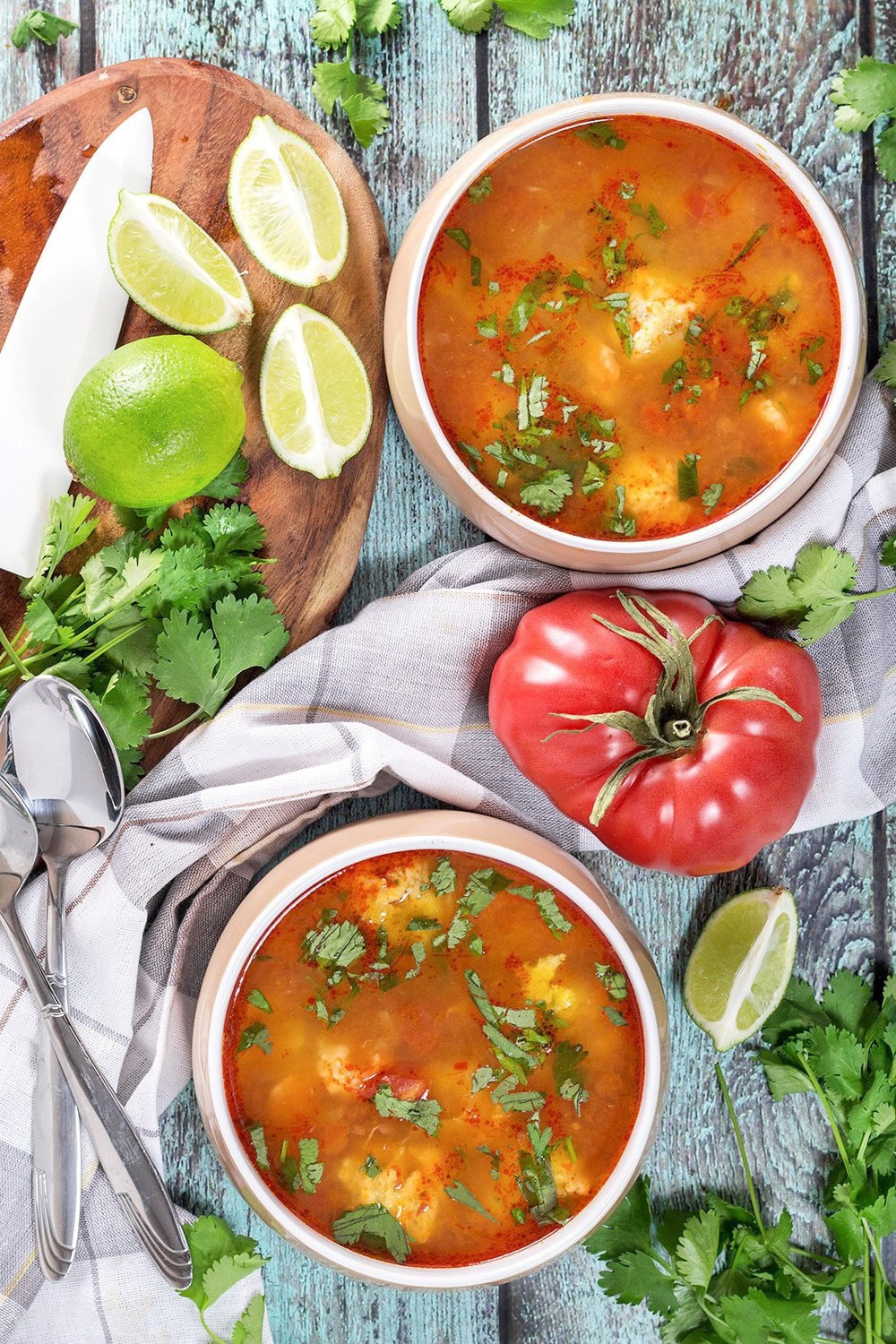 Christmas cookies, drinks, and other recipes I've been posting non-stop lately are all interesting and fun but you gotta eat something more substantial from time to time too, right? I went through my culinary books yesterday and found a beautiful Mexican Shrimp Soup recipe. It immediately grabbed my attention because I saw something in it I have never tried before. Shrimp meatballs! Yes, the only shrimp swimming in this soup are in a form of meatballs. You can add a few whole shrimp together if you want, though.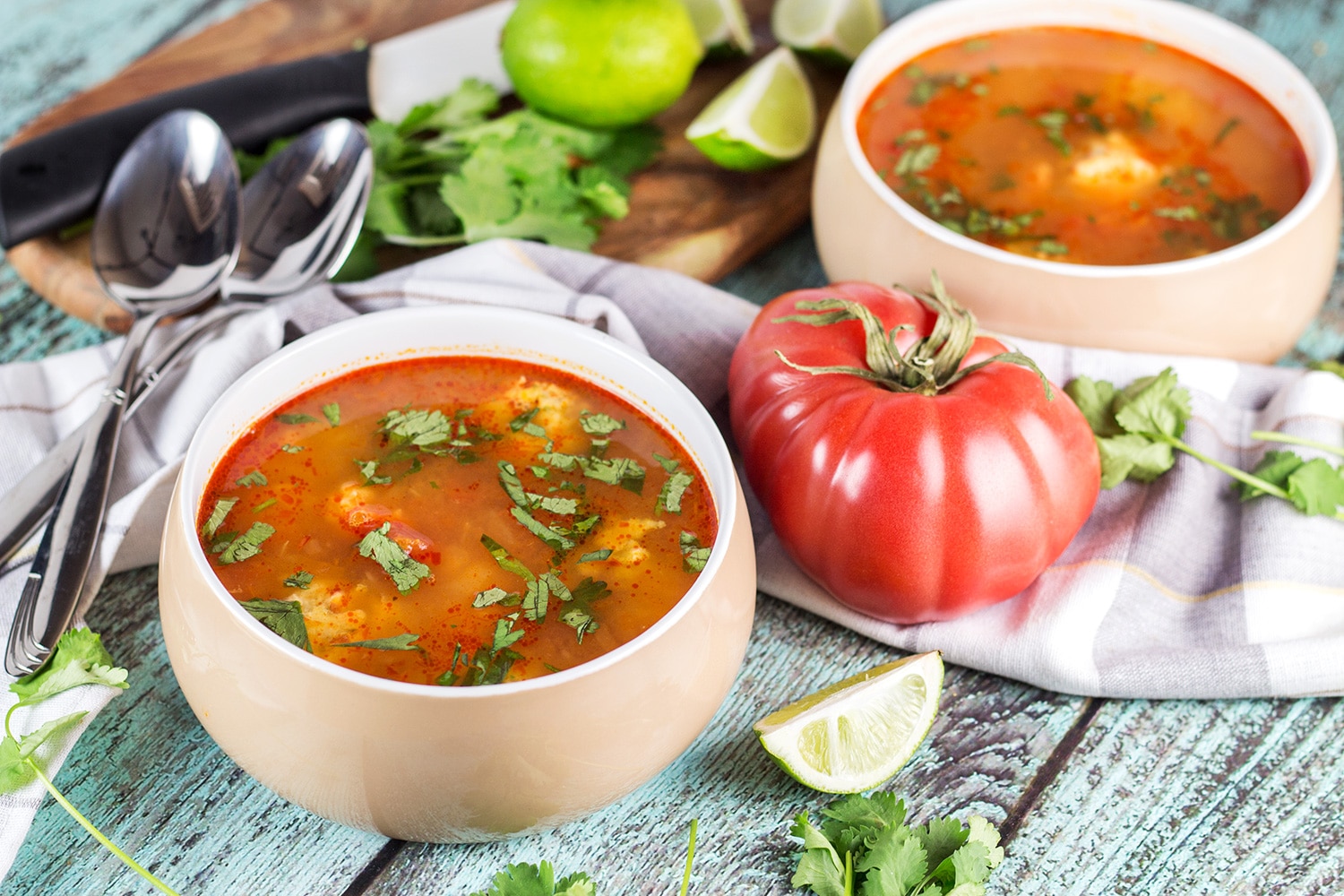 The name Albóndigas de Camarón translates simply as shrimp meatballs. In fact, it's a variation of a very popular Albondigas Soup where meatballs are traditionally made from beef. I tried the original version many times and I loved it so I was intrigued to change things up a little bit! The fact that I've never eaten shrimp meatballs in my whole life only increased my desire.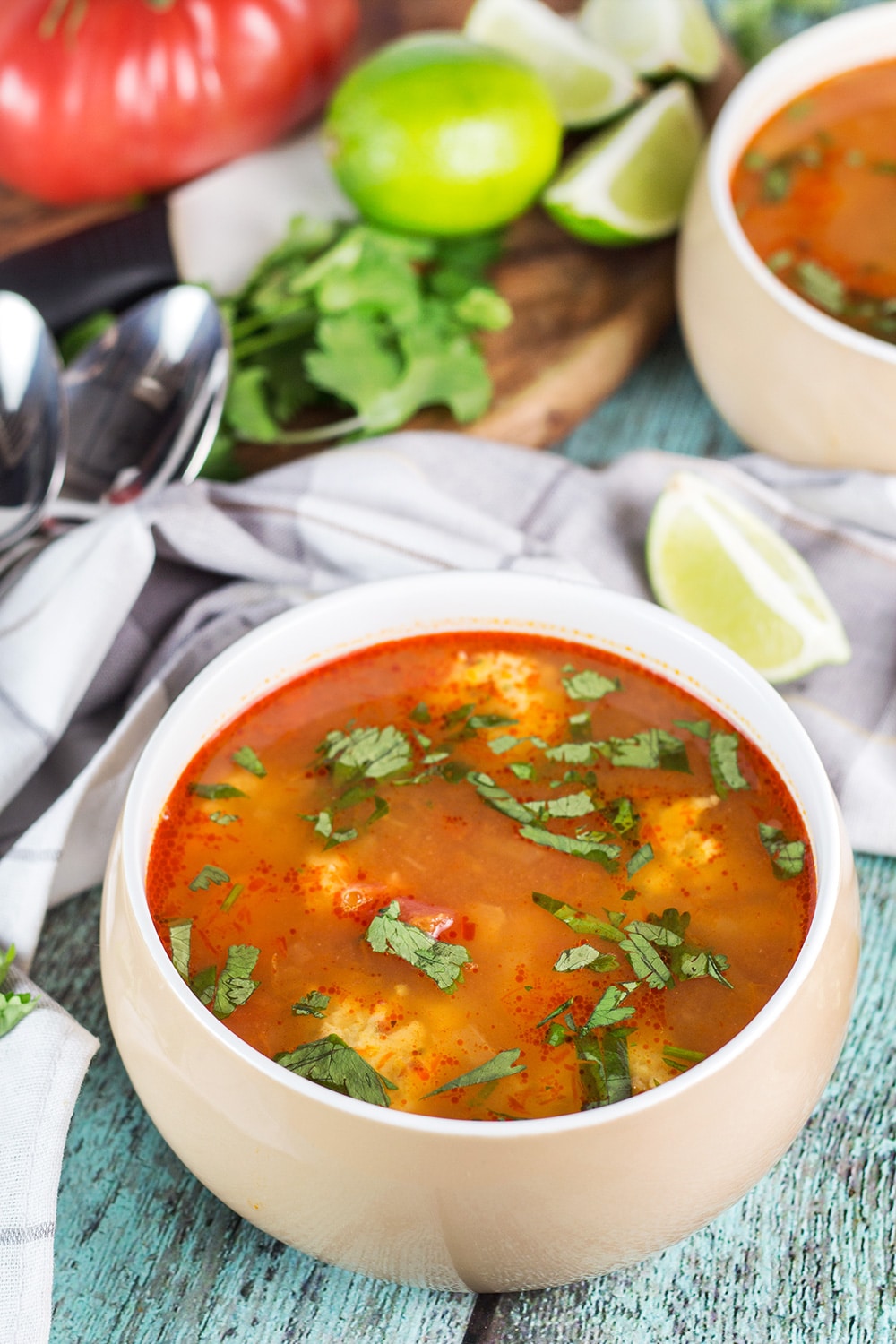 This Mexican shrimp soup is also super easy to make. Just chop shrimp in a food processor, mix them with chopped onion, tomato, egg yolk, flour and seasonings and form meatballs that you will throw into a flavorful spicy tomato broth made in 20 minutes. Sprinkle with some chopped cilantro and serve with lime wedges on the side. That's it! Even a complete kitchen amateur will be able to do that.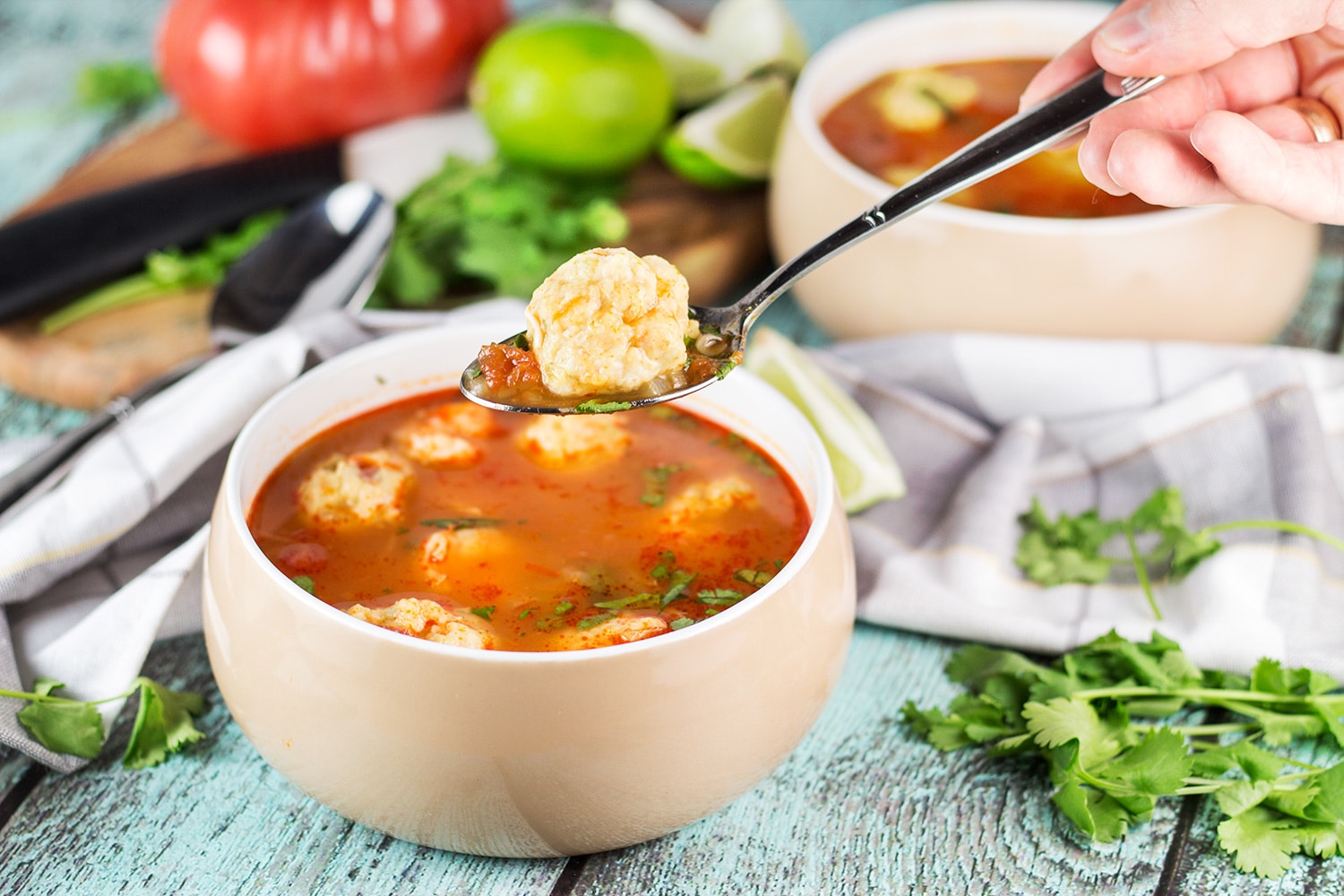 The soup itself is really light so it's usually served before the main dish (tacos, enchiladas, or else) to increase your appetite. I can see myself slurping on this soup all year long because it's comforting enough for winter and light enough for hot summer days! The meatballs are so tender they could melt in your mouth. I regret not coming up with the idea of shrimp meatballs earlier. It's a perfect change-up from the same pork, beef, chicken, and turkey ones which sometimes get really boring.
I strongly recommend you to try this soup because it's really THAT good. Albóndigas de Camarón goes straight to my favorites list. No doubt about it!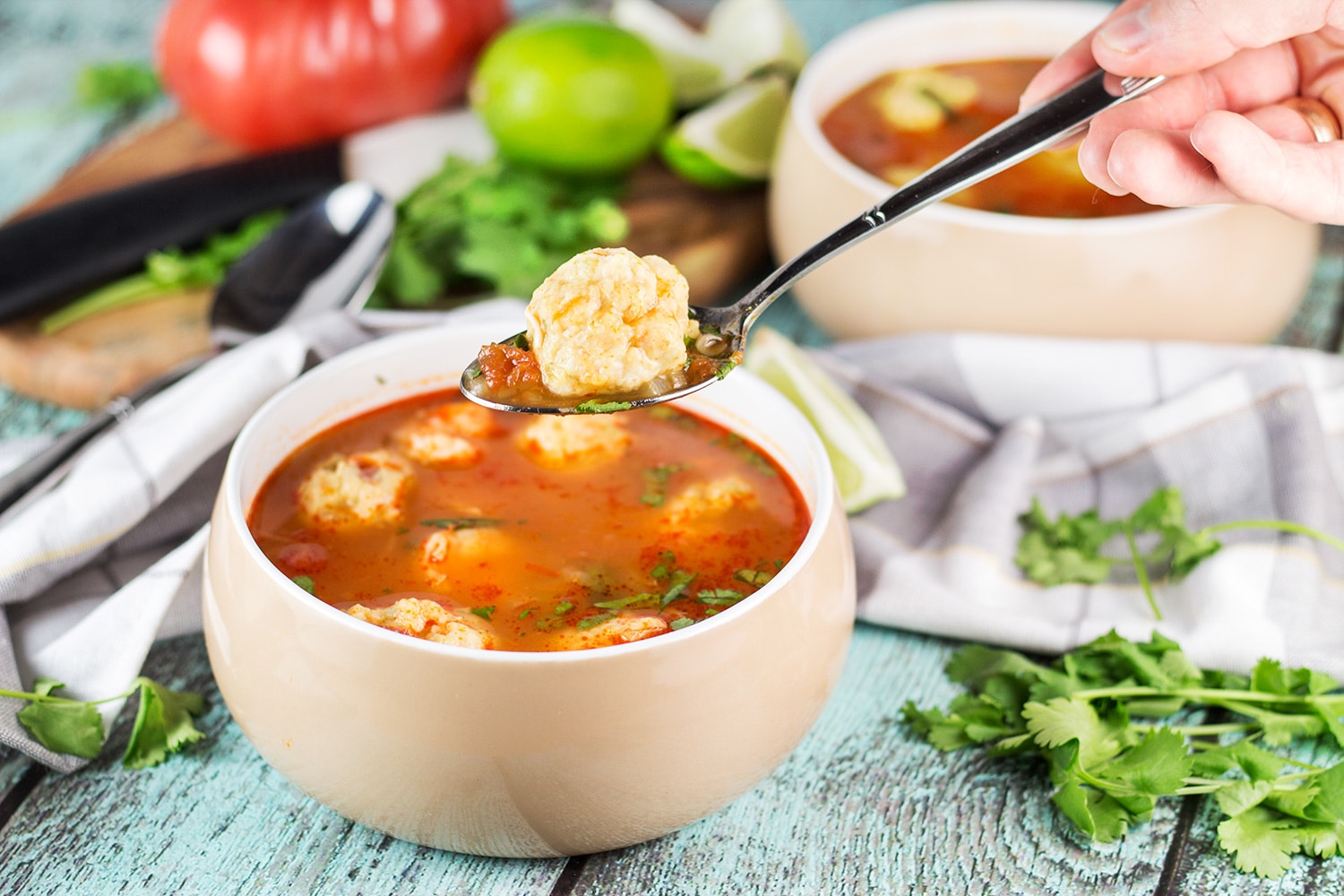 Mexican Shrimp Soup - Albóndigas de Camarón
This Mexican Shrimp Soup is light and low in calories. You'll love shrimp meatballs swimming in a spicy tomato broth!

Ingredients
For the meatballs:
8

oz (225g)

shrimp

, peeled, deveined

¼

small

onion

, finely chopped

¼

medium

tomato

, cored, seeded, finely chopped

1

large

egg yolk

2

tablespoons

all-purpose flour

½

teaspoon

dried oregano

½

teaspoon

salt
For the broth:
1

tablespoon

vegetable oil

1

small

onion

, thinly sliced

1

fresh chile poblano

, roasted, peeled, seeded, cut into thin strips

½

15 oz or 450ml

can chopped tomatoes

4 ½

cups

fish broth or chicken stock

¾

teaspoon

salt

¼

cup

roughly chopped cilantro

1 or 2

limes

, to serve
Instructions
The meatballs. Chop the shrimp finely either by hand or using a food processor. Add to a bowl together with the onion, tomato, egg yolk, flour, oregano, and salt. Mix well. Cover and keep in a fridge until needed.

The broth. Heat the oil in a pot. Add the onion and cook for about 7 minutes. Add the chile and tomatoes and cook for 3-4 minutes more. Pour in the broth and bring to a boil. Cover and simmer for about 15 minutes. Season with salt.

Take out the shrimp mixture out of the fridge. Form the meatballs and throw them into the broth. Simmer for 8-10 minutes.

Serve the soup sprinkled with the chopped cilantro with the lime wedges on the side. Enjoy!
Notes
You can also add carrots and celery if you want to. Add them together with the onion in the broth making phase.
IF YOU LIKED THIS RECIPE: Check out another Mexican soup Sopa de Fideo which has been really popular on the blog!
Adapted from Authentic Mexican by Rick Bayless
Nutrition