Koshari, or lentils and rice, is considered a national dish in Egypt. Also containing chickpeas and pasta, this nourishing and nutritious meal is topped with fried onions and a homemade tomato sauce to create a satisfying experience for your taste buds! Vegetarian and vegan!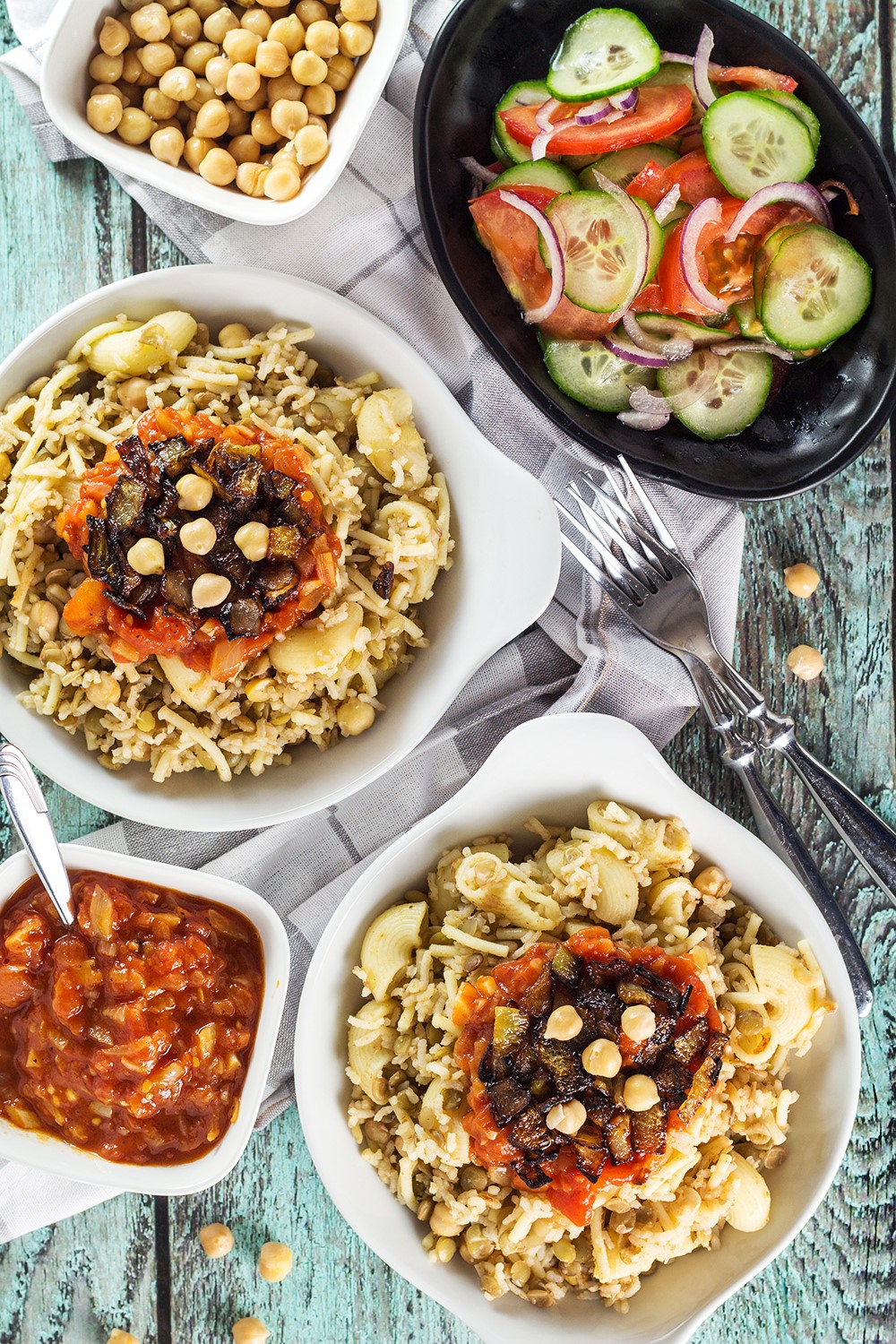 Egyptian food is an often discussed topic among food lovers. Many say it's not as good as in other Arab countries, such as Lebanon, Syria, and Turkey, others praise Egyptians for delicious ways of using legumes (fava beans, lentils, and others). I don't feel experienced enough to participate in this discussion (in my opinion, you have to visit the countries in question and taste authentic food to make a proper conclusion) but I loved what I tried so far. For example, falafel. It originated in Egypt and it's fantastic!
Today I made a dish considered as national in this African country. It's a mixture of lentils, rice, pasta, and chickpeas called Koshari, or Koshary, or Kushari. All this goodness is topped with crispy fried onions and a flavorful tomato sauce! This dish is popular both in households where housewives prepare it at least once a week and on Egypt's streets where vendors sell it straight from their carts or it is served in cafes and restaurants. Such a popularity is understandable: Koshari is cheap and really filling. Lentils are called "poor man's meat" for a reason. What else do simple workers, among whom this dish is a hit, can possibly want?
It is believed, even though there is not too much evidence, that Koshari originated from an Indian dish Kitchari which consisted of rice and lentils. English colonials brought it to Egypt in the late nineteenth century. The Egyptians adapted it to their tastes and that's how the dish we see today was born. It's funny but when I tasted these Egyptian lentils and rice I immediately thought about the Indian Chicken Biryani I made some time ago. I guess it's the fried onions that triggered my memories.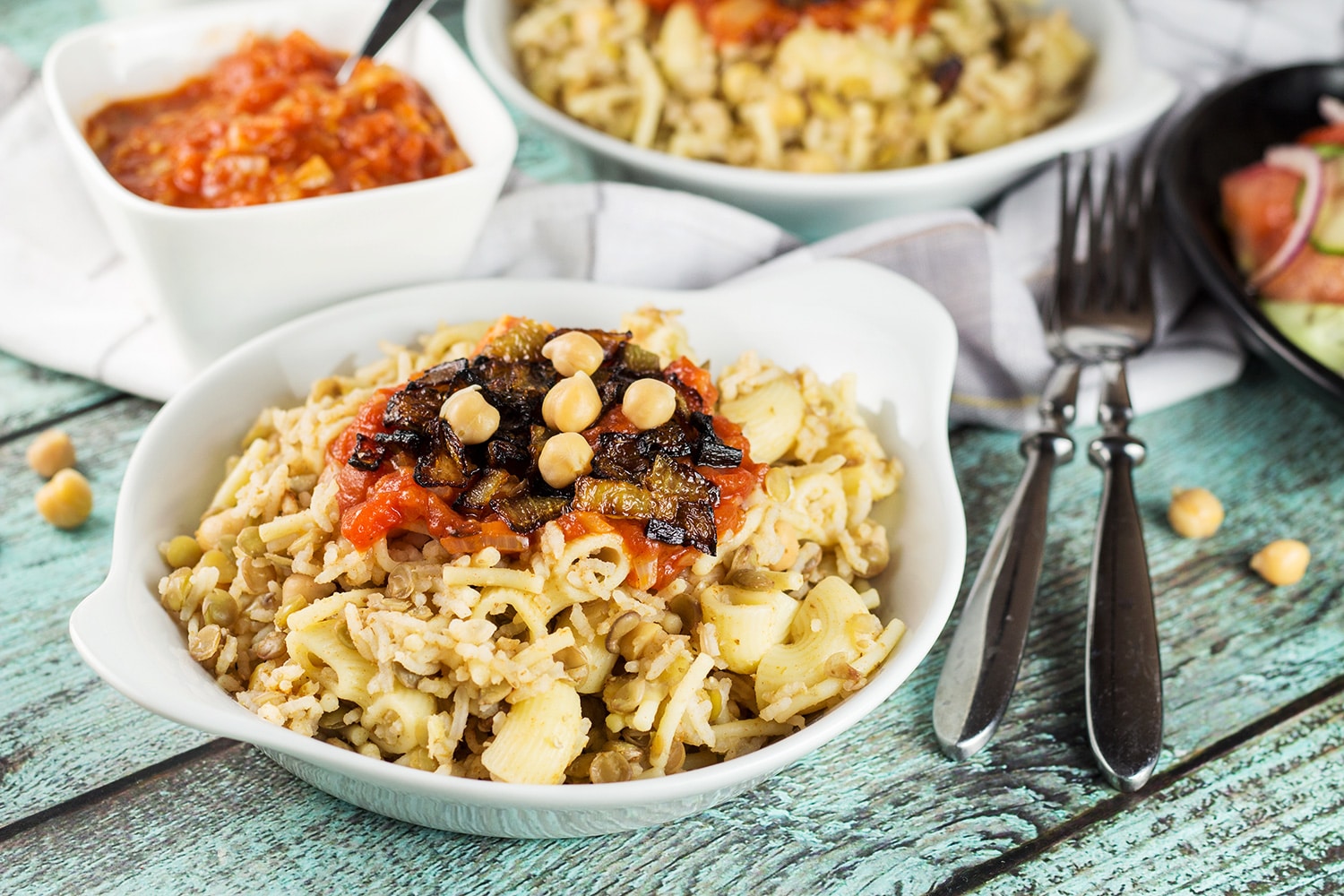 While you will hardly find Koshari outside the Egypt, the dish is already taking its first steps in other countries. For example, a takeout and cafe dedicated to Egyptian lentils and rice called "Koshari Street" opened in London a few years ago. So awesome! I really hope that it will spread to other countries too.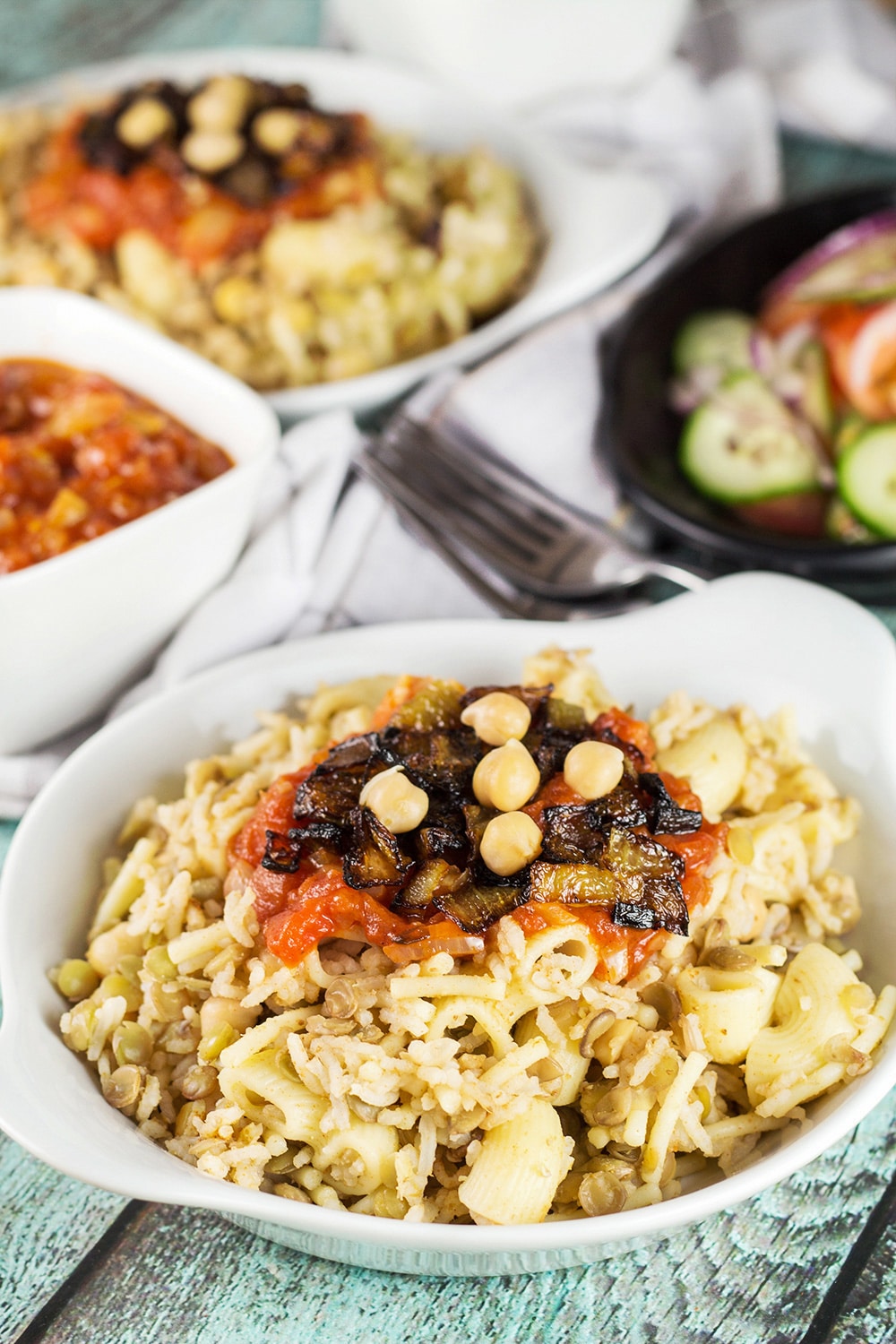 Koshari is also loved by vegetarians all around the world because it's a perfect meatless nutritious dish. Chickpeas and lentils are packed with protein while rice and pasta with complex carbs. We need more of such healthy takeout instead of junk food big cities are full of right now!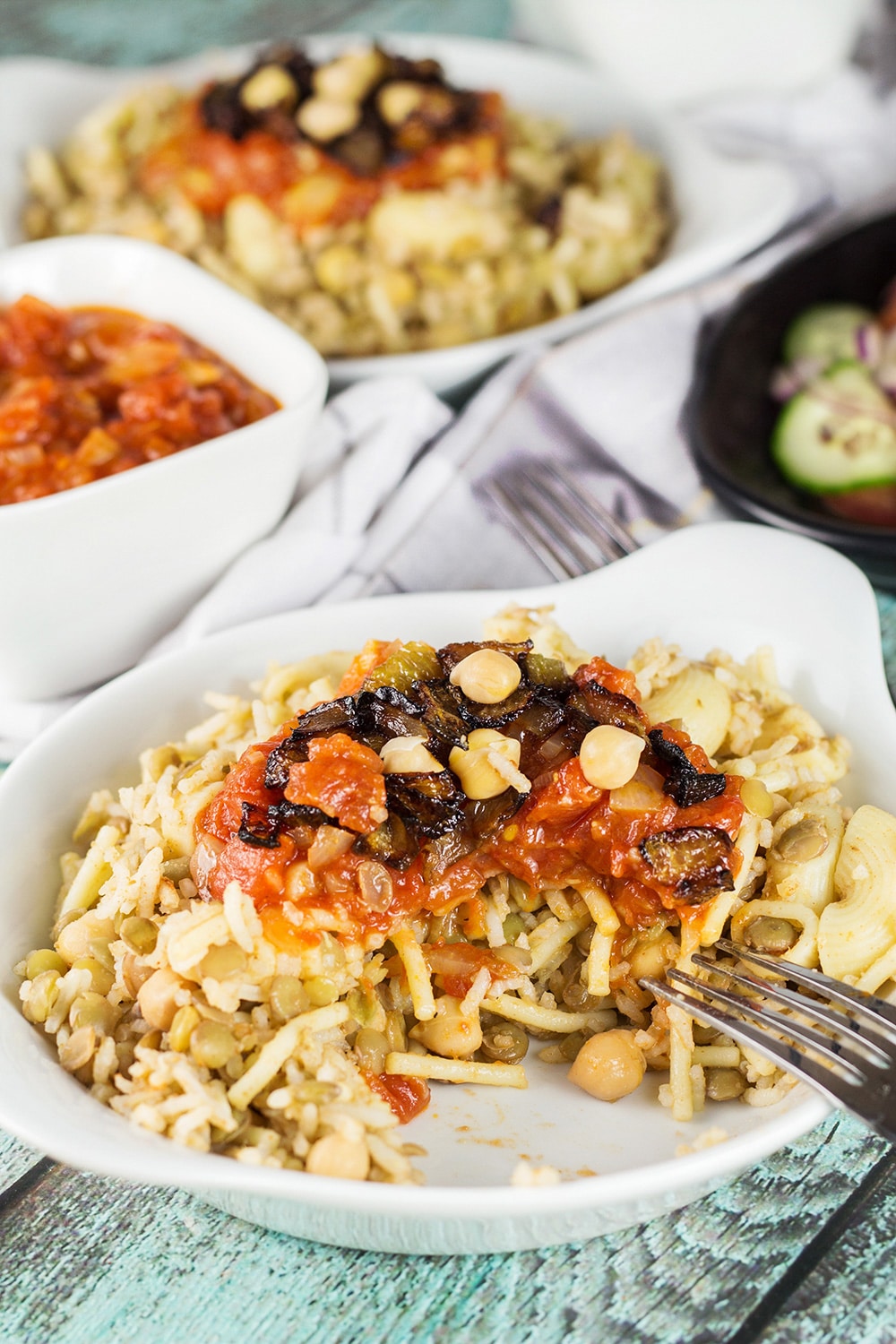 Traditionally, Koshari is prepared by cooking lentils, rice, and pasta separately and layering them only in a serving dish. However, today, many cooks shorten the process by cooking everything together and mixing in a bowl. So did I. This Egyptian creation can be served as a meatless main dish or as a side dish to a piece of meat. Try it guys and let me know how you liked it in a comments section below!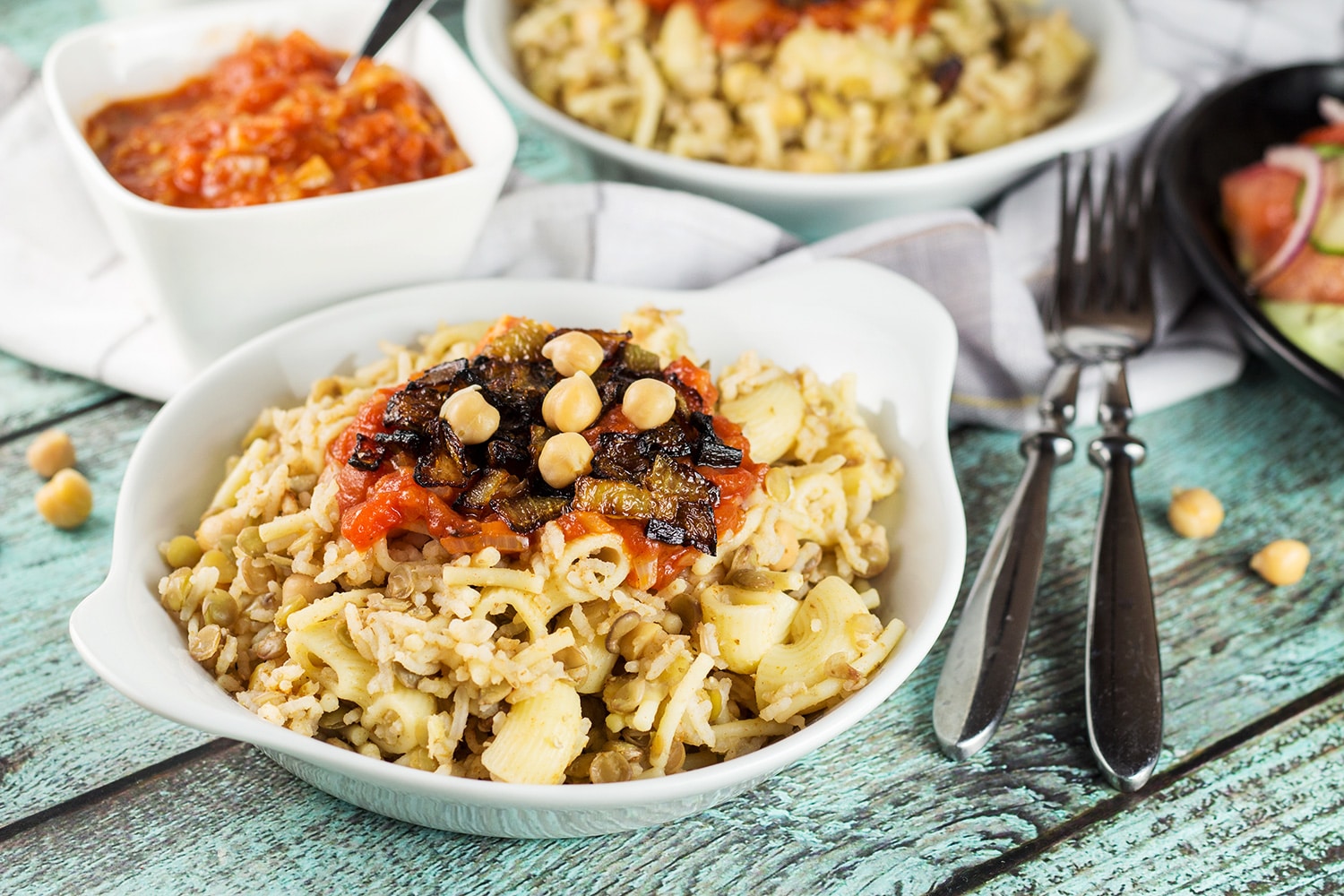 Koshari - Egyptian Lentil and Rice Pasta
Lentils and rice is a national Egyptian dish. Also featuring chickpeas, pasta, and a homemade tomato sauce, it's a perfect vegetarian and vegan dinner!

Ingredients
For the Koshari:
½

cup

medium or short grain rice

2

oz (60g)

dried spaghetti

, broken into 1-inch pieces

½

cup

macaroni

½

cup

brown lentils

2

tablespoons

Olive oil

1

large onion

, finely sliced

½

cup

canned chickpeas

, drained, plus more for garnish

2

teaspoons

ground cumin

½

teaspoon

cayenne pepper

½

teaspoon

ground ginger

¼

teaspoon

ground coriander

salt

, to taste
For the sauce:
3

tablespoons

Olive oil

½

cup

finely chopped onion

4

cloves

garlic

, minced

1

15 oz or 450ml

can chopped tomatoes

¼

teaspoon

ground black pepper

¼

teaspoon

crushed red pepper flakes

(optional)
Instructions
The Koshari. In a large pot, boil water and add the rice, spaghetti, and macaroni. Cook for about 20 minutes, until tender and drain.

While the first ingredients are cooking, in a medium pot, add 4 cups of water together with the lentils and bring to a boil. Reduce the heat and cook once again for about 20 minutes, until tender. Drain.

In a skillet, heat 2 tablespoons olive oil. Fry the onion until dark brown. When done, transfer with a slotted spoon to a plate lined with paper towels.

In a large bowl, mix together the rice, spaghetti, macaroni, lentils, chickpeas, cumin, cayenne, ginger, and coriander. Season with salt to taste.

The sauce. In a skillet, heat 3 tablespoons olive oil and add the onion. Cook until golden. Add the garlic and cook for a minute more. Now add the chopped tomatoes and spices. Cook for 10-15 minutes, until thickened.

Serve the rice and lentil mixture topped with the sauce, fried onions, and a few chickpeas. A simple tomato and cucumber salad can be also served with Koshari. Enjoy!
Nutrition