Moroccan Preserved Lemons is something everybody should try at least once in a lifetime. Many call this condiment the greatest Morocco's contribution to the food world. Salt preserved lemons can be used in an array of Moroccan dishes as well as in your everyday meals!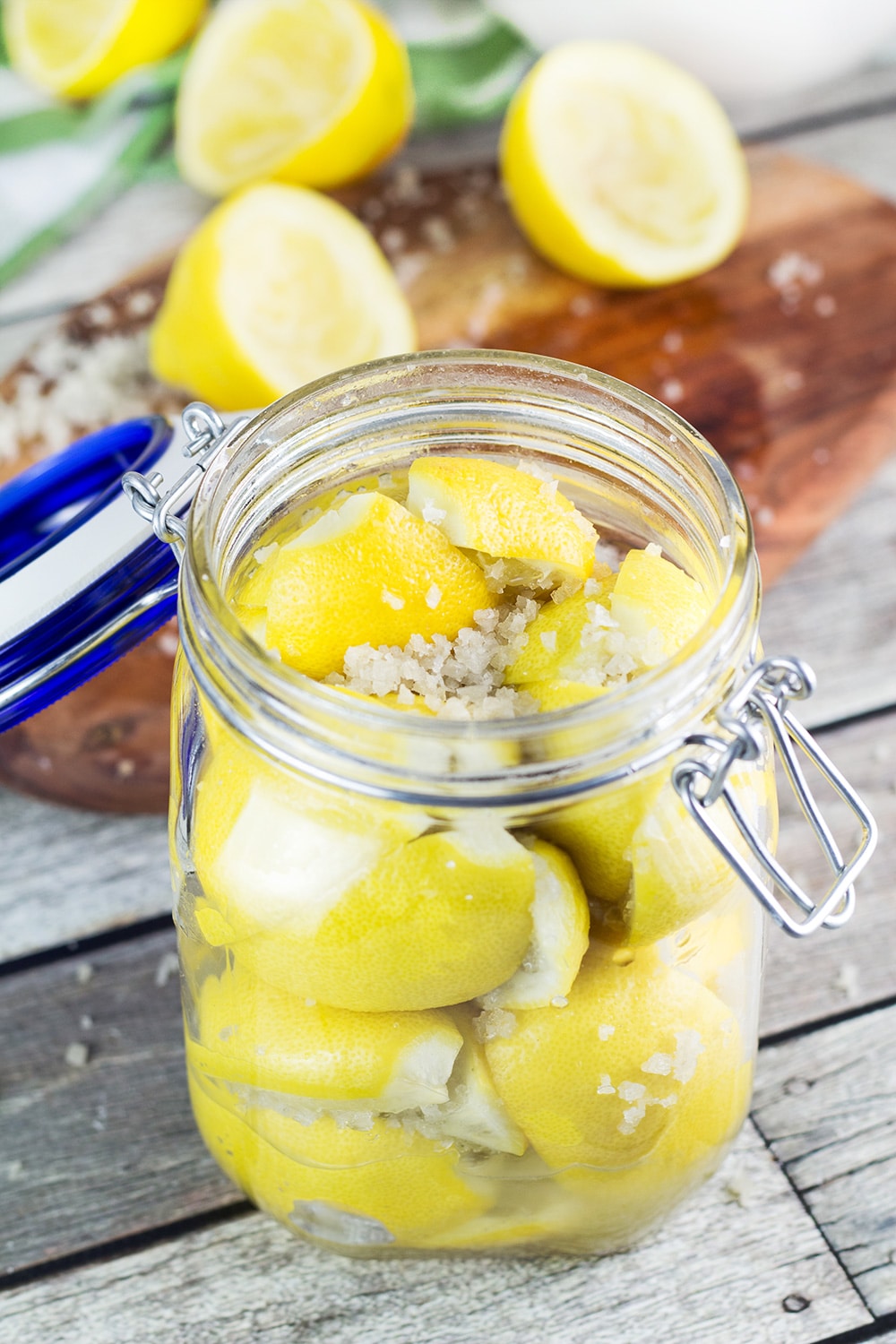 Hey, guys! You are all probably getting ready for the holidays while I am writing this thing. I thought I was done posting until after Christmas but something interesting popped up and I wanted to share it with you! So yesterday I was looking for some homemade food gifts (I know I know, I'm late as always) and one of the ideas was to make Moroccan Preserved Lemons (l'hamd marakad in Moroccan). They look really nice all packed up in a jar! A wonderful Christmas gift, really.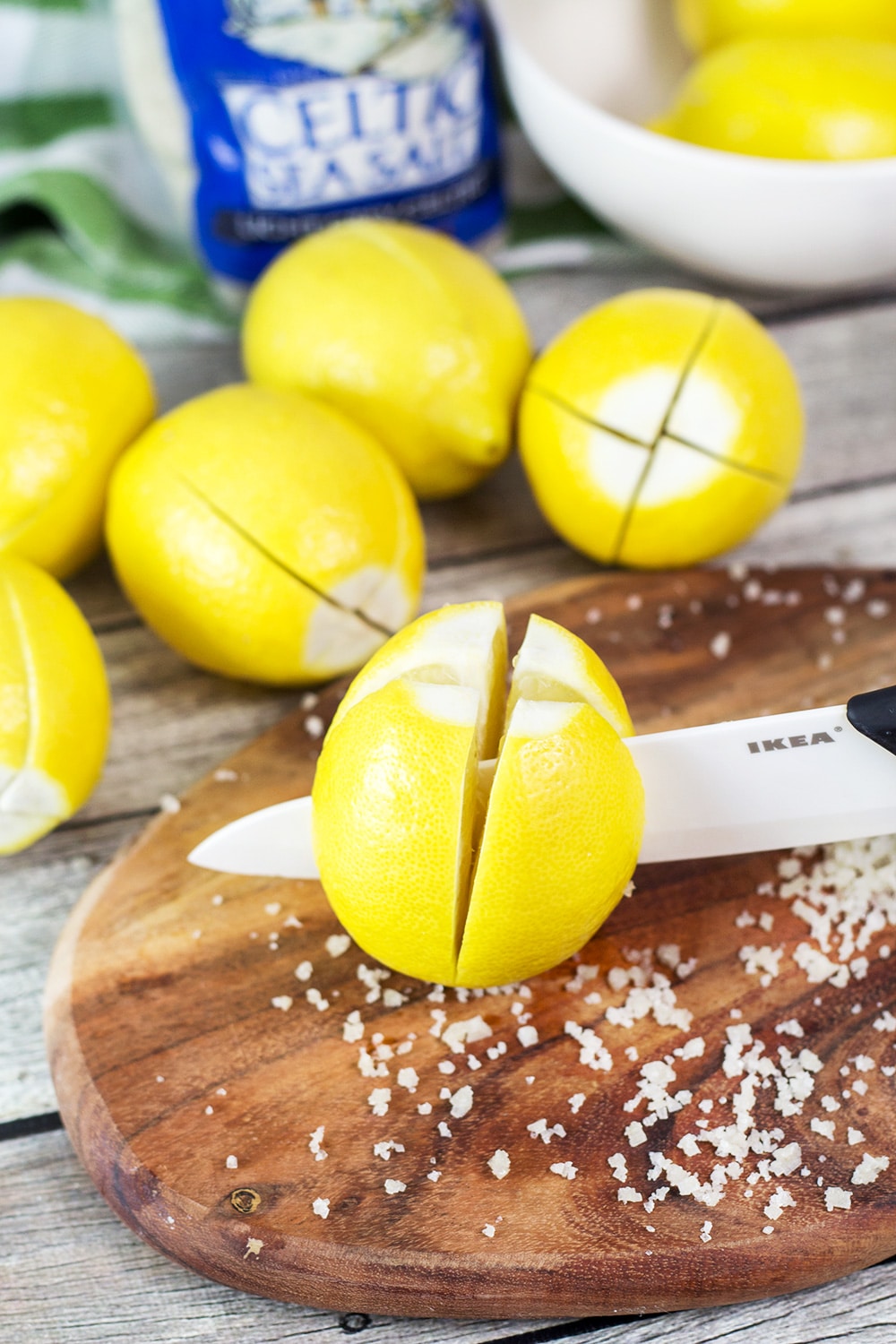 The problem is, I have neither made nor tried them before even though they've caught my ears a few times. After a little bit of reading, my illusions of successfully "preserving" lemons overnight and gifting to my friends were shattered like a toy falling off a Christmas tree (don't even ask why this exact association came to my mind... A 1-year old kid, anyone?). My plans were not meant to happen because the lemons have to sit for a month before using them. Oops. Of course, I could just screw a lid and hand the jars over to my friends telling them to wait for some time before trying but it would be a really wrong thing to do keeping in mind that I didn't even taste the mixture, ha!
I am not the one who gives up quickly, though. I mean, it's obviously impossible to get these Moroccan preserved lemons ready before Christmas but I decided to make them for myself at least. They sound really interesting and, given their popularity not only in Morocco but in some other North African countries, these pickled lemons would eventually end up on my list of things-to-make sooner or later. In fact, some say that preserved lemons are the greatest Morocco's contribution to the world. You can't just pass on them after such words!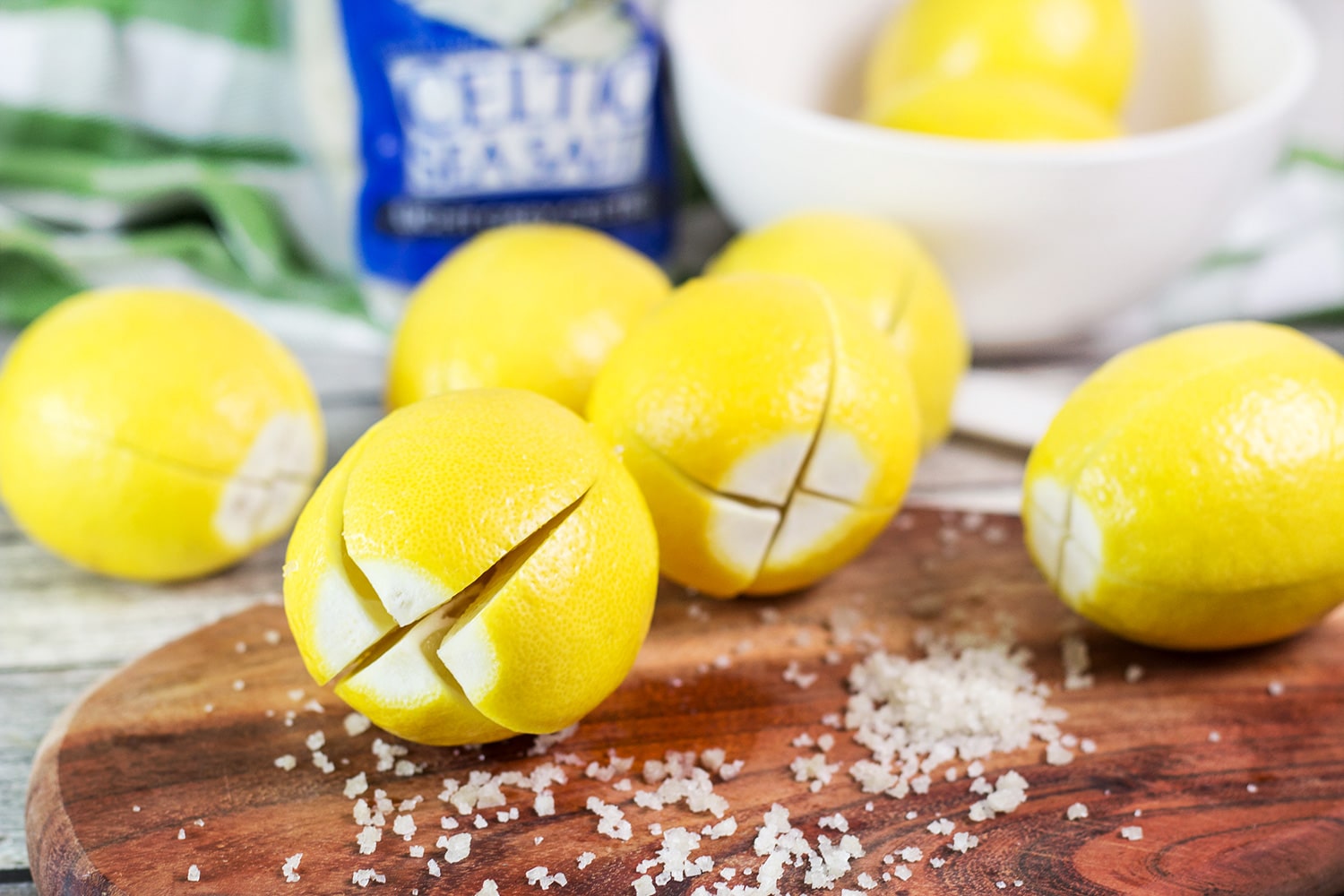 Alright, so what are these Moroccan preserved lemons all about? In short, it's basically just salted lemons kept on your kitchen counter for a month. Initially, the idea to preserve lemons in salt was born as a way to keep them last longer but in Morocco, this necessity transformed into something beautiful, something that had an enormous effect to the cuisine of this country.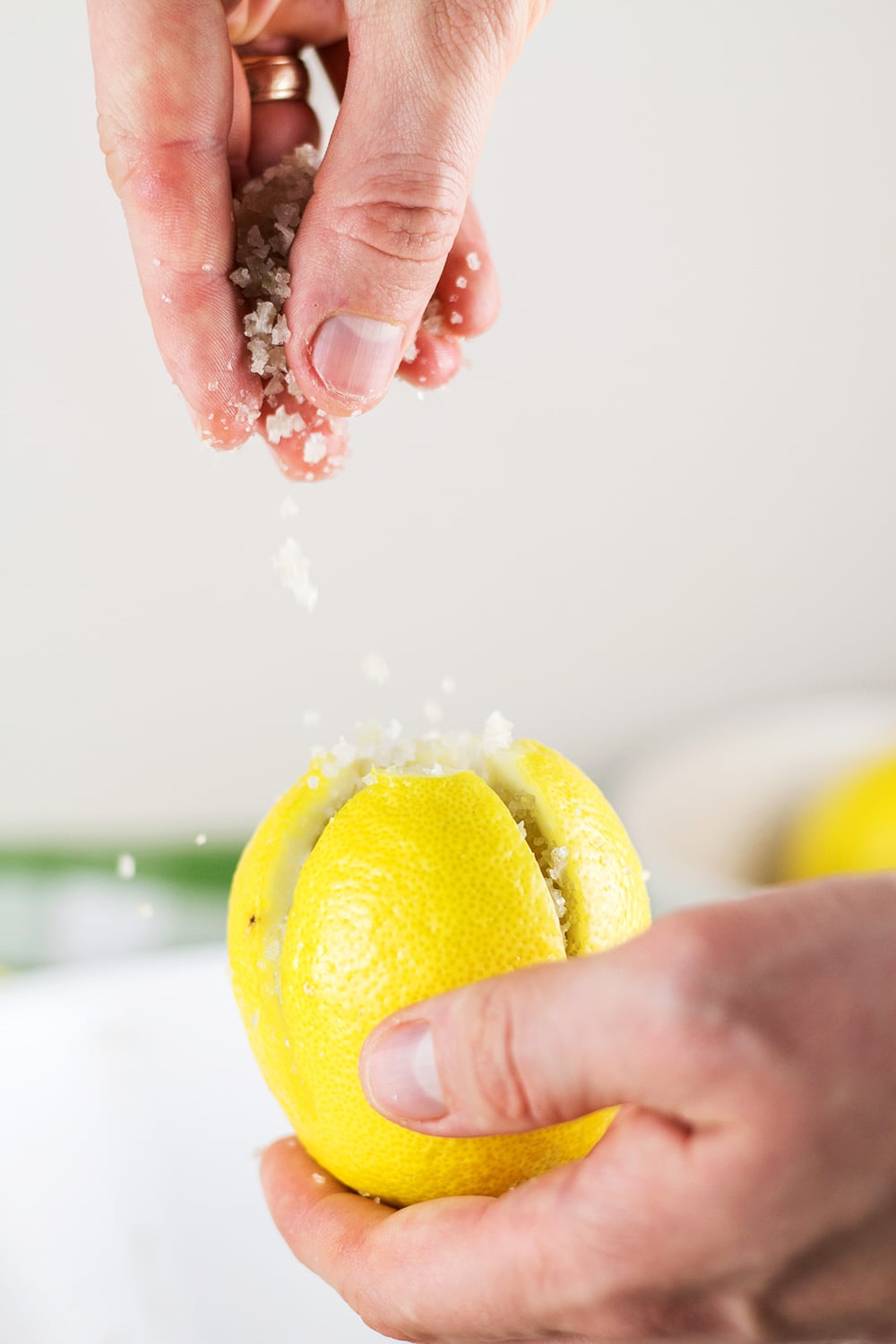 The recipe for this condiment is really simple. It can't be even more simple, actually. Salt + lemons. That's everything you need. Half of the lemons are stuffed with salt while the other half are needed for the juice that submerges the salted lemons. They really took like 5 minutes of my time to make (without taking photos, of course). Easy peasy! The interesting thing is that you won't be using the juice and the pulp, only the rind (it's not prohibited to use a pulp too but it may be very salty).
How to use preserved lemons?
The variety of ways to use Moroccan preserved lemons is so vast you won't believe it unless you already know the fact that Moroccans don't even think of fresh lemons as the ingredient for dishes! That's right. If they want a lemony flavor in their food, they use preserved lemons. It means that in order to properly explore the cuisine of this African country, you need em. You can buy preserved lemons if they are available in your town (I didn't find them) but I don't know if it's worth it because they will be surely expensive outside of Morocco + they are so easy to make! Keep your money for something more important.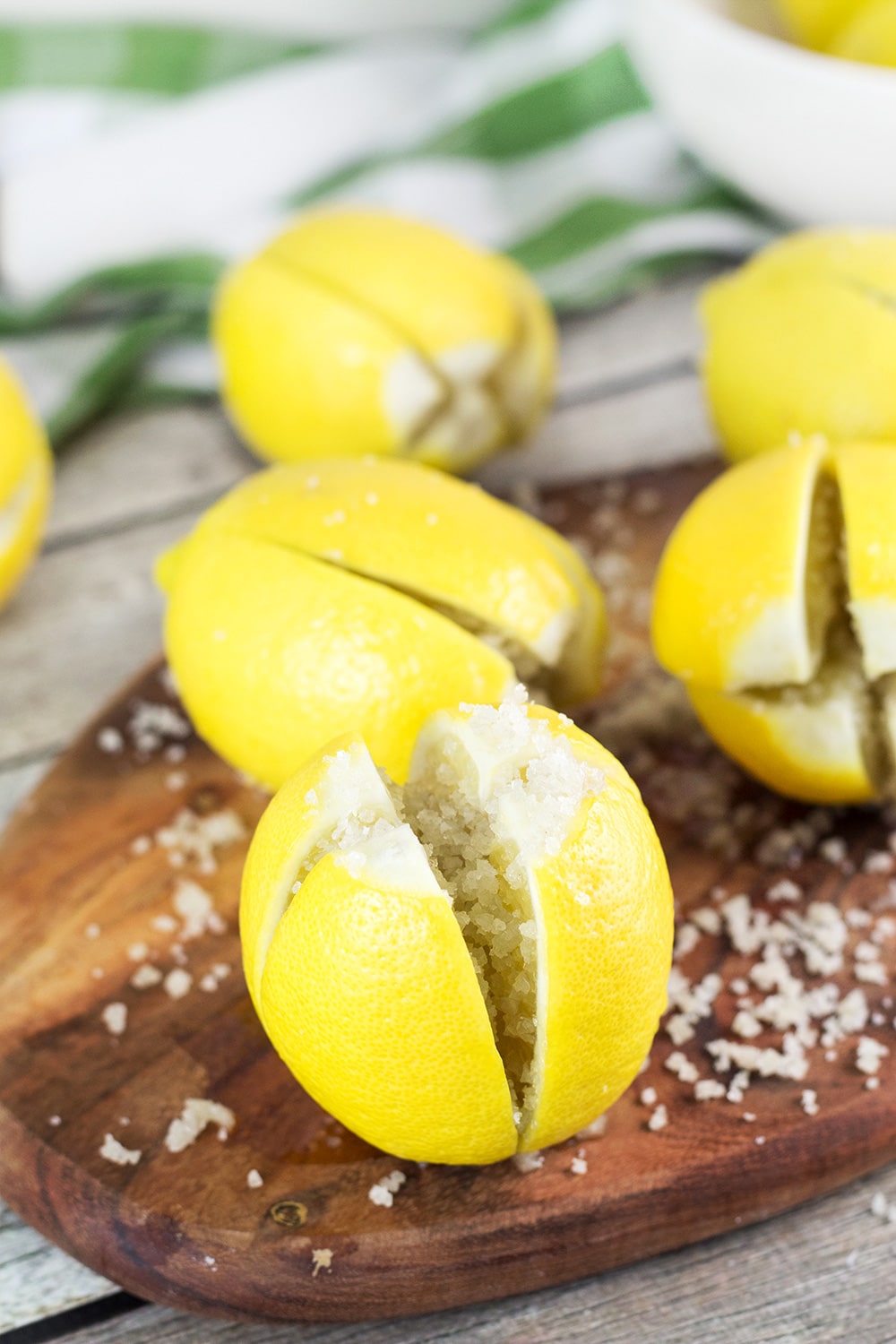 Moroccans use preserved lemons in their meat and vegetable tagines, sauces, salads, everywhere! But the good news is - the dish doesn't even have to be Moroccan for you to use them. This goodness can also be added to pasta, roasted potatoes, sauces, roasted meats, or anywhere you can think of. The possibilities are endless. When my lemons will be ready, I am surely adding some Moroccan dishes featuring them to the blog and I'm also thinking about throwing together a round-up with the world recipes using preserved lemons. Follow the blog or subscribe to my newsletter to stay tuned!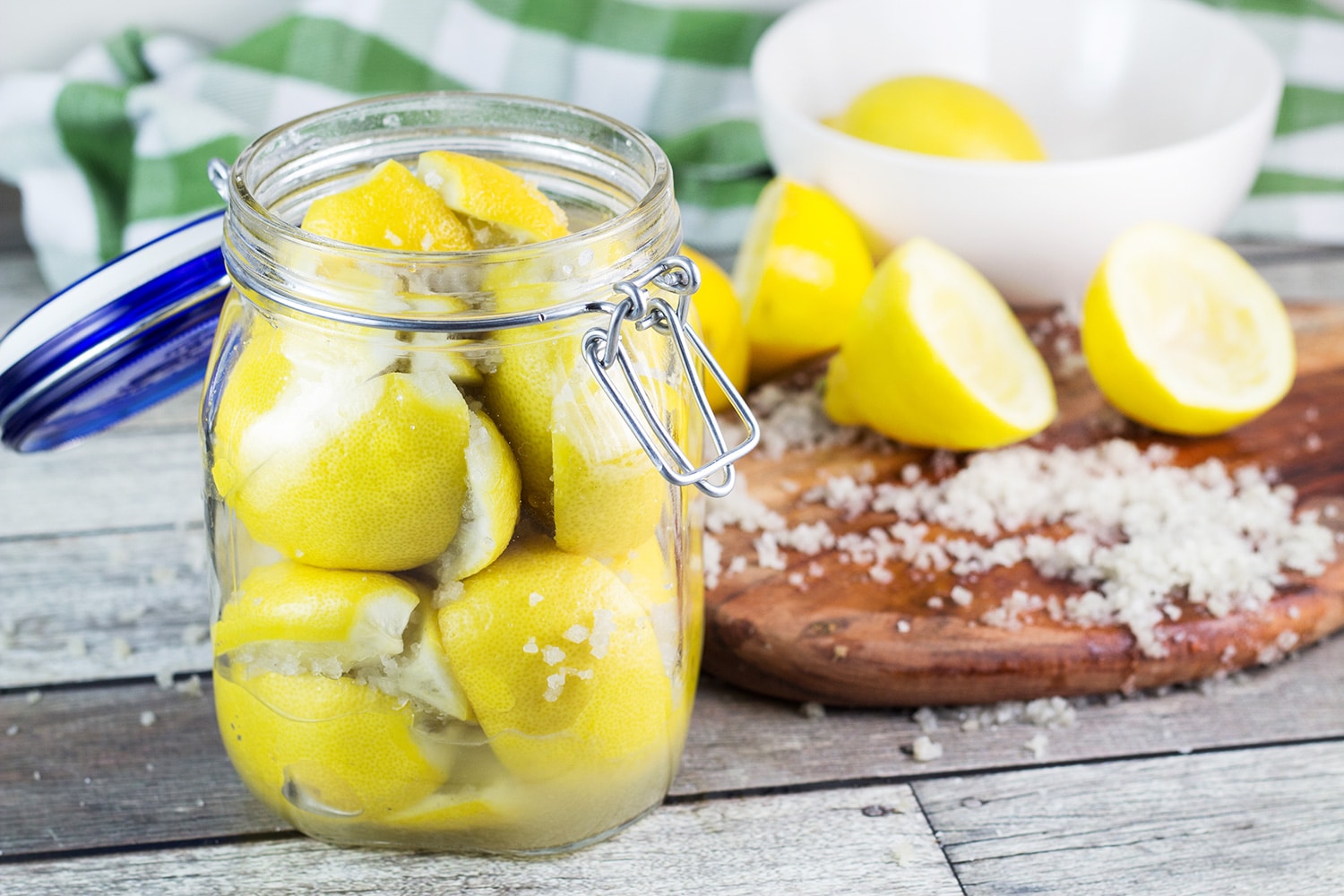 I don't know what the taste will be like, guys. Salty + tangy, I guess (mister obvious here). My hopes are really high for this one! It's the very first time on this blog when I am sharing a recipe that is not tested yet. However, the source is more than reputable - a Michelin star chef Mourad Lahlou, who specializes in Moroccan cuisine.
What I do know, is that I will update this post when my lemons are ready (somewhere after a month) and tell you my thoughts on them. If my taste buds will reject them (I hope not), there is an option to reduce the amount of salt and add some sugar together. Some aromatics such as cinnamon, chiles, rosemary, or others can be also thrown into the jar.
Alright, guys, see you in a month!
February 8th, 2017 update. I am a little bit late with the update but I was busy savoring these little guys, sorry! I have even made a dish using them already - check out this beautiful Moroccan Chicken Tagine. So what's the verdict? Are these preserved lemons a pleasant discovery or a great disappointment? The answer is... They are freaking awesome! Here is a pic of how they look now.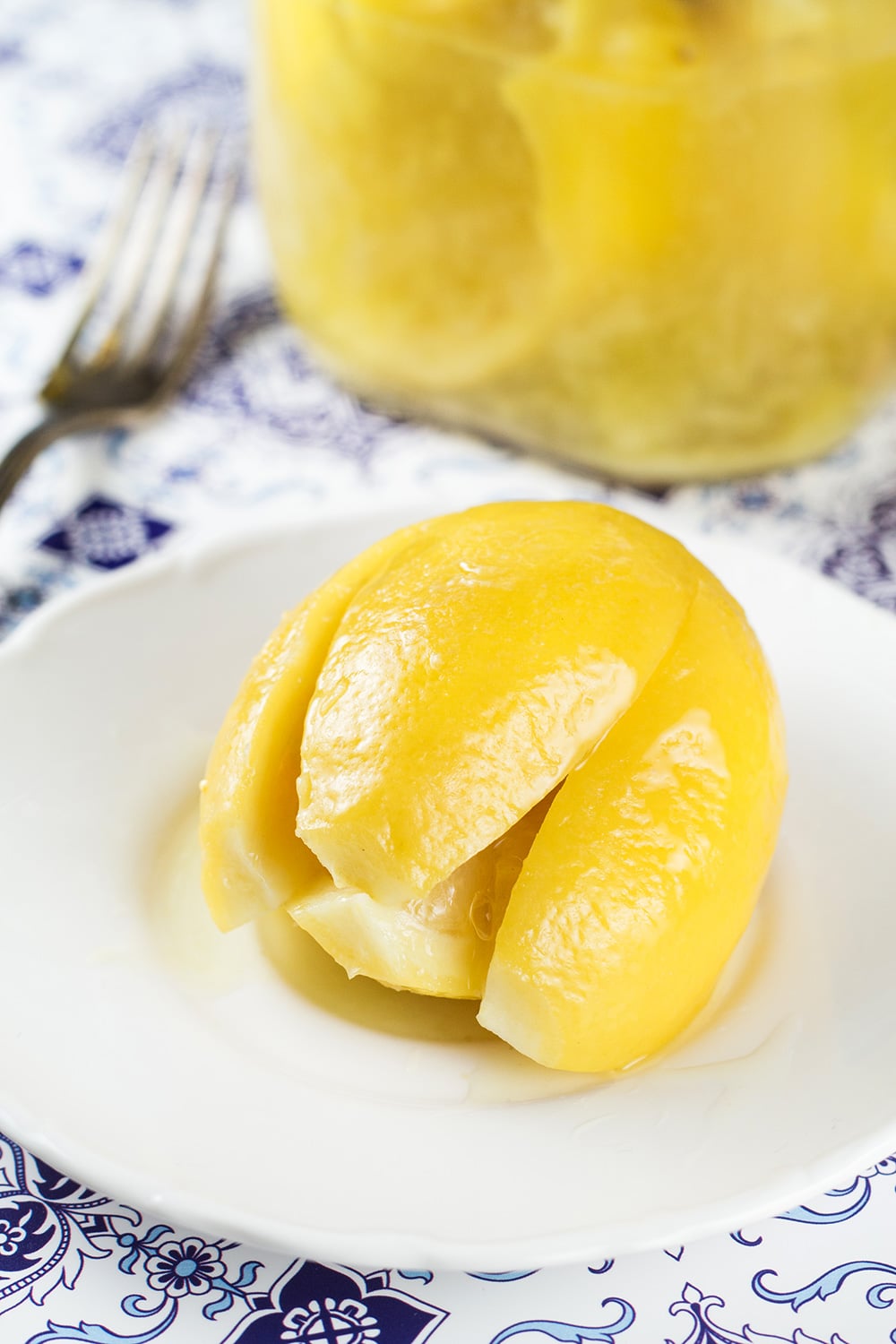 These are so much more than simple lemons. How to describe the flavor? That's an interesting question. Preserved lemons have an intense, powerful lemon-y flavor but the process of salting mellows out their tartness! Plus, the rind, which you should be using, looses any bitterness. Of course they are salty too (obviously) but it's not too overwhelming.
I tried my best explaining the flavor of this Moroccan condiment but you'll have to try them yourself to understand it better!
A little reminder before using preserved lemons:
As I already said, only rind / peel is usually used. Feel free to use flesh if you want to (it's typically really salty).
You can use preserved lemons in salads, salad dressings, sauces, salsas, dips, pastas, stews.
Storing. The book I made these from says that you can store preserved lemons for a half a year at room temperature once you've opened a jar (I keep mine in the fridge, though), then it's recommended to drain them and remove the pulp and pith. The rinds, completely covered with olive oil, can be stored for up to a year in the fridge.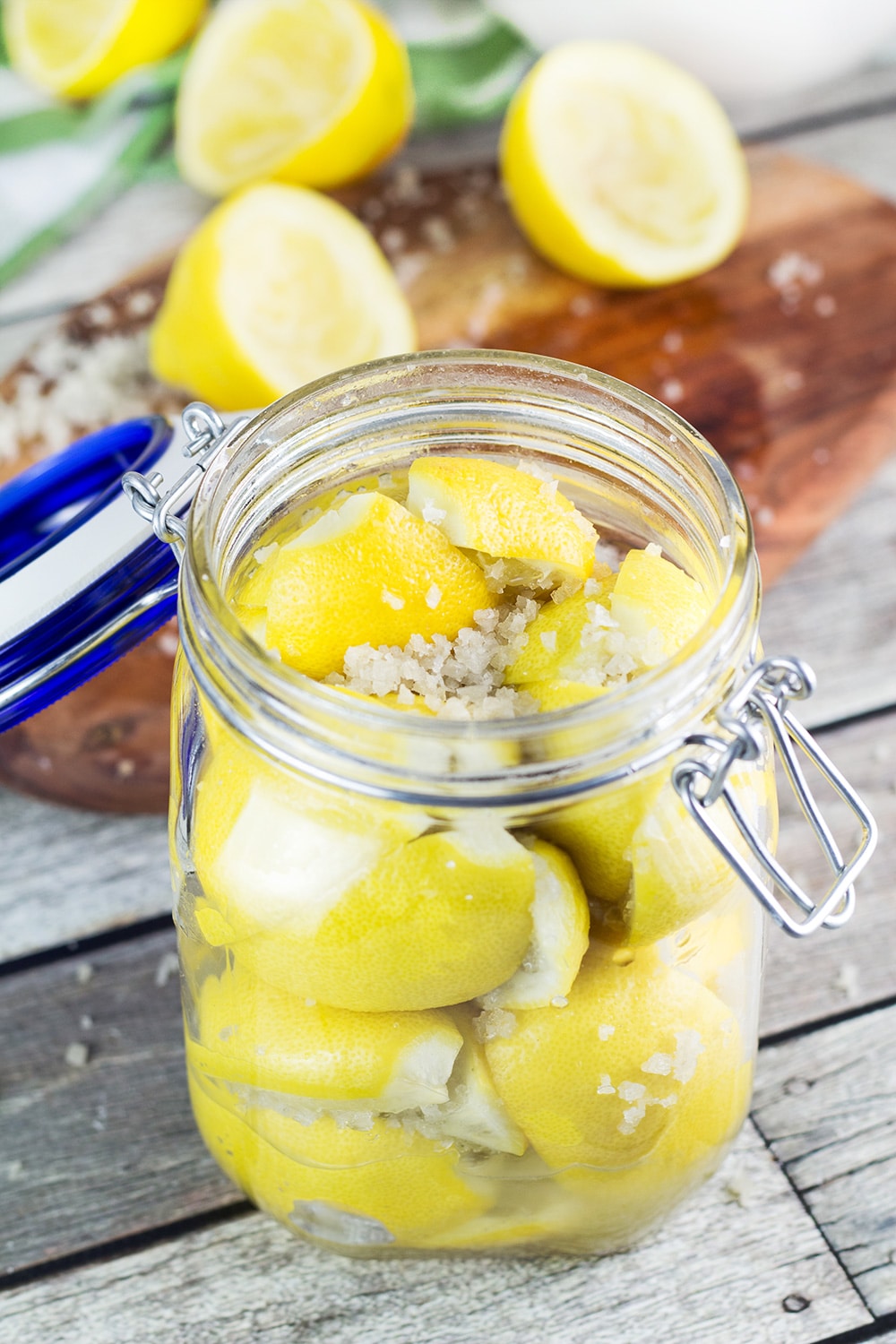 Classic Moroccan Preserved Lemons
Moroccan Preserved Lemons are a cornerstone of Moroccan cuisine. They are used in an array of Moroccan dishes but can also be added to our everyday dishes!
Ingredients
6

lemons

(about 5 oz. or 140g. each) + 6 more for juicing

¾

cup (110g)

Kosher salt

1

quart (litre)

jar
Instructions
Scrub six lemons with a vegetable brush and rinse in cold water. Dry well. Trim the nubs off both ends. Quarter each lemon lengthwise leaving them still connected at a base.

Put the salt into a bowl. Working with one at a time, hold the lemon over the bowl and fill it generously with salt. Every lemon should get about 2 tablespoons of salt. Put them cut side up in the jar. You should push down really hard to fit them in.

Juice the remaining 6 lemons and add the juice into the jar until the lemons are submerged. If it's not enough juice, you can either juice more lemons to fill the jar to the brim or use boiled water.

Seal the jar and store in a dark place (not in a fridge) for a month, turning and shaking it once a day for the first week (to redistribute the salt).

After a month, rinse the lemons, remove the pulp and use the rind for your dishes. You can also use the pulp if you want to but usually only the rind is used. Enjoy!
Nutrition