Hungarian Plum Dumplings are made with mashed potatoes and have some similarities with Italian gnocchi. They can be served as a dessert, a side dish, or a main dish. You will love them!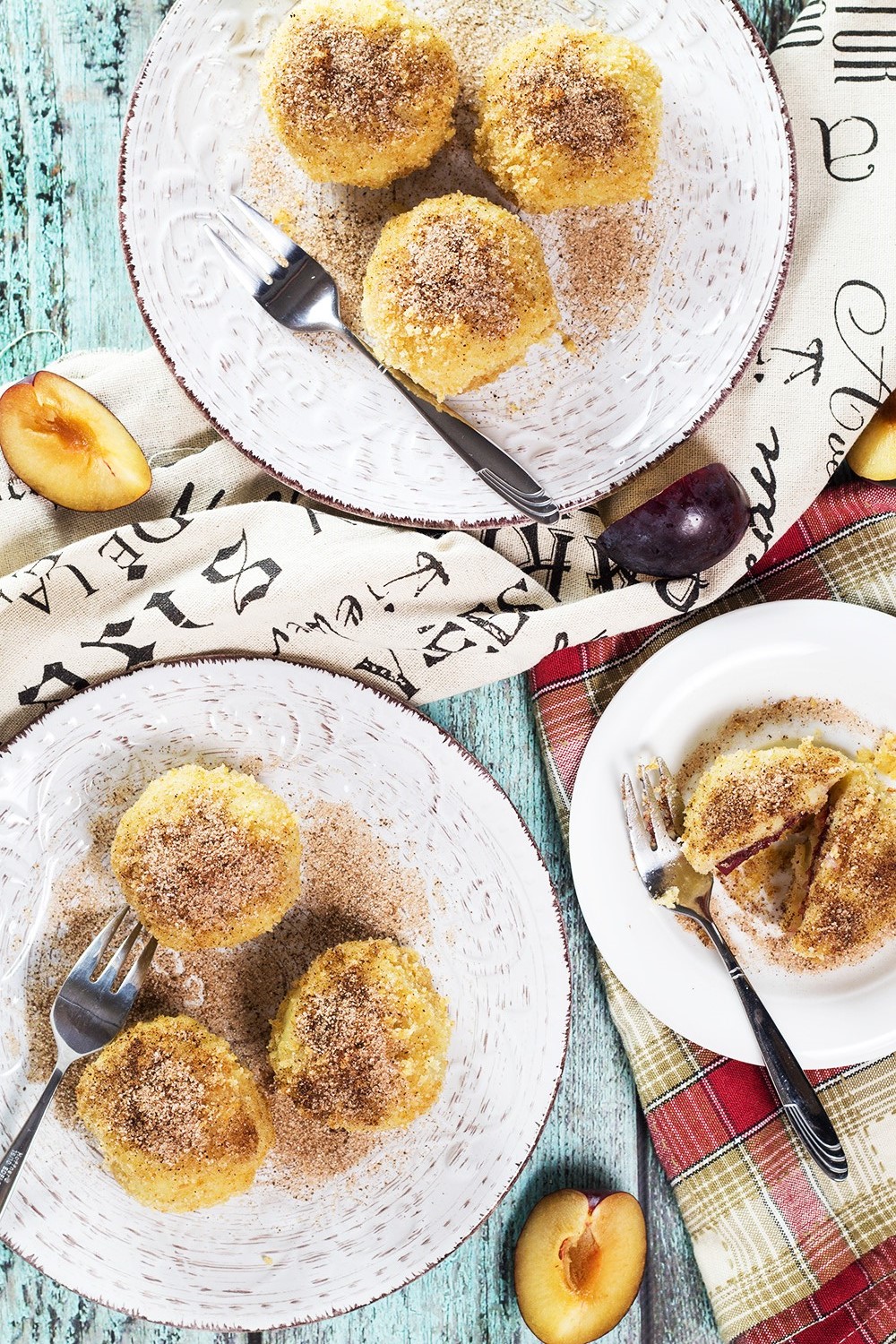 Happy New Year everyone! I hope you all had great holidays with your family and friends. I certainly did! Having taken a week off the blog and my main job, I had some good rest and now I'm ready to rock in 2017. The thing exciting me the most is the new ideas I have for Cooking The Globe. They are so awesome! I really hope you will love the news too. But before announcing them let's take a moment to celebrate the very first birthday of this blog. Yay! The first post (this amazing Cuban Ropa Vieja recipe) was published on January 1st, 2016 meaning that now I will always celebrate New Year's Eve together with the blog's anniversary. Great! And easy to remember, ha!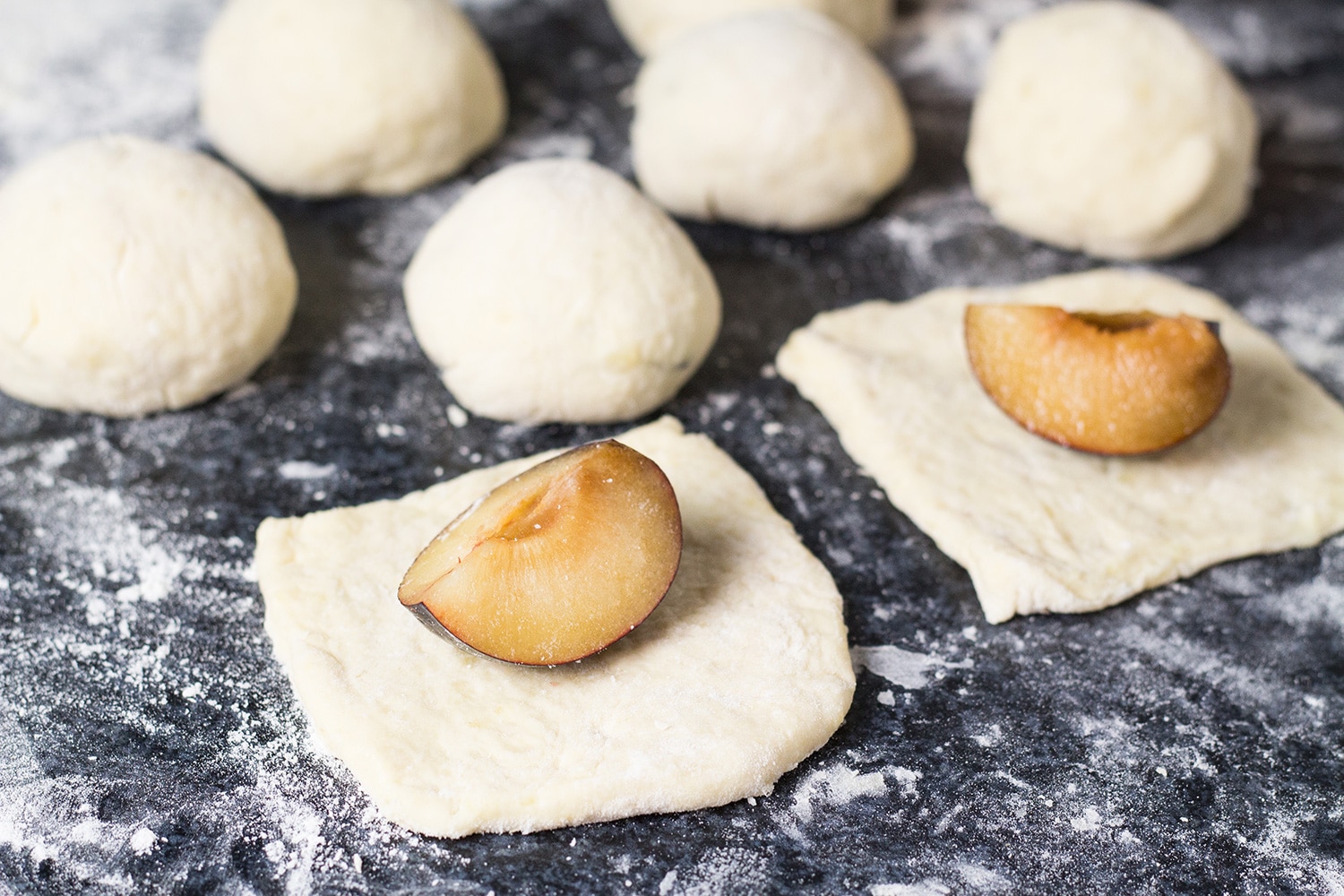 I am really happy with the work I did this year on the blog. The whopping 111 recipes were cooked, photographed, and published! Keeping in mind that some of the dishes needed to be made 2 or even 3 times before posting them, that's a huge number for me. Even in my wildest dreams, I would never have imagined that I am capable of doing it having the main job and working on the blog only in the evenings and weekends (huge thanks to my lovely wife for helping out with the photos!). Well, I guess everything is possible if you want it badly enough. Even though sometimes it was hard, I enjoyed every single moment. I really did. After all, having a travel / food blog was a great dream of mine and it came true!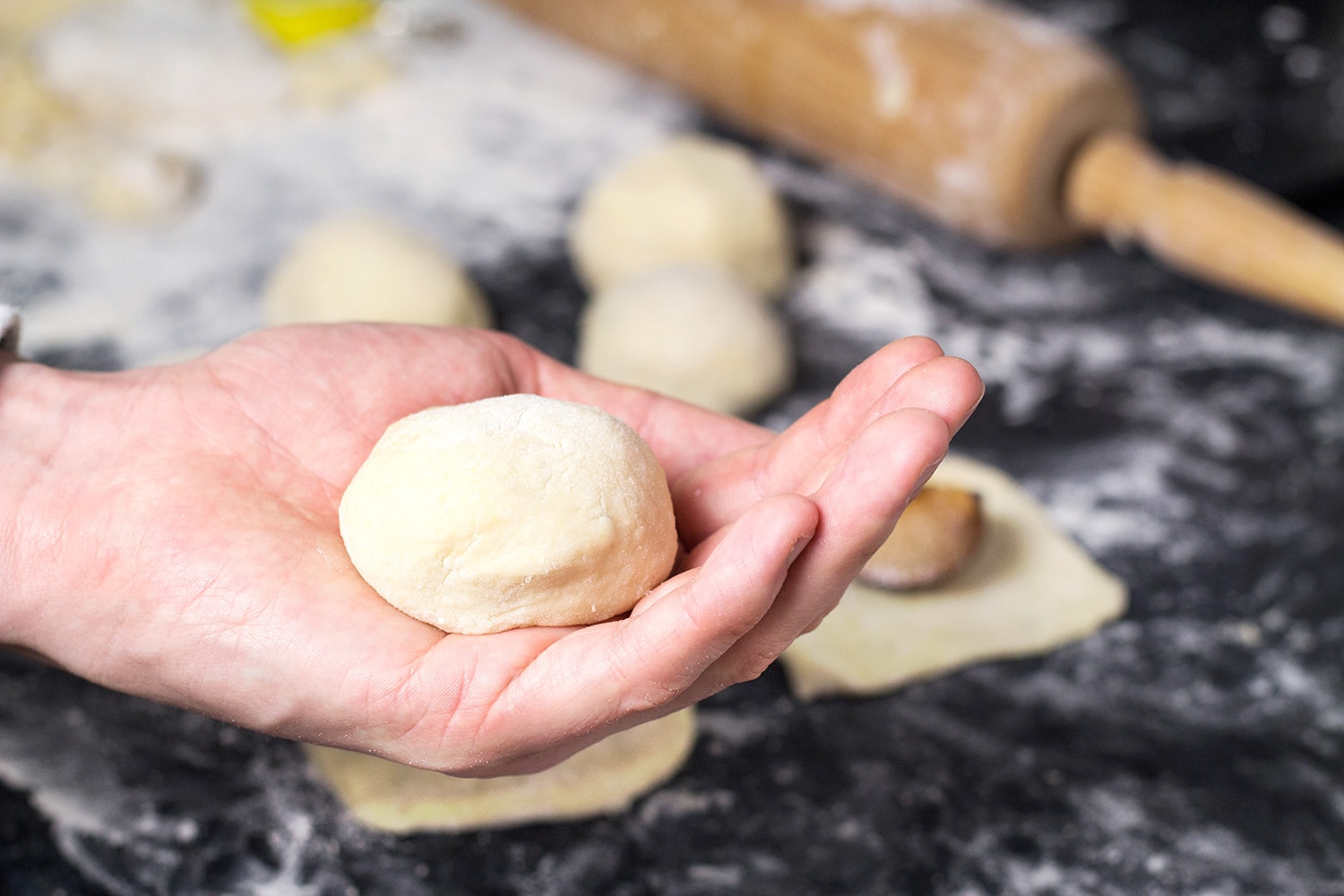 Now Cooking The Globe plans for 2017:
Of course loads and loads of new recipes from all over the world! The priority is to cook the countries I haven't yet.
Continue the Breakfast Around The World posts series. It was a great success and many of the posts are now among the most popular ones on the blog!
I am thinking about starting new post series about exotic fruit and vegetables from various corners of the world. The idea is to pick one veggie or fruit for each post, try it (if I'll be able to find it in my country), research everything about it, and pick the best recipes with it (either mine or from other bloggers). It should be fun!
The last but not the least, or even the most ambitious idea, is to approach bloggers from different countries and take an interview about the today's food situation in their place of living. Just a good old written interview because I am surely not ready for podcasts yet. English is not my native language so that's why. Let's hope that bloggers won't ignore me (of course some will because the life of a food blogger is super busy) and I'll be able to share some interesting information with you. Stay tuned!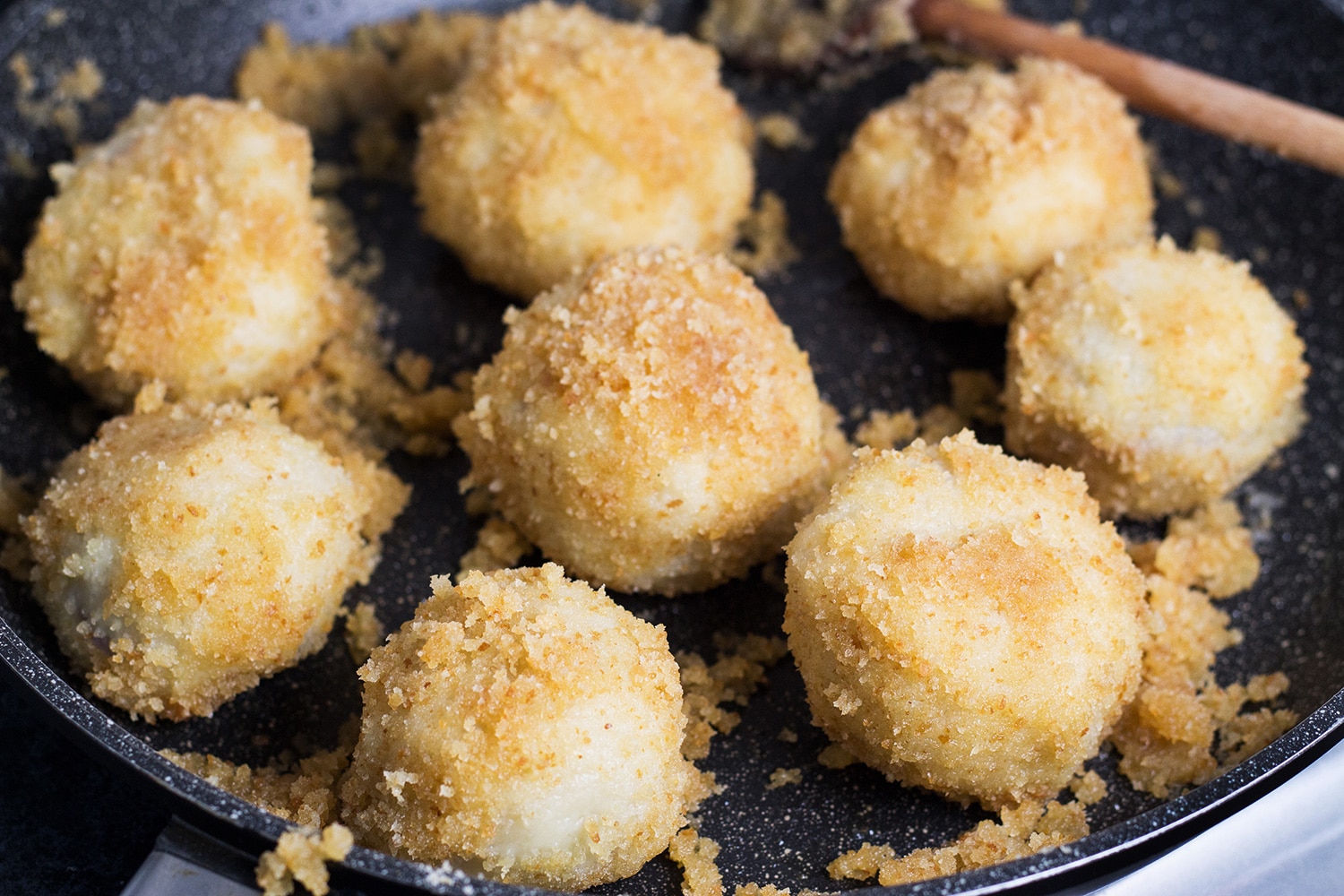 That's everything I wanted to say about the new year and my plans. At first, I thought to create a separate post for this information but decided to cook something simple for you, guys, instead. Let's go to Hungary and try their famous plum dumplings called Szilvas Gomboc! Similar dumplings can be also found in other Central and Eastern European countries. There already are two Hungarian recipes on the blog (Dobos Torte and Chicken Paprikash) and let me tell you - this country fails to disappoint so far.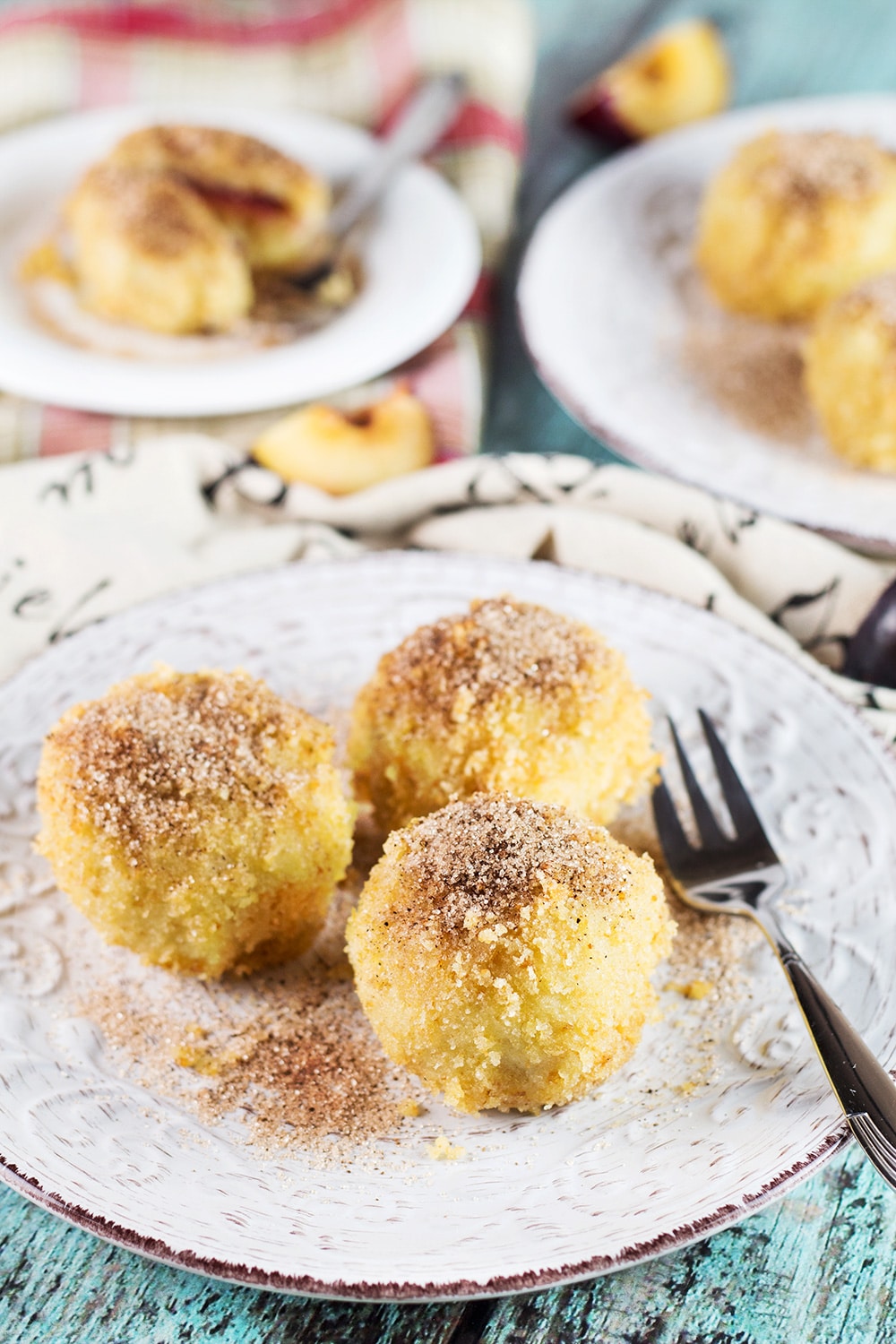 The dough of Hungarian plum dumplings is made with mashed potatoes and resembles Italian gnocchi. The dumplings are formed as balls with a whole plum or a slice of it inside. My plums were too big so I cut them into smaller parts. Obviously, these dumplings are the best when plums are in season but I didn't want to wait this long and got some Italian ones from my local store. They weren't good at all while fresh but when you cook them, the magic happens and plums become not only edible but in fact delicious!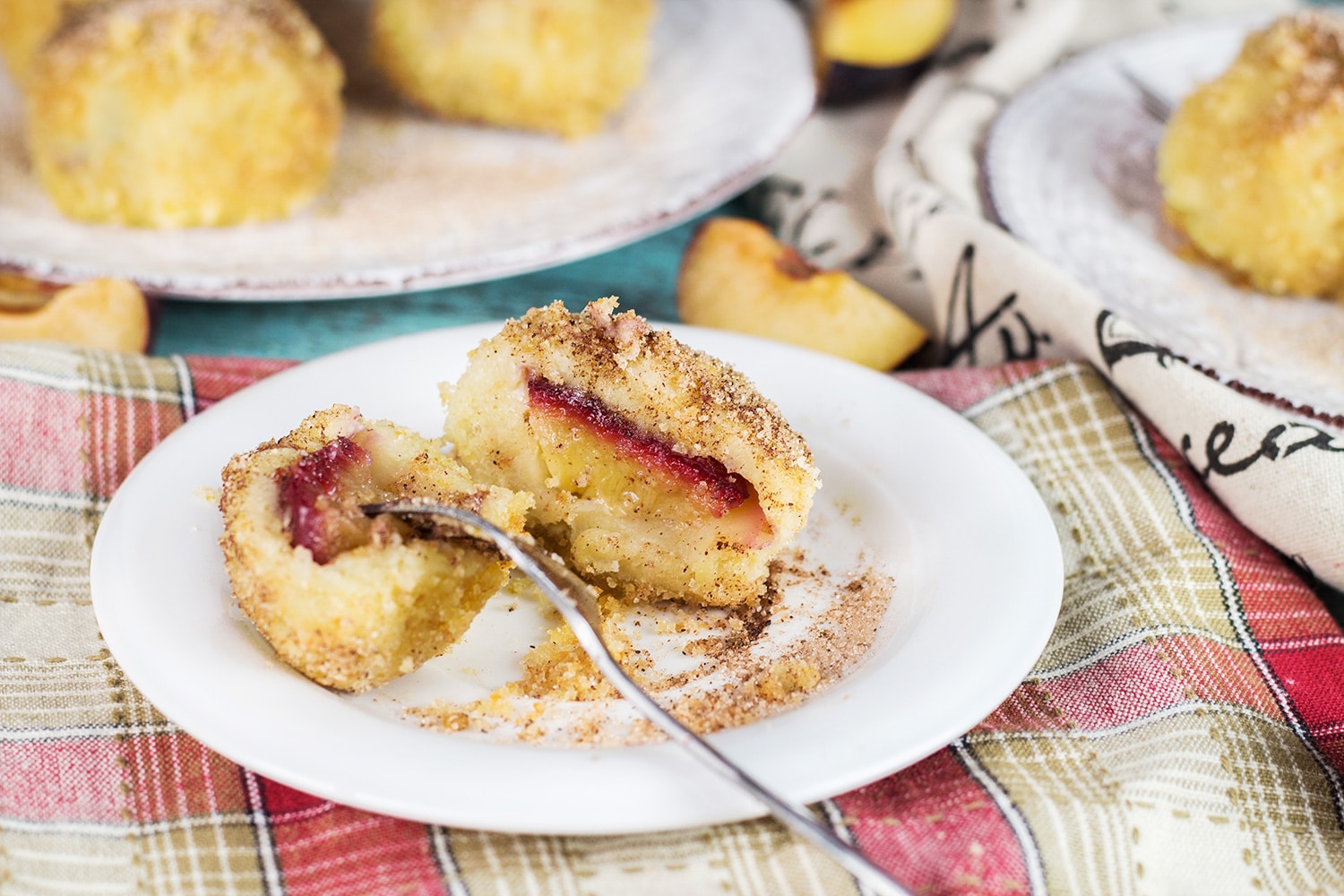 Hungarian plum dumplings are super versatile! They can be eaten as a dessert, as a side dish, or even as a main dish. Me and my wife, we enjoyed Szilvas Gomboc as a dessert most of all. The ingredient that makes them sweet is simply sugar. You can either add some of it inside of the plum instead of a pit, just put some sugar on top if using slices, or sprinkle your dumplings with sugar when they are done. I've chosen the last version and also sprinkled the dumplings with some cinnamon. So good!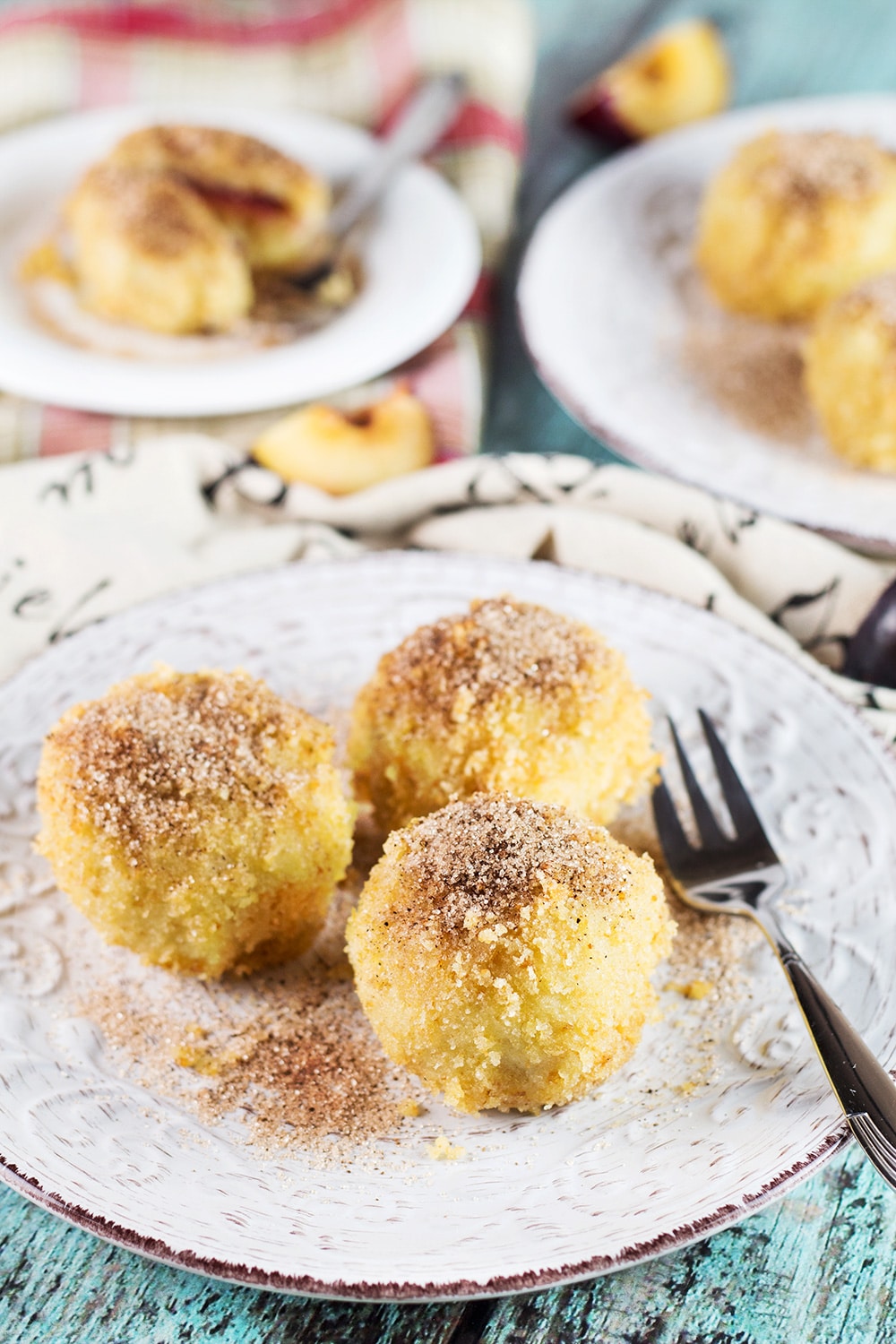 Hungarian Plum Dumplings - Szilvas Gomboc
These Hungarian Plum Dumplings can be eaten as a dessert, a side dish, or even a main dish!

Ingredients
3

lb (1350g)

potatoes

, unpeeled, well scrubbed

1

egg

, lightly beaten

1

egg yolk

, lightly beaten

1

tablespoon

salt

2 ½

cups

all-purpose flour

, plus more if needed

fresh plums

1

stick (115g)

butter

1

cup

very fine bread crumbs

¼

cup

cinnamon sugar

(optional)
Instructions
Bring a pot of lightly salted water to a boil and cook the potatoes, covered, for about 30 minutes, or until soft when pierced with a skewer. When cool enough to handle, peel and mash them in a bowl.


Add the egg, egg yolk, and 1 tablespoon salt. Mix well. Start adding the flour, gradually, until you get a soft dough. The amount of flour needed depends on the potatoes you use. I needed 3 ½ cups.


Transfer the dough to a floured surface and knead until smooth and firm. It shouldn't be sticky. Divide into two parts.


Working with one dough piece at a time, roll it out to ⅓ thick and cut into even squares. The size of the squares depends on the size of your plums. Mine were 3 ½ inch (9cm).


Place a plum into the center of each square. Fold the dough in around the plum and seal the edges. Form a ball. Repeat with all the remaining dough.


Drop the dough balls into boiling water and cook for 10-15 minutes. They will rise to the top when done. Remove with a slotted spoon.


Melt the butter in a large skillet and stir in the breadcrumbs. Mix well. Roll the dumplings in the mixture to coat. Sprinkle with some cinnamon sugar if desired and serve. Enjoy!

Nutrition