Pisto Manchego is a Spain's version of French ratatouille. Featuring tomatoes, bell peppers, onion, eggplant, and zucchini, this vegetable stew makes a great side to grilled fish or meat or can be served as a standalone meal topped with fried eggs!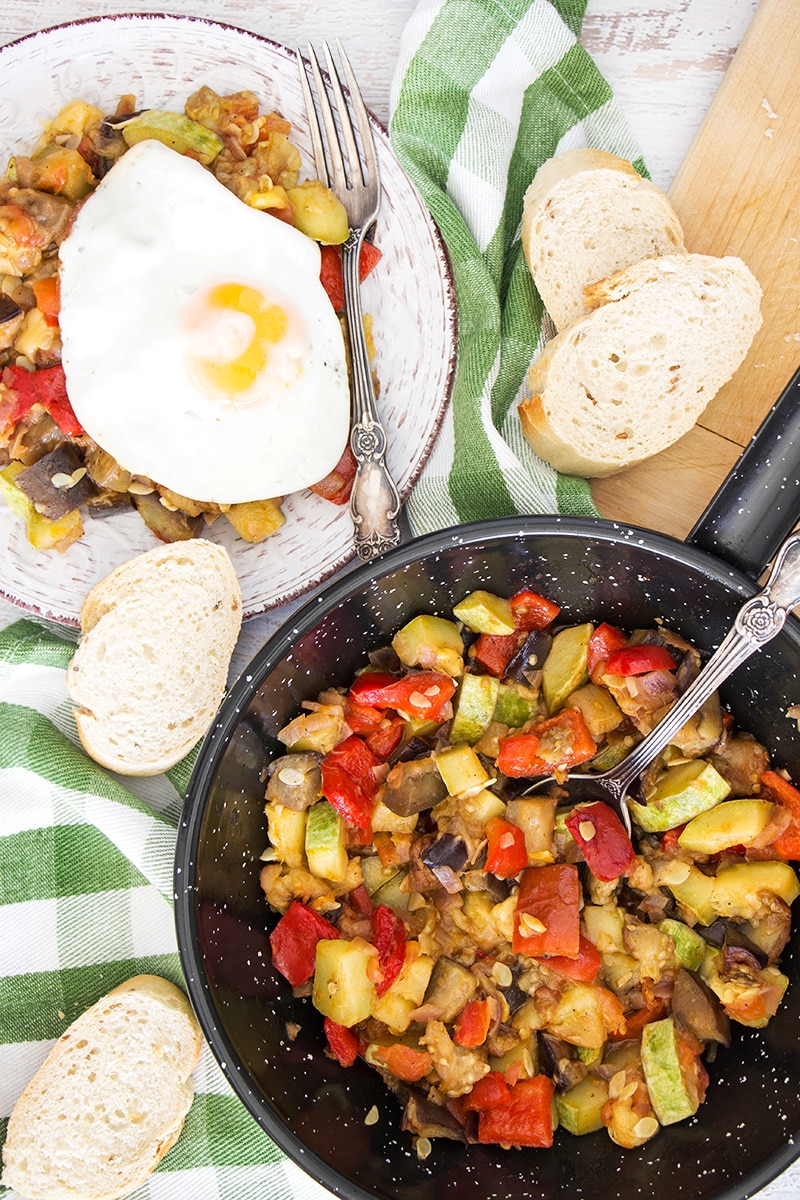 Summer is the time to enjoy the abundance of fresh fruit and vegetables. Thanks to globalization supermarkets offer plenty of these goods even if it's snowing outside but it's not the same. It will never be. Nothing can compare to full of flavor just-from-the-garden veggies!
In Lithuania, I am actively raiding farmers' markets this time of the year. June is the time for strawberries, first wild mushrooms, rhubarb, radish, tomatoes, cucumbers... And the list goes on and on. Here, in Tenerife, the selection is much wider because of the warm climate. It rained only once in 2 months we are here!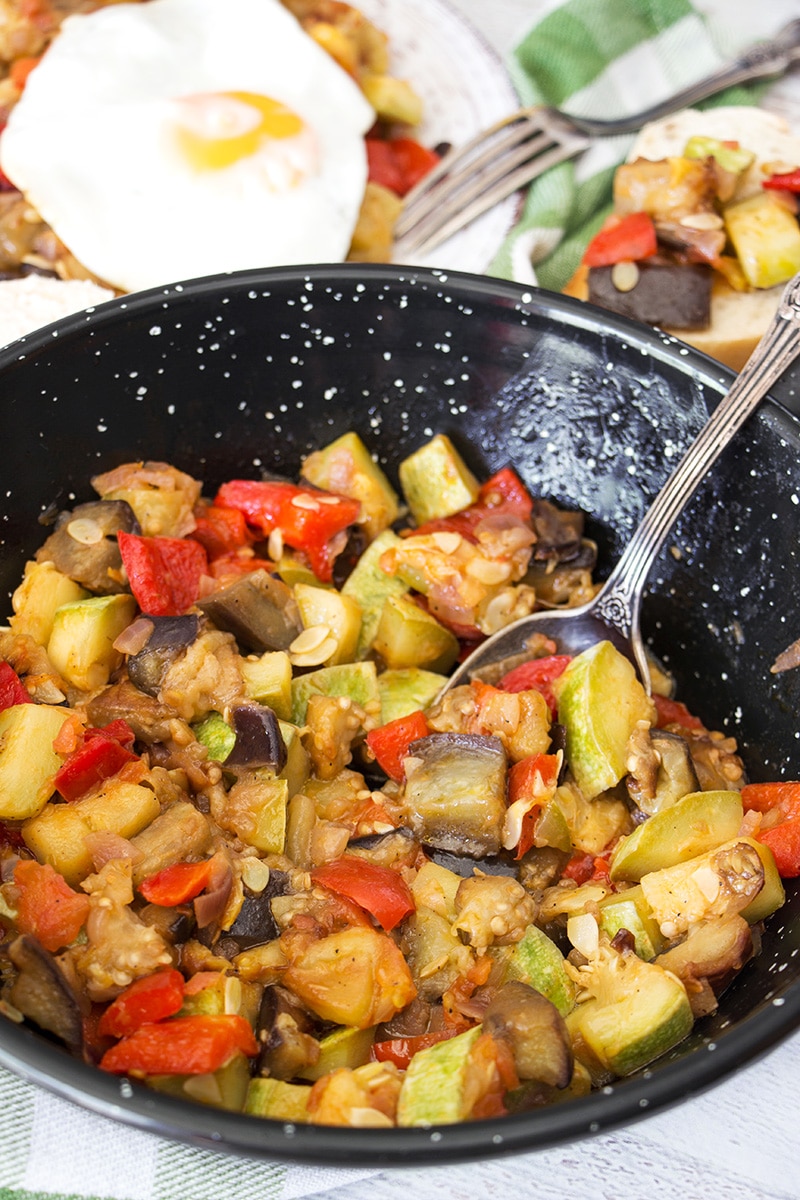 Different kinds of salads make it onto our table almost every single day. Today, however, we decided to saute some veggies as a side to the salmon fillet. I needed only a few minutes of browsing through the Spanish books I own to find this beautiful sauteed vegetable medley called Pisto or sometimes Pisto Manchego (from its origin in the region of La Mancha, Spain). While we are in Tenerife, I try to cook as much Spanish dishes as I can.
Pisto is often called a Spain's version of the famous French ratatouille. To be frank, I have never tried ratatouille in my whole life and I am kind of ashamed considering the popularity of this dish (I saw a movie, though, does that count?). If it's as good as Pisto then I'm adding it to my to-make list because it's freaking amazing!
Onions, bell peppers, zucchini, tomatoes, and eggplant all combined together and sauteed to perfection. Simple? Yes. Delicious? How you even dare to ask? Of course! If it's not a perfect side dish to salmon or grilled meats, then I don't know what is.
By the way, Pisto Manchego is not only considered as a side dish but can be also served with some fried eggs on top making it a nice breakfast (similar to Shakshuka) or over toasted bread making it a great appetizer or a snack. Yup, this Spanish creation is pretty versatile!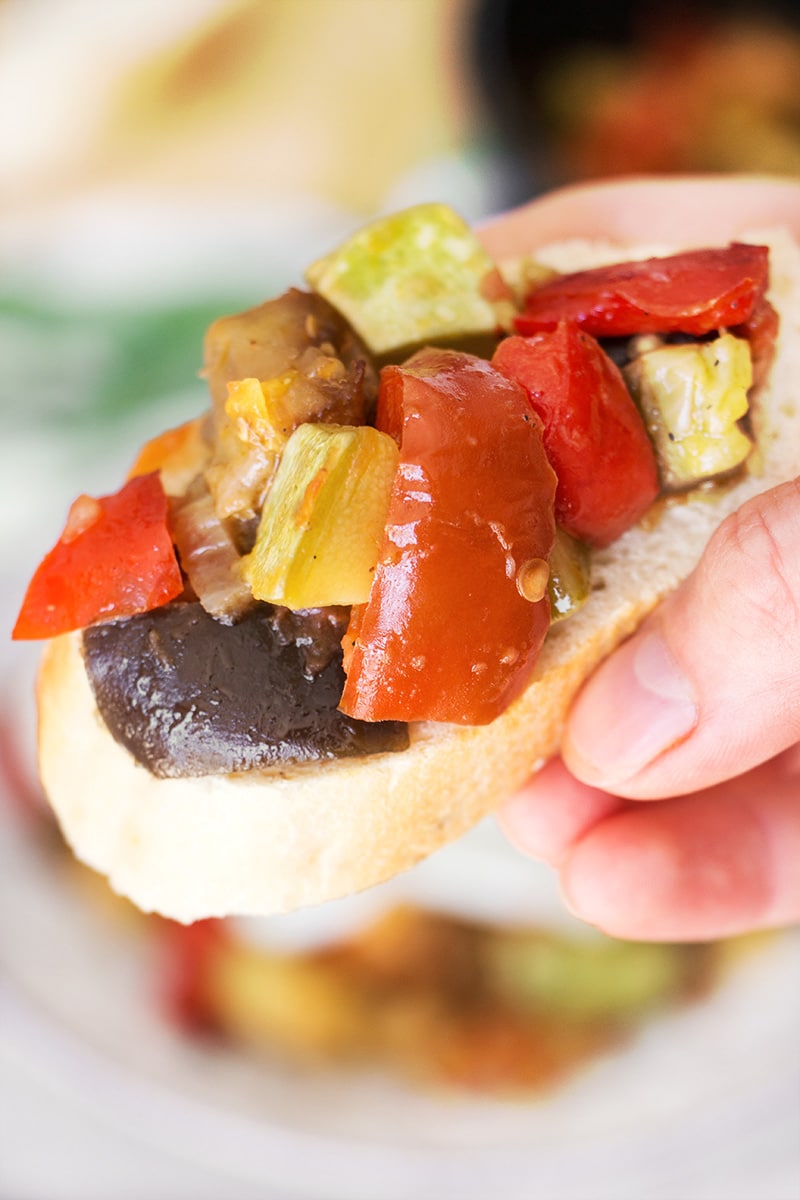 These sauteed veggies go straight to the list of my go-to recipes. Easy to throw together and full of flavor, Pisto is a great addition to any meal. I believe it's even awesome in winter because the sauteing process makes even the most flavorless veggies better.
Try this Spanish goodness and let me know how you liked it in the comments section below!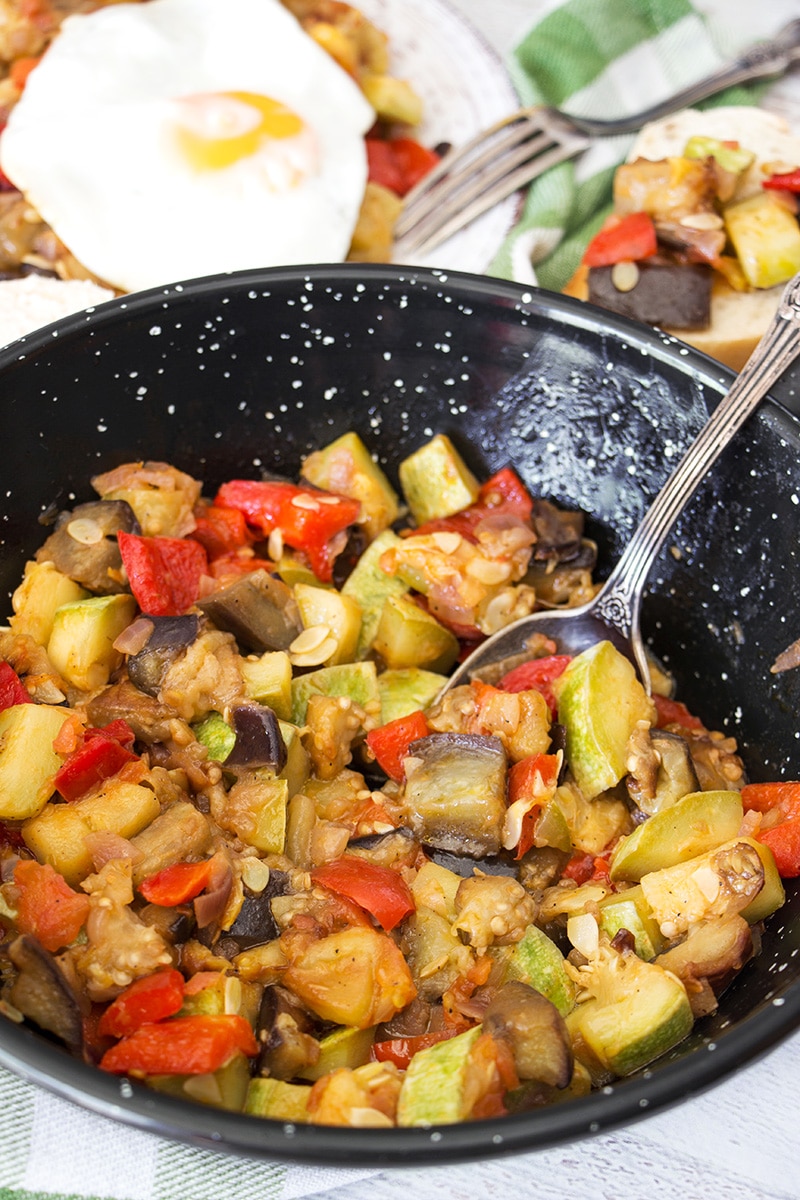 Pisto Manchego - Spanish Vegetable Stew
This Spanish veggie stew makes a perfect side dish to grilled meats or is great as a standalone meal topped with some fried eggs!
Ingredients
⅔

cup

Olive oil

, divided

2

large

onions

, coarsely chopped

3

red bell peppers

, cored, seeded, cut into small cubes

3

zucchini

, cut into small cubes

salt and pepper

, to taste

6

medium

tomatoes

, peeled, diced

1 ½

teaspoon

sugar

1

large

eggplant

, cut into small cubes
Instructions
In a large skillet, heat ⅓ cup oil and add the onions. Cook over medium heat, stirring, until they begin to soften.

Add the bell peppers and cook until they begin to soften. Add the zucchini and season. Cook until they soften. Add the tomatoes and the sugar. Cook until all the liquid evaporates.

While the veggies are cooking, heat the remaining ⅓ cup oil in another skillet and add the eggplant. Cook, stirring and turning, until it's soft. Transfer to a plate and drain on paper towels.

Add the cooked eggplant to the vegetables and cook for a few minutes more. Serve with grilled fish or meat or with fried eggs and toasted bread. Enjoy!
Nutrition
Calories:
321
kcal
Carbohydrates:
23.9
g
Protein:
4.5
g
Fat:
25
g
Sodium:
21.1
mg
Sugar:
15.4
g
Vitamin A:
850
IU
Vitamin C:
160.1
mg
Nutrition Facts
Pisto Manchego - Spanish Vegetable Stew
Amount Per Serving
Calories 321
Calories from Fat 225
% Daily Value*
Fat 25g38%
Sodium 21.1mg1%
Carbohydrates 23.9g8%
Protein 4.5g9%
Vitamin A 850IU17%
Vitamin C 160.1mg194%
* Percent Daily Values are based on a 2000 calorie diet.
* This post contains affiliate links, thank you for the support in keeping Cooking The Globe up and running!