Regularly eaten by Japanese sumo wrestlers, Chanko Nabe is a full of flavor stew packed with protein and vegetables. It's really filling, it's comforting, and it's really healthy at the same time!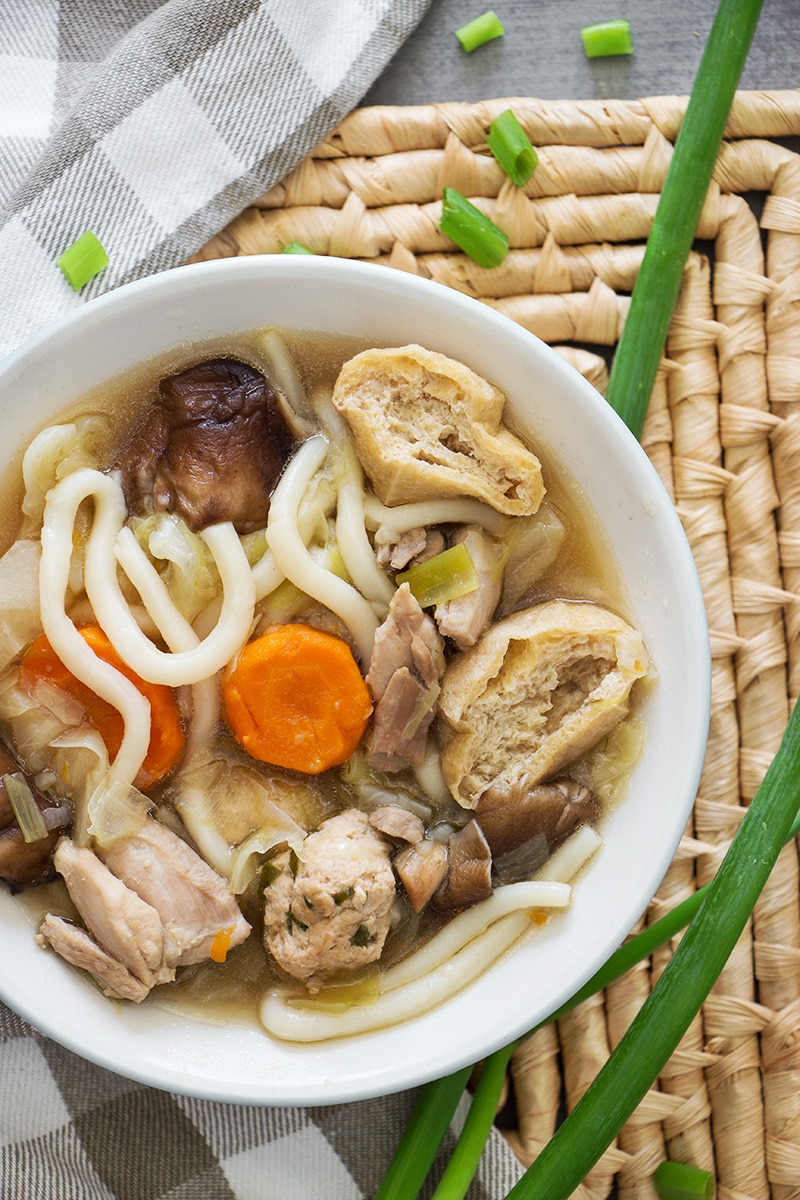 I might have mentioned that already, but I love dishes with an interesting story behind them. Right off the top of my head, I remember that Hawaiian Loco Moco has an interesting story, Kedgeree is also a good one. I am pretty sure I forgot some dishes because there are definitely more of them on the blog!
Today I have another one for you guys. A Japanese stew which is commonly eaten by sumo wrestlers (you know, those guys with "some" extra weight on them). How cool is that? It's called Chanko Nabe and it's supposed to be devoured in crazy amounts as a part of their weight-gain diet. Don't worry, though. We will take it slow. 1 sumo wrestler portion equals to eight normal servings, ha!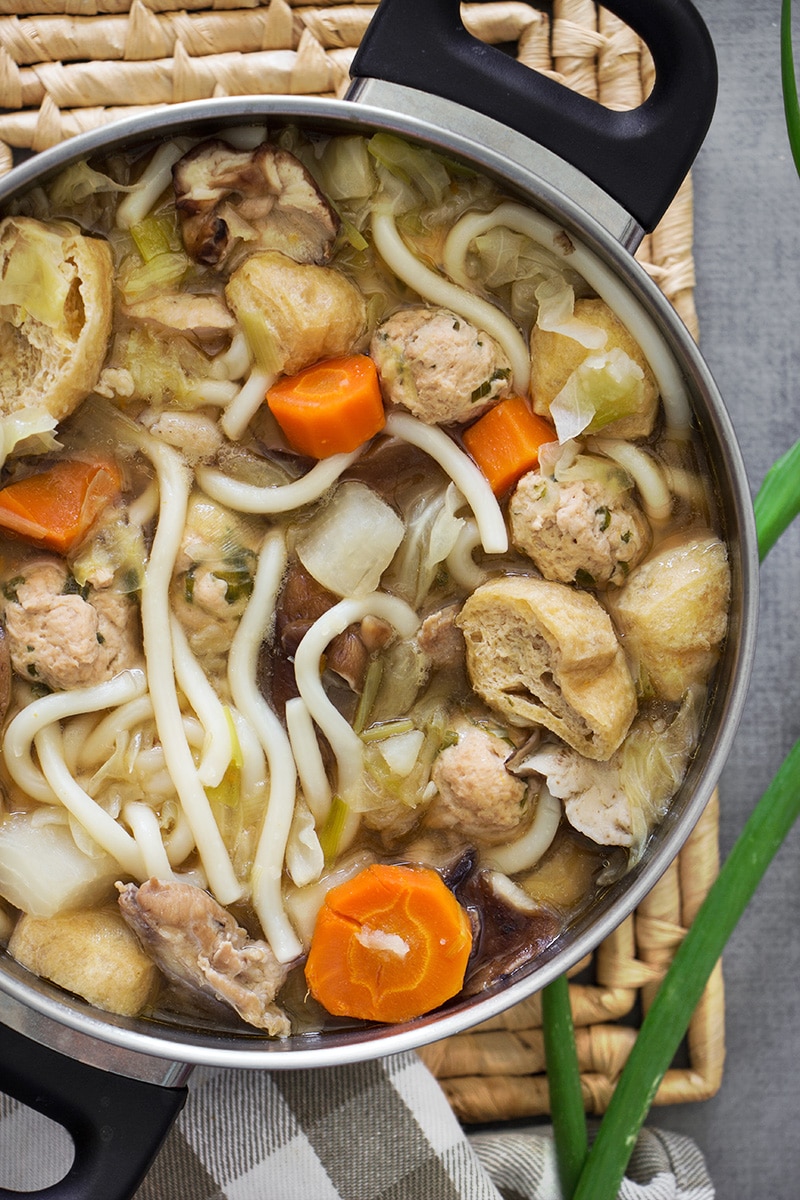 Chanko Nabe is a part of Japanese hot pot dishes called nabemono or simply nabe. Nabe actually translates as "cooking pot" from Japanese.
The fact that these sumo guys are so big doesn't mean that Chanko Nabe is unhealthy. Quite the contrary. Packed with tons of veggies, protein, and cooked in a flavorful broth, it is in fact super healthy, low-fat, and good for you! Those guys just eat too much of it, that's why.
Another interesting fact. Authentic Chanko Nabe contains only chicken meat because it's believed that eating two-legged animals helps to keep a sumo wrestler on his feet. That's an interesting superstition! I love such facts. They make the dish more special and I felt like a true fighter when I was gobbling up this Japanese goodness.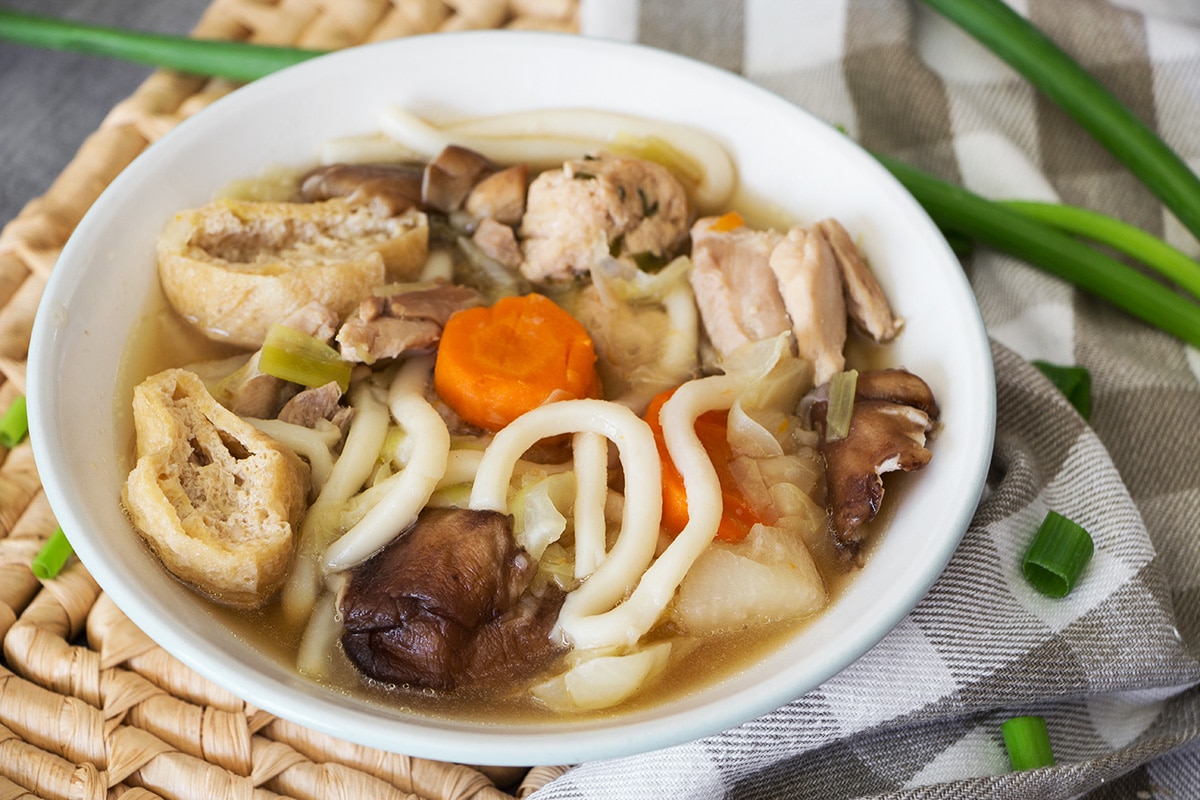 Let me tell you a little bit more about the contents of this dish. Veggies? Like I said, plenty of them. Count with me: scallions, daikon, carrots, potatoes, cabbage, and leeks! Then goes the meat. Boneless skinless chicken thighs + miso flavored chicken meatballs (really good). Also udon noodles, mushrooms, and fried tofu puffs (you'll find them in most Asian grocery stores). Filling? You bet. Delicious? Heavenly!
It has to be mentioned that there is no fixed recipe for Chanko Nabe. Sometimes other meats such as fish or beef can be added, the set of vegetables can differ too.
The original recipe asked for a white miso paste but I was able to find only a red one. The white one is said to have a milder flavor while the red miso paste is more intense and deep. More information on different misos here (there are also yellow and black varieties). If you can get white miso, use it. Otherwise, the red miso paste will work perfectly fine for this Chanko Nabe recipe.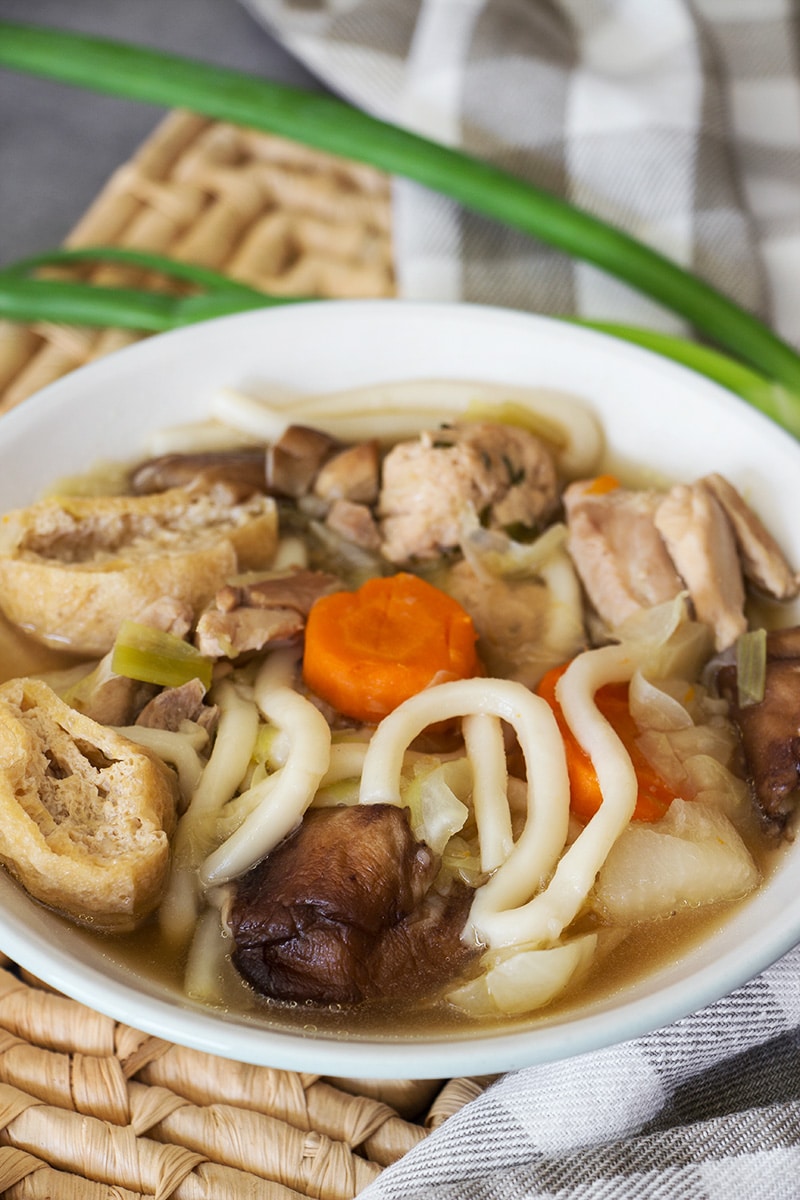 I will tell you this. This Japanese creation was worth all the effort of looking for the exotic ingredients the recipe asked for. The combination of flavors is fantastic. Filling, comforting, hearty, and different from all other stews I have tried in my life, Chanko Nabe is guaranteed to return to my kitchen!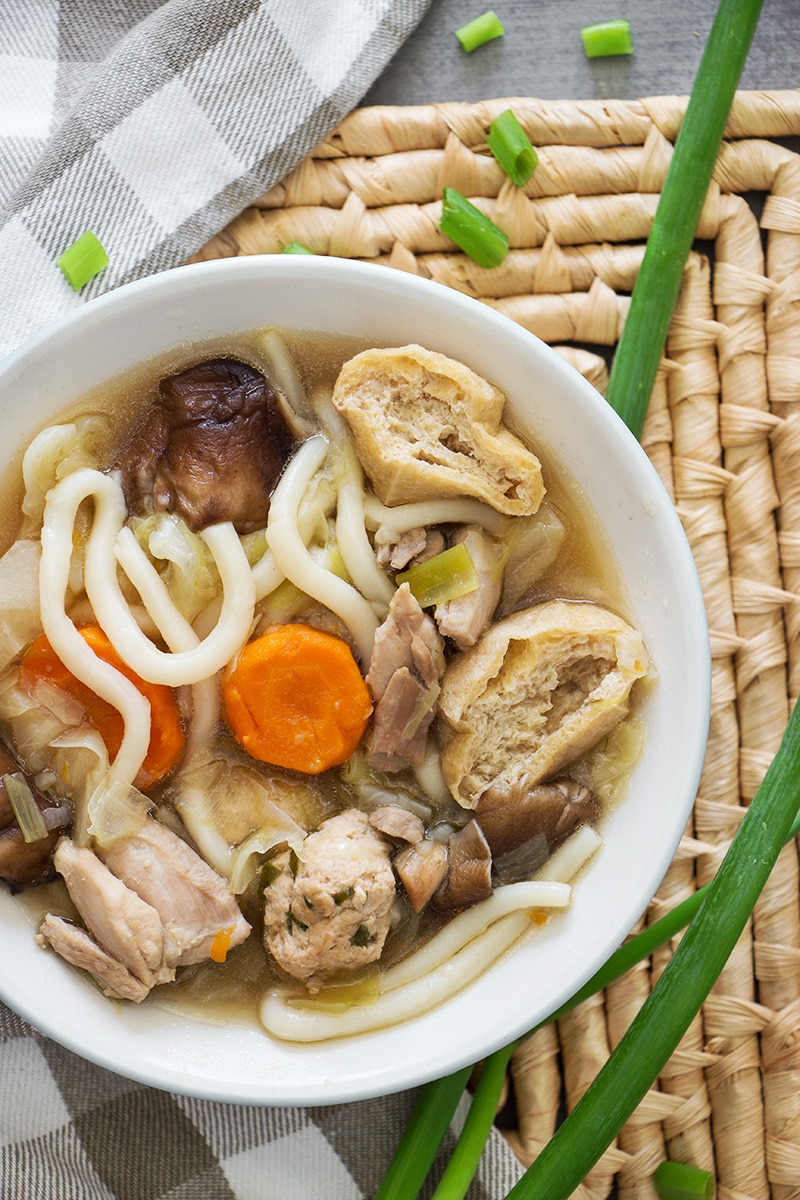 Chanko Nabe - Japanese Sumo Wrestler Stew
Packed with protein and vegetables, this Japanese Sumo Wrestler Stew (Chanko Nabe) is healthy and comforting at the same time!
Ingredients
1

lb (450g)

ground chicken

4

scallions

, minced

¼

cup

miso paste

(see notes)

1

tablespoon

salt

8

cups

dashi

(see notes)

¼

cup

soy sauce

2

tablespoons

mirin

¼

cup

sake

1

lb (450g)

boneless, skinless chicken thighs

, cut into pieces

1

large

daikon

, cut into pieces

2

large

carrots

, cut into pieces

2

large

potatoes

, cut into pieces

10

fresh shiitake mushrooms

, halved

½

head

napa cabbage

, cut into pieces

2

leeks

, cut into slices

8

fried tofu puffs

, halved (see notes)

1

lb (450g)

udon noodles
Instructions
In a bowl, add the ground chicken, scallions, miso paste, and salt. Mix and shape into any size you like meatballs. Set aside.

In a large pot, bring the dashi stock to a boil. Reduce the heat to simmer and add the soy sauce, mirin, and sake. Stir well. Add the chicken thighs, prepared chicken meatballs, daikon, carrots, and potatoes. Cook for 15 minutes.

Add the mushrooms, cabbage, leeks, and tofu puffs. Cook for about 10 minutes more.

Meanwhile, cook the udon noodles according to package instructions. When done, add them to the pot with the rest of the ingredients. Stir one more time and serve. Enjoy!
Notes
It's preferable to use white miso paste for this recipe because it has a milder taste. However, I wasn't able to find it and used a red one instead. It turned out great!
Dashi stock is made from kombu (edible seaweed) and katsuobushi or bonito flakes (dried and flaked tuna). You can either find a pre-made dashi stock in an Asian grocery store or make one from scratch. I talked more about it in this Japanese Clear Soup post.
Fried tofu puffs can be found in most Asian grocery stores. Be sure to check out fridges as well because that's where I found them (I'm still not sure why they were refrigerated, though).
Adapted from Lucky Rice by Danielle Chang
Nutrition
Calories:
572
kcal
Carbohydrates:
35.9
g
Protein:
58.9
g
Fat:
23.4
g
Cholesterol:
104.4
mg
Sodium:
2192.6
mg
Sugar:
7.9
g
Vitamin A:
1650
IU
Vitamin C:
81.7
mg
Nutrition Facts
Chanko Nabe - Japanese Sumo Wrestler Stew
Amount Per Serving
Calories 572
Calories from Fat 211
% Daily Value*
Fat 23.4g36%
Cholesterol 104.4mg35%
Sodium 2192.6mg95%
Carbohydrates 35.9g12%
Protein 58.9g118%
Vitamin A 1650IU33%
Vitamin C 81.7mg99%
* Percent Daily Values are based on a 2000 calorie diet.
* This post contains affiliate links, thank you for the support in keeping Cooking The Globe up and running!