This roasted Japanese eggplant, also known as Nasu Dengaku, is topped with a crazy flavorful sweet umami-rich miso glaze and it's my new favorite side dish. Seriously. Plus, it requires only 15 minutes of preparation time!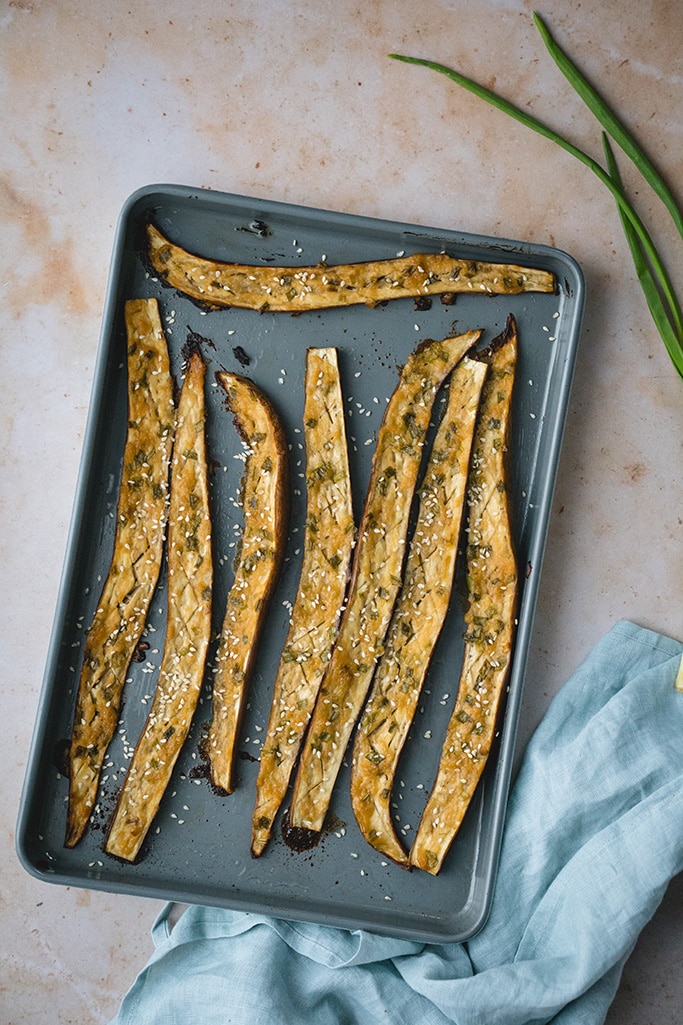 Recently I came across some Japanese eggplants in the supermarket and had to try cooking with them. I hadn't even known that variety existed. Of course, never having encountered this variety before I had to see what the Japanese traditionally made rather than just using them in one of my Spanish or Italian eggplant recipes.
I found this recipe for miso roasted Japanese eggplant or Nasu Dengaku in The Balanced Plate by Renée Loux. I knew it had to be good with so many traditional ingredients like miso, rice vinegar, and sesame oil.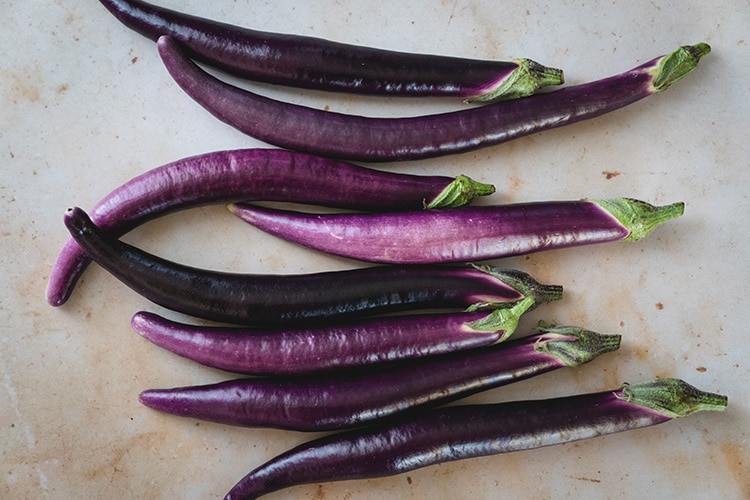 The glaze it made was amazingly fragrant even before I put it on the eggplant and started roasting them. I really enjoyed the combination of the umami flavors with just that hint of sweetness from the maple syrup. And it looked beautiful when I chose to sprinkle some sesame seeds on it.
I can see why this dish is served in most Japanese restaurants. Those umami flavors must go perfectly with cool, creamy sushi or any kind of meat. I can't wait to try it in a meal with some Japanese cabbage pancakes or shirataki noodles.
What is miso?
Miso is a fermented grain and soybean product that gives an umami flavor to a lot of Japanese recipes. There are several varieties of miso that vary based on base ingredients and how long they are fermented.
I used white miso because it is the most readily available variety outside of Japan (when I was making sumo wrestler stew back in 2017 I wasn't able to find it, though, and used red one instead).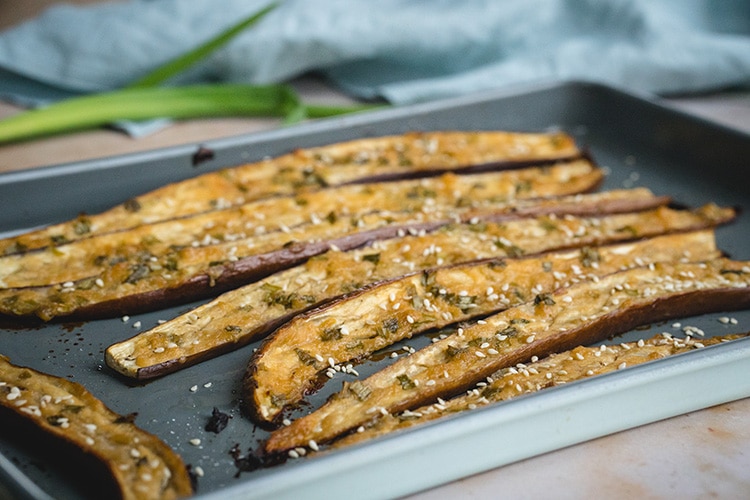 It is also the mildest in flavor being made from mostly rice and barley with just a bit of soy and a short fermentation time. There is also yellow miso which is fermented a bit longer and red miso which has the longest fermentation time and a much higher proportion of soybeans to grain.
There are of course dozens of varieties in Japan – like products from other countries, each region has its own blend of miso, but you are not likely to find these outside Japan.
Can I use other types of eggplant?
Most varieties of eggplant work in this recipe. The closest variety is Chinese eggplant which is typically a little lighter in skin color than most Japanese eggplants, but very similar in flavor and texture.
Both Japanese and Chinese eggplants are quite long, with a thin skin (Chinese is just a bit thinner), and a creamy, white flesh with very few seeds. The lack of seeds makes these varieties some of the sweetest.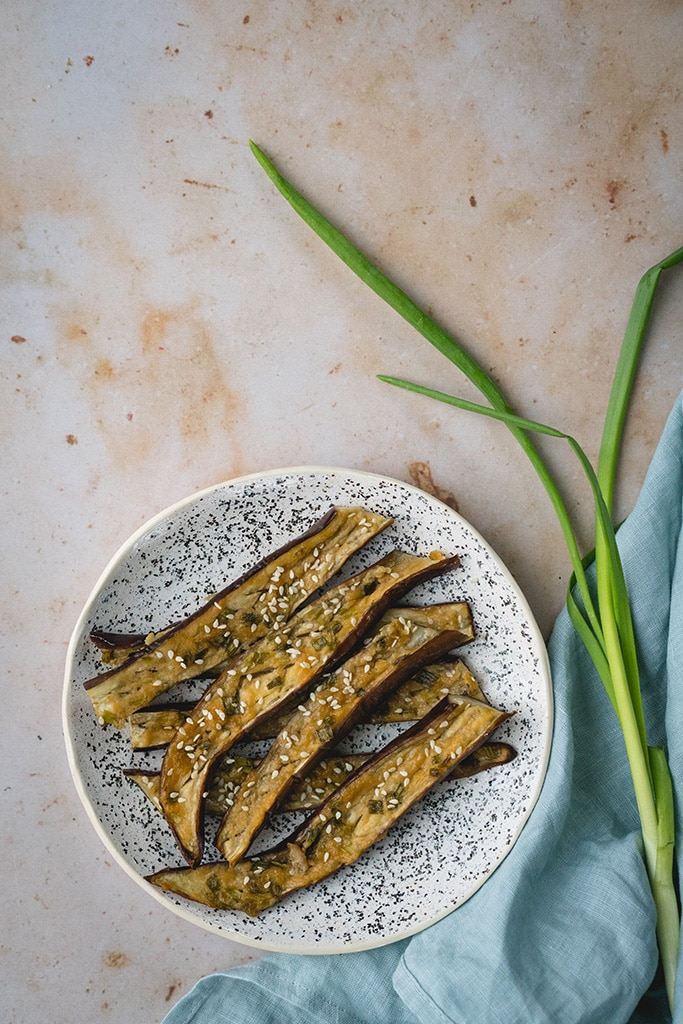 Italian and globe eggplants also work, but Indian eggplants are less suitable simply because of their size. I would recommend using the Japanese, Chinese, or Italian varieties – in that order.
Globe eggplants (the really big oblong ones) are the most bitter of the eggplants and have the thickest skin, so you need to modify the cooking method slightly if you choose to use them. If you cut deeper lines in a cross-hatch pattern and do the initial roast for longer, you will end up with fun cubes of glazed eggplant that can be eaten out of the skin.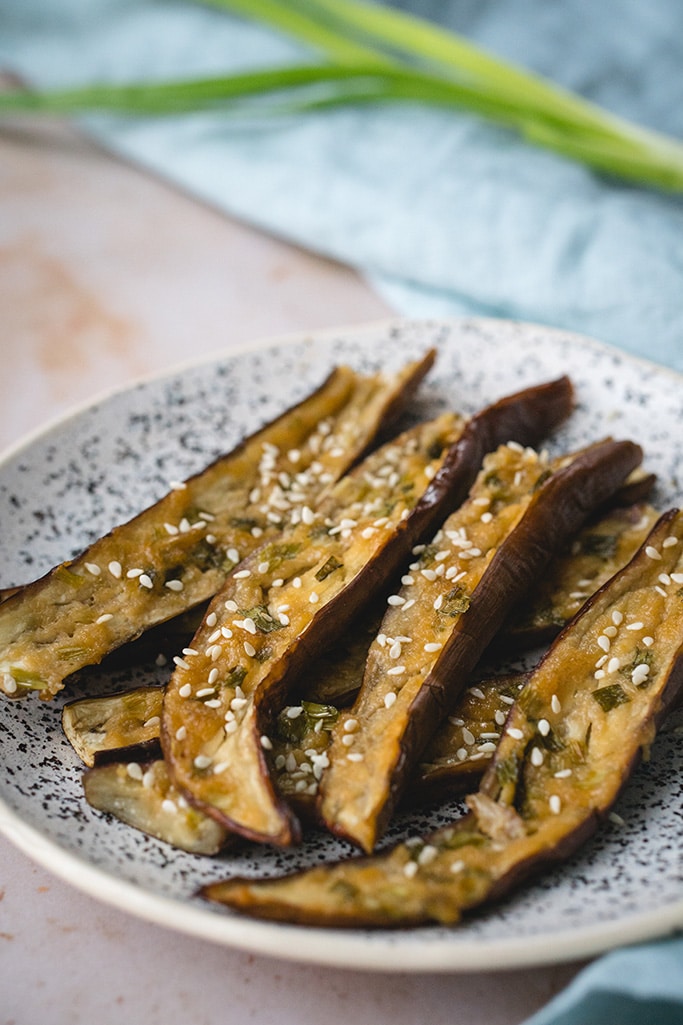 When you make this recipe with any other variety you can eat the skin too, but it is thicker and a bit bitter with globe eggplants (though still perfectly edible). Besides, eating the cubes with chopsticks can be fun challenge for the family!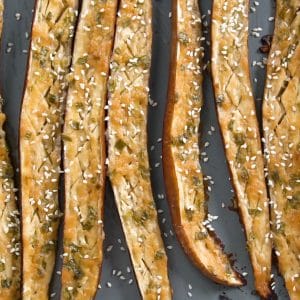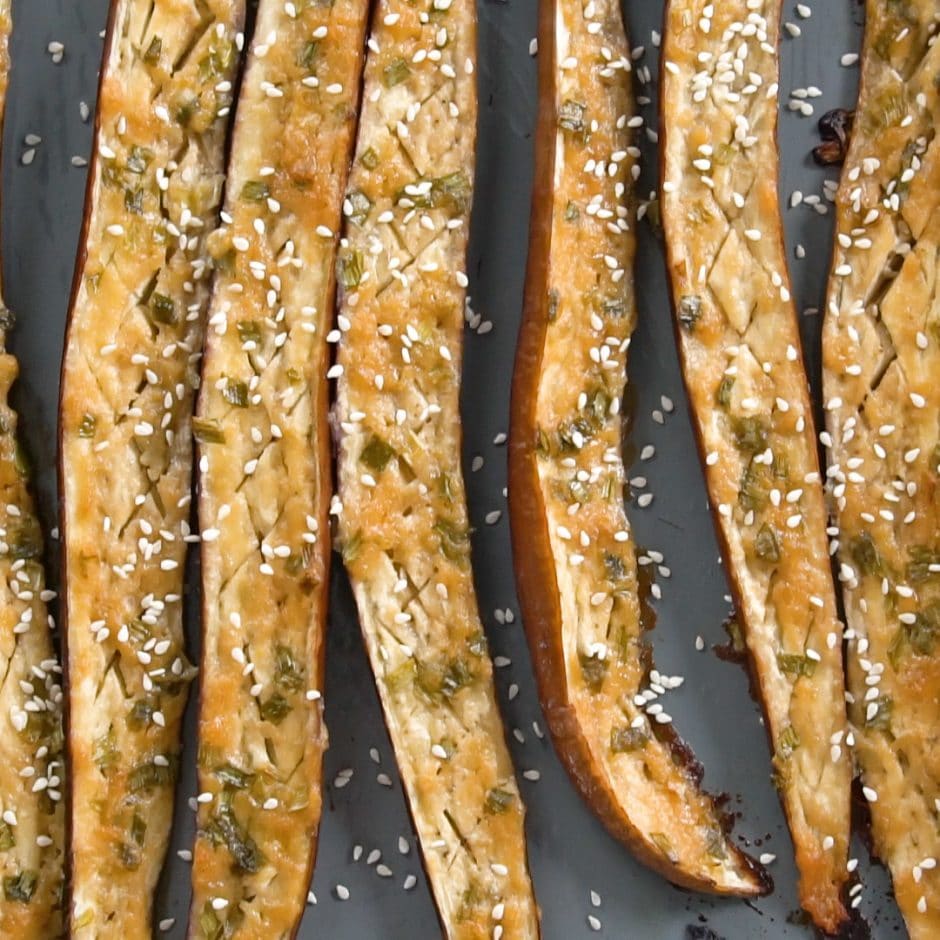 Miso Roasted Japanese Eggplant - Nasu Dengaku
There is a reason why this Japanese miso eggplant is so popular in restaurants. It's so good! A sweet umami-rich miso glaze elevates eggplants to a whole new level. And it's so easy and quick to make - only 15 minutes of preparation time!
Ingredients
1

lb (450g)

Japanese eggplants

4

tbsp

sesame oil

2

tbsp

white miso

1

tbsp

maple syrup

1

tsp

rice vinegar

2

cloves

garlic

, grated

1

tbsp

grated ginger

3

green onions

, chopped

sesame seeds

, for topping (optional)
Instructions
Preheat the oven to 350°F (175°C).

Cut the tops off of the eggplants and cut them lengthwise in half. Score the flesh in a diagonal crosshatch pattern with the point of a knife without cutting all the way through. Arrange the eggplants in a baking tray or a baking dish.

In a bowl, mix together the sesame oil, white miso, maple syrup, rice vinegar, garlic, ginger, and chopped green onions.

Spread the mixture on each eggplant half. Cover with foil and bake for 20-25 minutes.

Uncover, raise the temperature to 425°F (220°C) and bake for 10-15 minutes more.

Sprinkle with sesame seeds on top and serve.
Nutrition
Calories:
181
kcal
Carbohydrates:
12.8
g
Protein:
2.2
g
Fat:
14.3
g
Sodium:
3.2
mg
Sugar:
7
g
Vitamin C:
5
mg
Nutrition Facts
Miso Roasted Japanese Eggplant - Nasu Dengaku
Amount Per Serving
Calories 181
Calories from Fat 129
% Daily Value*
Fat 14.3g22%
Sodium 3.2mg0%
Carbohydrates 12.8g4%
Protein 2.2g4%
Vitamin C 5mg6%
* Percent Daily Values are based on a 2000 calorie diet.