Sauerbraten, also known as German pot roast, is a signature dish of this European country. The fork-tender beef, drowned in a velvety sweet & sour gravy, is usually served on special occasions such as Christmas but can be enjoyed anytime you want.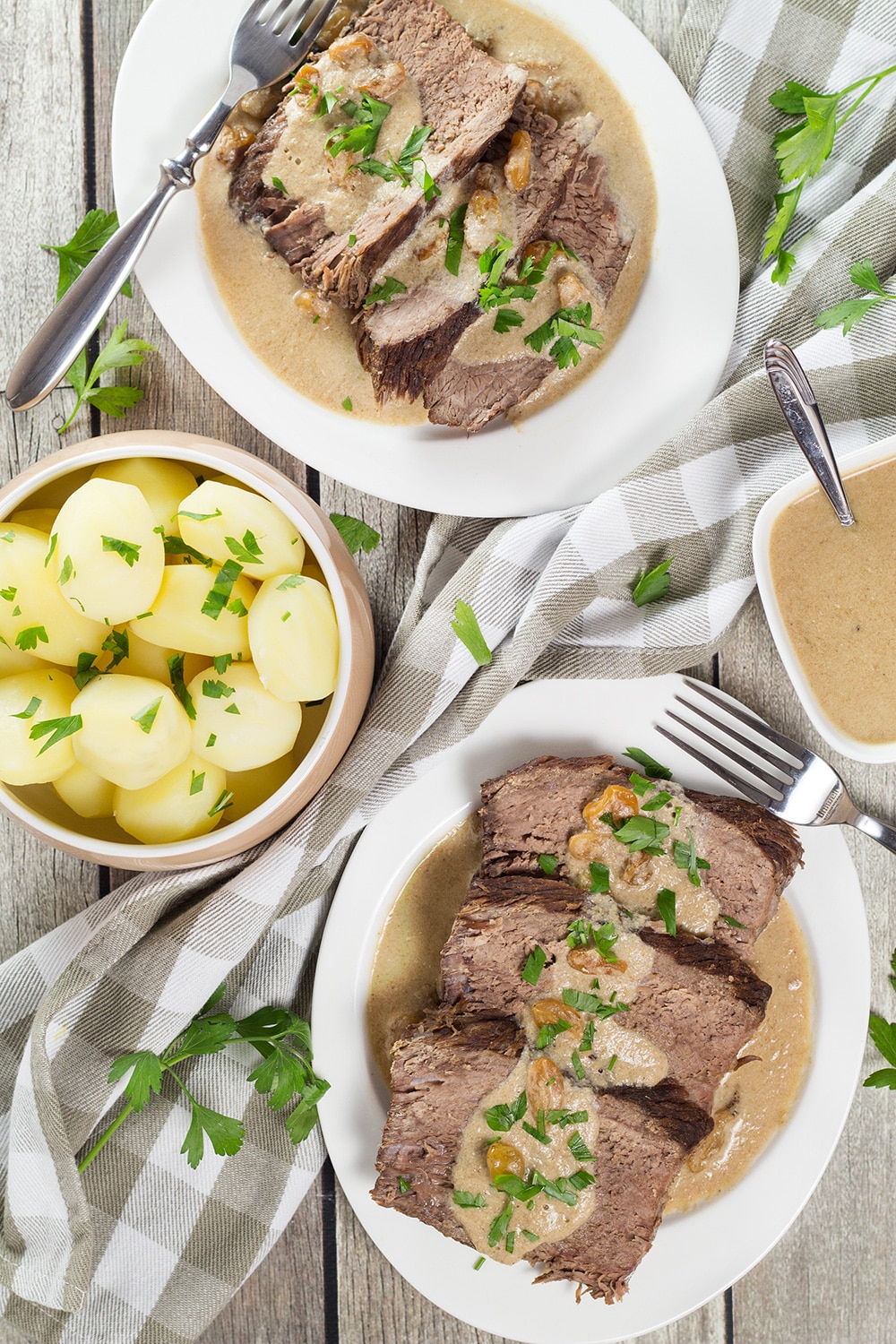 Despite the fact that Christmas is still far away, malls, shops, TV commercials, and other media channels have already started their campaigns and you can feel the holiday spirit in the air. Also, Black Friday is next week so people will be flooding the stores in search of the perfect presents for their beloved ones. I am not a fan of the early holiday buzz, though. I am one of those who is getting the gifts when holidays draw closer. Really really close. Like the next day close, ha ha! And then I am getting nervous when things I wanted are out of stock. Like the great Arnold Schwarzenegger in the movie "Jingle all the way", where he is desperately fighting over the last Turbo-Man figure left in town.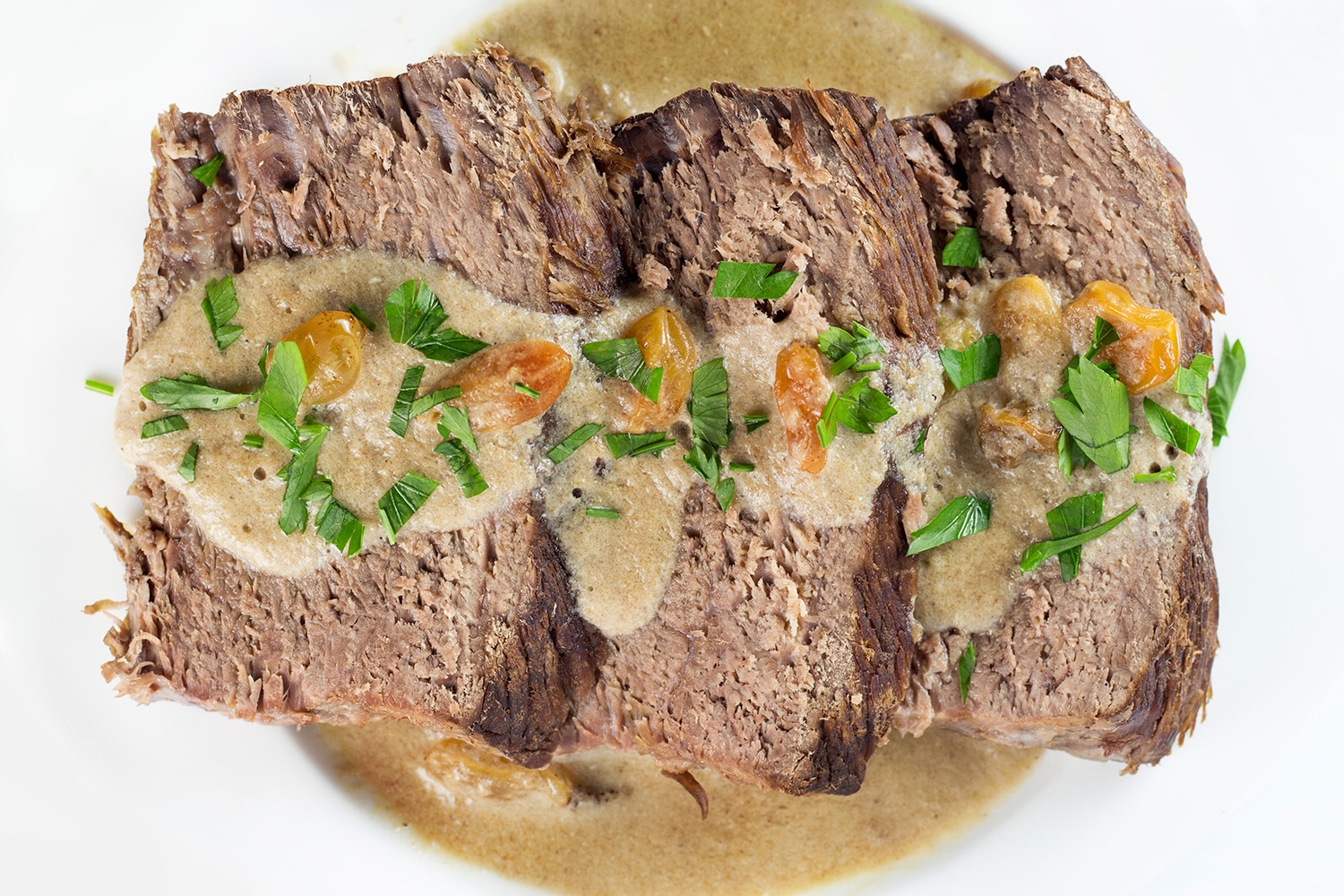 This attitude of mine doesn't apply to the kitchen routine. I plan my Christmas meals way in advance. If you want to try something new, you have to make it a few times before the actual day to avoid any misunderstandings. This year, for the Christmas dinner, I decided to prepare German Pot Roast, called Sauerbraten (yes yes, sounds similar to Sauerkraut). Sauer means "sour" or "pickled" in German and Braten translates as "roast meat". Traditionally, beef is marinated for several days in spiced vinegar or wine or a mixture of two before cooking it to make the meat more tender and flavorful. It is then served with a sweet & sour gravy made by using the cooking juices.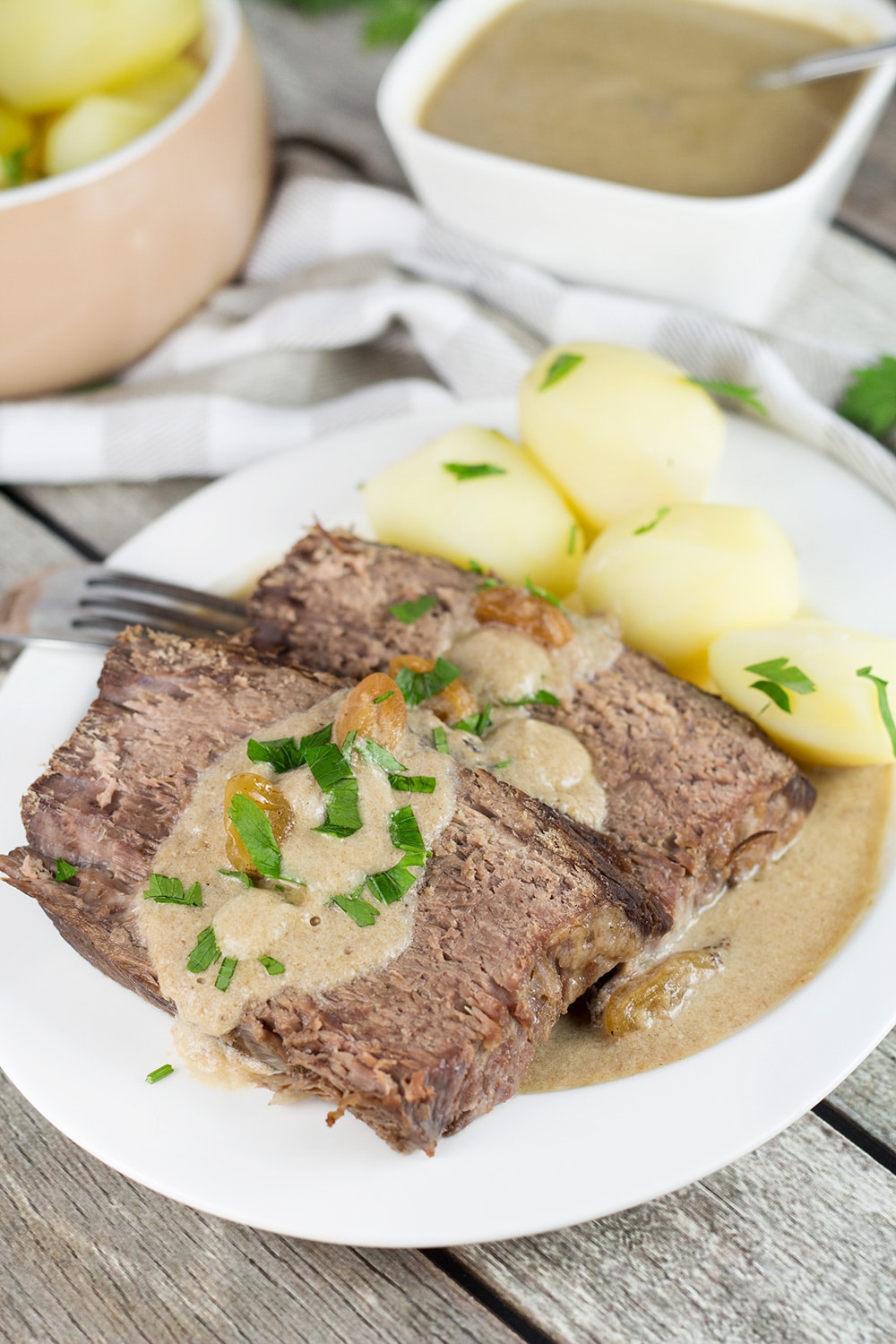 It wasn't me who came up with an idea to serve Sauerbraten for Christmas. It's a long-lasting tradition in Germany and you can find this pot roast on every single Christmas table, together with such staples as Glühwein, Lebkuchen, and others. What you won't find is two recipes that are alike!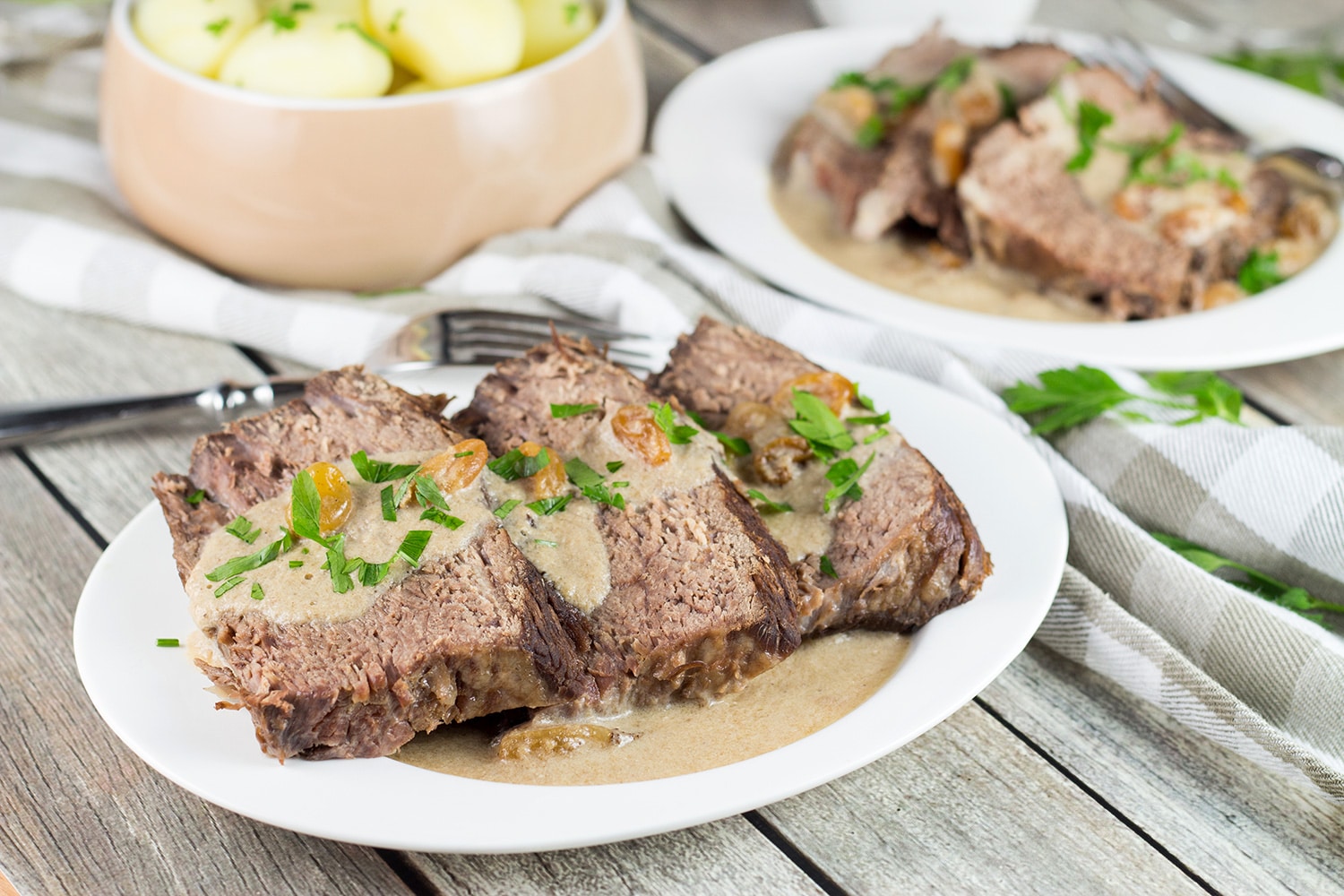 Every province, or should I say every cook, has their own version of this famous dish. The most differences can be found in the gravy. Many add raisins while others skip it, some throw crumbled gingerbread or gingersnaps into the mix, others not, sour cream may be used or left out, and so forth. I am pretty sure, though, that all the recipes result in a juicy, flavorful piece of meat!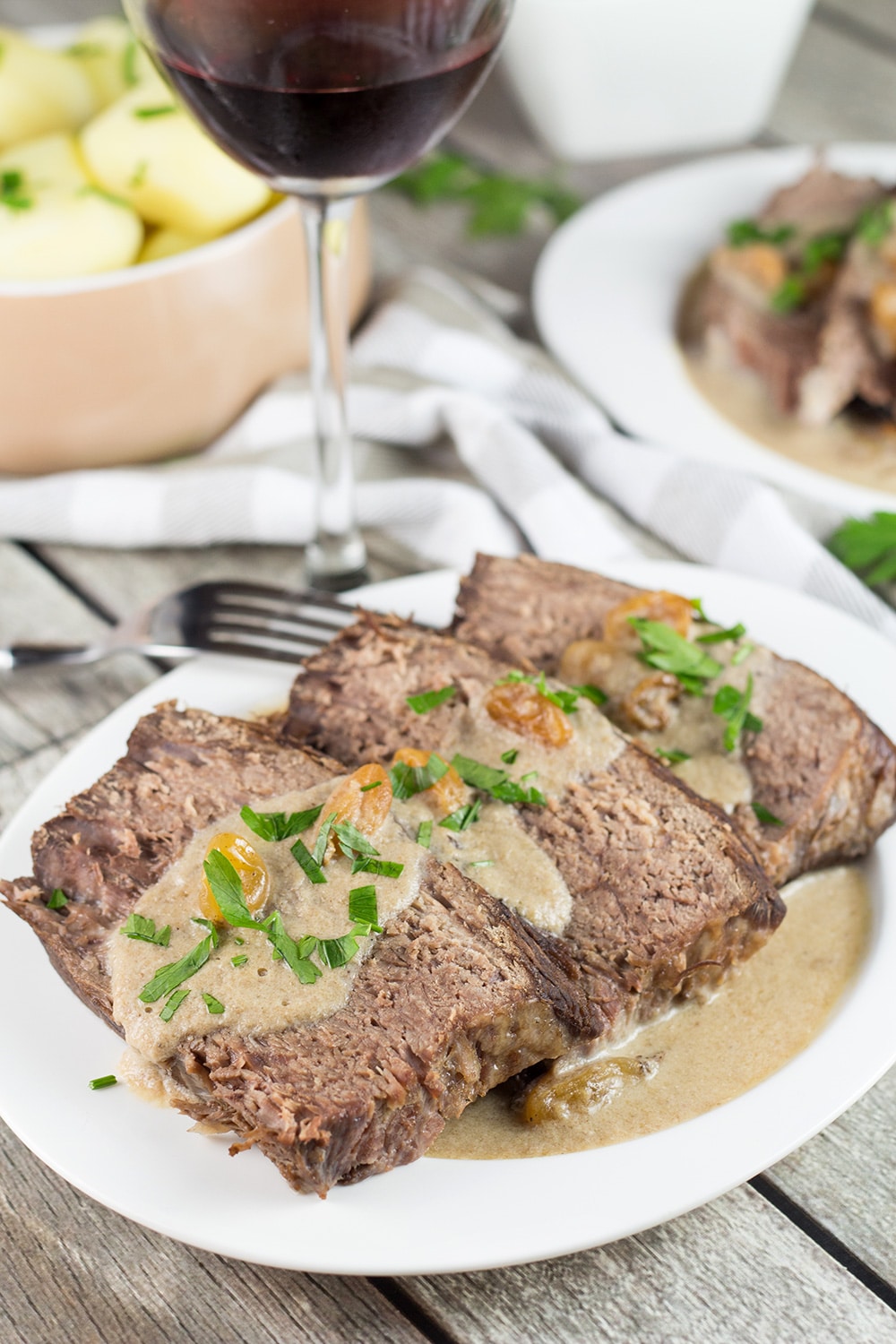 48 hours of marinating, about 4 hours of cooking, and it was sooooo worth it. I'm telling you, guys. The beef gets so tender you don't even need a knife to cut it.  Oh and the gravy... It's magical. Cooking liquid + sour cream + gingerbread + raisins = One of the best gravies I have ever tasted in my whole life. I can't wait until Christmas when I'll make Sauerbraten again. Serve the meat with boiled potatoes or German potato dumplings. Enjoy!


Sauerbraten Recipe (German Pot Roast)
This traditional German Pot Roast (Sauerbraten) is cooked in a spiced marinade and served drowned in a velvety sweet & sour gravy. Splendid!

Ingredients
For the marinade:
1

teaspoon

black peppercorns

4

juniper berries

8

whole allspice berries

2

bay leaves

2

whole cloves

½

teaspoon

salt

1 ½

cups

red wine vinegar

1 ½

cups

dry red wine

1

large yellow onion

, sliced

4-5

lb (1.8-2.3kg)

boneless beef chuck roast

(beef eye of round, bottom or top round can be used)
For the browning:
1

tablespoon

unsalted butter

1

tablespoon

vegetable oil
For the gravy:
6

store-bought gingersnap cookies

, broken into crumbs

1

tablespoon

sugar

1

cup

sour cream

½

cup

golden raisins
Instructions
Marinating the meat. Crush the peppercorns, juniper, and allspice in a mortar or in a small plastic bag using a rolling pin. Transfer them to a small saucepan and add the bay leaves, cloves, salt, red wine vinegar, red wine, and onion and bring to a boil. Turn off the heat and let cool. You can transfer the marinade to a large bowl to quicken the process.

Add the beef to the bowl and coat all sides with the marinade. Cover and let sit in a fridge for 48-72 hours, turning the meat a few times a day.

Preheat the oven to 300°F (150°C).

Browning the meat. Transfer the beef to a plate, scraping any solids that stick to it back into the marinade.We will need it later. Pat the meat dry with paper towels.

Heat the butter and oil in a large Dutch oven (6-7 quart / liters), add the meat, and brown it well on all sides. About 25 minutes total. Transfer the beef back to the plate. Pour off the fat from the pot and deglaze it adding the reserved marinade and scraping browned bits. Bring to a boil and add the beef. Cover with parchment paper, pressing it down so it almost touches the beef and cover with a lid.The parchment paper has to hang over the sides of the pot. Transfer to the oven.

Cook the meat for 1 ½ hours, then turn it over and continue braising for another 1 ½ hours or until fork-tender.

When done, transfer the meat to a plate and cover to keep warm.

The gravy. Strain the cooking liquid into a saucepan. Let sit for a few minutes and skim off the fat. Add the gingersnap, raisins, and sugar, and bring to a boil. Boil for about 5 minutes, whisking, to thicken the sauce a little bit. Turn off the heat and whisk in the sour cream. Taste the sauce and add seasonings if needed.

Cut the meat into thick slices, pour some gravy over it, and serve. Enjoy!
Notes
Sauerbraten can also be cooked on a stovetop. The same instructions apply, except covering the meat with parchment paper before cooking. No need to do that.
Adapted from All About Braising by Molly Stevens
Nutrition