Hearty, comforting, and super filling, Cocido is one of the most iconic Spanish dishes. It has many variations but usually, chickpeas, a few kinds of meats, and a bunch of veggies are included. My version features chicken, chorizo, chickpeas, and more!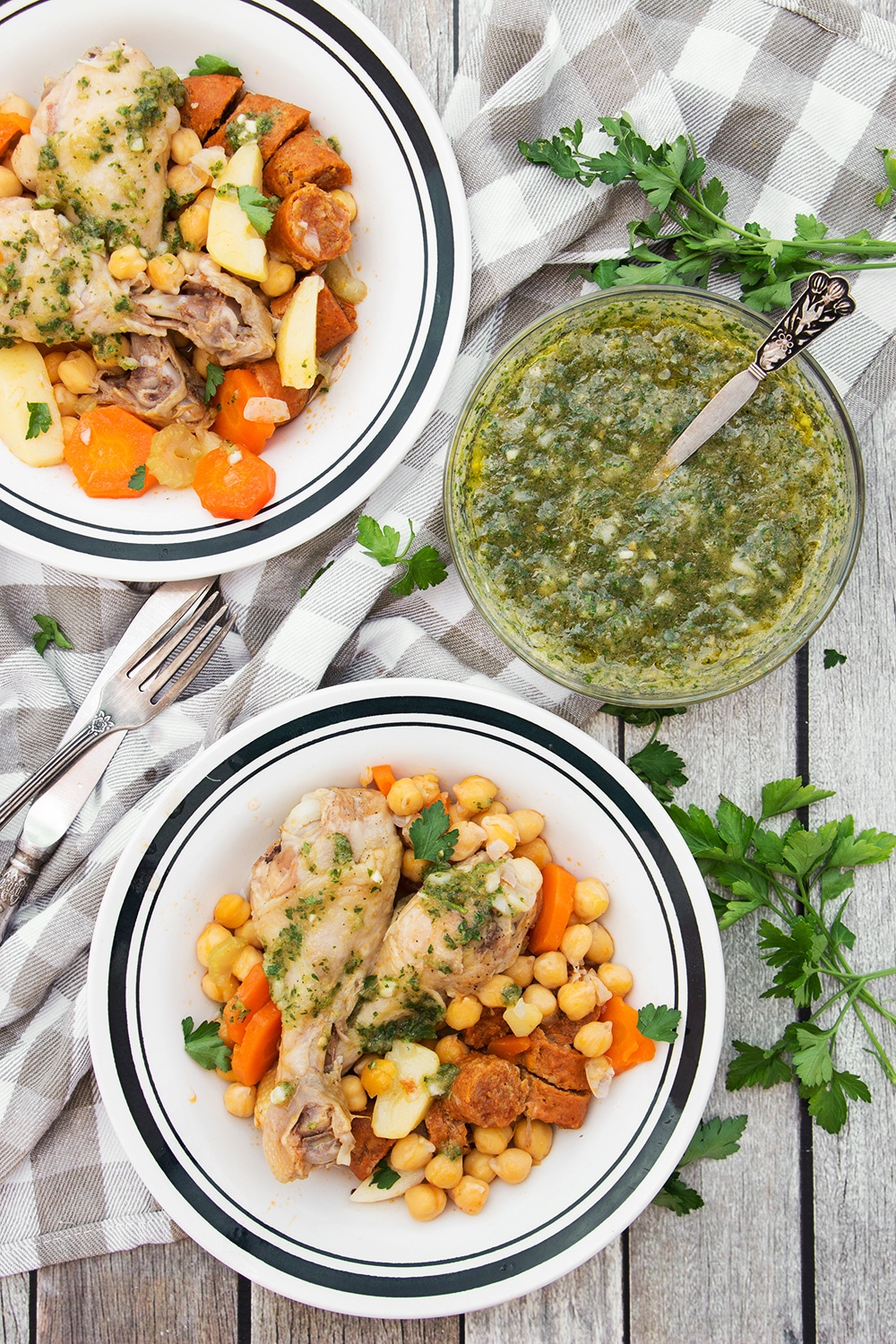 Sorry for being MIA lately, keeping up with my main job, posting blog updates, and enjoying the sun and the ocean together with my family here in Tenerife appeared to be harder than I thought. 24 hours is not enough. I will try my best to find a balance, though.
Even without posting here, I continue exploring local cuisine. When our baby is in a good enough mood, we go to restaurants and enjoy full-of-flavor Spanish food. If having meal one person at a time while the other one is running after the baby counts as enjoying, ha ha! Well, what you gonna do. Spanish cuisine is totally worth all the hassle.
A few days ago I ordered one of the most famous Spanish dishes called Cocido. Basically, it's a hearty chickpea-based stew packed with veggies and meat. It has to be mentioned that the full name of this stew is Cocido madrileño and it's associated with the Spanish capital Madrid.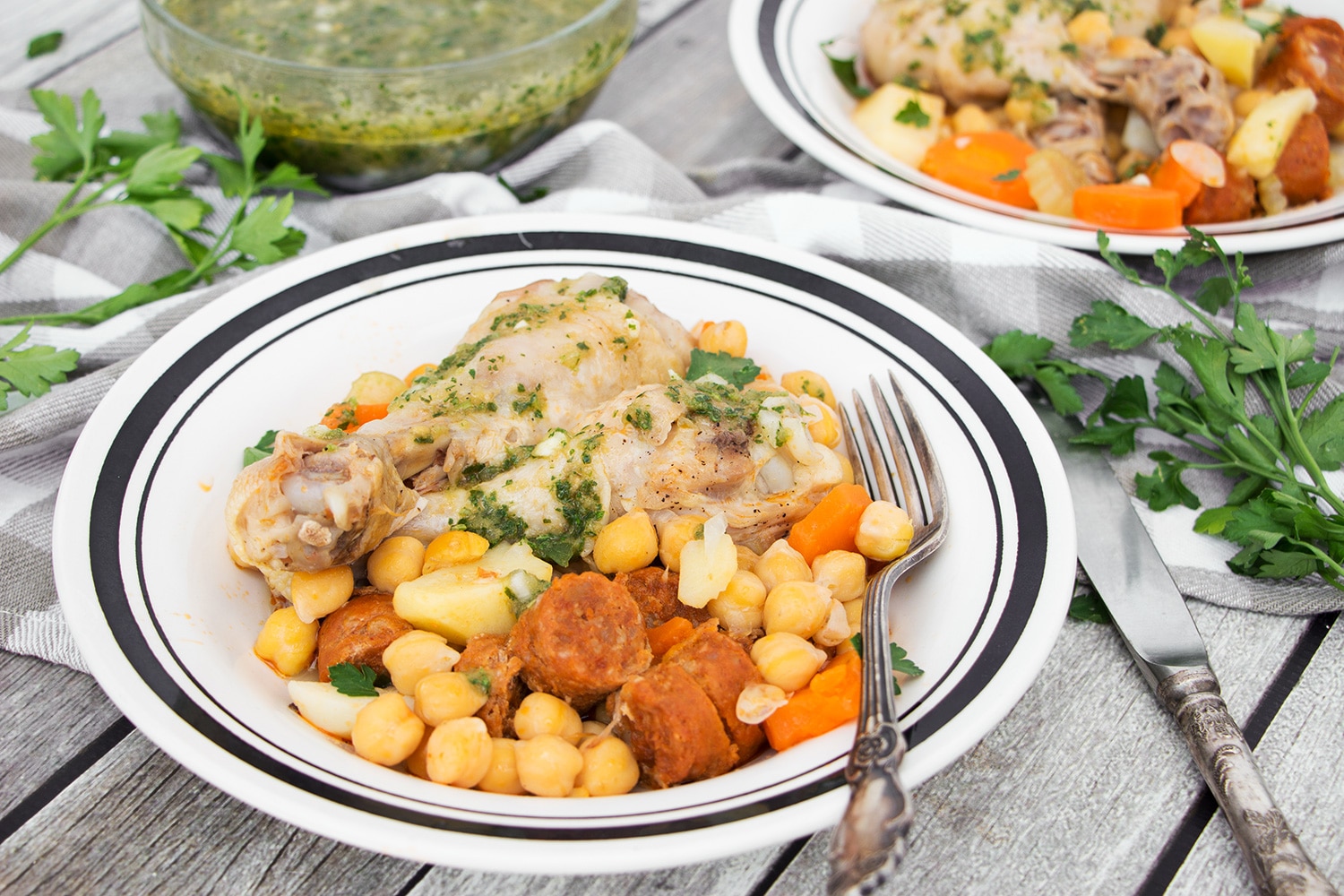 I heard about it before but it was the very first time I actually tried it. Cocido turned out to be divine but not all the ingredients were enjoyable to me.
You see, I'm not a fan of fatty meats so I wasn't super happy to find pork belly slices on my plate. I get it, that's how a traditional Cocido is made and I perfectly understand that it's my problem but I can't do anything about it. I would want to be like Andrew Zimmern so bad to enjoy everything world cuisines can offer but it's just not the case. Sorry!
I still enjoyed everything else: chickpeas, chorizo, chicken, and all the flavors. It smelled SO GOOD! That's why I decided to make all-chicken Cocido version at home. One of the Spanish books I own (The New Spanish Table by Anya Von Bremzen) helped me to do it.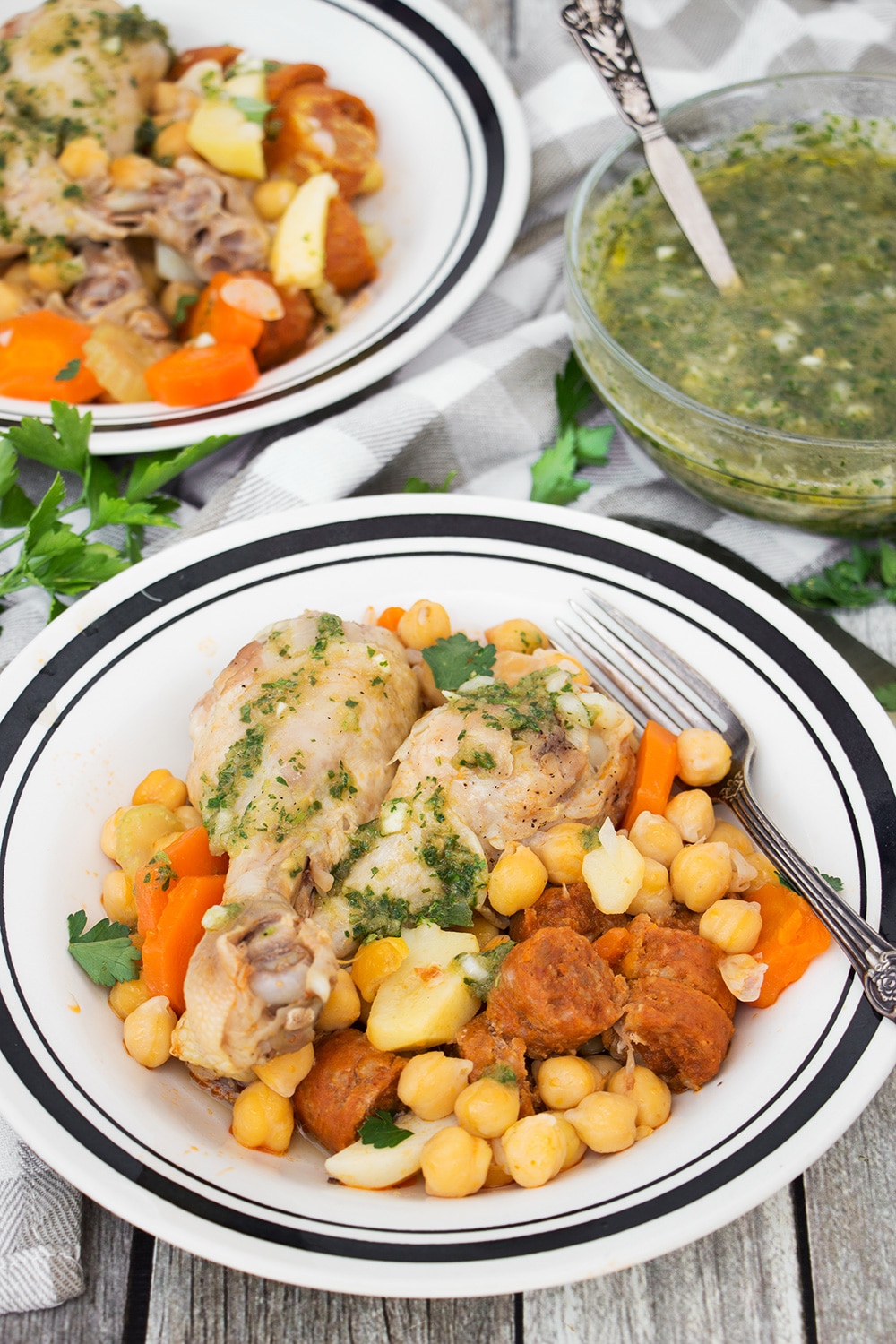 Traditionally, Cocido is served as a three-course meal. First, the broth the chicken cooks in is served with some noodles in it. Then you get the veggies and chickpeas, and only when you finish the first two bowls you get the stewed meat.
To be frank, such an approach doesn't attract me so I threw everything in one bowl. I started with the meats (chicken and chorizo), then veggies and chickpeas, and finally drowned everything in a flavorful broth. That's how I like it!
As if it wouldn't be enough, the book offers to make a divine parsley tomato sauce to serve together! This sauce is something, guys. To perfect it you need slightly under-ripe tomatoes because they have that tart, acidic, slightly sour flavor that is a perfect counterpoint to a hearty meal.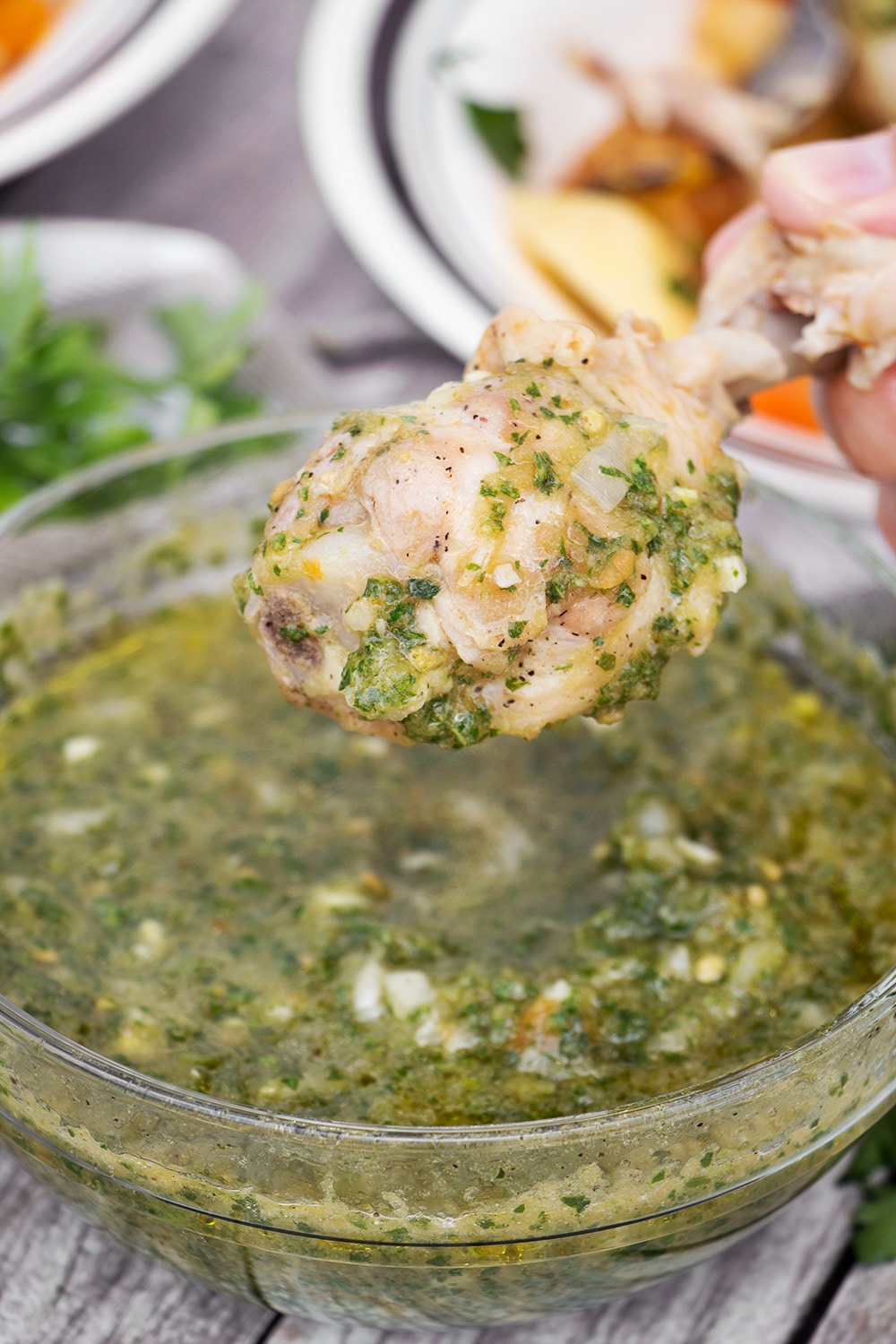 I served Cocido to my mother and my mother-in-law when they came to visit us in Tenerife last week and got many compliments. That says something!
P.S. If you love chicken as much as I do, check out this Spanish Garlic Chicken I made some time ago. It's also divine!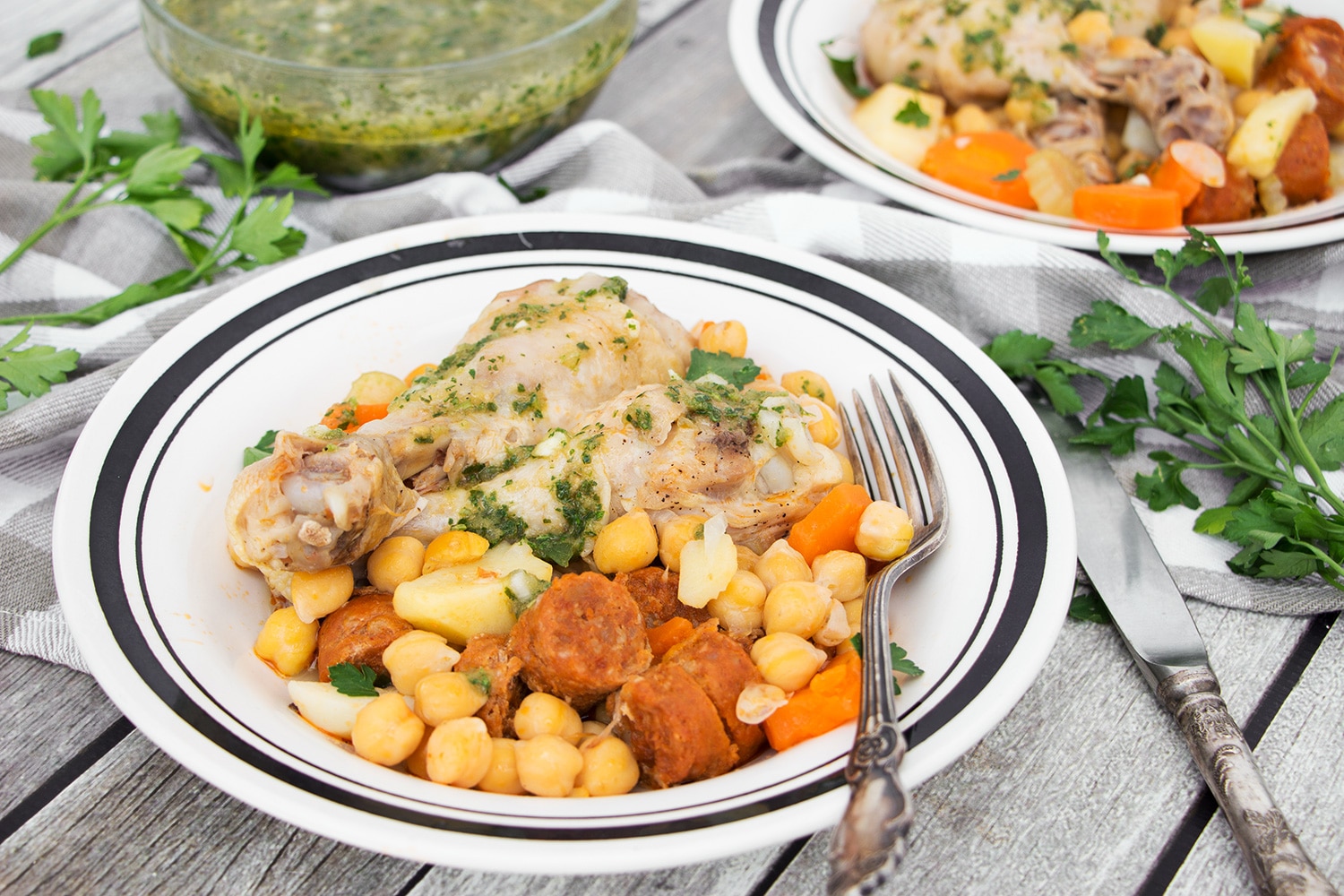 Cocido - Spanish Chicken and Chickpea Stew
Cocido is one of the most famous Spanish dishes. This recipe features chicken, chorizo sausage, chickpeas, and a bunch of other veggies. Served accompanied by the parsley and tomato sauce!
Ingredients
3 ½

lb (1.5kg)

chicken

, whole or parts with skin on (I used drumsticks)

salt and pepper

, to taste

6

cups

chicken stock

1

onion

1

small

garlic head

, outer layer of skin removed, top trimmed off

1

bay leaf

1

rib

celery

2

large

carrots

, cut into pieces

4

small

potatoes

, cut into wedges

10

oz. (300g)

chorizo sausages

2

15 oz. (400g) cans

chickpeas

, drained
For the sauce:
1

cup

chopped flat-leaf parsley

2

under-ripe

tomatoes

, peeled, chopped

¼

cup

minced white onion

3

cloves

garlic

, crushed and minced

3

tablespoons

red wine vinegar

¼

cup

Olive oil

salt and pepper

, to taste
Instructions
Season the chicken with salt and pepper and let stand 30 minutes at room temperature.

Place the chicken in a large pot and add the stock and enough water to cover it. Add the onion, garlic, bay leaf, celery, and bring to a boil. Skim foam off the top if any (if it appears later, skim again), cover the pot, and simmer for 10 minutes over low heat. Add the carrots and potatoes and simmer for 15 minutes more.

Meanwhile, in a pot of boiling water, cook the chorizo sausages for a couple of minutes and drain them. Add the sausages and chickpeas to the pot with the chicken. Cover and continue simmering until the chicken is cooked through. It should take about 20 minutes.
The sauce:
In a food processor, add the parsley, tomatoes, and ⅓ cup of the chicken cooking liquid. Process until the tomatoes are crushed but not pureed.

Transfer the mixture to a bowl. Add the onion, garlic, vinegar, olive oil, and whisk well. Season with salt and pepper to taste.

For the traditional style of serving: Transfer the chicken and chorizo to a cutting board. Carve the chicken (if using a whole), slice the chorizo, and arrange on a serving platter. Pour some cooking liquid over. Now transfer all the veggies and chickpeas (using a slotted spoon) to another plate. Discard the onion, celery, garlic, and bay leaf. Once again pour some cooking broth over. Serve accompanied by the sauce.

Alternatively, you can simply serve the meats, veggies, and chickpeas in one bowl drowned in the cooking liquid. Enjoy!