Hey there! When I started this blog, I set myself a mission to recreate as many traditional breakfasts from all around the world as possible. Many people skip the breakfast, but in my opinion it is the most important meal of the day. Your body and brain need some fuel to start moving for God's sake! That's why I find it insanely interesting to discover what people eat for breakfast in different countries across the globe. Let's go!
The #6 installment of the "Breakfast around the world" post series is already here! I feel like a child every time I am picking up a country to explore next. So exciting! The fact that it's only a sixth post, a six country out of 190-something, makes it even more exciting, because all the adventures are still ahead of me. Today we are heading to the southwestern Europe, to the country I had a chance to visit by myself, the country of Flamenco, soccer, beautiful beaches, and many other awesome things - Spain! But what about the food, particularly Spanish breakfast (el desayuno)? Is it good? Let's check it out!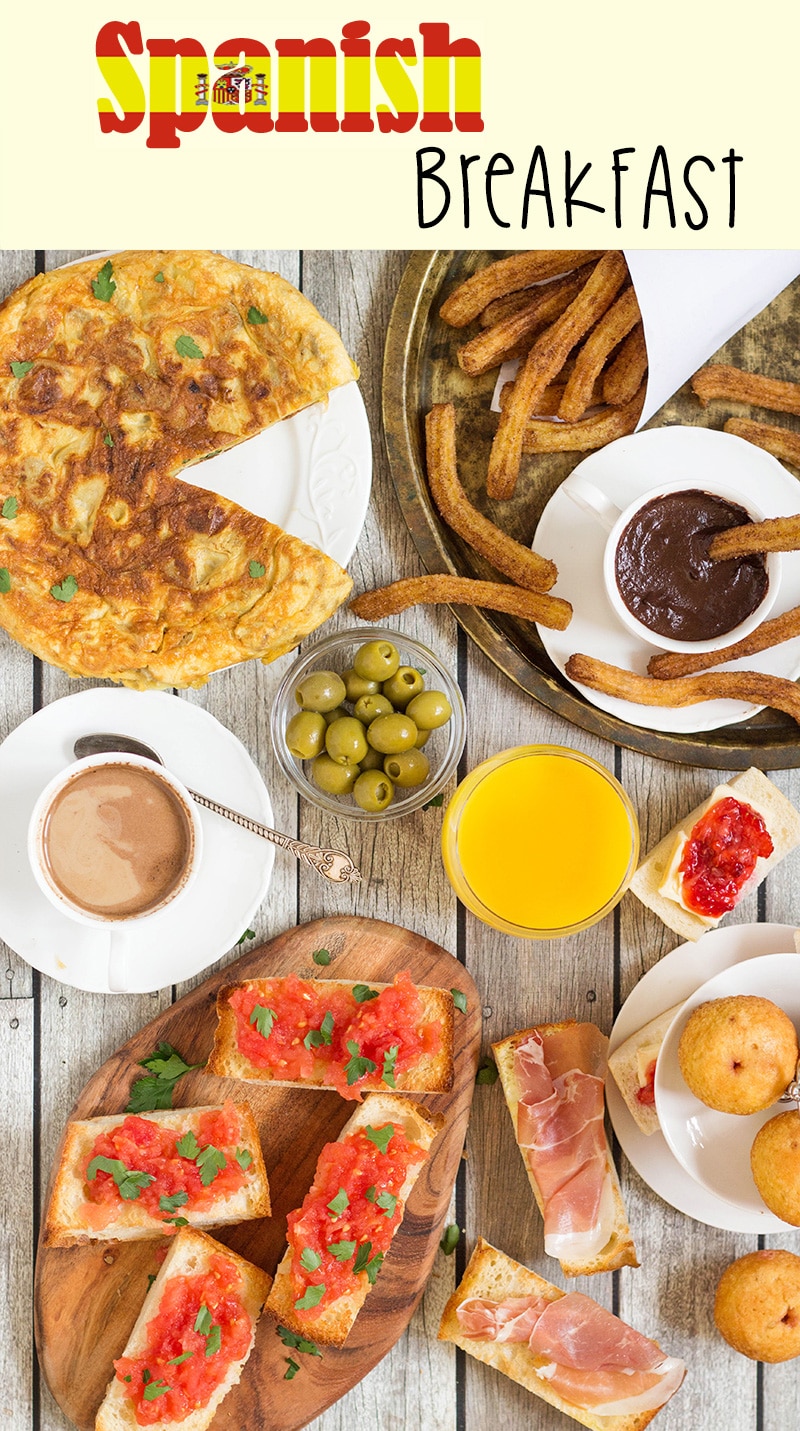 To say that I love Spanish cuisine would be an understatement. Tapas (I plan to make a separate post on them in the nearest future), paella, jamón, Spanish omelette, sangria, all the seafood, I could go on and on. I loved it before visiting this wonderful country, and I love it even more after I went there. But what about the Spanish breakfast? Let me start by saying that in Spain people tend to have their breakfast a little bit later than everywhere else - around mid-morning. It's not surprising keeping in mind the famous late Spanish 10pm dinners. Even Mcdonalds had to change their breakfast schedule in order to adapt to the local customs: their breakfast menu in Spain is available until 1pm while in all other countries it is served until 12am.
The Spanish breakfast usually is very light. No pancakes or stuff like that, not too much meat. The meal choice depends on where Spaniards have their breakfast: at home or in a local bar or café. At home it's usually something really really simple, like biscuits (galletas) or cupcakes (magdalenas) with a cup of coffee. In a bar there are way more choices: churros con chocolate (fried-dough, doughnut-like pastry served with a cup of hot chocolate for dipping), tostadas (toasts, but not square ones) with different toppings, tortilla (famous Spanish potato omelette), bocadillos (French bread sandwiches with various fillings). All these delicious meals are always washed down with a cup of coffee.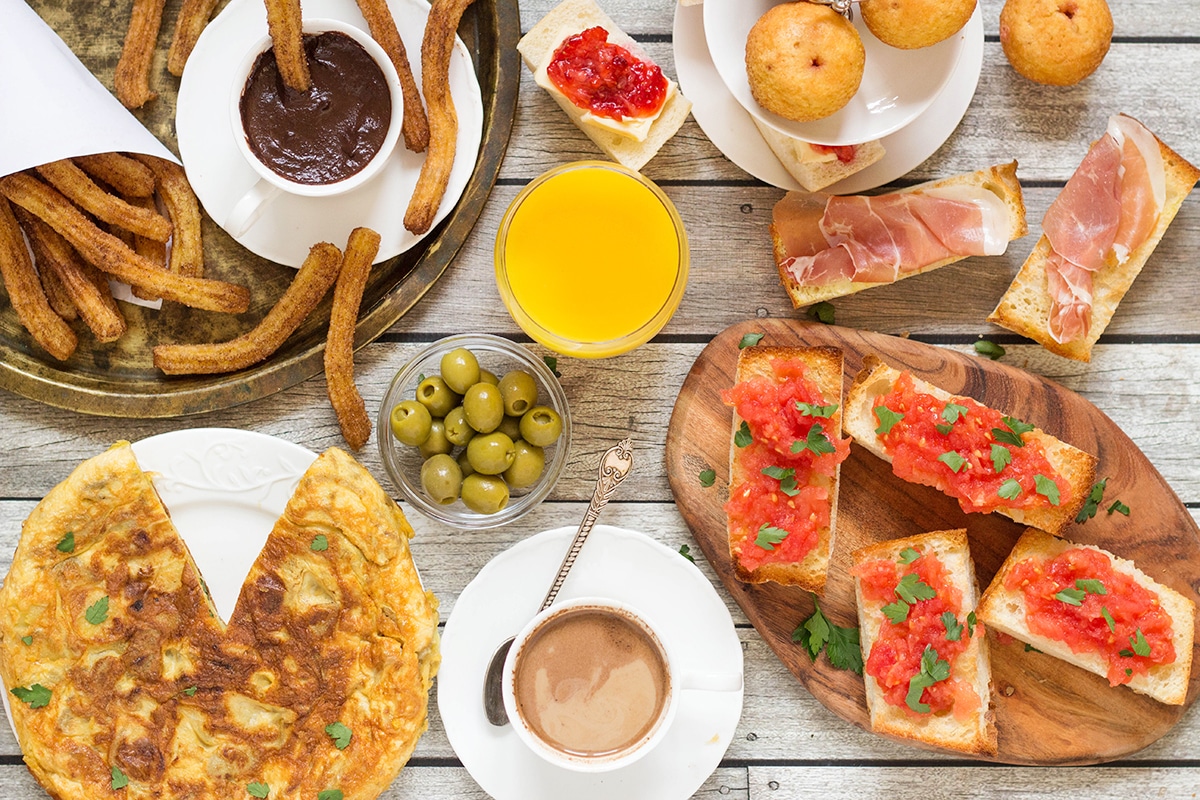 Now that you have a little bit of a background on what to expect, let's have a look at my Spanish breakfast table!

Eggs
Spain is one of the rare countries where fried eggs are not a popular breakfast option. However, eggs are consumed, just in a form of an omelette. Spain is famous for its potato omelette, called tortilla. I would even call it a national Spanish dish, because the popularity of it is crazy. I made it last week, you can find a recipe here. Spanish omelette requires only few simple ingredients (potatoes, eggs, onion) but it's so good! Of course I am talking about the most basic version here, because you can stuff your tortilla with anything you want: seafood, ham, sausage, to name a few. Usually, in bars and cafés, you can order a piece of an omelette with a cup of coffee. It's surely my type of breakfast, I love it!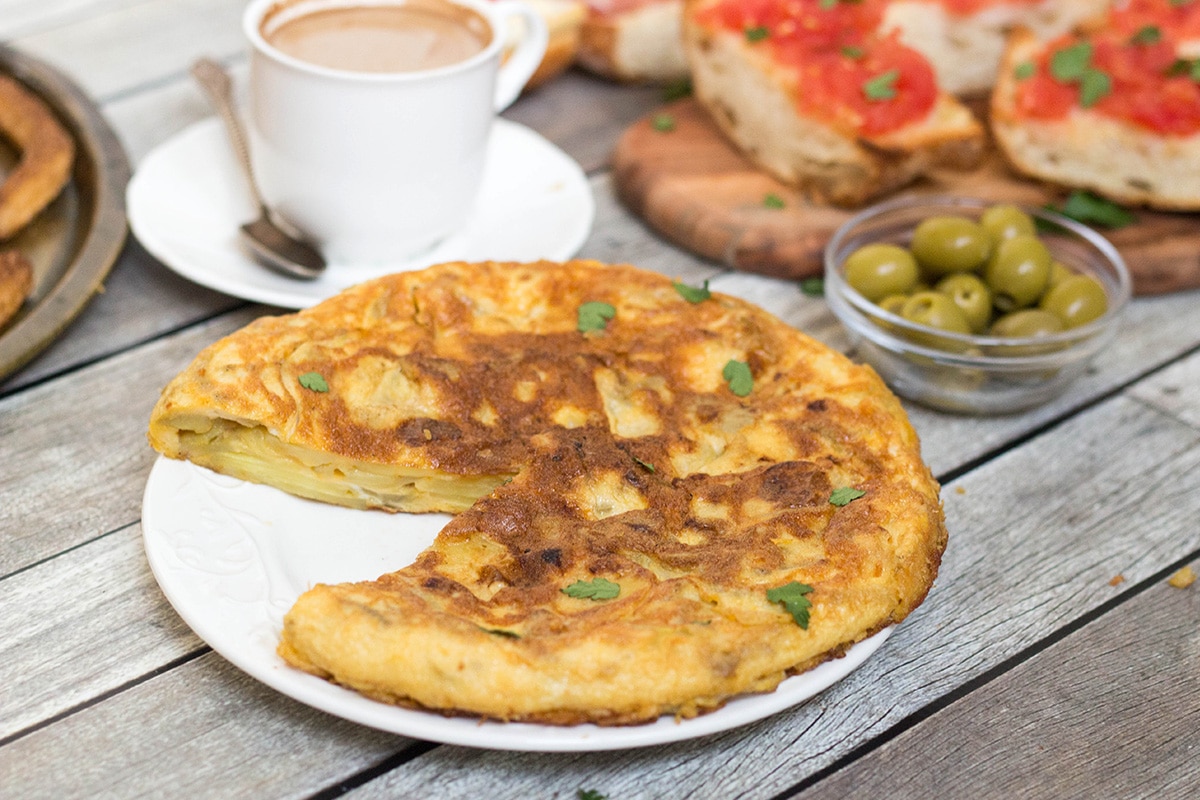 Sandwiches
I would say that it's a cornerstone of the Spanish breakfast. There is a big variety of sandwiches available in every single bar. The most famous one is Pan Con Tomate in Spanish, or Pa Amb Tomàquet in Catalan. It's basically a toasted bread topped with tomato pulp, garlic and olive oil. Tomatoes should be really ripe to make a good Pan Con Tomate. Authentically you just take a ripe tomato and rub it over a bread until it is covered with pulp. That's the way it is served in some places in Spain. You'll get a piece of bread, a tomato and you will have to make it yourself! So much fun. Unfortunately, I wasn't able to experience it while being in Spain. Now it's on my list of things-to-do during my next visit to this amazing country!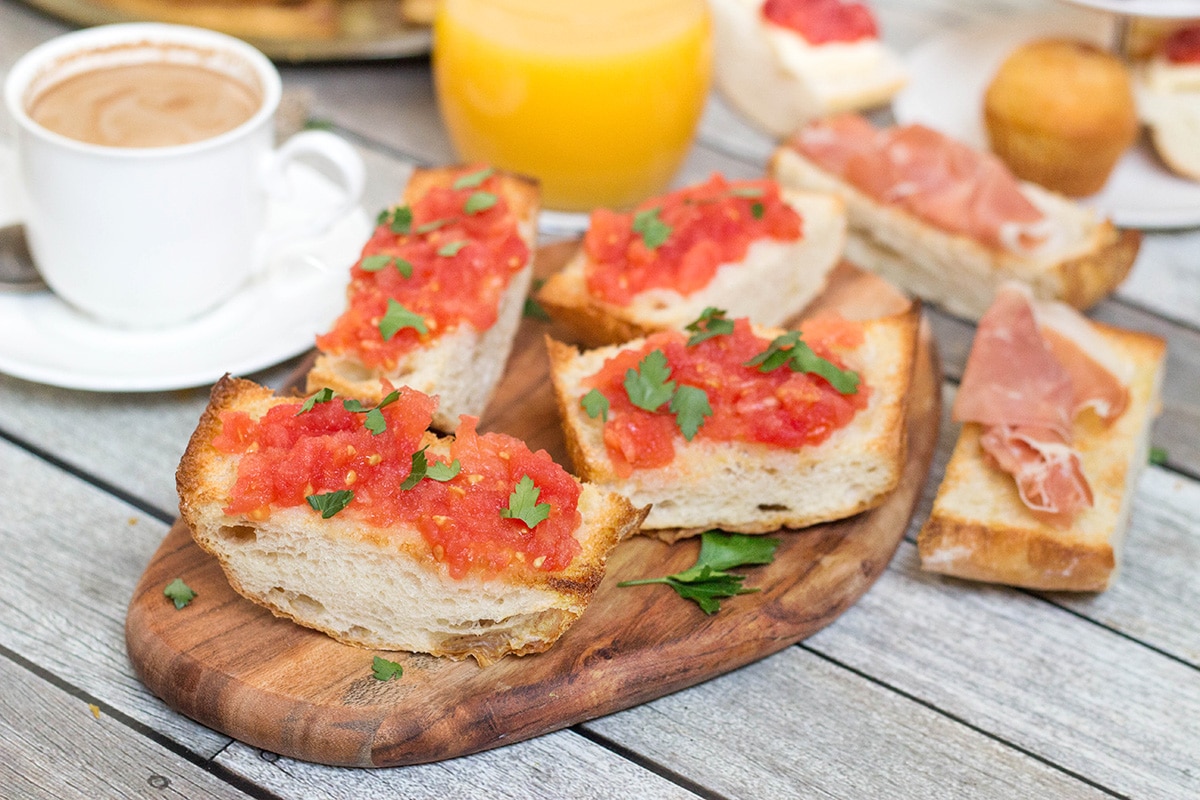 Alternatively you can make Pan Con Tomate by grating your tomatoes. That's the way I did it using the recipe by the talented J. Kenji López-Alt from Serious Eats and I loved every bit! The recipe itself is super simple: toast the bread, rub it with garlic, top with pulp of a tomato, drizzle with olive oil. That's it! Other possible Spanish breakfast sandwich options are tostada con mantequilla y mermelada (bread with butter and jam), toast with jamón (Spanish dry-cured ham), toast with cheese and many others. There are also bocadillos - French bread sandwiches with different fillings.

Sweets
The undeniable star of all the sweets in Spain is the famous Churros Con Chocolate. I made them, you can find the recipe here. For those who don't know what churros are about, it's a fried dough pastry which usually comes in long strips and is covered with sugar and (sometimes) cinnamon. Many of you may know them because of their popularity in Mexico. Let me tell you this: churros are A.W.E.S.O.M.E. Despite the fact that they are deep-fried they are not oily at all. You just need to have the oil at a right temperature when frying them. Use my recipe and you will love the outcome!
But that's not everything. Spaniards are dunking their churros in hot chocolate! Isn't it amazing? It is. And yes, they are super popular for breakfast. Most probably, people won't bother making churros at home in the early morning, because they do require some work and time. Fortunately, there are plenty of places where you can taste them. Churros are so popular in Spain that there even exist special cafés called Churrerias. I would be able to LIVE in such a place.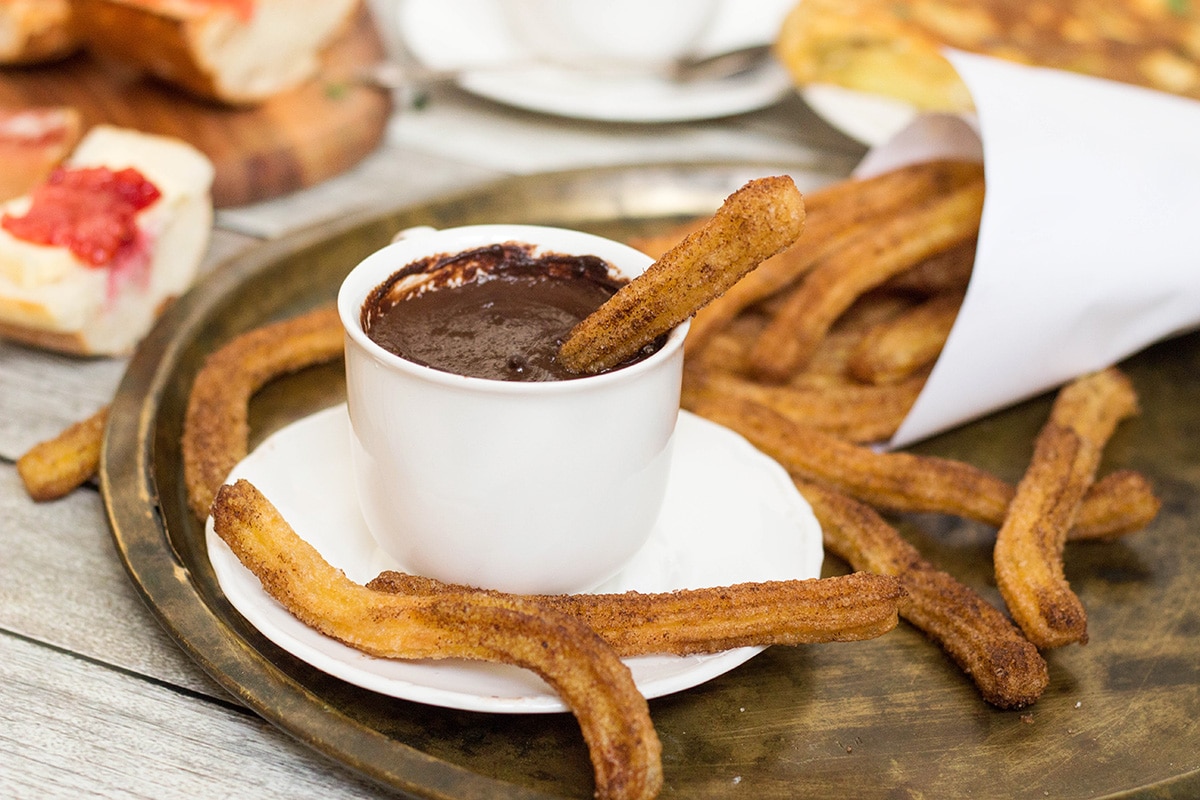 Other sweet Spanish breakfast options are biscuits (galletas) and cupcakes or muffins, I am not sure how to call them, magdalenas. That's what people choose at home, when there is no time to prepare anything in the morning. I was able to find magdalenas in my local supermarket, so you can see them in the photos. They go really well with a cup of coffee! I won't talk about croissants and other baked goods which are not of Spanish origin, but ther are plenty of them in Spain.
Beverages
There is no Spanish breakfast without a cup of coffee. There are few popular options: Café con leche (coffee with milk), Café solo (simple black coffee), Espresso, and others. I made a version with milk, because I am not a huge fan of simple coffee. For the Spanish Café con leche make a strong coffee, heat the milk, and mix two together. Various fruit juices (zumo) are also served for Spanish breakfast. The most popular one is zumo de naranja - orange juice. Almost every bar in Spain has a juicer so you are always able to get some freshly squeezed juice! Love it.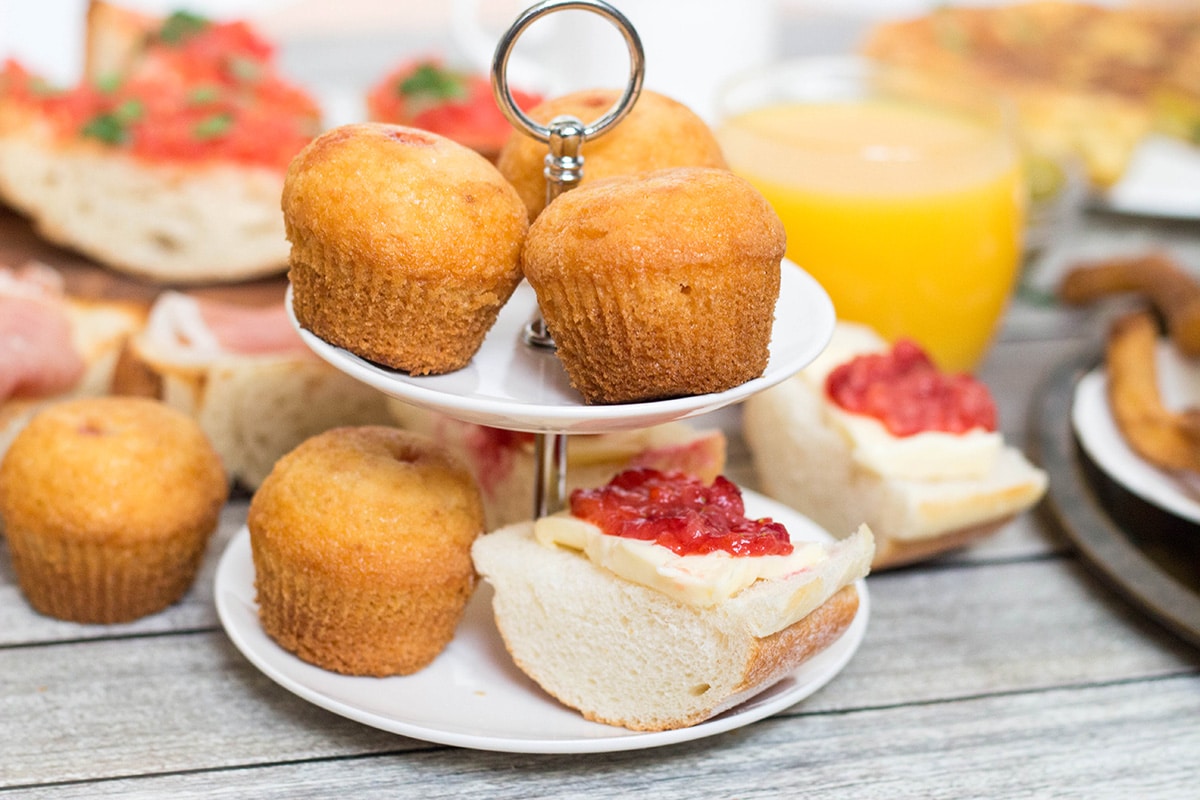 That's it! Oh, one more thing. I read somewhere that sweet Spanish toasts (torrijas) are also eaten for breakfast. I did them some time ago for the blog. My version is with the alcohol based syrup, which is probably not the best thing to consume in the morning, but you can easily drizzle some honey over the toasts instead of that syrup and you are good to go!
To conclude, it's surely my type of breakfast. I love omelette, especially I loved this one with potatoes, I am a huge fan of various sandwiches, and I am ashamed to say that I really do love to have some sort of a sweet treat in the morning... Churros are fantastic. I would easily stuff them in my face every single day. I won't do that though, but I would love to. Thank you Spain, you are awesome! See you in other "Breakfast Around the World" posts!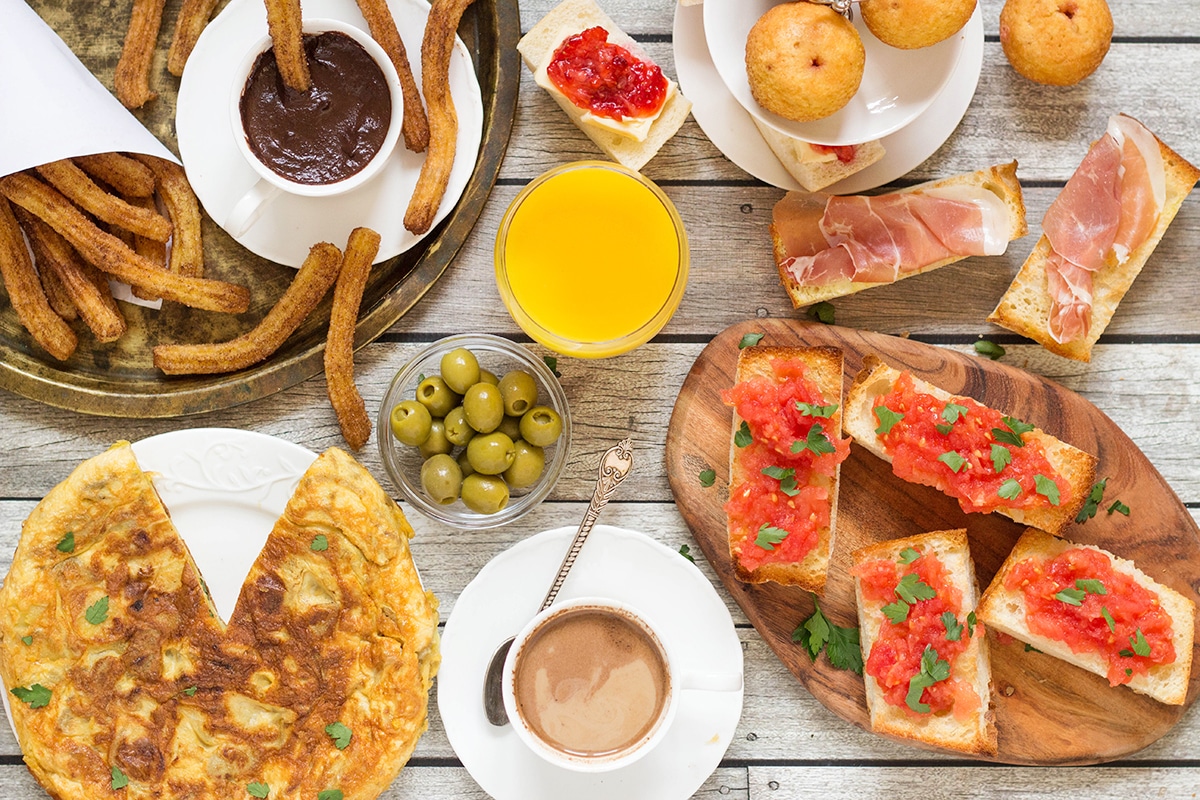 Spanish Breakfast – Breakfast Around the World #6
Spanish breakfast is one of the best in Europe. It offers potato omelette, their famous Churros, cupcakes, and a selection of awesome sandwiches!

Ingredients
Spanish Omelette

Pan Con Tomate

(tomato, garlic, and olive oil sandwich)

Butter and jam

Jamón ibérico

, or any other Spanish ham

Churros Con Chocolate

Coffee with milk

Orange juice

Spanish cupcakes

(magdalenas)

Olives
Instructions
Serve all the items and enjoy your traditional Spanish breakfast!