Traditional Spanish Omelette, called Tortilla in Spain (don't confuse with Mexican tortillas), requires only 4 simple ingredients to make and is a total winner. Eggs, potatoes, and onions are the main stars of this dish and combined together they result in something crazy delicious!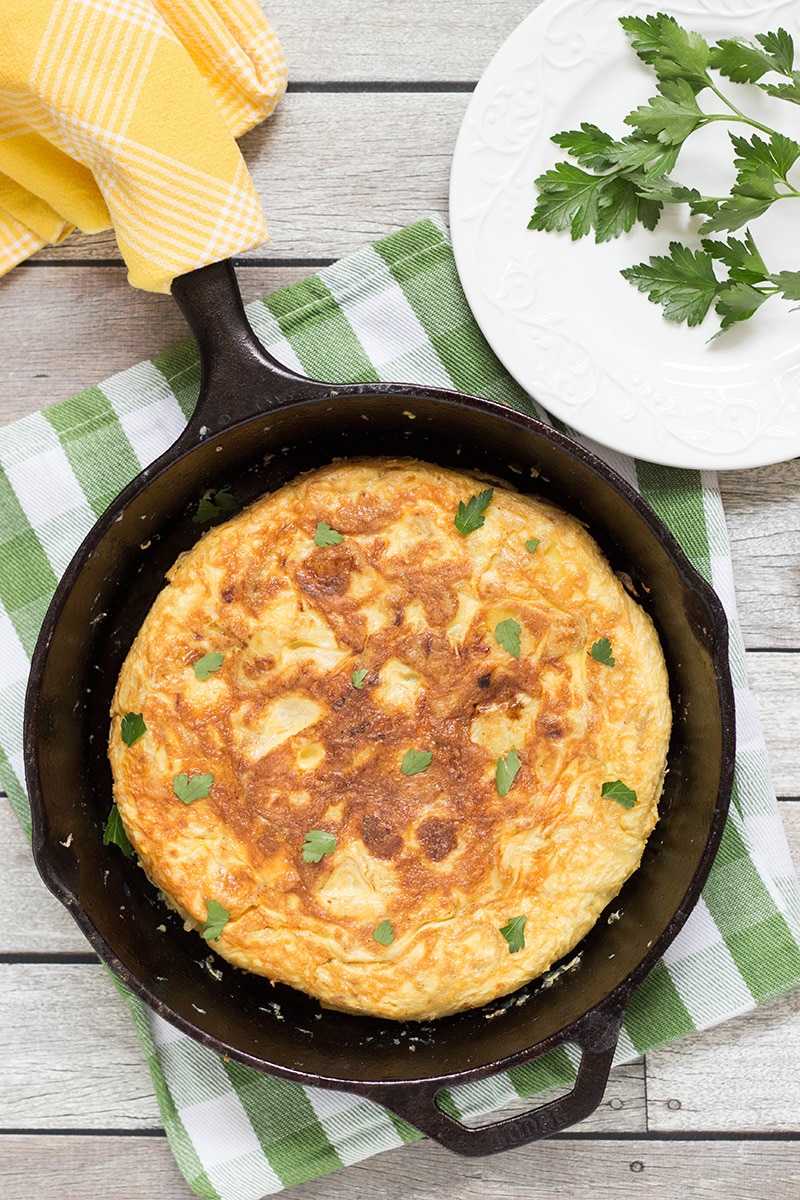 Don't let the name confuse you. We won't be making tortillas out of potatoes today. This Potato Tortilla has nothing to do with a thin flatbread popular in Mexico. In fact, tortilla de patatas is a name for the traditional Spanish Omelette made with potatoes and onions (sometimes without them). This egg dish is so beloved in this sunny European country that it's sometimes called tortilla española, the national Spanish omelette. If you will ever visit Spain, no matter which region, be sure that every bar will have it on their menu. You can even stumble upon some sort of competition for the best tortilla! Such a popularity comes without a surprise considering how much Spaniards love eggs. Nowadays the Spanish Tortilla is well known outside of Spain too.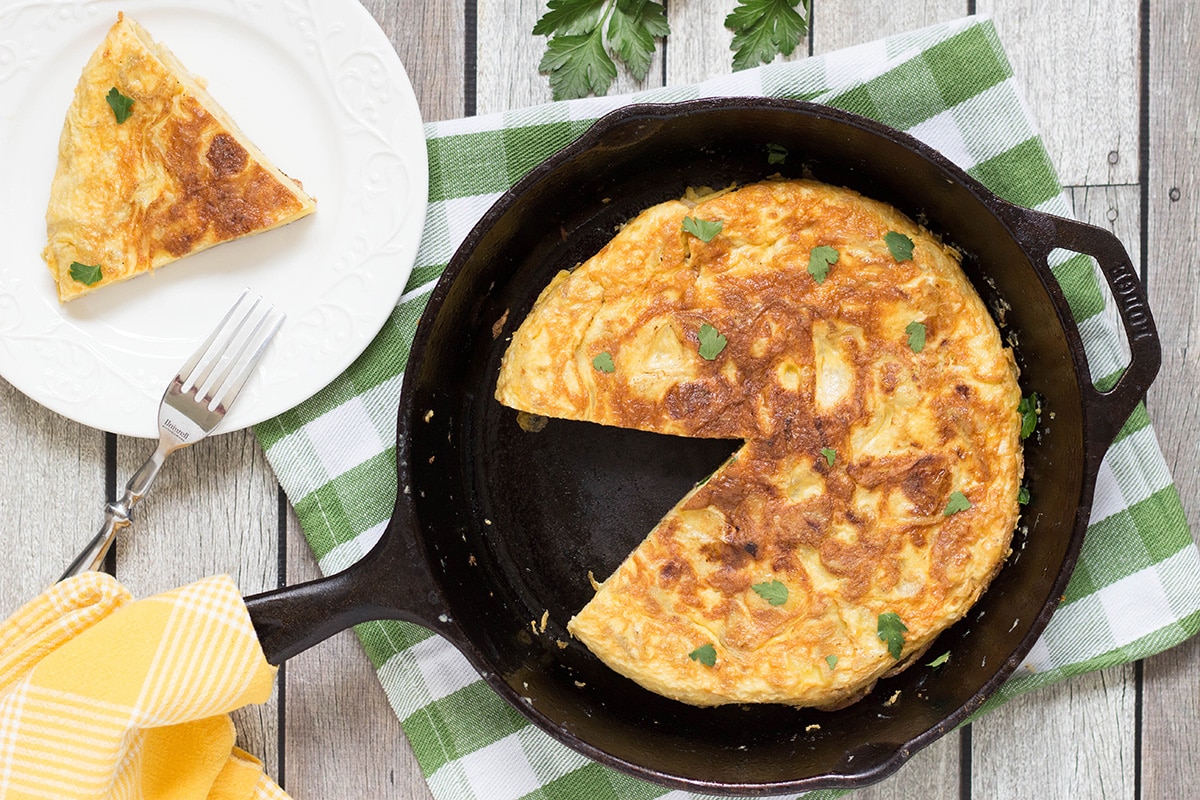 Traditionally, Spanish Omelette requires only few simple ingredients: eggs, potatoes, onion, olive oil, and salt. That's it! Some prefer their tortilla without onions, but in my humble opinion they only make this dish better. Today there are zillions of variations with chorizo, mushrooms, ham, bell peppers, to name a few. I am sure that they all are super tasty but in this blog I prefer to stick with authentic versions. I plan, however, to create a special category for the modificated national dishes, because sometimes those new twists can breathe a new life into them!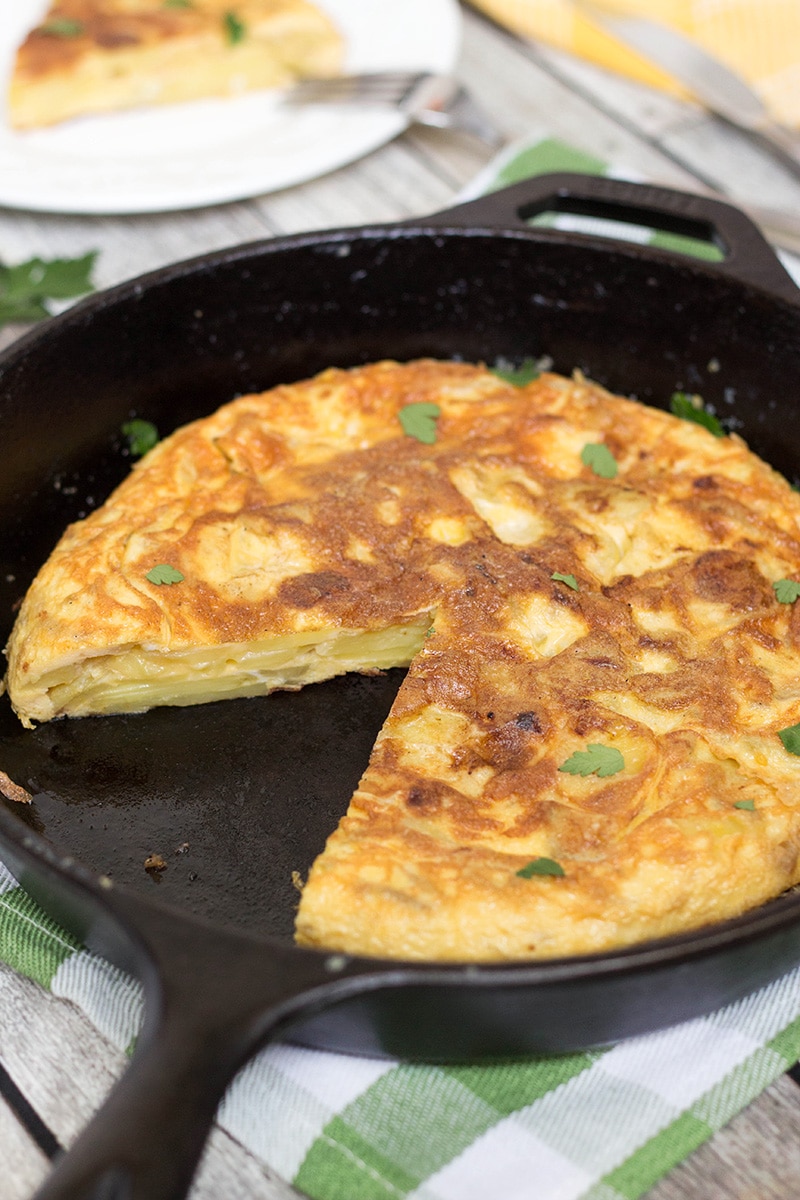 Like with all classic dishes, every family has their own way of making Spanish omelette. Some love it moist, some prefer it dry. Some slice potatoes, some dice them. Some cook onions and potatoes together, some love to caramelize onions by cooking them first and adding potatoes after. Some serve the tortilla warm, some cold. It's only few ingredients and yet so many ways to make this deliciousness!
There is a thing, though, that every Spaniard agrees with. The omelette should be cooked on one side and then flipped over onto the other side. Easy? Not too easy. It's actually the trickiest part of making tortilla de patatas. You can't just flip it with a spatula. Uh uh. This way the uncooked part would spill out.The omelette should be flipped onto the plate or a lid and slid back into the pan.You just have to take a lid slightly bigger than a skillet and it'll work! The thing to keep in mind is a weight of the pan. I made my omelette with a cast iron pan and I had some problems turning it upside down! Well, you live, you learn.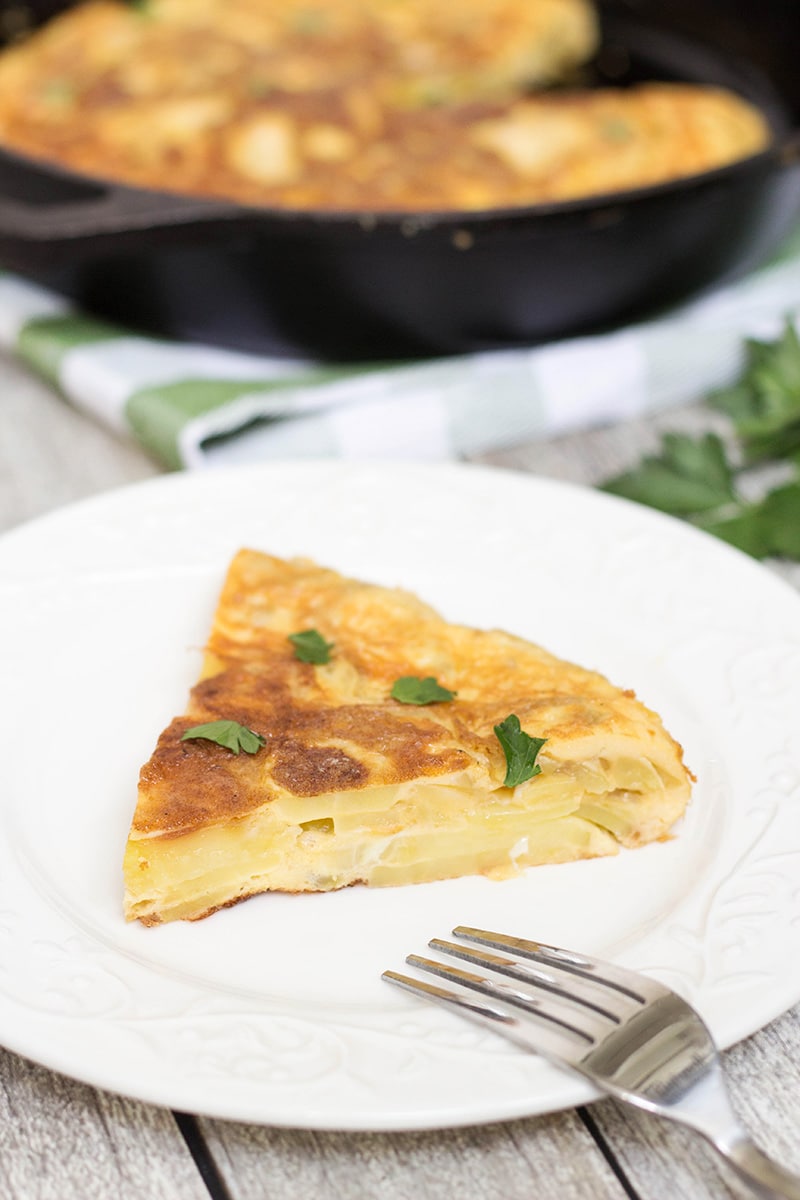 I can say, without a slightest doubt, that I will repeat this Spanish omelette recipe many times in the future. This is the second Spanish recipe I am telling this about (the first one was this scrumptious Garlic Chicken). It's a perfect weekend breakfast or a weekday brunch. The ingredients are super simple but the end result is amazing. Sometimes you don't need a bunch of fancy ingredients to make a fantastic dish. To all my readers, I highly recommend you to try this potato-egg goodness. You don't even have the excuse not to make it, because everyone has eggs, potatoes and onions at home! Believe me, the very first bite will tell you I was right.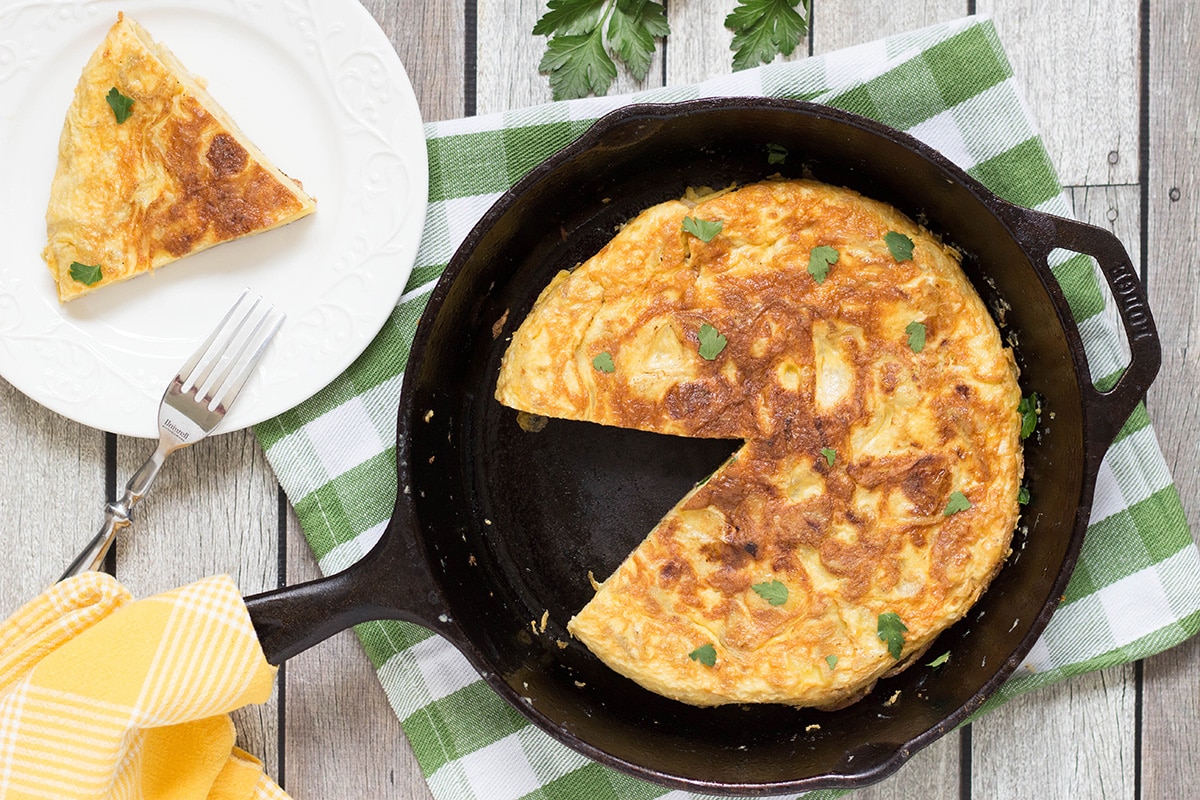 Traditional Spanish Omelette (Potato Tortilla)
This Spanish potato omelette requires only a few simple ingredients to make and is to die for. It's guaranteed to become your favorite!

Ingredients
1

lb (450g)

potatoes

, peeled and thinly sliced

1 ¼

cups + 2 tablespoons

Olive oil

, for frying

1

medium onion

, thinly sliced

salt and pepper

, to taste

6

eggs
Instructions
Dry the potato slices on paper towels. Heat the oil in a non-stick skillet. I used 9-inch (23cm) skillet, because I didn't have a smaller one, but you can use 8-inch (20cm) or even 7-inch (18cm) skillet if available. Add the potato slices and onion, and cook covered, over low heat, stirring occasionally, for 20-30 minutes. Potatoes should be tender when you prick them with a fork. Remove the potatoes and onion from skillet, draining them in a colander. Put on paper towels. Discard the oil.

In a bowl, beat the eggs. Add the potatoes and onion, and combine. Season with salt and pepper.

Heat 1 tablespoon olive oil in the same skillet. Add the egg, potato and onion mixture and cook for 3-4 minutes, on a low heat. Shake the pan occasionally to avoid sticking. Place a slightly bigger lid or a plate on top of the skillet and invert it quickly, flipping the omelette on to the lid.

Heat another tablespoon olive oil in the same skillet and slide the omelette back in. Cook for 2-3 minutes more over low heat. Enjoy!
Nutrition