If you are looking for a quick and easy weeknight dinner, look no more. Comforting and crazy delicious, this Hungarian Chicken Paprikash requires only 25 minutes to make and is guaranteed to become your new favorite!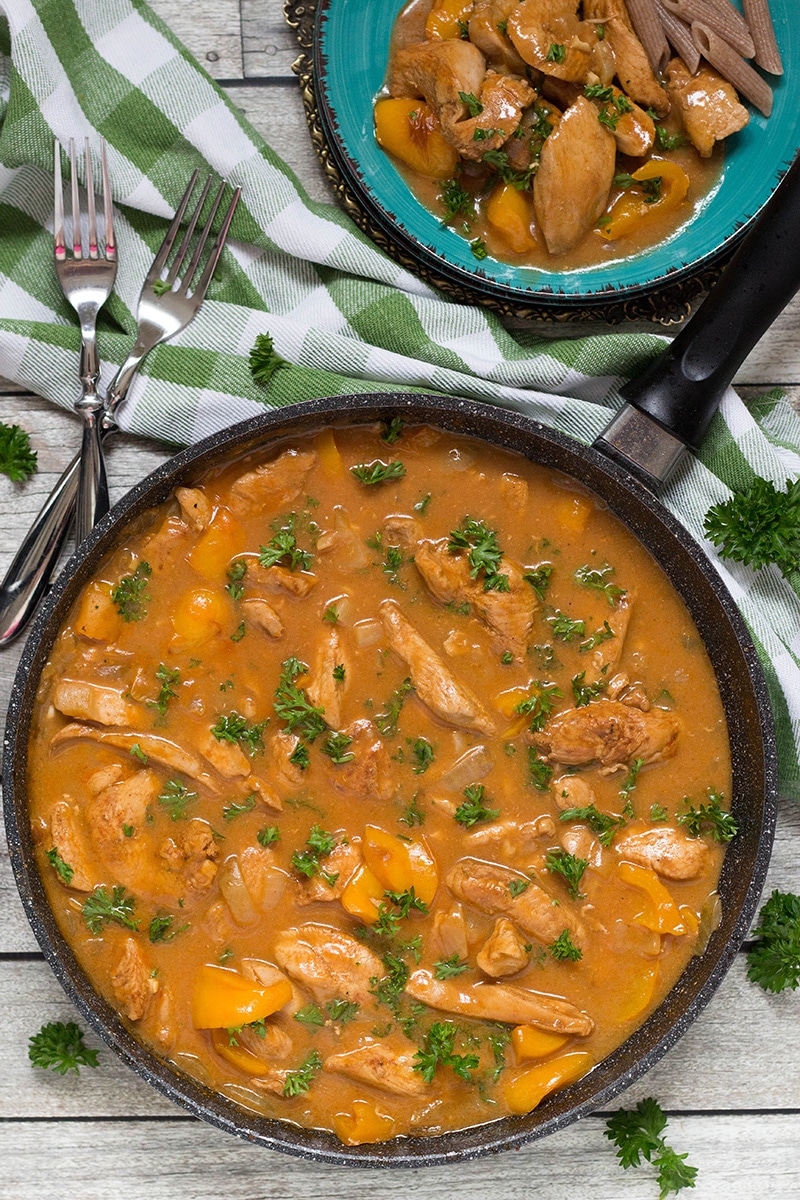 I get bored too fast when it comes to weeknight dinners. There is a strong desire for something new burning inside me every single time I am in my kitchen preparing an evening meal. Usually my casual dinner includes either chicken or fish, so I am always looking for new recipes featuring them. Somewhere a week ago I found a fantastic chicken dish from the country I have never cooked before on this blog - Hungary!
This small beautiful European country is known for its wine and amazing food. Goulash, anyone? Yes, this crazy famous stew / soup comes from Hungary if you didn't know that. You know what else Hungary is known for? Their paprika. This spice is used in the majority of their dishes. In the dish I've prepared today paprika plays the main role. Meet Hungarian Chicken Paprikash or simply Paprika Chicken!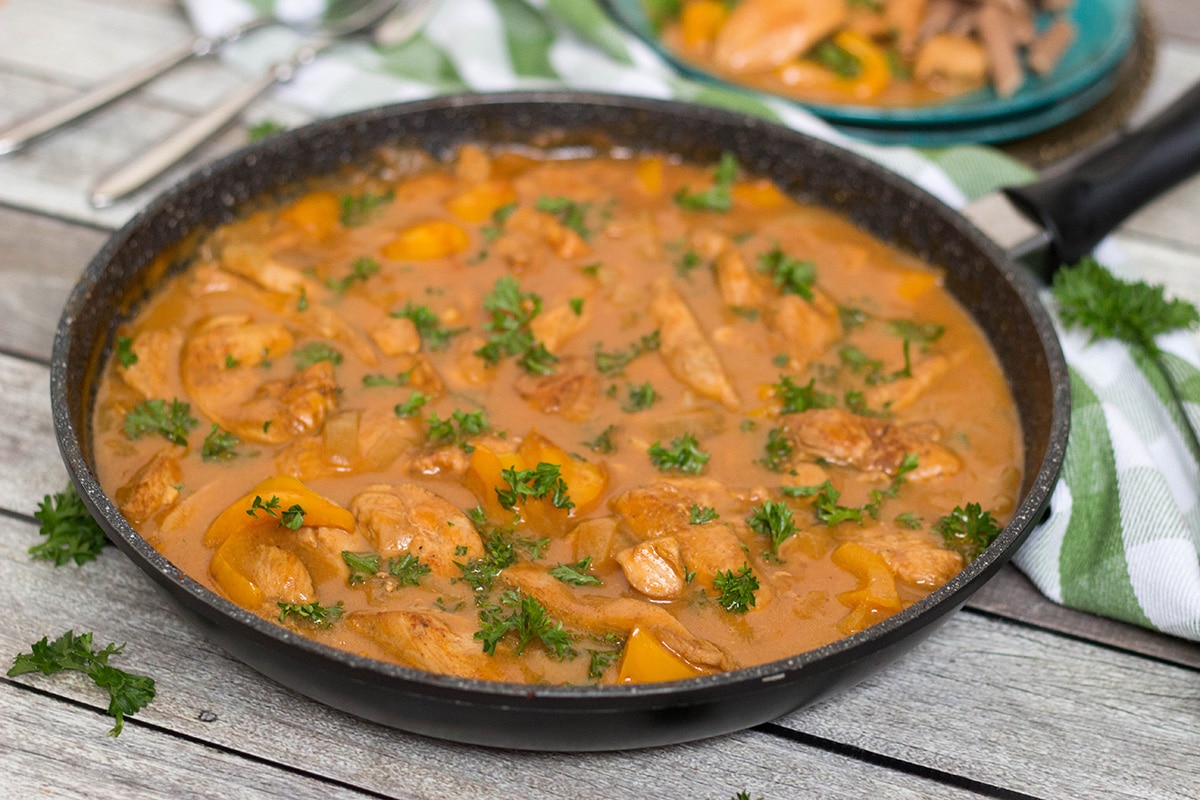 I am surprised that I have never heard about Hungarian Chicken Paprikash before, because it's pretty popular outside this country. What I am not surprised about is WHY this dish is so beloved. It's really easy to make and is crazy delicious. The flavor paprika gives to chicken is out of this world. Just be sure to get a sweet paprika, because there are so many different kinds available! The sweet one is perfect for Paprikash.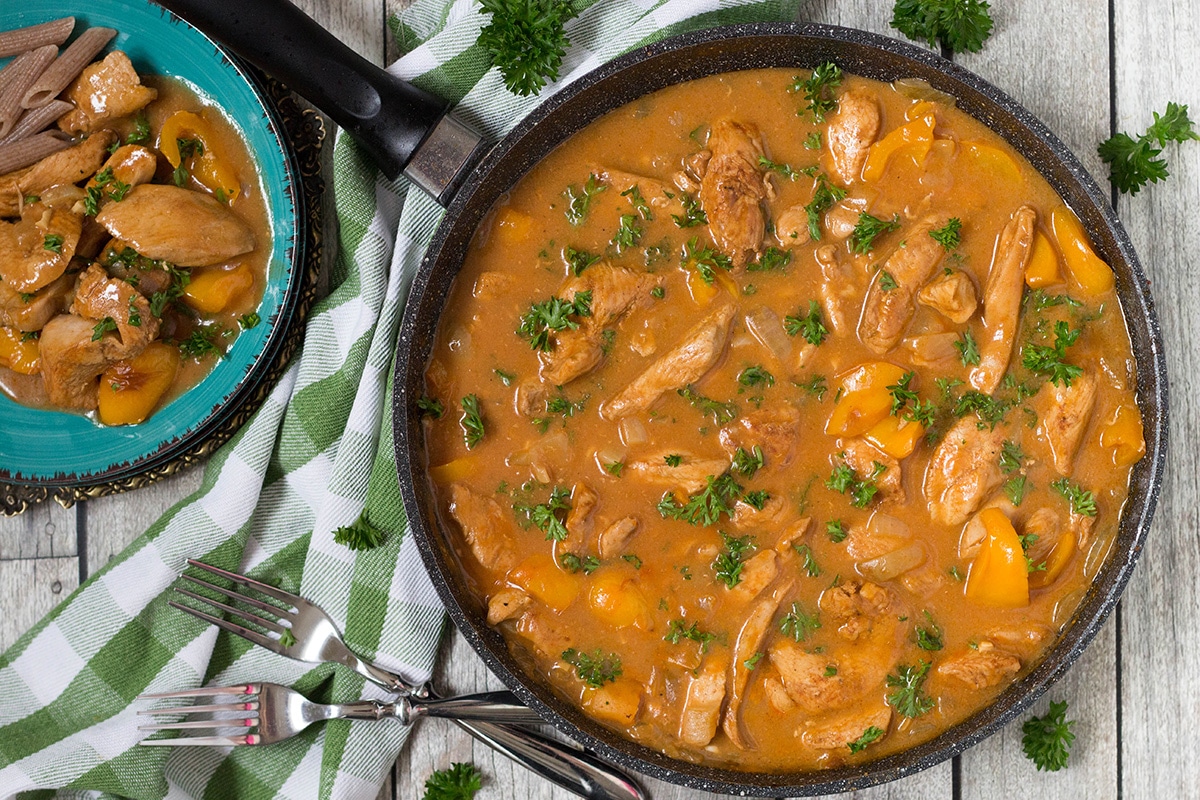 You know, it's awesome how a single ingredient can change a dish. I cooked chicken hundreds of times and yet there are so many ways to prepare it I have never tried. Actually, I always have sweet paprika in my pantry, but the idea to use it with chicken have never crossed my mind before. Well, you live you learn!
Hungarian Chicken Paprikash is usually served with traditional dumpling-like noodles (Nokedli), which are similar to German spaetzle, or with any other noodles, or rice. Tagliatelle is a popular choice, but all I had at home was some whole wheat penne, so I used them. I bet Hungarian potato dumplings (Shlishkes) would make a perfect side too!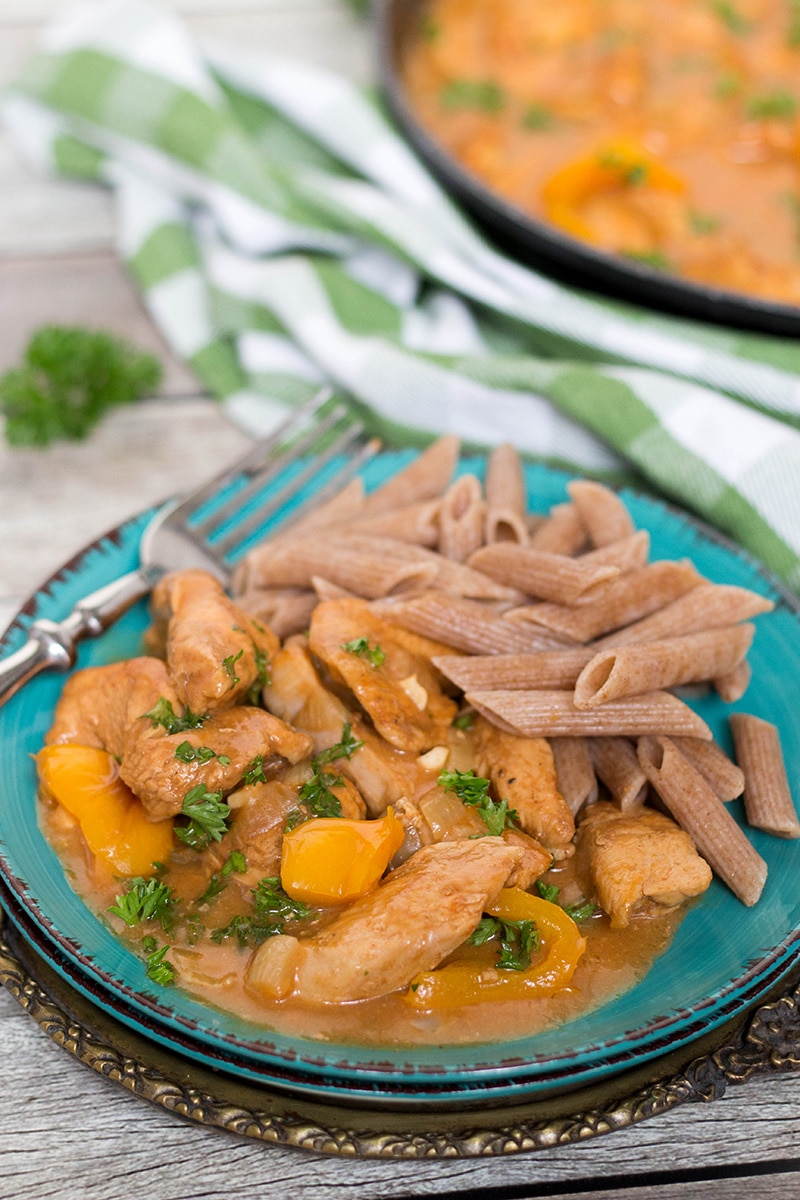 I strongly recommend Chicken Paprikash to anyone looking for a comforting, easy, and flavorful dinner. There is no way you won't love it. Seriously. It's my favorite at the moment and I already made it three (!) times in a period of a week. Crazy, right? Paprikash is addictive. Try it yourself and you'll see!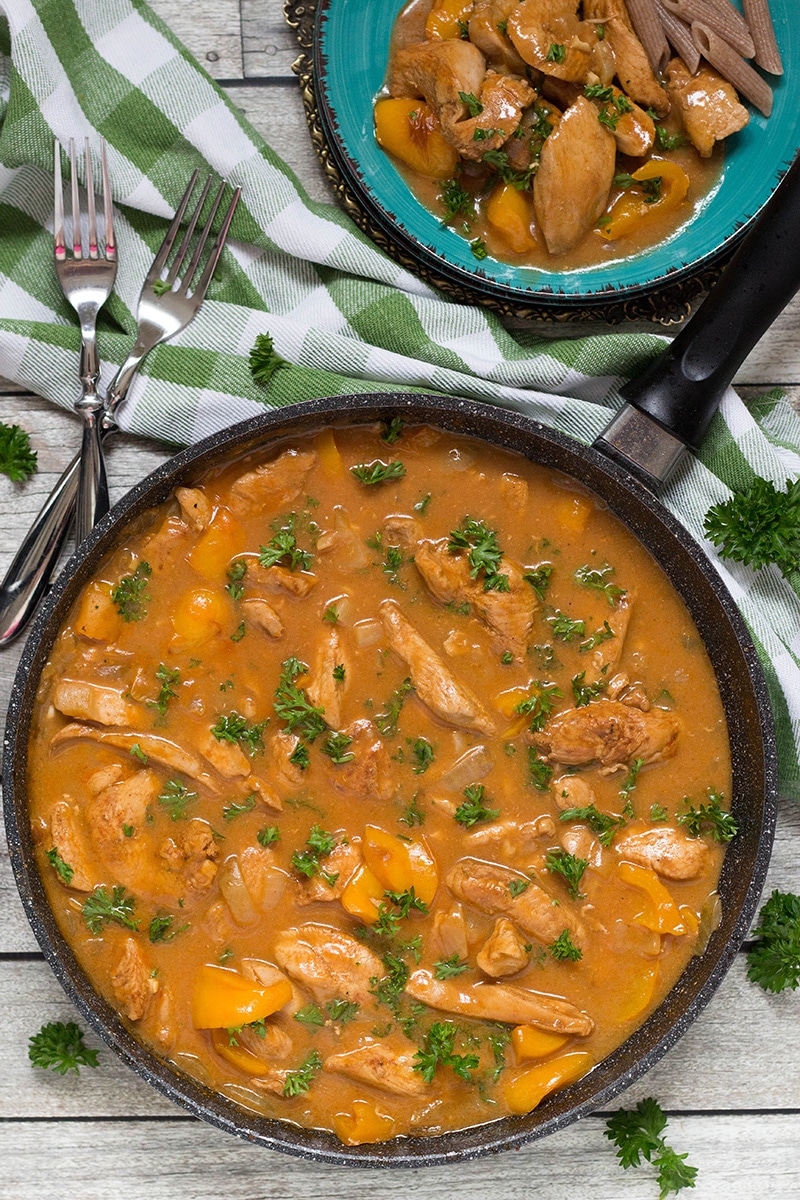 Hungarian Chicken Paprikash
Sweet paprika is that secret ingredient that makes Chicken Paprikash stand out. Comforting and easy to make, this Hungarian dish makes a great weeknight dinner!

Ingredients
2

lb (900g)

boneless skinless chicken breast or thighs

, cut into strips

salt and pepper

, to taste

2

tablespoons

sweet paprika

3

tablespoons

Olive oil

, divided

1

onion

, diced (about 1 cup )

1

bell pepper

, cubed

1

tablespoon

minced fresh garlic

2

tablespoons

tomato paste

2

cups

chicken stock

1

cup

sour cream

2

tablespoons

all-purpose flour

chopped parsley

, for garnish
Instructions
Season the chicken strips with salt, pepper, and paprika.

In a large skillet, heat 2 tablespoons olive oil and add the chicken pieces. Cook, stirring, until cooked through. For the breast it's 3-5 minutes, for thighs 8-10 minutes. When done, transfer the chicken to a bowl and set aside.

In the same skillet, heat the remaining tablespoon olive oil and cook the onion, stirring, until it starts to soften, for about 6-8 minutes. Add the bell pepper, garlic, tomato paste, and cook for a minute more.

Add the chicken stock and bring to a boil. Add the chicken pieces, reduce the heat, cover the skillet, and cook for about 5 minutes, until the chicken is warmed through.

Meanwhile, in a small bowl, combine the sour cream and flour. Add this mixture to a chicken and stir well. Cook for 4-5 minutes more, until the sauce thickens a little bit. But don't let the sauce boil.

Taste and season more with salt and pepper, if needed. Garnish with some chopped parsley and serve. Enjoy!
Nutrition